Another soup! Yes, it's apparently soup week here at this internet website URL blog site web.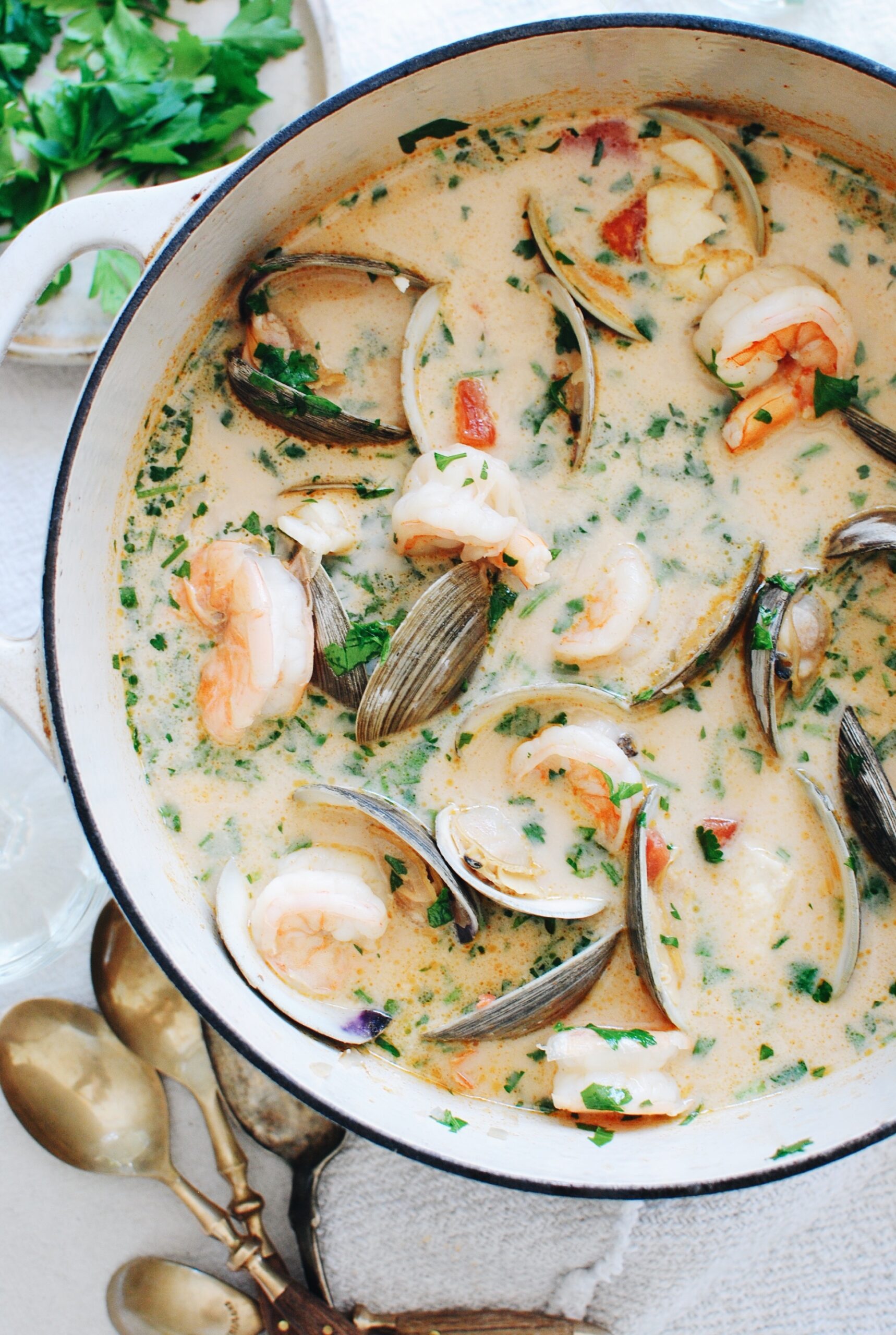 And OKAY – this is another recipe that I shot (and snarfed) before the pandemic was declared and the world came to a halt. So what we're going to do with this soup is stand back, look at the bones (sorry), and make do with what you've got. Because I'm not about to ask you to venture out for frickin' CLAMS, for crooin' oot lood. (<–that's my Canadian/Irish accent.)
Unless you're on a special part of a coast where they're easy to wrangle without a hazmat suit. Then by all means, clam it up, boo.
But this soup TRULY DOES involve some freezer/pantry staples and I think you could whip this up on a weekend and shock all the faces in your hizz (sorry) with something different, smokey, rustic and special.
Let us peepeth.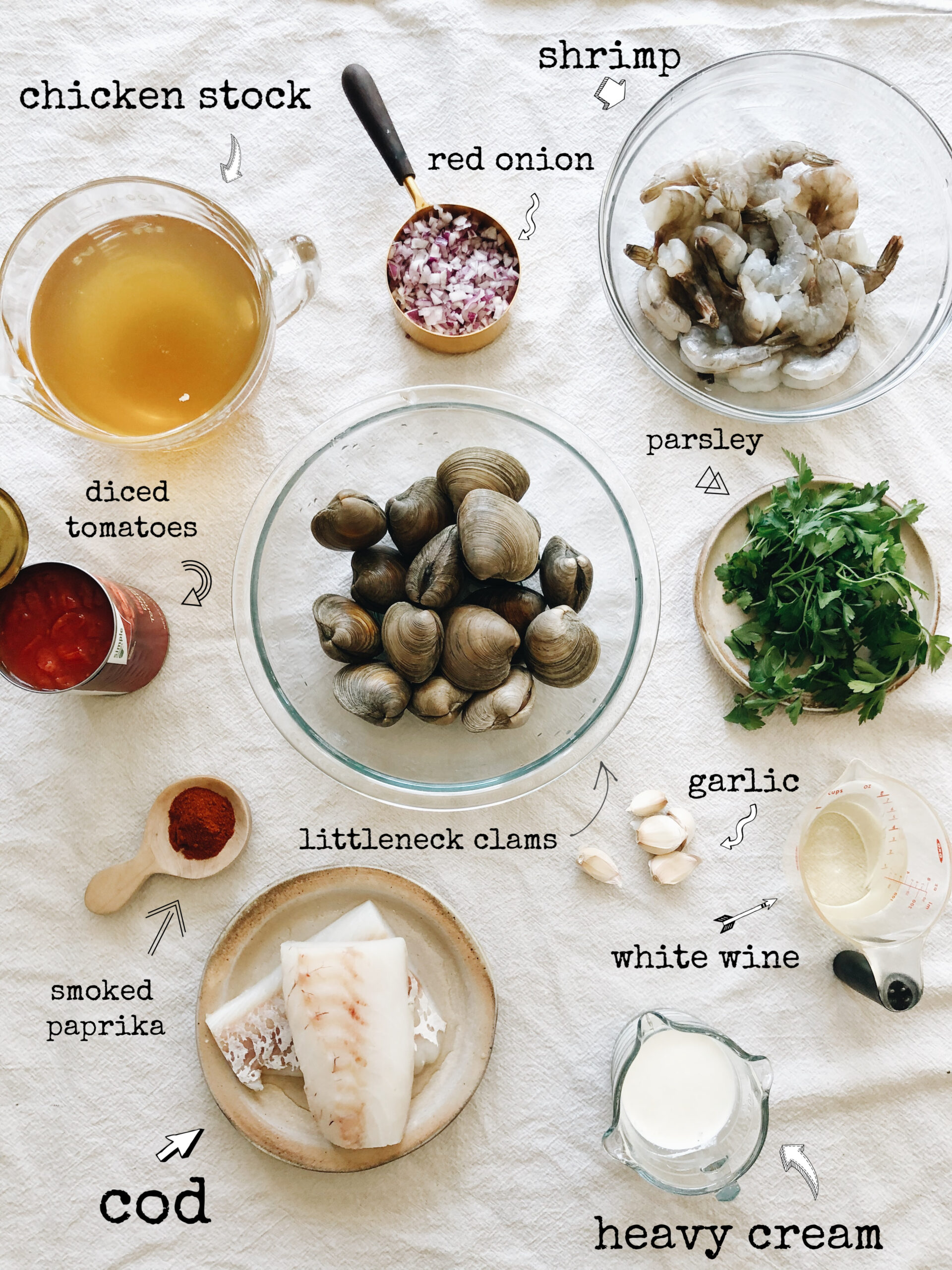 Frozen fish and frozen shrimp – do you have either? Willy nilly with this until it makes sense for your life. You can leave out the clams altogether. ORRRRR you might have a bag of frozen squid! Whatever you have stashed away in your freezer that's from UNDA DA SEA, yank it out. We're putting it in soup.
Everything else is a basic staple (Except I can't find garlic right now, you guys. What the actual hay? Use garlic powder if you're in the same boat. Hahahaha, boat. Boat, get it? Like seafoo- never mind.)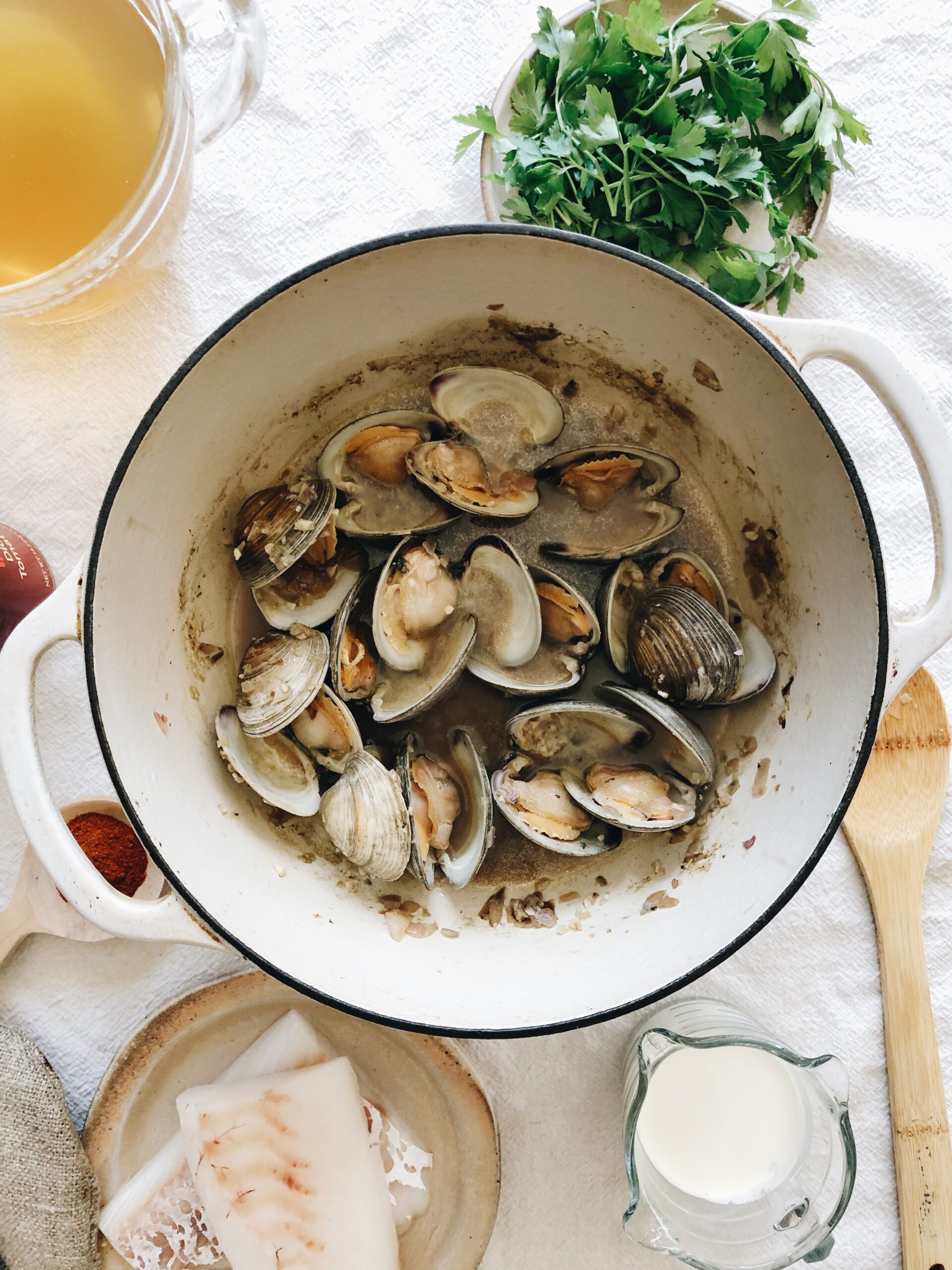 First we steam the clams. Actually before that we sauté the onions and garlic. Then add the clams (LET ME ADD HERE sorry to yell, that if you are using clams, let them sit in salted water for a few hours so that the grit and sand fall out. Then under running water give them a light scrub with a kitchen brush. Anything that's open and won't close, tosseroo. We good?) to the pot and add the wine. Put the lid on let them simmer/steam abouuuuuut 8-10 minutes. Until they all open up, you murderer.
Tong them out while we make our soup, k?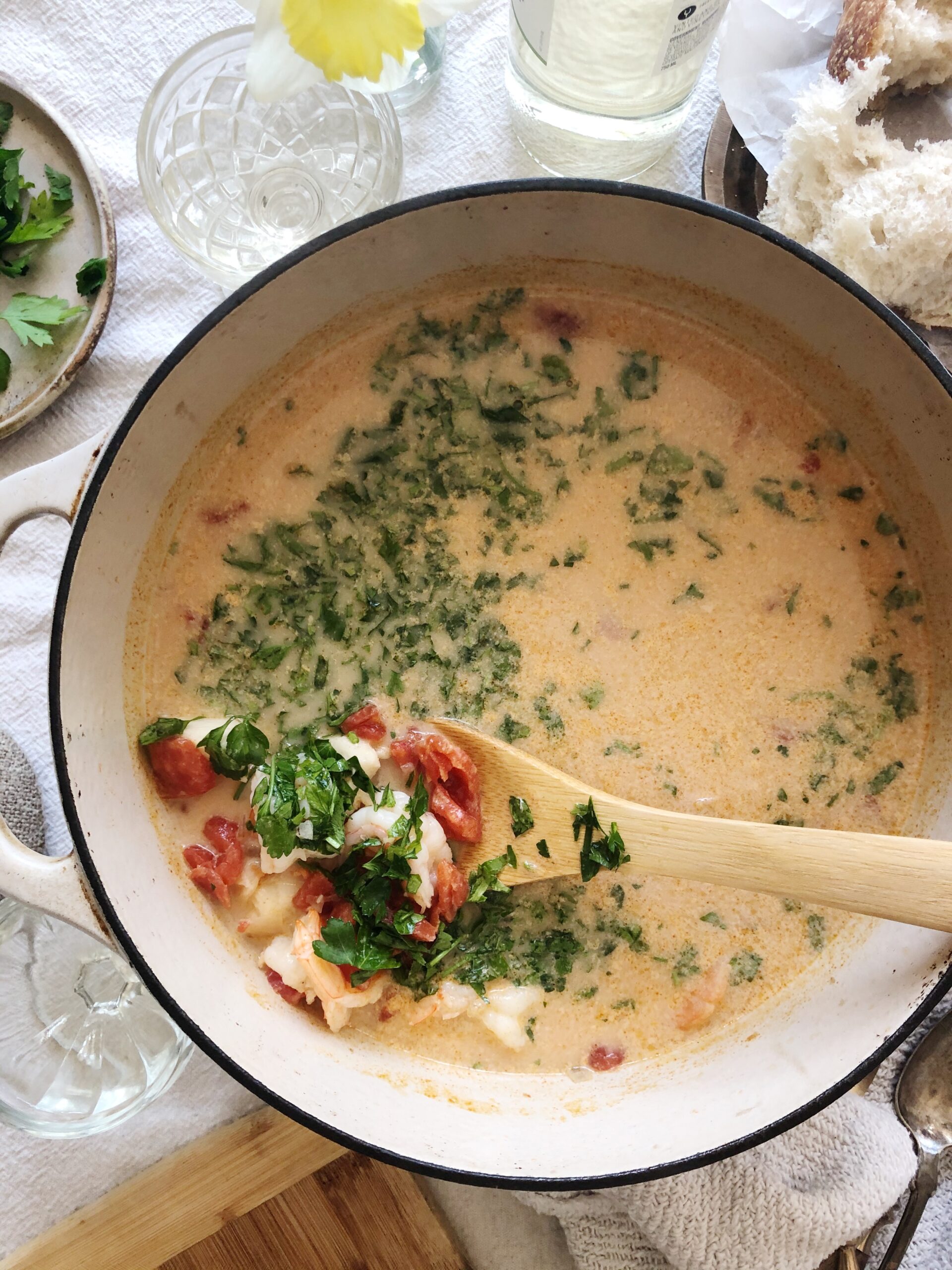 And it's really just stupid easy at this point. Add the rest of the stock, the cream (milk, almond milk, half and half – anything goes), the can of diced tomatoes, the smoked paprika (this will enhance the crud out of this soup), the cod (that you've diced up into chunks) and thawed shrimp. Let it simmer about 10 minutes on medium low, until everything has cooked through and is rustic and savory and smokey and seafoody and perfect. Taste and salt it!
Stir in a good handful of chopped parsley and . . .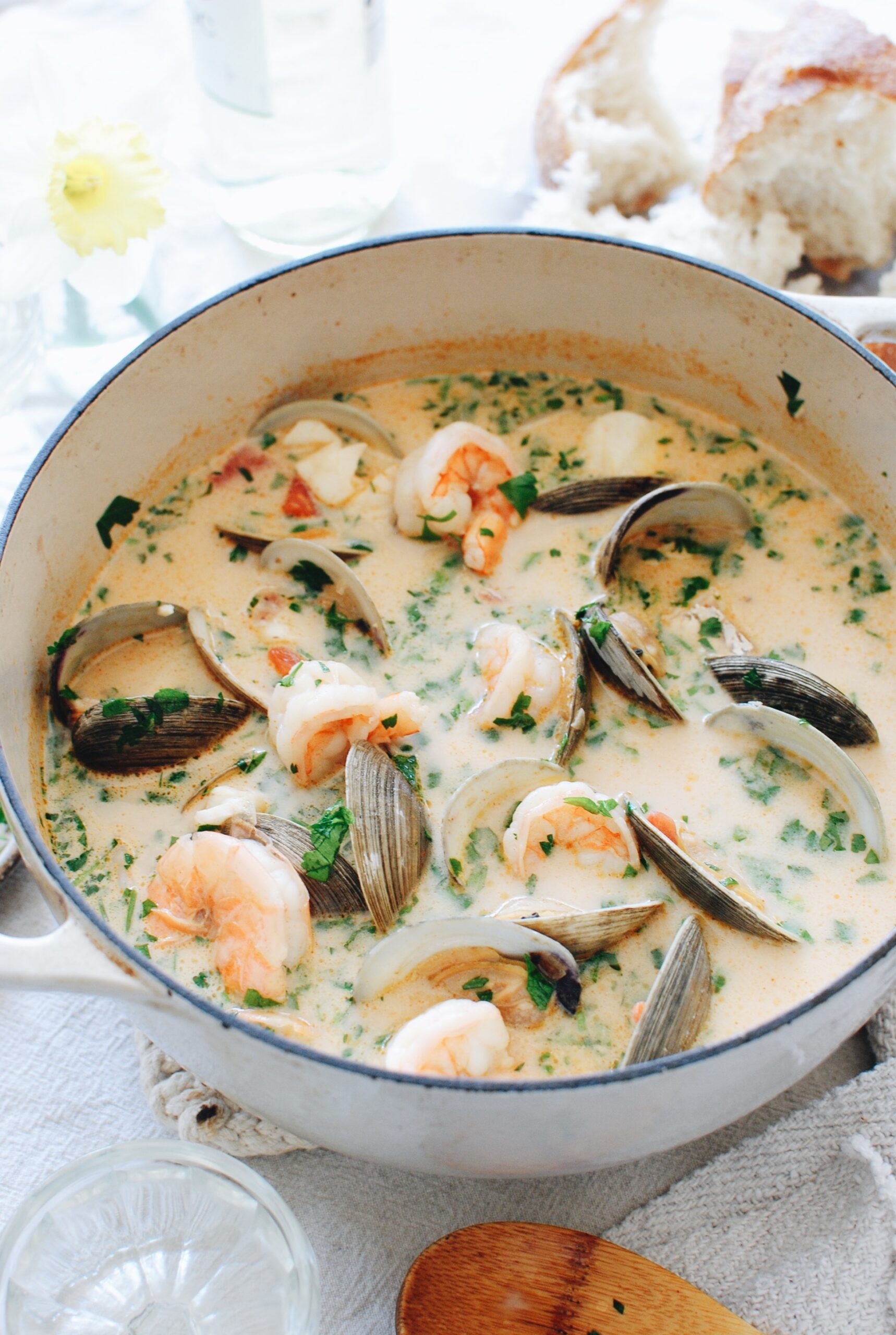 Hi, girl.
Oh my gosh. You've nestled the clams back in as you can tell because you have eyeballs.
And with CRUSTY BREAD are you joking. No, I'm not actually. Nor will I be shutting any doors.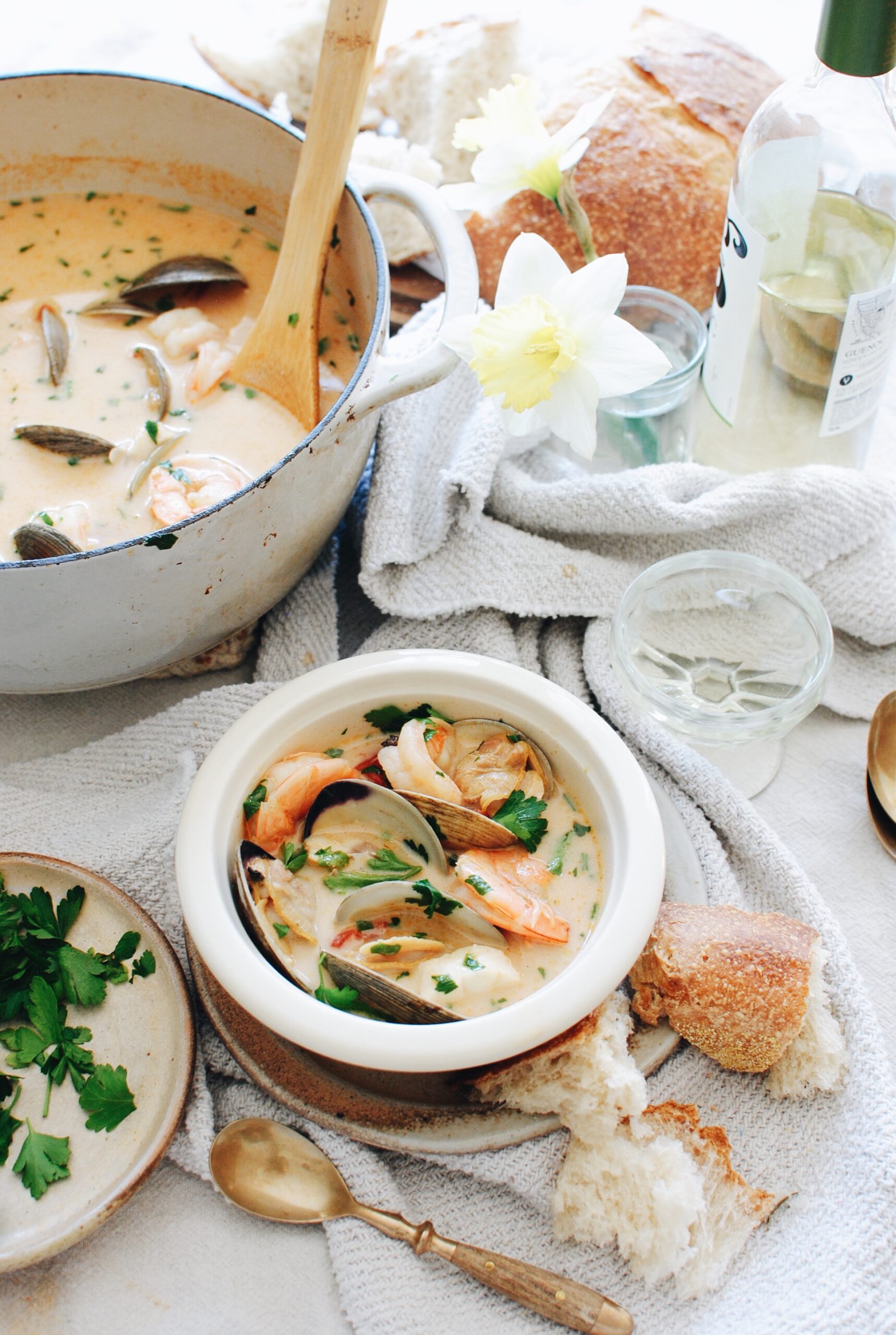 Would you believe me if I told you our kids snarfed this completely down and uptown and back downtown again? Because they did. And I wept. Not because of happiness, but because they ate my portion.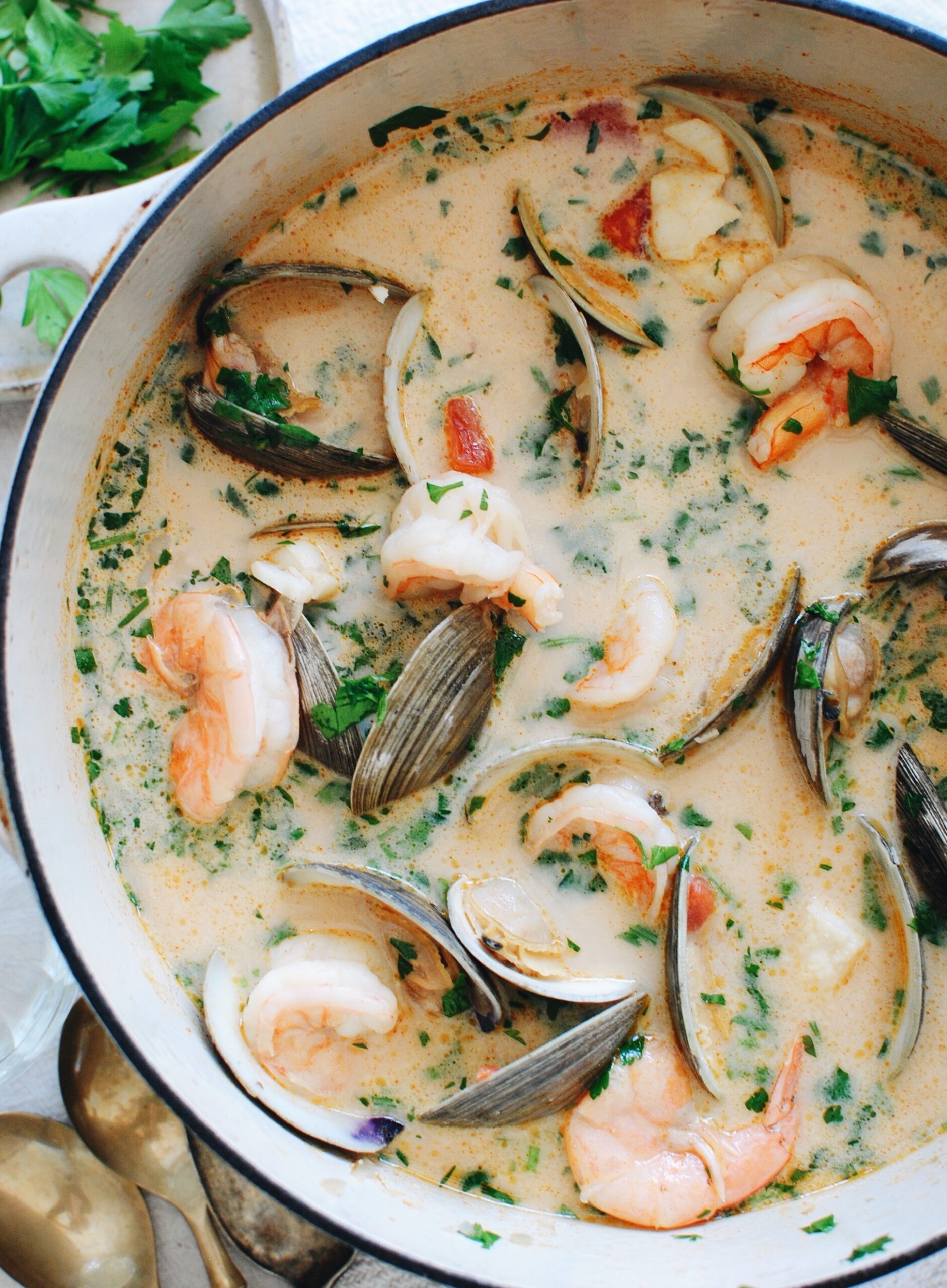 It's light, yes, but also has that unmistakable smokey depth because of the smoked paprika. And the seafood and tomatoes together. I LOVE tomatoes with seafood. And cream. I LOVE tomatoes with seafood and cream. Oh, and wine. I LOVE tomatoes with seafood and cream and wine.
And the bread. I LOVE tomatoes with seafood and cream and wine and bread.
I mentioned this should be made this weekend, right? Start the bread today, thaw your freezer stash overnight tonight and voila. Dinner is coastal, light, fresh, but rustic.
I'd ask if I could come over buuuuuuuut…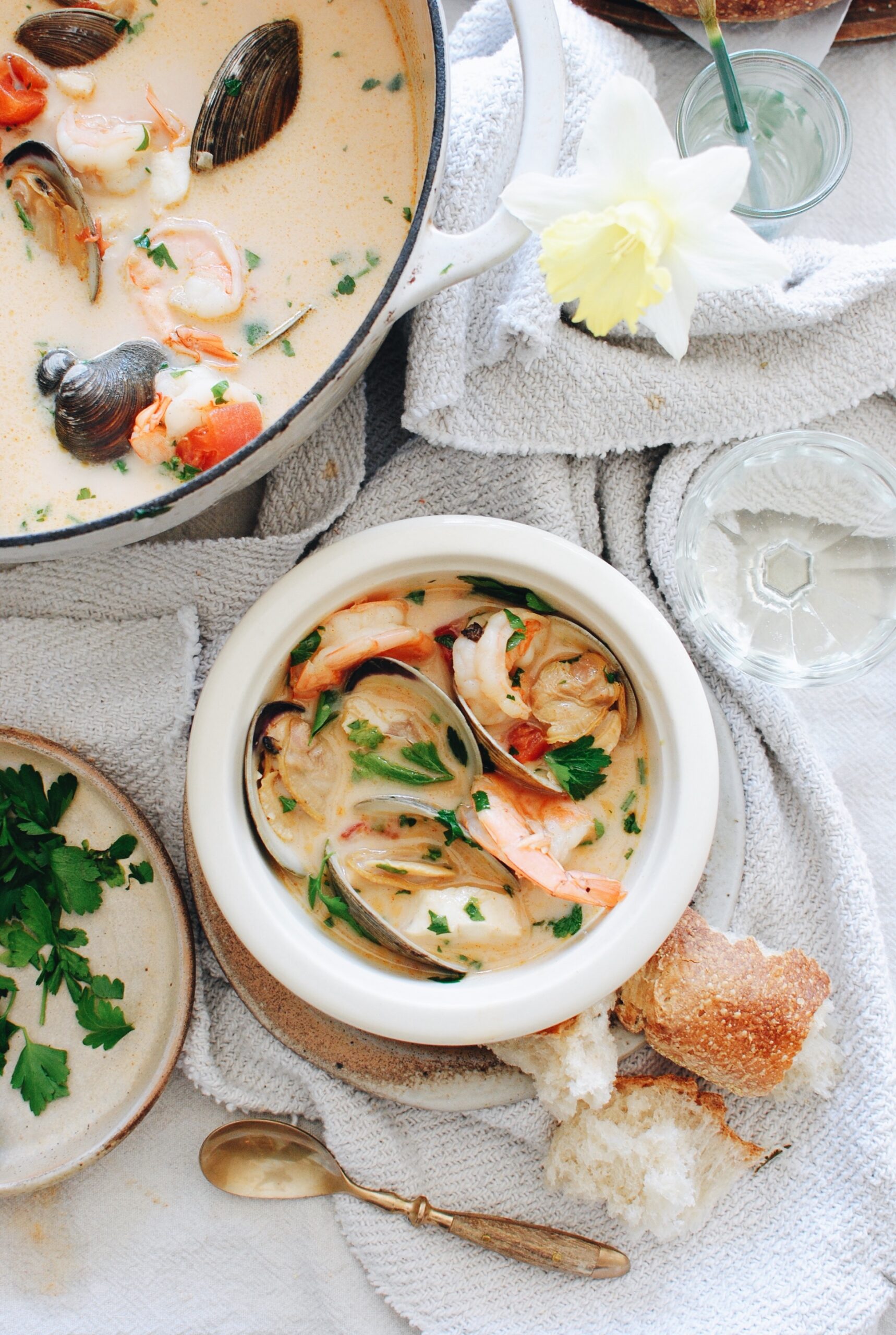 We'll pretend. Make it!
Ingredients
2 Tbs. extra-virgin olive oil
1 cup diced red onion
4 cloves garlic, chopped
2 1/2 pounds Littleneck clams
1 cup dry white wine
4 cups chicken stock (seafood stock works great, too!)
1/2 cup heavy cream
1 (14.5 oz) can diced tomatoes
2 tsp smoked paprika
1 pound shrimp (thawed and deveined)
12 oz Alaska cod, (thawed, cut into bite-sized chunks)
1 cup chopped parsley
Coarse salt
Instructions
quick note on the clams before we start! Once you get them home from the store, let them sit in cold salted water for at least an hour so that the grit and sand fall out. Then under running water give them each a little scrub with a kitchen brush. If any of them don't close while you're cleaning them, toss! They're toast.

Heat the oil in a large pot or dutch oven over medium heat. Add the onions and garlic with a small pinch of salt. Sauté three to five minutes, until the onions are browning in places. Add the cleaned clams and the cup of wine. Put the lid on and let them simmer/steam anywhere from eight to ten minutes, until they've all opened up. If any are still closed, toss! Remove the clams from the pot with tongs and set aside for a little bit.
To the pot add the stock, cream, smoked paprika and diced tomatoes. Let this come to a simmer, then add the shrimp and fish, cooking another eight or so minutes, until it's all cooked through. Add the chopped parsley, another pinch of salt to make sure it's perfect, and finally the clams. Give it a light stir and serve immediately!
Ladle and serve until bowls with crusty bread and white wine. UM, it is perfect, do not argue with me.
Serves 4-6!
7.8.1.2
418
https://bevcooks.com/2020/04/rustic-seafood-soup/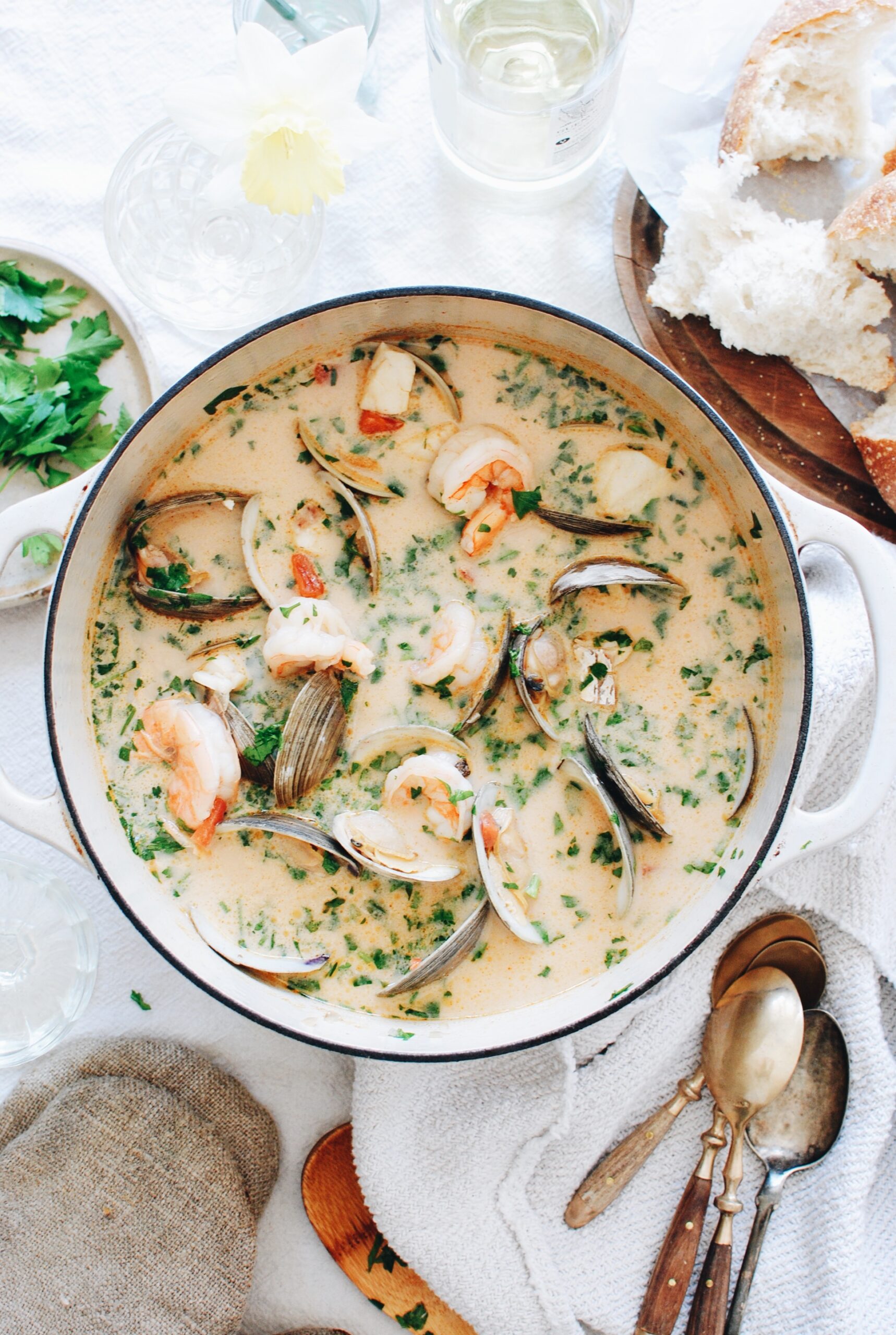 I want to practice my butterfly stroke in that that there pot.