It's hard to see with a naked eye, but there are in fact lentils in there, too!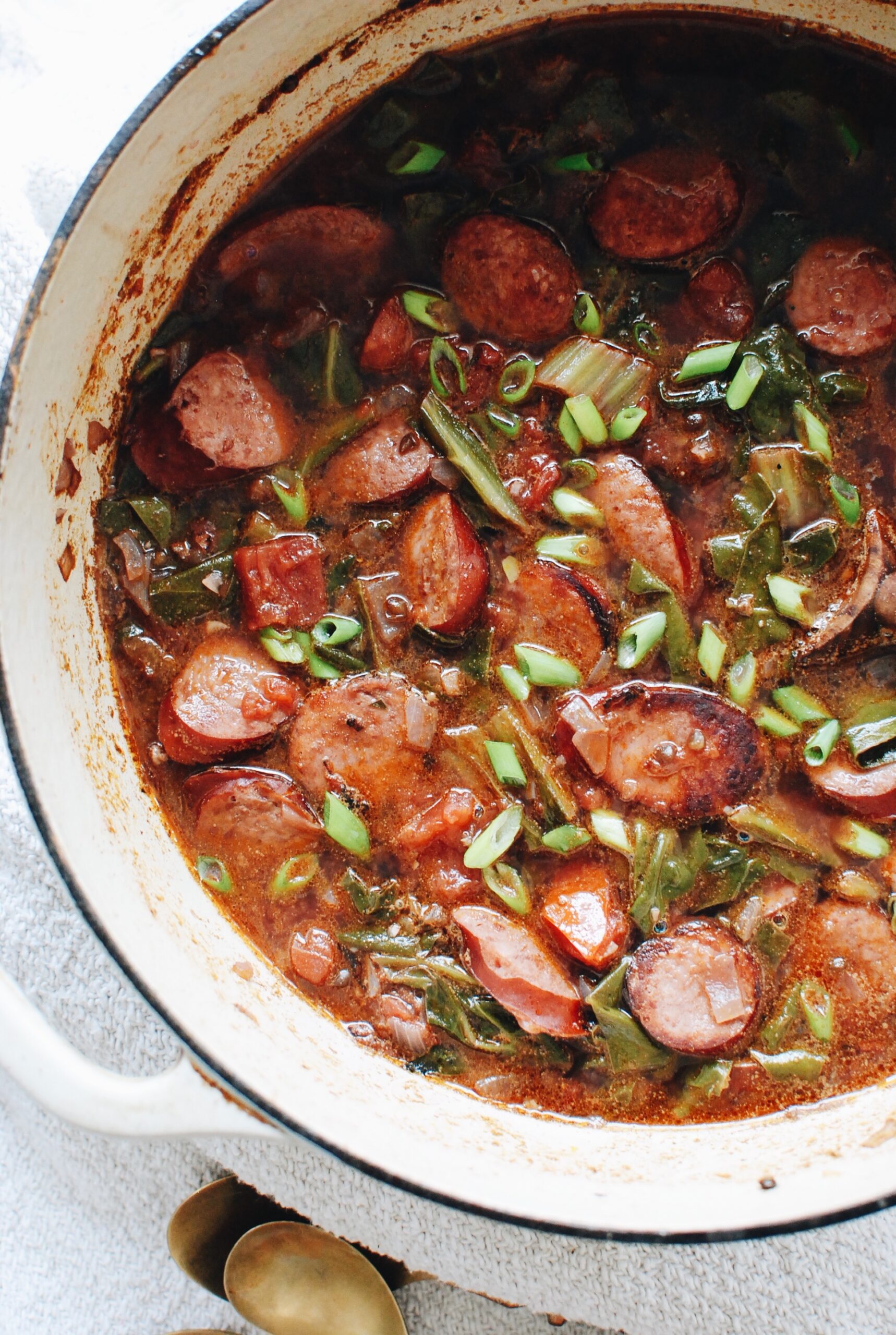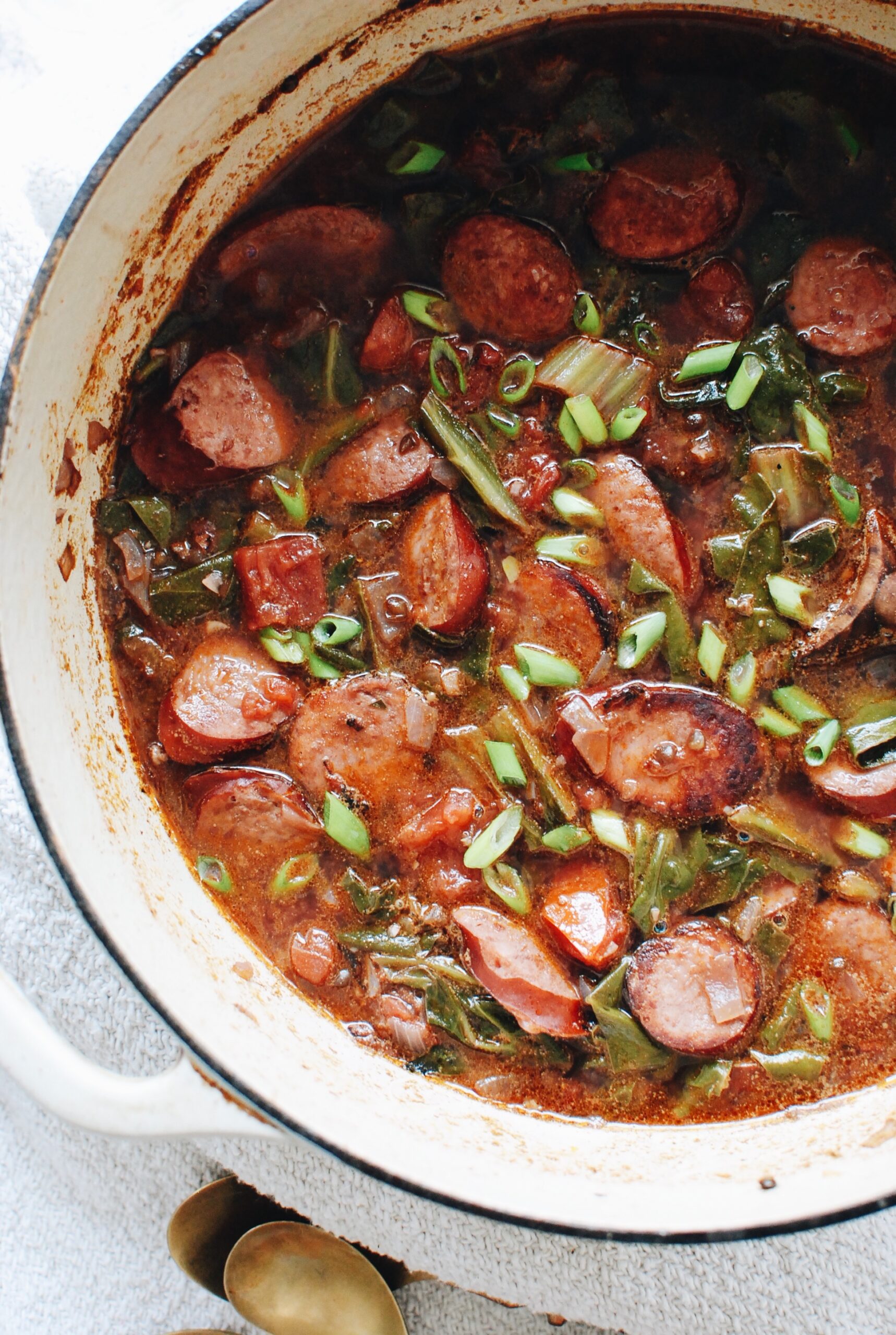 They pulled a Titanic for the photo, though.
This soup is one of those simple, glorious umami-ish pleasures in life. Every ingredient is already such a class act that it doesn't really need too much in the end. And we'll talk about the swap-ins, so don't lose your shirt, Charlie!
(who's Charlie?)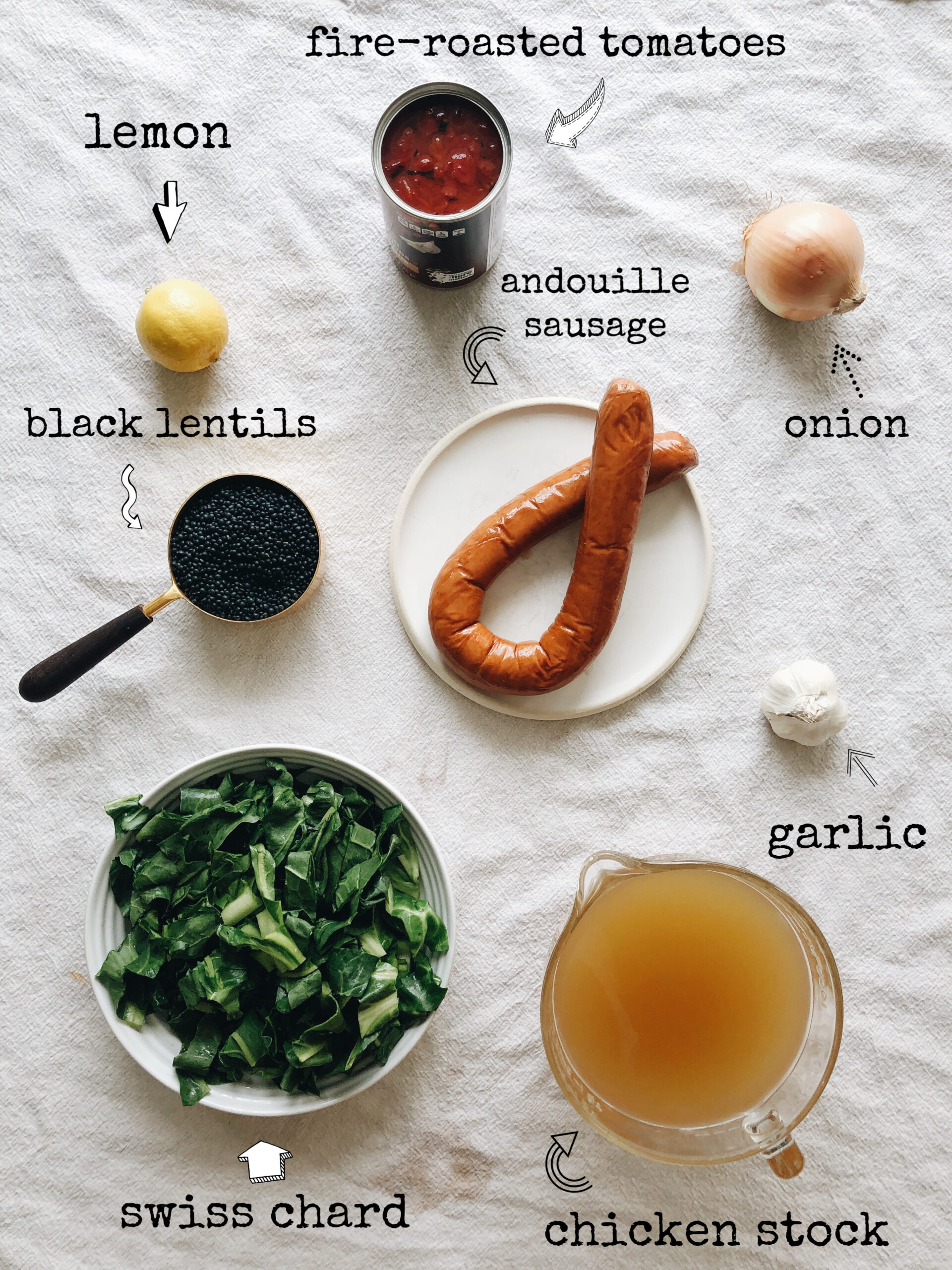 We had the sausage frozen, so I'm considering it a "pantry" item. And Swiss chard lasts a good long time in the fridge, so order some and keep it on hand for when the soup mood strikes! Which it should this Thursday and Friday, if your weather is as jacked as ours. (1-3 inches of snow WHAT ARE YOU SMOKING, MAMA NAY NAY.)
Eight ingredients from top to bottom. Not including oil or salt. But you knew that.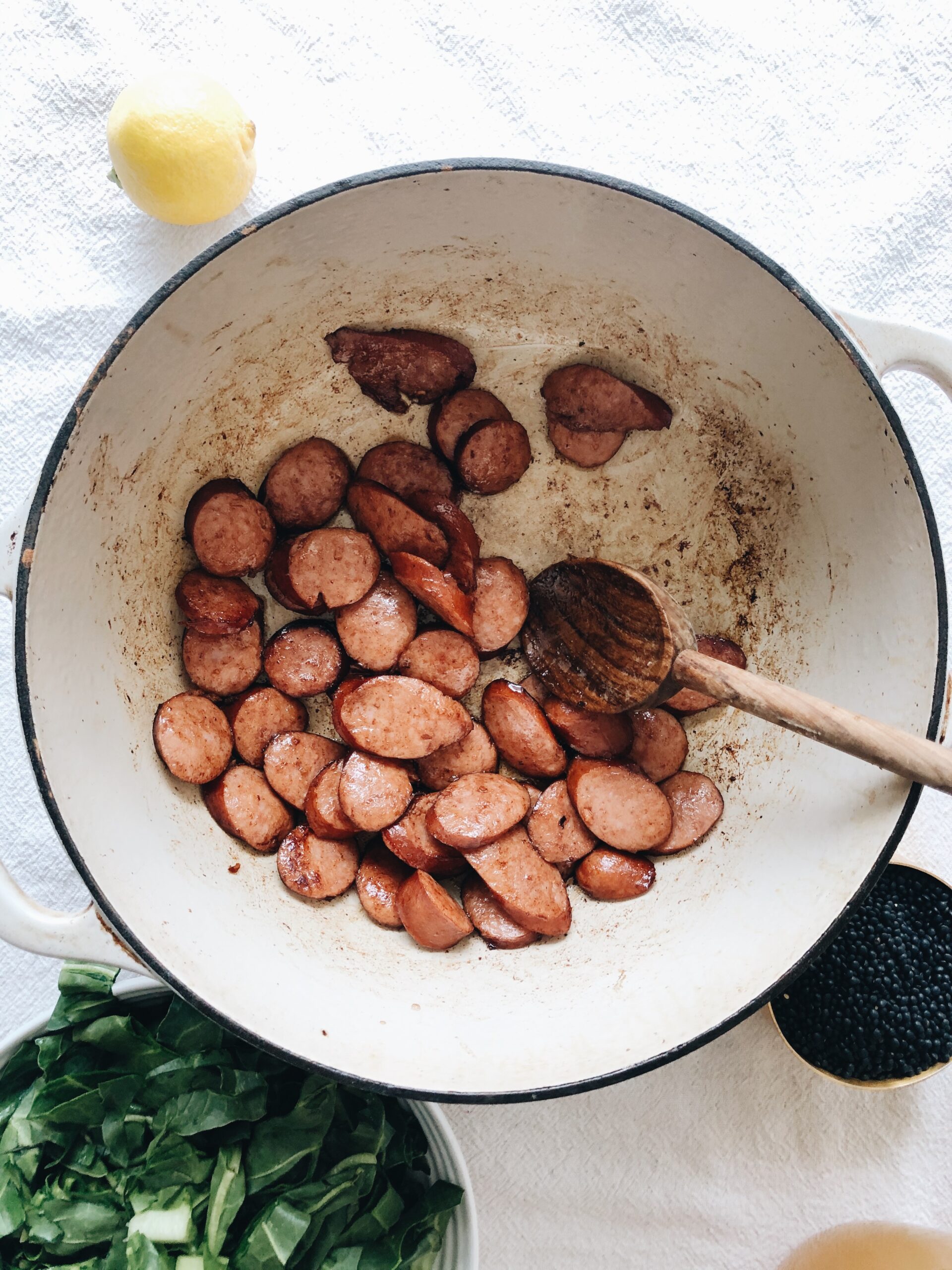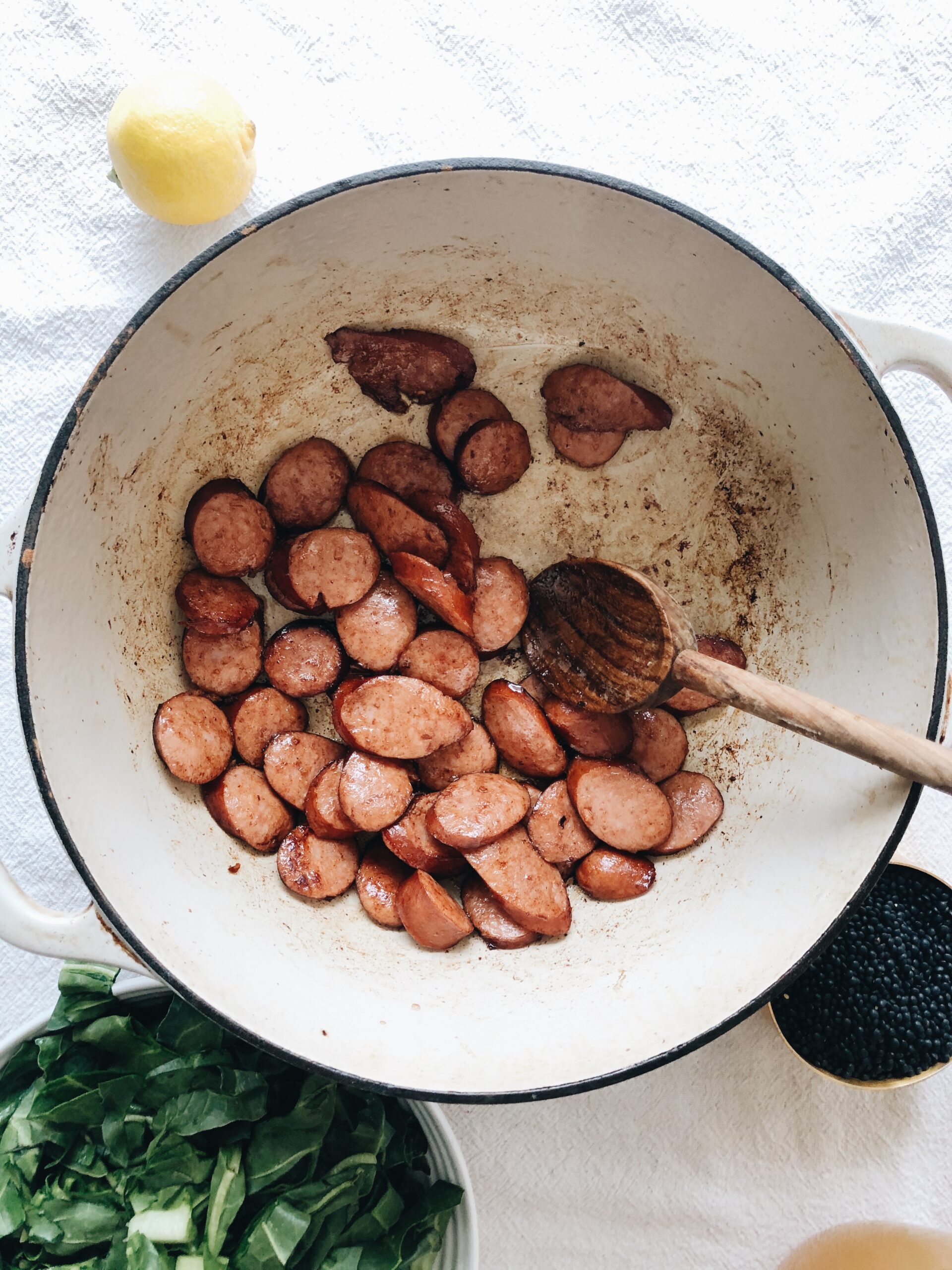 First up, just slice and sear the sausage, Sandra. Easy as . . . sausage.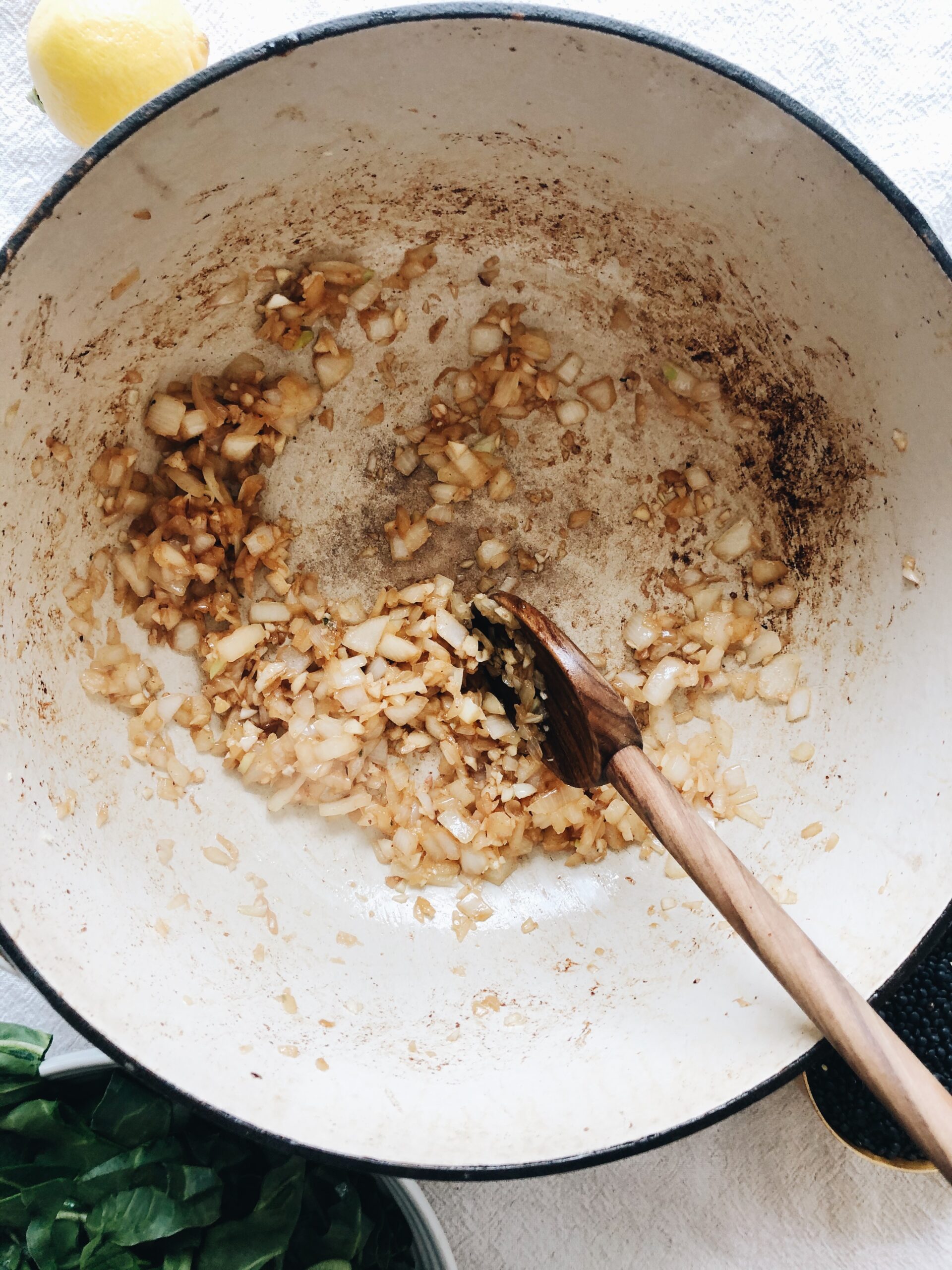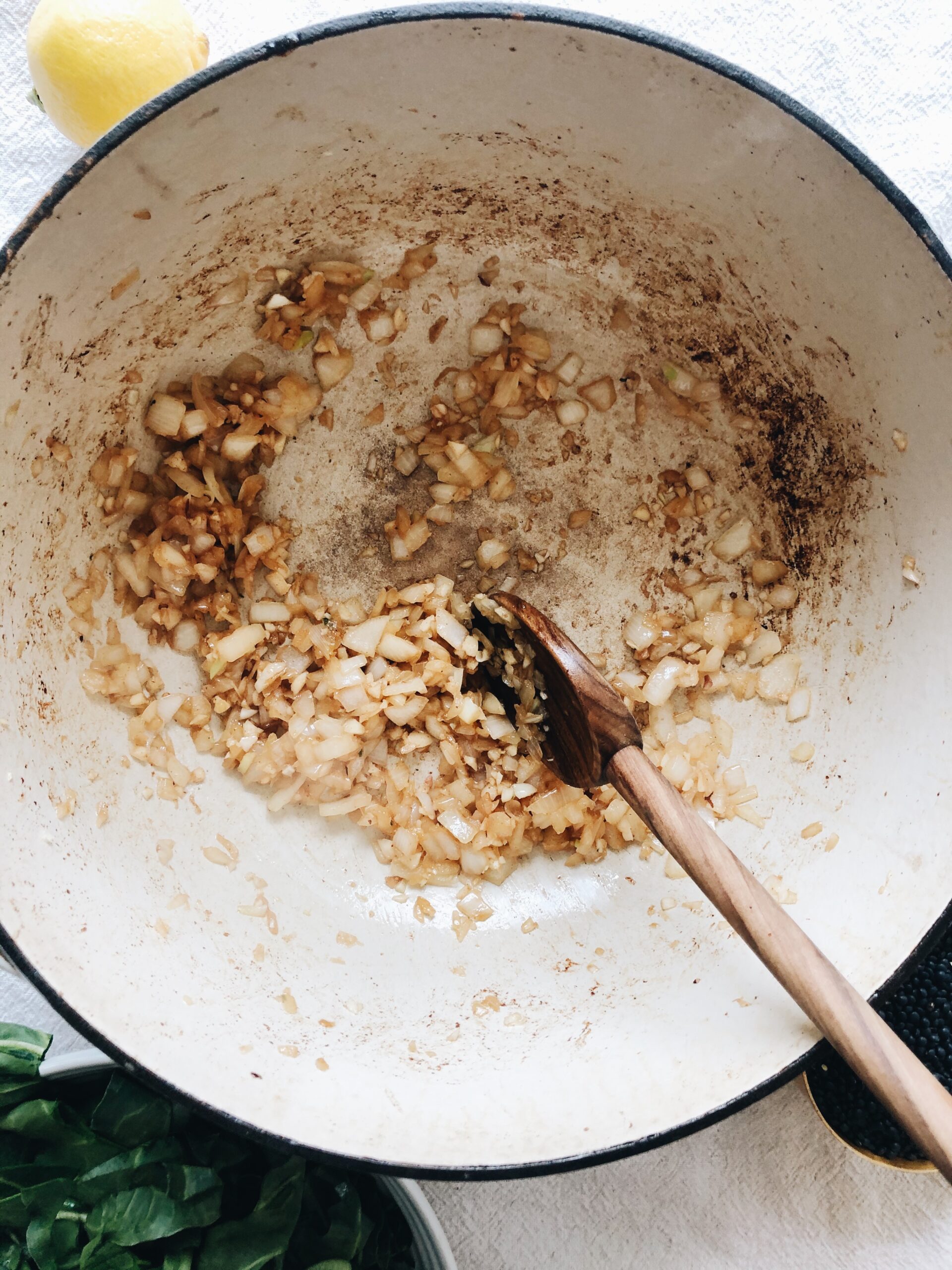 Once that comes out, let's sauté an onion with a few cloves of garlic. Let's do that. Let's. Yes, rightio then.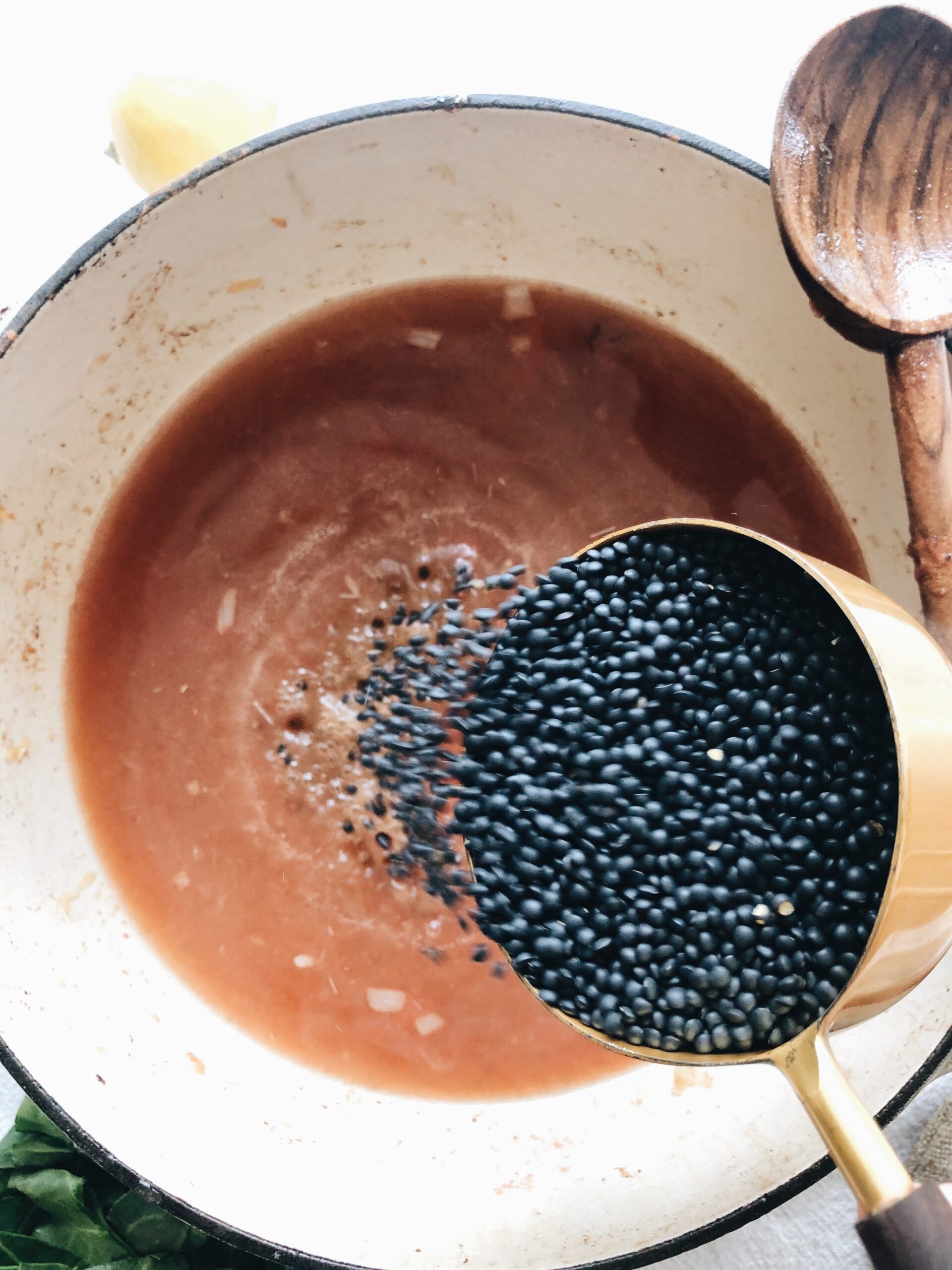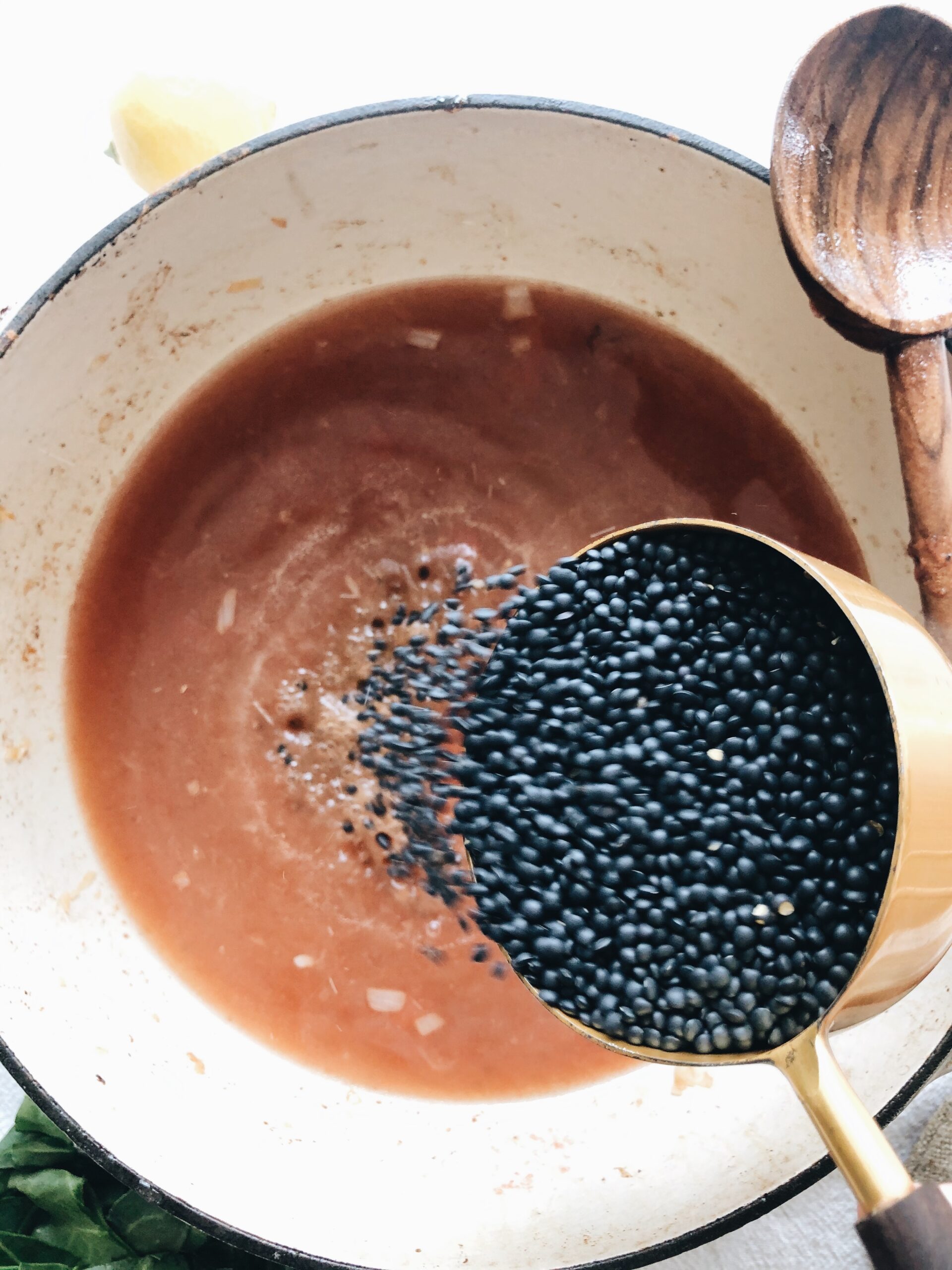 Then you'll add the fire-roasted tomatoes (regular diced tomatoes are jerst fern), the stock and water, and give it a little stir. Pour the black lentils in (you can use French green lentils here, regular green lentils, even red are fine. Other grains work as well, like barley or farro or whatever you need to use up in the CUPBOARD. <–that word makes me giggle so I say it a lot. but with an accent. i won't tell you which one because I'm a mystery like that.)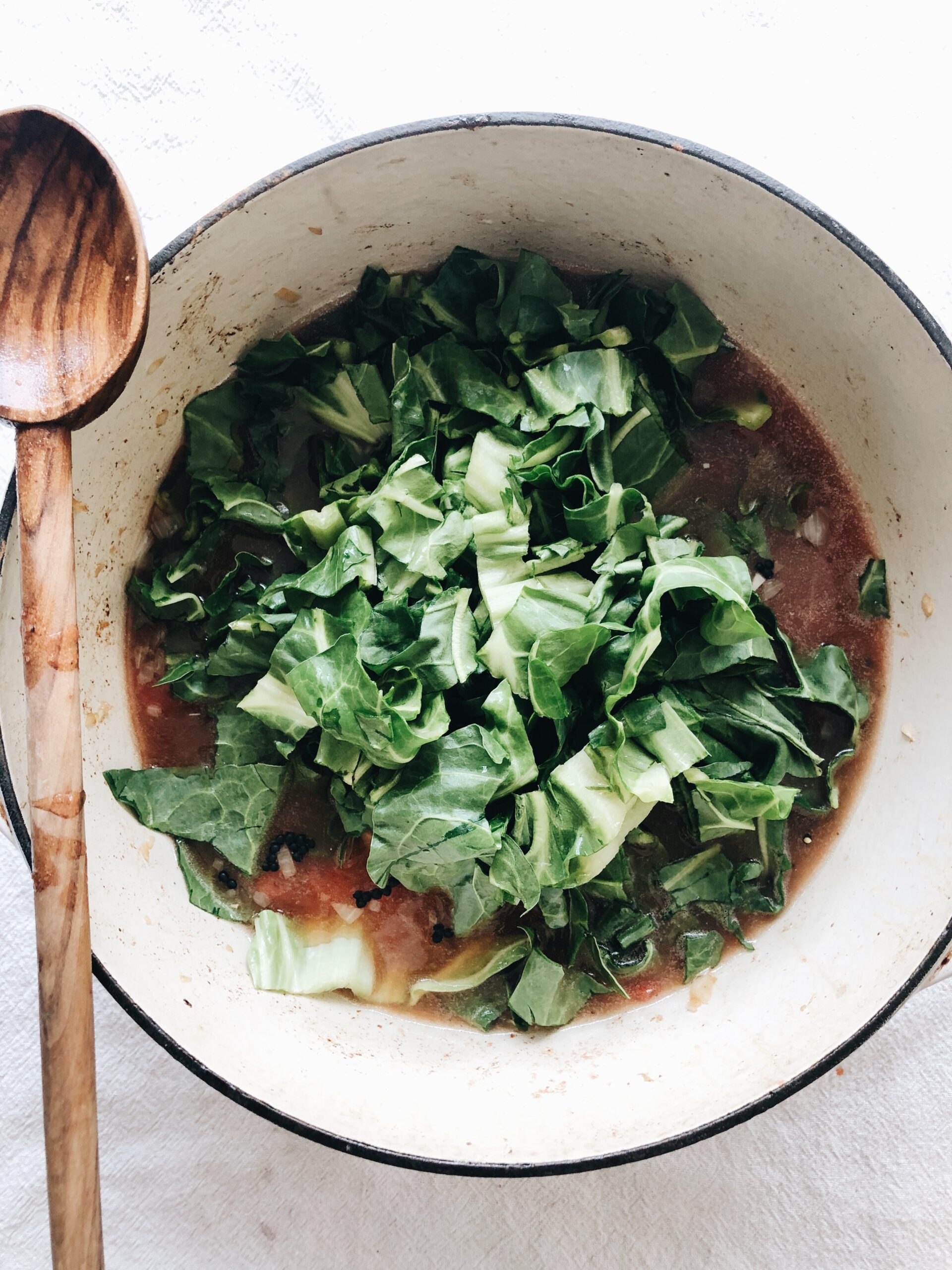 So you can do one of two things at this point: You can add the chopped chard NOW (use kale or spinach or collards in place of chard if ya need!), for a longer cook on them, which totally works. Or you can simmer the lentils first, and then just wilt the chard at the end. The only main difference will be color. The chard will become a more faded green the longer it cooks. And it will be a little softer. It's really up to you! Either route works. I added mine in the beginning IF YOU REALLY MUST KNOW, GAH.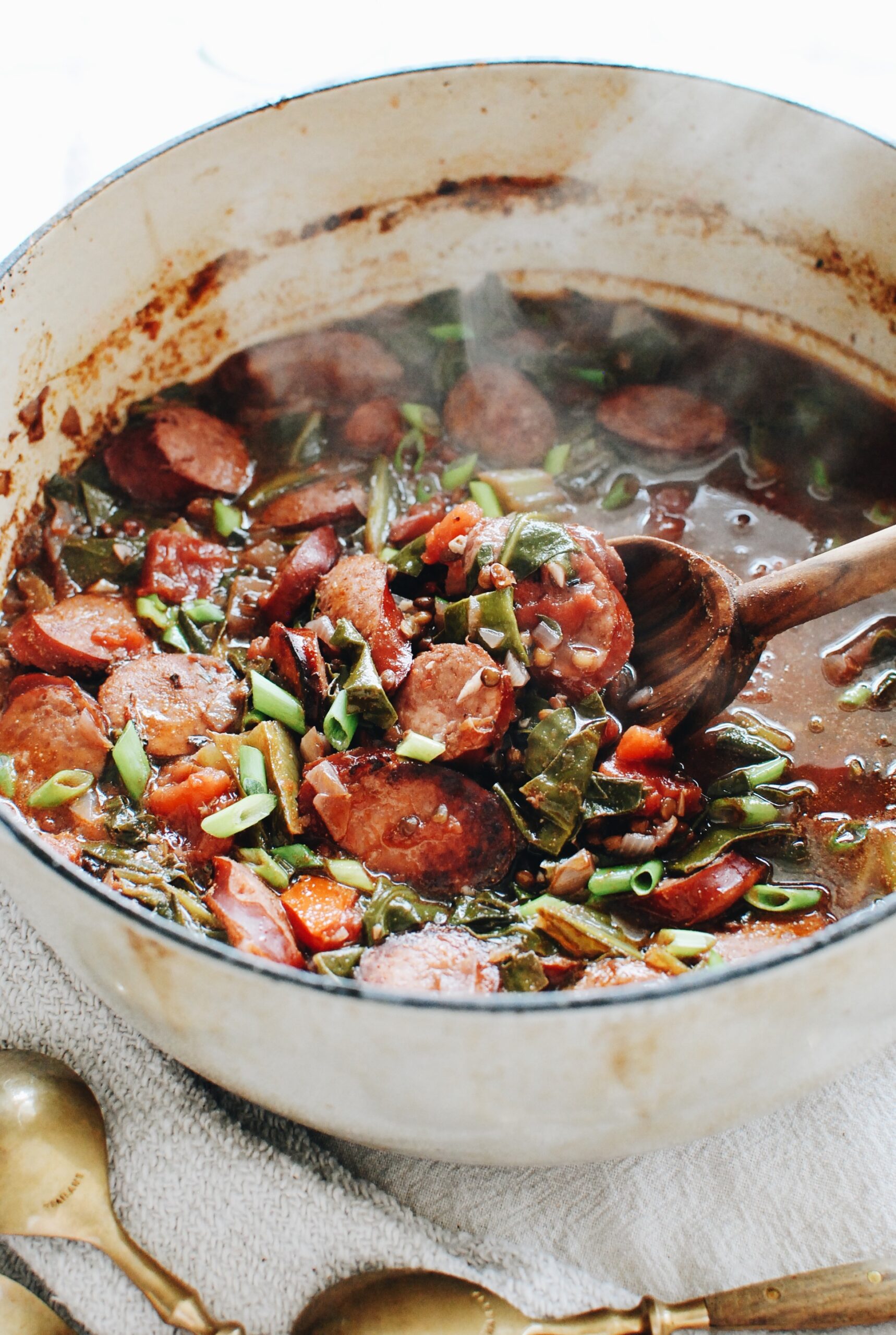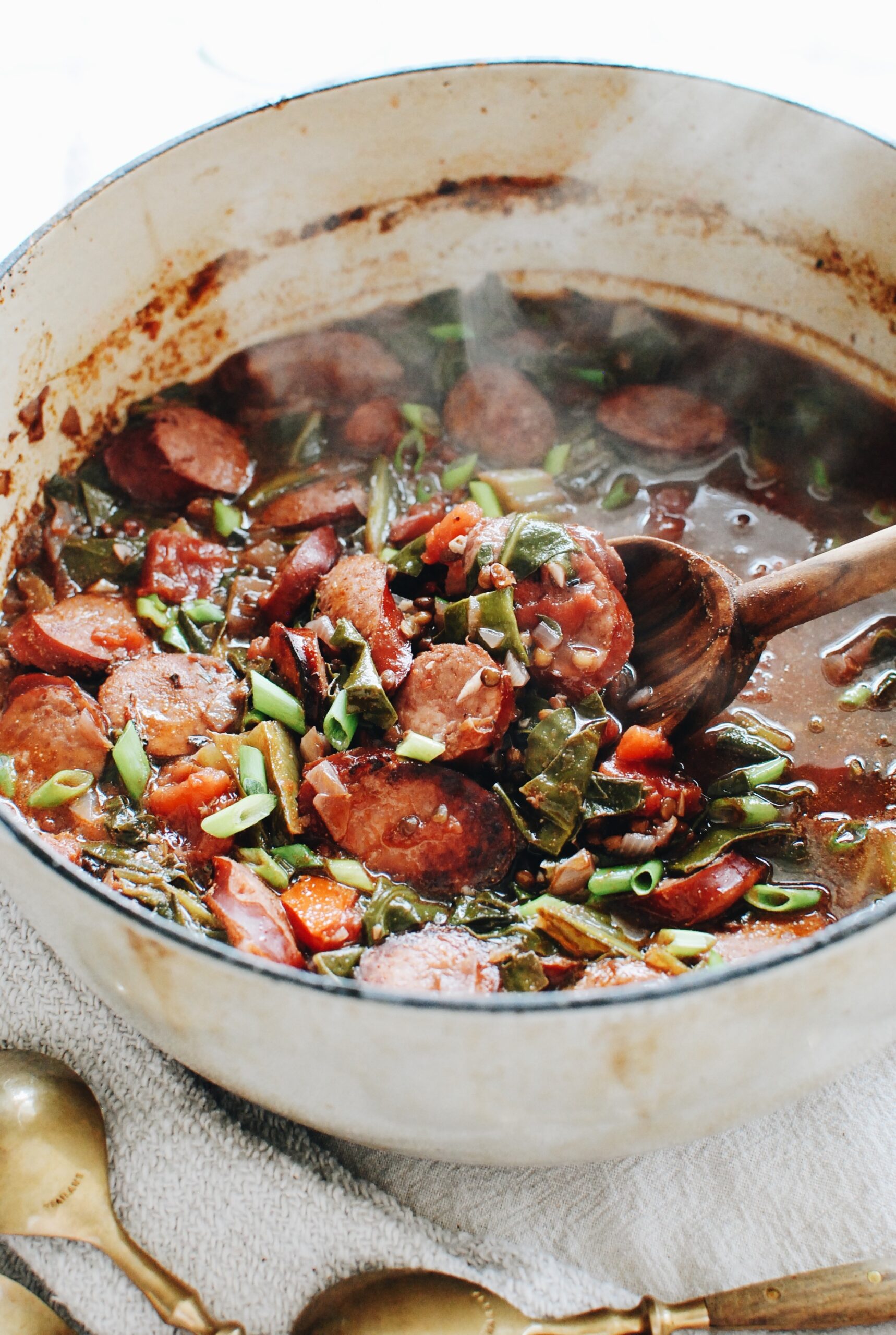 The lentils simmer for 20-ish minutes, until they're toothy and tender, but not mush. And not pebbles. You'll know. They'll tell you.
And remember to stir the seared sausage back in!
You'll give it a pinch of salt to taste, and garnish with anything you have. I had some scallions to use up, so in they went. But nothing is mandatory during quarantine, so stresseth notteth.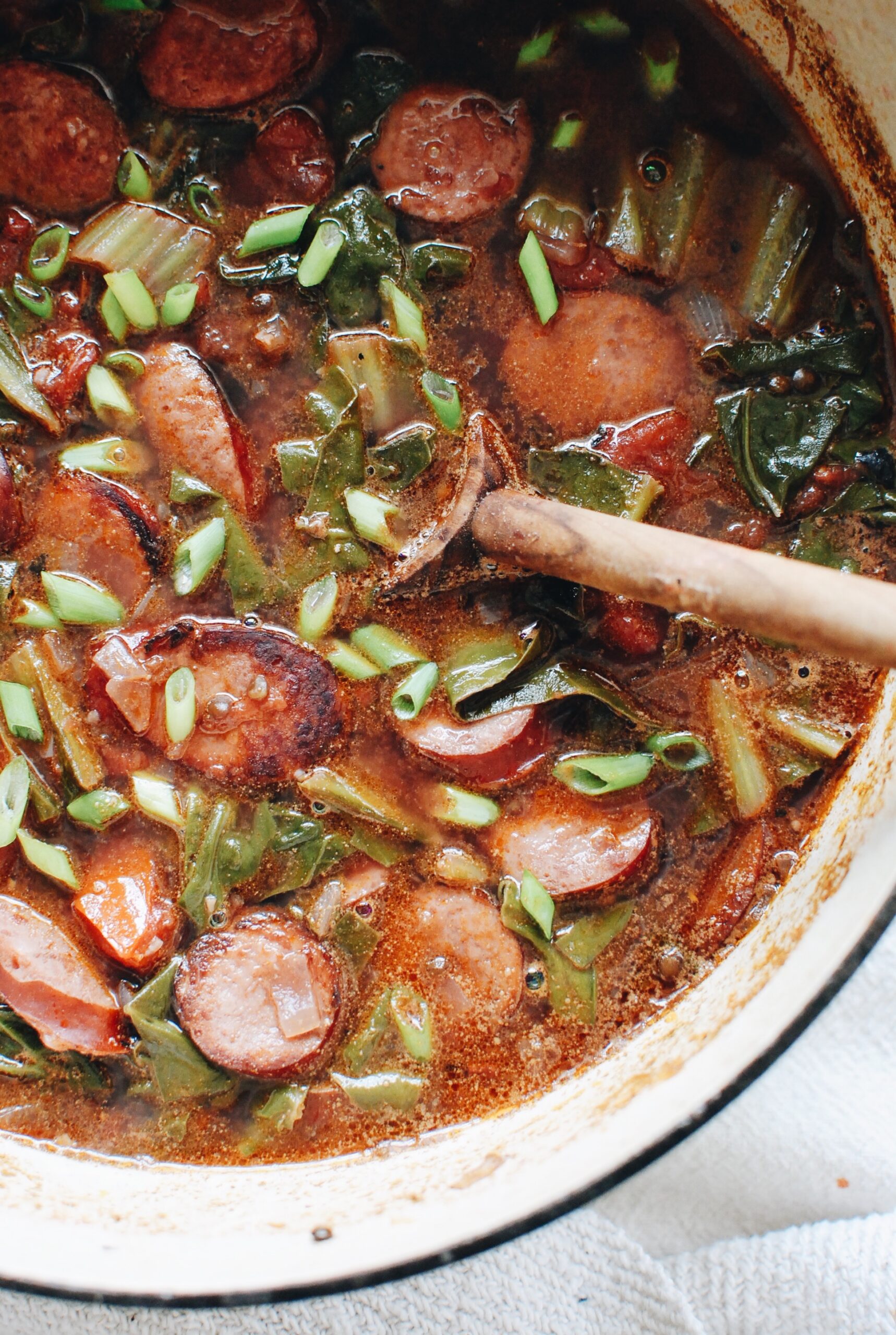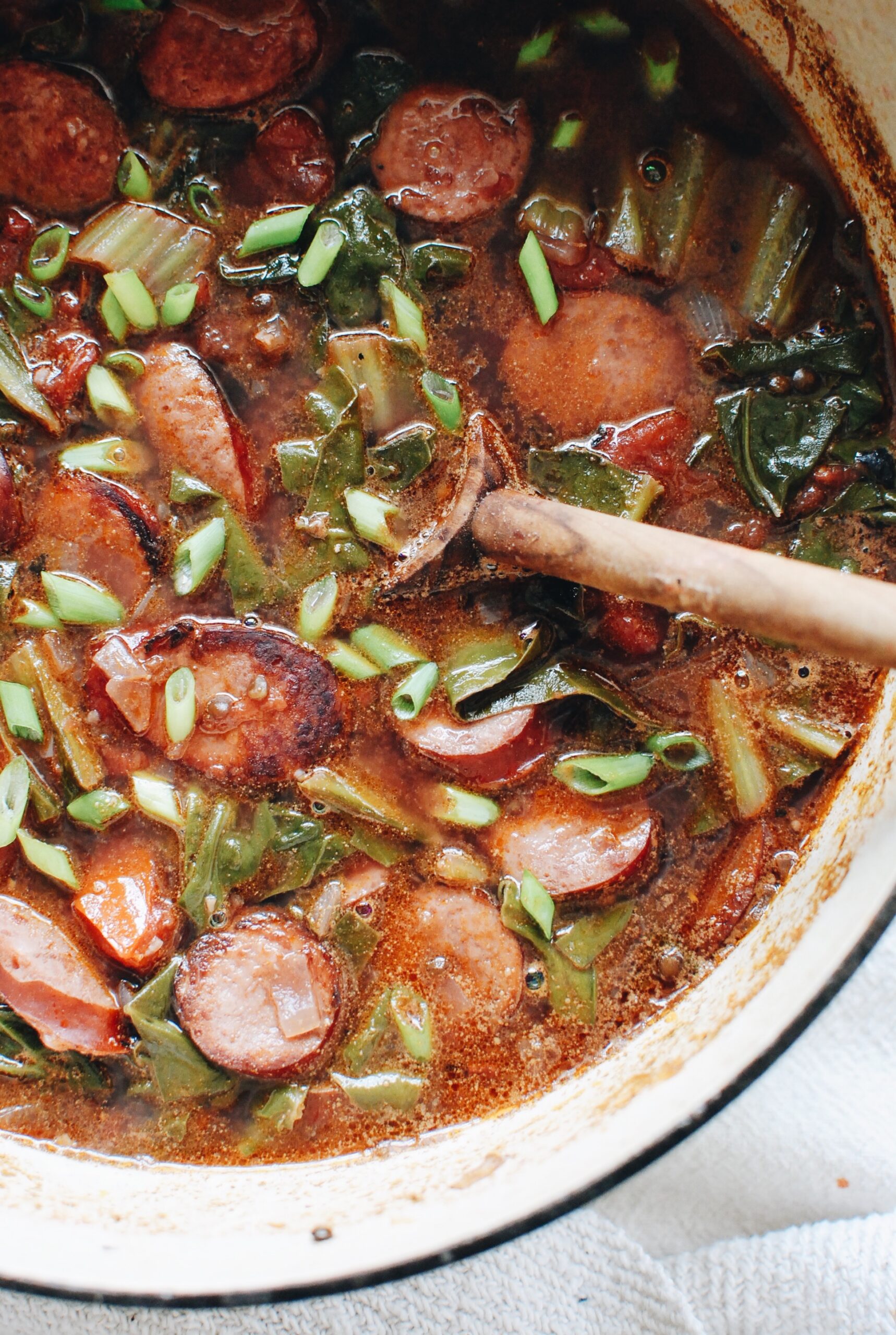 I squeezed in a full lemon for a punch of bright, and it woke it all the hay up, yo. (yes, mom that is an actual sentence created by a college graduate.)
SO good. Perfectly good. The savory sausage, the toothy lentils, the hint of depth from the fire-roasted tomatoes, the velvety ribbons of chard, the brothy nature of the whole slurpy mess. Wonderful. Just what we need this week. Today. Right now.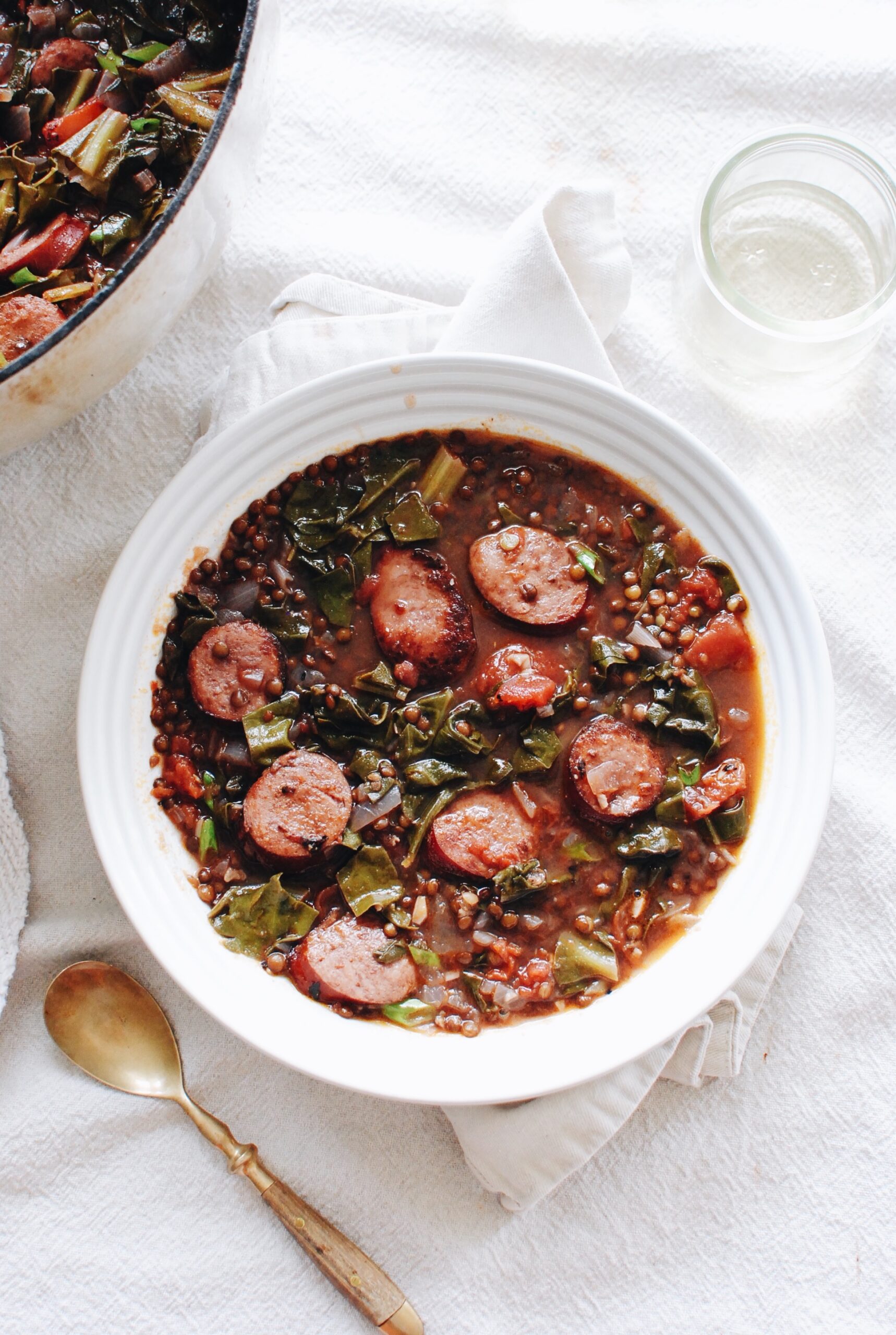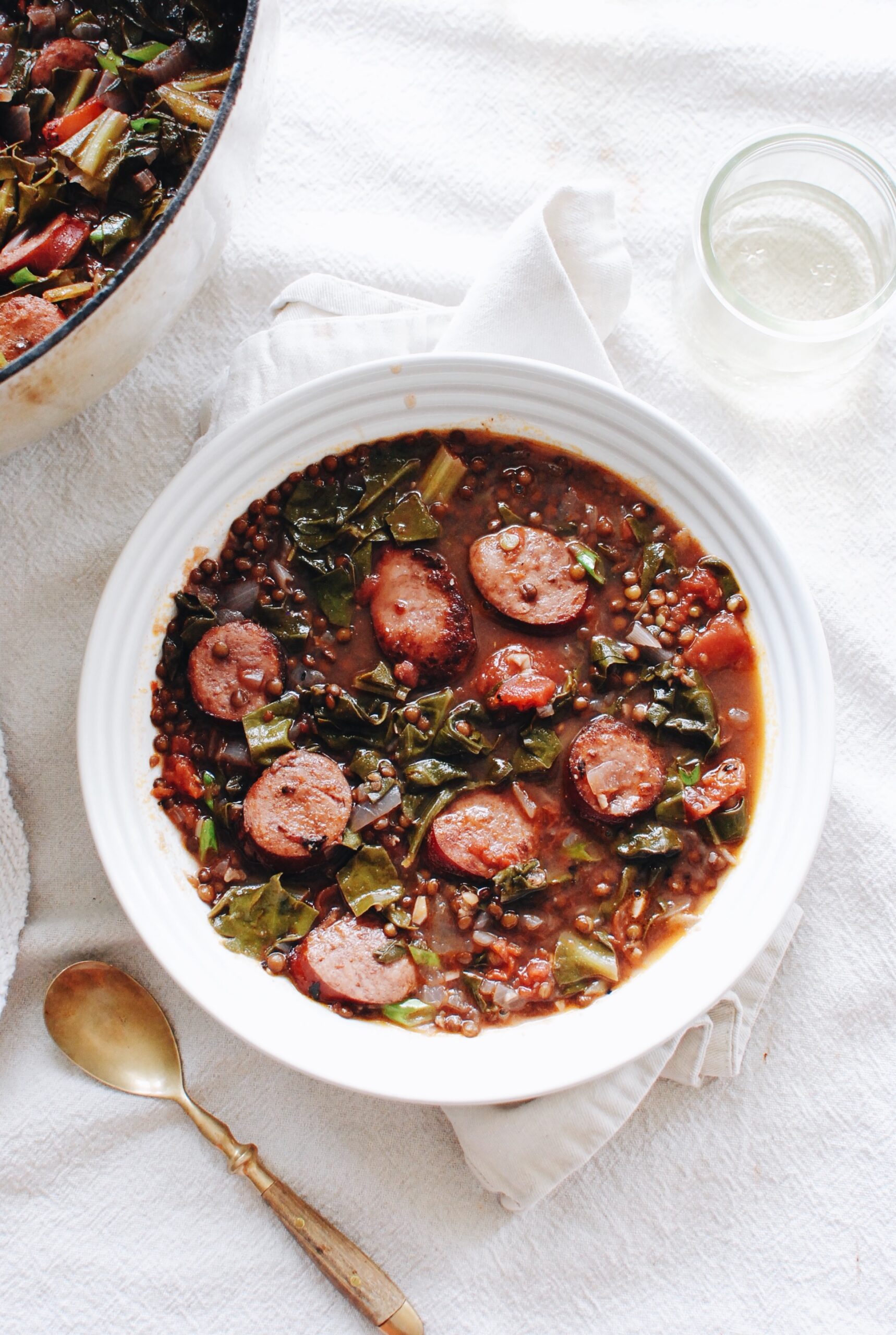 You're going to need a bigger bowl.
Lentil, Sausage and Chard Soup
Ingredients
1 (16 oz) package andouille sausage, thinly sliced
1 medium onion, chopped
3 cloves garlic, minced
1 (15 oz) can fire-roasted tomatoes
4 cups chicken stock
1 cup water
1 bunch Swiss chard, sliced or chopped into little ribbons
1 cup black lentils
1 lemon
coarse salt
Any garnish you want (I used sliced scallions)
Instructions
Sear the sausages on both sides in a deep pot or dutch oven until you get some nice coloring, just a few minutes. Remove them from the pot and set aside. To the pot, add a swirl of oil, along with the chopped onions and garlic. Sauté 3-5 minutes, until the aromatics sweat and begin to brown in places. Season with a pinch of salt.
Add the diced tomatoes, stock and water. Go ahead and pour the lentils in, along with the chopped chard. Bring the soup to a boil, then reduce the heat and simmer about 20 minutes, until the lentils have softened and are toothy-tender. (You can also wait on the chard and stir it in now to wilt. Either way works.)
Add the sausage back to the pot and squeeze in the juice from the lemon. Give it a stir and taste. Need another pinch of salt? Go ahead! Get it the way you love it.
Garnish with chopped scallions (or honestly ANYTHING works here. Scallions were all I had.) and serve immediately!
Ladle it among bowls and you're ready.
Serves about 6.
7.8.1.2
417
https://bevcooks.com/2020/04/lentil-andouille-sausage-and-swiss-chard-soup/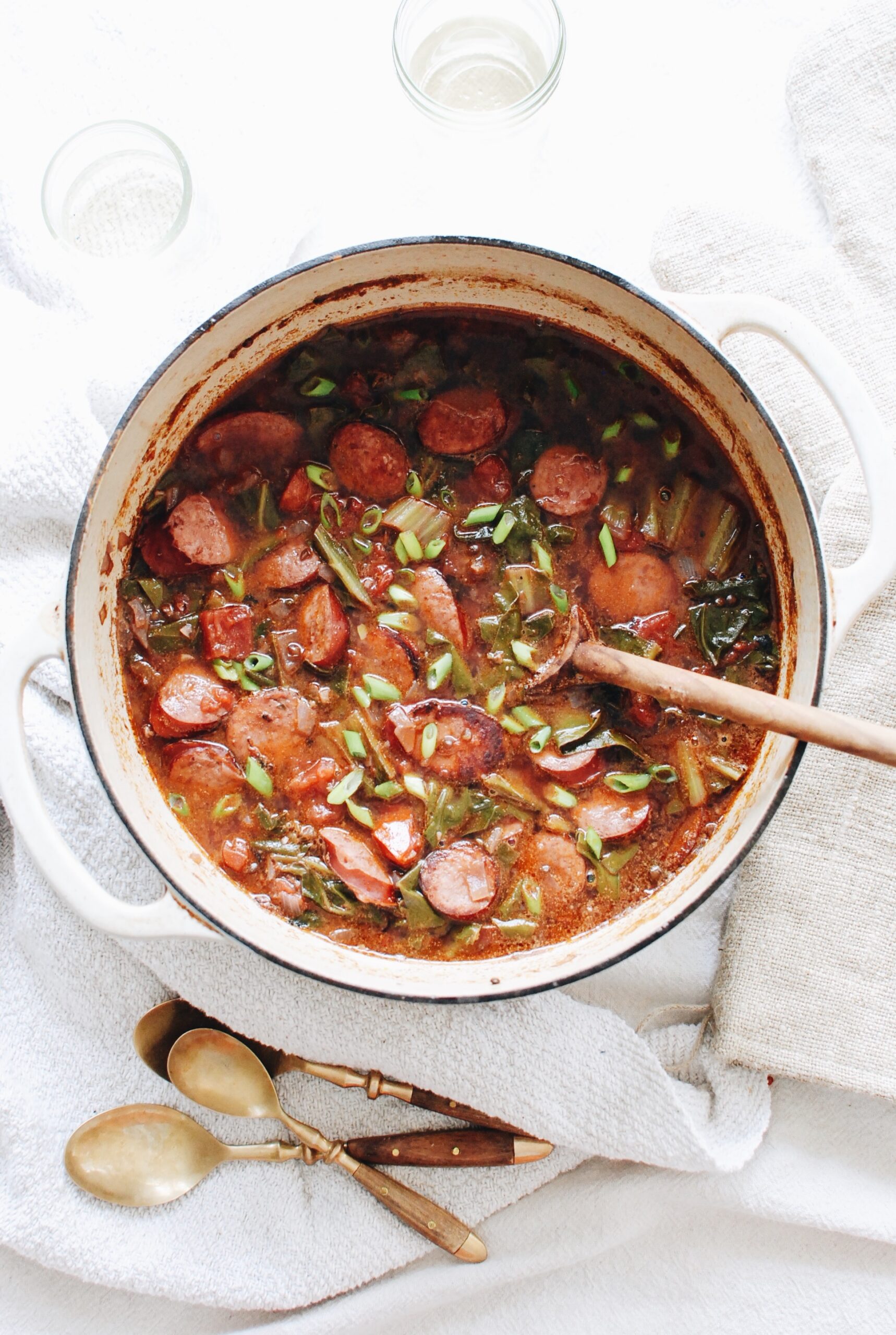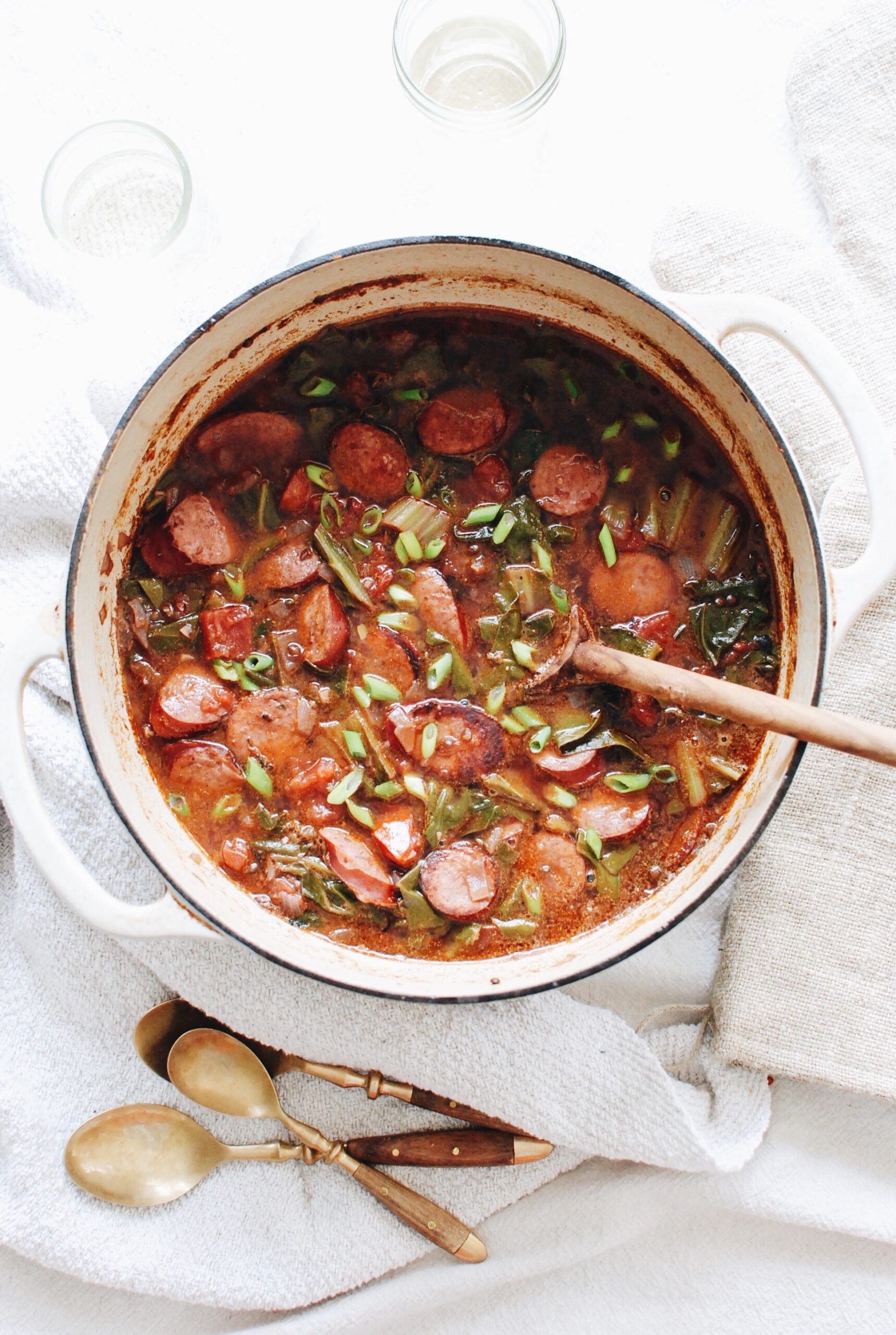 Are you getting snow this week? Here's your emotional solution. ^^