Happy In-Between Christmas and New Year where we have no idea how to act or what to be or what to do, yaaaaay!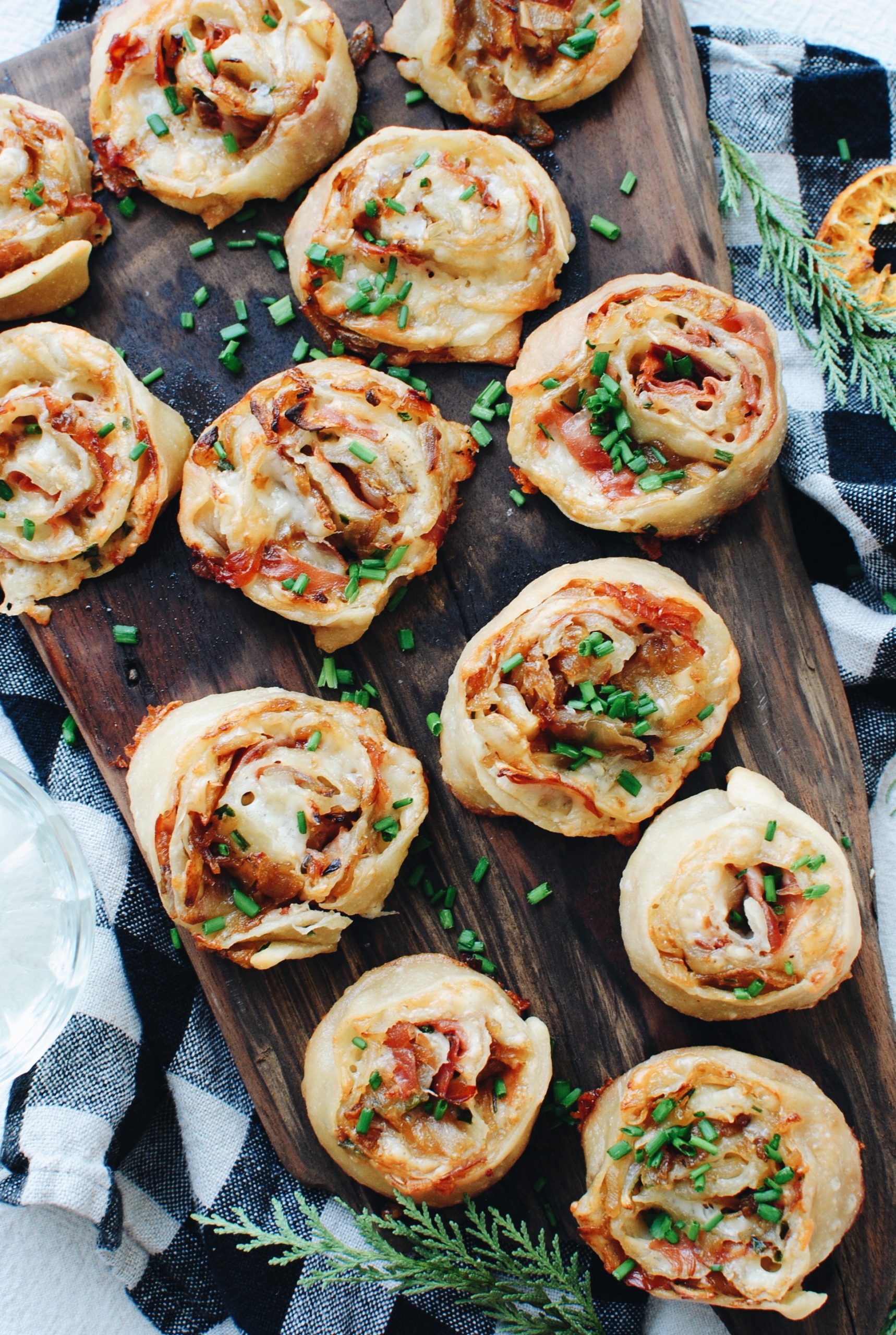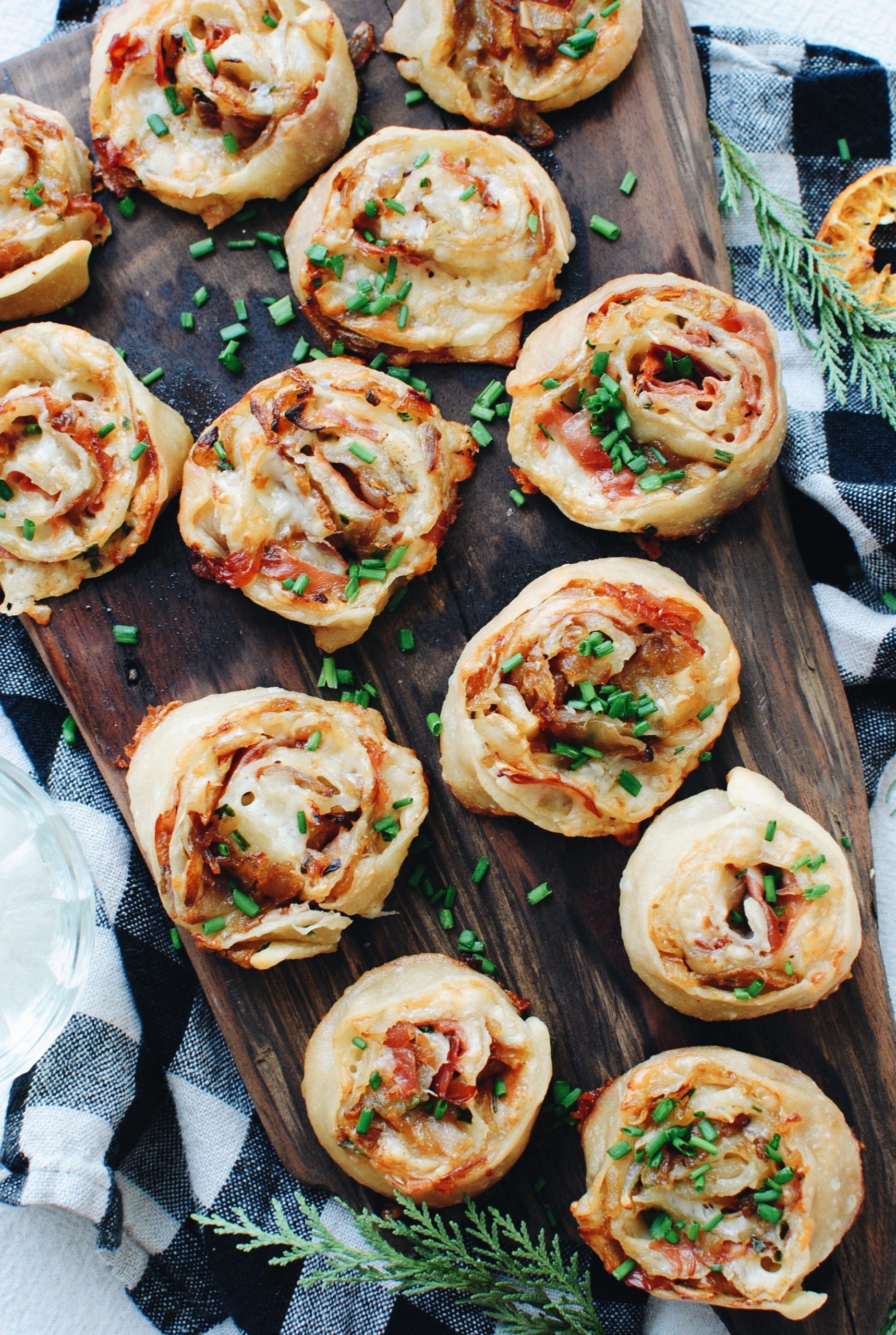 I suppose we'll have to make an absurdly delicious New Year's Eve appetizer in the meantime. That feels like a solid choice to my soul and gut and waist line.
Speaking of, how's your break? Get everything on your wish list? Sleeping in every day? Navigating the tender waters of family dynamic and children in your face every single hour of humanity? Want to flush Home Alone down the toilet? Sweet, let's eat.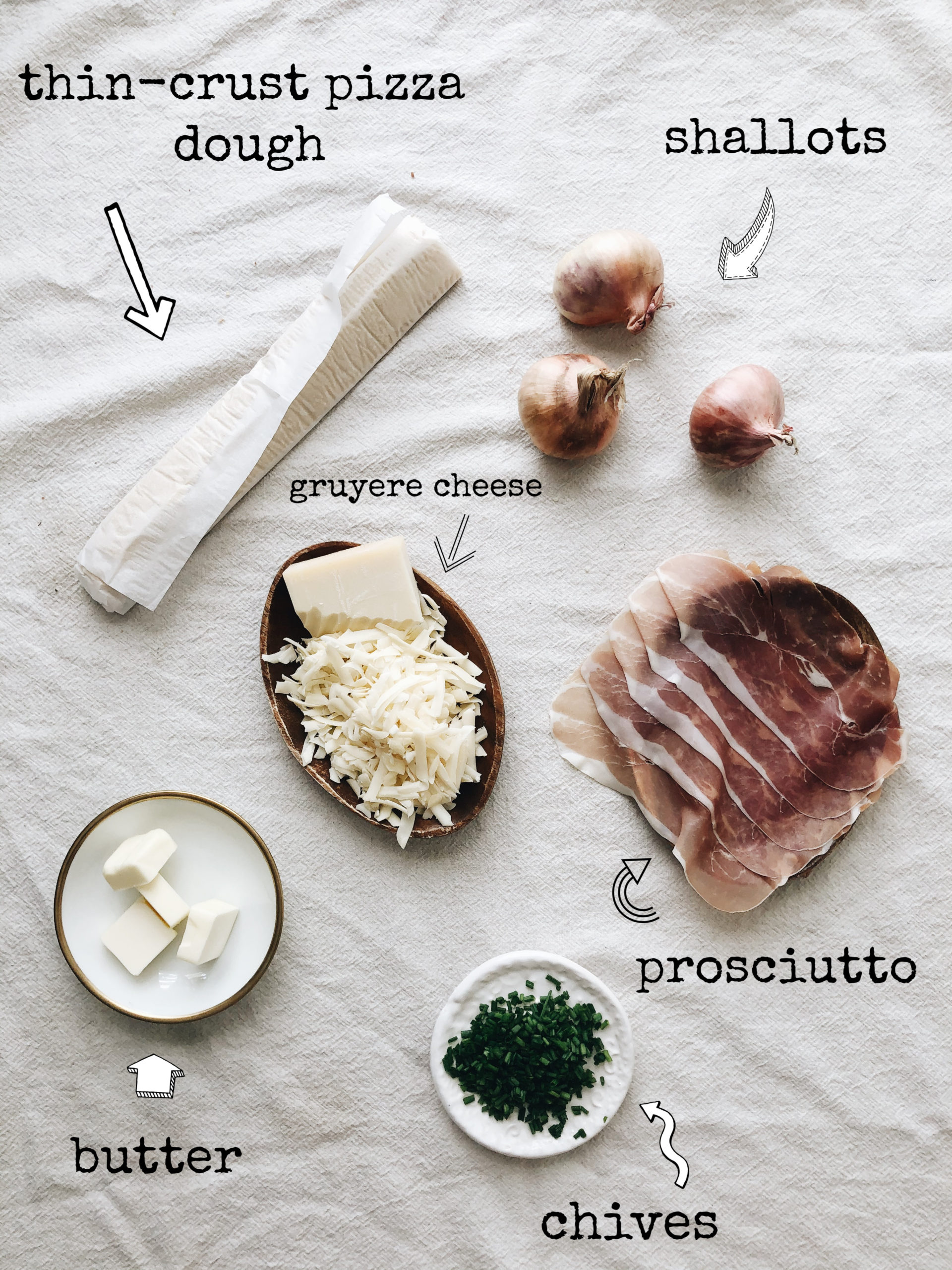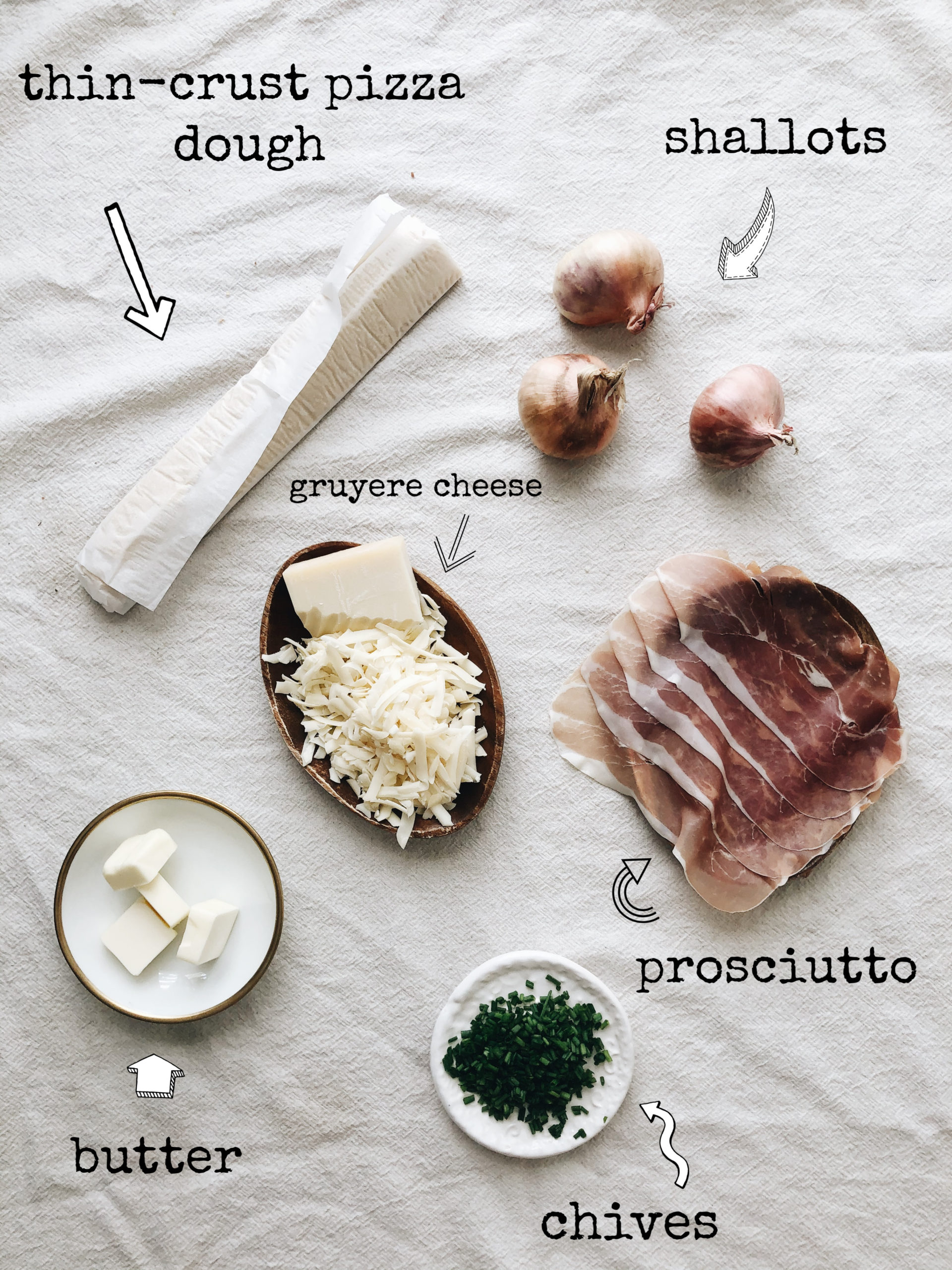 So, this appetizer absolutely most definitely belongs on one of those bucket lists of things to make/eat/never regret but have a treadmill and/or your therapist nearby. IT IS OBSCENELY, HEART-PUMPINGLY GOOD.
I mean, look at that lineup though. Nothing bad can come from this. And while I'm delivering good news, I should also mention that that's REAL butter. Nothing fake. Nothing from a tub or tube or alien's butt. That butter is going to enhance this snack from beginning to end and you will rightly lose your mind over it.
Look, I'll show you.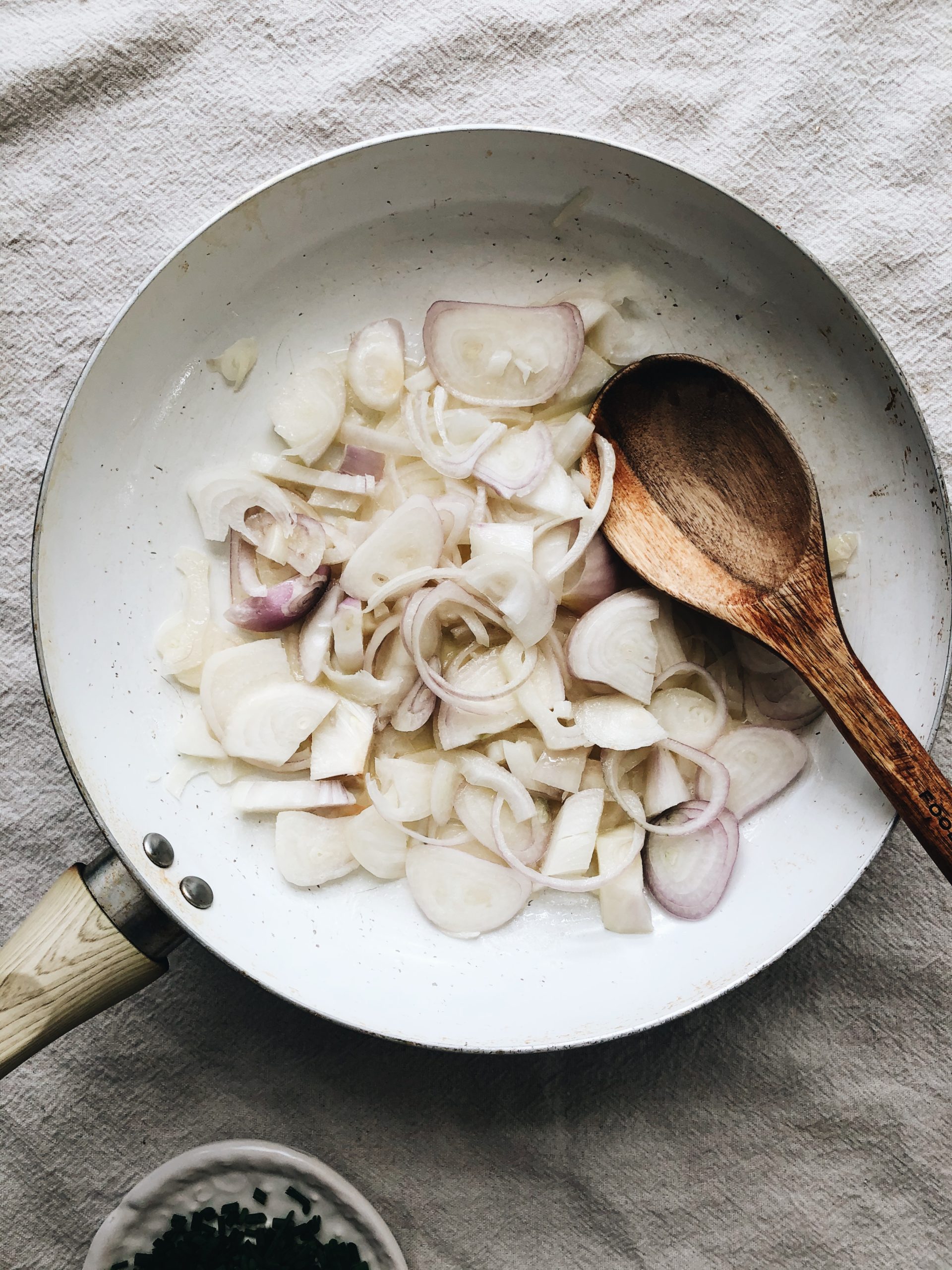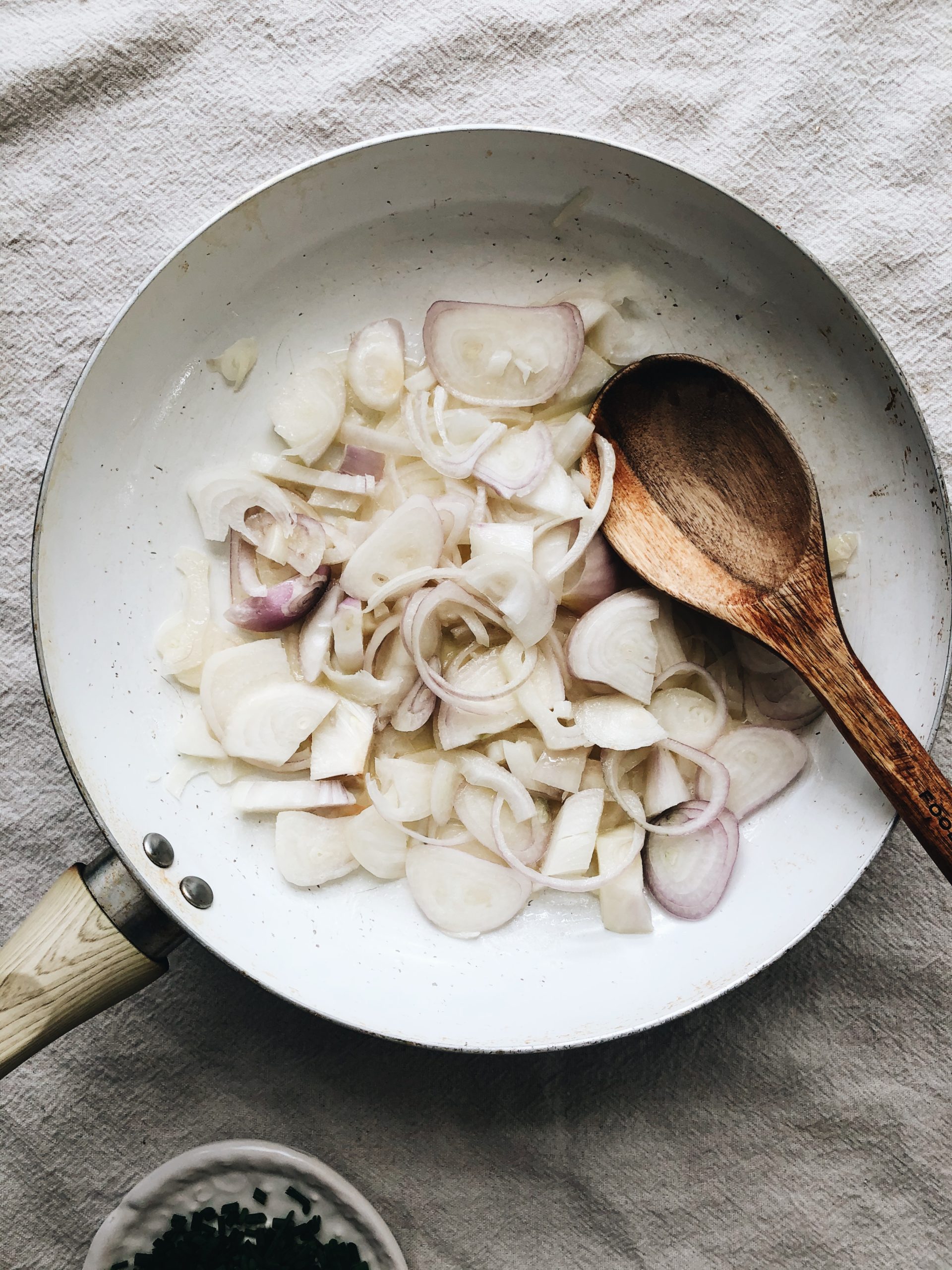 This recipe has a slight, posh Frenchy vibe to it, with all the real butter and truckloads of shallots and melted gruyere cheese and your face right at the end.
Start by caramelizing three thinly-sliced shallots in like, three solid tablespoons of butter. The butter's rich flavor is the perfect partner for shallots, omg. Everything in your life smells stupid good right now.
And go for a while. Medium-low heat, for 30-ish minutes. Keep going.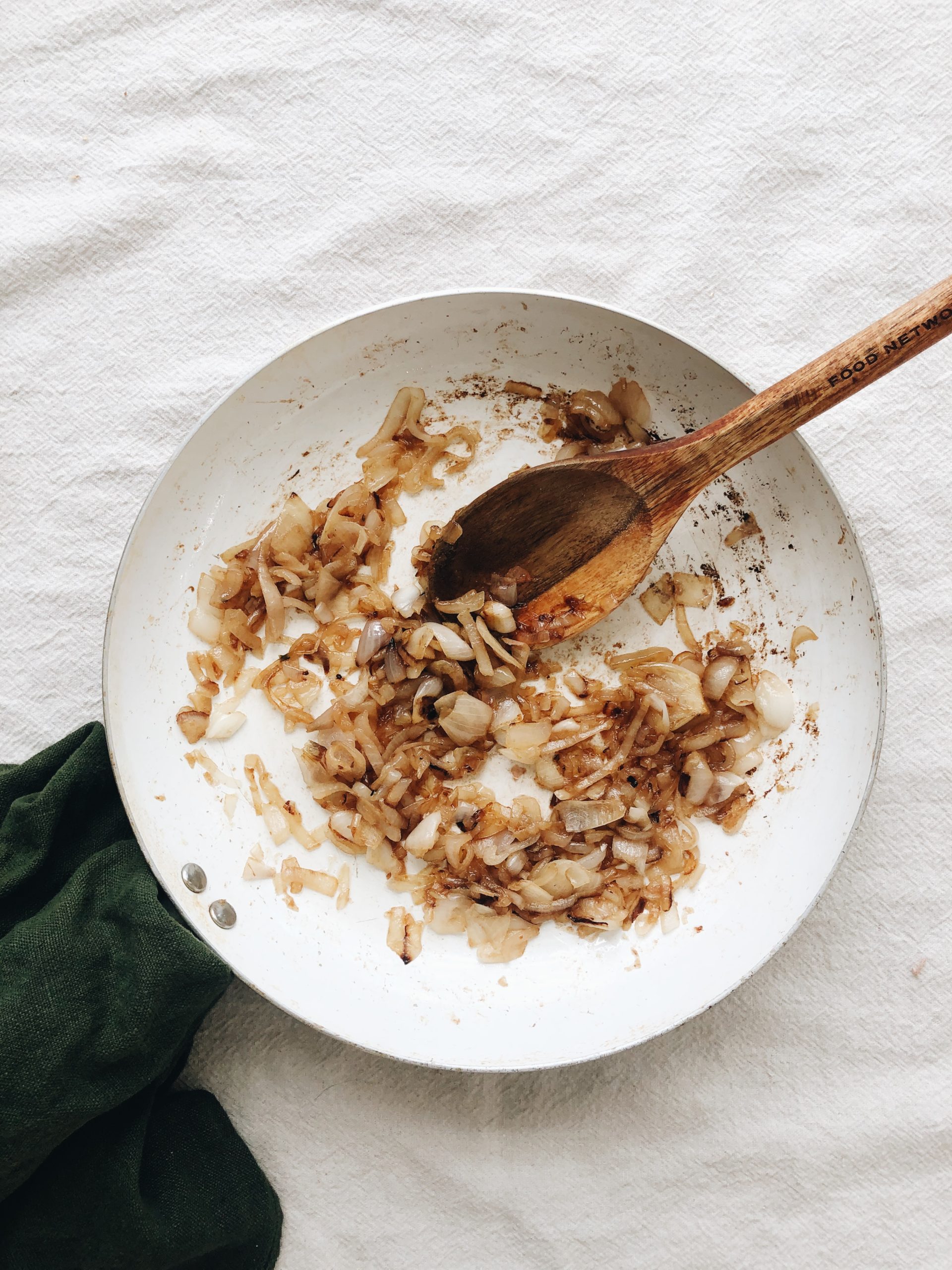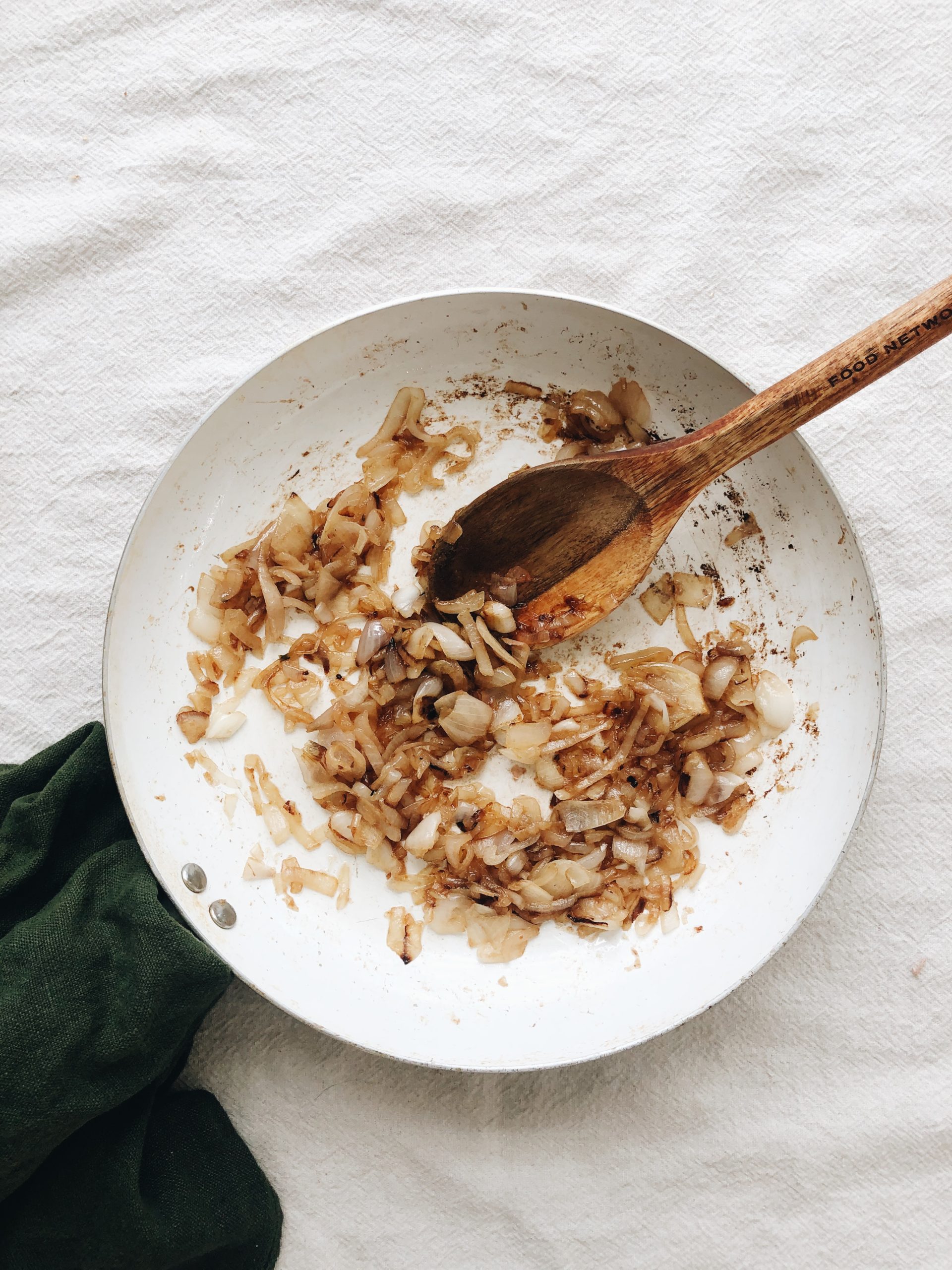 Until it looks like this. You could even go a little longer if you want. I was starved and falling apart emotionally and needed to eat this as soon as humanly possible before I punched someone or myself.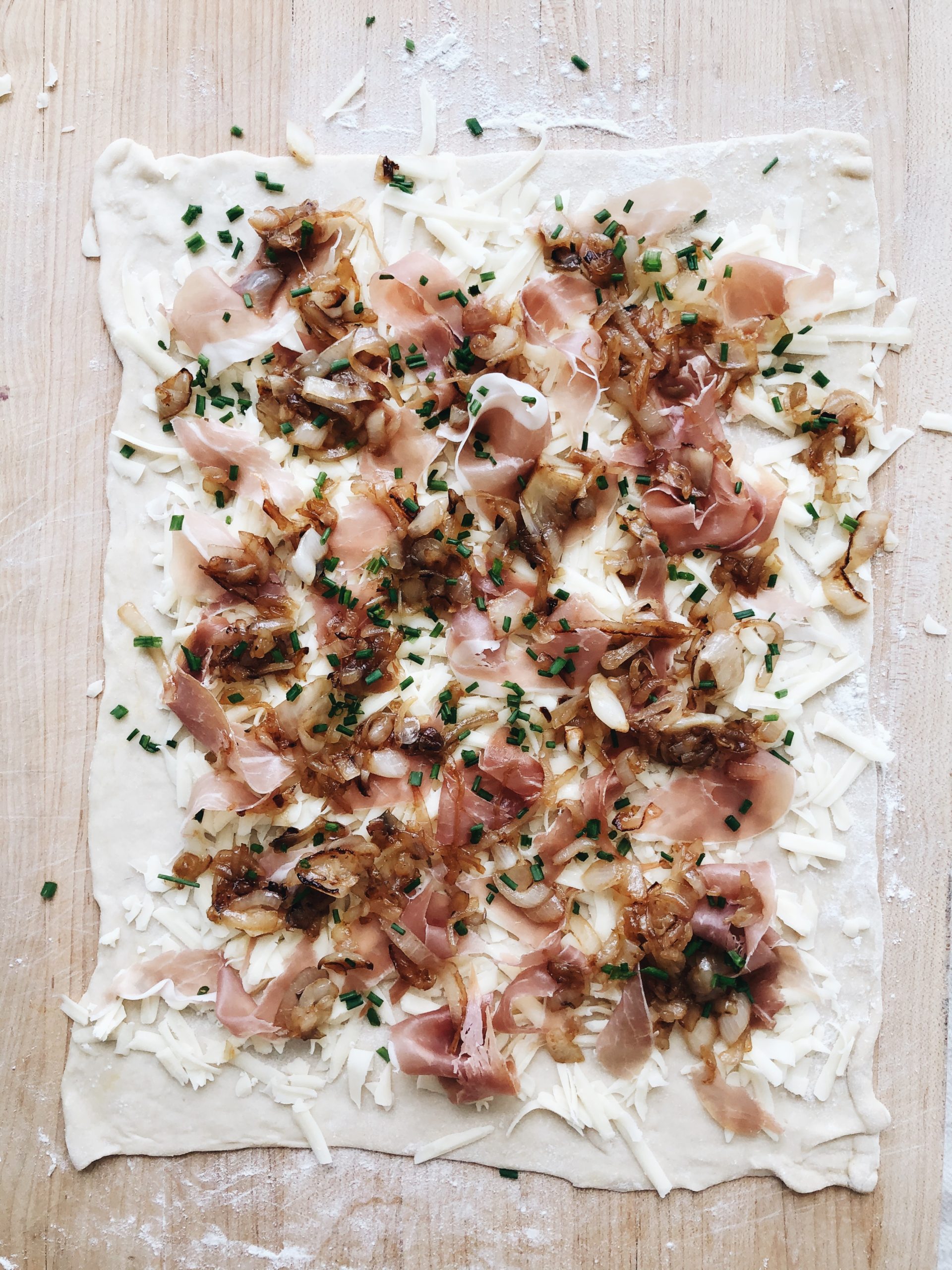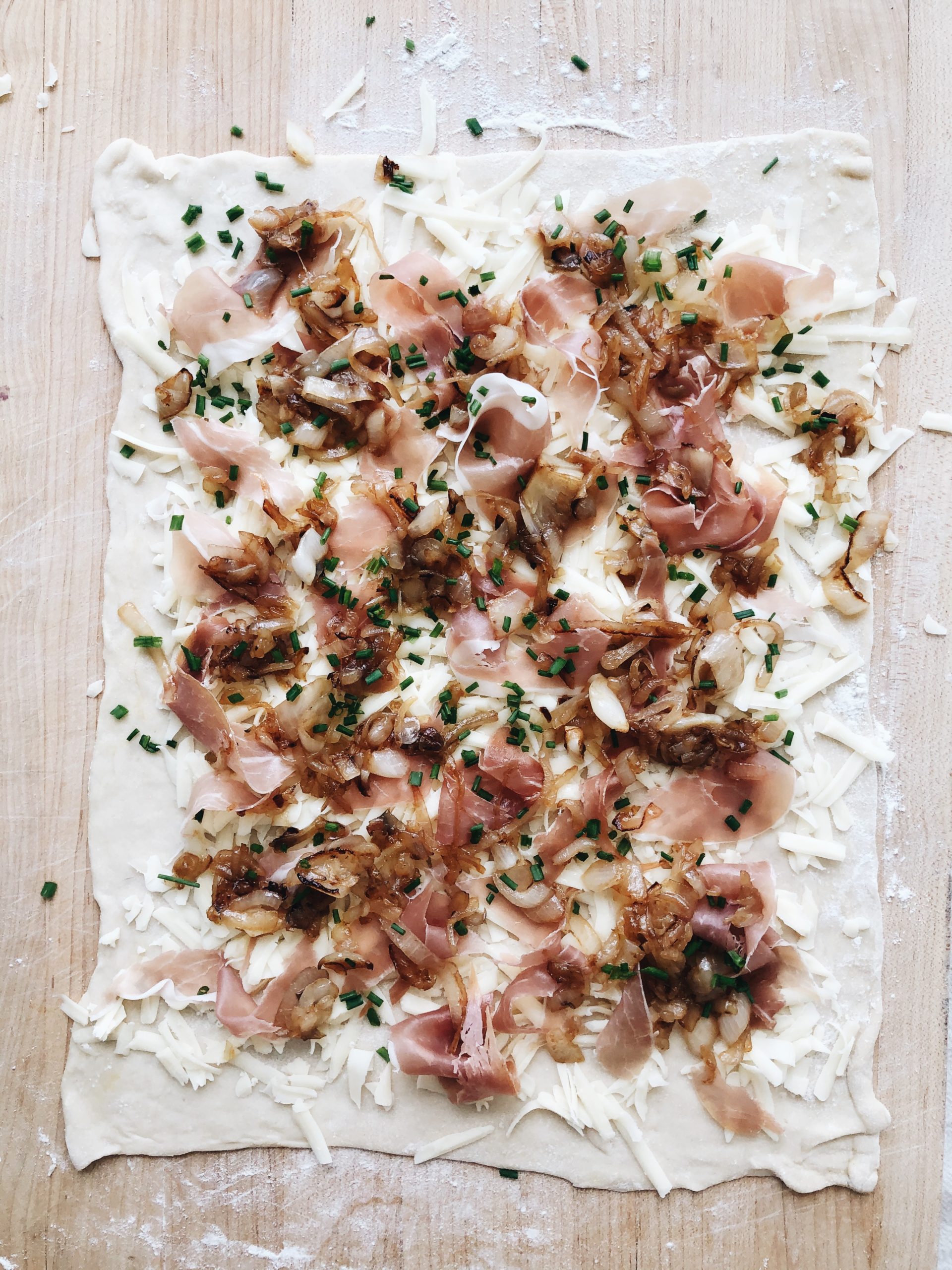 Next up – roll out the store-bought pizza dough (note – I used thin but honestly, a regular thickness would be beyond fine. just let your soul fairies guide you here.) on a floured work surface and layer up, babes. The grated gruyere, caramelized shallots, torn prosciutto slices and chopped chives. Go all willy nilly with it. No rules apply here.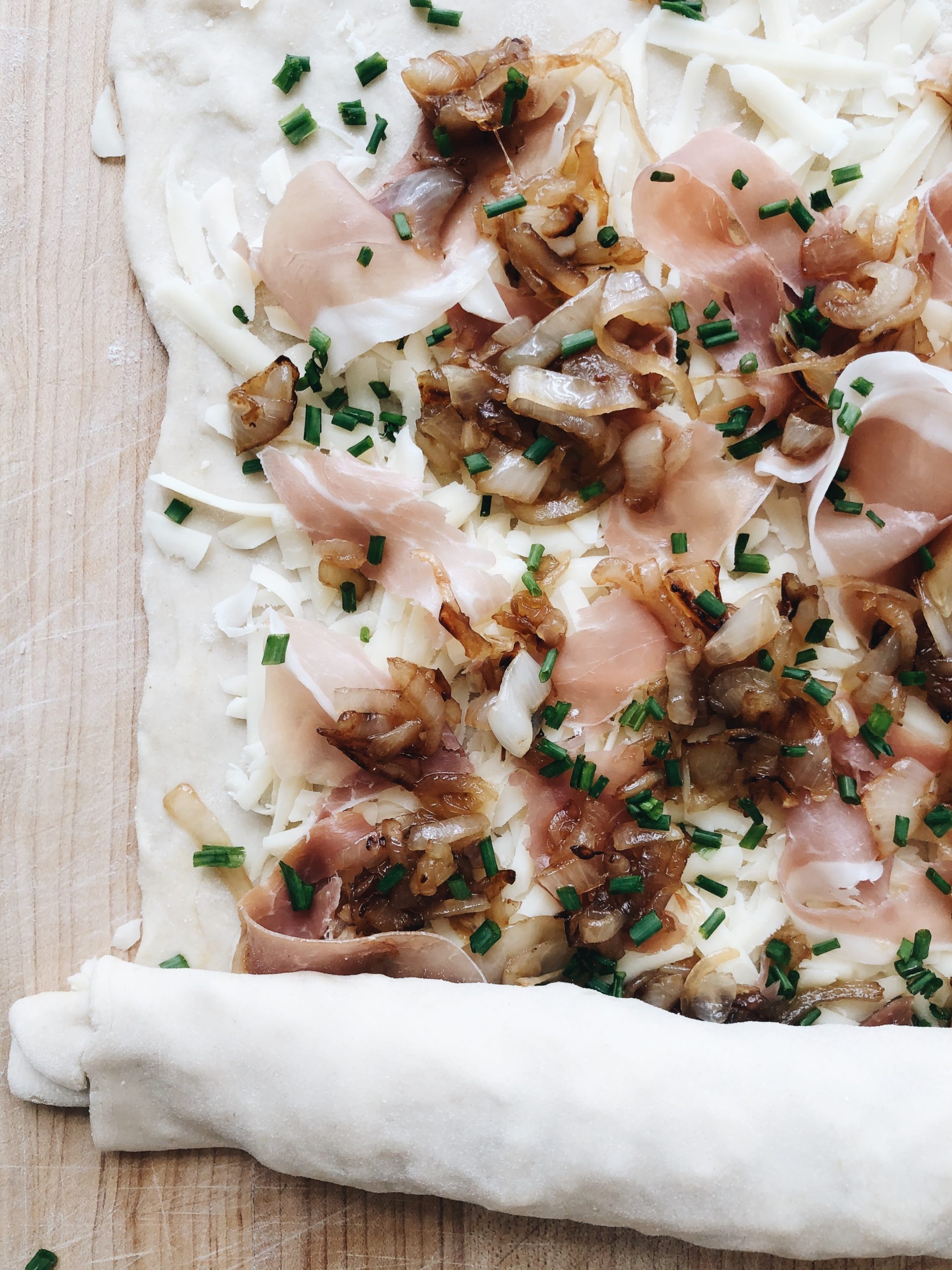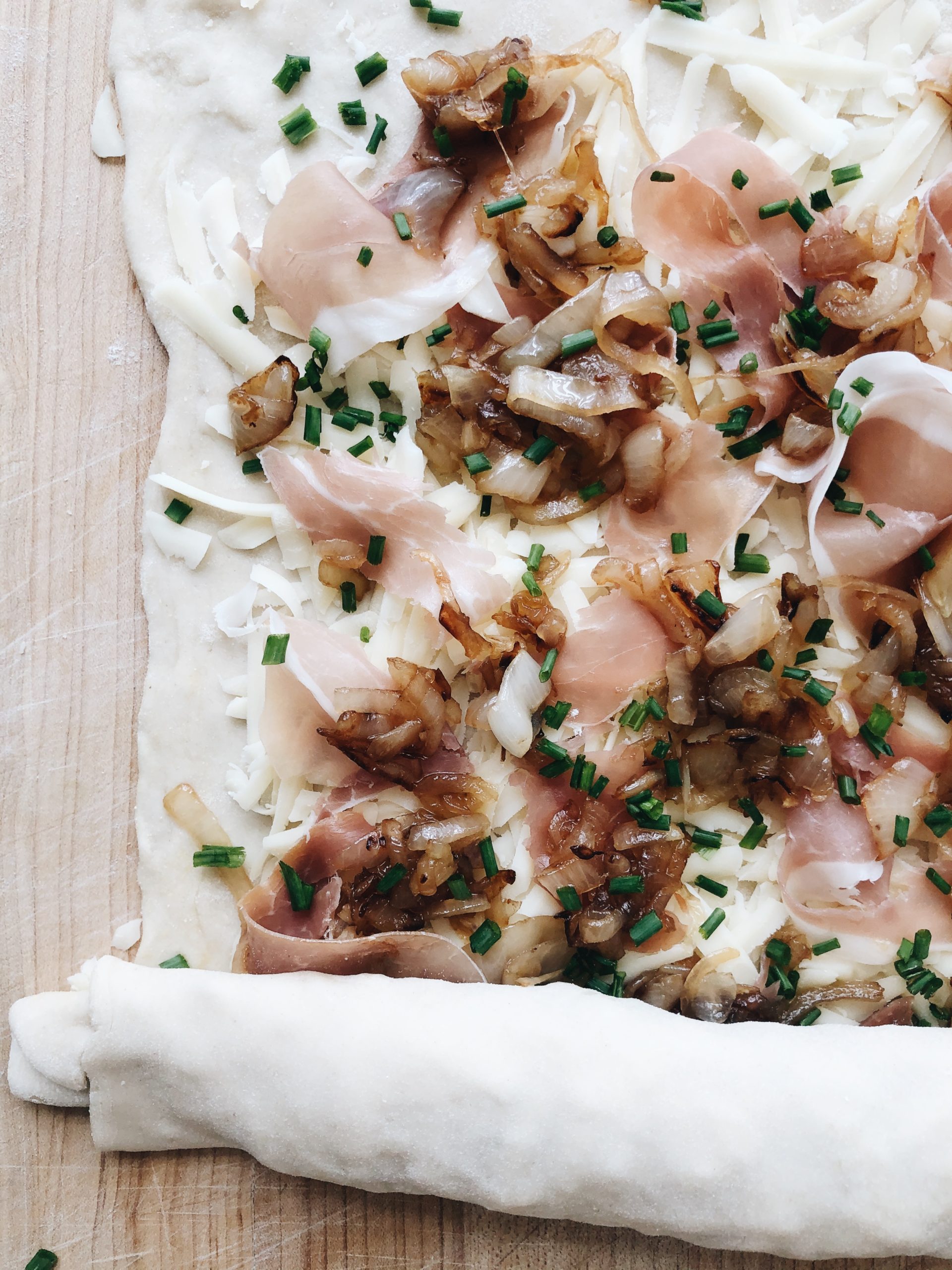 Then carefully roll it up! I do realize you're all smart humans and do not need me to to show you this photo of a half rolled log o' glory. But it was in my heart to display the detail, and for that I celebrate this decision.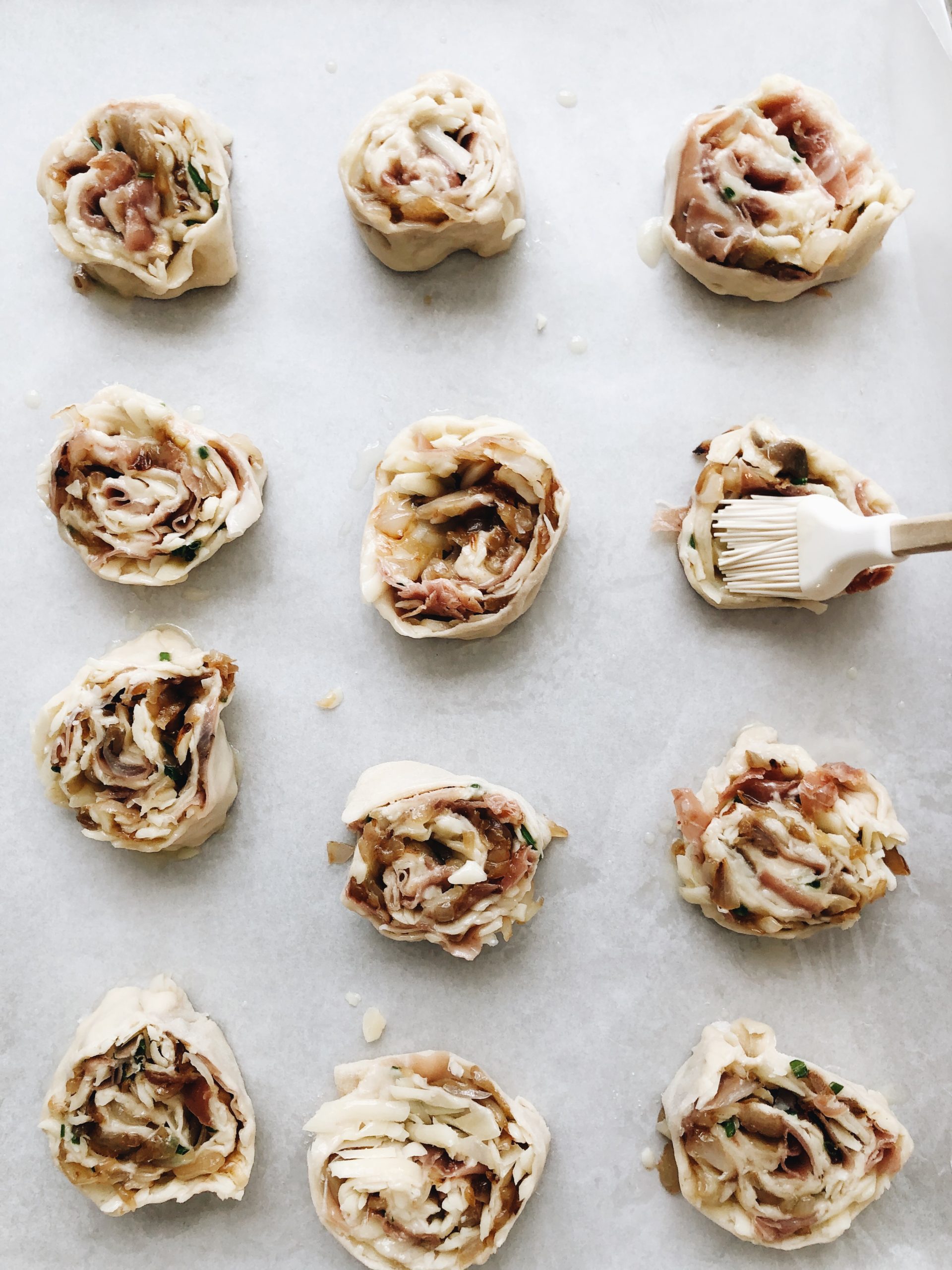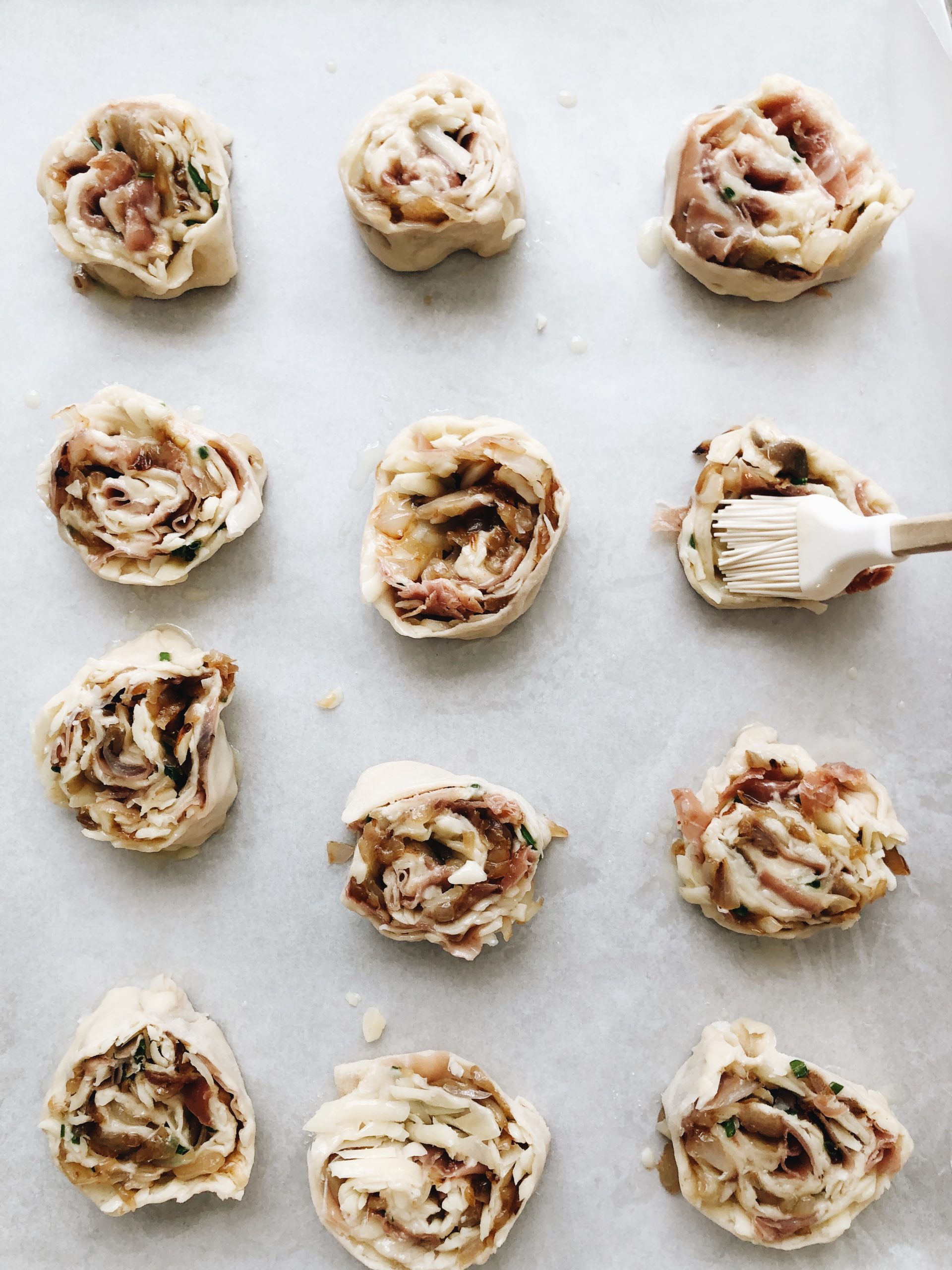 Then slice that log into, ohhhhh half-inch to one-inch pinwheels. You'll feel lit. Nothing too thin, nothing too thick.
And then brush that last Tbs. of (melted!) butter on top of the pinwheels because IT IS THE END OF THE YEAR AND I SAID SO.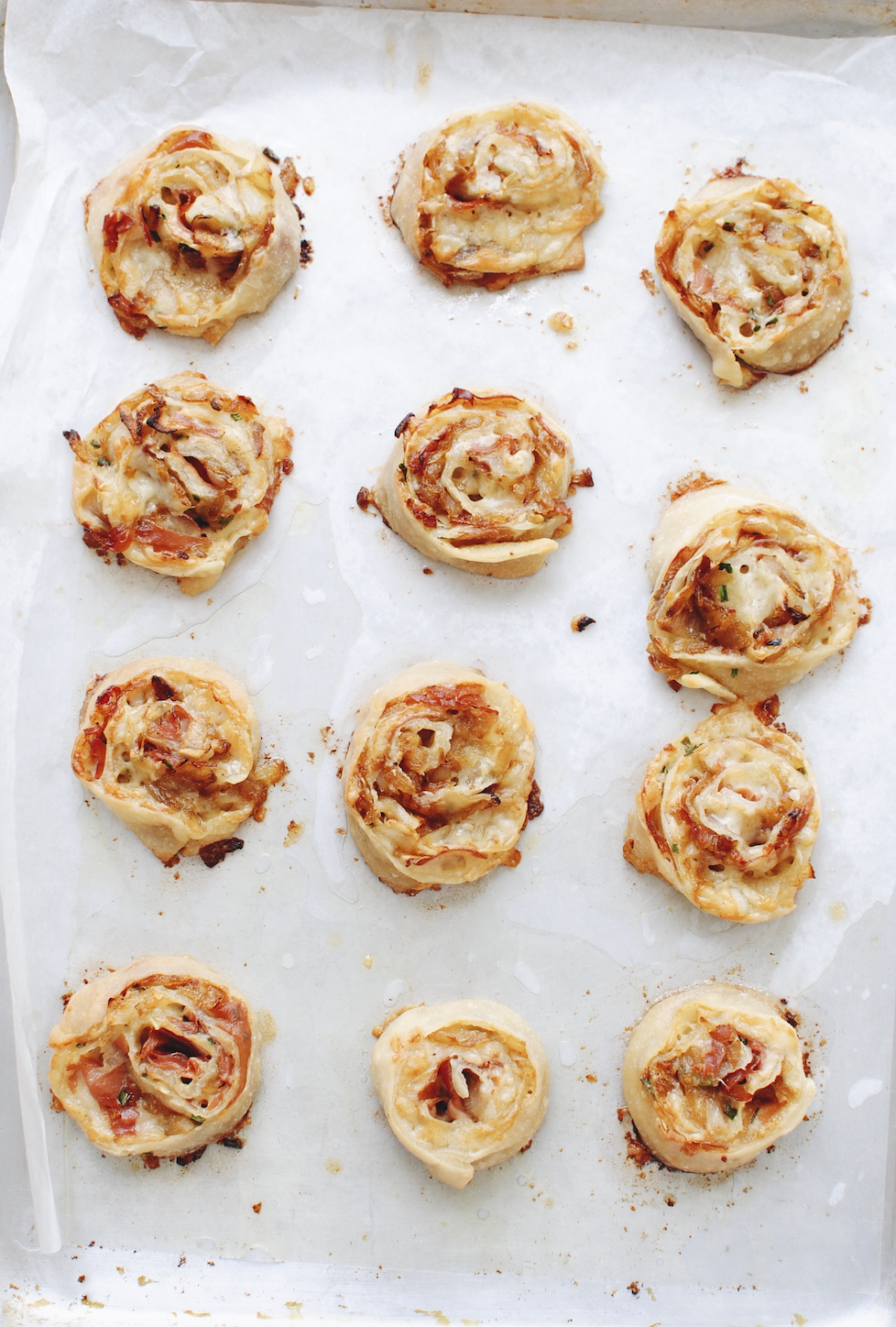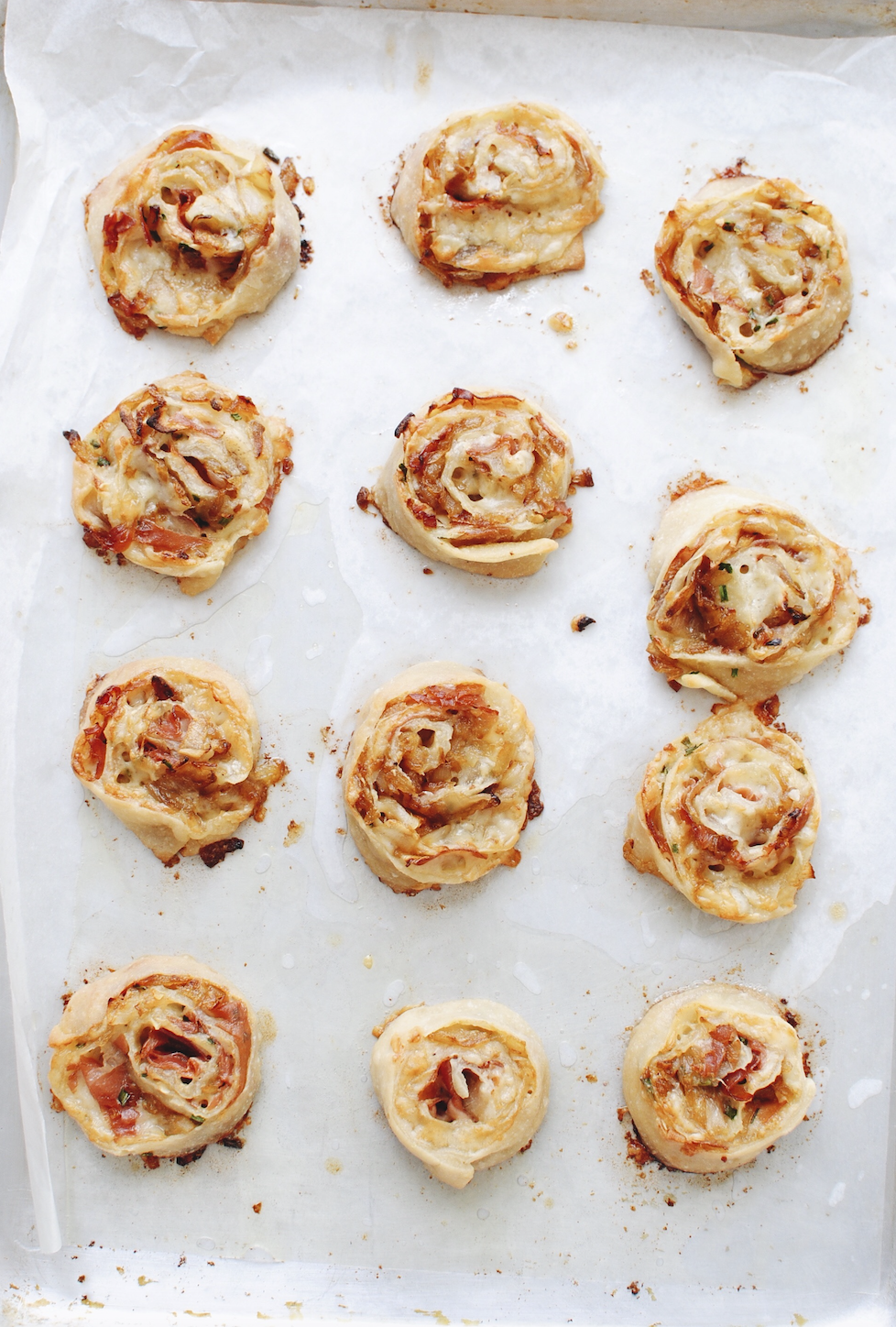 And holy faces of drool ponds, this is what you get.
Some might slightly collapse on one side in the heat, and that is completely fine. They're like little pile nests of savory melted buttery wheels of bliss. That sentence made complete sense in my head.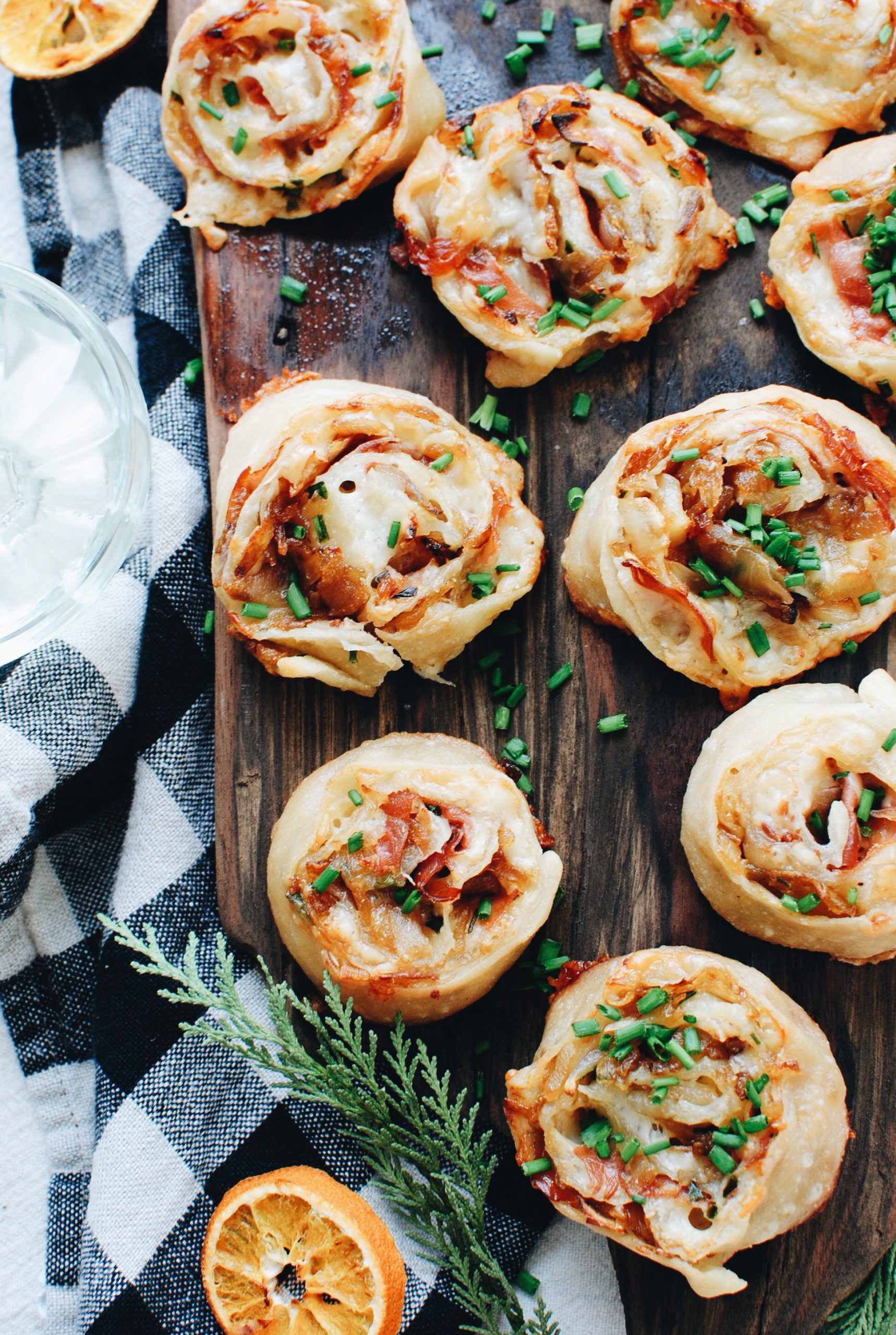 You'll set them out on a serving board, garnish with chives and watch them evaporate within three seconds. And I mean that. Grabs yours fast because you won't have a chance once other human eyeballs make landfall on these.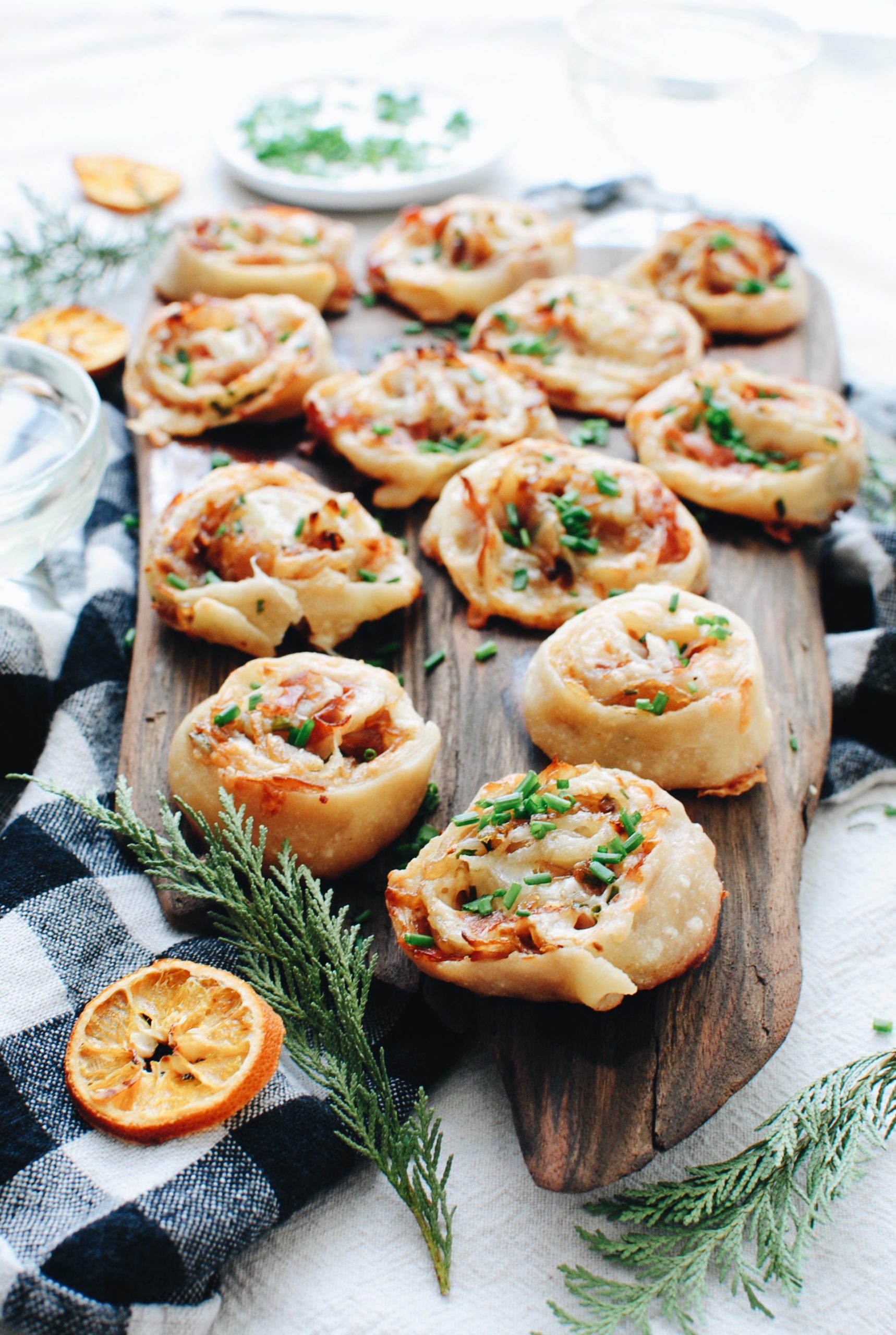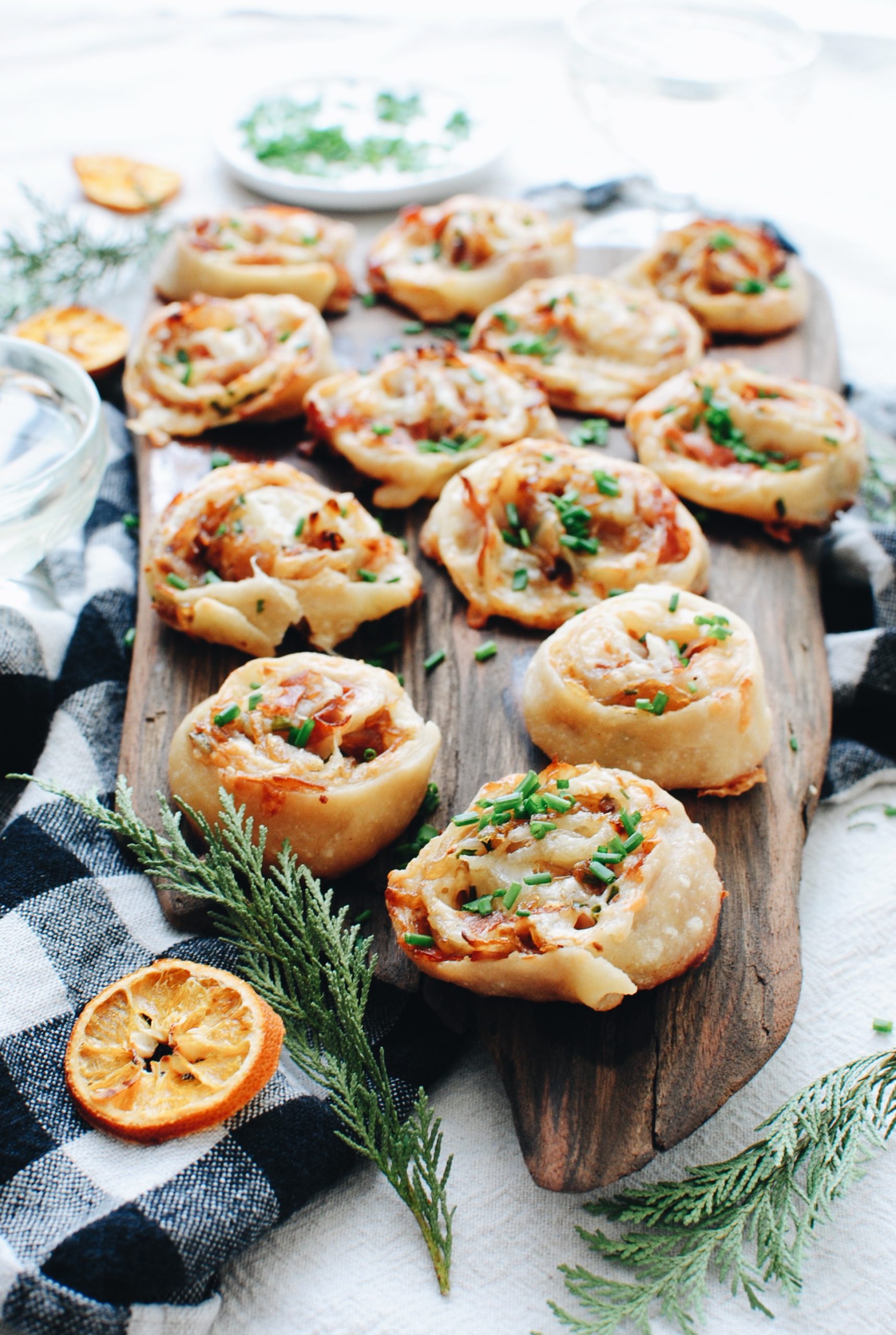 Bite-sized, buttery, savory, shalloty, cheesy, salty with the crisped-up ham poking out here and there. All wrapped in pizza dough and baked until golden brown, poppable and addictive.
See how I take care of you? Don't look at me like that.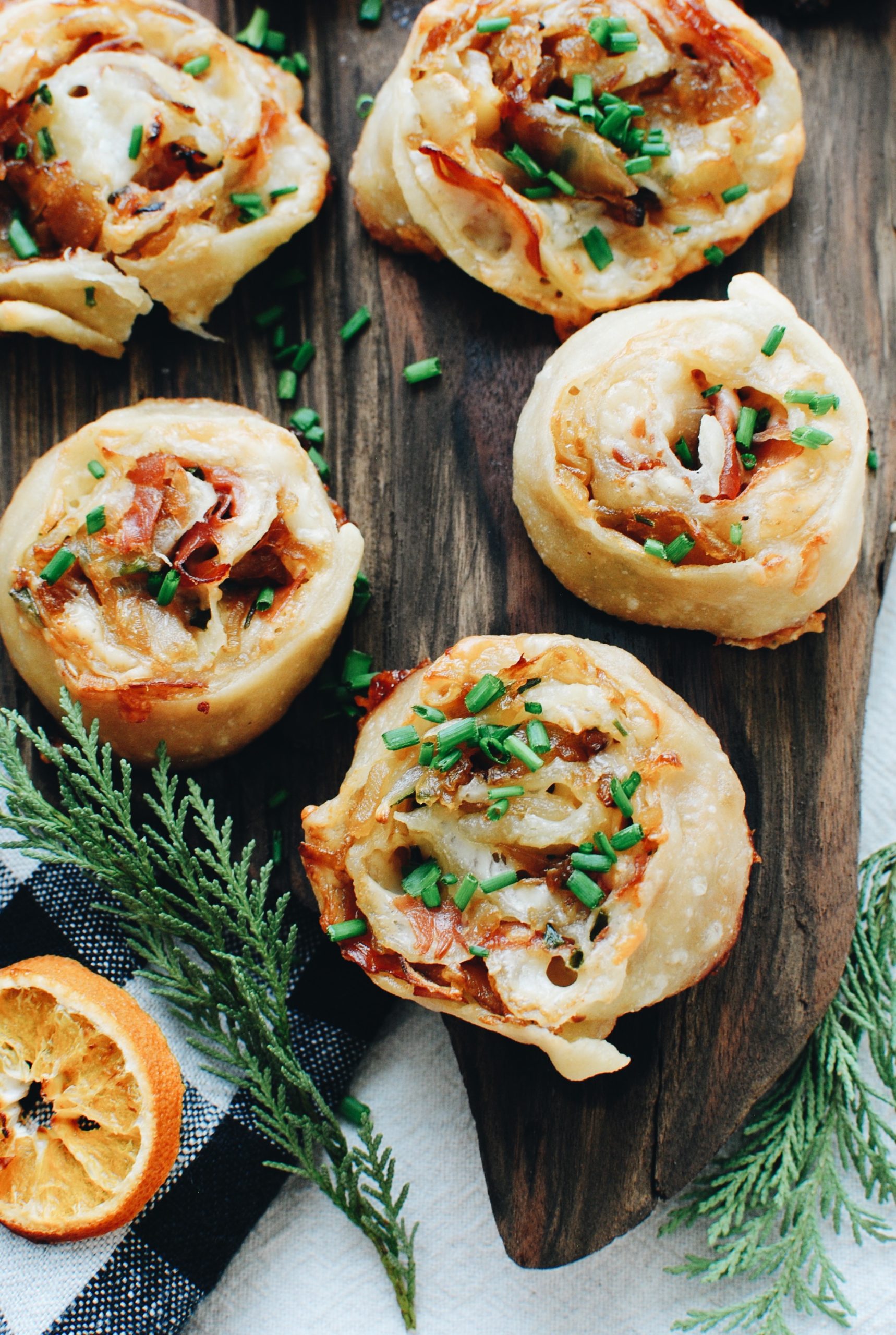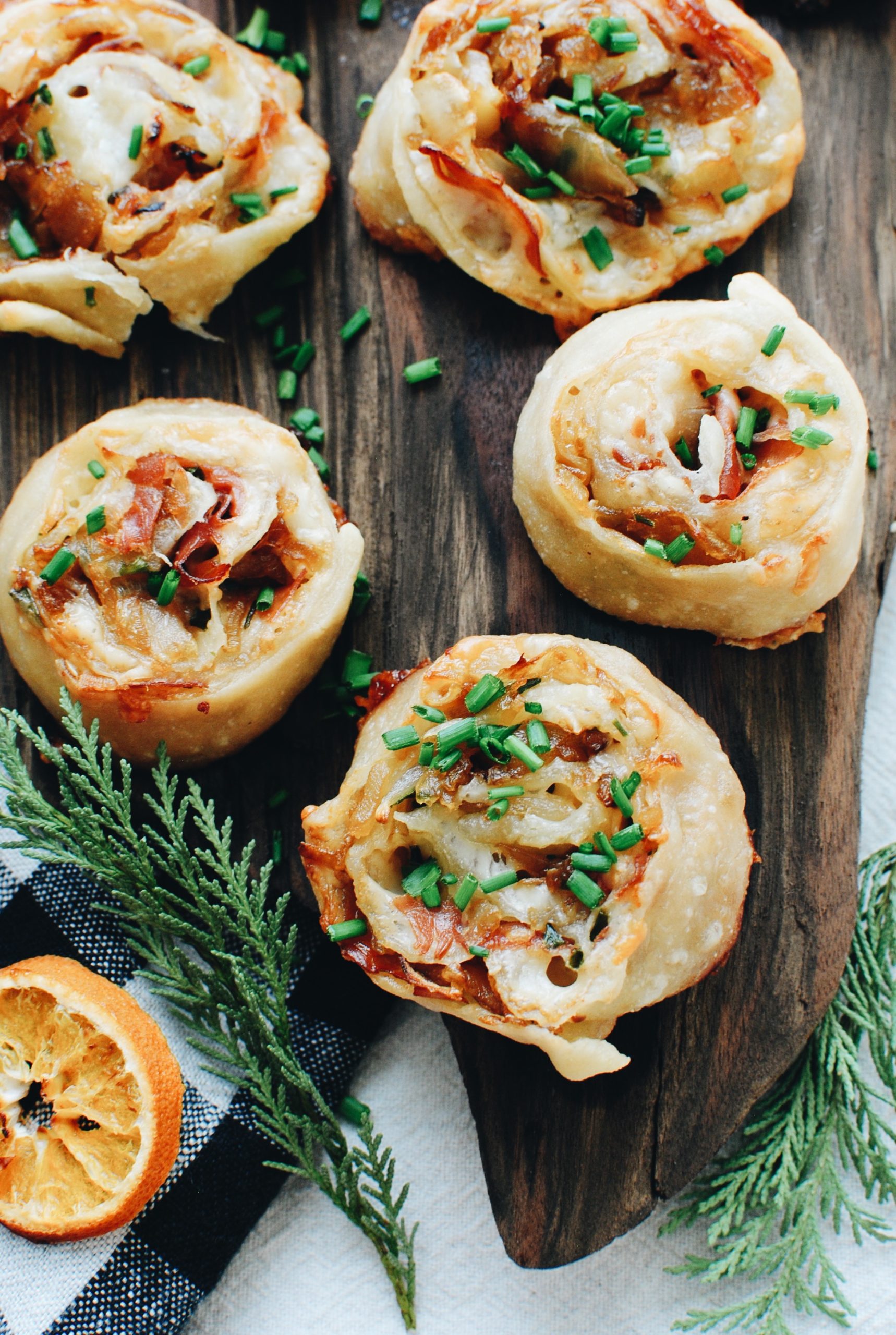 This is my version of New Year's Eve debauchery and I'm completely on board with it.
Baked Cheesy Shallot and Prosciutto Pinwheels
Ingredients
3 medium shallots, thinly sliced (a mandolin works great)
4 Tbs. butter, divided
6 oz gruyere cheese, grated
5 thin prosciutto slices
2 Tbs. chopped chives
1 (10x13-inch) sheet pizza dough (thin or regular crust is fine)
Coarse salt
Instructions
Preheat oven to 350.
Melt 3 Tbs. butter in a medium skillet over medium heat. Once the butter is foaming, add the shallots to the pan and season with a pinch of salt. Lower the heat to medium low and slowly caramelize the shallots 30-40 minutes, until medium to dark brown and deliciously shriveled.
Roll the pizza dough out on a floured work surface. Evenly sprinkle the cheese over the dough, followed by the shallots, torn prosciutto slices and half the chopped chives. Gently roll the dough from one end to the other, forming a log. Slice into 1/2-inch rounds, and place on a rimmed baking sheet. Melt the last Tbs. of butter and lightly brush over the tops of the pinwheels. Bake for 25 minutes (maybe a little shorter or longer, depending on your oven) until the crust is golden brown and the cheese has melted and the ham is crisping up on top. So good!
Transfer to a platter and garnish with the rest of the chives. UGH, you do not understand this flavor. But you soon will.
Makes about 12 pinwheels.
7.8.1.2
394
https://bevcooks.com/2019/12/baked-cheesy-shallot-and-prosciutto-pinwheels/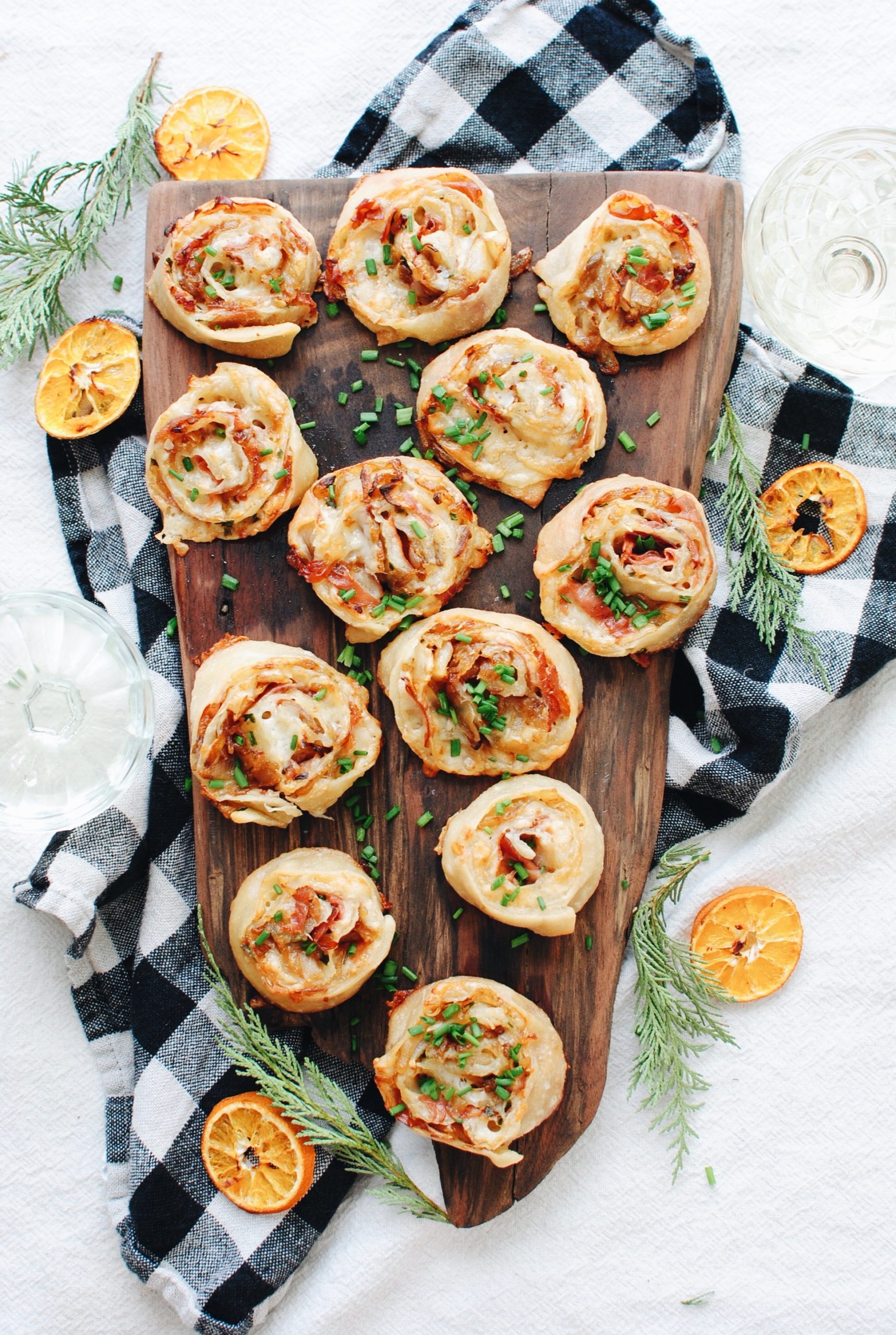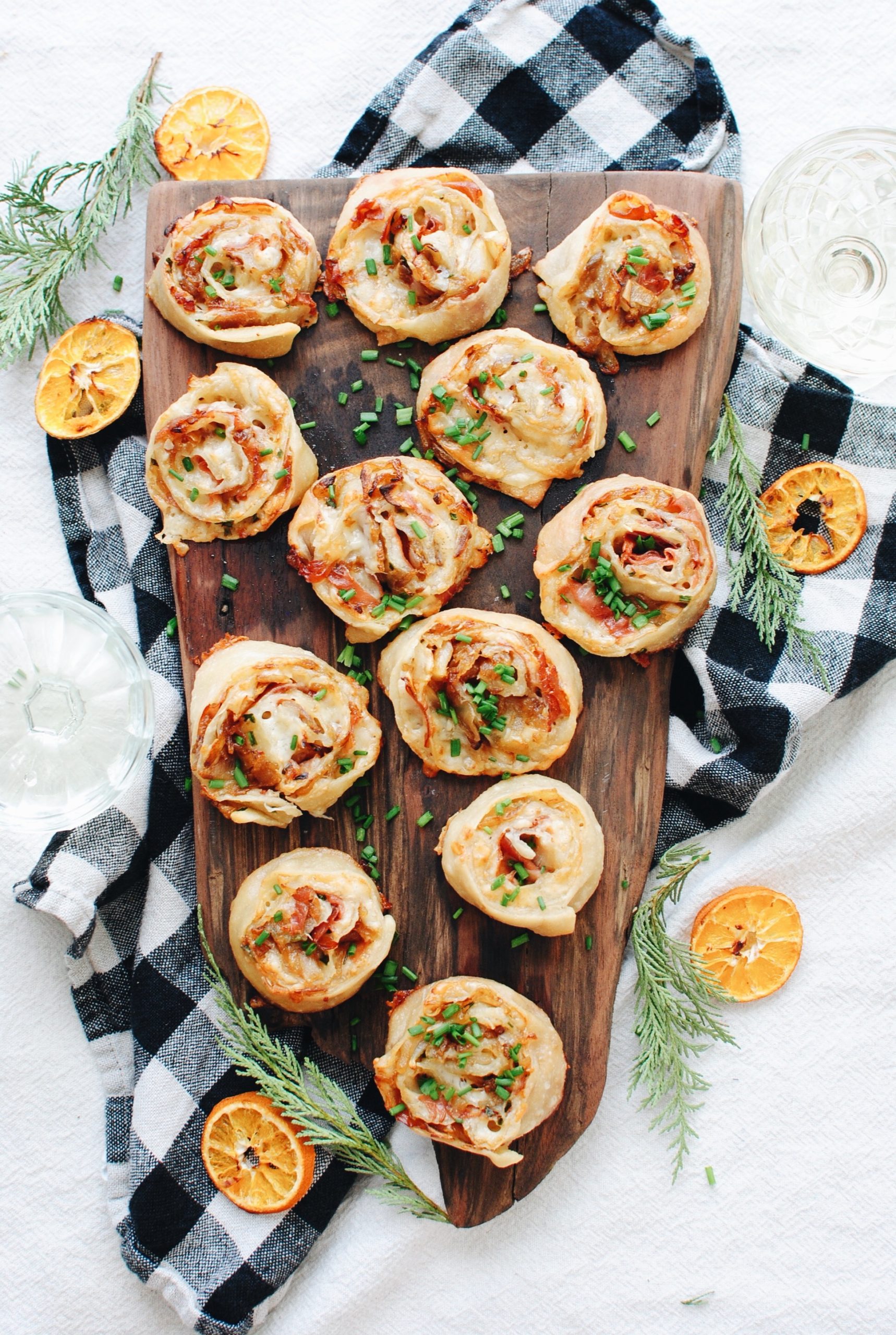 *Therapist sold separately.
(This post is definitely in partnership with Real Butter. But all melted butter and ramblings are completely my own. We coo?)