Does one take a flood blogger seriously when they use the word VEGGIES?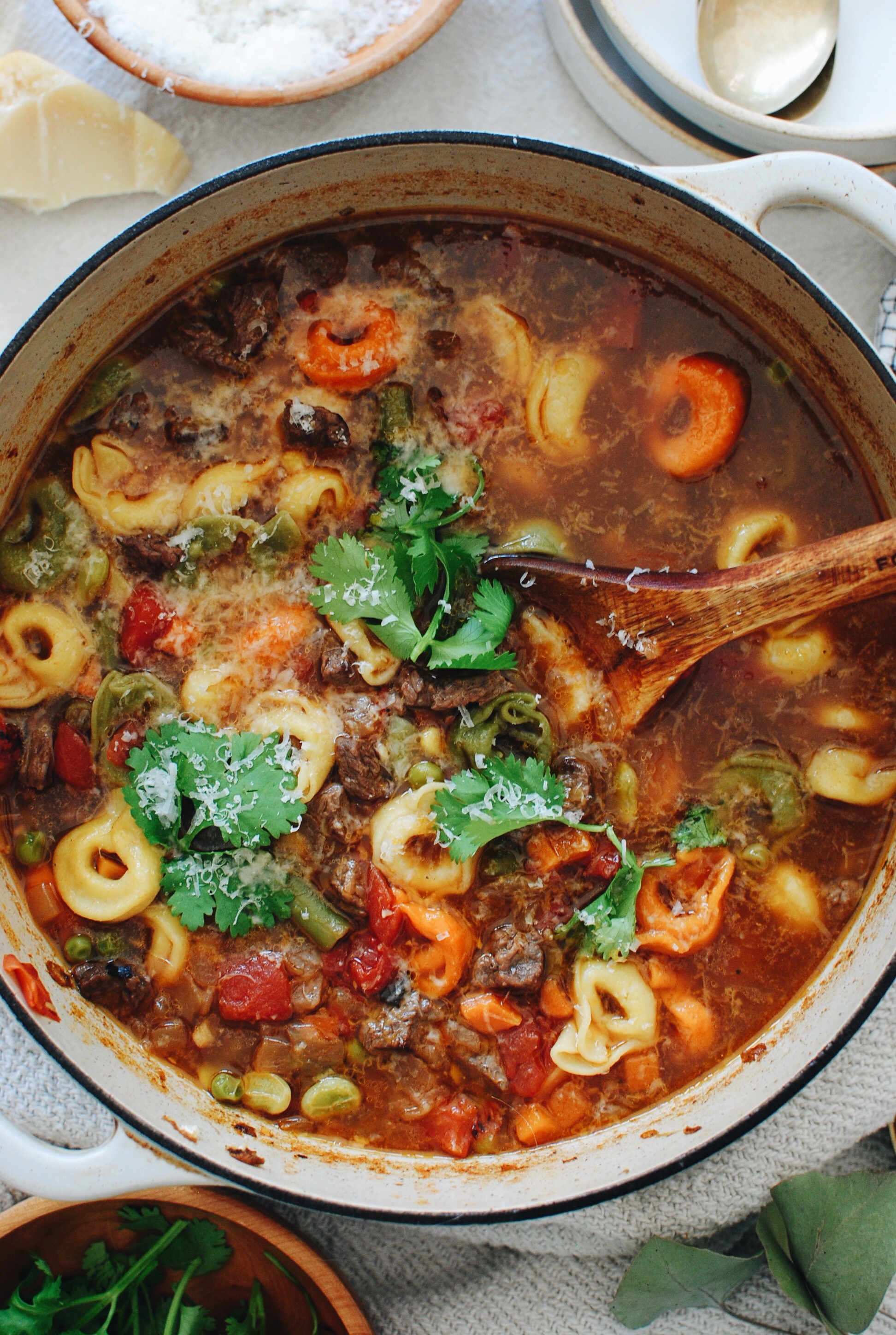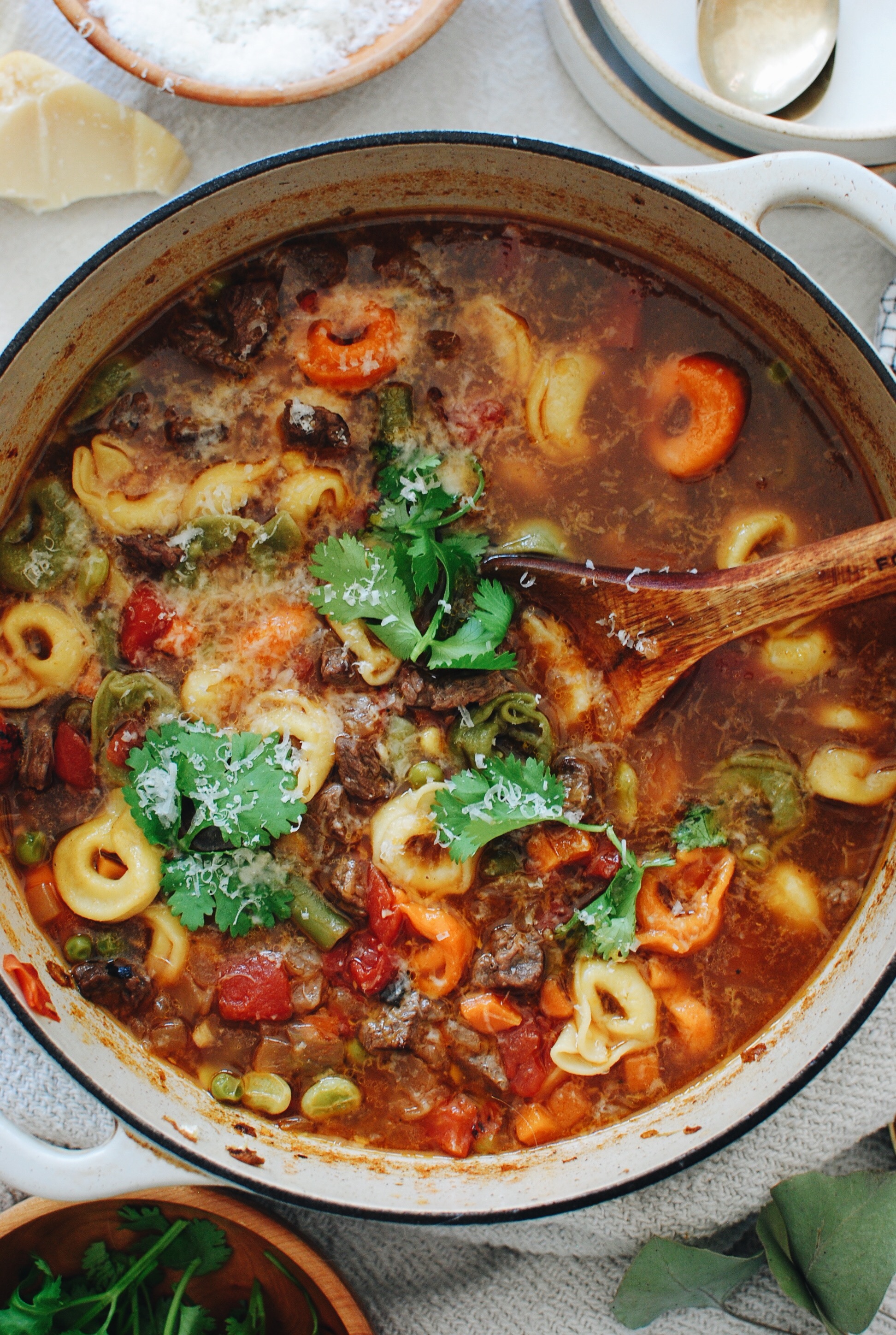 You know what, don't answer that. I'm perfectly giddy living in a cloud of oblivion.
Look at this soup! It's basically the hybrid baby of a soup "just like my mom used to make" back when I was growing up. She used beef tips (I have no idea what that means and neither did my butcher), frozen veggies (never ashamed of that), diced tomatoes, stock, and I think potatoes. But I put my thing down, flipped it and reversed it and came up with this'n har!
Let's peep it.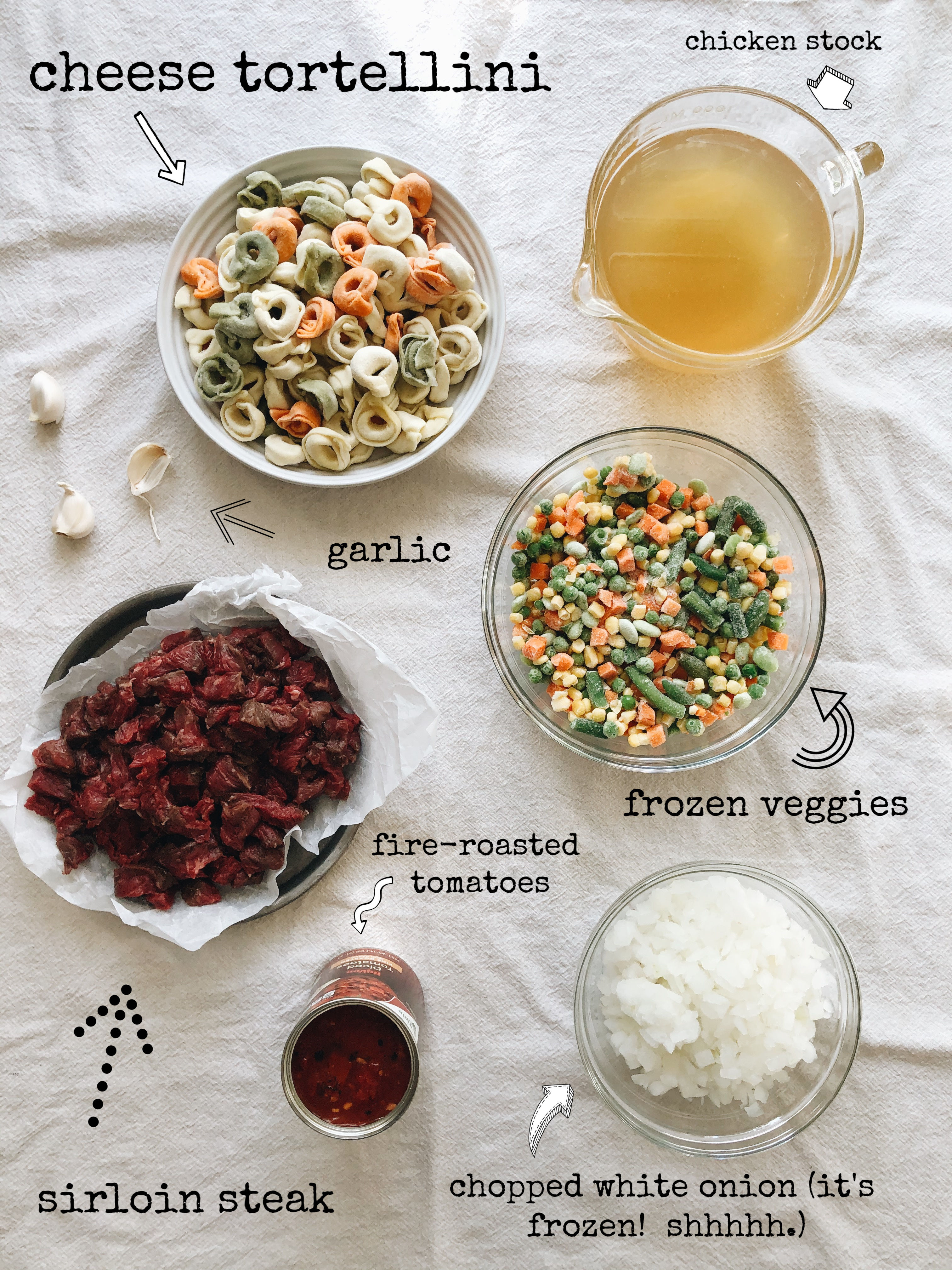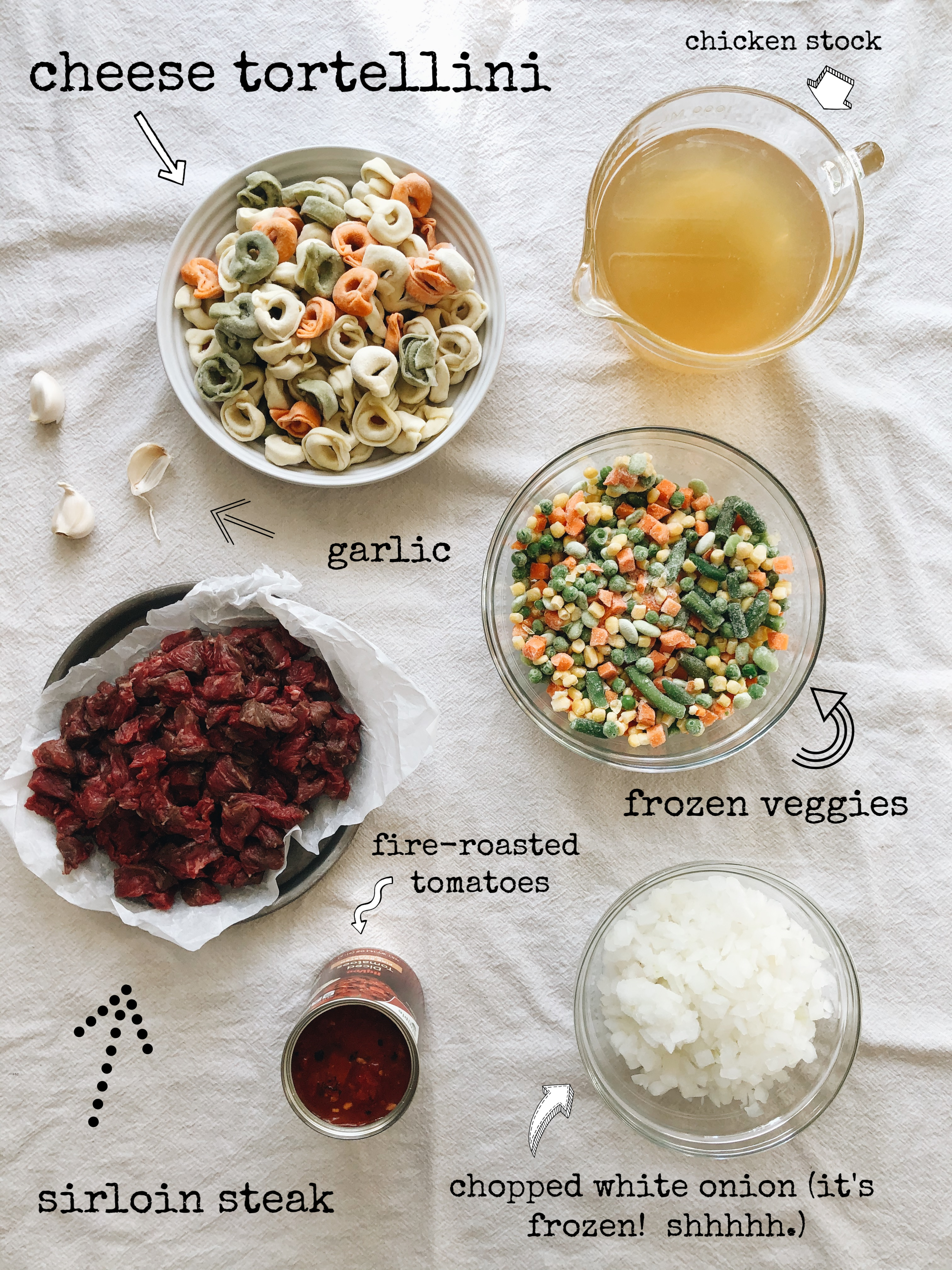 First of all, it's definitely simple. All the weeknight vibes with most everything being from a can or frozen. Stop looking at me with that SIDE EYE, brah! You know internally you're like, "yeah okay I'm totally making this one like in an hour."
And also – you can have your butcher cut the meat into tiny cubes like this for an extra time saver. I know you know this, I'm just saying it out loud so that my inner communicative soul fairies will settle the hail down.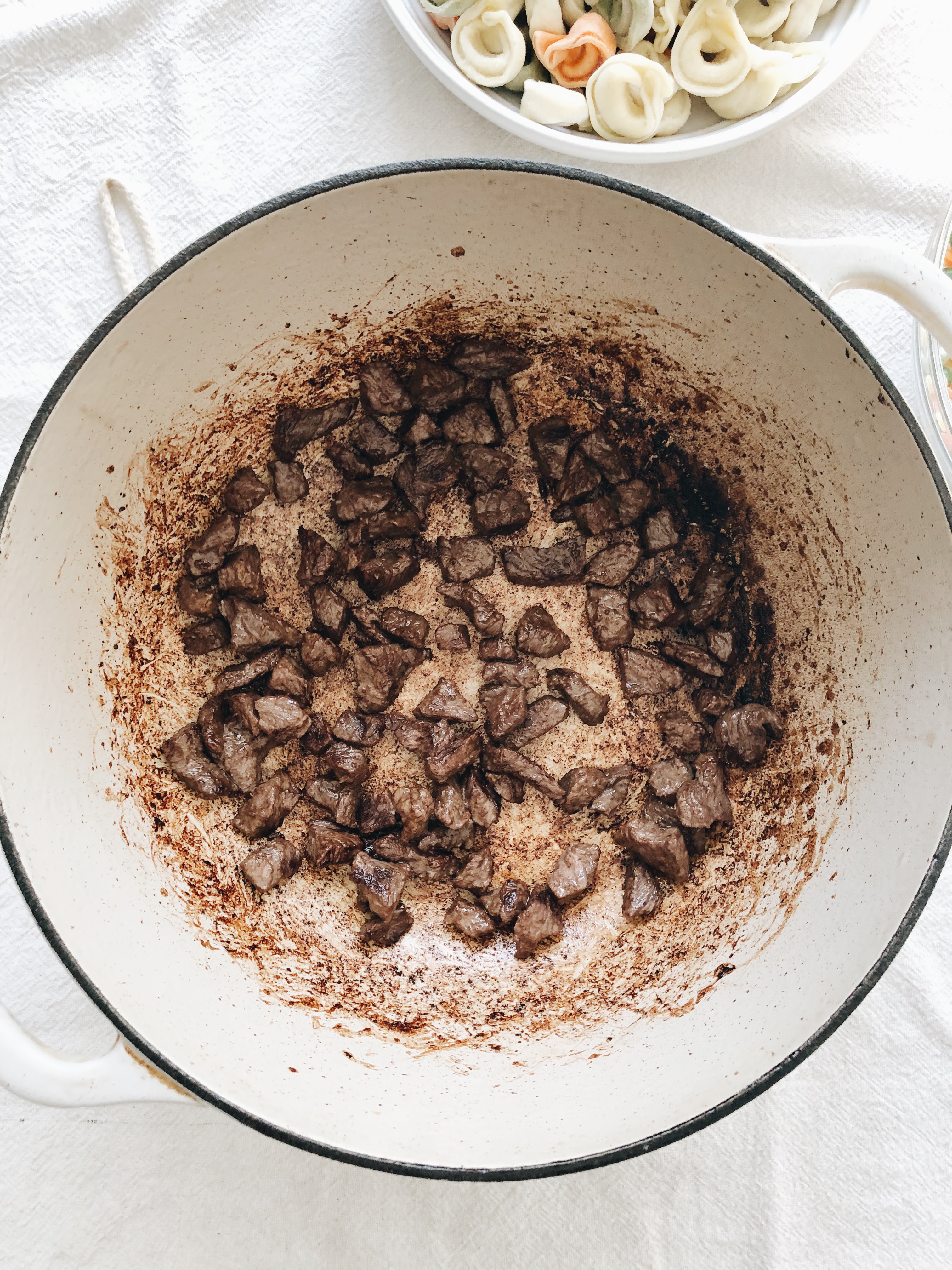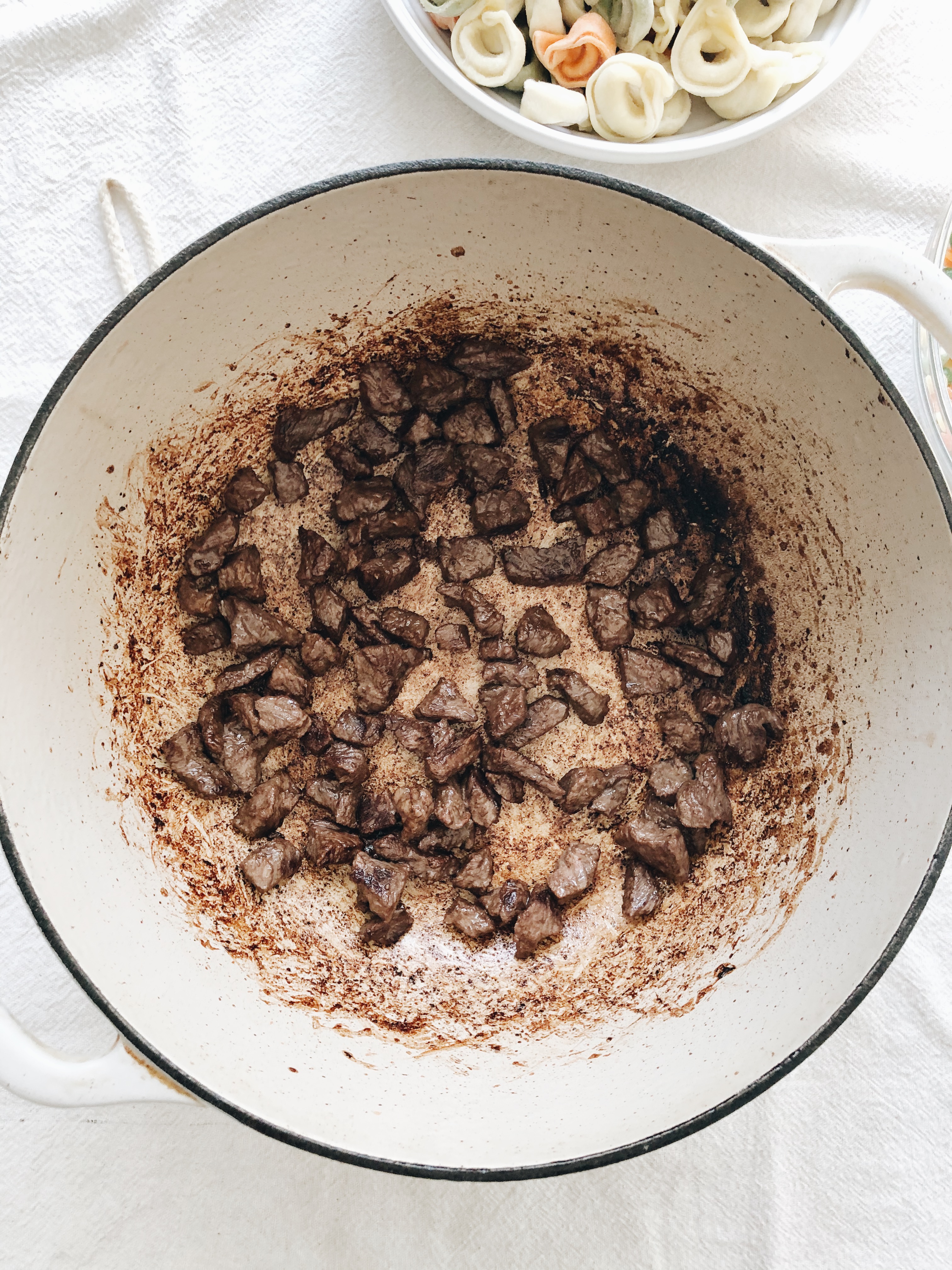 First up, season and sear your steak! And listen, they'll release a bunch of juices and start to braise a tiny bit, but just keep it going on a medium-high heat and the braise will evaporate. Also, we're starting a goth metal band called Braise Will Evaporate.
Actually, if you have the time, pat the meat dry so that it will properly brown! Julie and Julia taught us that. Mostly Julie. And Julia. I still love that movie so hard.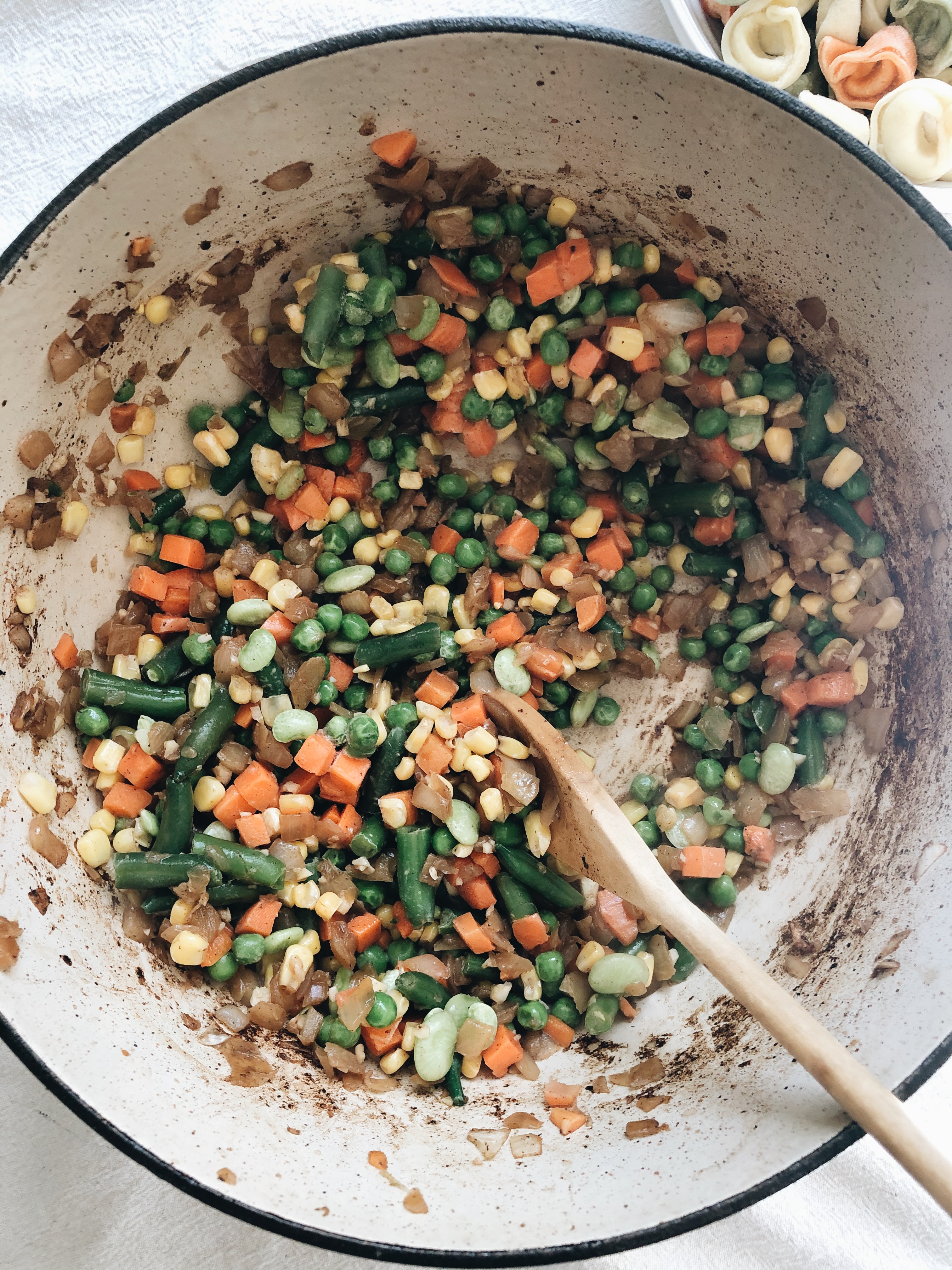 Take the steak out and give the frozen (!!) veggies a head start sauté, just a couple of minutes, until they start to warm up in the pan and pop in color.
Then stir the meat back in, add the tomatoes and stock, bring to a boil, and simmer about 10 minutes.
Theeeeeen you'll add the frozen (!!) tortellini straight to the soup and let it cook for five minutes. Doesn't take much time at AWL. I mean ALL. I mean OWL. AHL. Never mind.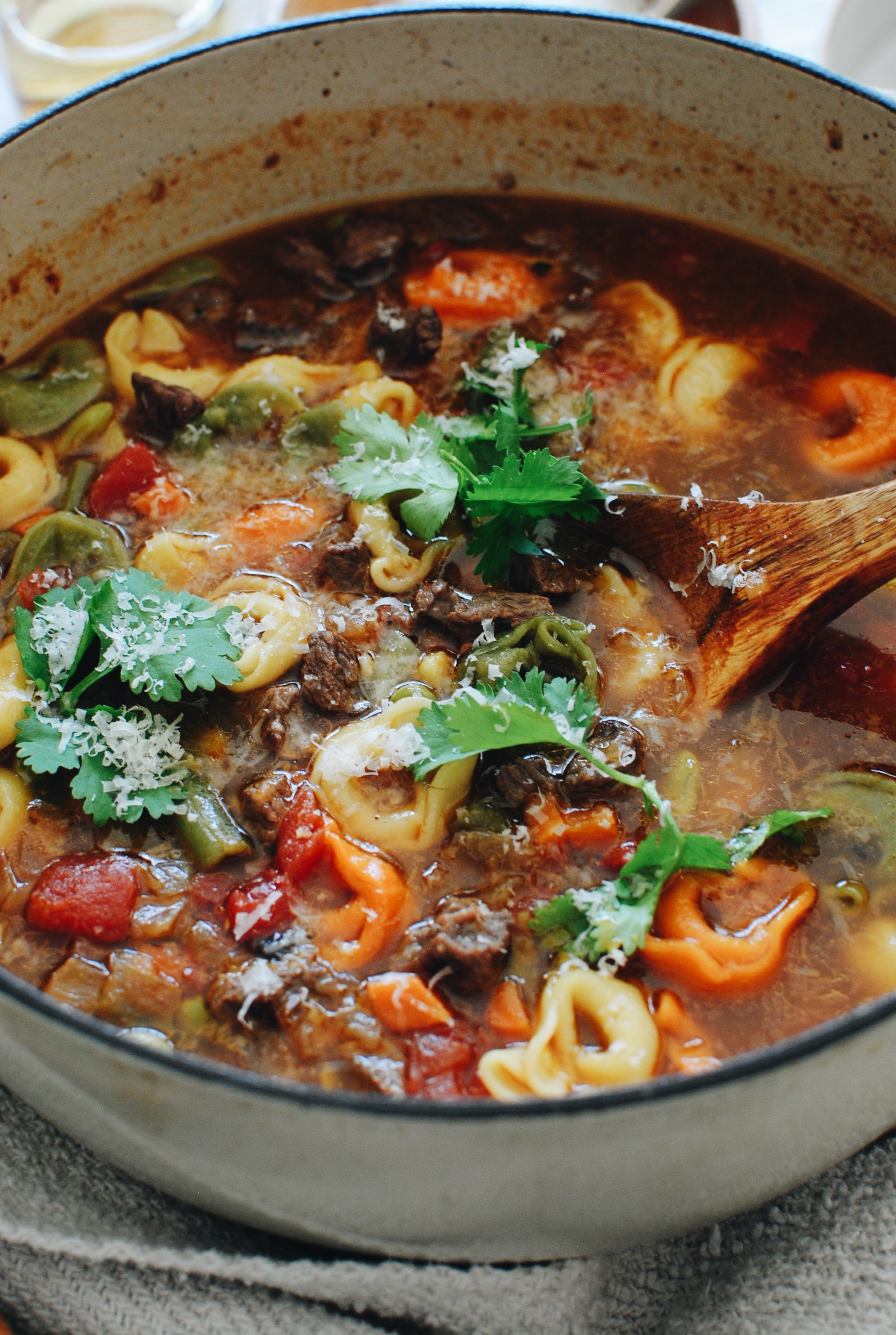 Hello I love you forever, soup.
It is so satisfying. Obviously you'll taste it and season it again with a hefty pinch of salt (and maybe a squeeze of lemon juice if you want a hit of acidity!), a good sprankle of parmesan cheese, a few torn parsley sprigs and most of your face.
It has a richness that is beyond comforting this time of year, but also a clean flavor that screams nostalgia. At least it does in my head.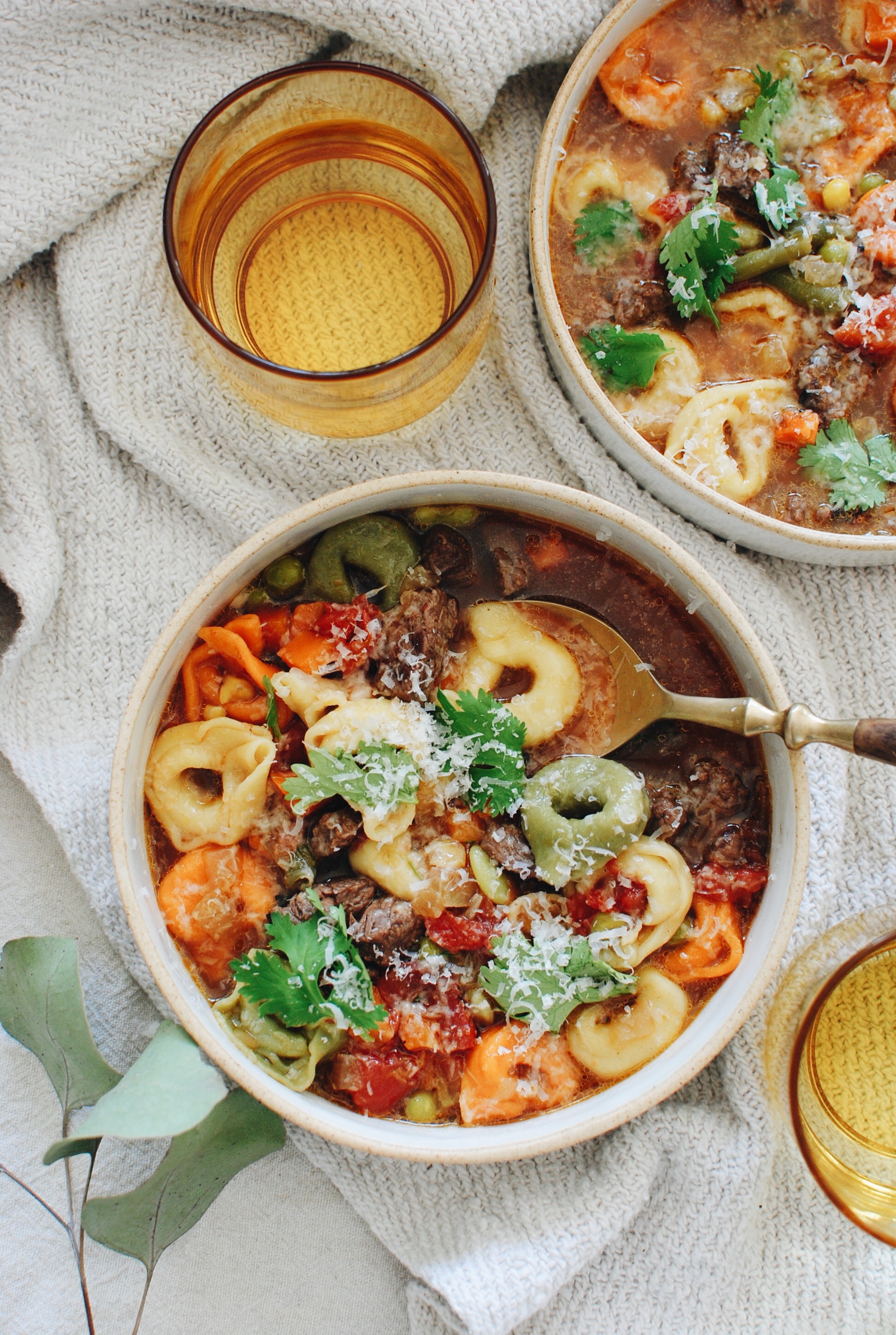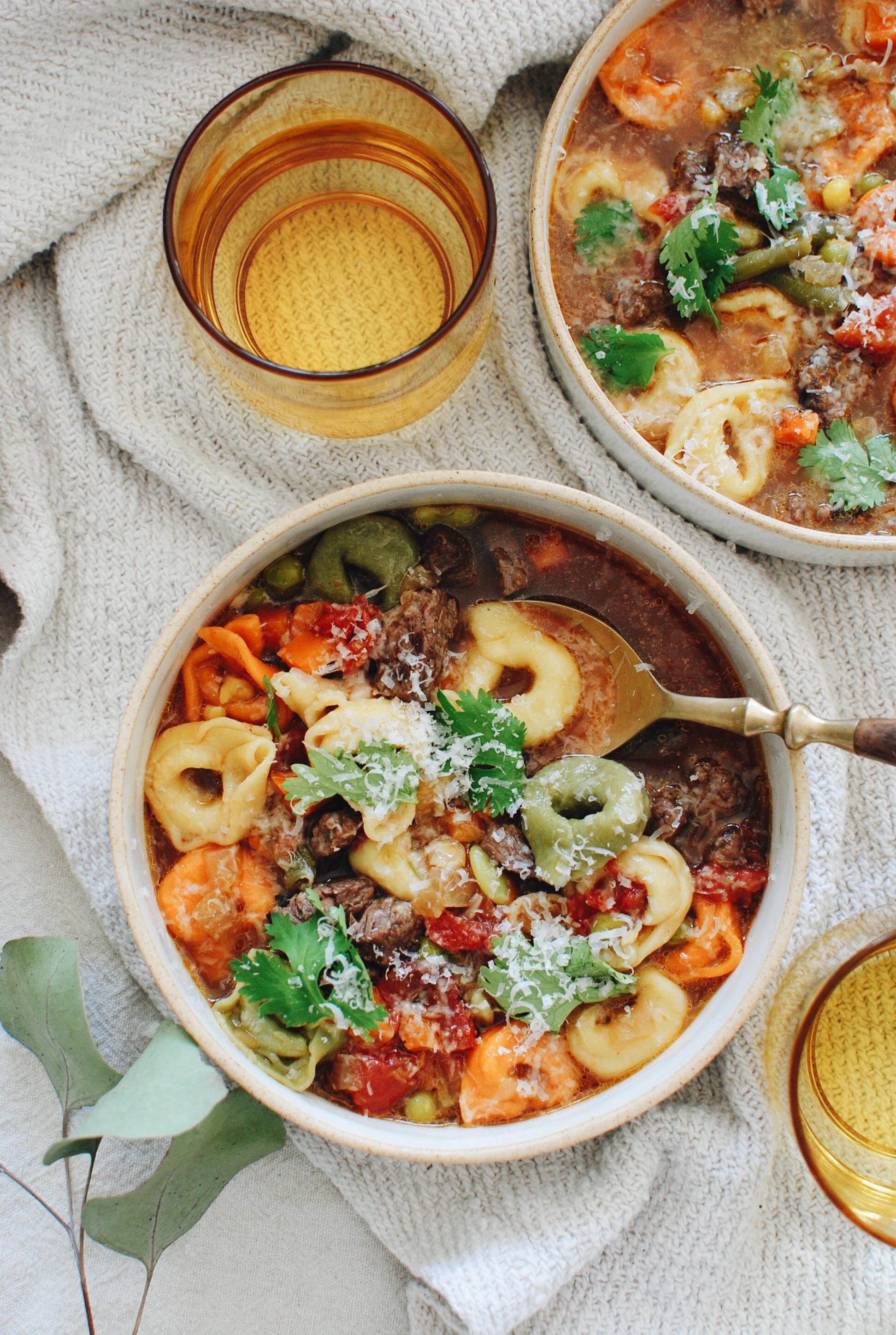 The beef is tender, the tortellini is dreamy creamy, the tomatoes have a rustic fire-roasted flavor happening, and you didn't have to chop a single VEGGIE. Ha! Oh.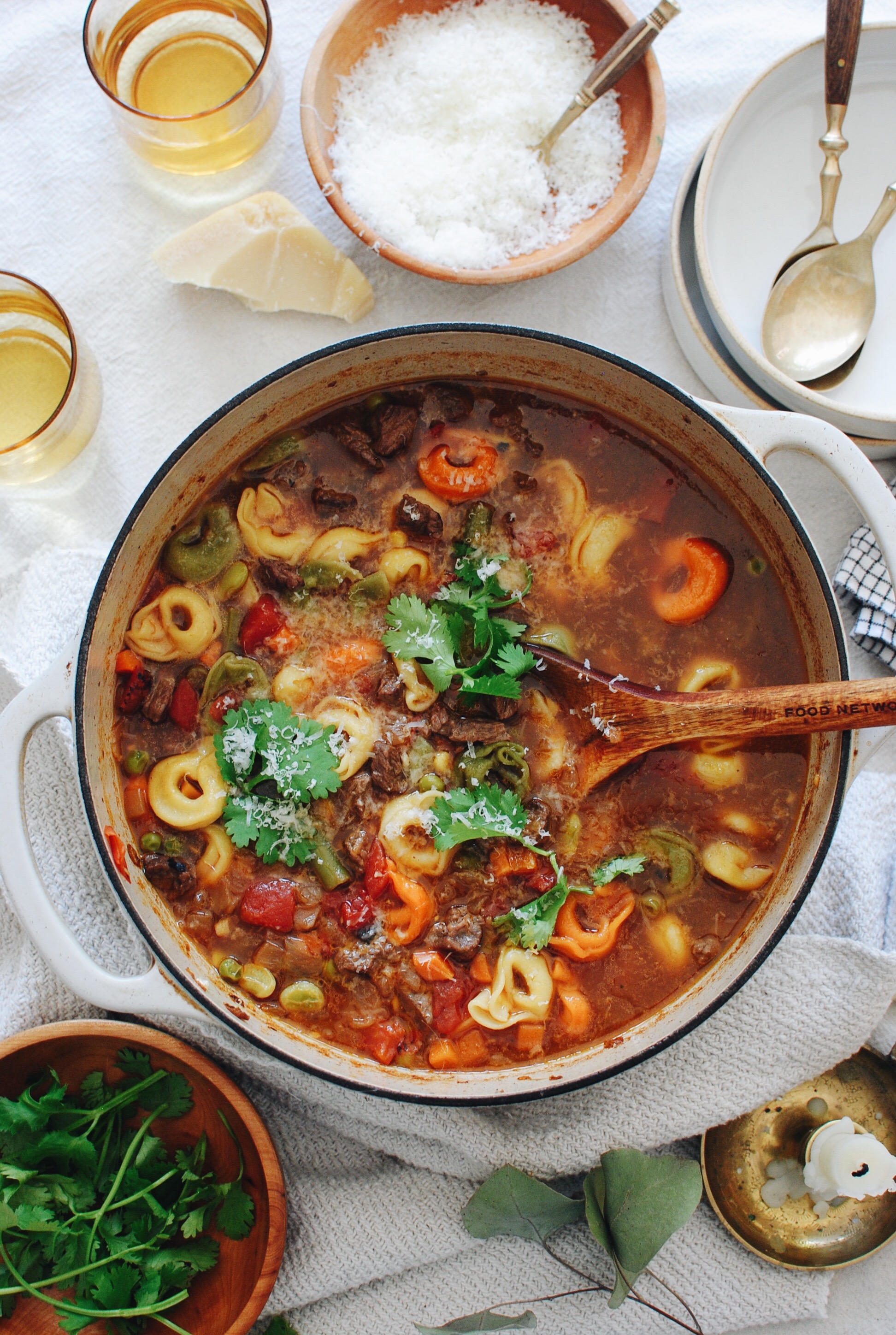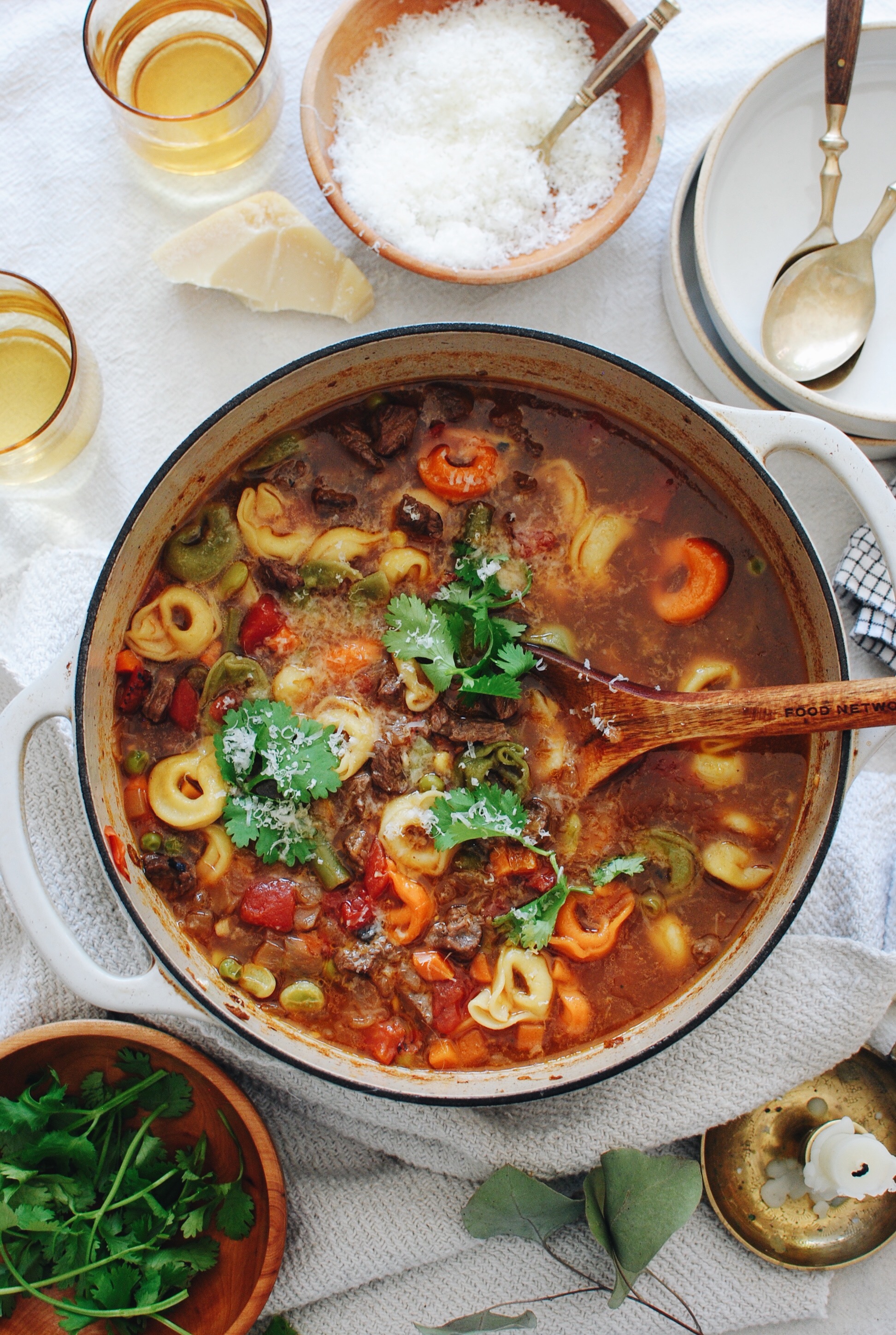 Pony up.
Tortellini Soup with Steak and Veggies
Ingredients
1 1/2 pound sirloin steak, cut into 1/2 inch cubes and pat dry
1 (10 oz) bag frozen chopped onions (or one medium white onion, diced)
1 (16 oz) bag frozen mixed vegetables
3 cloves garlic, minced
1 (14.5 oz) can fire-roasted tomatoes
6 cups chicken stock
1.25 lb bag frozen cheese tortellini
Freshly grated parmesan, for garnish
Parsley, for garnish
Coarse salt
Instructions
Heat a Tbs. of olive oil in a large pot or Dutch oven over medium high heat. Season the steak with coarse salt and place half in the pot; sear about five minutes, until browned all over. Move the steak out and brown the second half in the pot. Juices will release from the meat but they'll evaporate quickly, then you'll see the good browning! Move the steak out of the pot.
To the pot, add another drizzle of oil and pour the frozen onion and veggies right in. Sauté them about five minutes, until they start to warm and the greens pop in color. Add the meat back to the pot, the tomatoes and the stock. Bring to a boil, reduce the heat and simmer about 10 minutes. Add the tortellini to the pot and simmer another five minutes, until the pasta softens. Taste it and season generously with salt, to taste!
Garnish with freshly chopped parsley, parmesan cheese and maybe a squeeze of lemon, to wake it up!
Ladle into soup bowls and get your slurp on.
Serves 6-8.
7.8.1.2
386
https://bevcooks.com/2019/11/tortellini-soup-with-steak-and-veggies/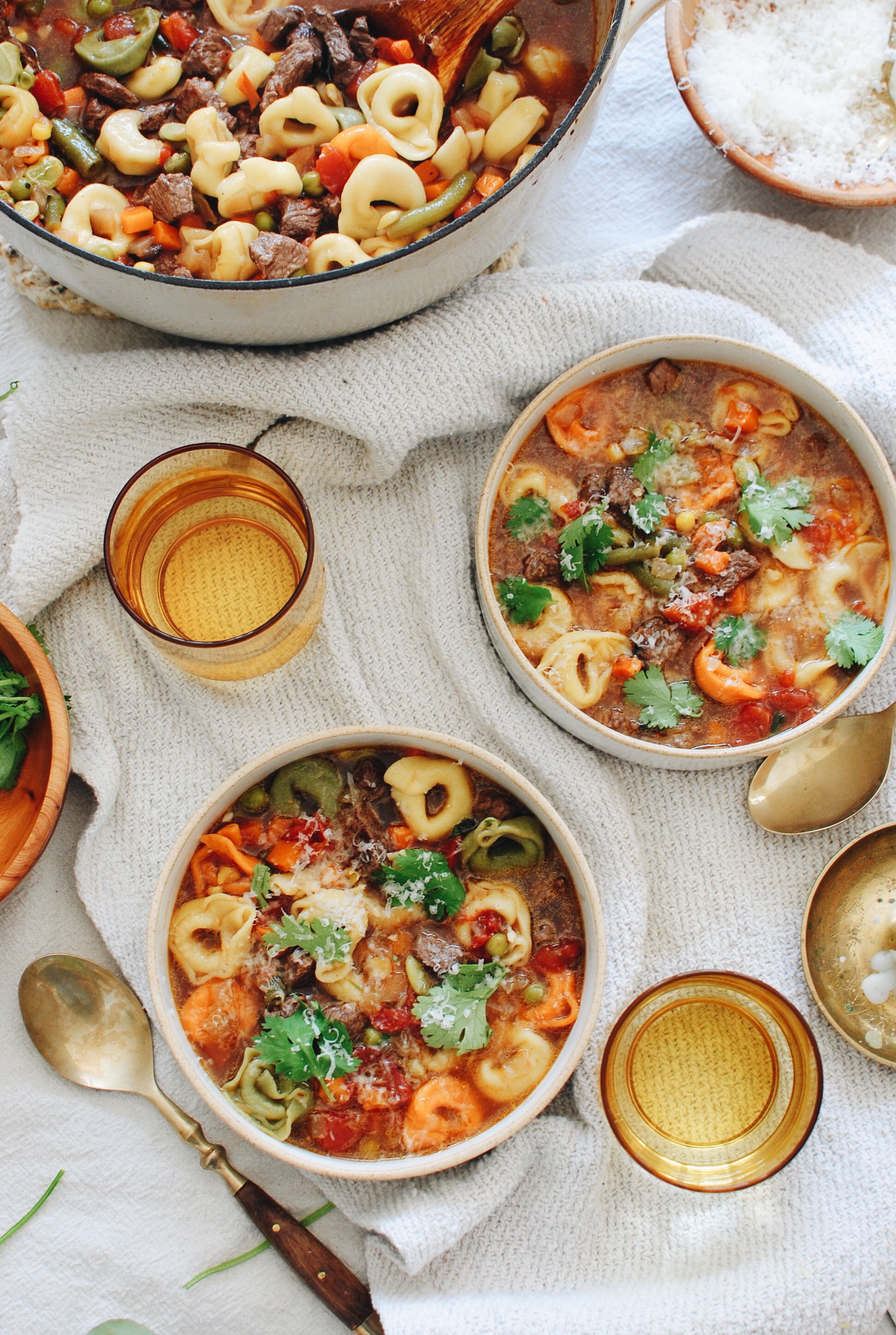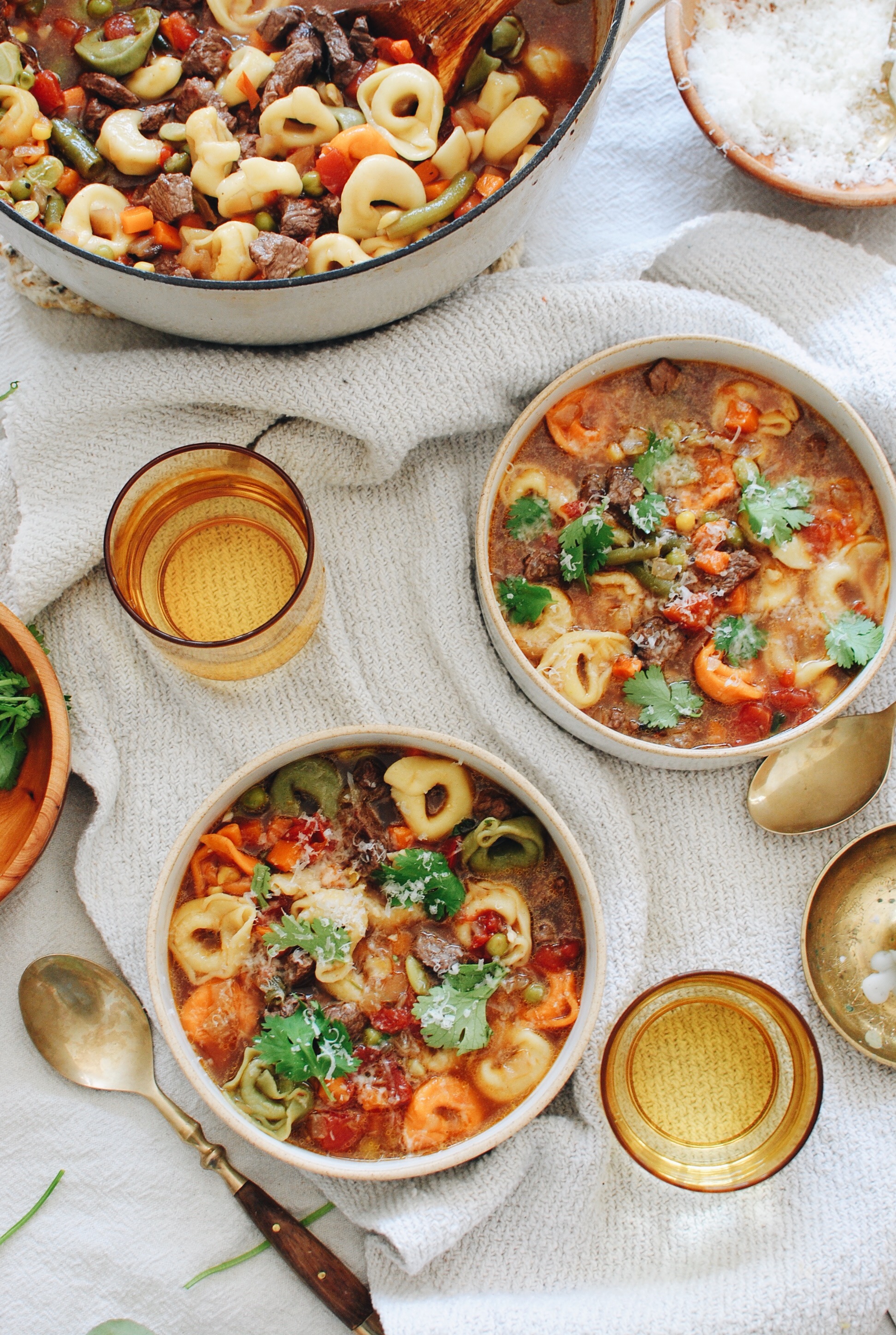 Insert 87 slurping tongue emojis.