No the world did not end but yes I baked!! (!)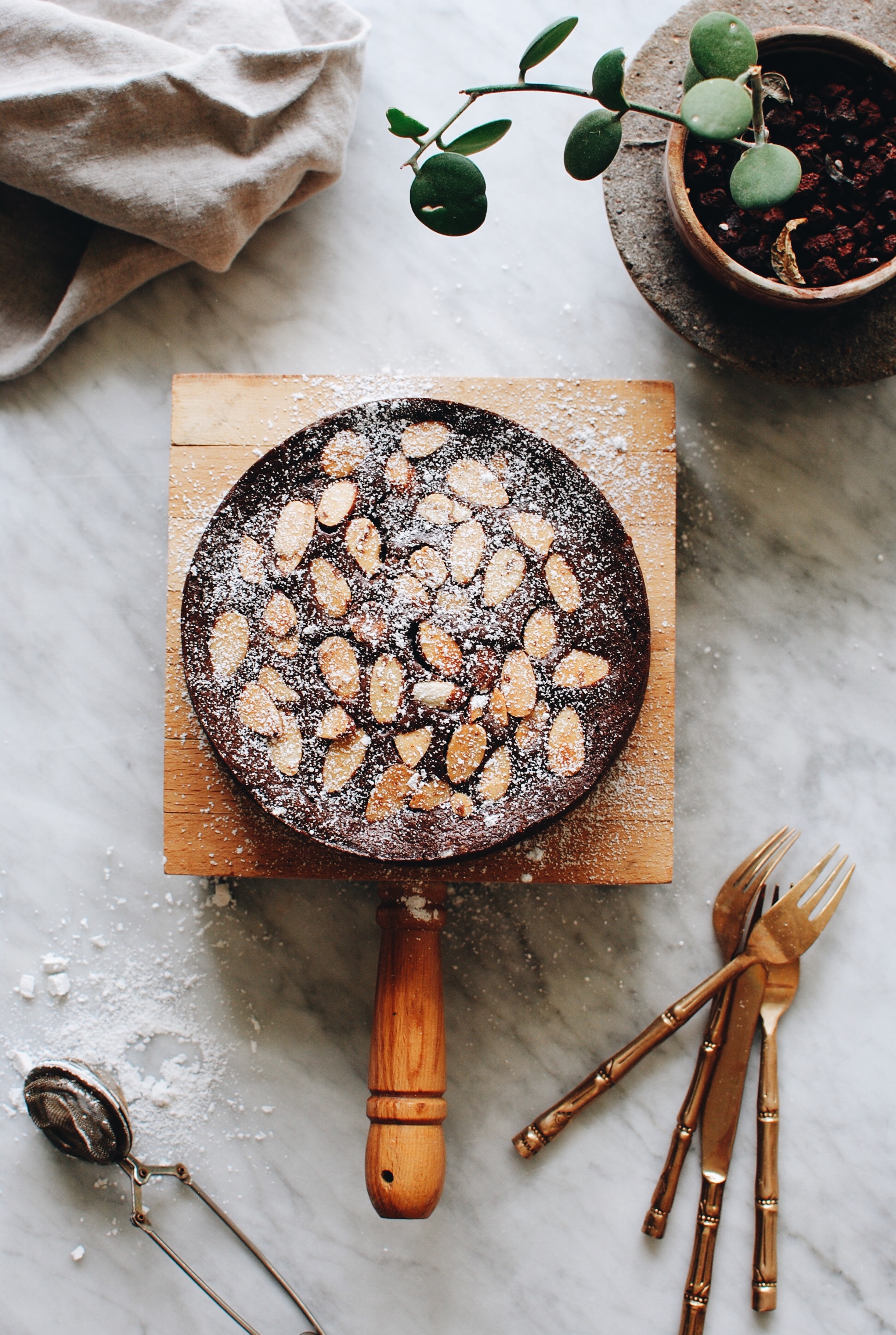 A CAKE. AN ACTUAL LIVING CAKE.
But it's mini. And filled with mascarpone cheese. Because a) cute and b) you can't argue with your inner raging soul fairies when they guide you to mascarpone. You just can't.
On top of that, it's not that involved! I mean, no more than any other baking extravaganza would be. See how I take care of you?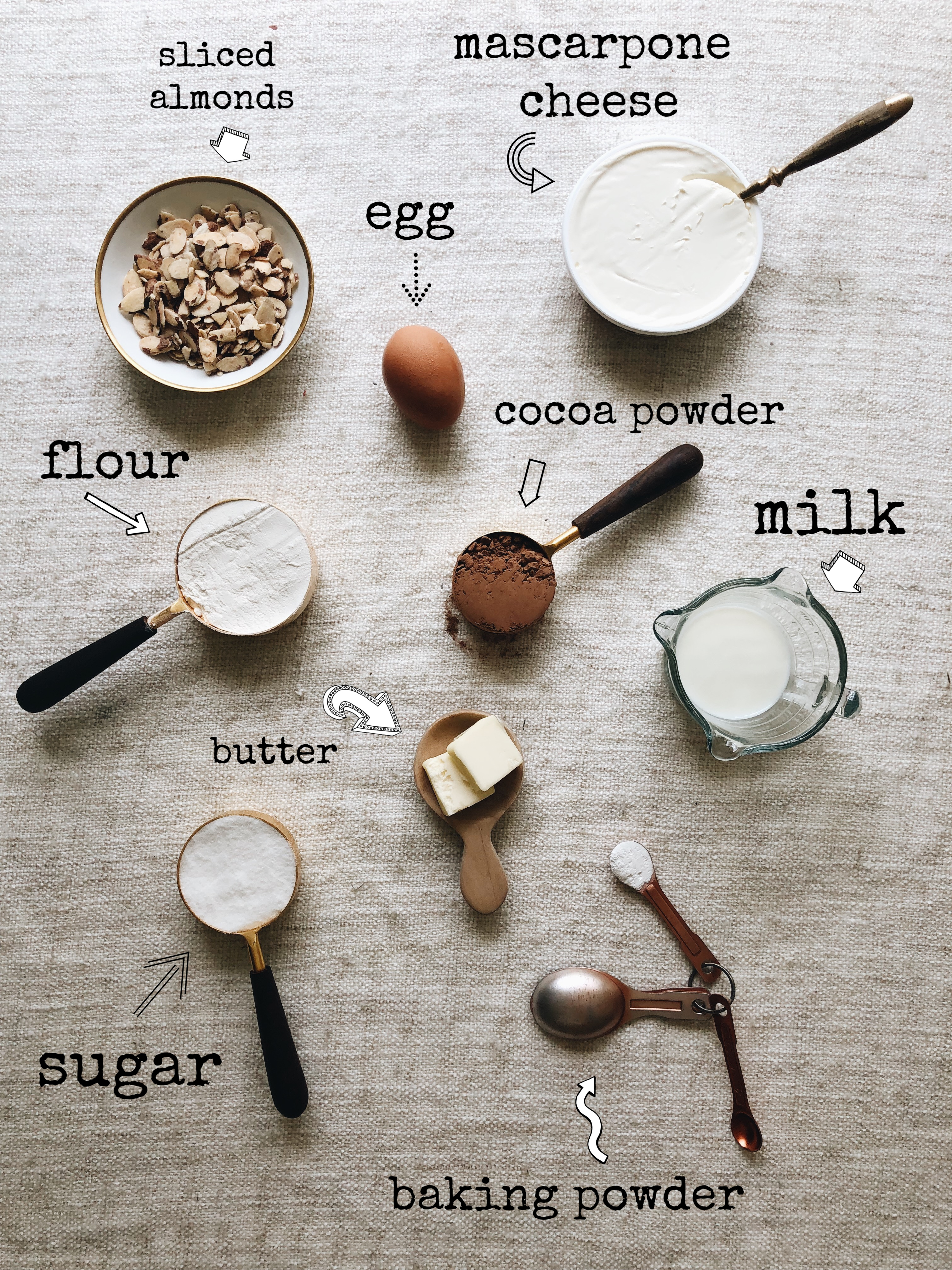 Nothing weird, see? The only thing you'll have to add to your list is the mascarpone cheese. Which should already be on your list BECAUSE IT IS MASCARPONE CHEESE.
And the sliced almonds. But I always keep a bag on hand to sprinkle into salads. And these are honey roasted! Get those if you can. Or a version of. (got mine at TJ's.)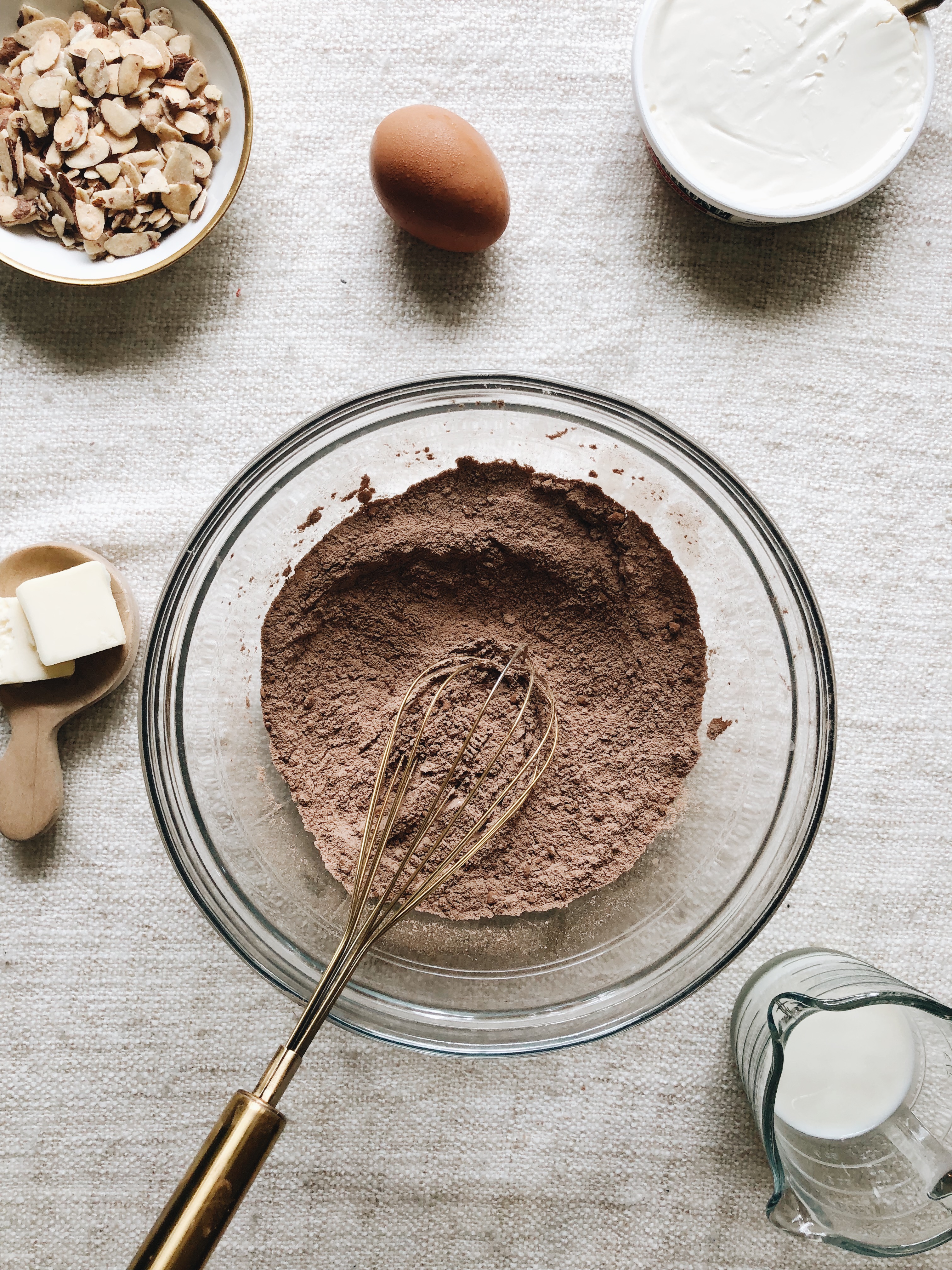 So like always (I'm telling myself this info, not you. You already know this. But I'm . . .uh, challenged. . . in the baking arena) you start with the dry ingredients and whisk those together. Flour + sugar + cocoa powder + baking powder + plus tiny pinch of salt. See, no one's sweating yet.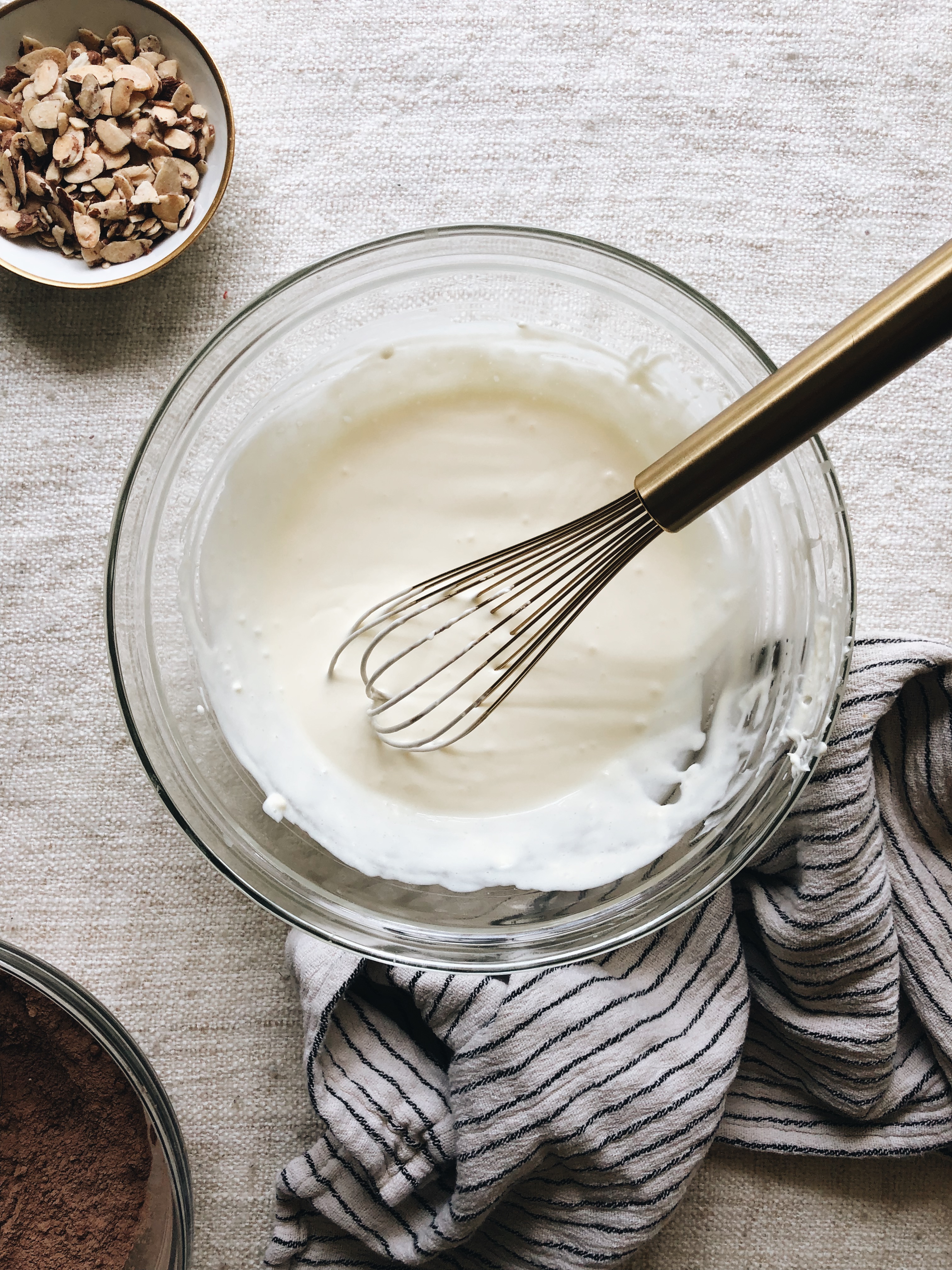 And then we pop over to another bowl to work on our wet ingredients. Milk + mascarpone cheese (oh! have this sitting in the container at room temp for a good hour so it's soft and easy to mix okay bye) + cracked egg + melted butter.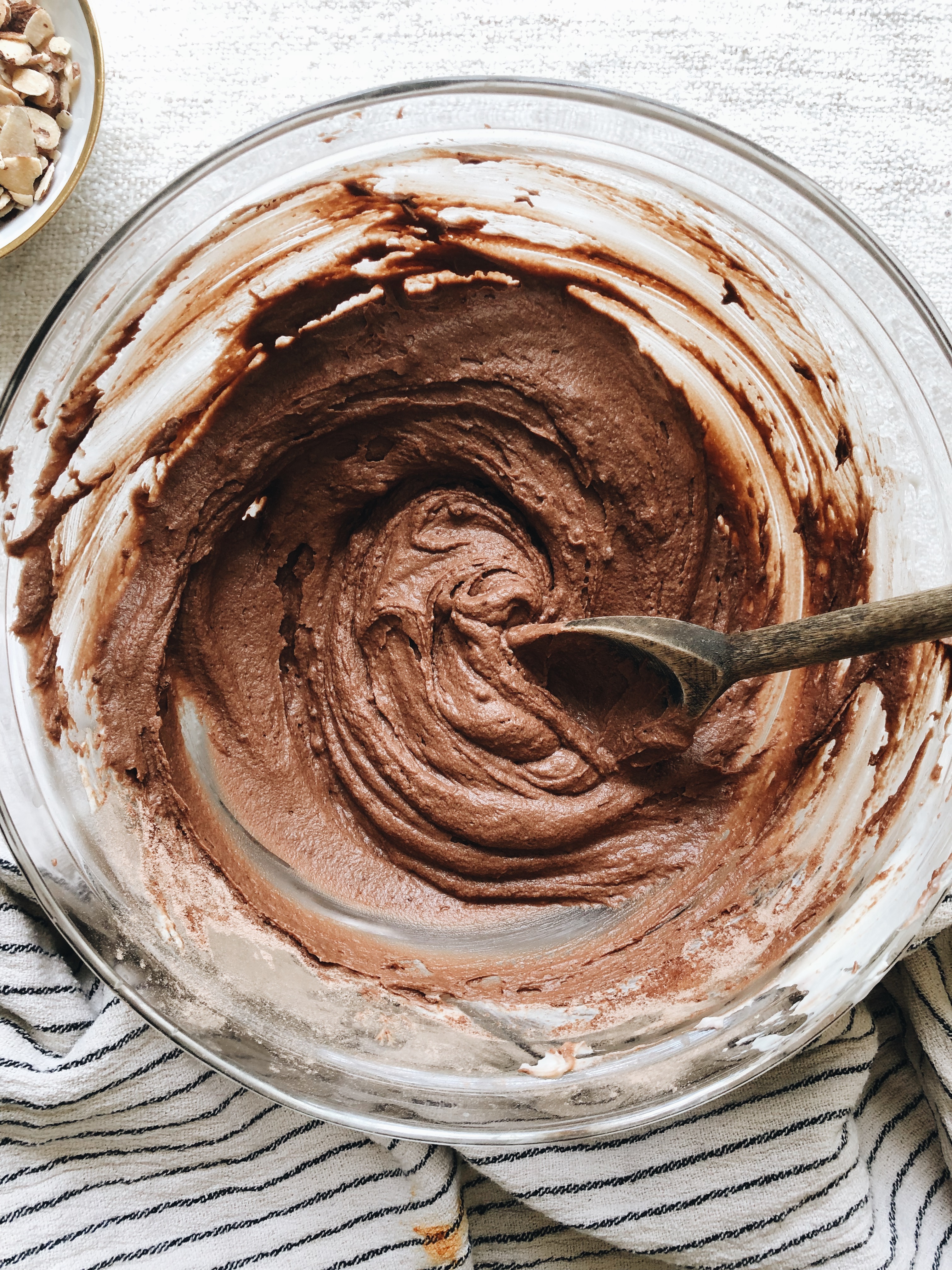 Theeeeen (you're all nodding like, we know WE KNOW) you add the dry to the wet and stir it all together and not all snuffaLUMPagus. One of life's little joys = a bowl full of swirly chocolate cake dough. Cake mix. Cake innards? Cake slop.
I ruined it, didn't I?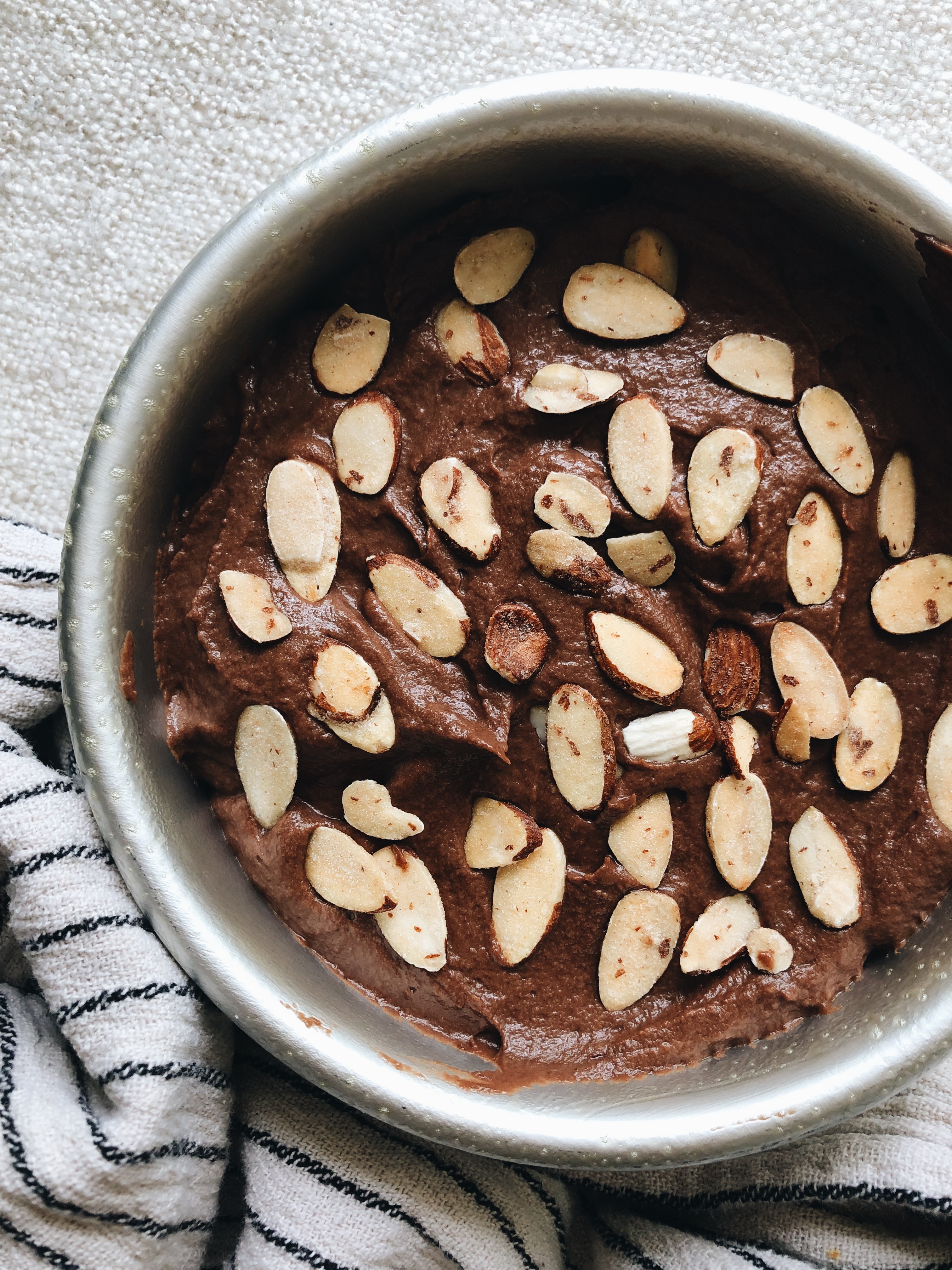 And then, you pour it into a (lightly sprayed) mini circular cake tin that you thrifted at random because it was so cute and shiny sitting on that shelf with the other rusty baking goods and thought, "I HAVE A HOME FOR YOU, LITTLE ONE. Come hither into my bosom."
I really should backspace that last part.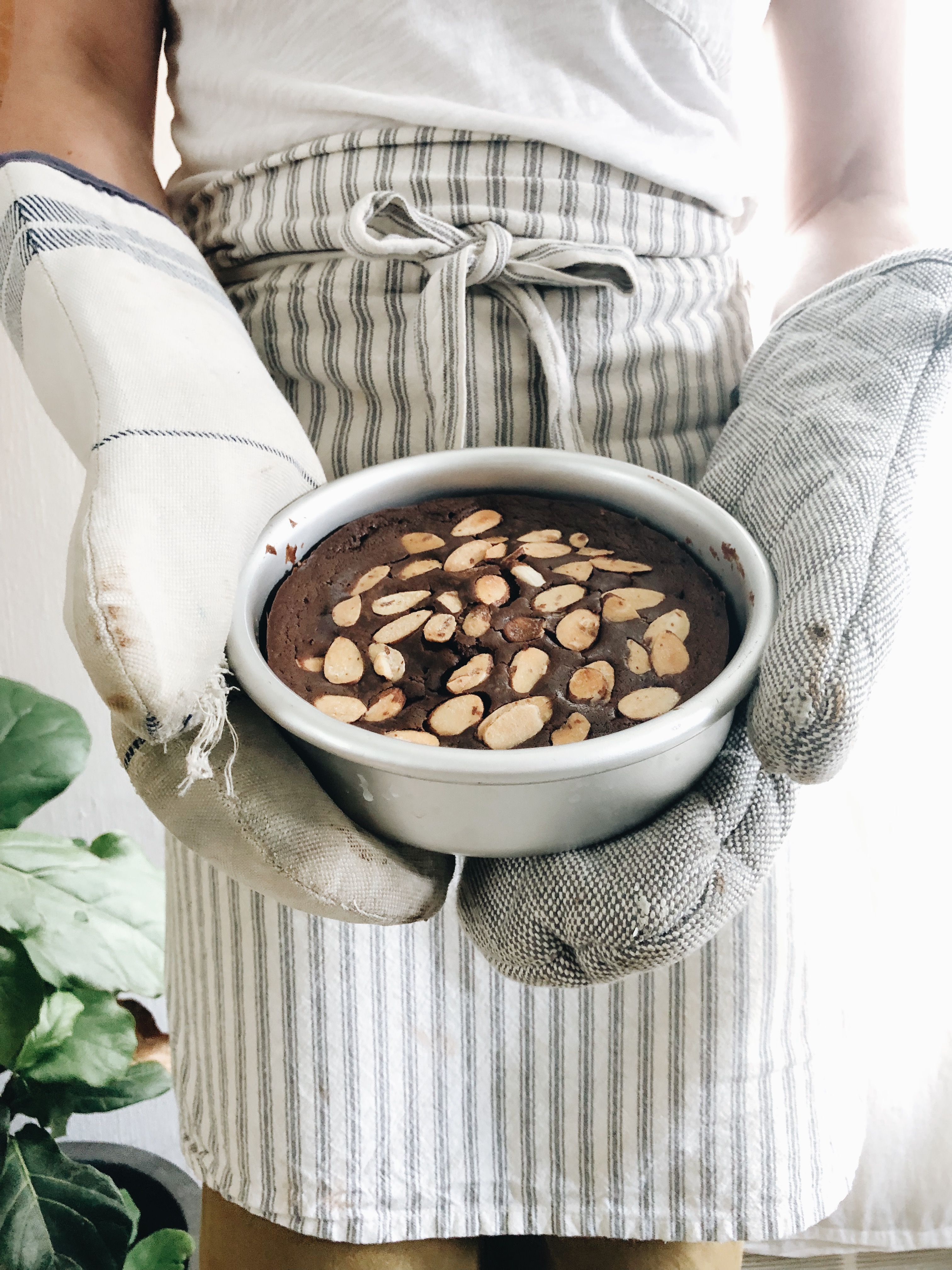 Post bake! It rises a little, and then sort of settles back into cozyland because the mascarpone is sweet and dense with the most subtle tang and keeps the whole thing moist (sorry) and perfectly almost-fudge like on the inside.
And of course the sliced almonds on top takes it to 11.
Do you think I should ask for new oven mitts for Christmas?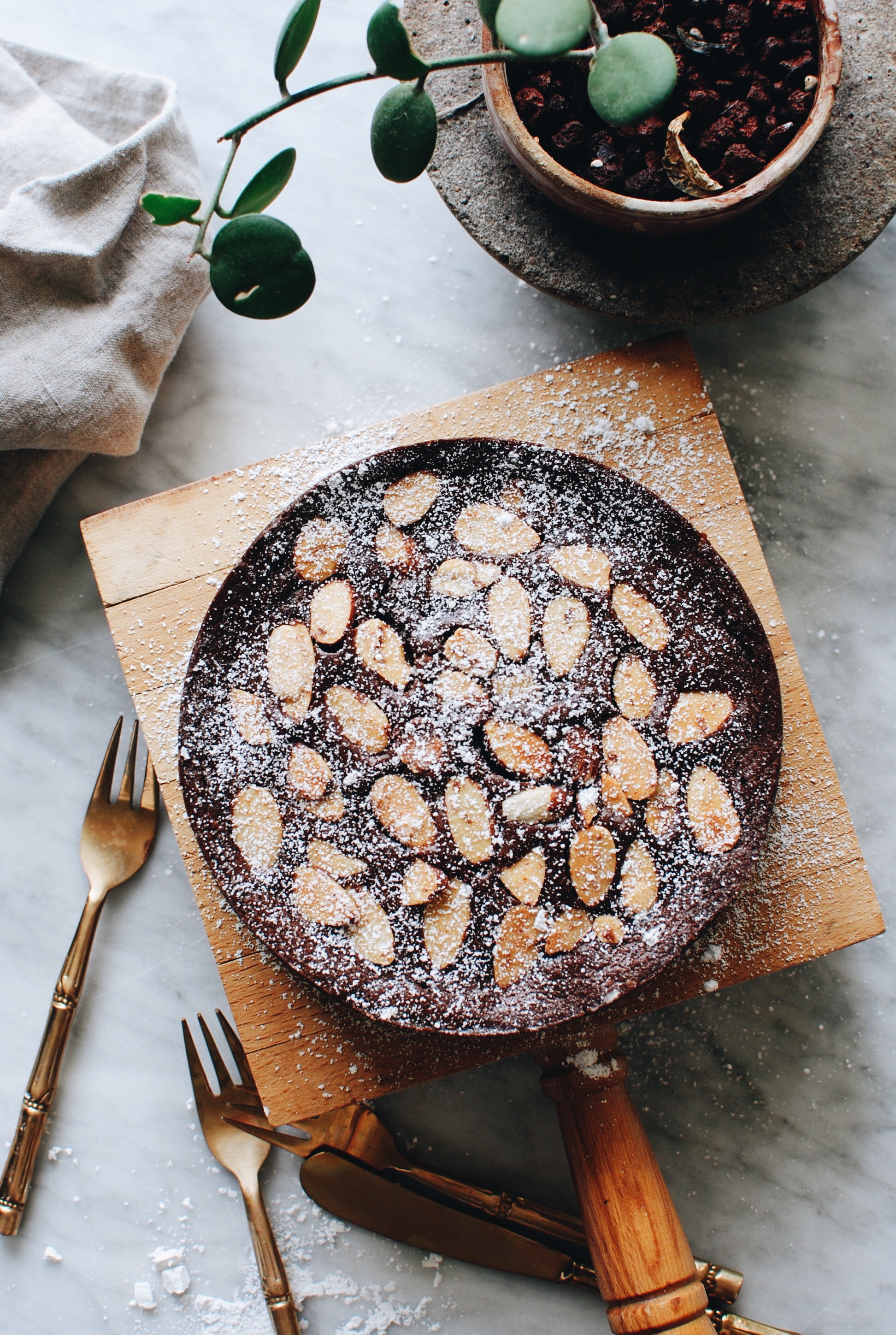 Hello, gorgeous.
This is the thing. It's tiny! So it's absolutely perfect for date night. Or a small dinner party. You can seriously get four to eight pieces out of this thing if you slice it just the right way. (you're like, DREAM ON, CHACHI.)
And the flavor? It's different than regular chocolate cake because of the added delicious insanity of mascarpone cheese. It's rich and creamy with a tangy sweetness that *I* think is a bit more sophisticated than regular cake. But what do I know.
Just look at that. Don't you want to stick your entire head in it? Yes. Yes you do.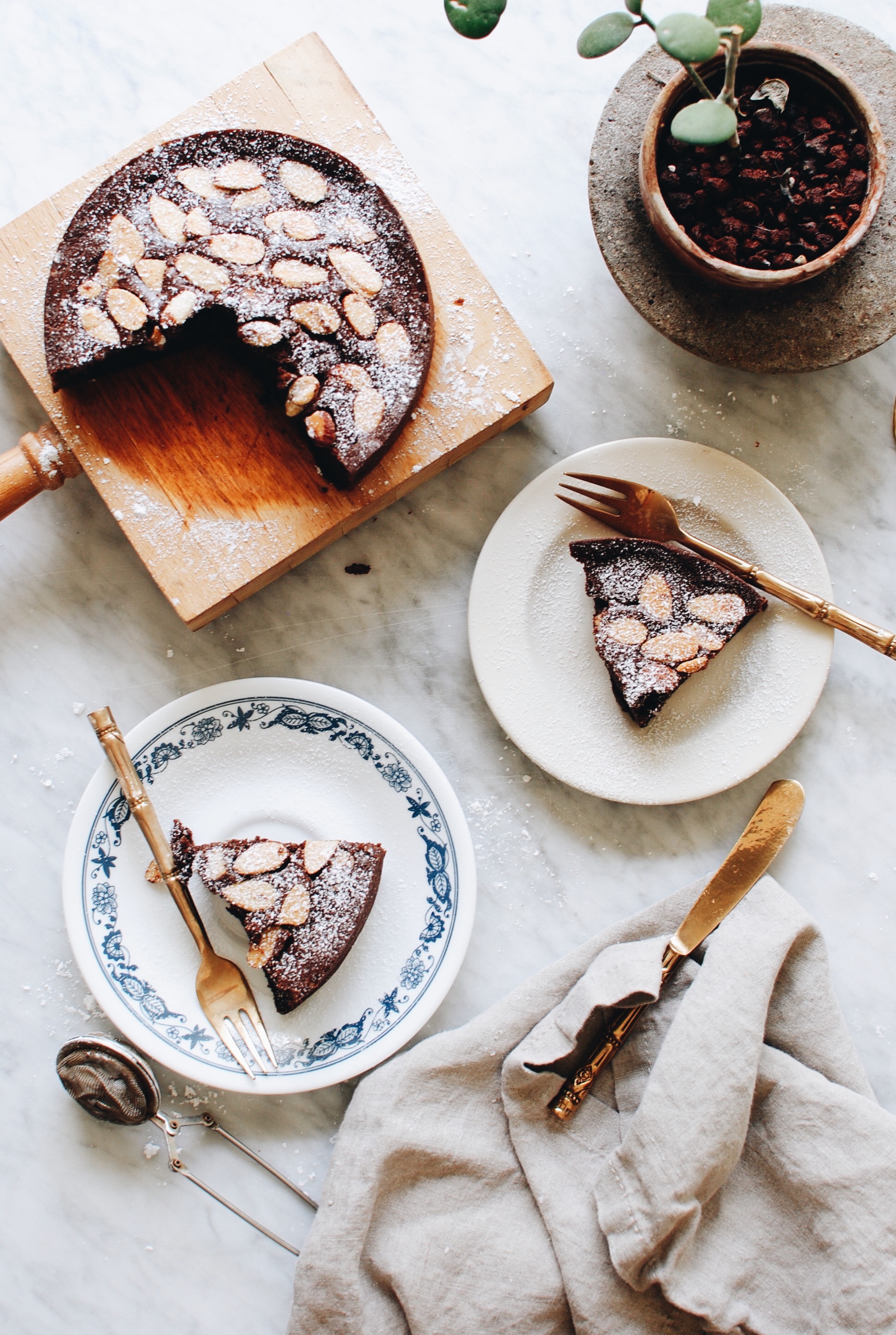 Permission granted.
Mini Chocolate Mascarpone Cake
Ingredients
1/2 cup all purpose flour
1/4 cup cocoa powder
1/3 cup sugar
1/2 tsp baking powder
1 (8 oz) tub mascarpone cheese (at room temp)
1 egg
1/4 cup milk
2 Tbs. butter (melted)
Pinch of salt
Small handful of sliced almonds (honey roasted if you can find it!)
Powdered sugar for a dusting at the end
Instructions
Preheat your oven to 350.
In a medium bowl, whisk together the flour, cocoa powder, sugar, baking powder and a small pinch of coarse salt. In another larger bowl, whisk together the milk, mascarpone cheese, egg and butter until smooth.
Add the dry ingredients to the wet ingredients and stir together until smooth and incorporated.
Lightly grease a 6-inch cake tin and pour the cake batter into the tin. Gently press the almonds on top of the batter, and bake for 40 minutes, or until a toothpick comes out clean.
Let cool about 30 minutes (if you can), then pop it out of the tin onto a plate or tiny cake stand. Lightly dust with powdered sugar and serve before you lose your mind.
Serves roughly four! Or two if you're a maniac.
7.8.1.2
371
https://bevcooks.com/2019/09/mini-chocolate-mascarpone-cake/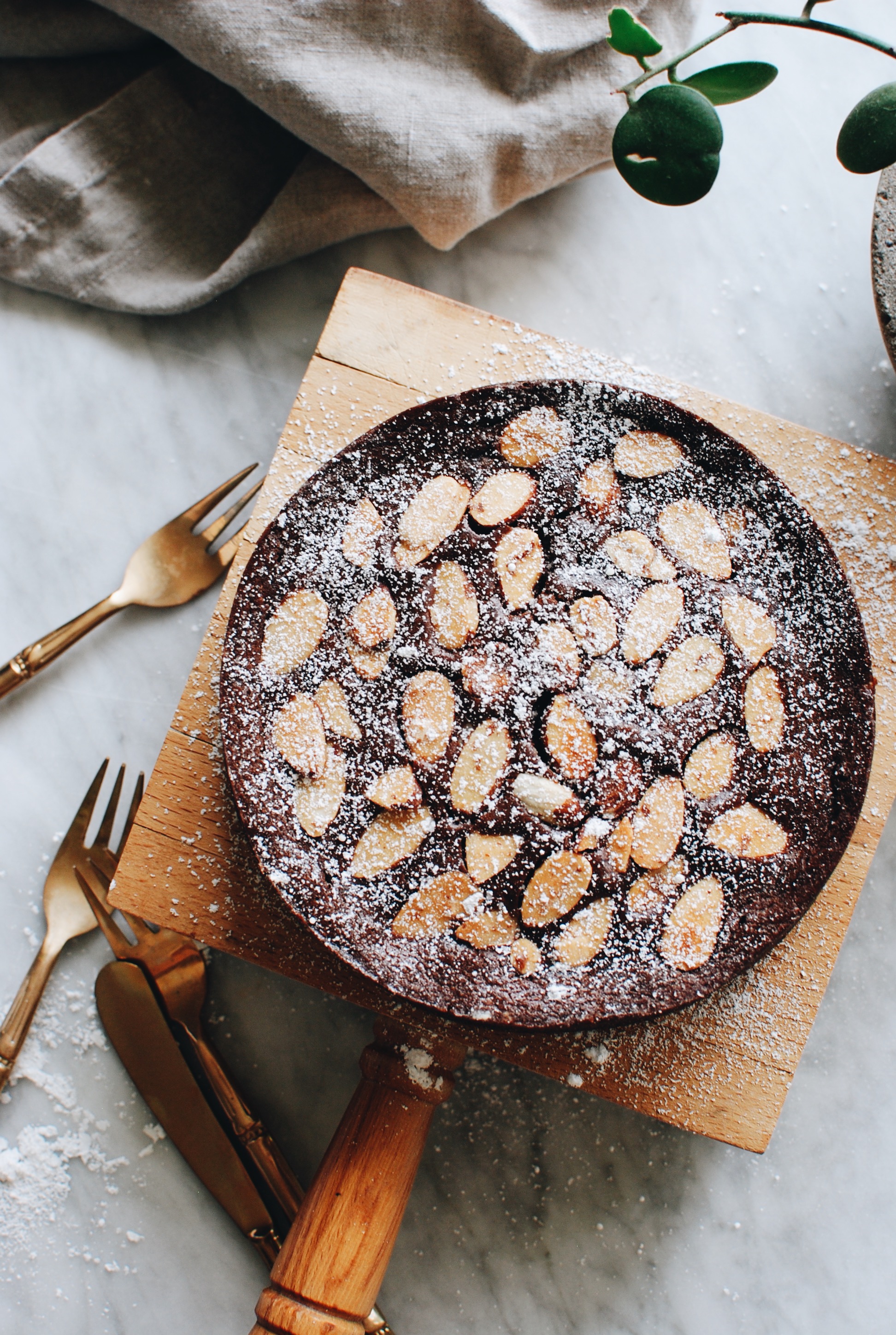 Okay what else should I make with my tiny cake tin?!