Why yes that is actual heaven you're looking at.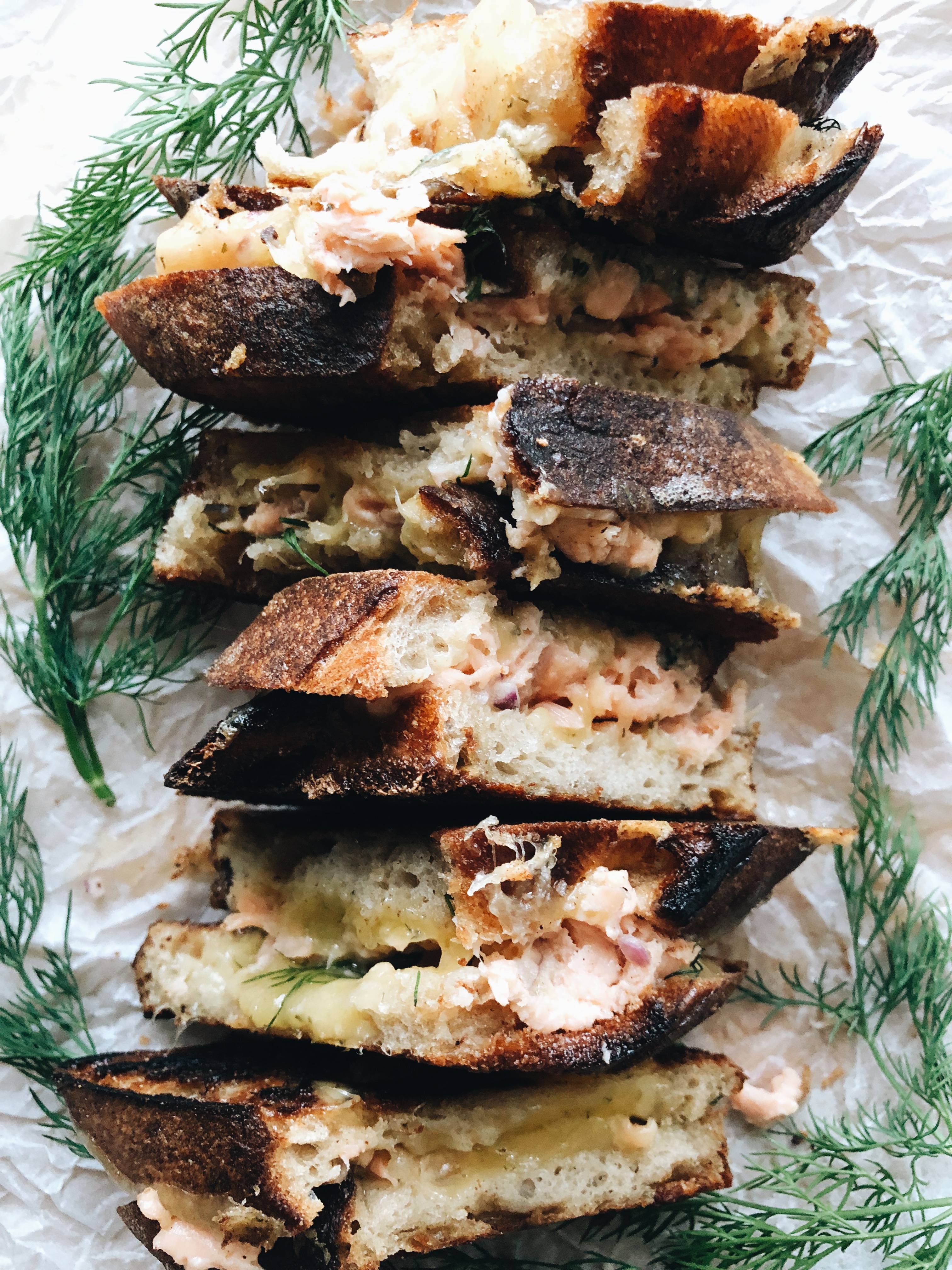 If you need a minute to lie down, collect yourself, or punch this square in the face, take all the time you need.
I heaaaaar it's National Grilled Cheese Sandwich Day this coming Friday – is that right? Are you into this? Besides obviously? I also think it's funny because Aaron's birthday is this Friday, and he hates cheese. Ha! Oh how I love life. Do you want to tell him or shall I?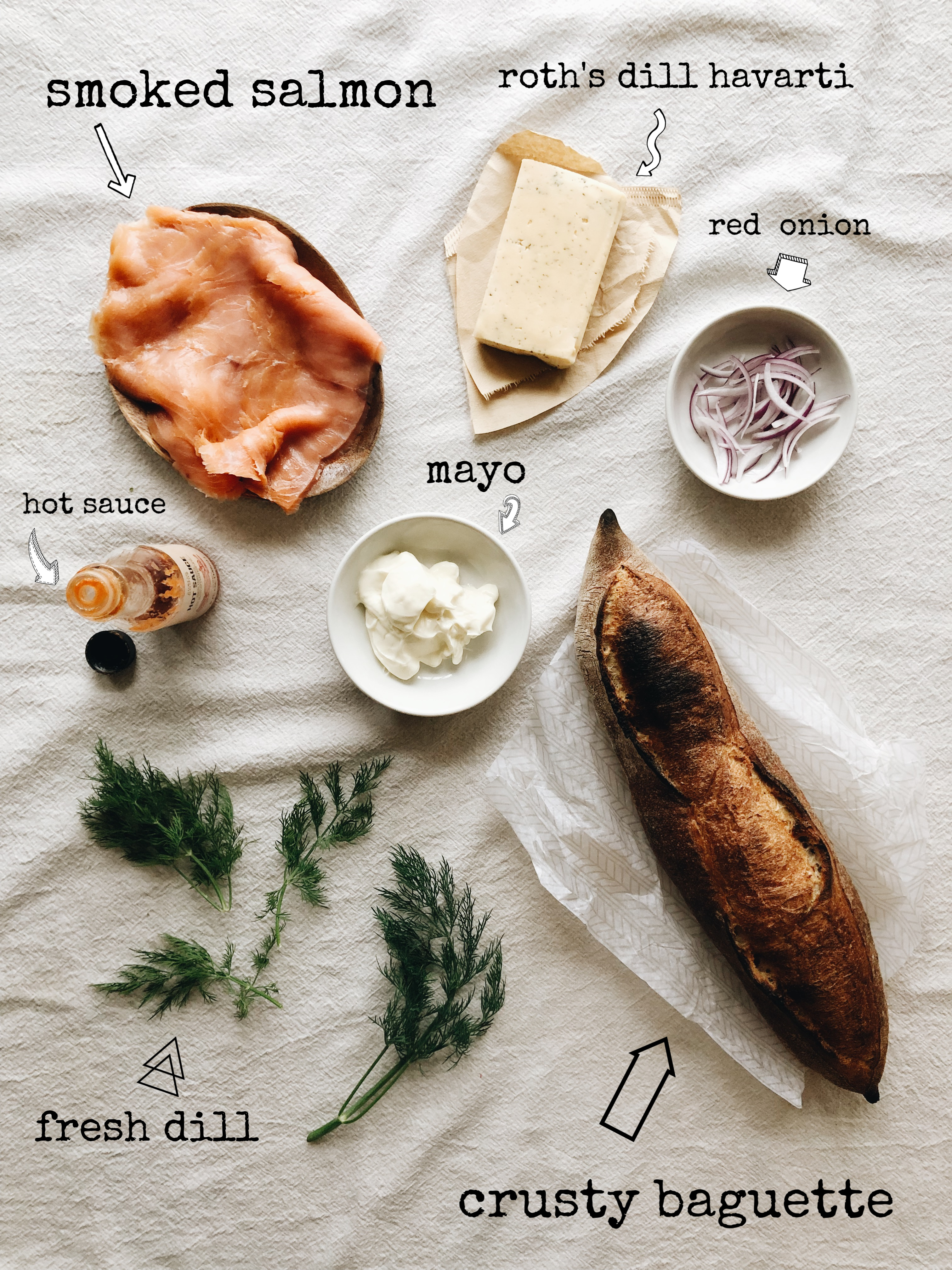 So, this is a SUPERBLY tasty and fun twist on a grilled cheese sandwich that has major spring vibes, Easter vibes, Mother's Day vibes, all the vibes. And I know you're probably like, SMOKED SALMON WITH DILL HAVARTI? To which I say, girlfriend yes.
But it's not just smoked salmon! We're taking it a step further and making an insanely delicious spread with it. Lil' bit of mayo, chopped red onion and hot sauce all swirled up in the chopped and mashed salmon and D U D E S. Total picnic food. In your mouth.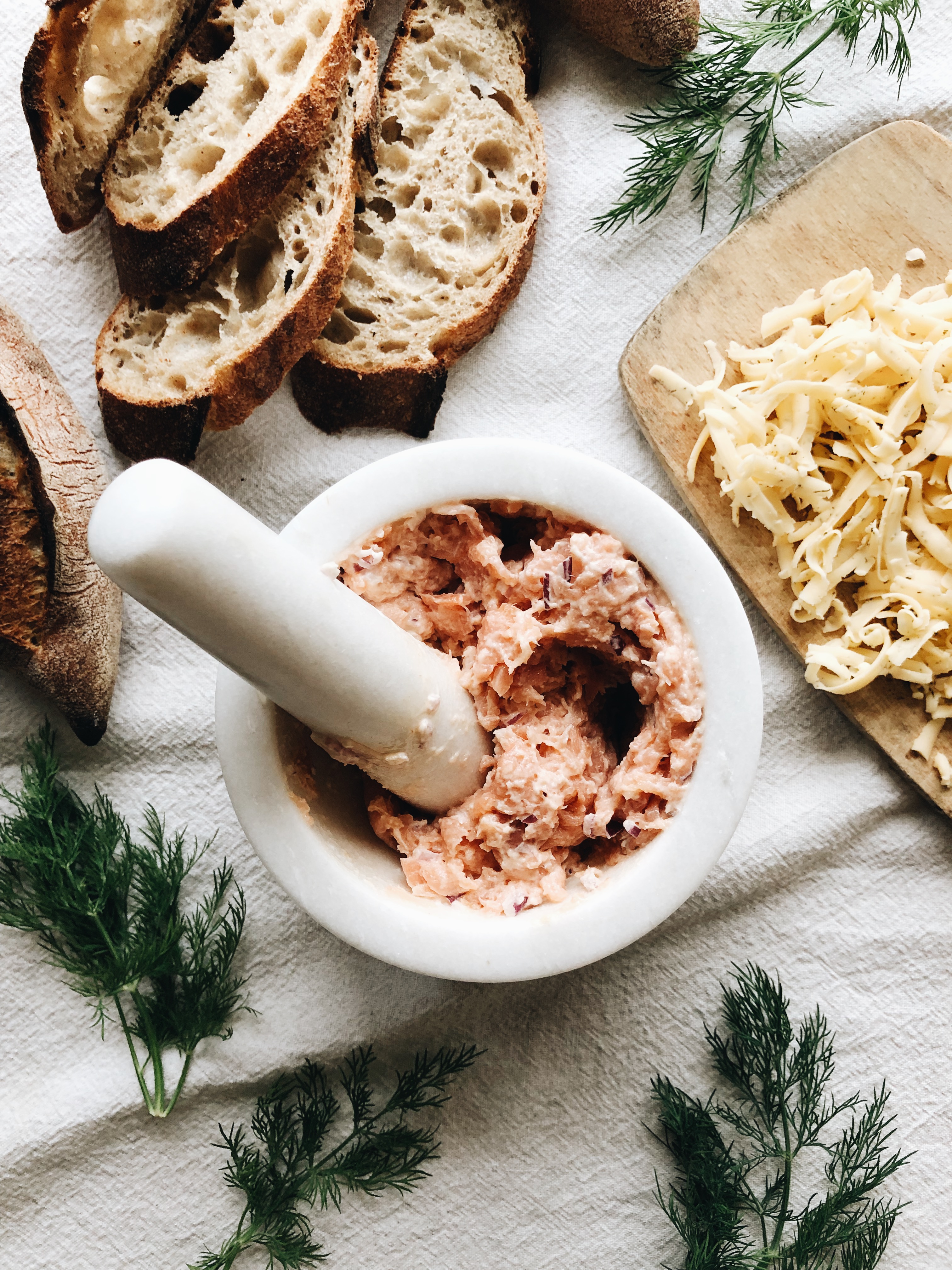 If you choose to pause a minute and spread this on a cracker with an extra tiny hot sauce glug, I would not be upset about it.
It is ridiculous. But hold up, we're not finished. You know my lover Roth Cheese. Well they have a DILL HAVARTI that's about to melt all over this spread, and your life will no longer look the way it did before. Just you wait, 'Enry 'Iggins.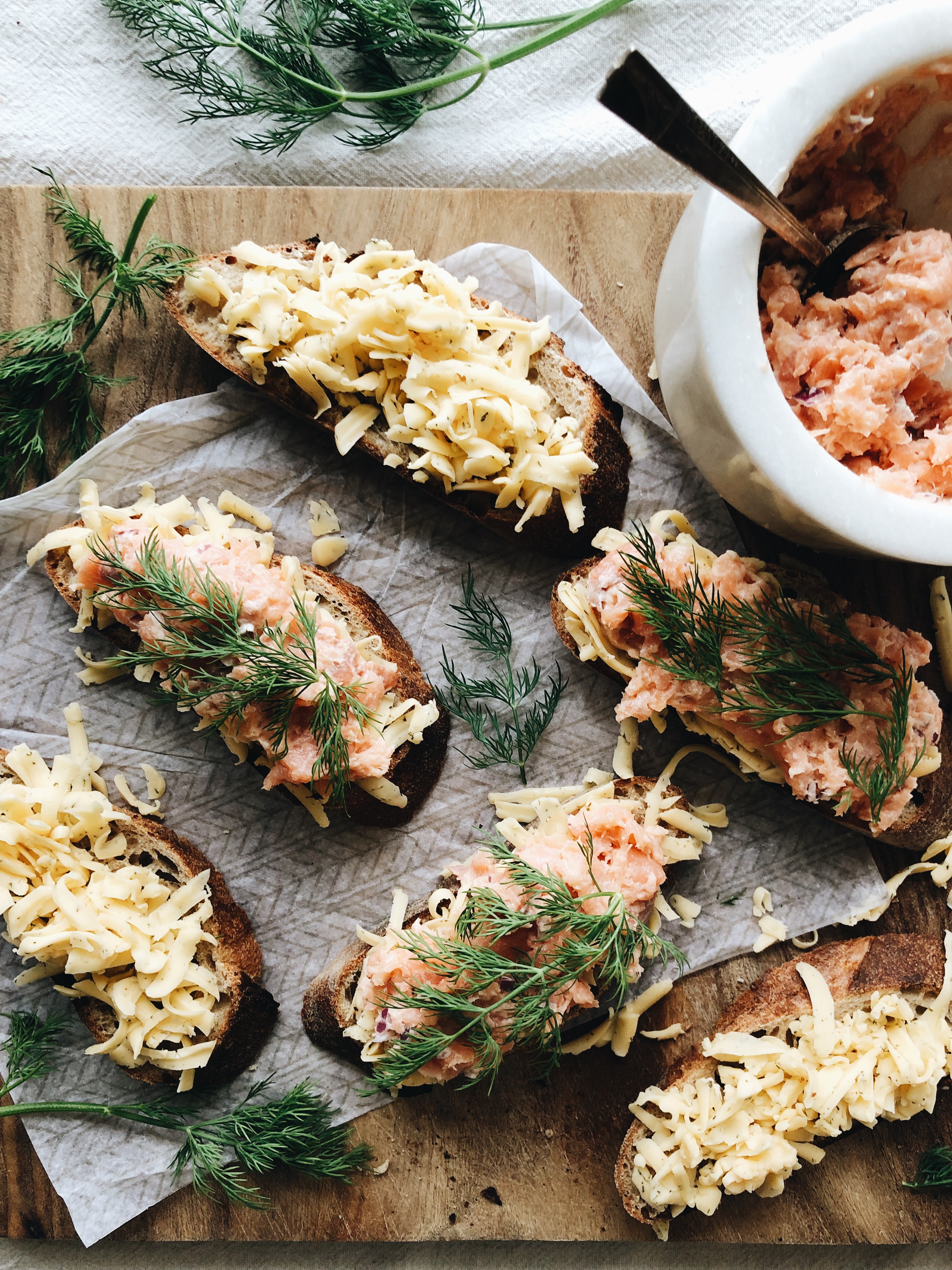 Take the best crusty baguette on the planet that you can find, and slice it on the diagonal. Grate up the Dill Havarti cheese and sprinkle it on each slice of bread. Then just spoon out and smear the salmon spread (I almost typed "spread the salmon spread" but didn't want the word spread twice in a row. Spread the spread. Ha! Never mind.) over the cheese, and lay a hefty sprig of fresh dill right on top!
You with me? Yeah you are.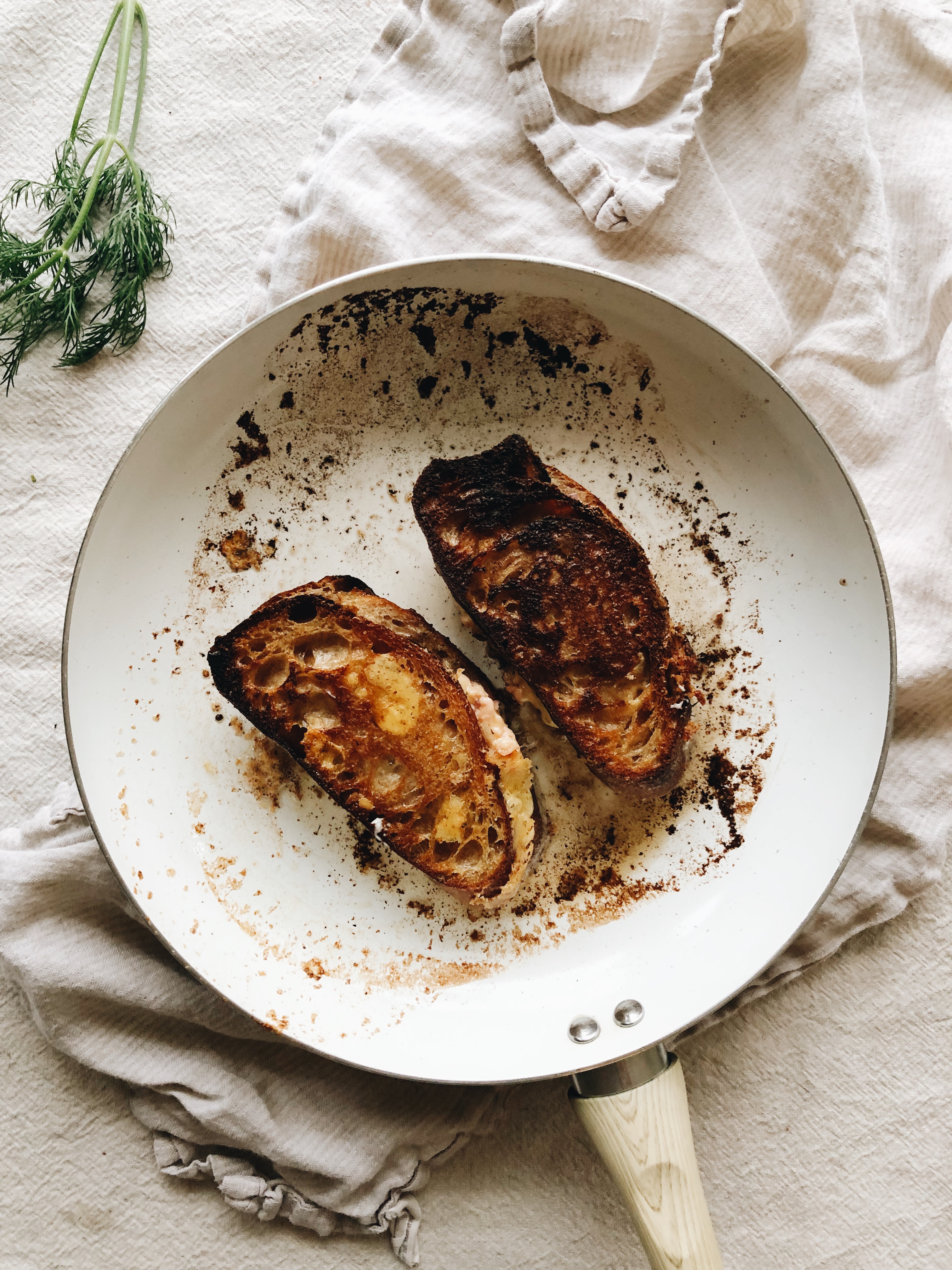 Now, you grill. Butter in the pan. Crusty sams in the butter. Flip flip. Sob sob.
You know.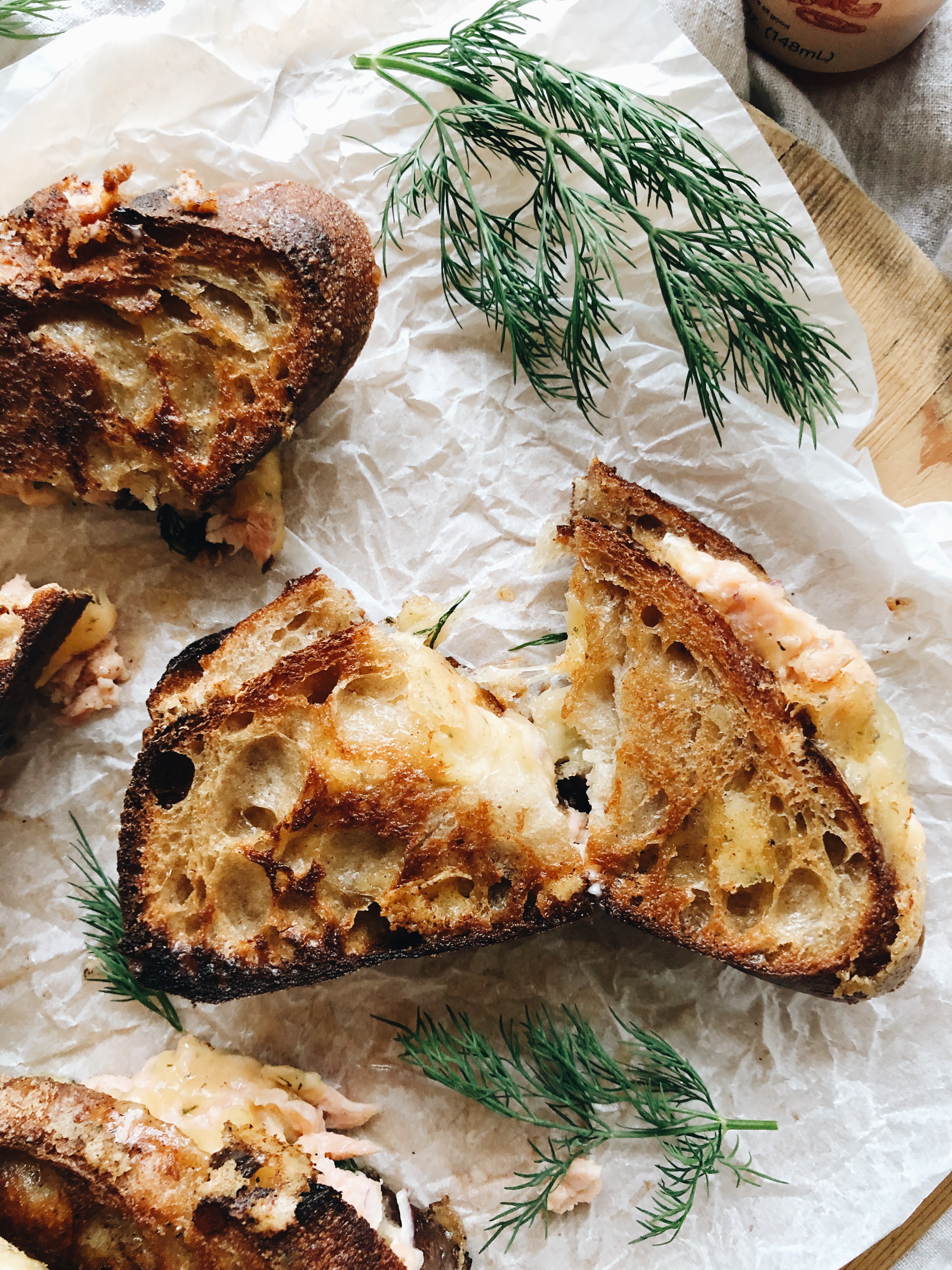 Aaaand hi, hello, see you never.
That Roth Dill Havarti is absolute PERFECTION in this. It's soooo creamy, and melts beautifully over the salmon. More importantly, it's mellow! It won't compete with the more-intense smoked salmon flavors. The dill carries through the cheese in this flawless way, and seriously enhances the whole dern thing.
Plus it's super rustic and homey and pretty to look at. Almost too pretty to eat!
. . . Almost.
Smoked Salmon and Dill Havarti Grilled Cheese Sandwich
Ingredients
1 crusty baguette, cut into slices on the diagonal
6 oz smoked salmon
1-2 Tbs. Mayo (more if you like!)
2 Tbs. chopped red onion
A few glugs of your favorite hot sauce
A few sprigs of fresh dill
1 (6 oz) block of Roth's Dill Havarti, grated
3 Tbs. butter
Instructions
Give the salmon a rough chop, and mash it down in a mortar and pestle. Add the mayo, red onion and hot sauce and keep mashing until it becomes a paste-like spread. No salt needed! The salmon is salty enough. Taste it, you'll see.
Now evenly sprinkle the grated dill havarti over the sliced baguette, and spread the salmon dip on one half of the sandwich. Top with fresh dill, and gently place the other half of the baguette on top, making sure that the cheese stays tucked in on the top half.
Melt the butter in a large skillet and grill each sandwich for about two minutes per side, until the cheese melts and the bread gets grilled and crunchy.
Slice and serve!
Makes about 4 sandwiches.
7.8.1.2
219
https://bevcooks.com/2019/04/smoked-salmon-and-dill-havarti-grilled-cheese-sandwich/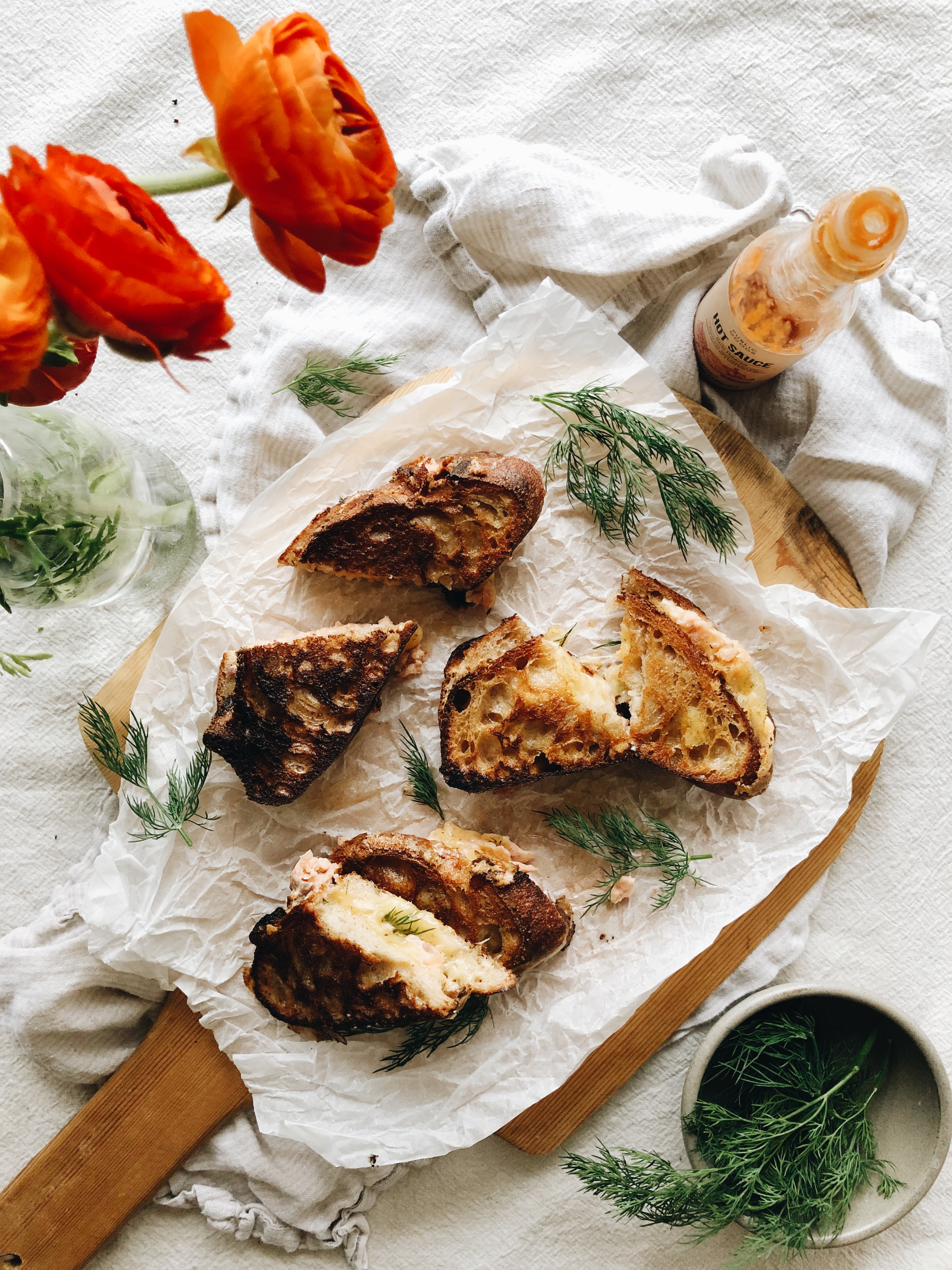 Make it this Friday! Or now?
(This post is definitely in partnership with my lover Roth Cheese. But all ramblings and Dill Havarti meltings are totally my own. We coo?)