Hello, my perfect lovely gorgeous salad lover. (It. Not you.)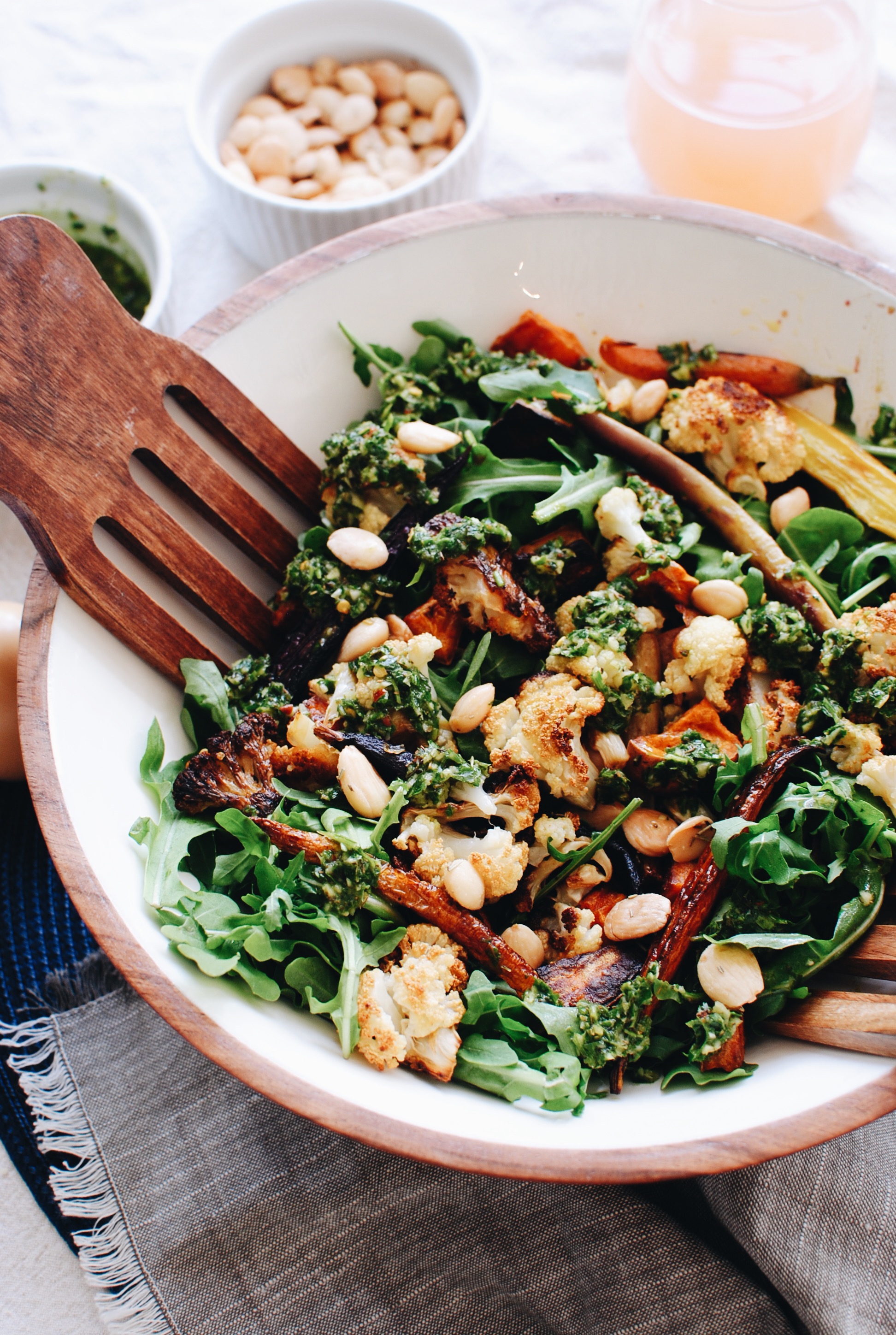 Okay who's with me on this::: roasted veggies a) for president, and b) YEAR-ROUND GRUBBAGE. Not just fall. Not only winter. Don't leave spring out. Summer, too. It's an all-the-time food.
And truthfully, it's my favorite way to eat veggies. Hands down. Raw is fine. Boiled is eh. Blanched is okay. ROASTED? Just stick me in there with them.
Except don't.
This just took an odd turn.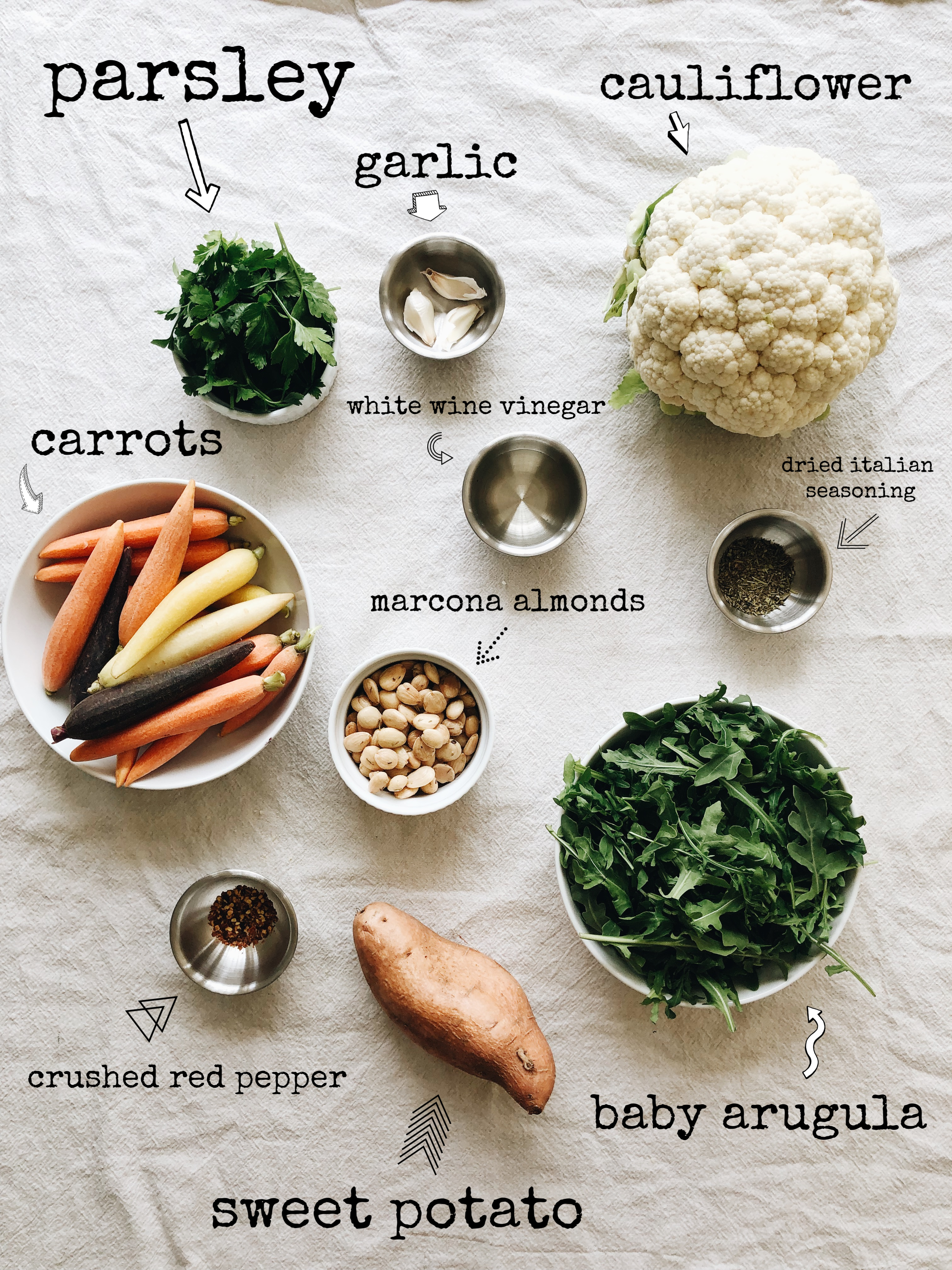 I've been making this loaded roasted veggie salad for a few months now and omg. You will cry.
First of all, roasted veggies. Hi. Cauliflower, sweet potato and carrots. Multi-colored springy carrots! Just surrender.
Secondly, you know my ludicrous obsession for chimichurri right now slash all the time. I'm chimi-ing my face off. It's a delicious prison from which I never want to escape.
Lastly, Marcona almonds. Have you had them? Salty. Slightly oily. The magical unicorn explosion glitter town of the regular almond. Trust me.
So while the cauli/carrot/sweet 'tater madness is roasting, make your chimichurri! Now, while I stand by this recipe through and through, let me say that in the summer months, when my oregano is going zabonkers, I'll throw a small handful in. A sprig, you know. Nothing super intense. Just enough to add that perfect woodsy-ness! Woodyness? Woodiness? No squiggly line! We're going with that.
Stick your finger in that and tell me you don't see the very face of God.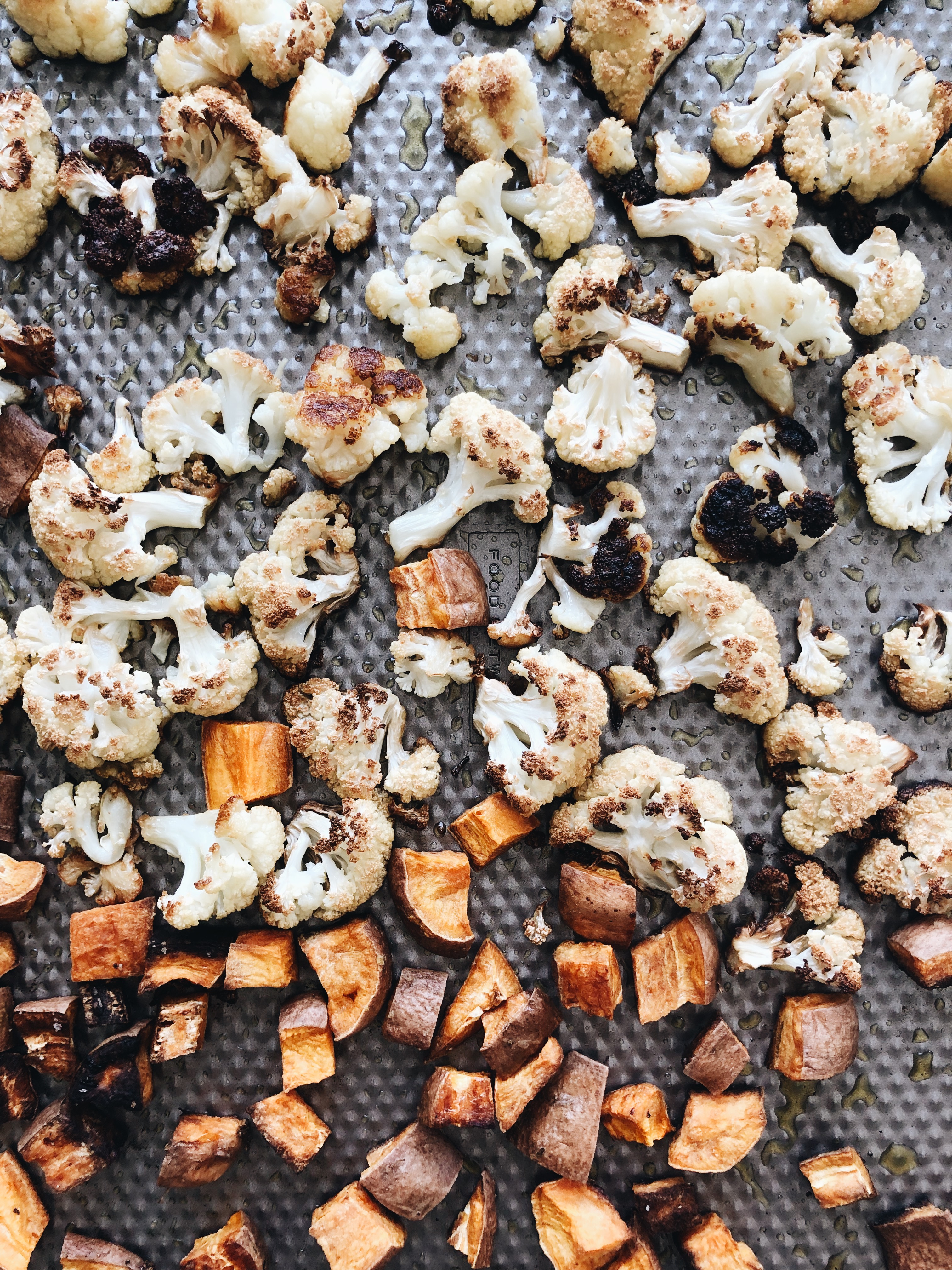 Roasted!
Also, that PAN. Look at it. It's textured. I don't know what kind of voodoo is happening with this baking sheet, but I'm obsessed. It's actually the Textured Non-stick Baking Sheet from the Food Network's line at Kohl's, for those of you in the roasting/baking sheet market! Which you are.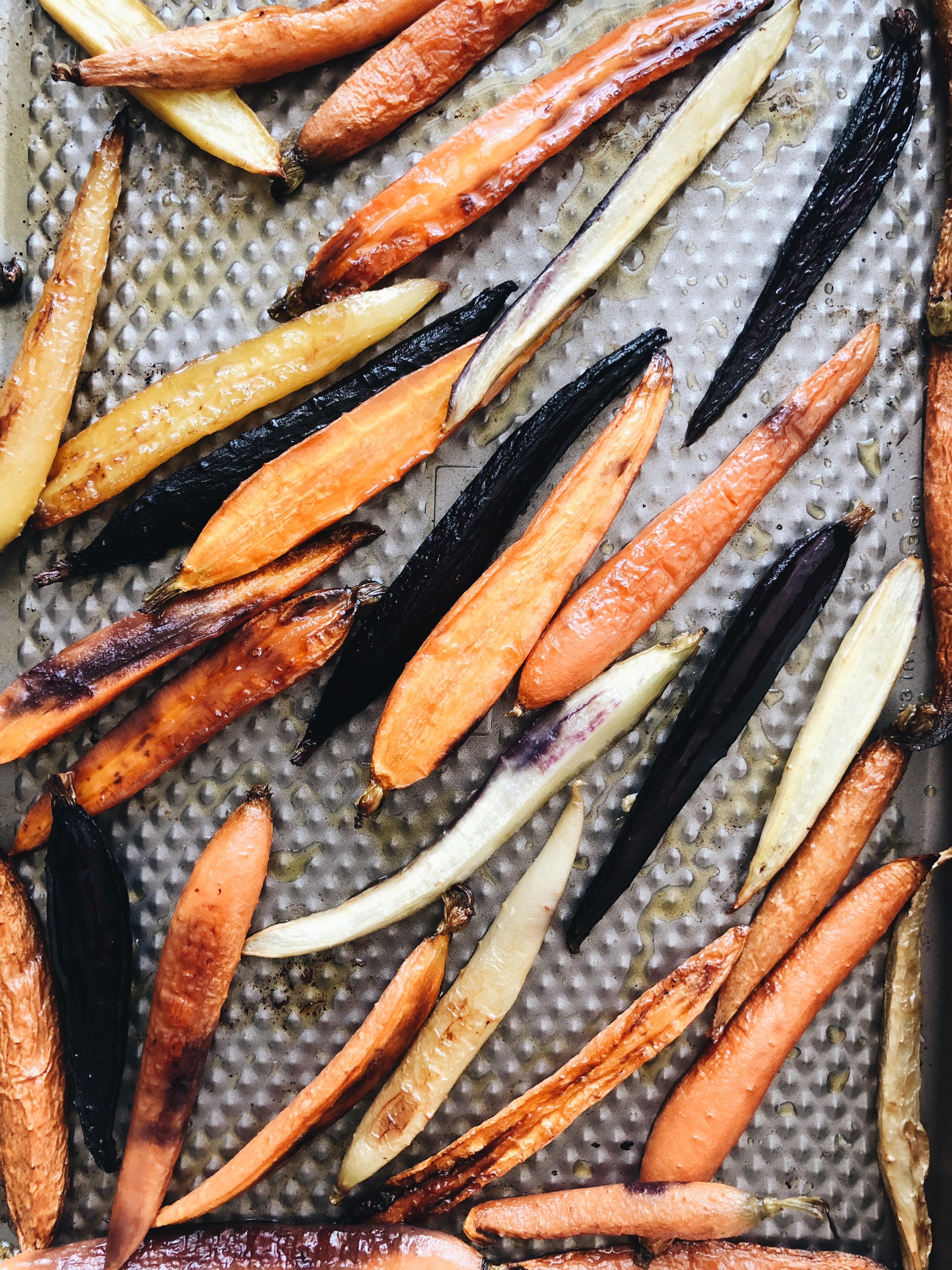 Here's a little trick – slice the carrots down the center lengthwise, and they won't take 17 weeks to roast. And they're gorgeous. The end.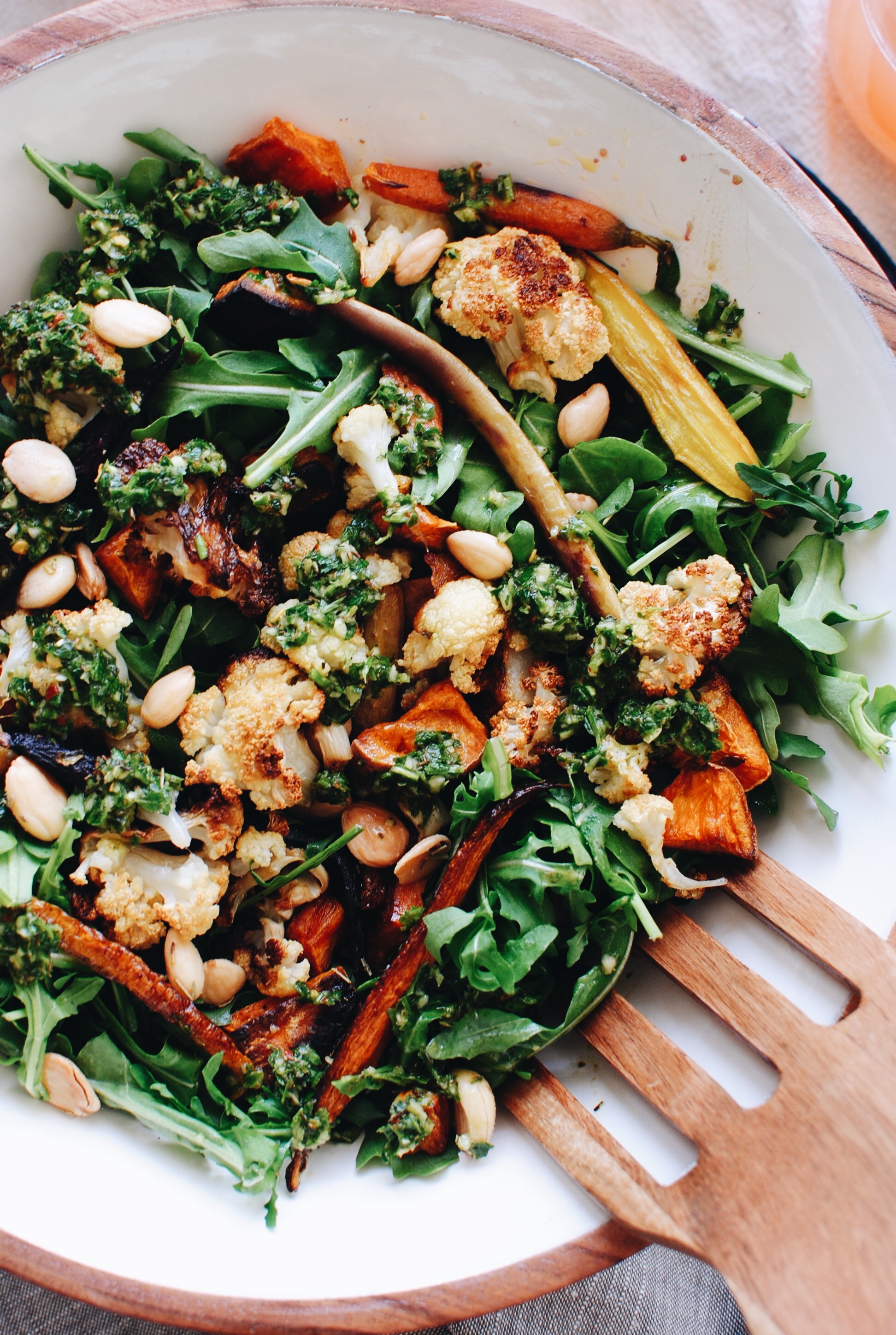 SALAD. MANIA. RIGHT. THERE.
I just love hefty salads like this. Give me guts or GIVE ME NOTHING. The arugula is peppery and stands up to the bright, acidic flavor pow of the chimichurri. And the roasted vegetables are so.freaking.perfectly.tender and charred and luscious. Depth! You know me and depth. And I just can't with the Marcona almonds. It's that laaaast hit of salt and crunch on top of the mountain of veggies that just sends me into spiraling emotional blissful chaos.
And because I know the way you think, let me just tell you – the bowl! The salad bowl. It's so pretty. Acacia Wood Salad Bowl from the Food Network brand! Also at Kohl's. Boomidy boom.
Basically, MAKE THIS SALAD. Before I totally freak out on you.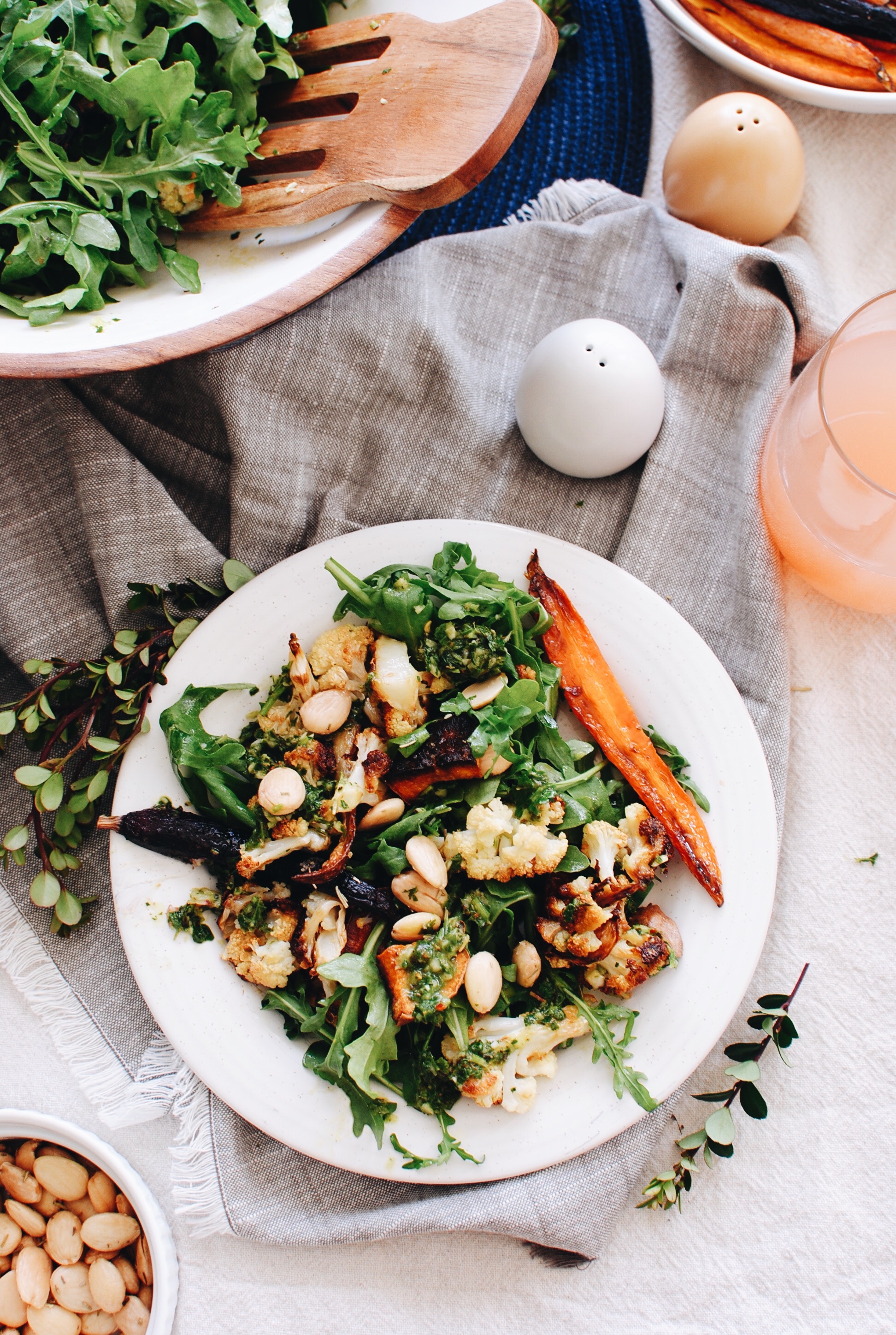 And look at that, it's your vegetarian night! How did we do that.
Roasted Veggie Salad with Arugula, Marcona Almonds and Chimichurri
Ingredients
1 large head of cauliflower, broken into bite-size florets
1 (16 oz) bunch petite rainbow carrots, sliced in half lengthwise
1 sweet potato, cut into bite-size pieces
1/2 big bunch parsley
3 garlic cloves
1 pinch crushed red pepper
1 Tbs. dried Italian seasoning
3 Tbs. white wine vinegar
9 Tbs. extra-virgin olive oil, divided
6 oz baby arugula
1/2 cup Marcona almonds
Coarse salt
Instructions
Preheat the oven to 400.
Arrange the cauliflower florets, carrots and cubed sweet potato over one large or two medium baking sheets. Drizzle with 3 Tbs. extra-virgin olive oil, and sprinkle with coarse salt, tossing with your fingers to coat. Roast for 1 hour, or until the veggies are browned and roasted all over.
In the meantime, place the parsley, garlic, crushed red pepper, Italian seasoning, white wine vinegar and the remaining 6 Tbs. oil in a mini food processor. Blitz until smooth.
Arrange the arugula in a large salad bowl, and top with the roasted veggies. Drizzle the chimichurri over the salad and garnish with the Marcona almonds. Toss if you want, or divide up at this point.
Serves 4!
7.8.1.2
222
https://bevcooks.com/2019/04/roasted-veggie-salad-with-arugula-marcona-almonds-and-chimichurri/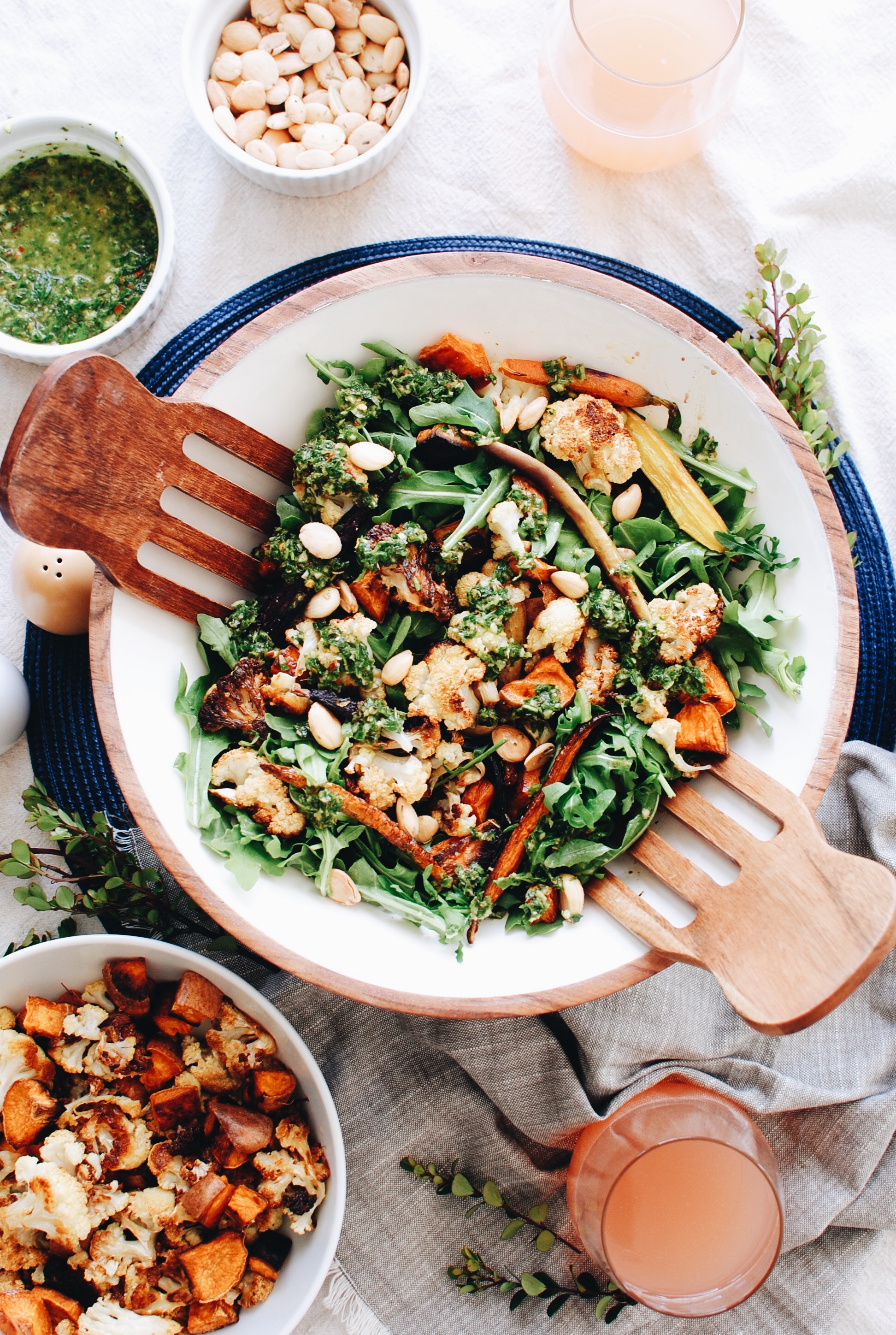 Is "yummers" still okay to say? Don't answer that.
(This post is definitely in partnership with Food Network and Kohl's. But all my ramblings and salad inhalings are totally my own. We coo?)