Because I'm lazy and can't bloody decorate a gingerbread man properly. That's the full title.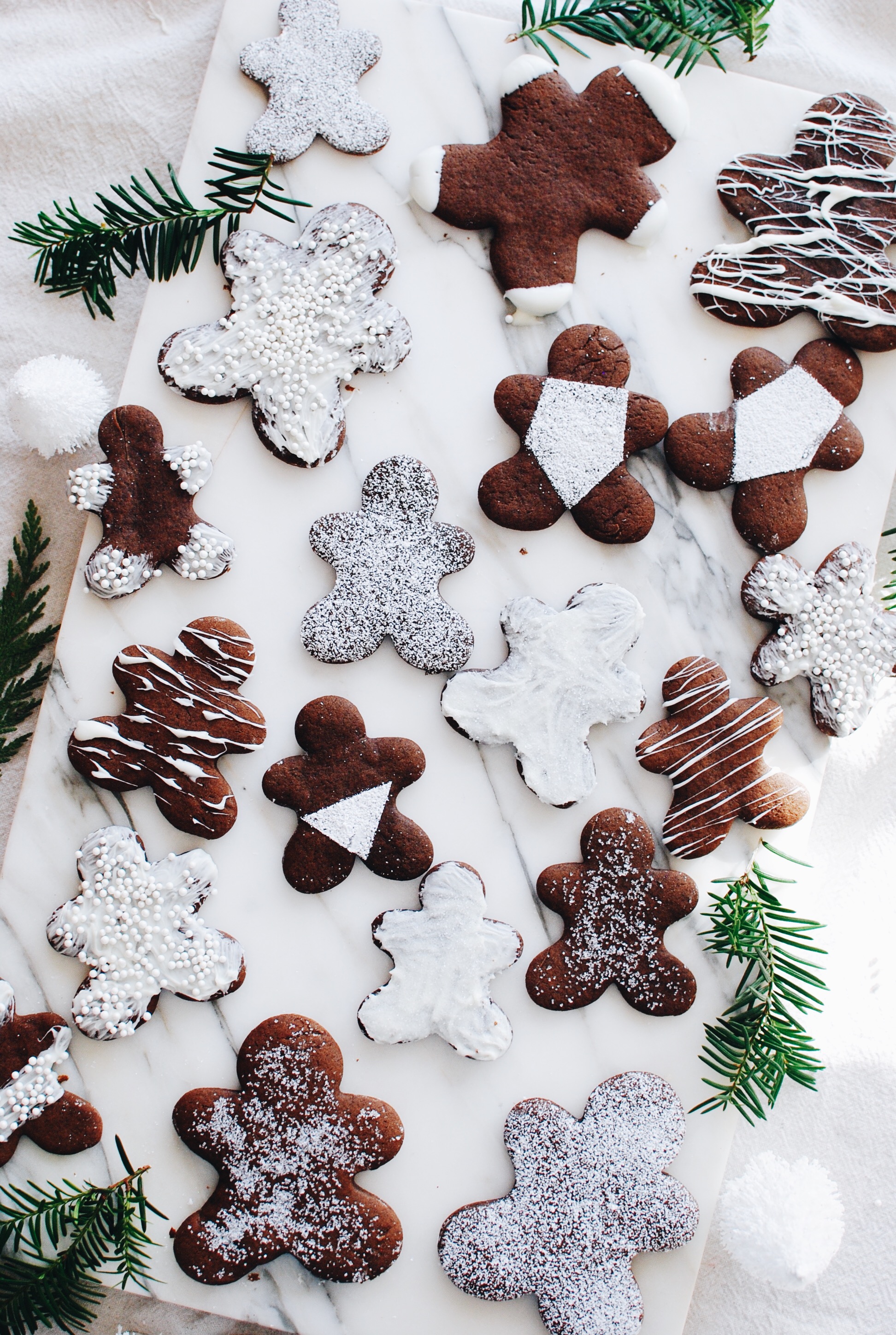 But look how cute! And EASY. That has to be key. If I'm sitting around with a piping bag, a glass of wine and a colossal lack of precision, I will straight up ruin Christmas. We can't have that.
So I decided to bake you cookies with a whole minimal (read: lazy) decorating approach! You dig?
Duh.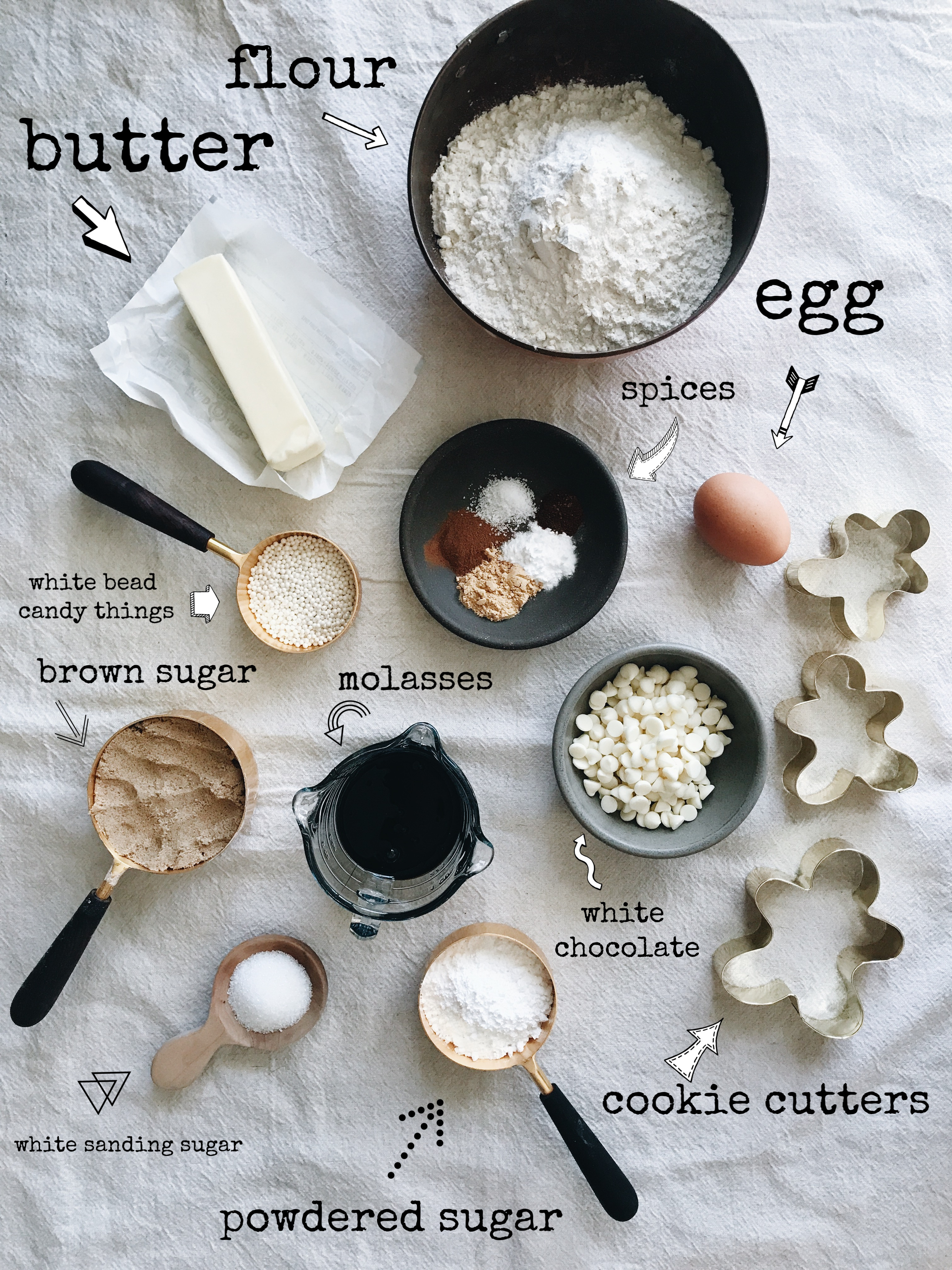 Also, we need to talk.
Last week I asked you all to send me your favorite gingerbread cookie recipes. And you did! And I love you. But.
I got scared. Because they're all so FANCY, you guys. And I'm just not sure you understand who you're dealing with here. It's me. Wonk lomp baking Bev. And I didn't want to botch your work! So I found a SUPER easy one on Real Simple, to stay safe and keep our friendship in a gleeful place. But listen, I'll definitely give you the links to what you all sent me! Because I love you and you want to pet me and call me Frank.
…too far?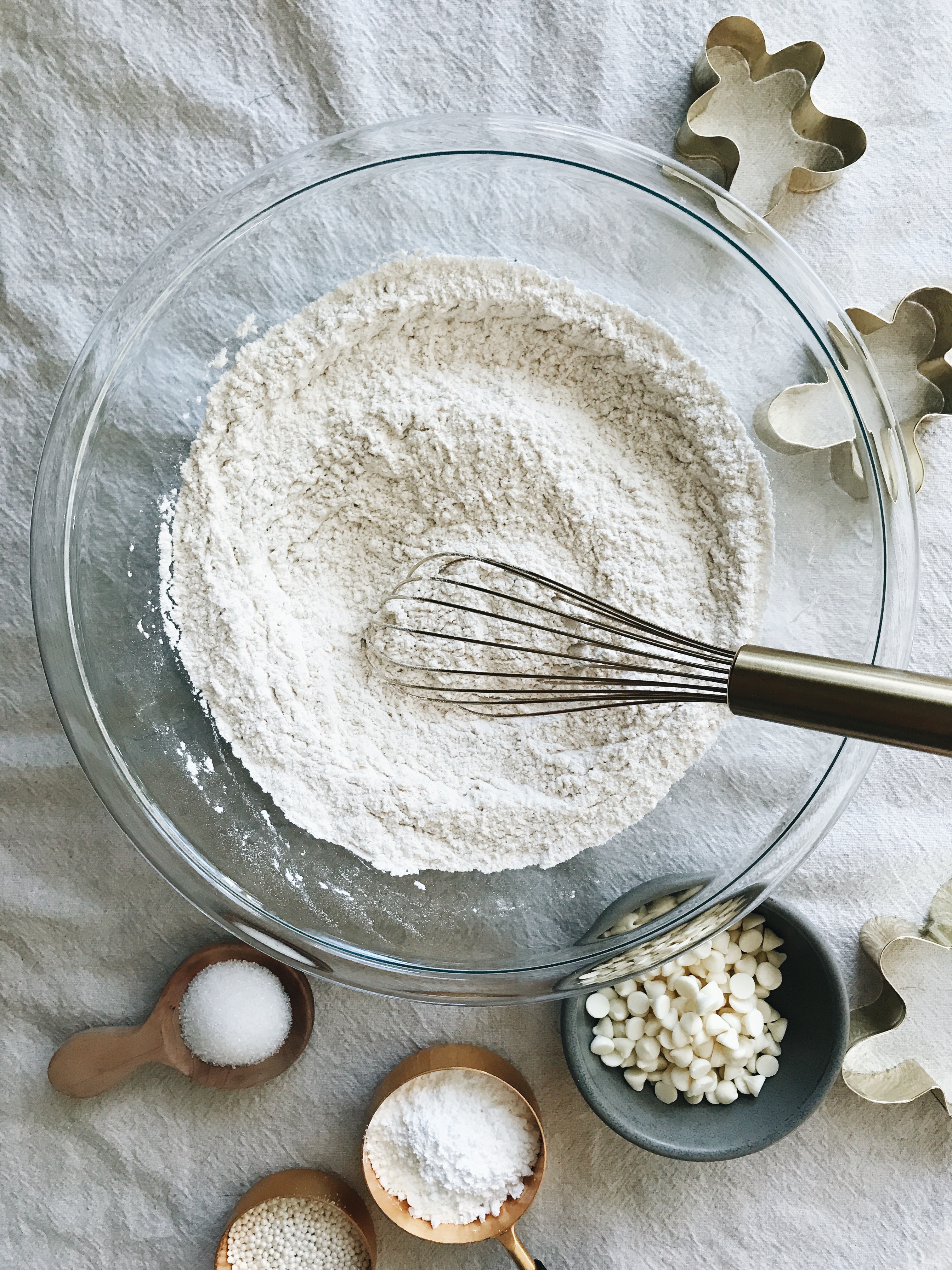 So you'll whisk together some flour, ground ginger, cinnamon, cloves, baking soda and salt. That's easy.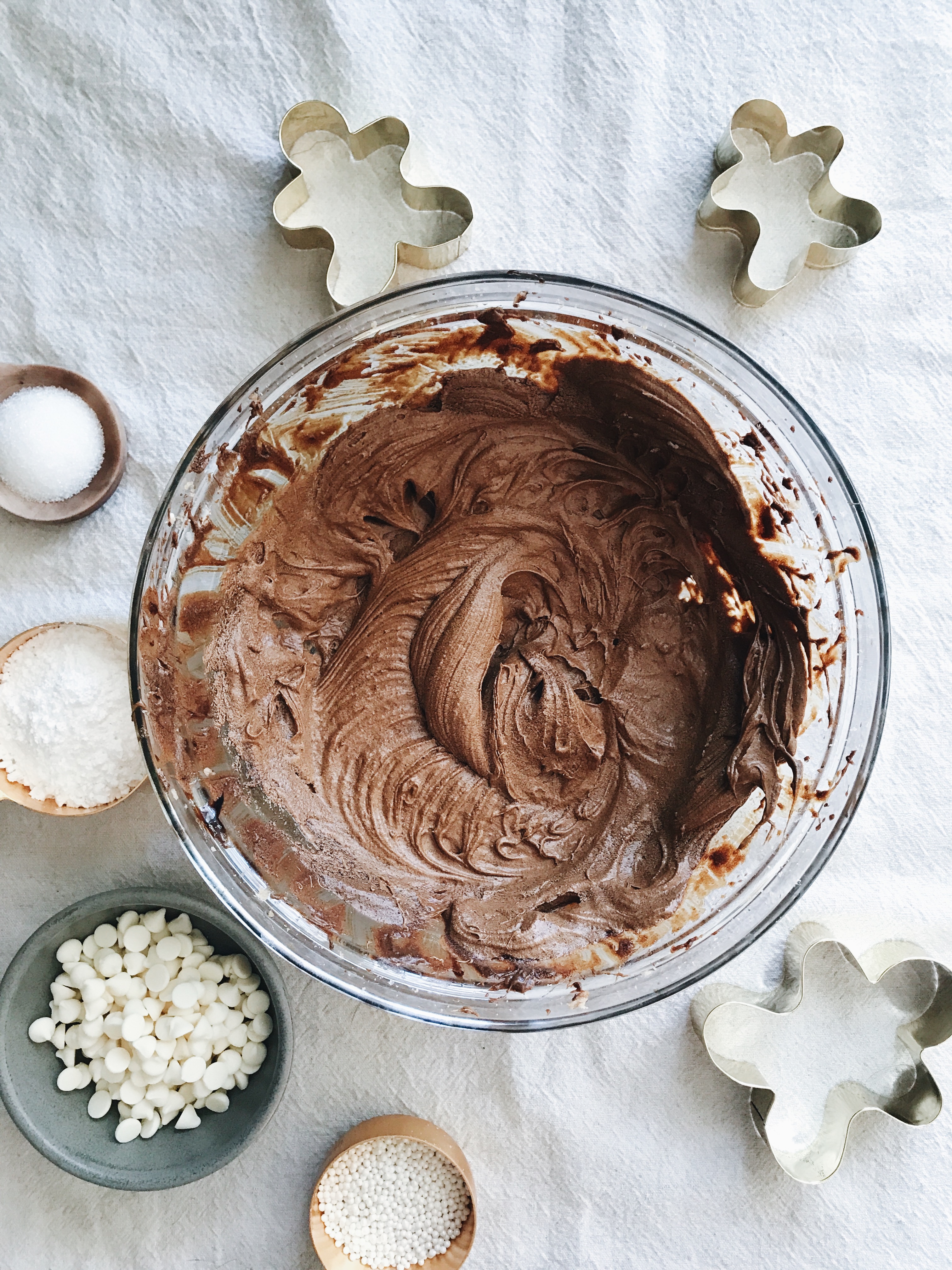 THEN, with an old fashioned hand mixer because I'm not fancy and don't have a KitchenAid and frankly am terrified of one, I blended some room temp REAL butter (none of that weird fake alien stuff in a tub) with the brown sugar in a big glass bowl. (That was my only tweak to the recipe. Brown sugar instead of white sugar. Amen.) Then added molasses and an egg. BLEND BLEND BLEND.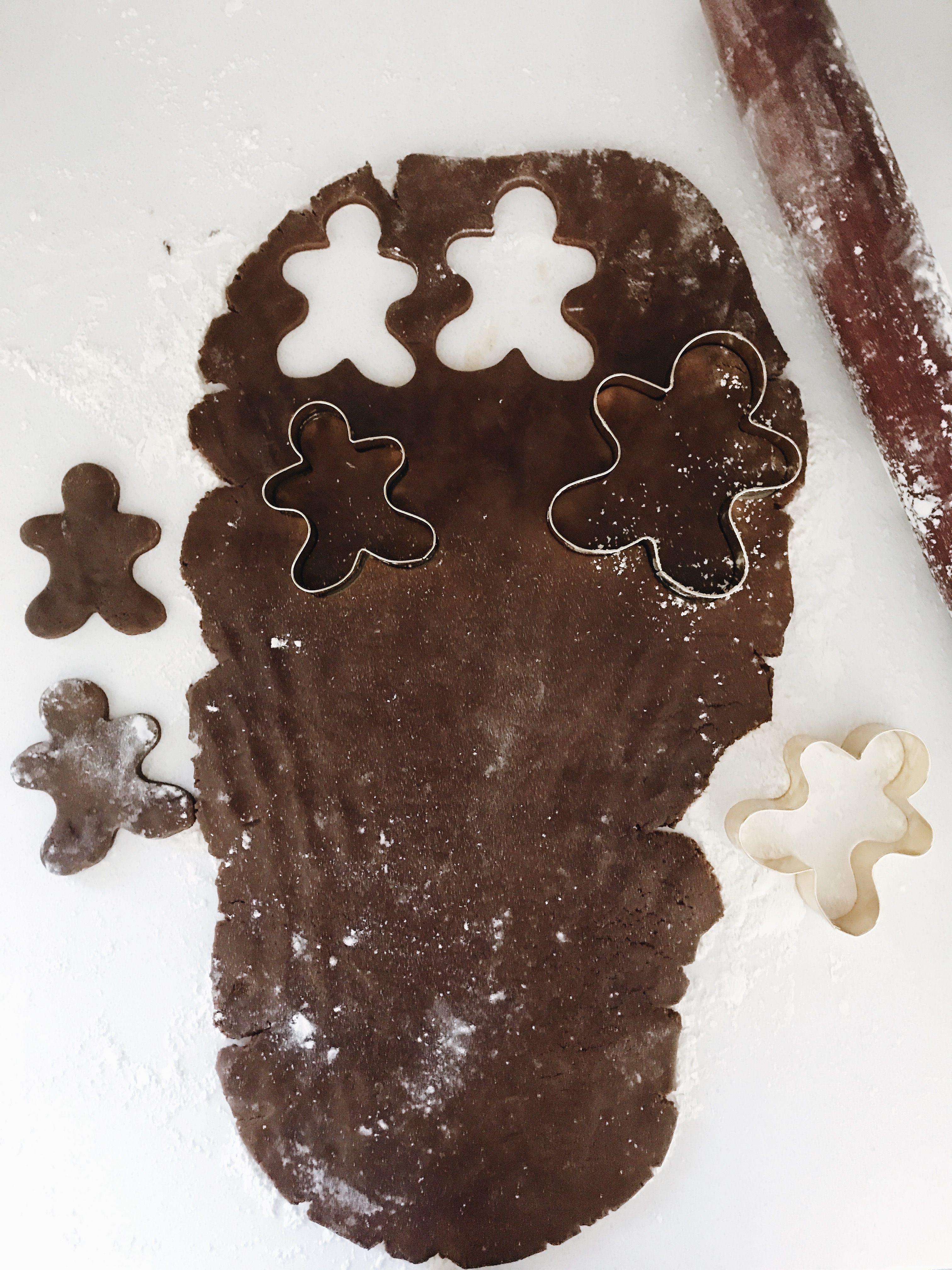 Then what you do is slowly add the flour mix to the butter/sugar/molasses mix, and keep blending on a low setting until it's all just incorporated.
THEN, you pat it down into a disc, wrap it up with plastic wrap and stick it in the fridge for at least 30 minutes. You want it chilled! I actually threw mine in the freezer because I got ravenously impatient. Shocker, I know.

After a bit, you roll it out and start cutting! I'd get a few cookies cut, roll the dough back up, roll it out again, cut a few more, roll it up, roll it out, cut cut cut. It was a party, you guys.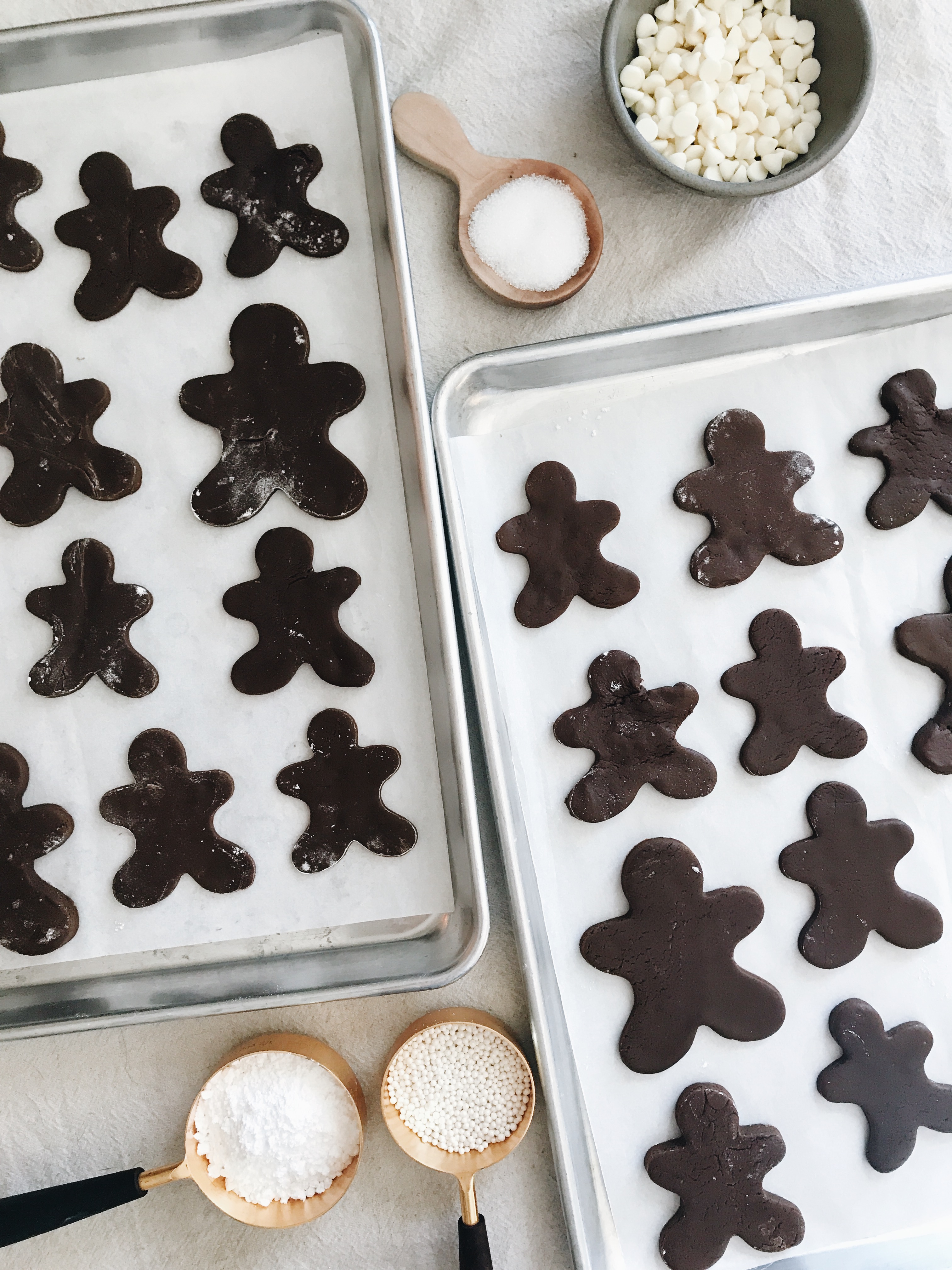 Then you bake! 10-12 minutes. Easy. I can dig.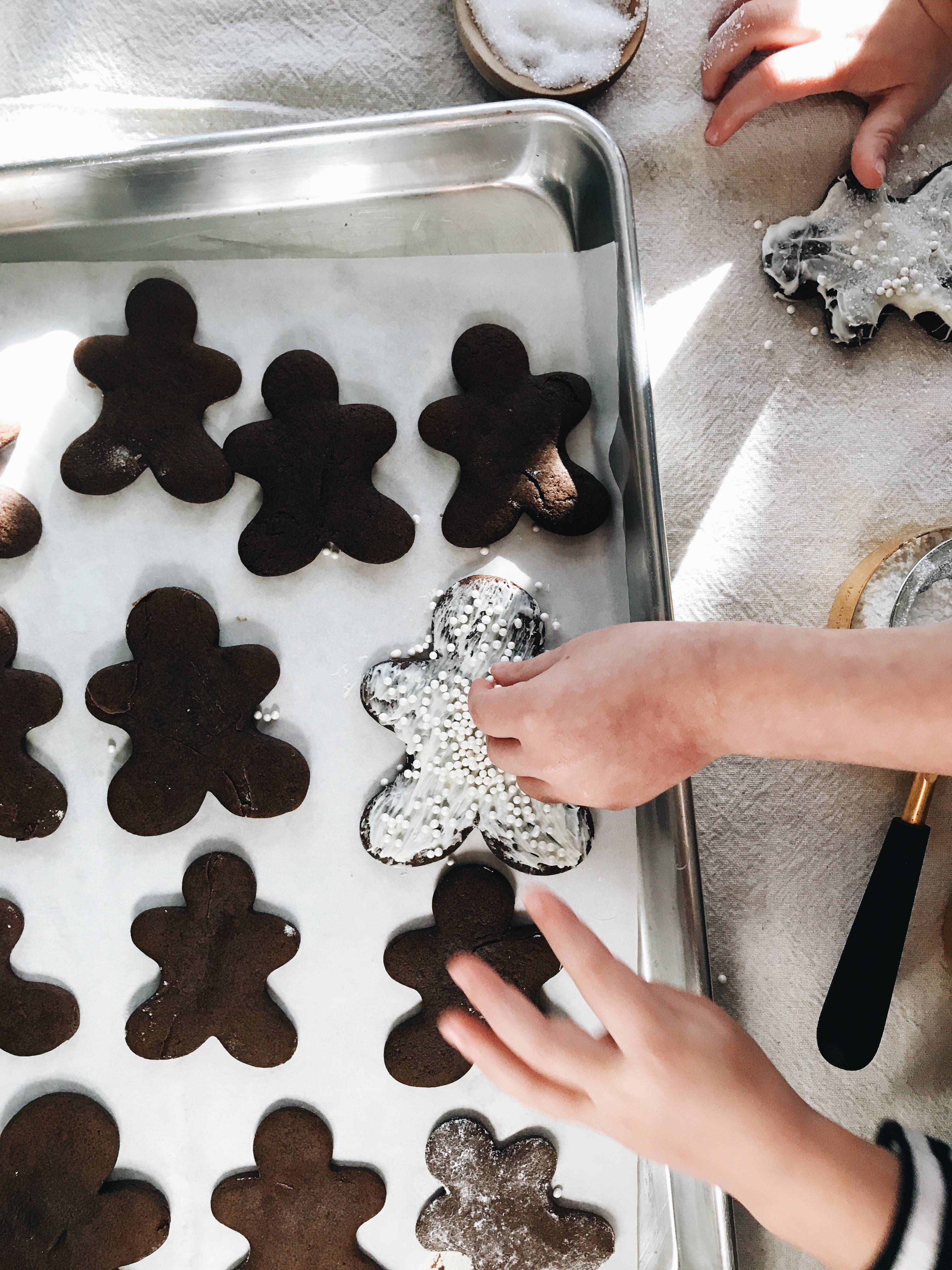 Once the cookies have slightly cooled, you then enlist two almost-five year olds to help decorate. If you dare.
I sprinkled powdered sugar on some, brushed melted white chocolate on some and dotted with white candy beads, dipped a few in the melted white chocolate, etc.
Aaron made GINGERBABIES and the kids were absolutely dying. He put onesies on some, diapers on some. They've never laughed so hard in all their five years of life.

Listen, if I don't have to be overly careful and detailed about decorating cookies, I'm so much better in my life. So much nicer.
Do you have a certain style of decorating that you gravitate toward? I'd love to know your minimal (or non) tips!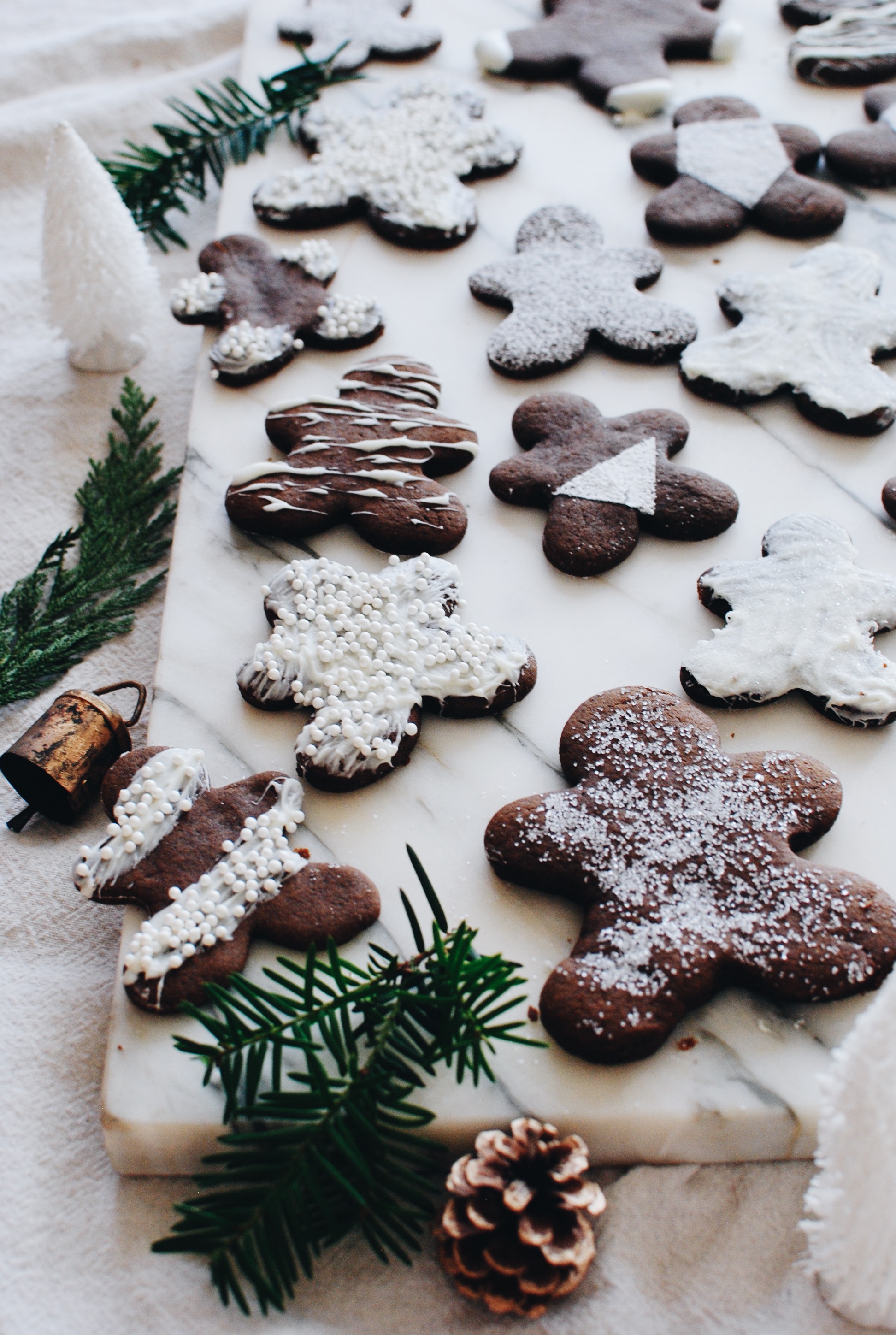 Here are the cookie links you guys sent me!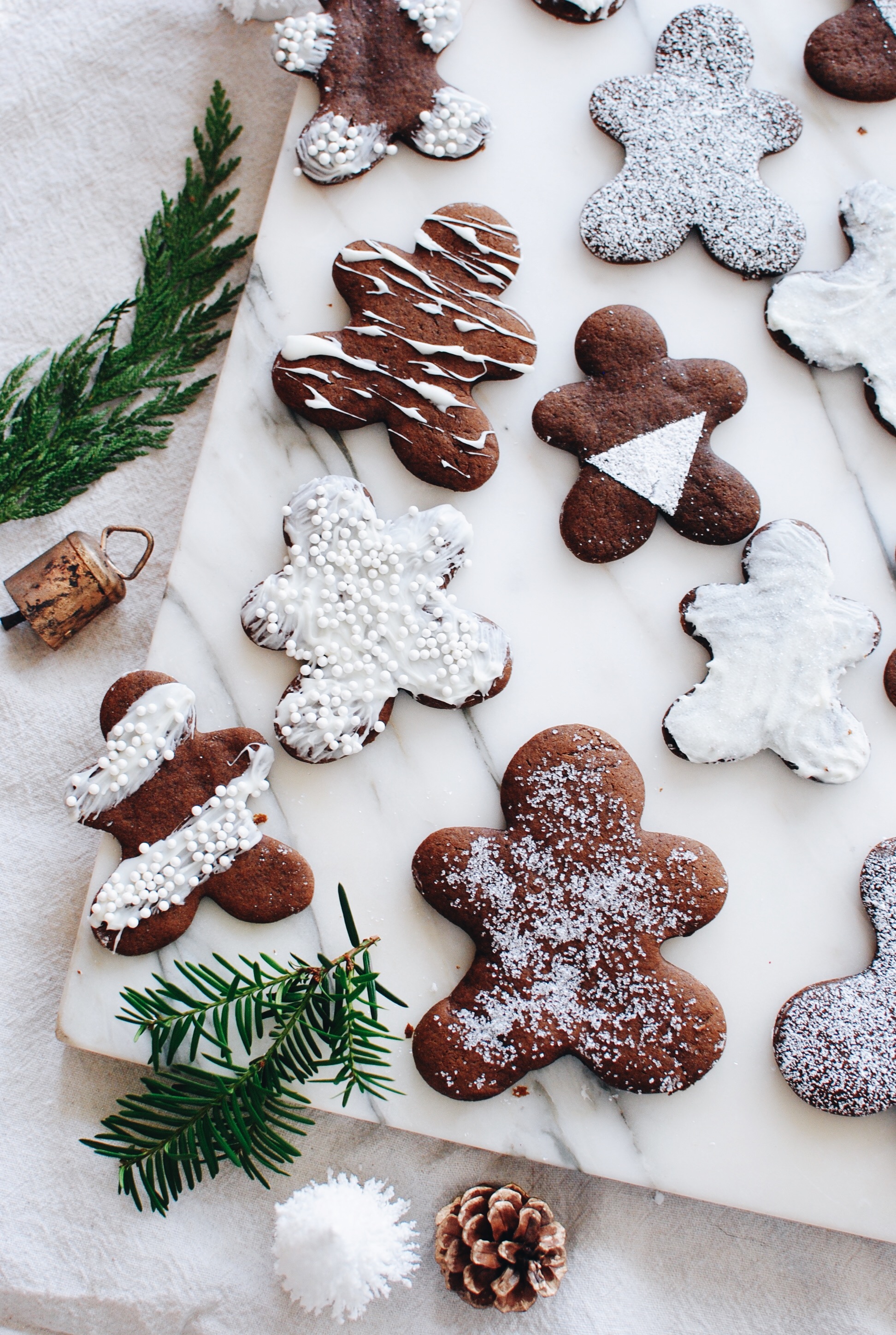 Can we eat now?
Gingerbread Cookies with Simple Decorating
Ingredients
(Recipe adapted from Real Simple because you know I can't bake to save my life.)
For the cookies:
2 3/4 cup all-purpose flour, plus more for the work surface
1 1/4 tsp ground ginger
1 tsp ground cinnamon
1/2 tsp baking soda
1/4 tsp ground cloves
1/4 tsp kosher salt
1 stick room temperature butter (real butter! Nothing fake or weird)
2/3 cup brown sugar
1/2 cup molasses
1 egg
for decorating:
Powdered sugar
White sugar beads
White sanding sugar
1 cup white chocolate chips, melted until smooth
Instructions
In a large mixing bowl, combine the flour, ginger, cinnamon, cloves, baking soda and salt. Whisk until fully incorporated.
In another big mixing bowl, use a hand held mixer (or your fancy standup mixer) and cream the butter and brown sugar until smooth. Add the molasses and egg and keep blending on a medium low until fluffy.
Slowly add the flour mix to the wet ingredients and mix on low, until everything is just incorporated and smooth. Shape the mix into a disc, wrap in plastic wrap and stick in the fridge for a least 30 minutes.
Now preheat the oven to 350, and start rolling out your dough! Get it to about 1/4-inch thick, and use cookie cutters to cut out your gingerbread babies. Place them all on baking sheets (with parchment paper) and bake for 10-12 minutes, until slightly firm.
Let them cool on the baking sheets for a few minutes to harden, then start decorating! Lightly dust with powdered sugar, brush with melted white chocolate and dot with white candy pearl beads. Dust with sanding sugar. Dip the hands and feet in the melted white chocolate. Go crazy. Or minimal! You do you.
Just be sure and share with me, 'mkay?
Makes 20 or so cookies.
7.8.1.2
196
https://bevcooks.com/2018/12/gingerbread-cookies-with-simple-decorating/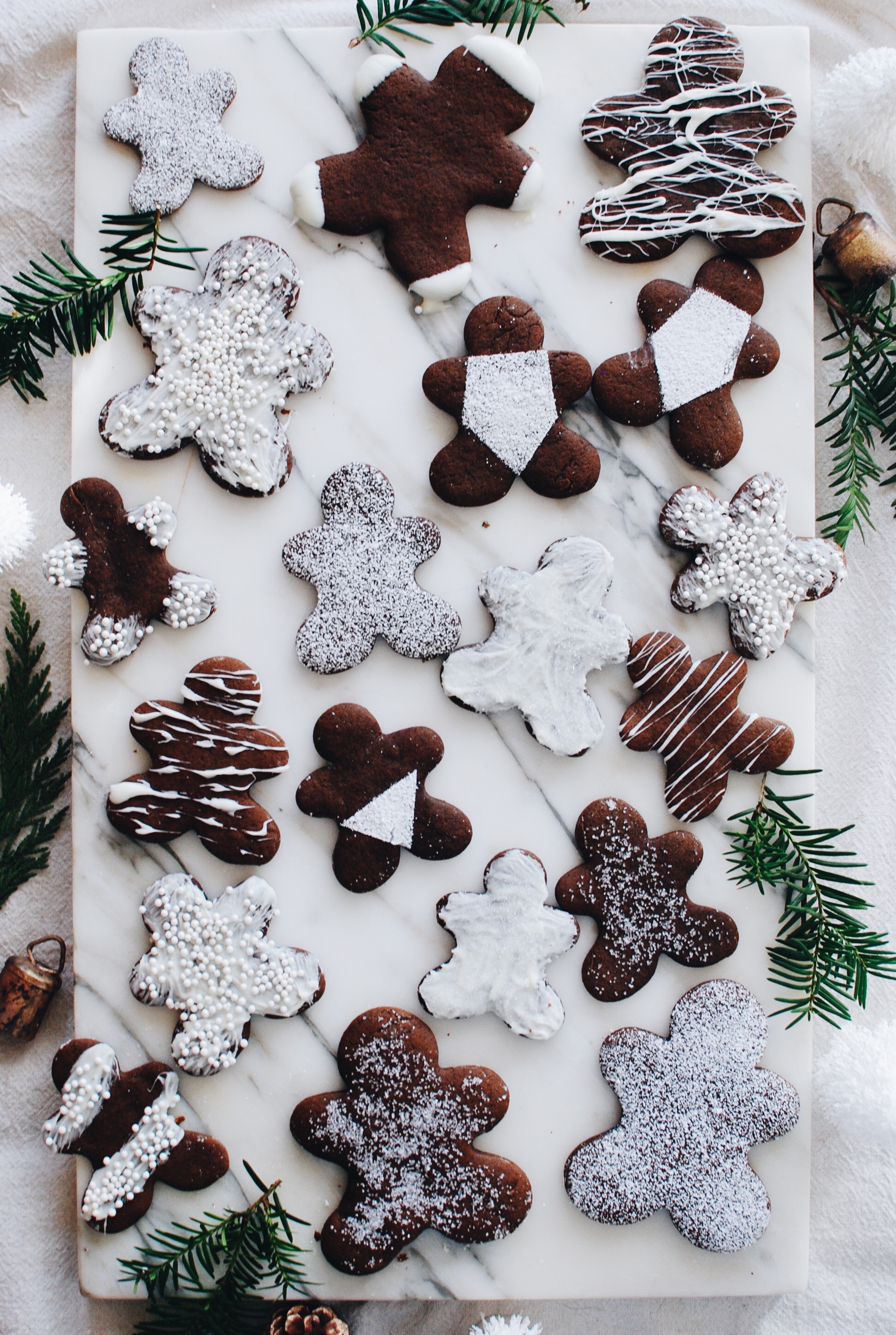 COOKIIIIIIIIES.
(This post is definitely in partnership with Real Butter. But all ramblings and cookie snarfings are totally my own. We cool? )