This it is. Here it is. It's the one. It's here. It is happening.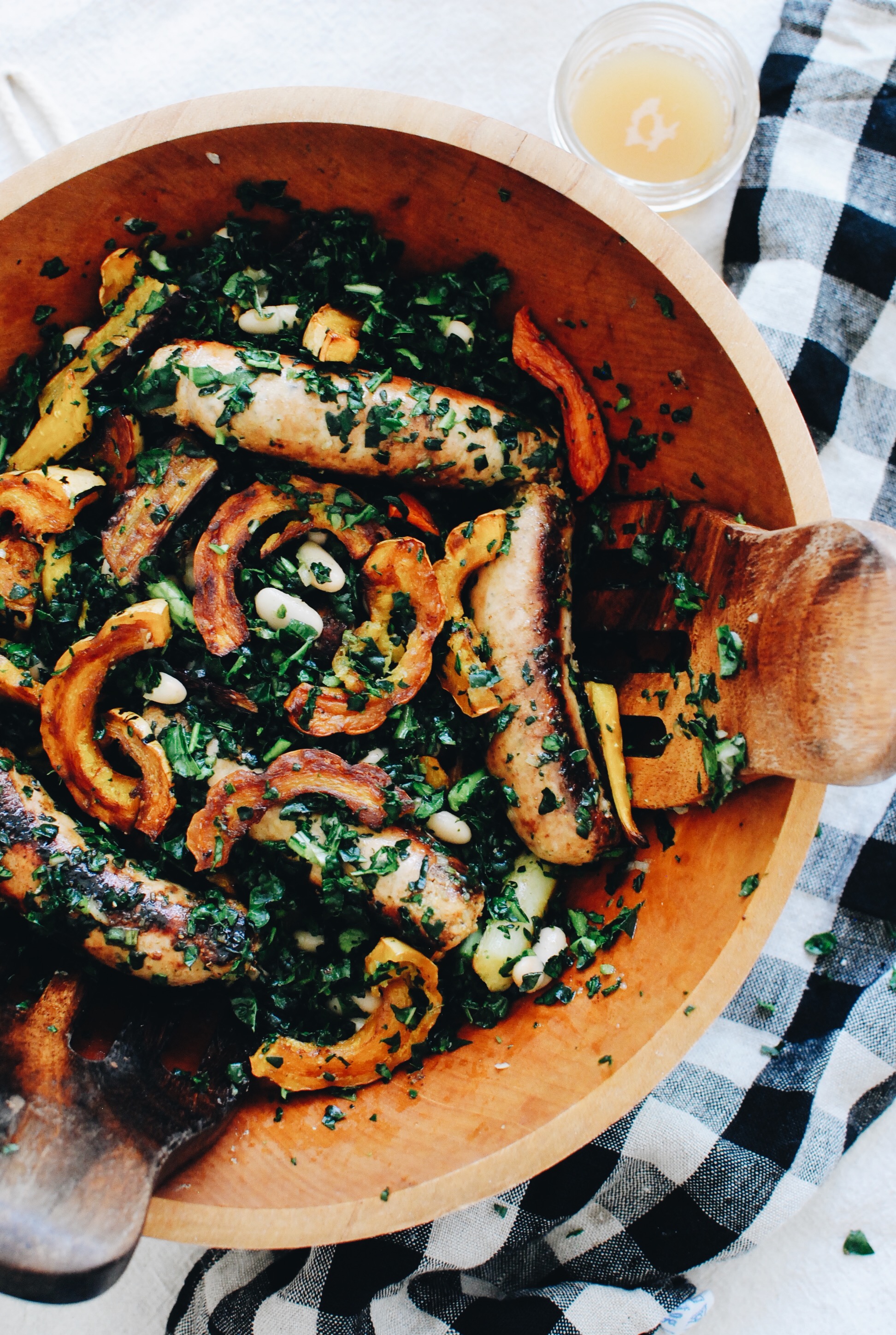 I like to deem this meal, the ONE THAT SAVES YOUR WAISTLINE IN DECEMBER. And your sanity. And your taste buds. Because seriously, you have to be getting sick of all those Christmas cookies, right?
No?
Really?
Not sick of 'em?
Oh.
Well keep reading!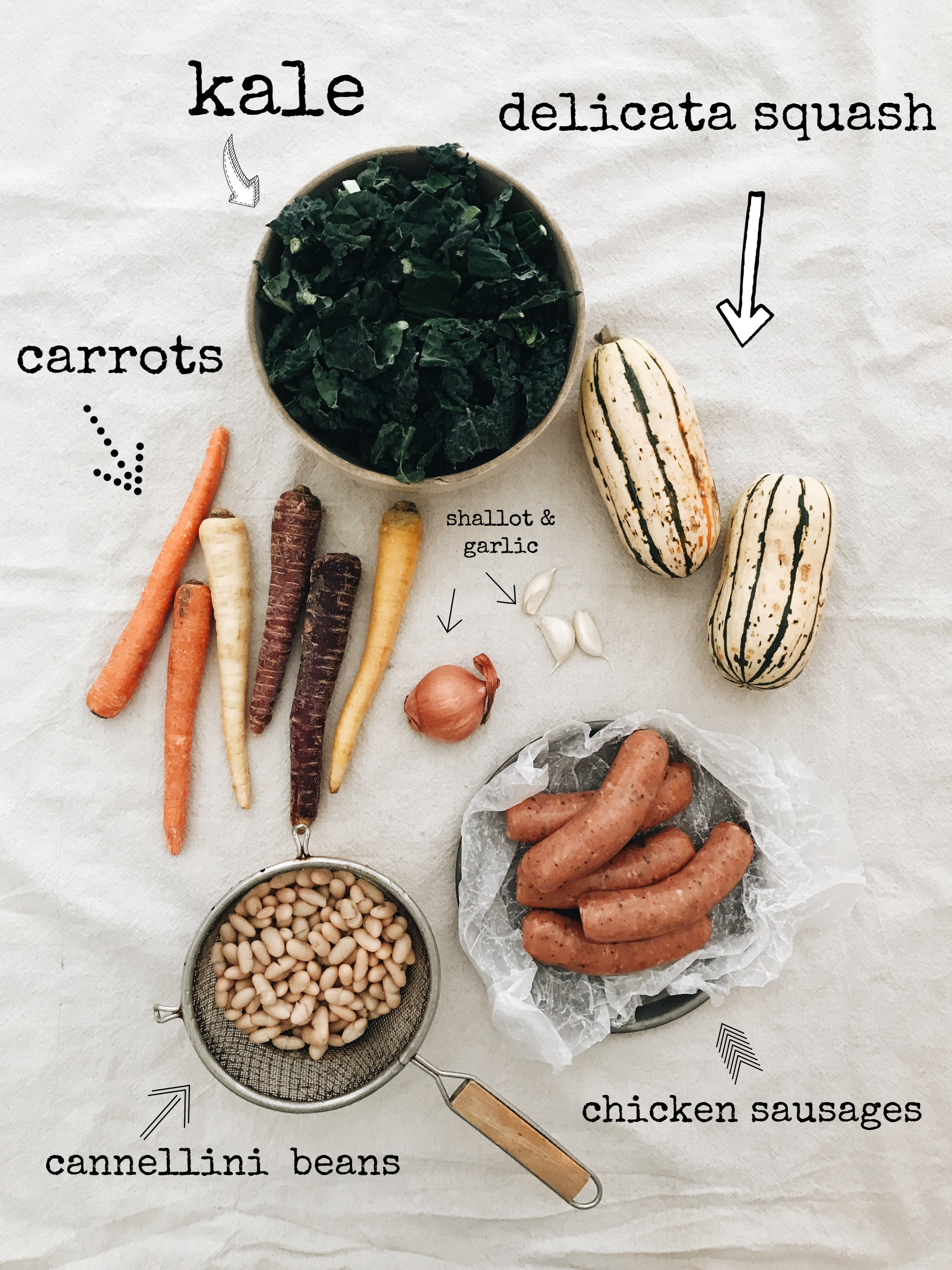 I LOVE this recipe. Like, lu-huv LAV lerve it.
It has the exact flavor profile that I crave constantly. (besides pizza and tacos and Indian food.)
So much that I make a version of this weekly. Whether it be soup, a sauté, or a happy roasted mess like this, it's ALWAYS on the menu in some form.
Hark it, boo.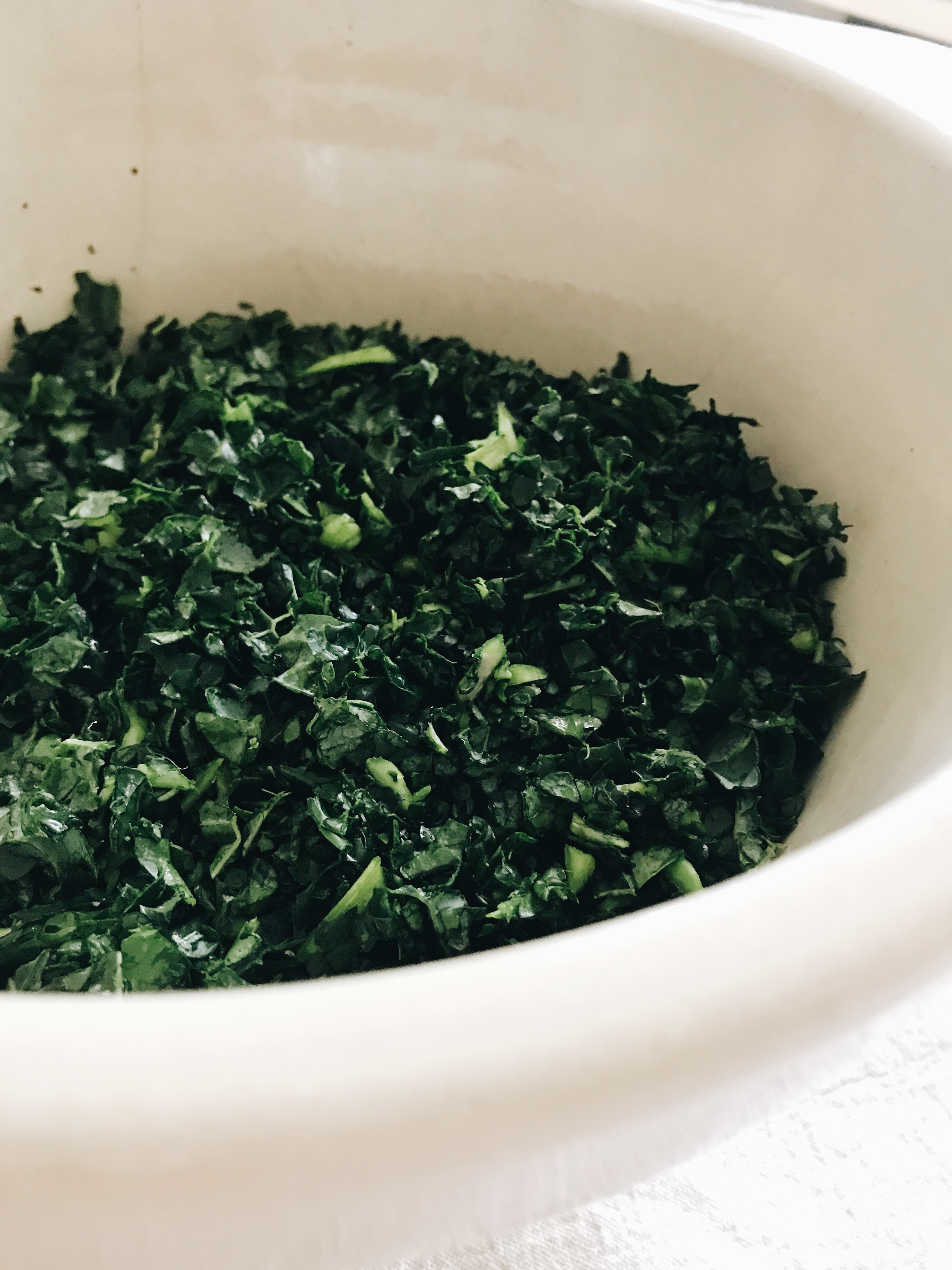 So the first little James Bond trick is to throw that Tuscan (or regular bagged!) kale in a food processor. Give it a few pulses and you'll get this PERFECTLY almost-minced kale. When it's chopped this small, it marries up with the garlic/shallot dressing that will coat it and bless it and love it and pet it and call it Frank later.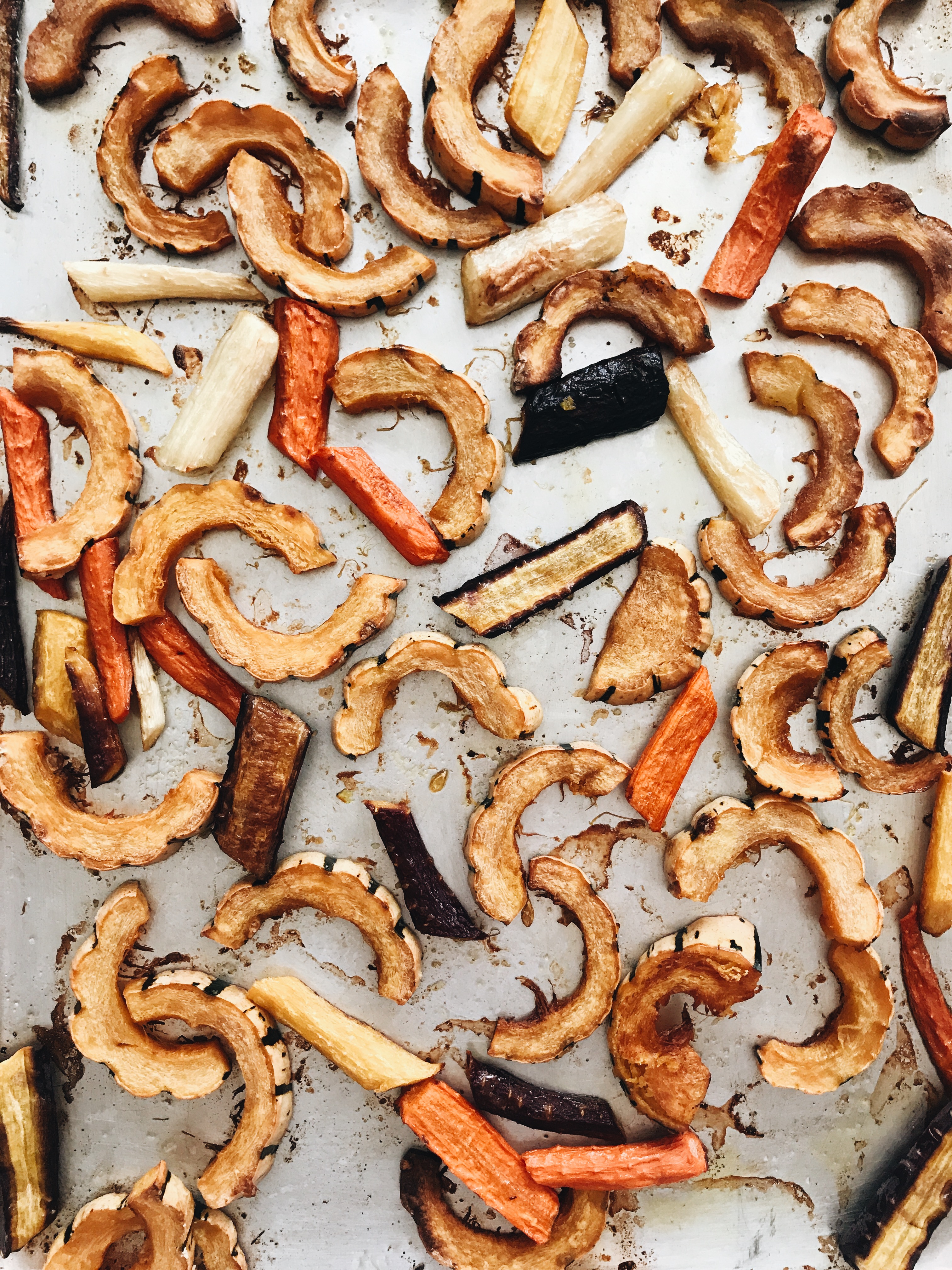 Roast some veggies! The BEAUTY of this meal, is that you can roast any ding dang thing that's in season. For this I went with multi-colored carrots and delicata squash. But you could roast sweet potato chunks, parsnip sticks, even earthy beets.
DUDE, even cauliflower florets would be bomb in here.
I hate that I just said, "would be bomb."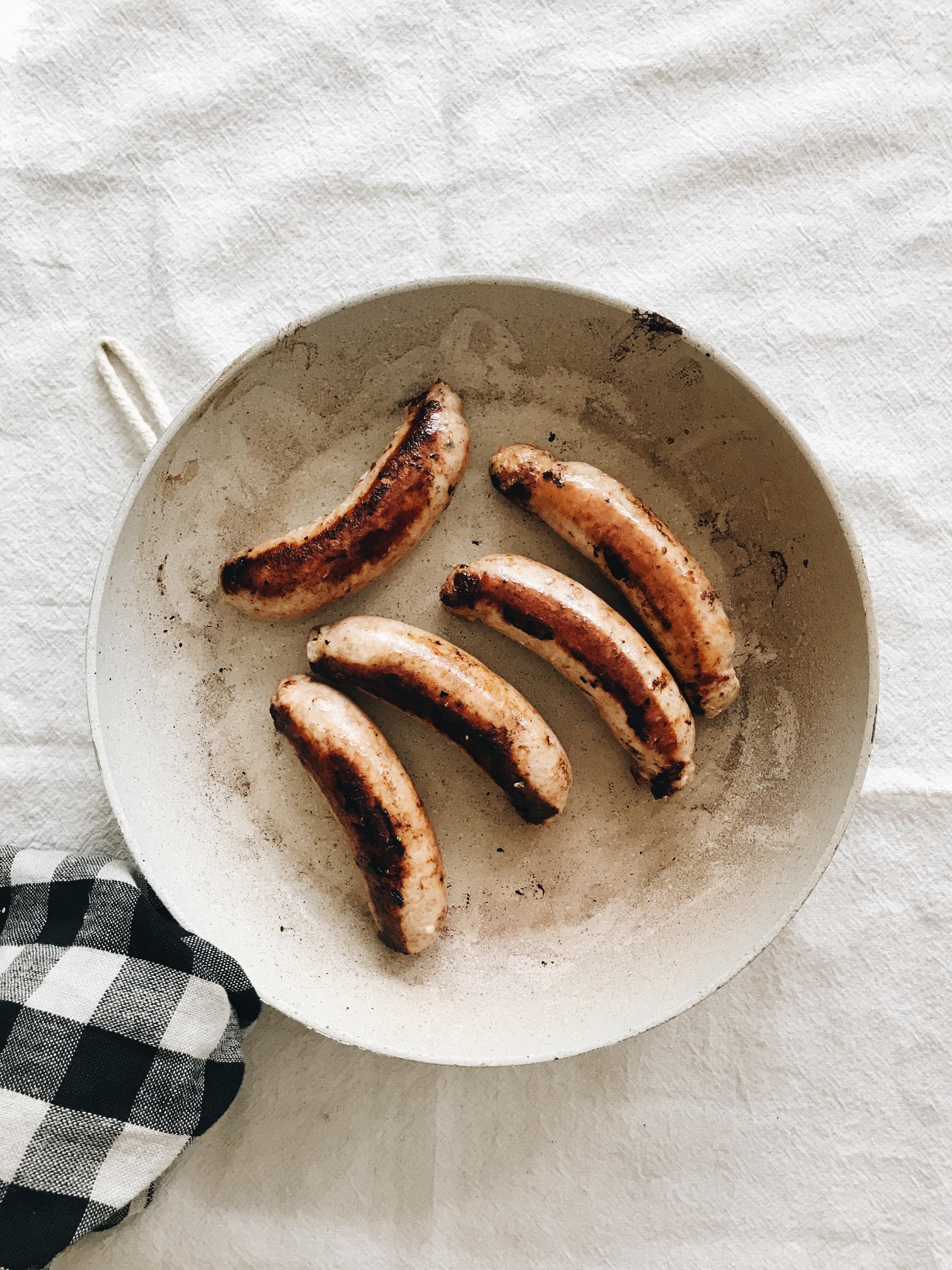 For the chicken sausages, change it up each time! I think this was some sort of maple apple bacon pineapple thing. I have no idea. But there are soooo many variations alive and kicking out there, so sear up different flavors and see what you dig.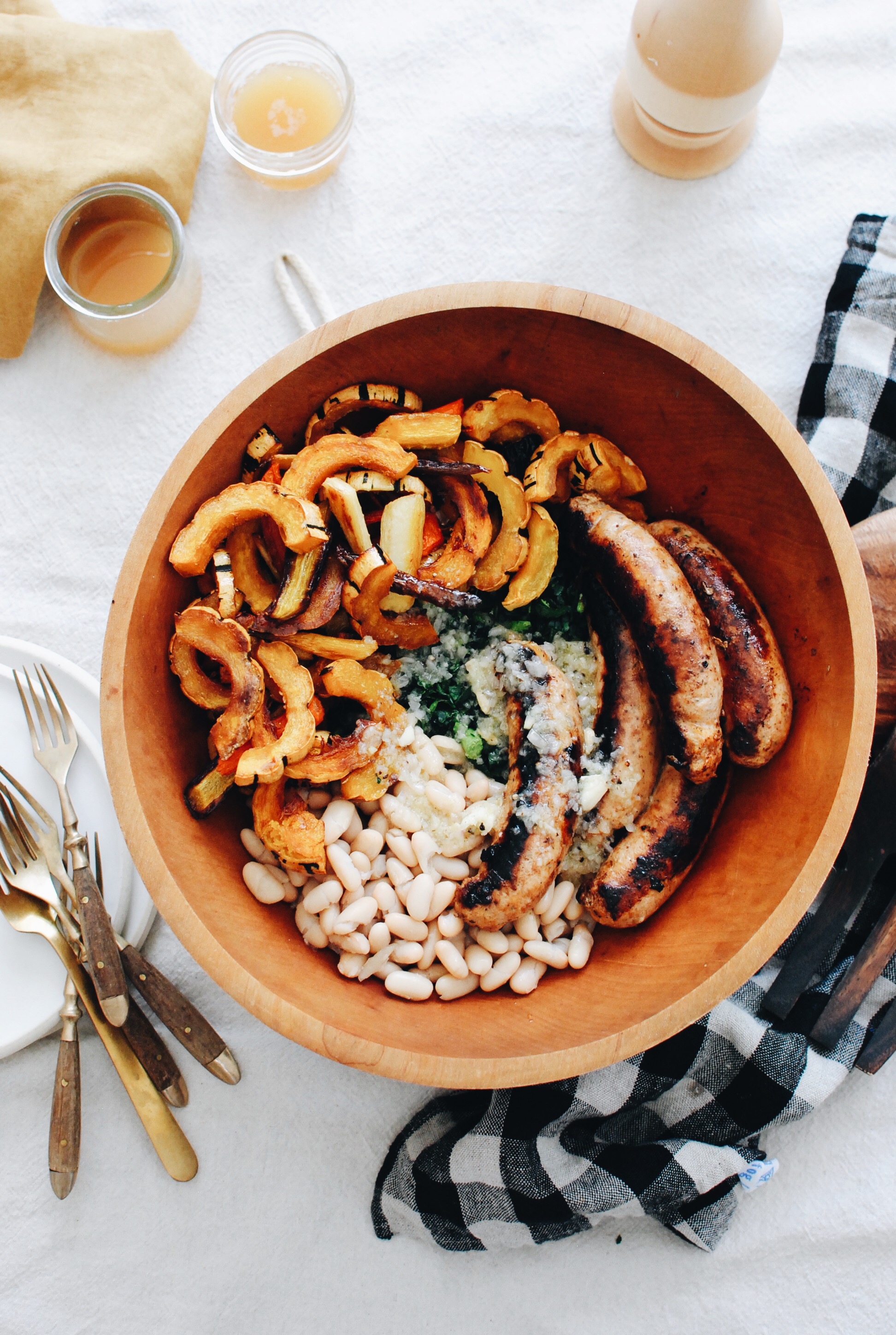 One can of creamy cannellini beans, because we desperately need a Tuscan vibe in our mouth holes.
And the dressing? So simple. Olive oil + grated garlic + minced shallot + a splash of lemon juice + salt and pepper. The end. forever. goodbye.
Toss it all together in a rustic wooden bowl (<–you don't have to do that part) and you've got this homey, roasted wintery mess all exploding on your tongue and IT IS DIVINE.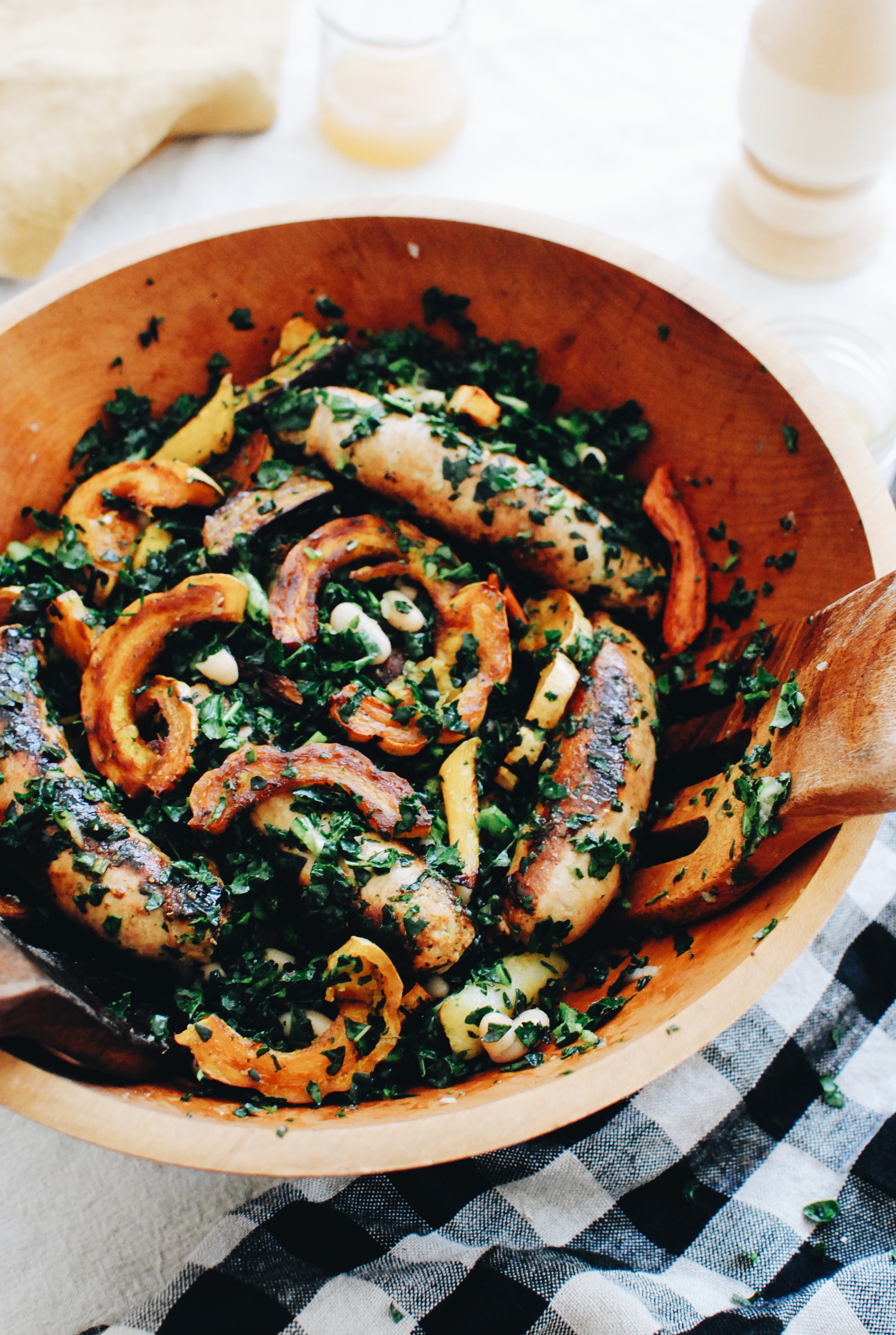 The sweetness of the veggies meets that savory chicken sausage meets the earthy, pungent kale meets the creamy beans meets the zingy shallot dressing? Are you kidding? You can shut ALL the doors if you rightly want to.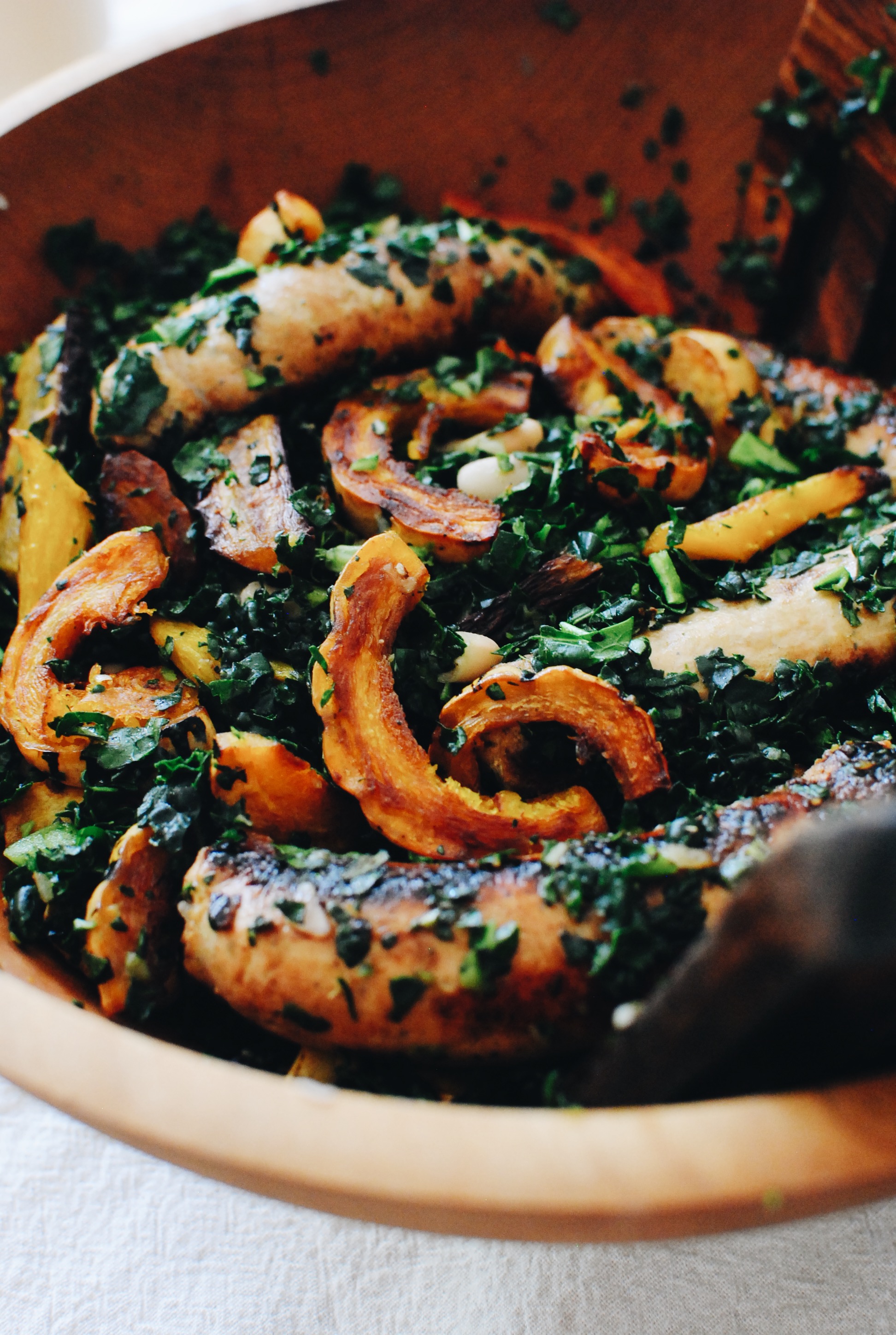 Sooooo filling and perfect for winter. I want to say super nutritious but I don't want you to punch me in the face.
This is totally going to be that meal next week when you're sick of Christmas food. OR SHOOT, MAKE THIS CHRISTMAS FOOD.
It's Christmas food. I spoke it.
Bye.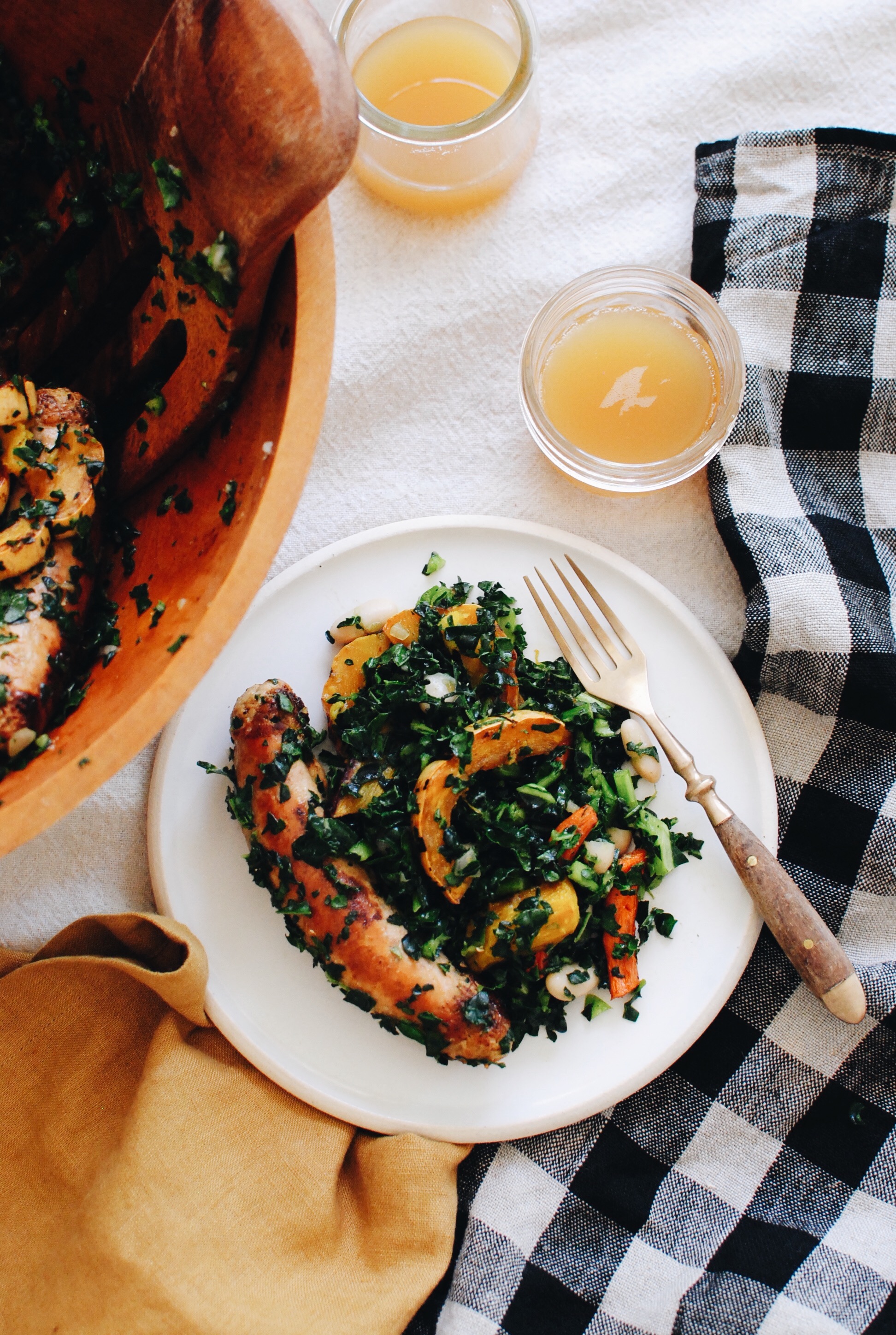 Oh I forgot I had one more photo. Bye.
Chicken Sausage and Roasted Vegetable Kale Bowls
Ingredients
1-2 delicata squash, seeded and sliced crosswise
3-5 carrots, peeled and cut into 2-inch chunks
1 (10 oz) bag chopped kale
5 chicken sausages (any flavor!)
1 (15 oz) can cannellini beans, drained and rinsed
1 Tbs. minced shallot
2-3 garlic cloves, finely grated or chopped
1/3 cup extra virgin olive oil
1 Tbs. fresh lemon juice
Salt and pepper
Instructions
Preheat oven to 400.
Place all sliced veggies on a large rimmed baking sheet. Season with a good pinch of coarse salt, and drizzle with 2 Tbs. olive oil. Roast for 1 hour. (Longer if needed!)
Place the bagged kale in a food process and pulse a few times until it's finely chopped. Transfer to a large bowl.
Sear the chicken sausages in a skillet until browned all over, and cooked through, about six minutes total.
In a small bowl, whisk together the olive oil, shallot, garlic, lemon juice and a pinch of salt and pepper, until it's emulsified. Taste it. GOOD, RIGHT? Add more lemon or salt if needed.
To the bowl of kale, add the roasted veggies, beans and seared sausages. Drizzle the dressing over the bowl, and toss everything together until beautifully coated with the dressing.
Serve immediately!
Serves 4.
7.8.1.2
197
https://bevcooks.com/2018/12/chicken-sausage-and-roasted-vegetable-kale-bowls/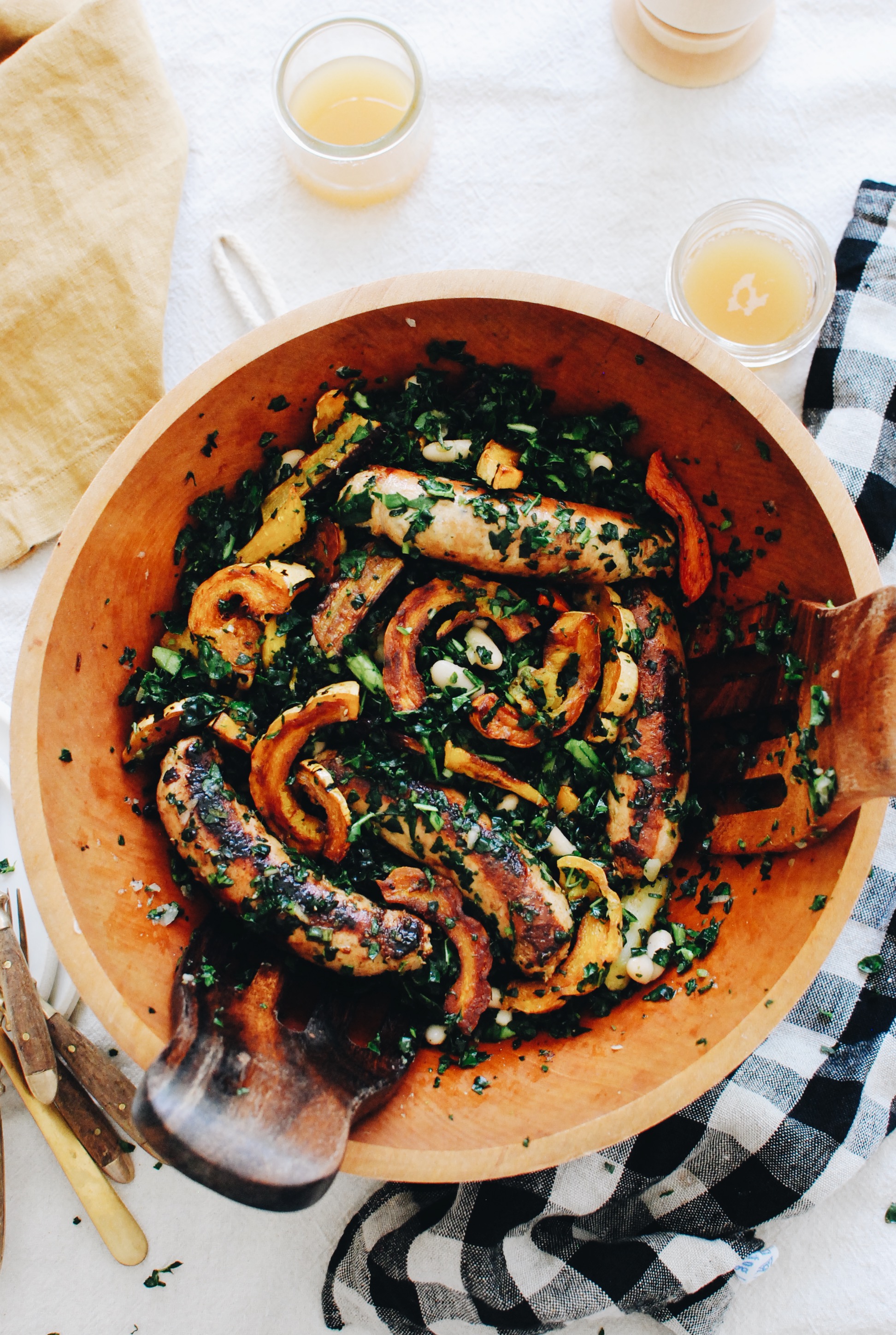 Crap I forgot I had another one. For real, bye.