Yaaay back to regular food! (fist bump nation)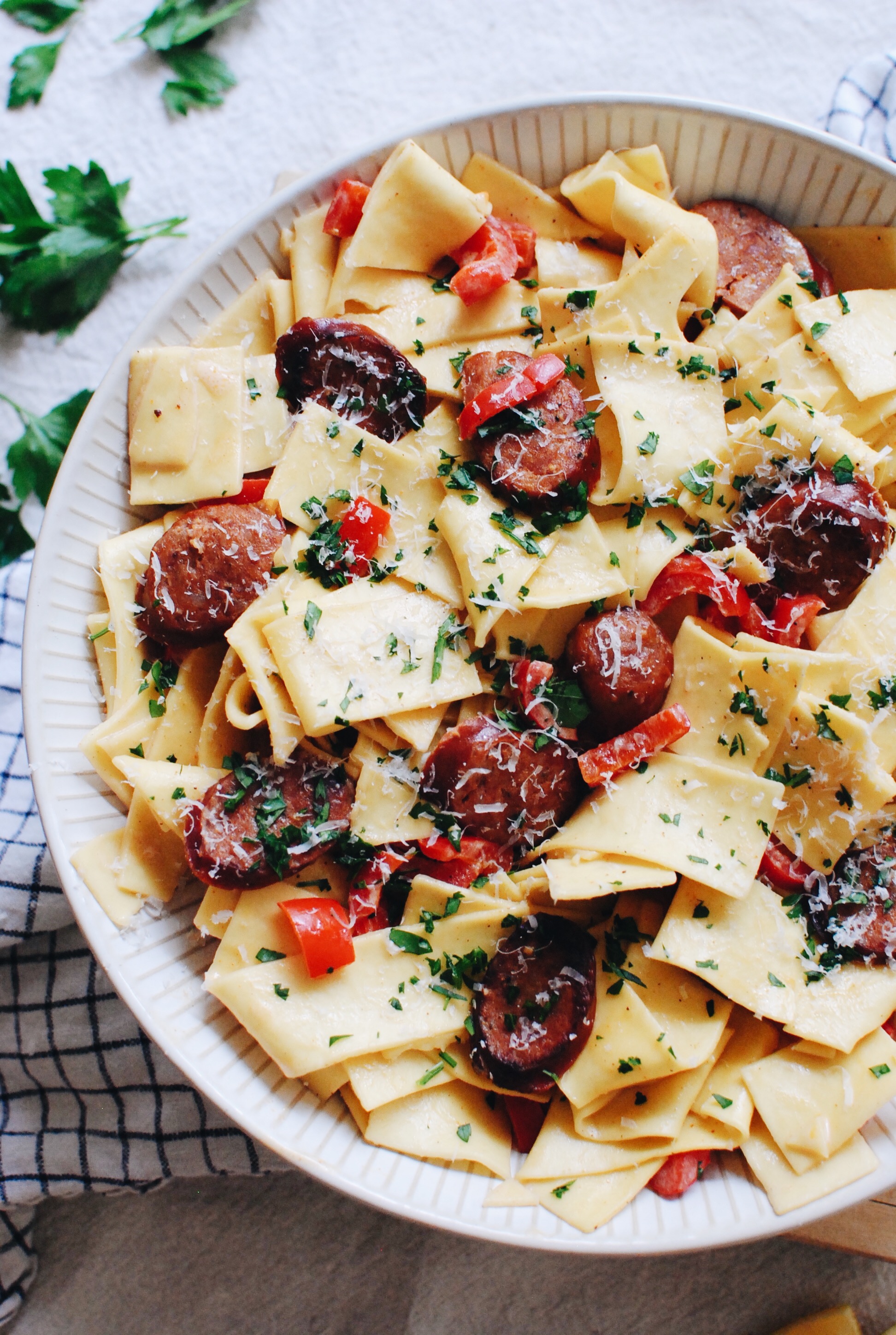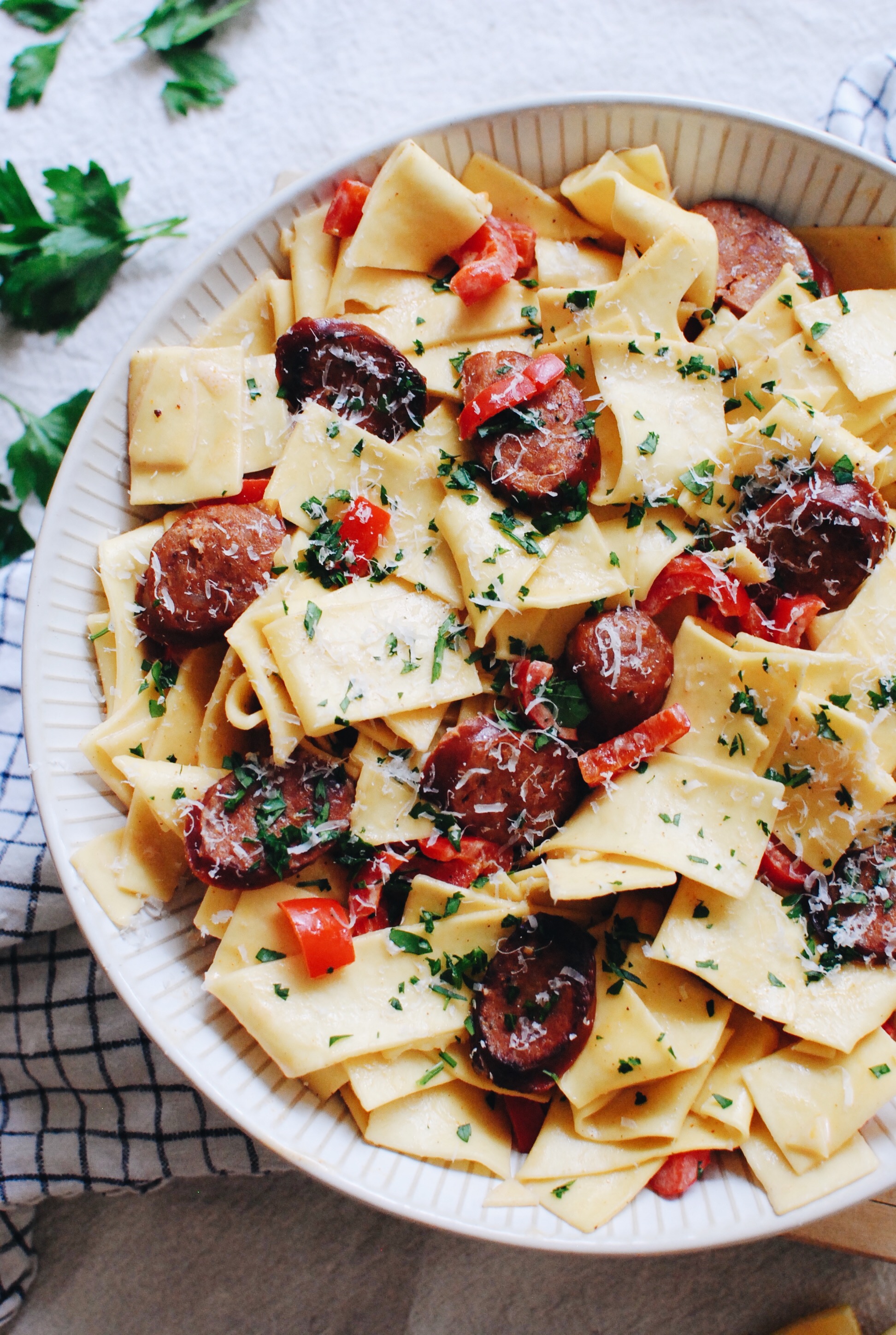 And I have to warn you about something. This week I'm posting two creamy recipes. One in pasta form. The other, soup.
And both are creamy.
Super creamy.
Mega mama creamy.
But it's almost winter (technically still a few weeks away but who's counting besides me) and our bodies need the cream. It's like, mandatory.
But today? Let's eat Cajun! Creamy Cajun.
I mentioned the cream, right?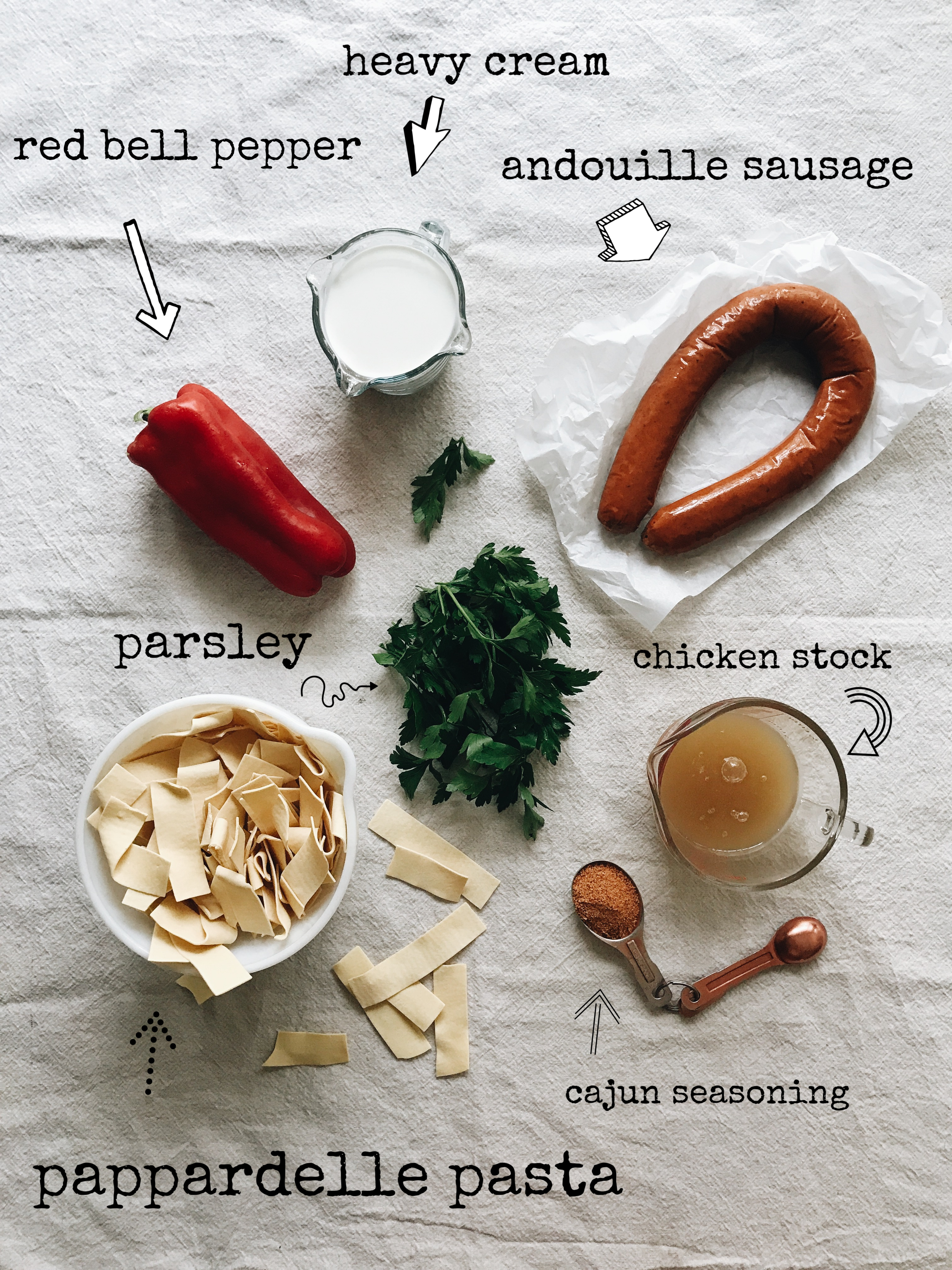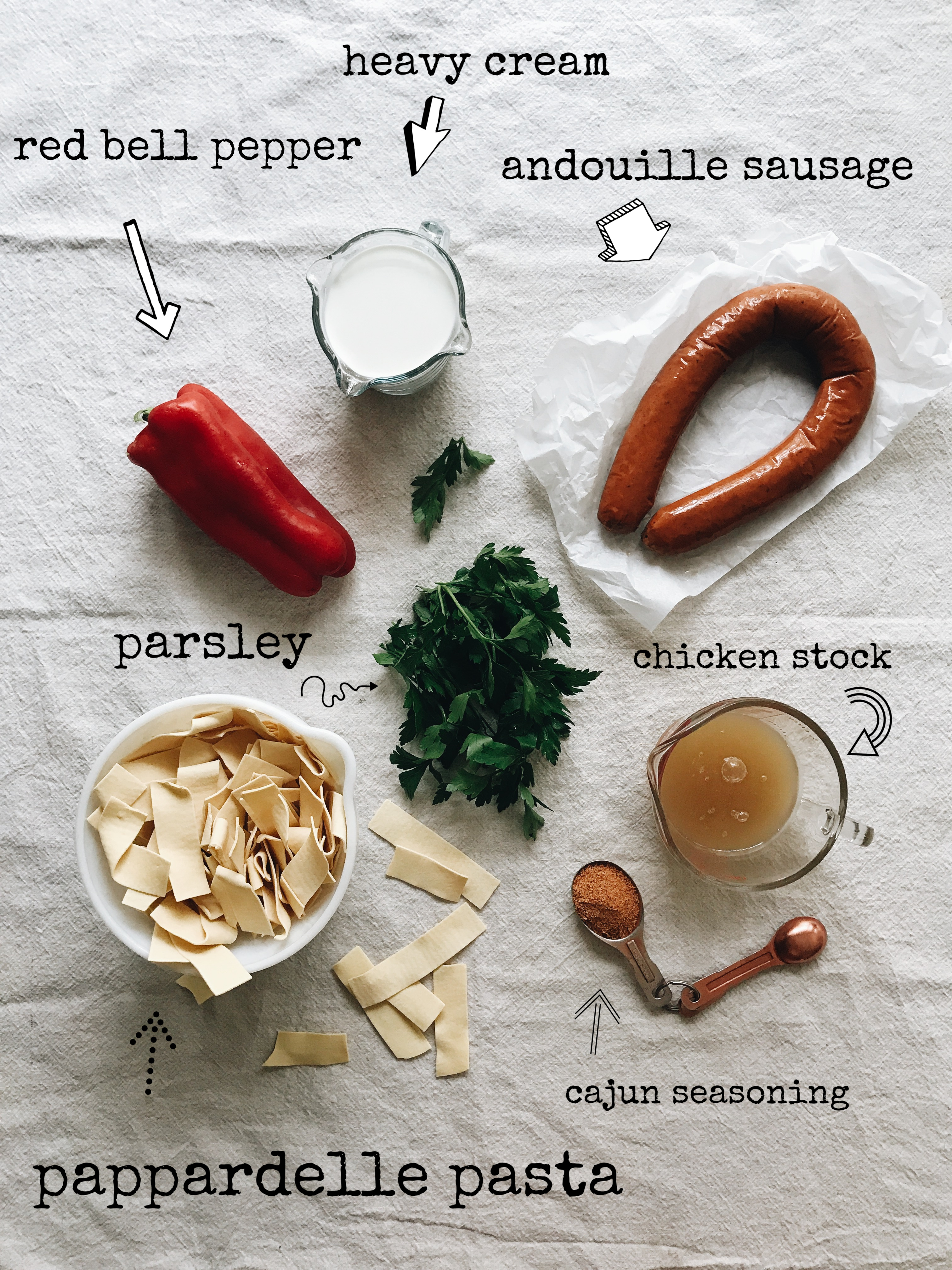 As always, I give you simplicity. I did forget the lemon in this photo, though. HOW WILL WE EVER GO ON?
So, pappardelle is a wiiiiiide flat pasta. You can totally sub egg noodles in this if you can't find pappardelle. But seek it out! It's festive. And flat and wide. Like a wide legged pant. Maybe.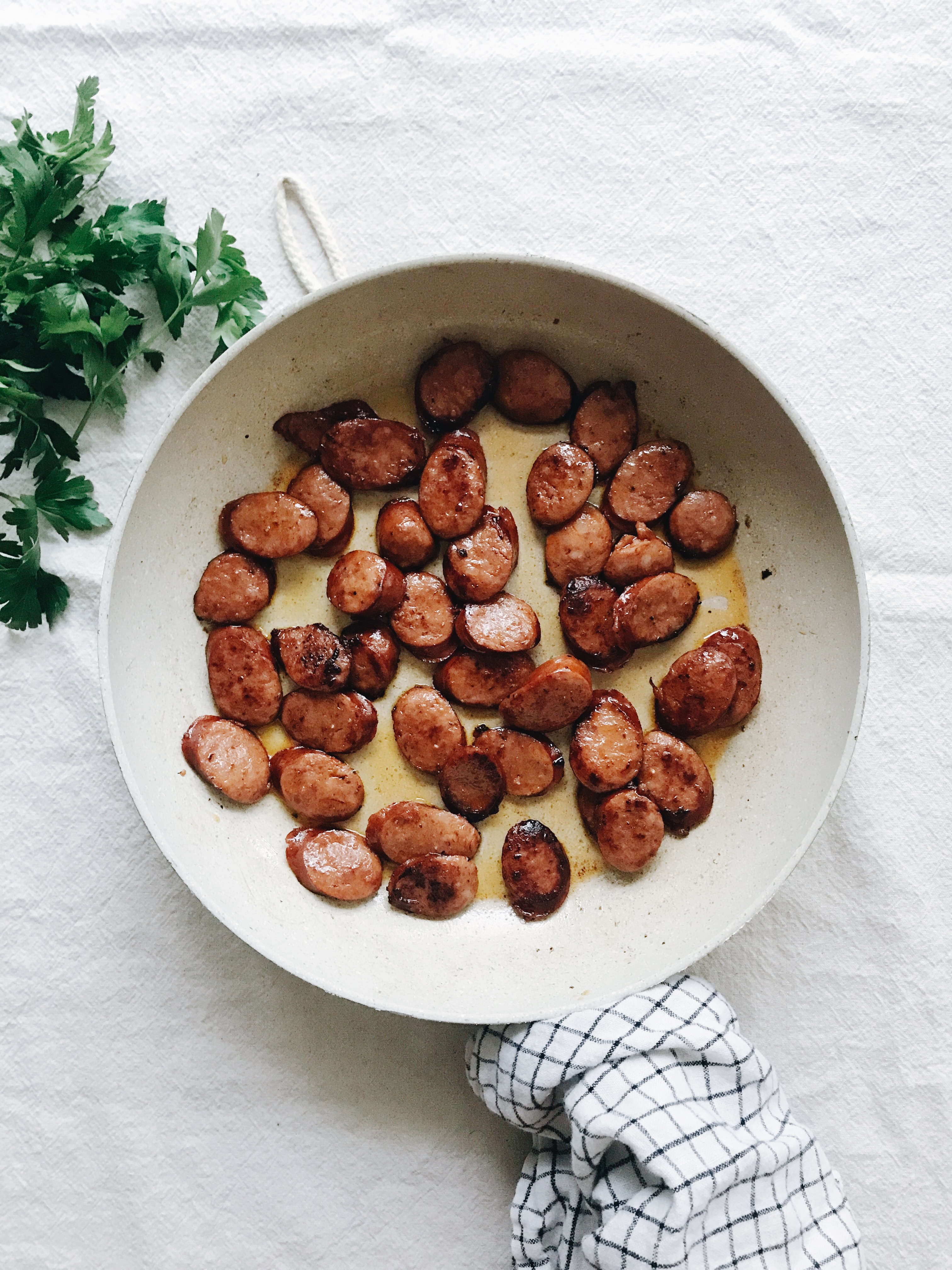 Start this mess by slicing and searing some Andouille sausage. I LOVE Andouille ausage. It's like, a problem how much I love it. And would you believe that my kids love it? Dead serious. They munch on cooked Andouille slices like mini psychos.
I dig it because you don't have to do jack because it's already so flavorful. You basically sear it, love it, pet it and call it Frank.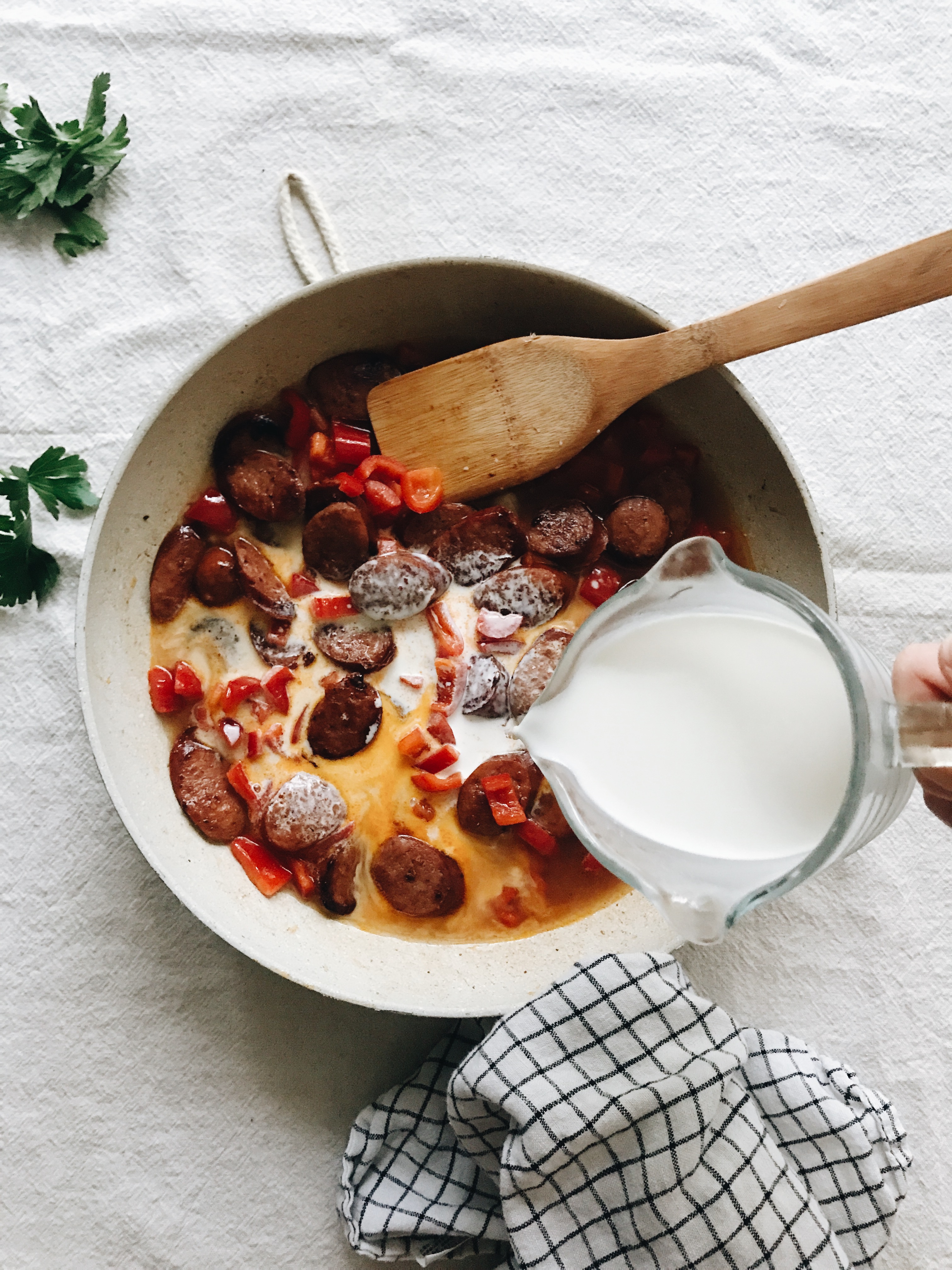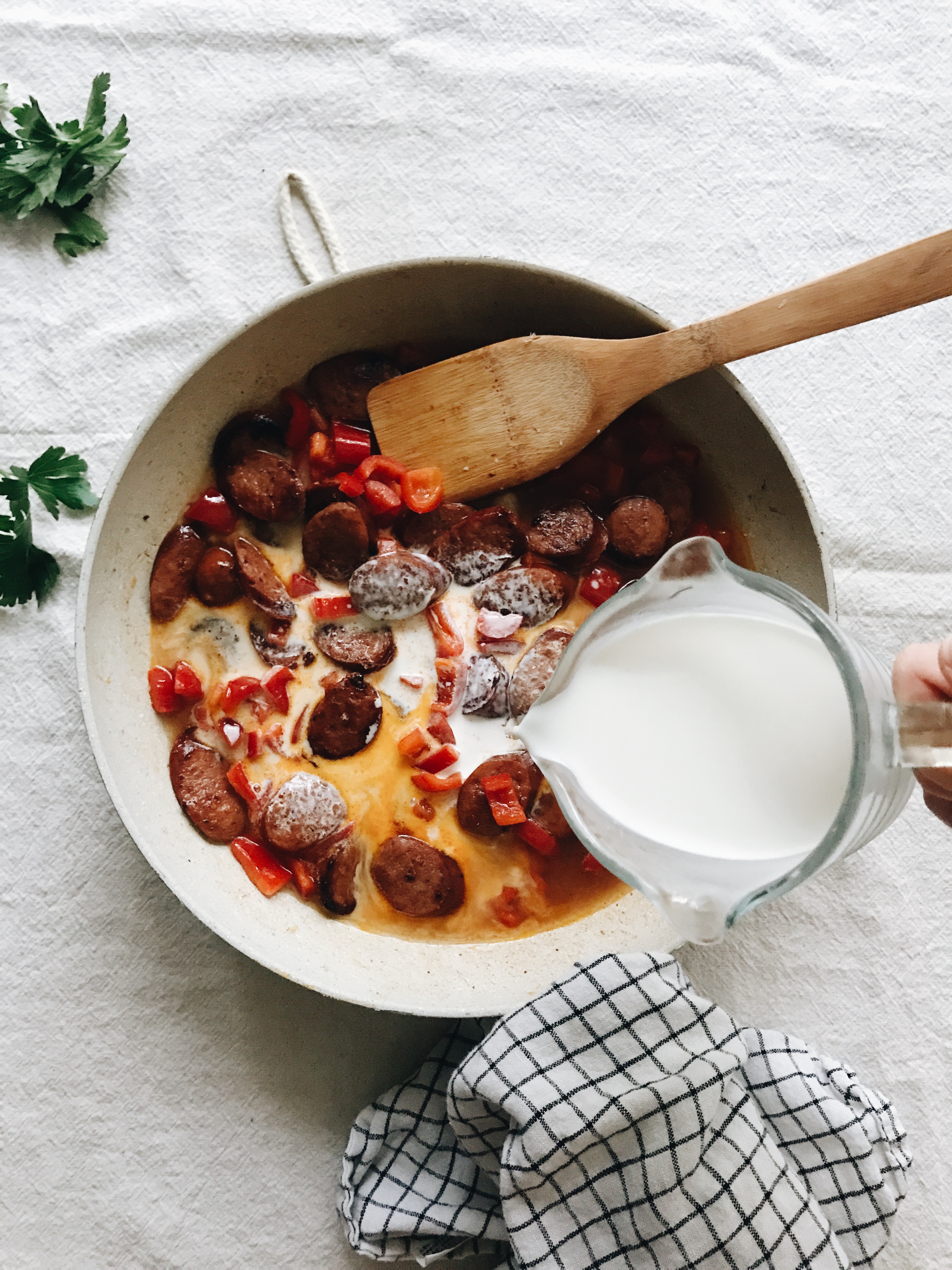 Then you'll dice up a red bell and toss it in. Let it pop around the pan a few minutes and get a tiny bit of color, then stir in the stock and cream.
LISTEN I WARNED YOU ABOUT THE CREAM.
Now, at this point, it might seem over the top, but go ahead and sprinkle in a tsp or so of Cajun seasoning. YES, the sausage will flavor the cream sauce, but with all that pappardelle going in and about to absorb the pasta like a mother, we need that extra kick in the face. Trust meh.
Then you'll transfer the al dente pappardelle pasta into the cream sauce, along with a good squeeze of lemon, some freshly grated parmesan, the love in your heart, and…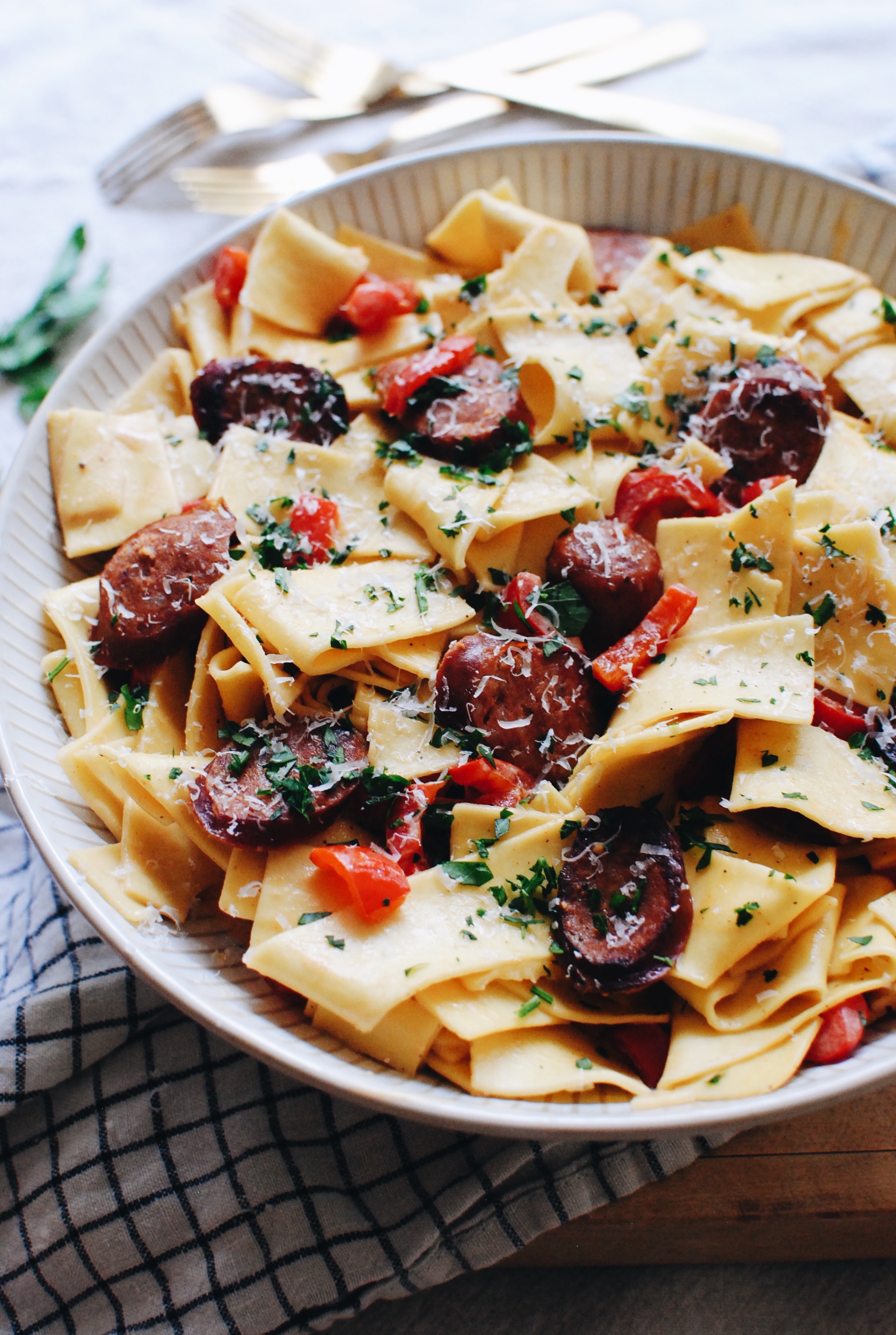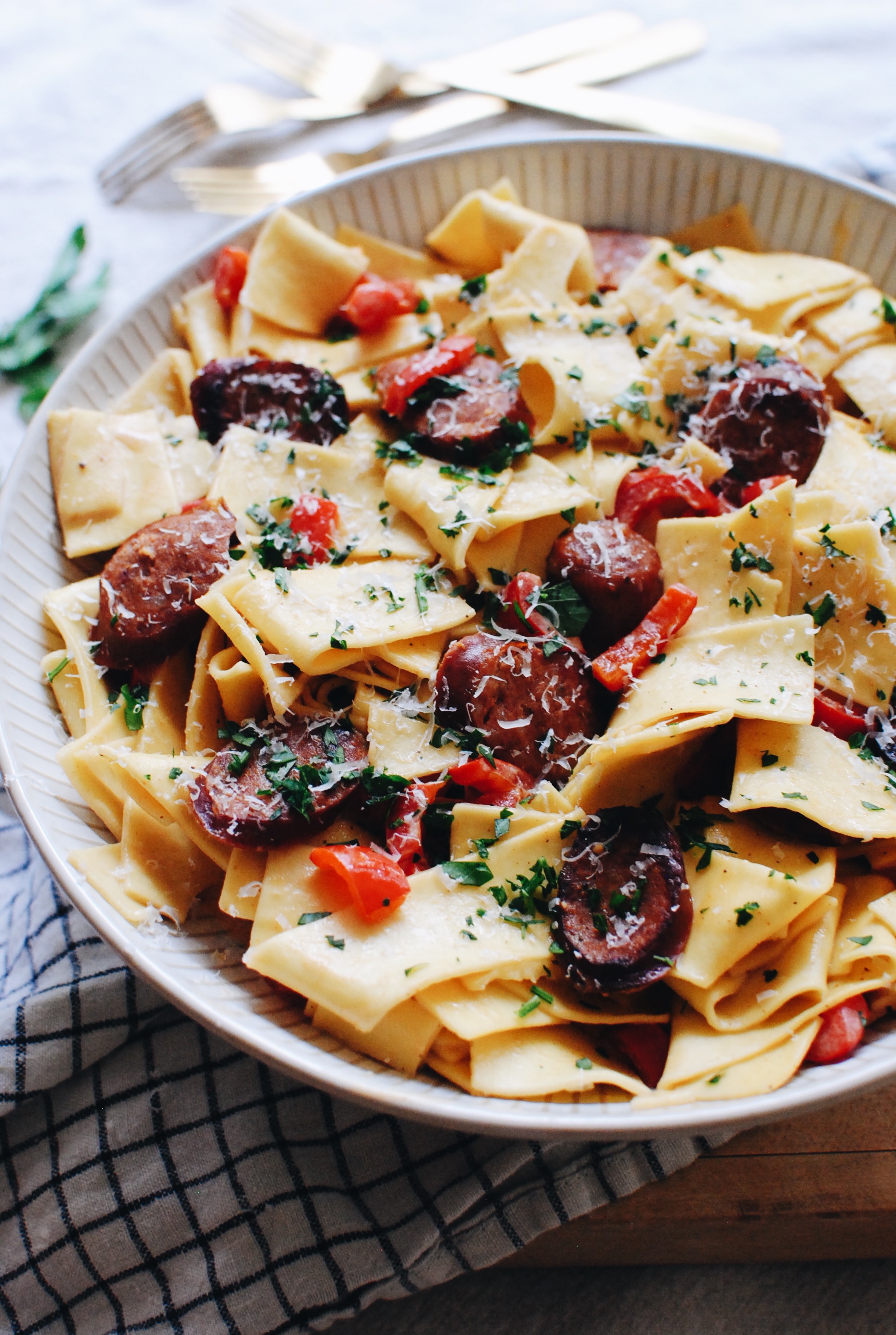 Yeah, okay. Delish. Dying.
The trick is, to let it sit in the pan covered in that spicy cream sauce just a few minutes. Then, as you toss and toss and toss the pasta with everything, it magically becomes glossy and silky and perfectly coated. And it is CRAZY GOOD.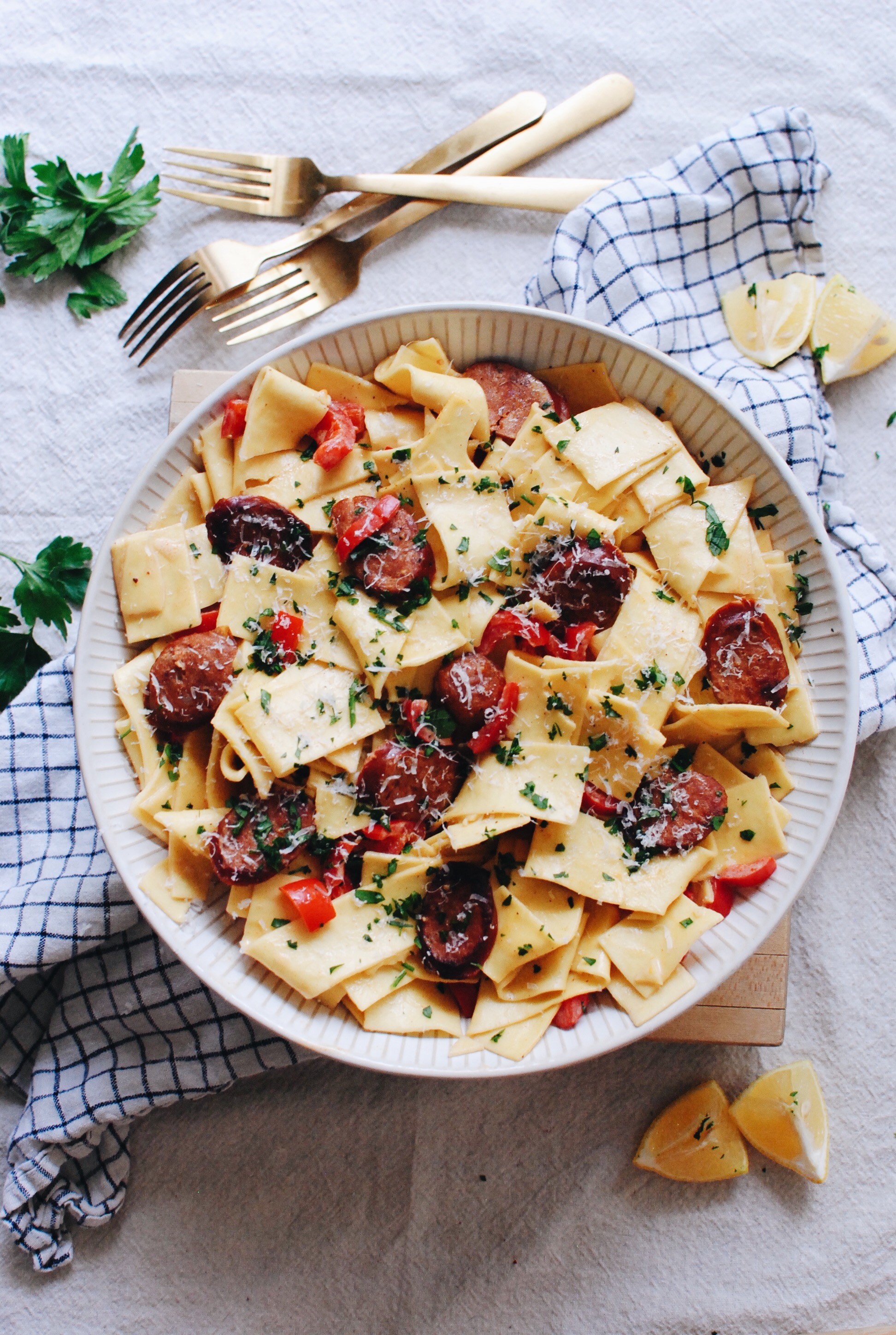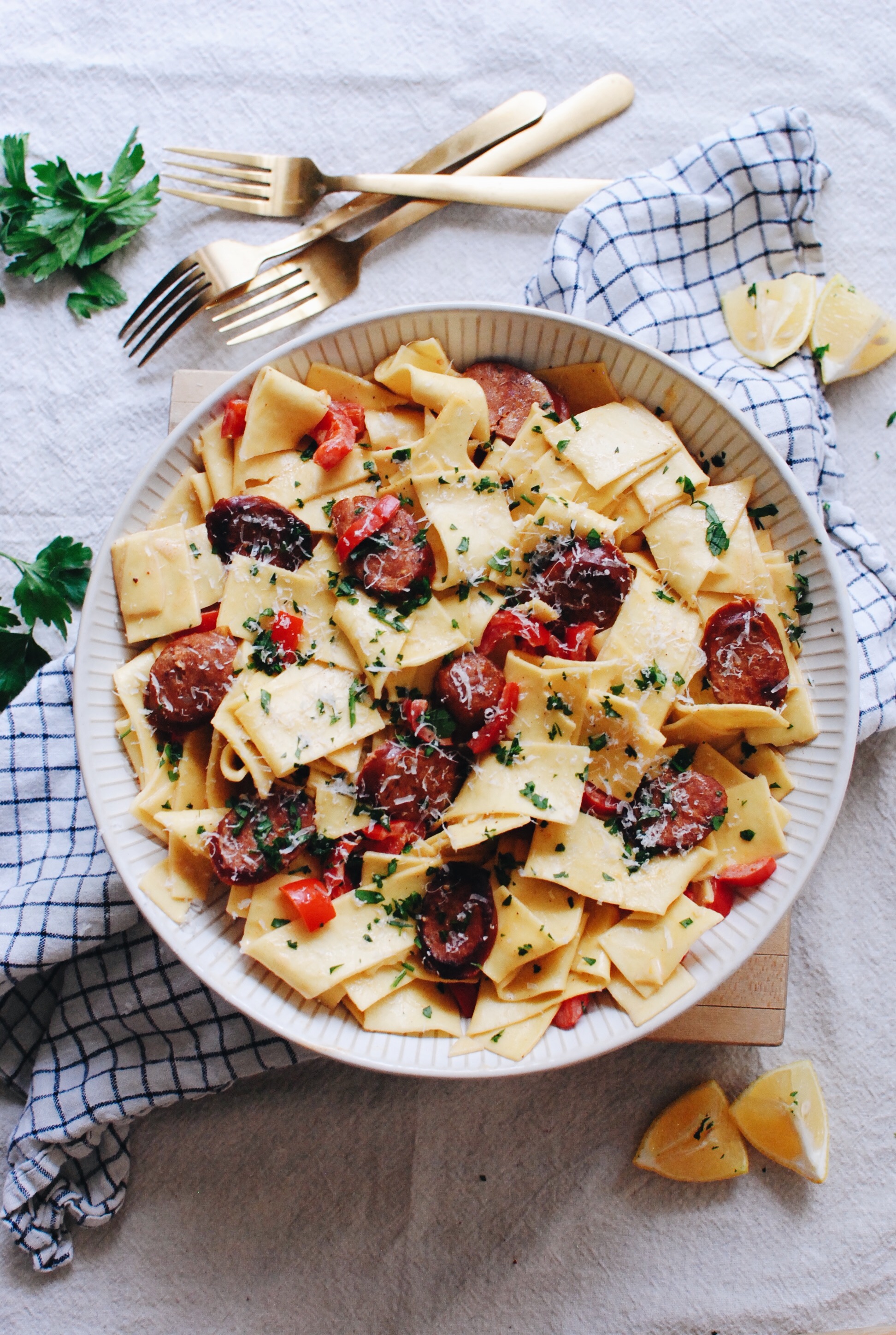 Serve it family style! Extra lemons, finely chopped parsley, freshly grated parm, your entire upper torso.
BABEH BABEH, I'M TAKEN WITH THE NOTION, TO LOVE YOU WITH THE SWEETEST OF DEVOTION.
This is what creamy Cajun does to me.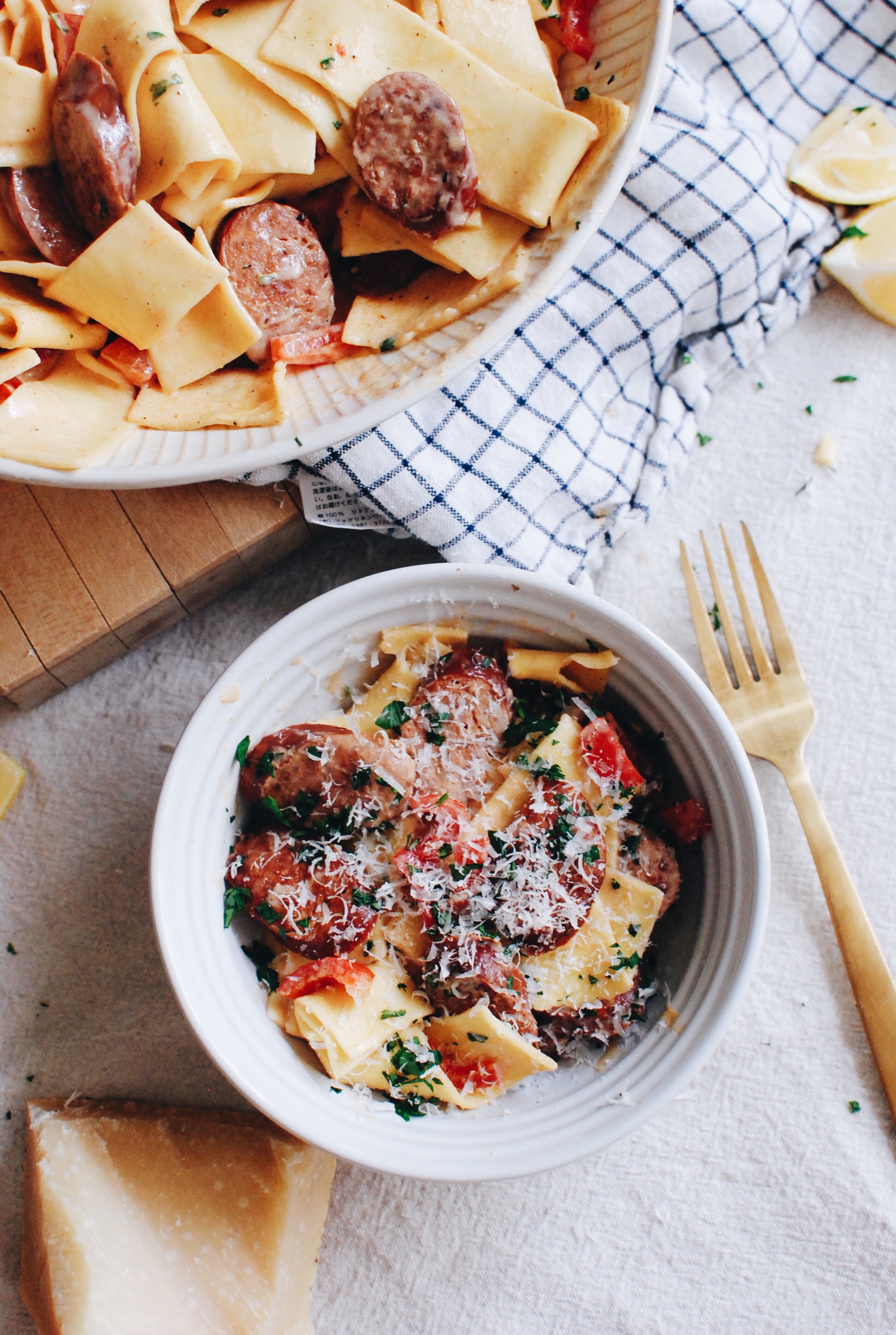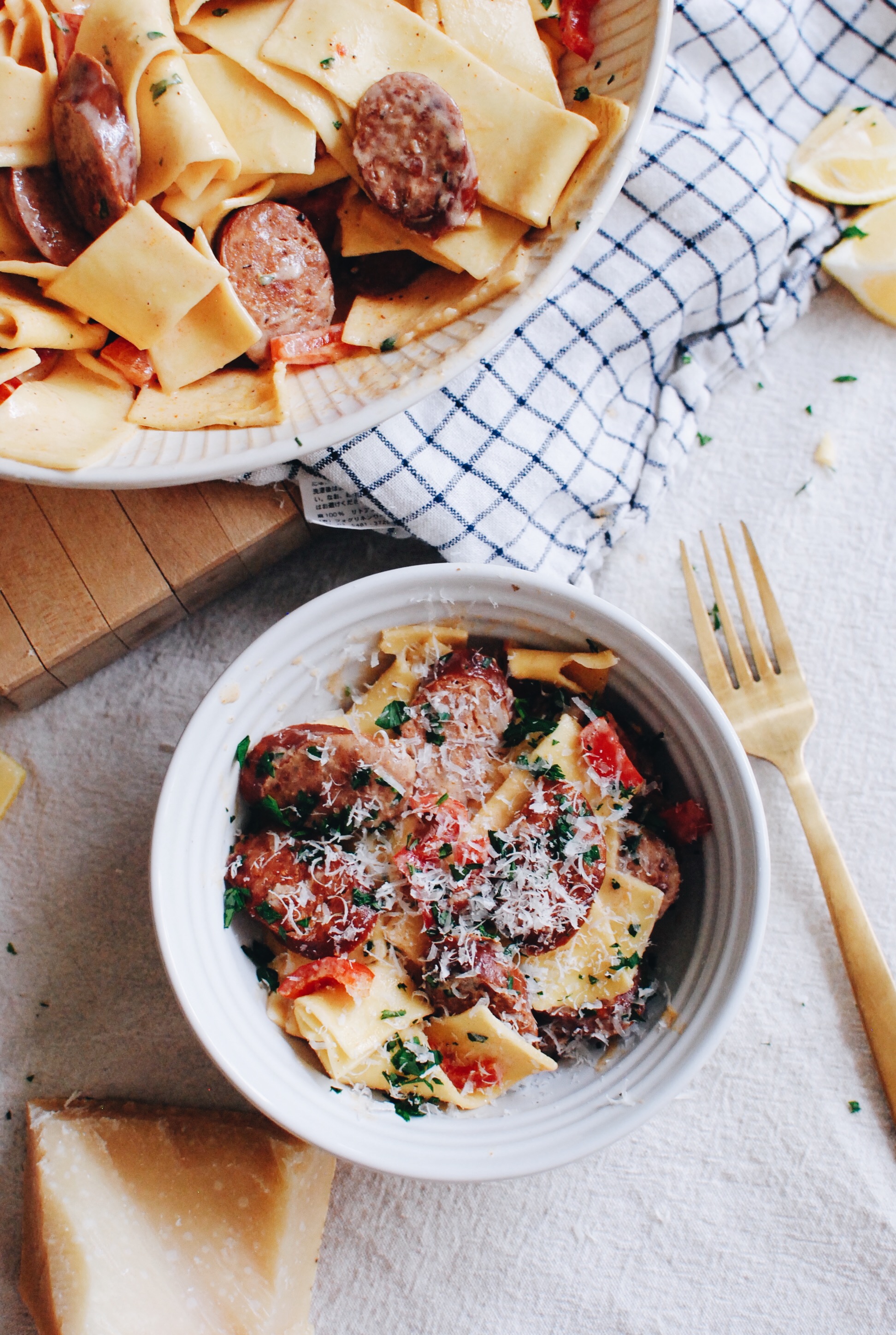 Yes. Yes. Yes.
Creamy Cajun Pappardelle with Andouille Sausage
Ingredients
13 oz Andouille sausage, cut into 1/2-inch slices
1 red bell pepper, seeded and diced
1 cup heavy cream
1 cup chicken stock
1-2 tsp cajun seasoning
12 oz pappardelle pasta
Two lemons
Chopped parsley
Freshly grated parmesan cheese
Instructions
Bring a large pot of salted water to a boil. Cook the pappardelle until al dente, according to package directions.
In the meantime, sear the sliced sausage in a large skillet over medium heat. Once you get some nice sear marks on both sides, add the red bell pepper, and sauté about a minute. Stir in the chicken stock, heavy cream, and the cajun seasoning. No need to add salt, because the cajun seasoning is pretty salty. Go the full two tsp if you want that good kick. You do want that good kick. Simmer on medium low a minute or two, then transfer the al dente pasta into the skillet. Squeeze in the juice from half a lemon, and grate about 1/4 cup of the parmesan into the pasta. Toss toss toss, cover and let it sit in the pan, off the heat for five minutes. Give it another good toss, and transfer to a large serving bowl.
Garnish with more lemon wedges, extra parmesan and chopped parsley!
TIP - the pasta will absorb the cream sauce, so keep tossing it until you get that beautifully coated, glossy sauce. You'll flip out. This is crazy.
Serves about 4!
7.8.1.2
190
https://bevcooks.com/2018/11/creamy-cajun-pappardelle-with-andouille-sausage/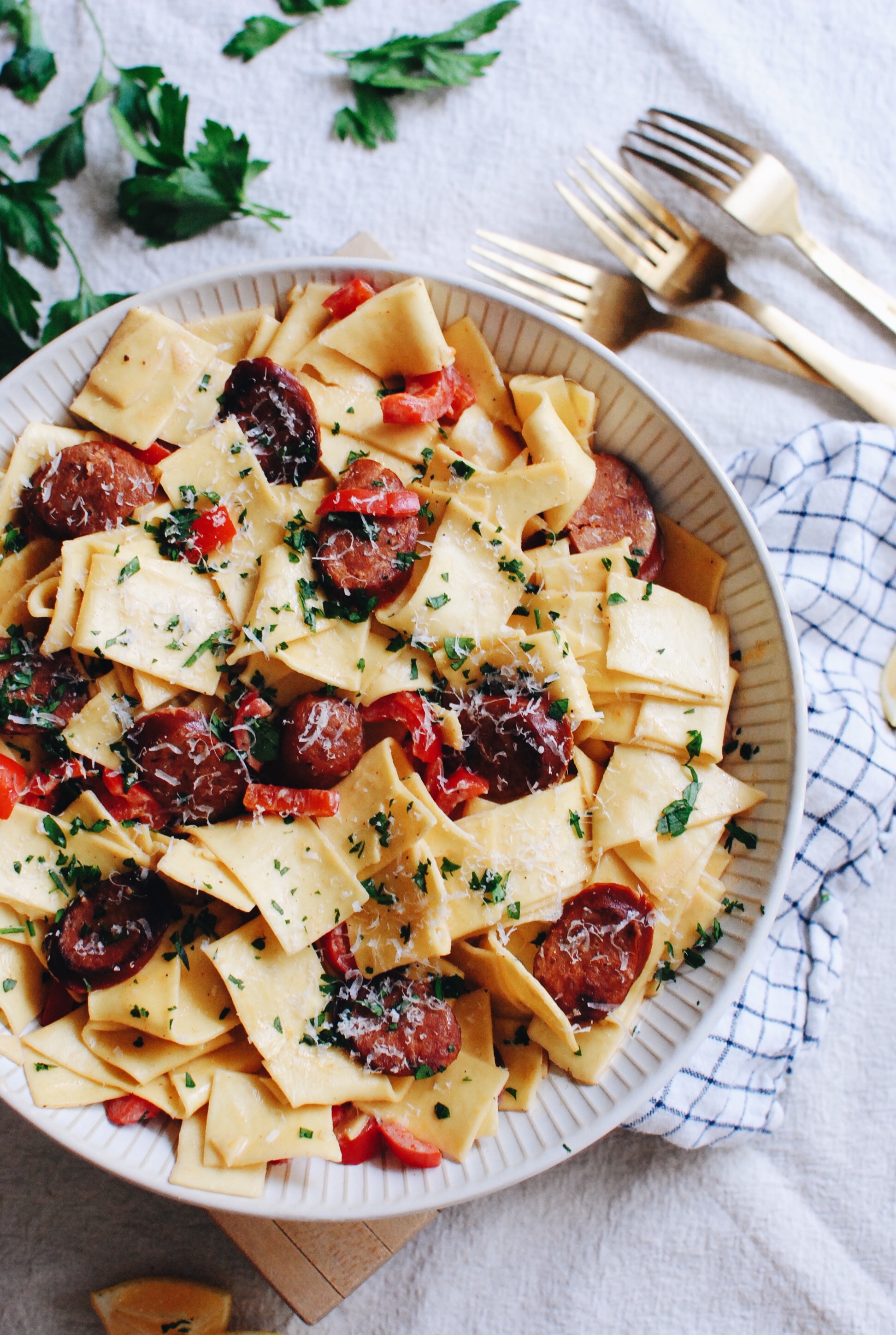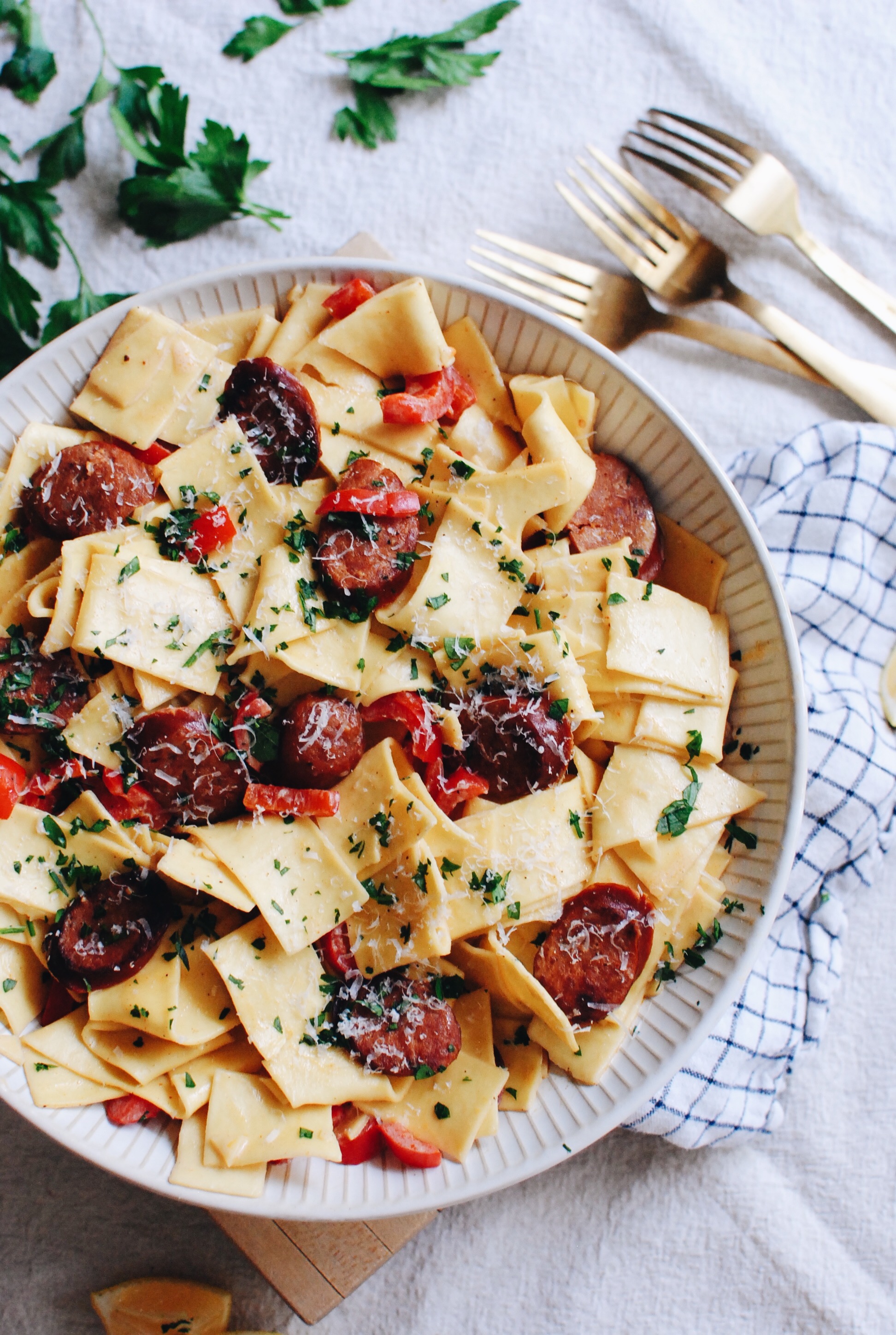 See you never.