Also known as, probably definitely my favorite food in summer life.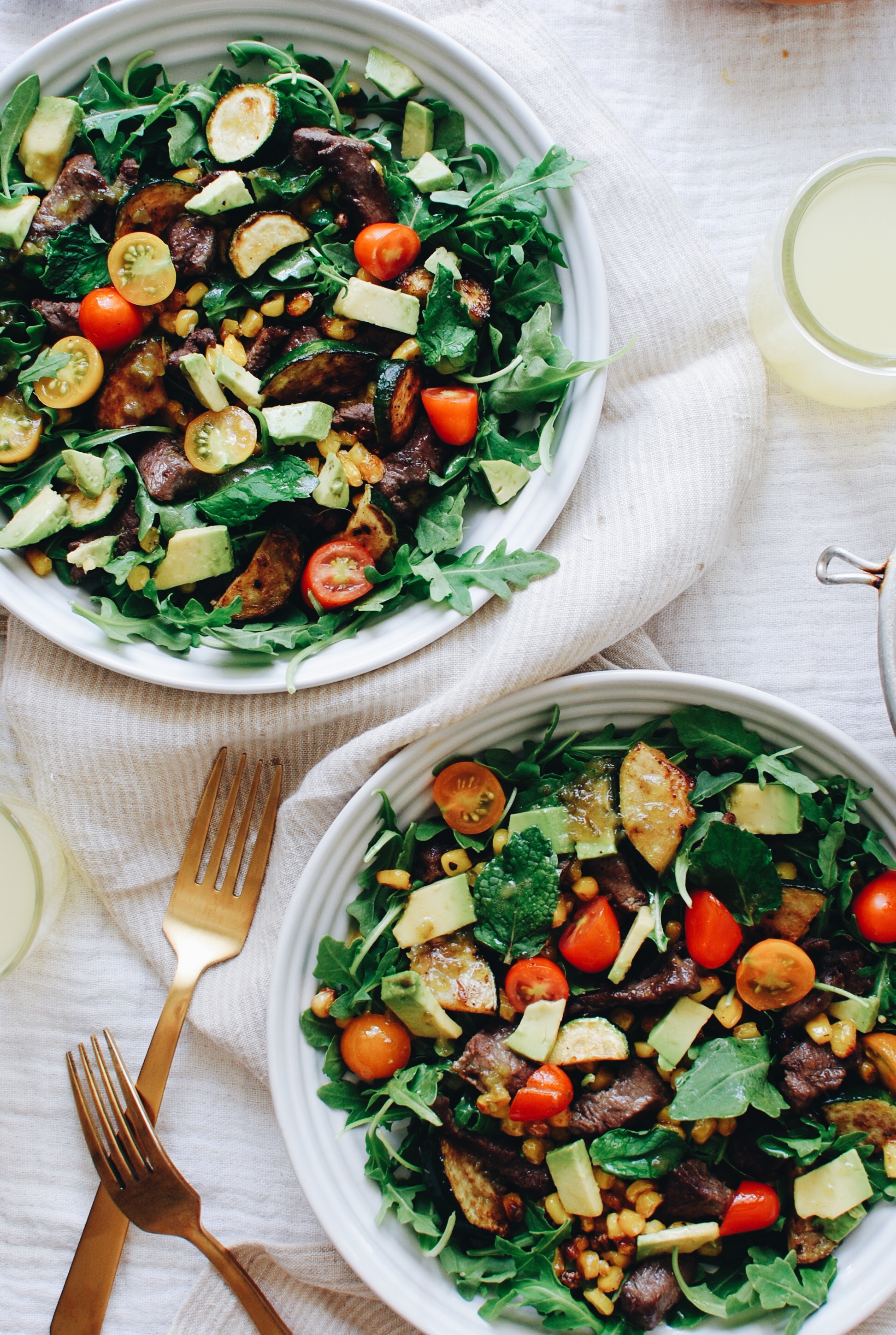 And I didn't even grill anything! #humidityofdeath #mosquitoesofdeath #sissy
But GUYS. Steak salad in the summer is some serious summer living in the summertime.
Summersummersummer.
Let's break this down.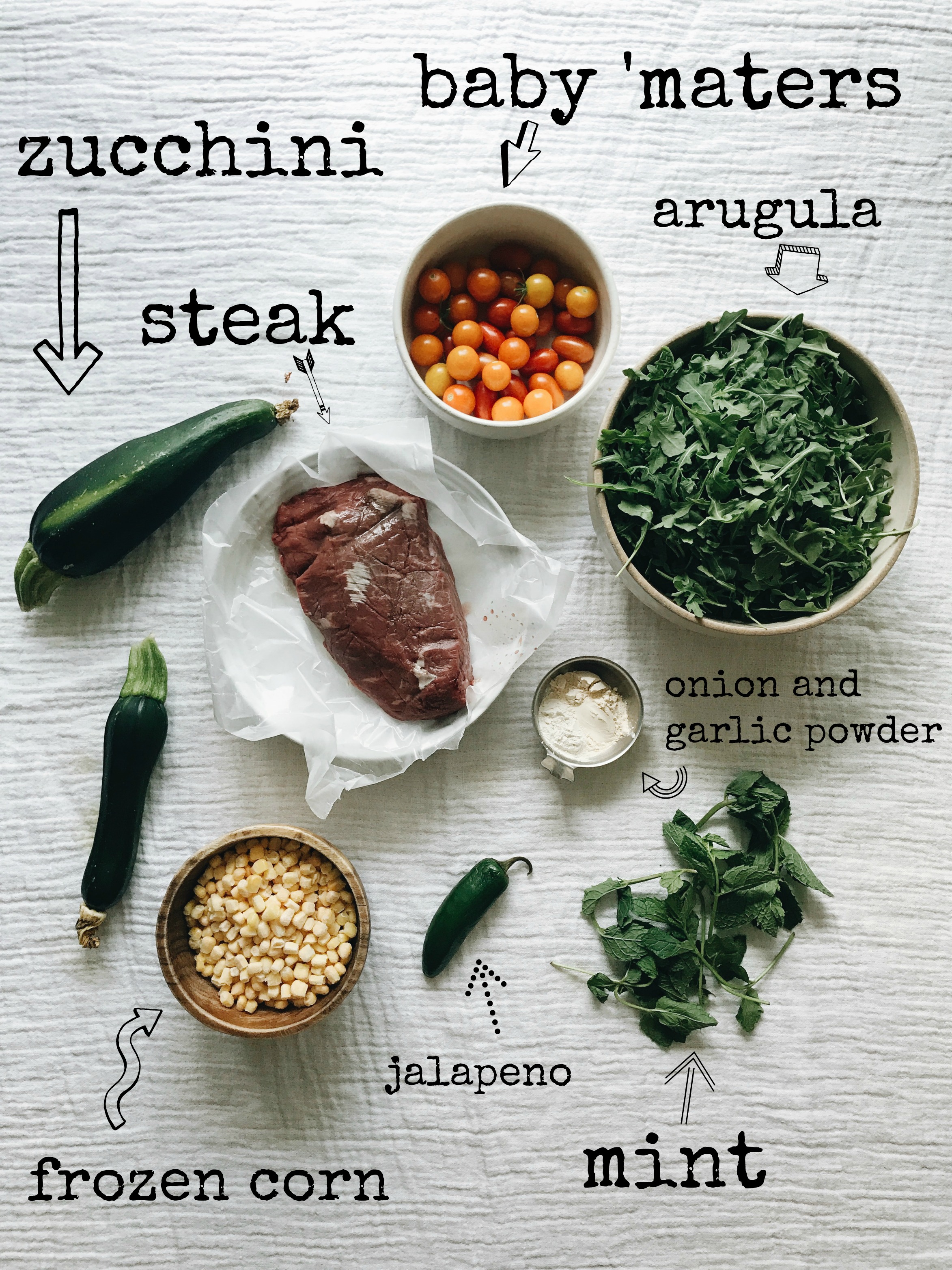 OKAY, before you start waggin' that index at me, yes the corn is frozen. Because I have a trick. And I've talked about it forever. And yes you can use fresh in the exact same way. But this day was not that day. You're gonna be fine. Just love.
You basically have all the summer loot grub: zucchini, mint, jalapeno, cherry or grape garden tomatoes, corn, and onion and garlic powder.
Just kidding on the powders.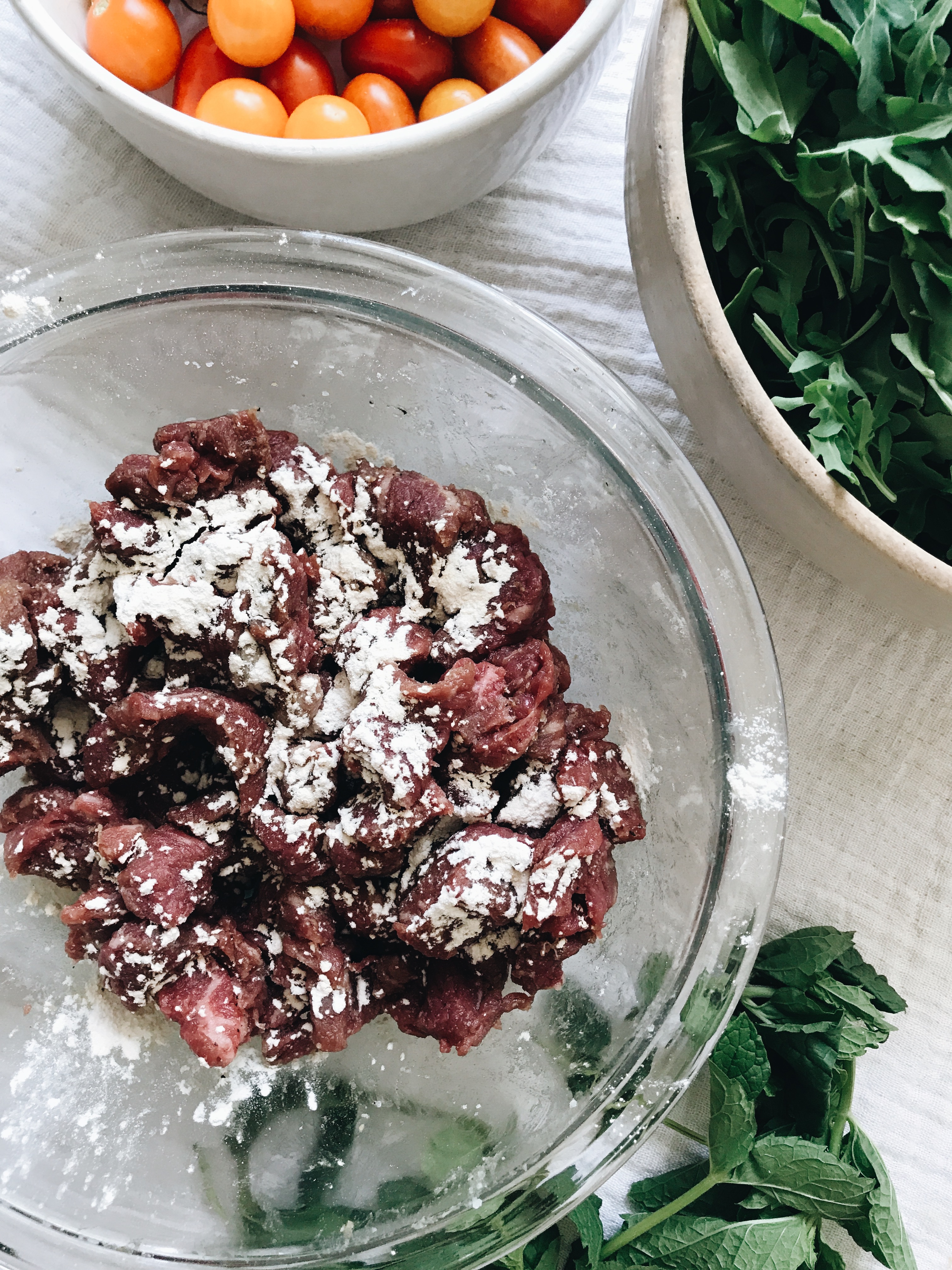 So the steak! Get anything you want, really. You'll cut it up into tiny bite-sized chunks that will hit a hot pan later, so get something tender. This is a sirloin steak, but flank or skirt would work well, too.
I dusted it with garlic and onion powder, salt and pepper, and let it sit in a baggie in the fridge for a few hours. Like a dry marinade! And all was well in this world.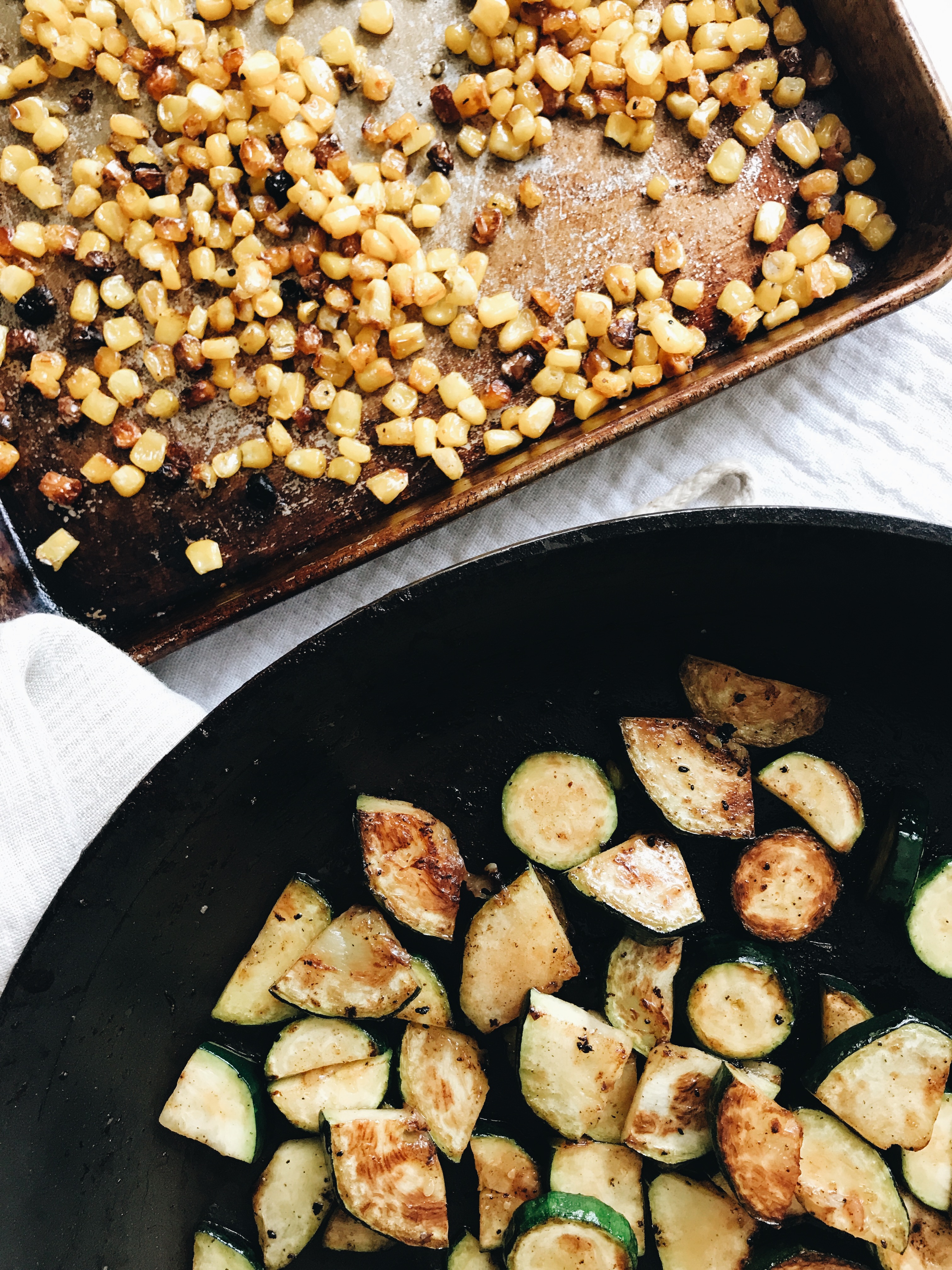 So the CORN. I do this all the time, and we talk about it all time, but I seriously want you to try this all the time. Dump that frozen corn right on a baking sheet and drizzle it with a little AWL. Season with salt and pepper, and B R O I L it. For like, 12-15 minutes, tossing every five to make sure they get all evenly charred and almost crunchy like.
If you use fresh corn right off the cob – fabulous! You won't need the full 15ish minutes. Maybe 8-10. Just keep that eagle eye AWN EET.
And sear your zucchini, blah blah blah.
Sear the steak! Start with no oil, because the steak will release so much of its own juices, and you don't want to end up braising the steak. If it seems dry, add a tsp or so, but keep tossing it around the pan until you get nice browning all over.
And it smells completely ridiculous with those POWDERSSSSAAA.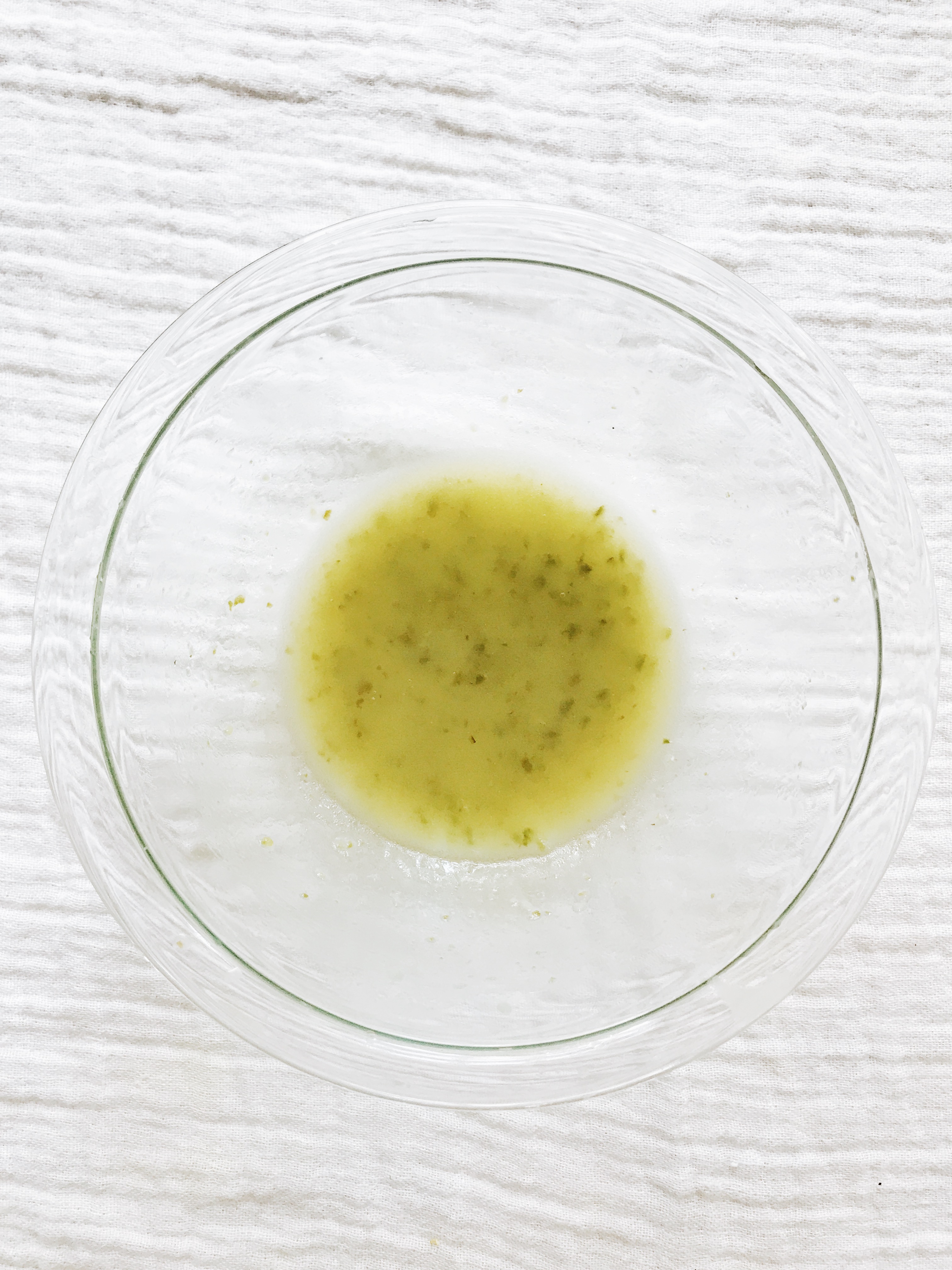 So the dressing! I roasted that jalapeno, babe. With the corn, at the same time, flipping every few minutes to get the pepper charred and blackened ALL over. Let it sit in a little plastic baggie until it's cooled, then peel the skins away, scrape the seeds away, and chop it up all tiny like. Boom.
Add some fresh lime juice, a pinch of salt and a good drizzle of olive oil. That's your dressing, pigeon. And it is SICK.
I've never said sick before. I feel like I need to be on a skateboard or something. It's ILL, BRA.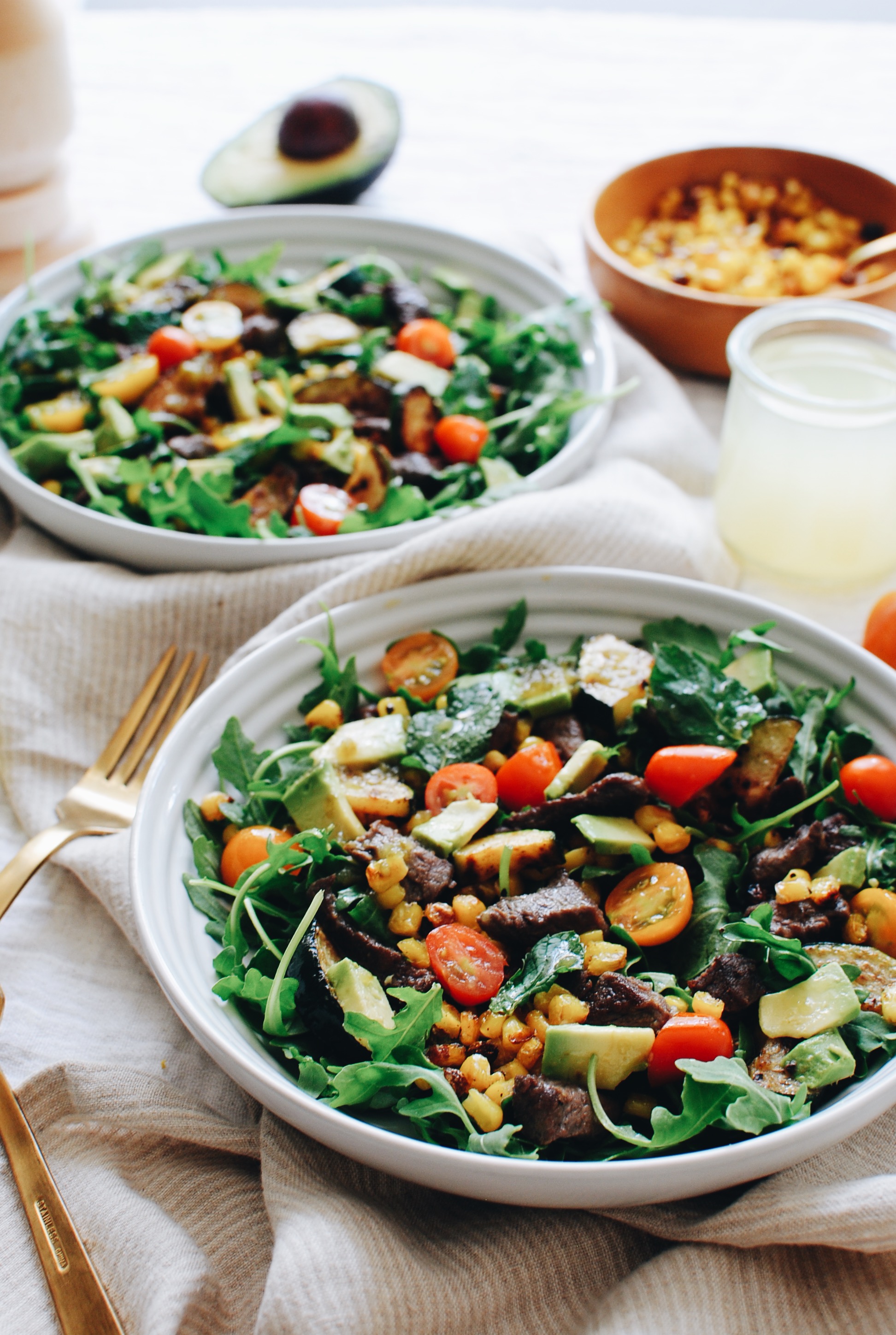 And this is your freaking summer steak salad. I added diced avocado last second, because I enjoy the fine life.
It's DELICIOUS, and I hate that word. But it simply is! The tender steak bites all nestled in the peppery arugula with the sweet, crunchy corn, bright tomato halves, and seared zucchini. OH AND THE MINT.
UM, the mint is everything. Just a scattering of mint leaves will do. It wakes everything up with an unexpected fresh POW, especially with the depth of the roasted jalapeno dressing.
Like, you'll want to punch this right in the face.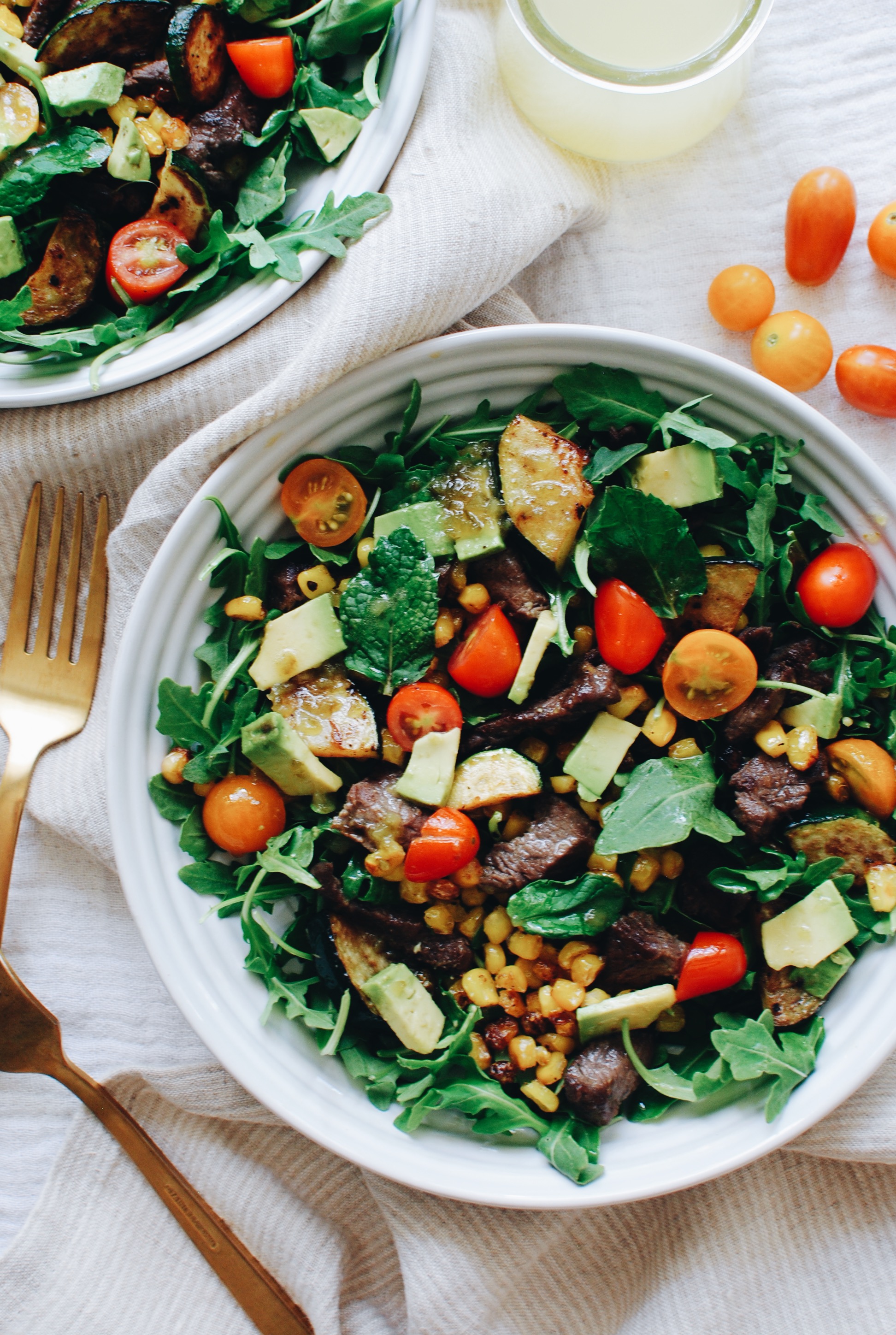 Have at it.
Ingredients
1 pound sirloin steak, cut into bite-sized pieces
2 tsp garlic powder
2 tsp onion powder
2 cups frozen (or fresh) corn
1 medium zucchini, sliced and cut into half moons
1 cup cherry or grape tomatoes, halved
1 jalapeno pepper
2 Tbs. fresh lime juice
2 Tbs. extra-virgin olive oil
one avocado, diced
1 cup fresh mint leaves
5 oz arugula
Coarse salt and pepper
Instructions
In a large plastic baggie, place the diced steak, along with the garlic and onion powders, and a good pinch of salt and pepper. Seal the bag and squish the steak around in the spices, making sure it's evenly coated. Let chill in the fridge for at least an hour, and up to overnight.
Heat a large skillet over medium-high heat. Add the steak to the pan in an even layer and sear on both sides, until browned all over, about six minutes. The steak will release a lot of its own juices, so no need to add oil. But if you find it's drier than expected, swirl a tsp or two of oil over the steak to aid in the browning. Let's start a band called Aid in the Browning. Remove the steak from the pan to rest.
Back in the skillet, add the zucchini in a single layer, season with a pinch of salt and sear about five minutes total, flipping to make sure you get some nice charring on both sides.
In the meantime, place the frozen corn and jalapeño on a baking sheet, and drizzle with a little bit of oil. Season with salt and pepper, and broil on the top rack anywhere from 8-15 minutes, depending on if you're using fresh or frozen. Keep checking every four minutes or so, making sure no corn is burning, yet you're getting some nice charring to the corn, and that the jalapeño is evenly blackening all over. Remove everything from the oven once it looks perfectly roasted and gorgeous.
Let the jalapeño rest in a little plastic baggie for a few minutes to cool, then peel the skins away with your fingers. Place on a cutting board and scrape the seeds and stem away, mincing the pepper. Place the minced jalapeño in a small mixing bowl, and add the lime juice and olive oil to it, along with a pinch of salt and pepper. Whisk until emulsified.
In a large salad bowl, toss the arugula with the dressing, along with the roasted corn, seared zucchini and steak, halved tomatoes, mint leaves and diced avocado. Toss toss toss.
INHALE.
Makes four dinner salads!
7.8.1.2
168
https://bevcooks.com/2018/07/summer-steak-salad/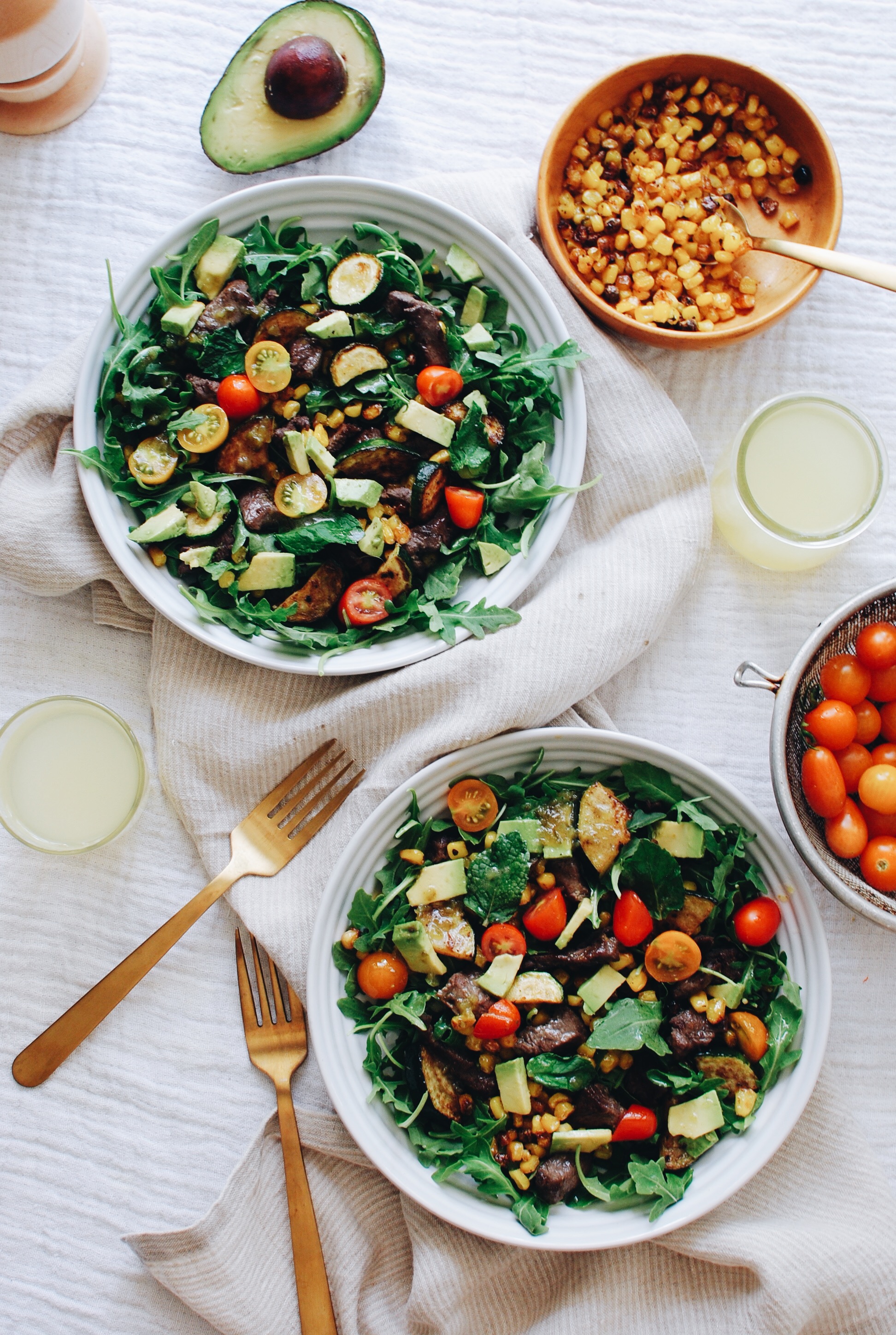 "Here, hit this! Go ahead and slap her!" – name that movie.