Um, hello yes, goodbye forever.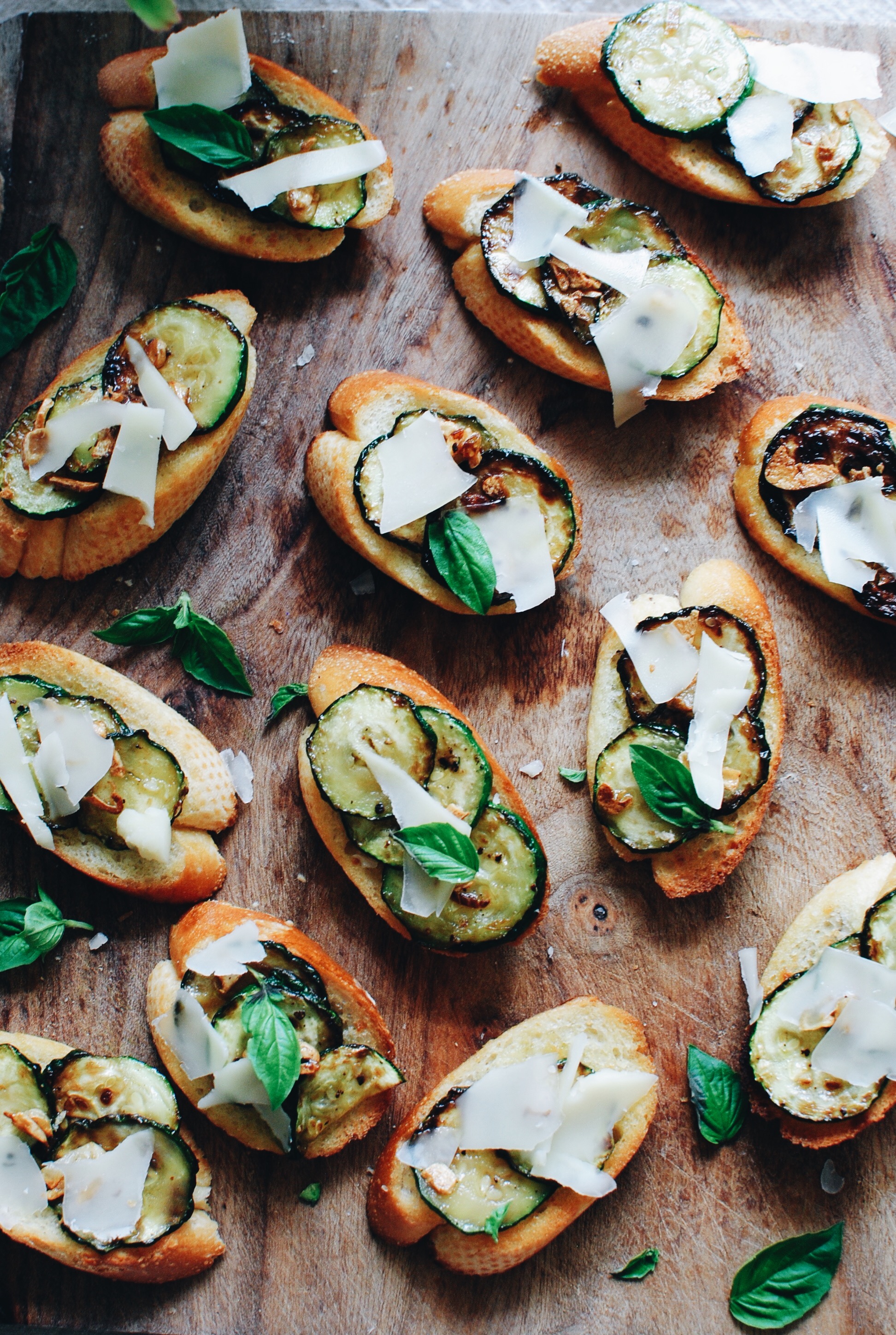 CROSTINI. Talk about some major summer noshies, guys. It's that kind of snack that's like, obnoxiously balanced. And EASY. Ugh, so easy.
You have crusty, garlicky baguette slices, more sautéed garlic, perfectly-seared zucchini rounds, topped with cheese shavings. But not just any ol' cheese shavings. These have Roth's insanely delicious GRAND CRU shavings on top and you will want to immediately crumble into tears for a month.
Let's look at this.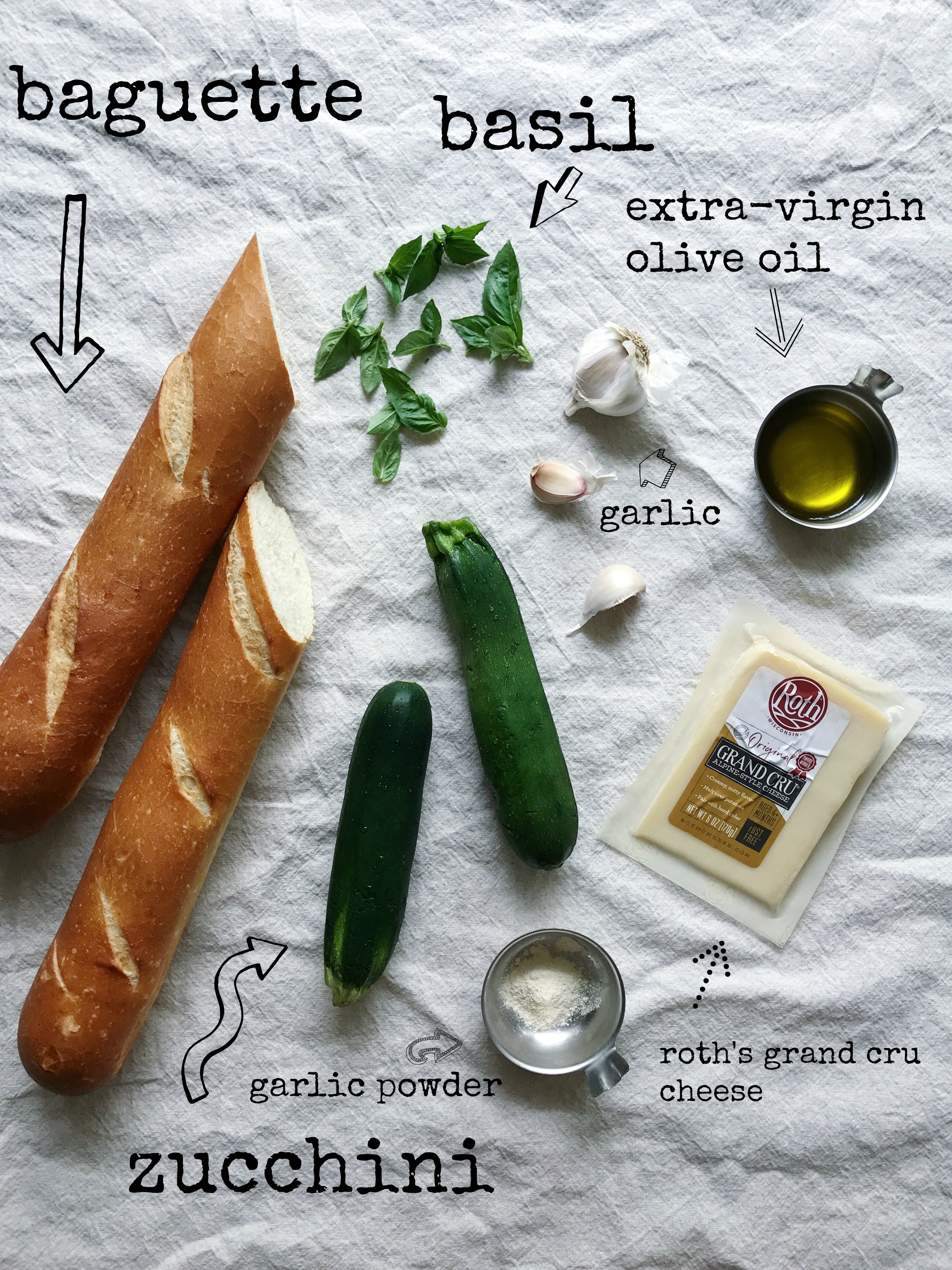 Thing is, I'm a firm believer that appetizers should be QUICK. And simple! But still offer a bit of fresh meets complexity meets texture meets your entire upper torso. And that's exactly what these ultra summery nibbles do.
Are you crying yet? I kind of feel like you might be.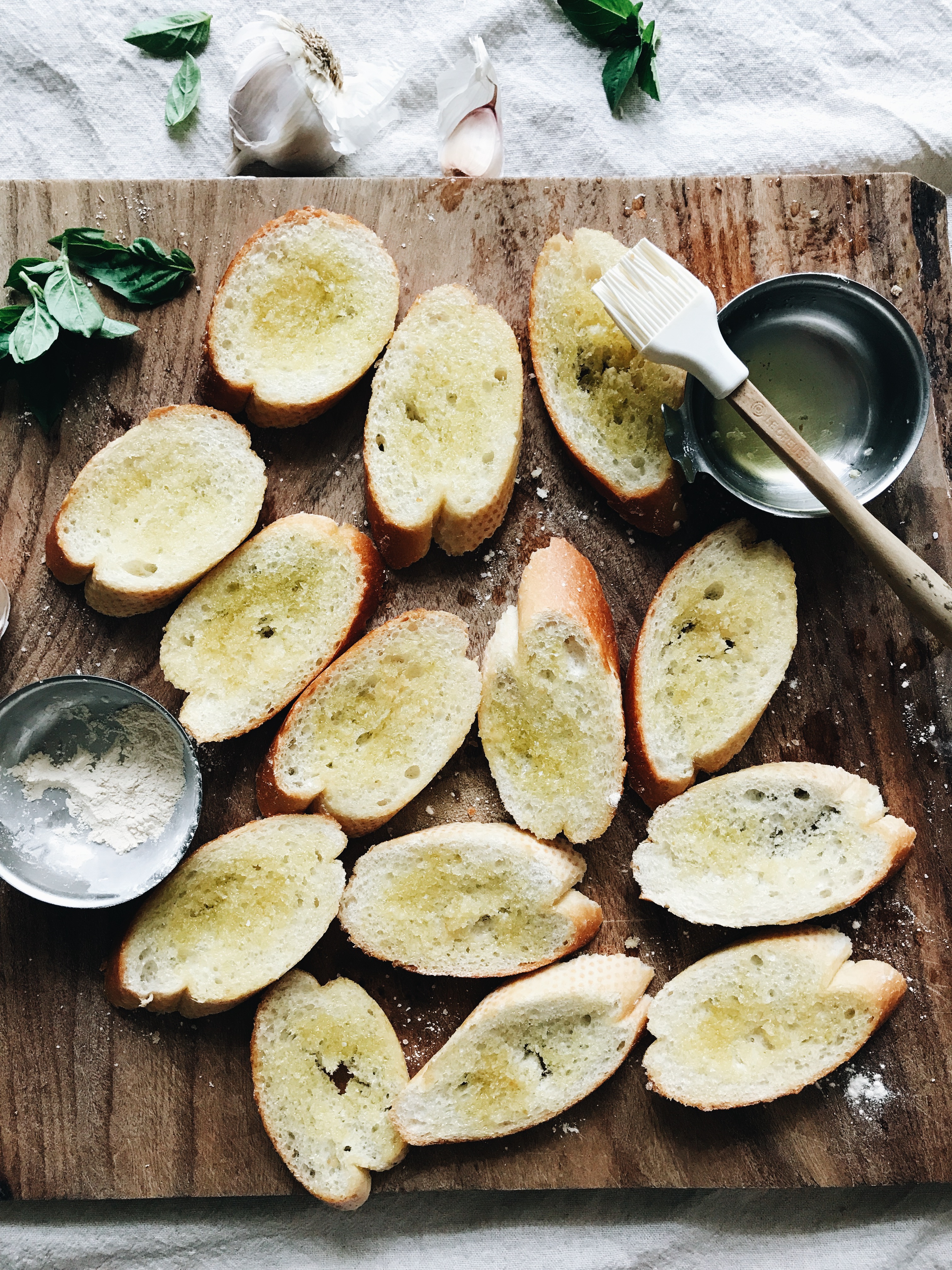 Let's start with the bread! Regular baguette, sliced semi thinly. Brush it with olive oil, and sprinkle those mothers with a little bit of garlic powder and salt. That's it!
And LISTEN, you can absolutely grill this bread if you want. But you already know this about me – I can't do extreme humidity. Even with our new super pimp pergola. I can't do it. So if you're a massive sissy like me, toss these in a toaster oven and give 'em a quick blast. The end.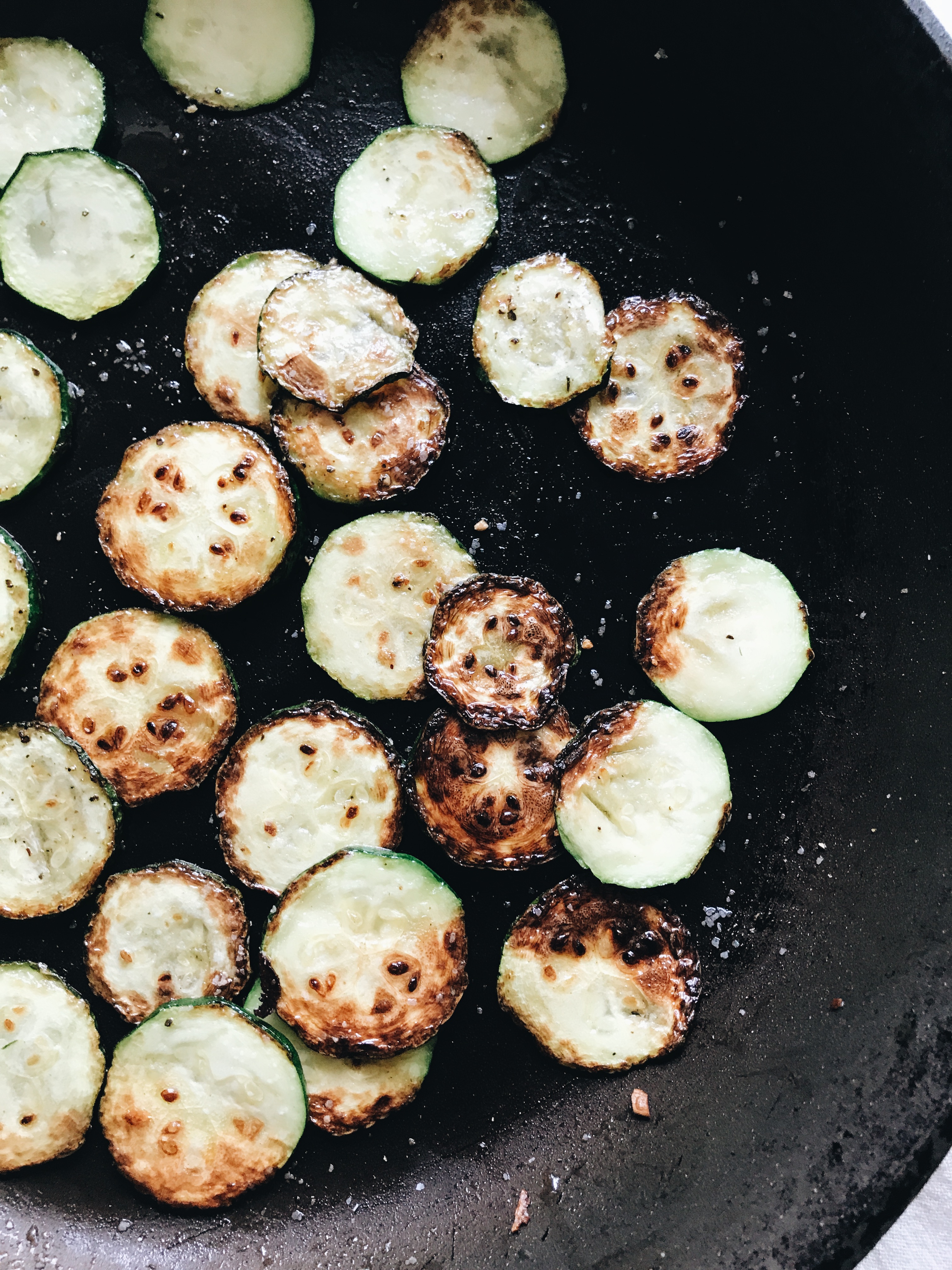 Up next, the zucchini!
But actually, first it's the garlic. Sauté a few chopped garlic cloves in a bit of oil until super fragrant and a lovely golden brown, – almost crispy. Crunchy, ya know? So good. Remove them from the pan and sear that zucch, brah.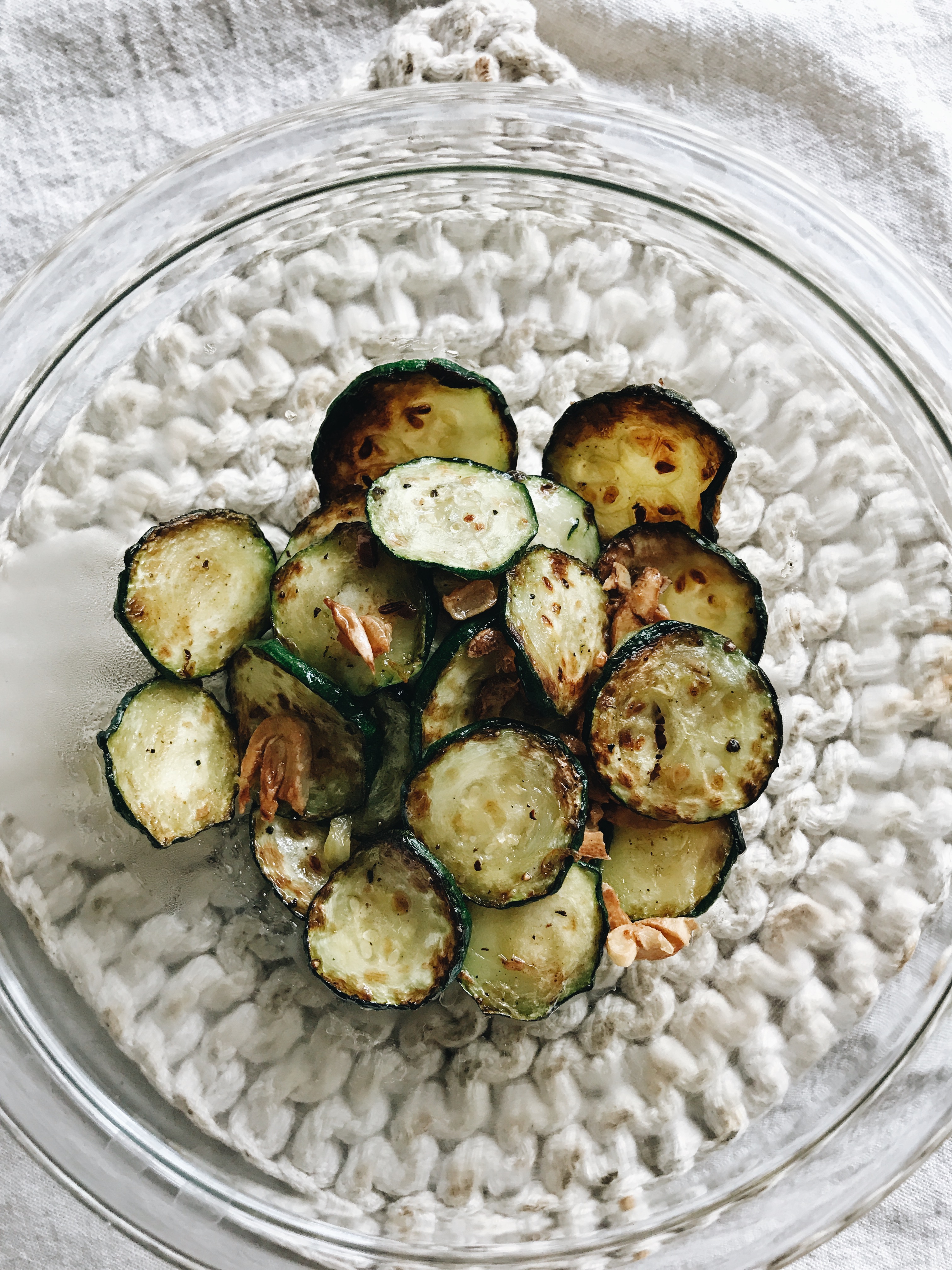 Theeeen just toss the garlic and zucchini in a bowl together with the cooking oil, and watch the two fall in love, marry and have fragrance cloud babies.
Let's start a band called Fragrance Cloud Babies. No one likes us.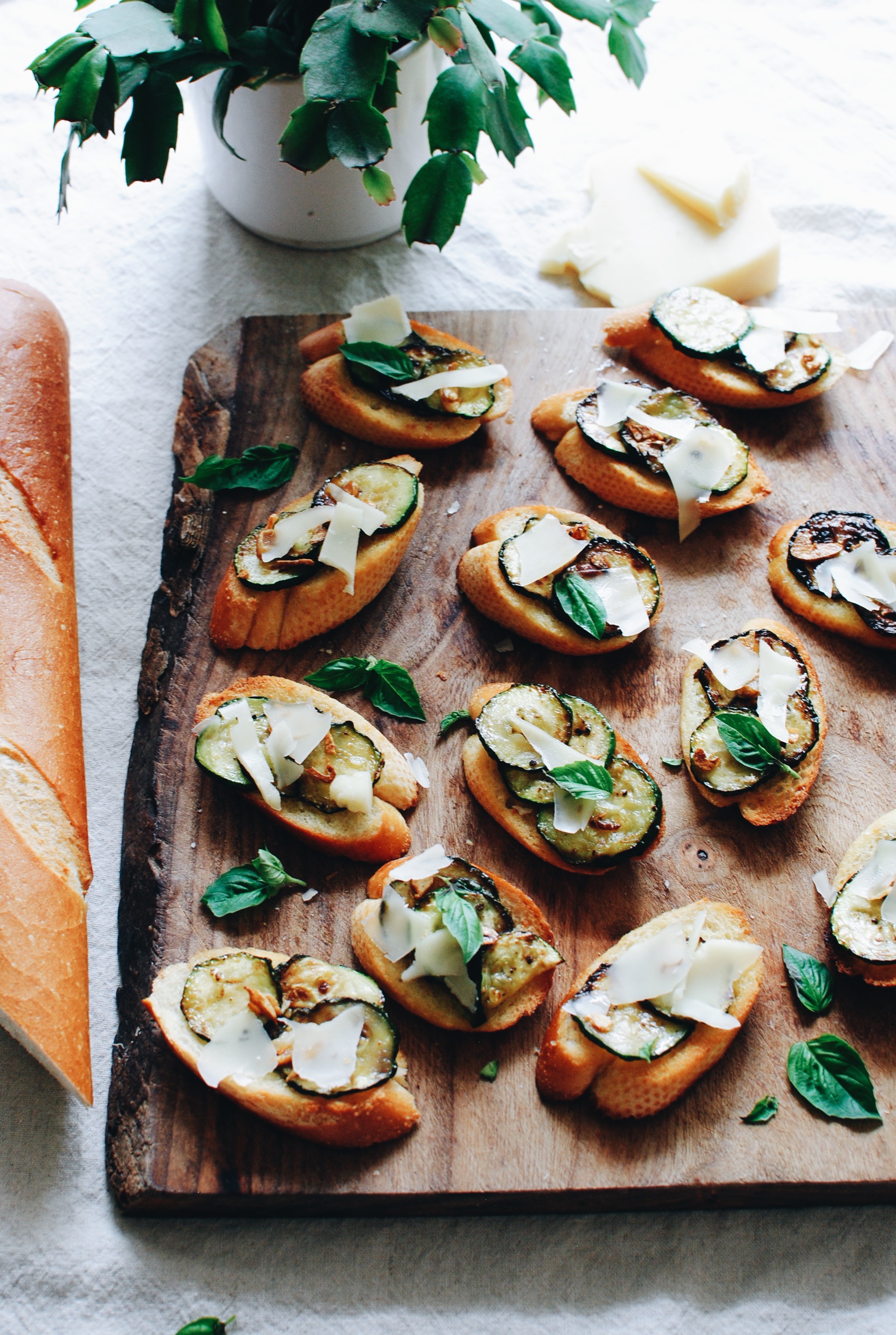 And the rest is simply layering! Three or four slices of zucchini, a bit of crunchy garlic, and then the MAGIC – Roth's Grand Cru. Like, seriously. This will rock your entire face off and to the ground. It's similar to what a regular parm would do, but ELEVATED. Nutty but creamy, salty but mellow. GUH, I can't. I have to. I will.
This is such a ridiculous summer treat, I beg you to get it in your life. Stat.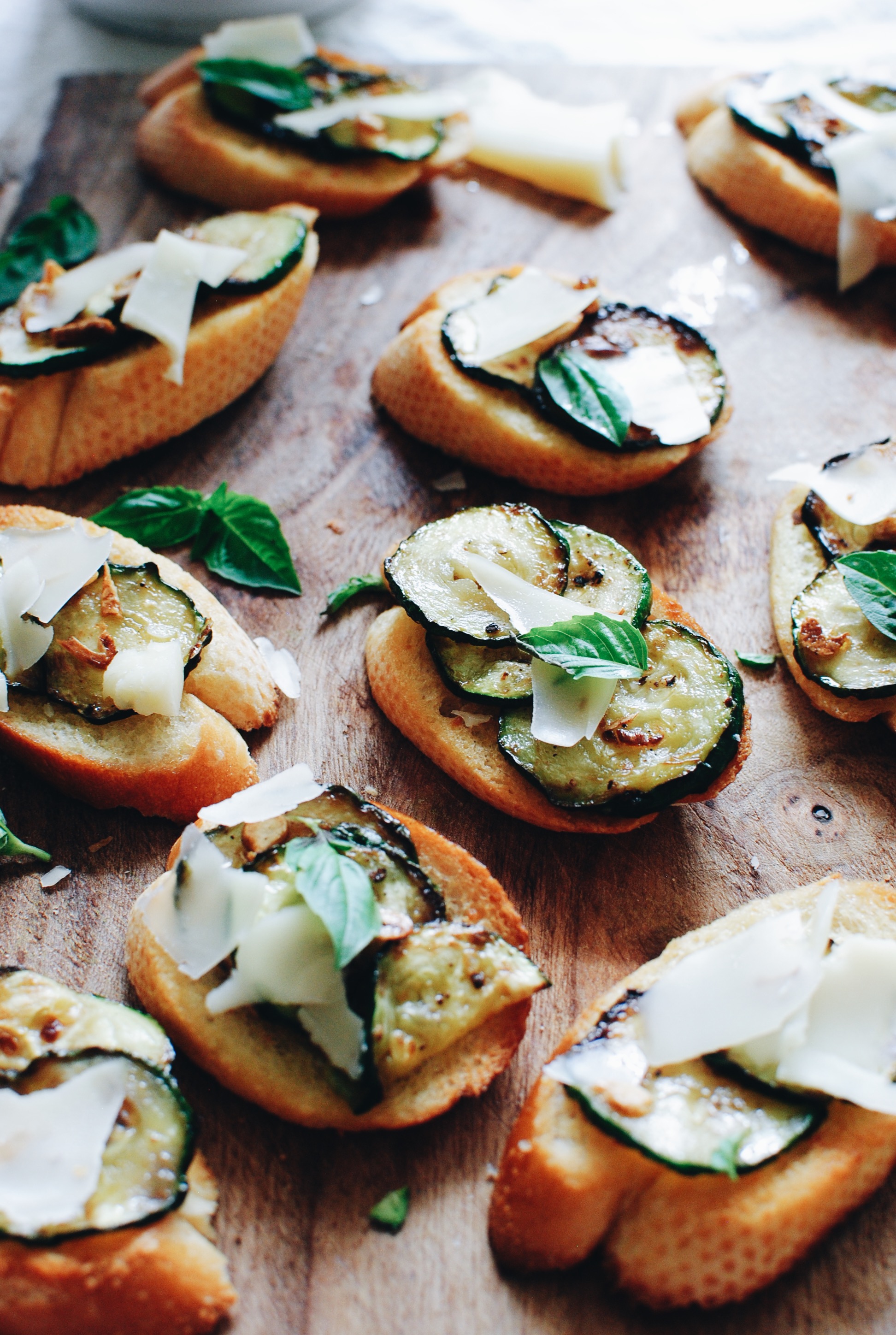 Also, add more cheese.
Garlicky Zucchini Cheese Crostini
Ingredients
1/2 French baguette, cut into thin slices
1 tsp garlic powder
4 Tbs. extra-virgin olive oil, divided
3 cloves garlic, chopped
1 medium zucchini, sliced thinly into rounds
Roth's Grand Cru cheese, cut into shavings (amount is really up to you!)
Coarse salt
Fresh basil for garnish, if desired
Instructions
Brush two Tbs. of oil over the baguette slices, and sprinkle with the garlic powder and a pinch of salt. Toast in a toaster oven until golden brown.
In the meantime, heat another Tbs. of oil in a medium skillet, and sauté the garlic until fragrant and browning, right about a minute. Transfer the garlic and oil to a small bowl.
To the skillet, add the last Tbs. of oil and the zucchini in a single layer. Season with salt and sear for three minutes on one side. Flip and sear another minute or two, until nicely charred on both sides. Transfer the zucchini to the garlic bowl and toss together.
Layer a few slices of garlic zucchini on each baguette slice, and top with Roth's Grand Cru shavings. Go nuts! It's worth it. Garnish with fresh basil, if desired.
Serve immediately!
Makes about 15 crostini.
7.8.1.2
169
https://bevcooks.com/2018/07/garlicky-zucchini-cheese-crostini/
And a rosé and LIFE MADE.