OKAY. Okay.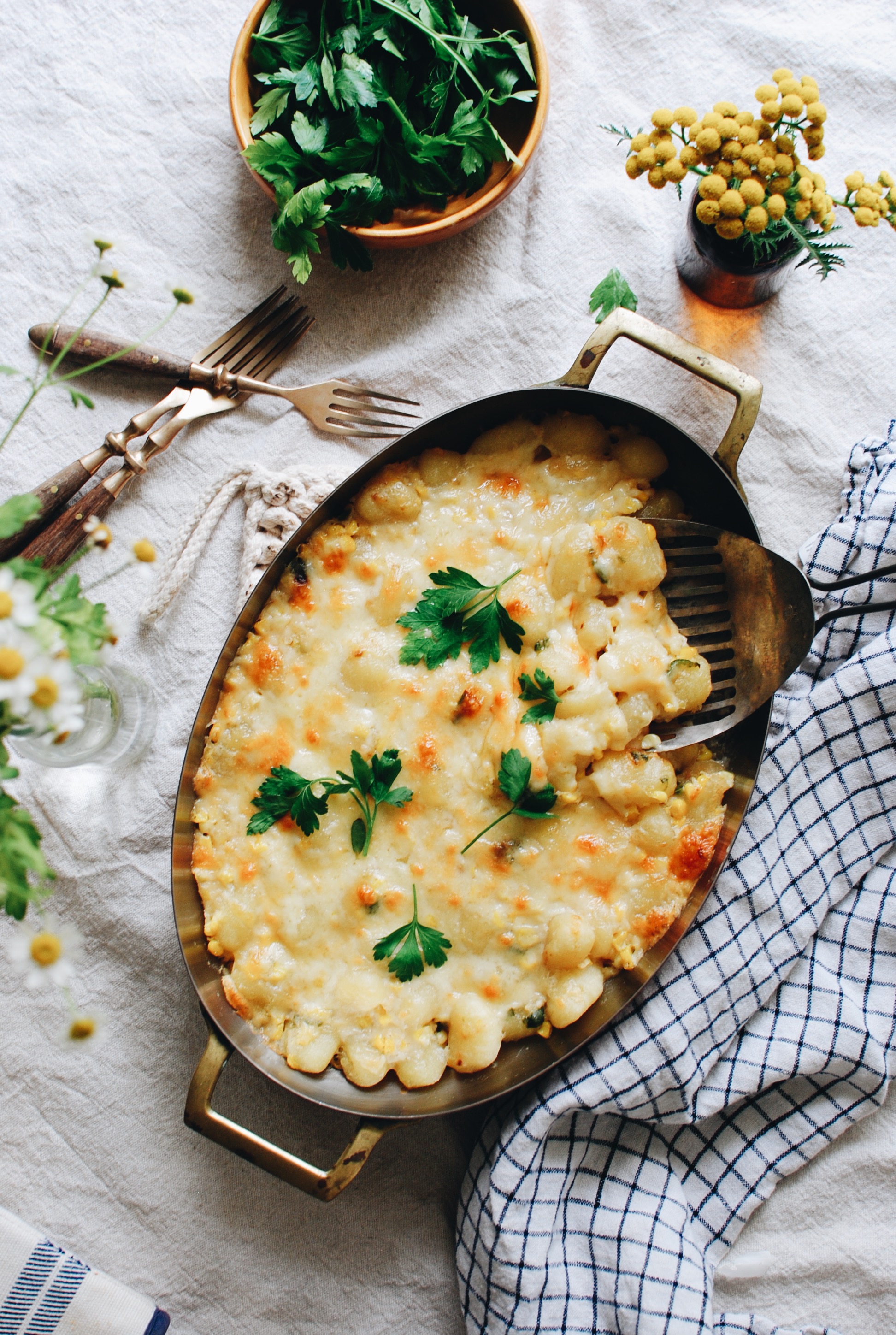 There are recipes on this website that I want you to make. For sure. La dee da.
And then there's THIS.
GUYS, IT IS A SUMMER GNOCCHI BAKE WITH CORN AND JALAPENO IN IT.
AND IT IS CREAMY.
AND I AM TRYING REALLY HARD NOT TO SCREAM AT YOU.
But you guys.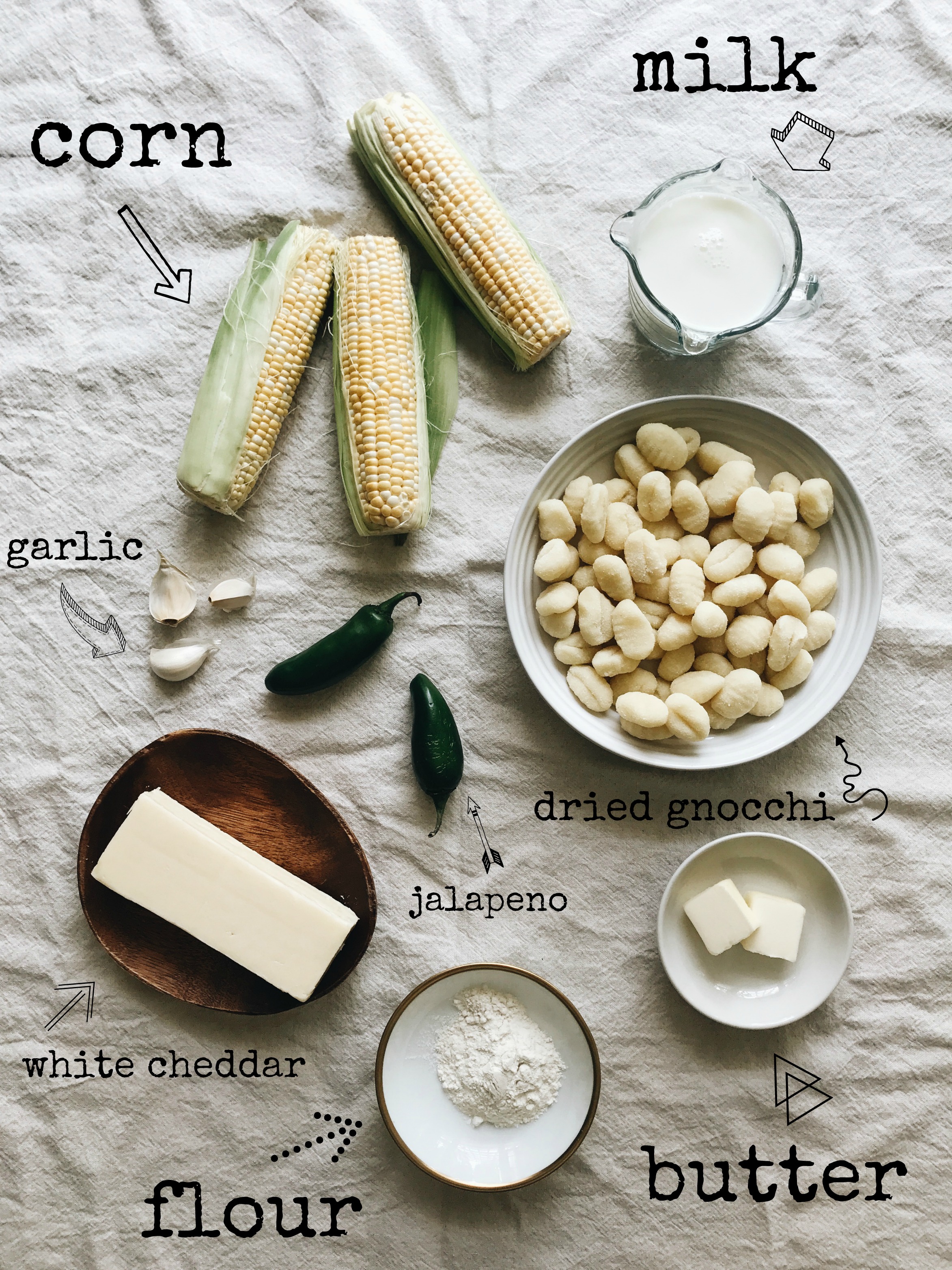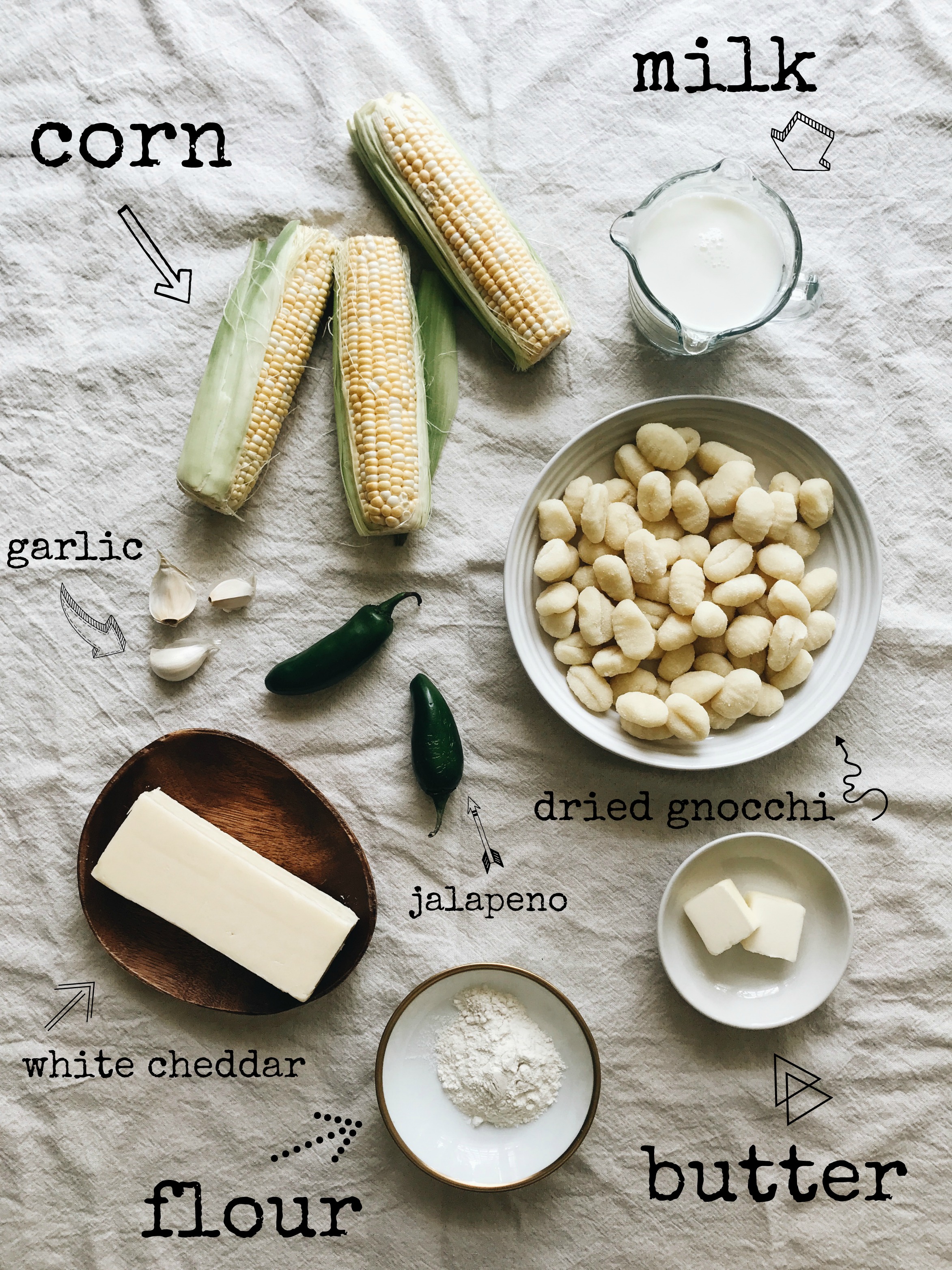 It was one of those recipes that I threw together yesterday afternoon all willy nilly. And there's not much to it, which is totally ideal for this time of year.
NOW, the oven comes on. Yes. But you will forgive me as soon as you taste this ish. Matter of fact, you won't JUST forgive me, but you'll beg for more recipes exactly like this, with seasonal tweaks here and there.
AND I WILL DELIVER.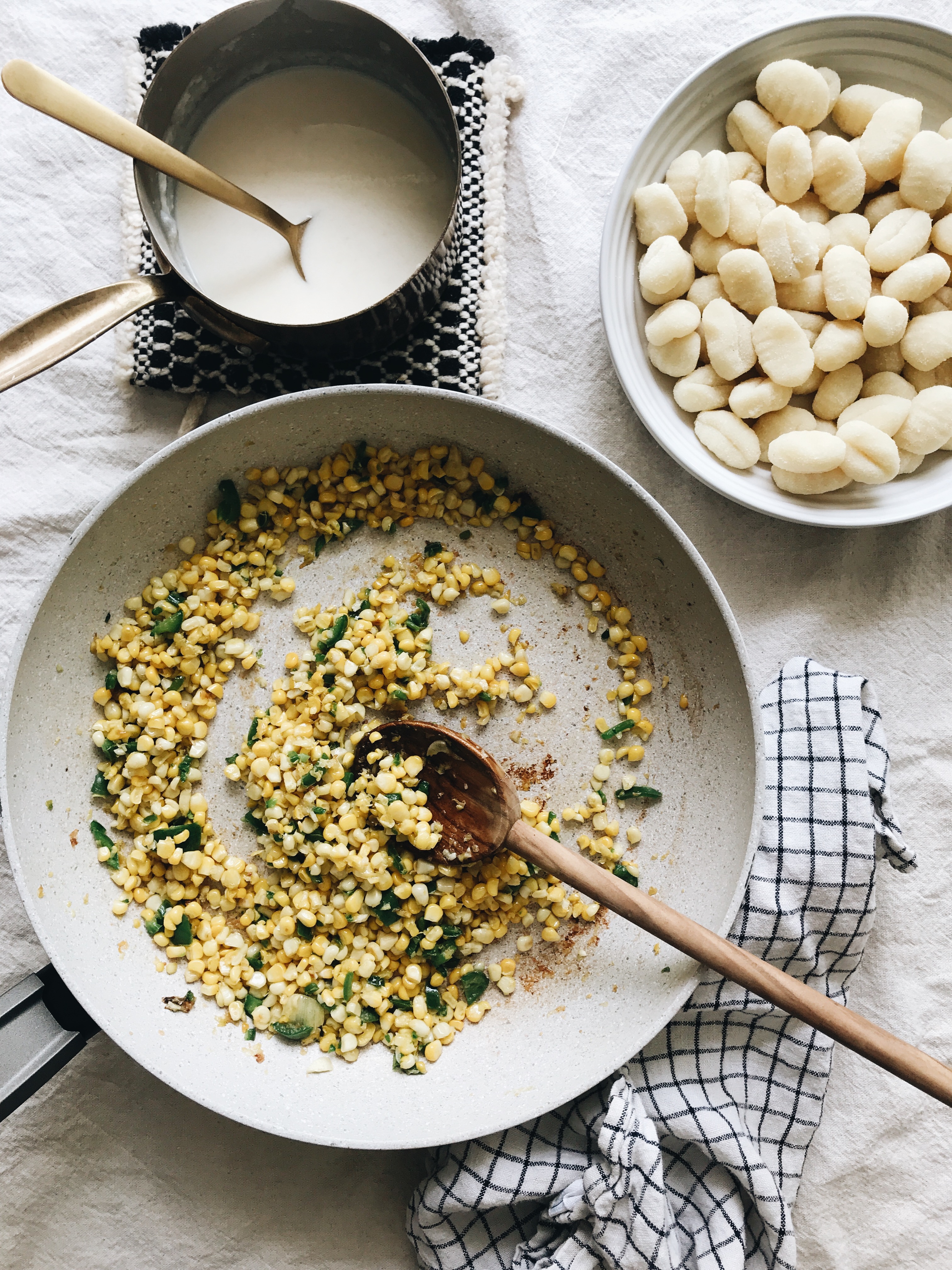 It's simple. You sauté fresh corn and jalapeno in a skillet. Add some garlic right at the end. Get it all bloomy. Turn the heat off.
You're also making a super simple cream sauce. Butter, flour, milk, salt and lemon juice. Luxurious, but not over-the-top laborious. You're welcome.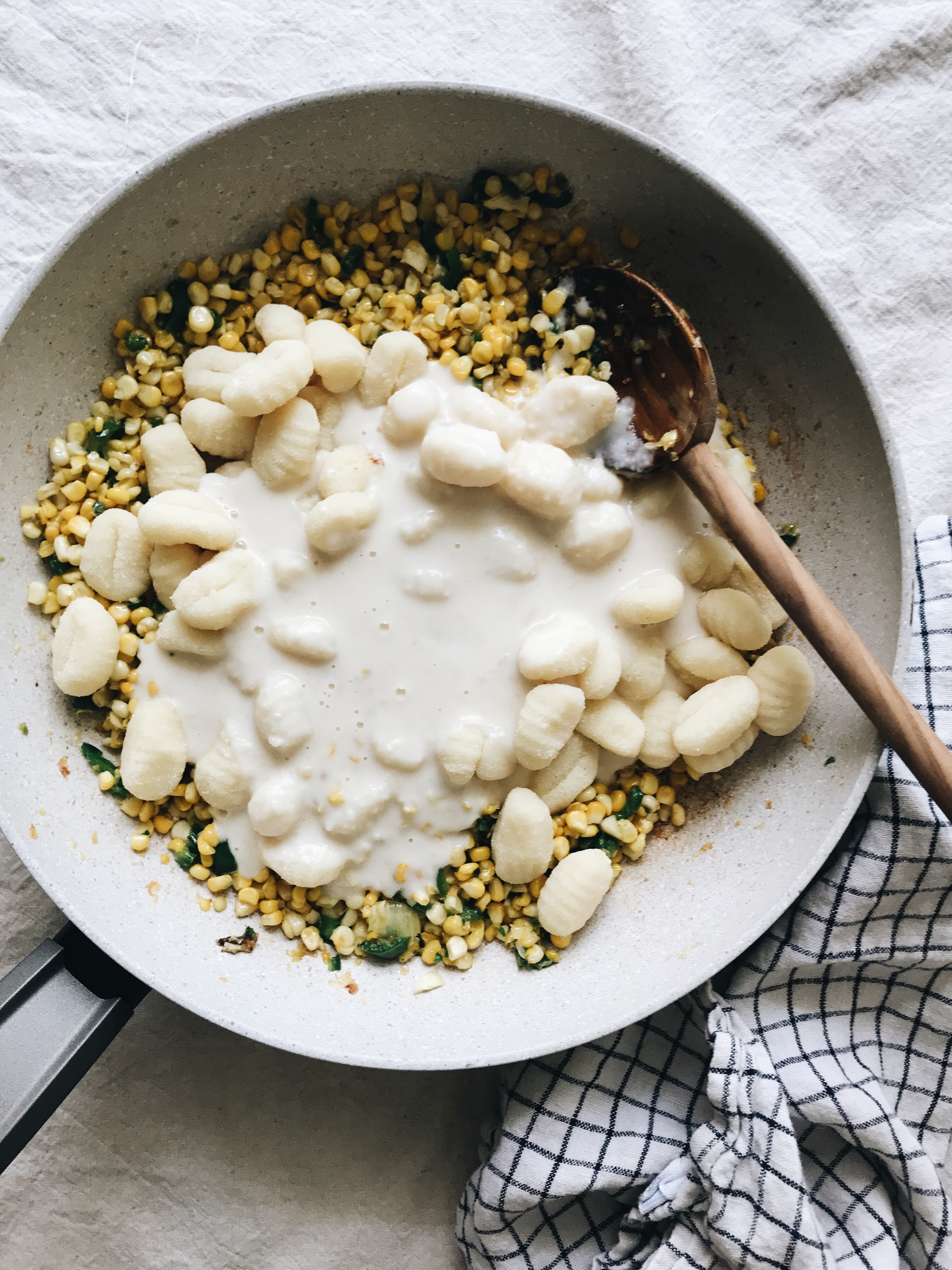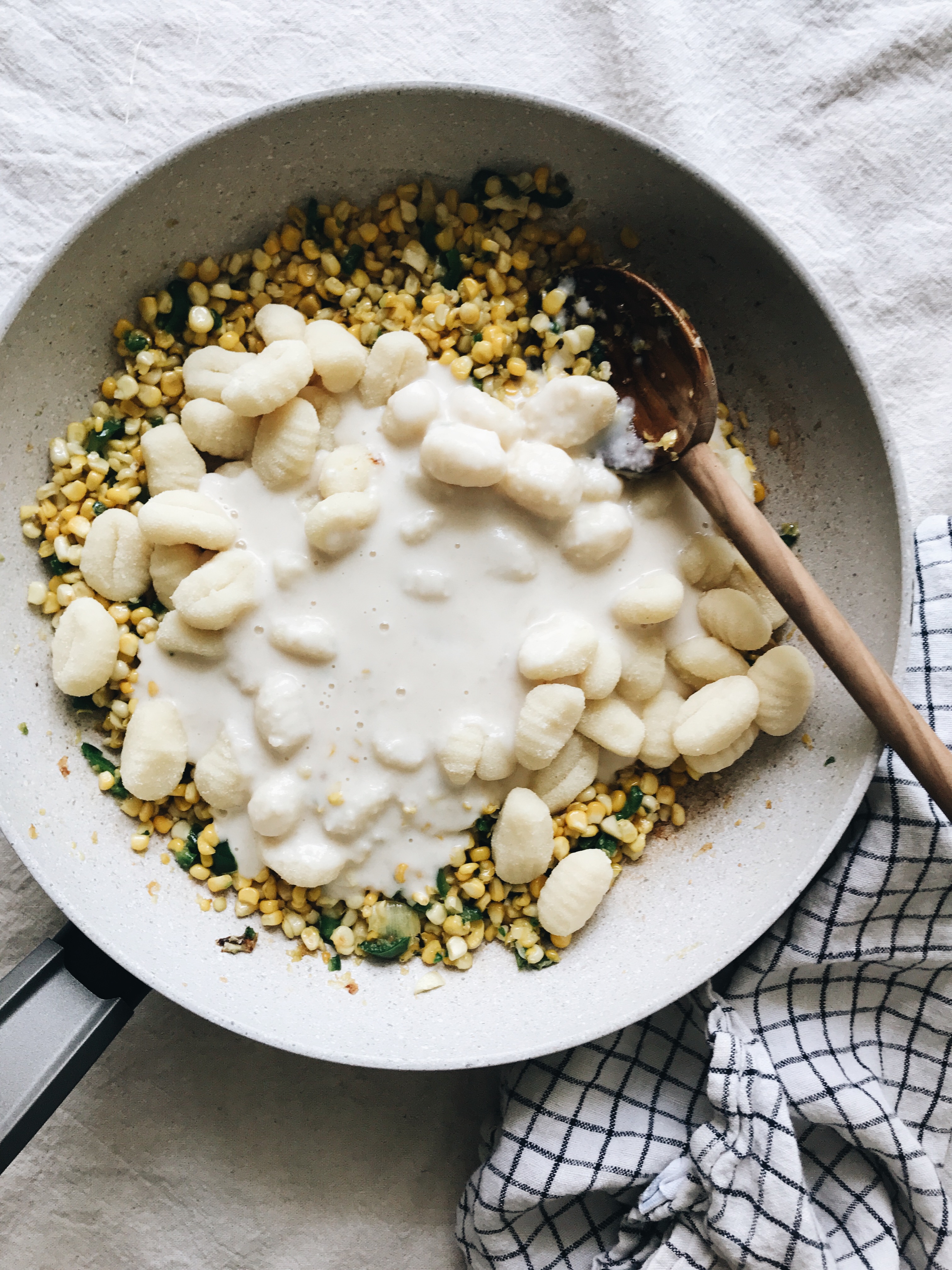 Then in the skillet you combine the sautéed veggies, the cream sauce and dried gnocchi. STRAIGHT FROM THE PACKAGE. This doesn't need to precook, guys. It's freaking lovely.
Toss it all together in the pan, then transfer it to a baking dish. It's not a GIANT casserole, so a 9×13 might be too big. Something smaller, more dainty.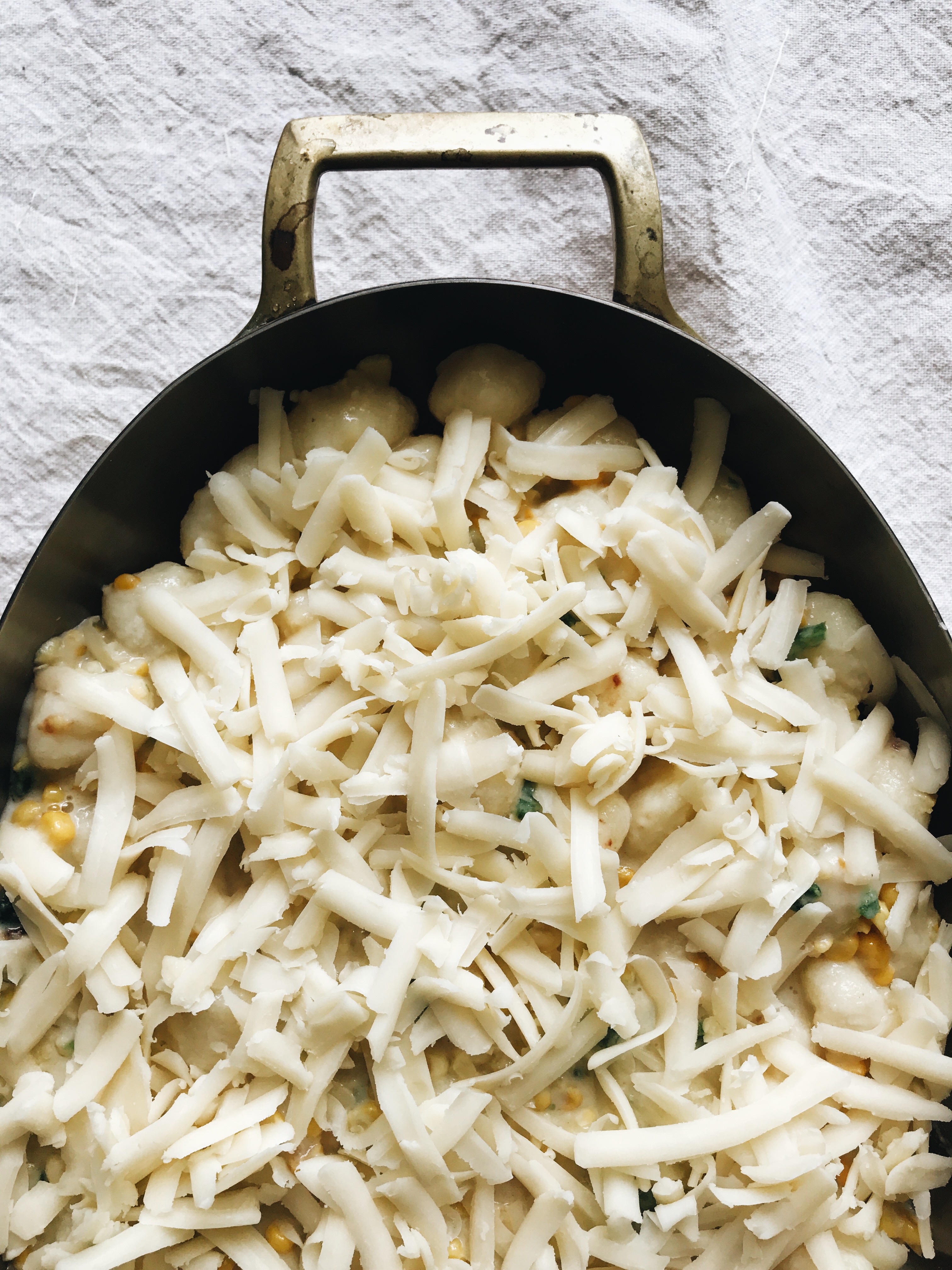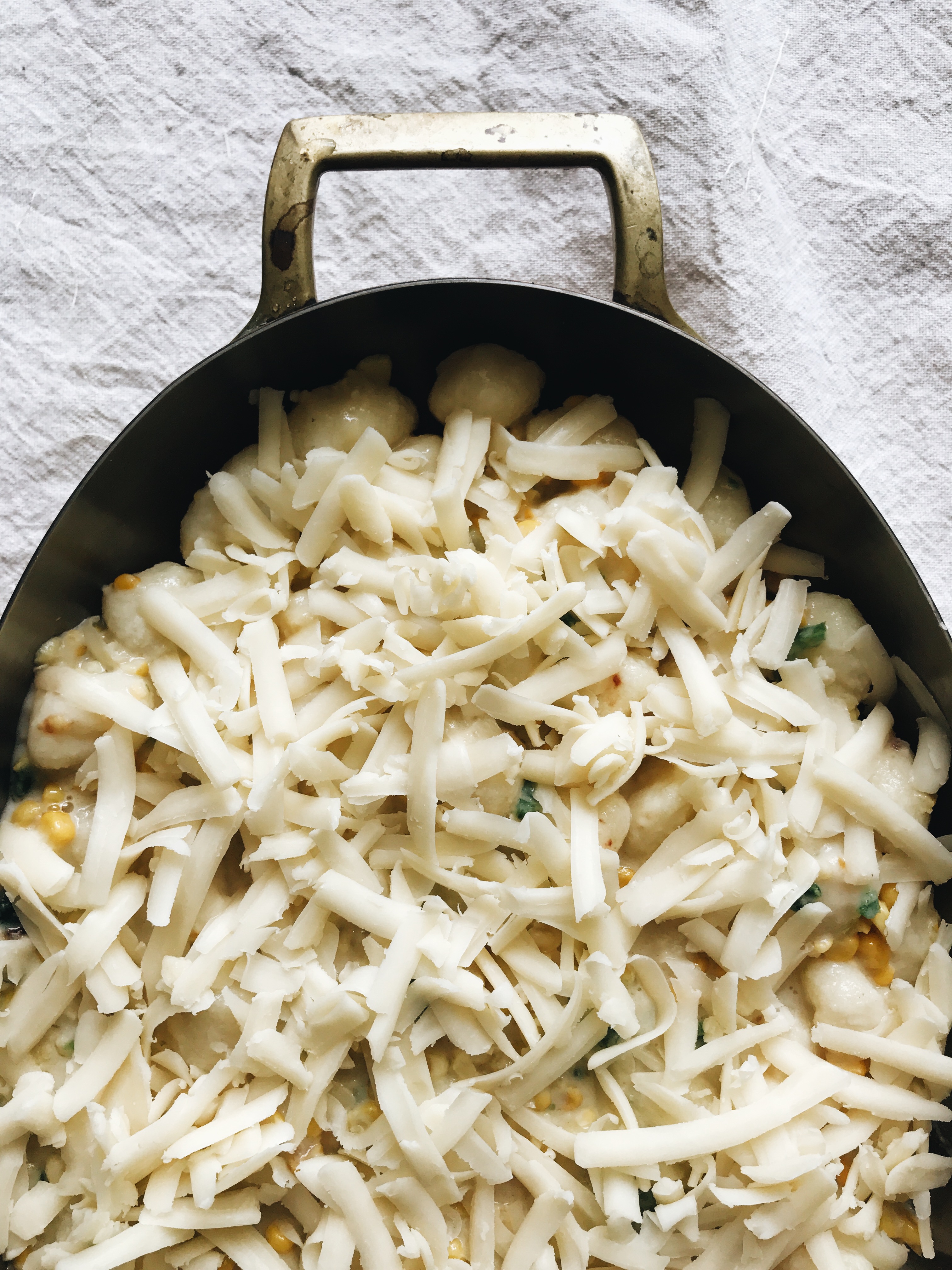 Then top that mother with SERIOUSLY sharp white cheddar cheese. The sharper the better. You ain't no sissy.
Throw it in the oven for 30, and
o
m
g.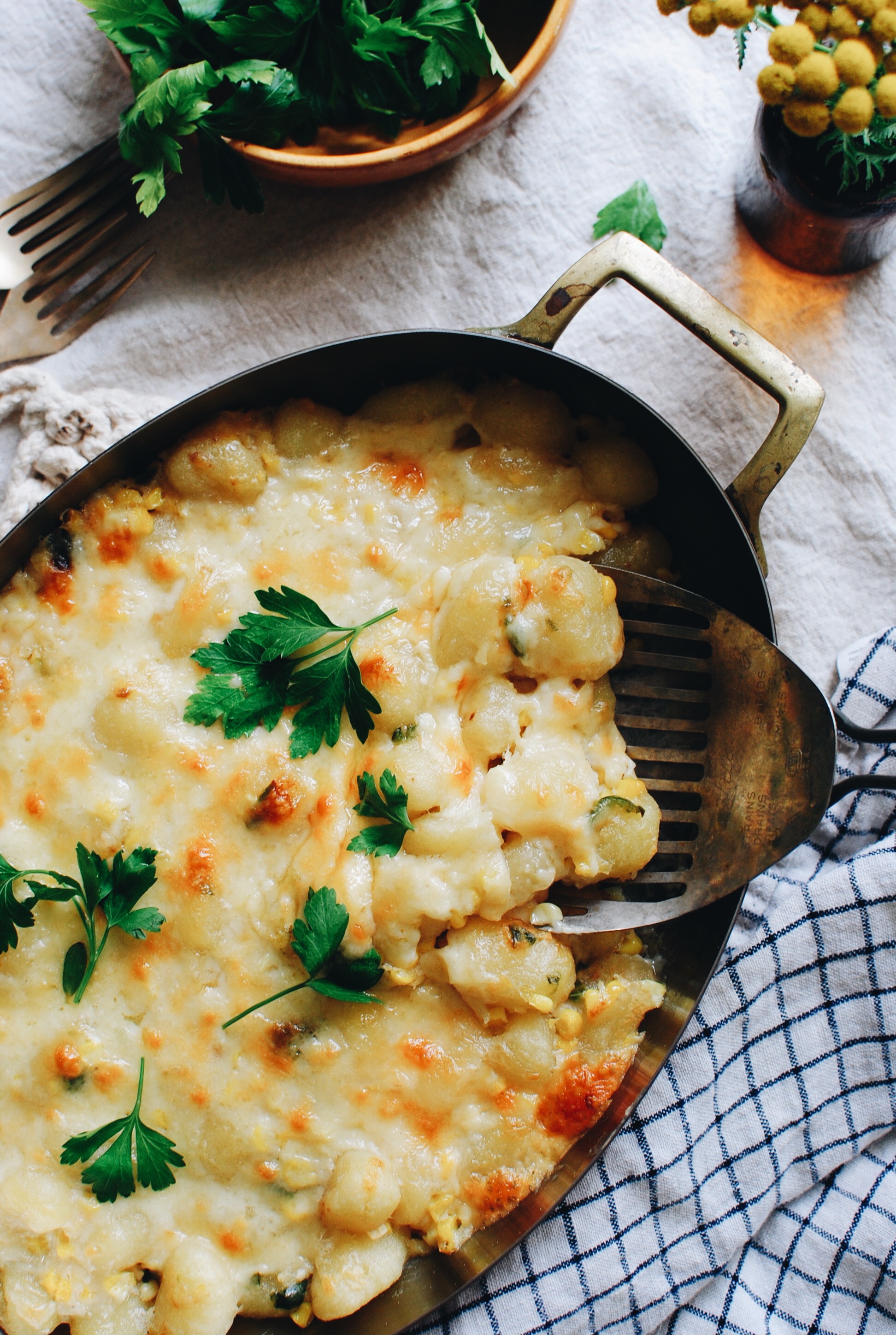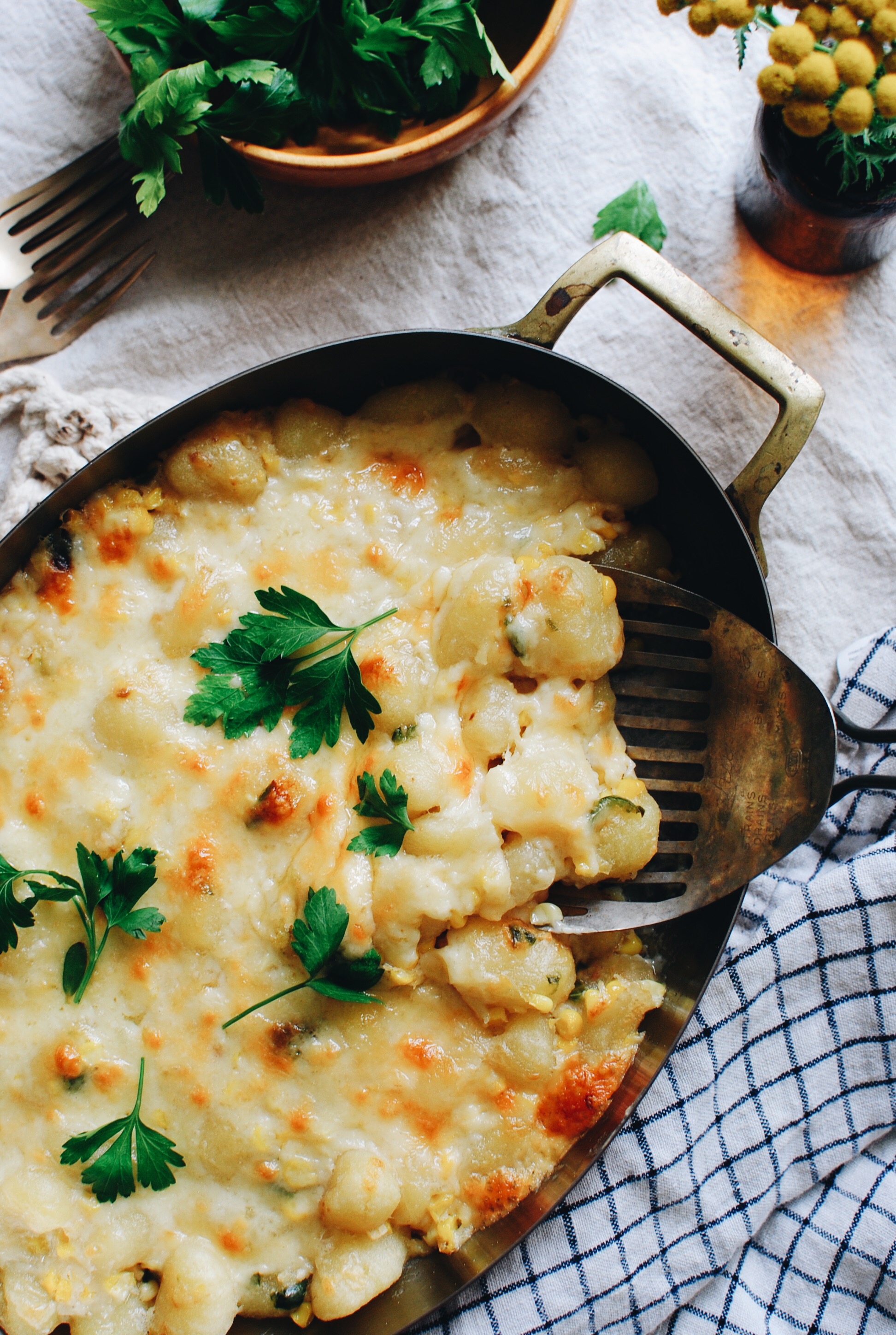 UMMMMMM.
It is ridiculous. The gnocchi soaks up the cream sauce, so it's not overly saucy. It's divine. It's beyond. It is crazy.
IT IS PERFECT.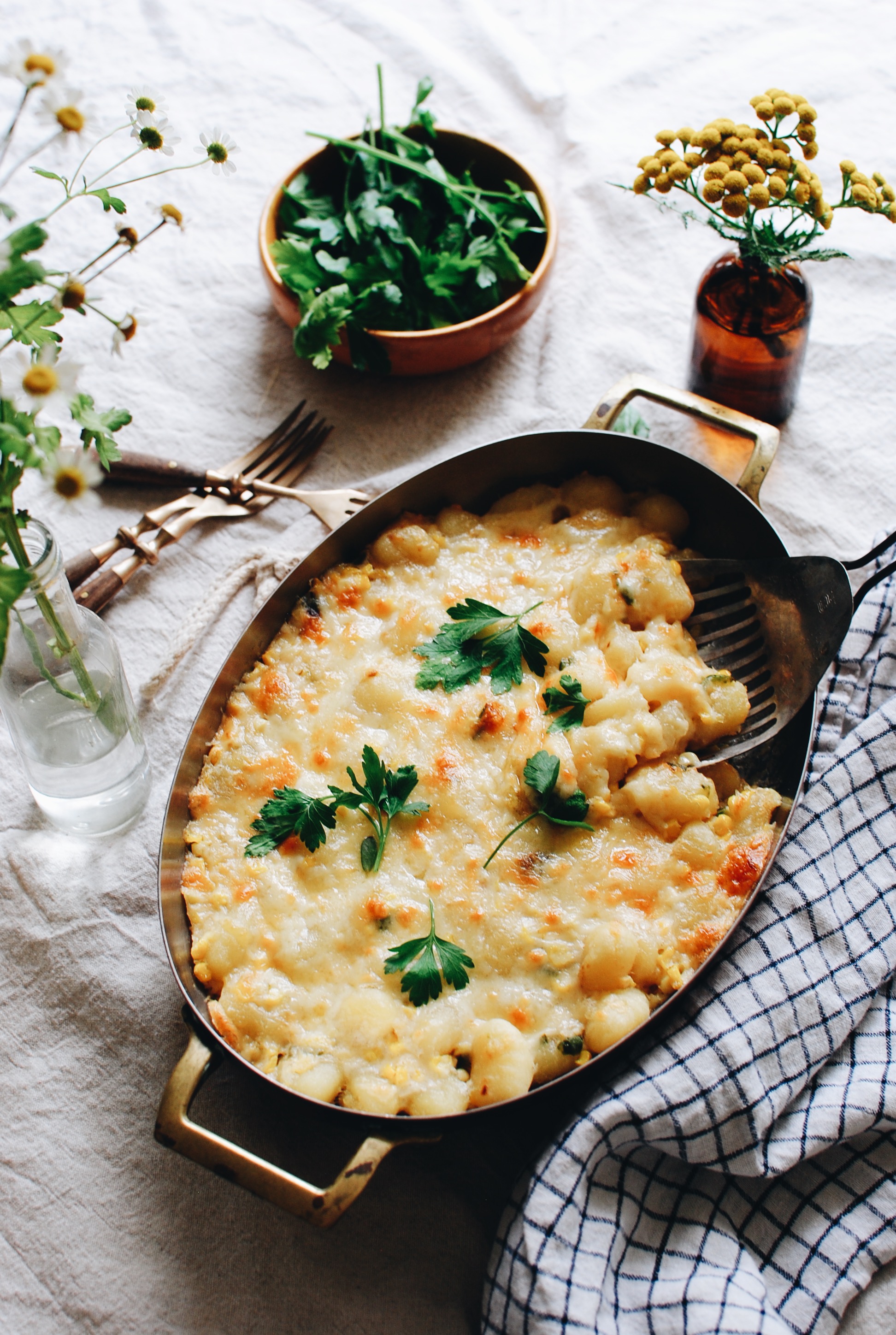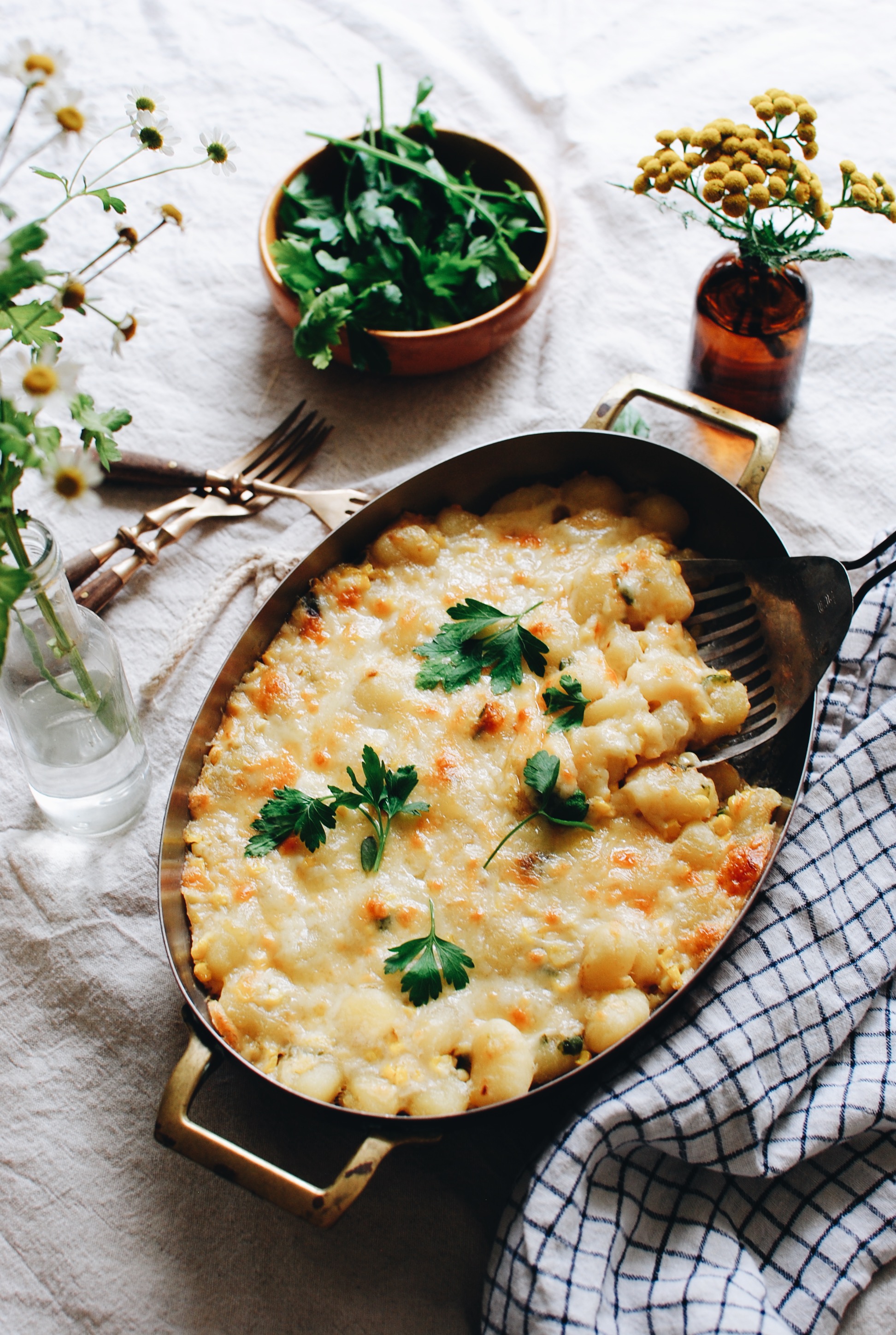 Soooo summery with that sweet corn flavor meets the complexity of jalapeno, dear gawd. And oh! I seeded and ribbed the jalapenos, and the gremlins inhaled it no prob.
This would make a FANTASTIC side dish to like, a roasted chicken. Or seared pork. Even grilled steak! It's comforting and cheesy, but not a total gut bomb on your soul.
I don't want to beg, but . . .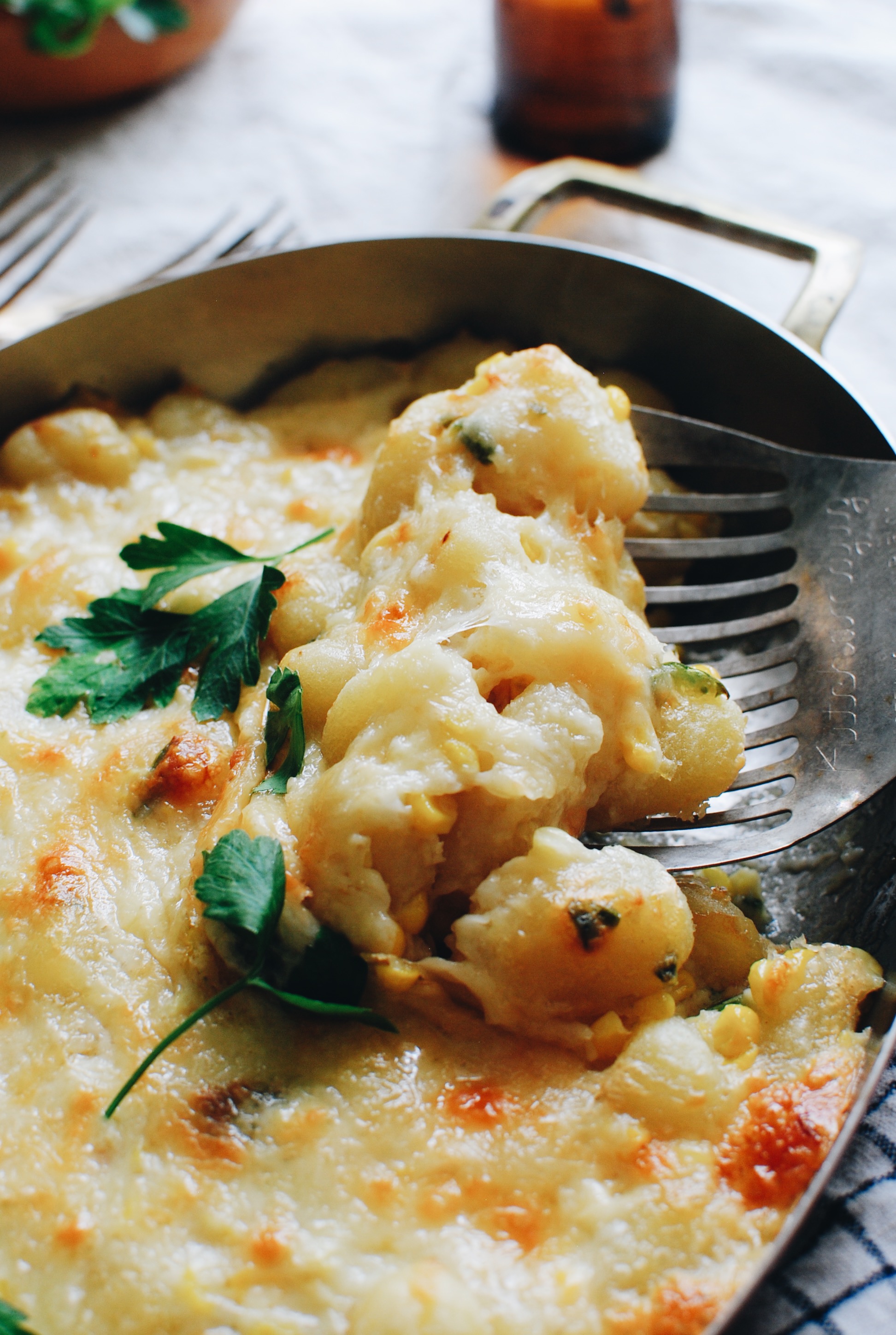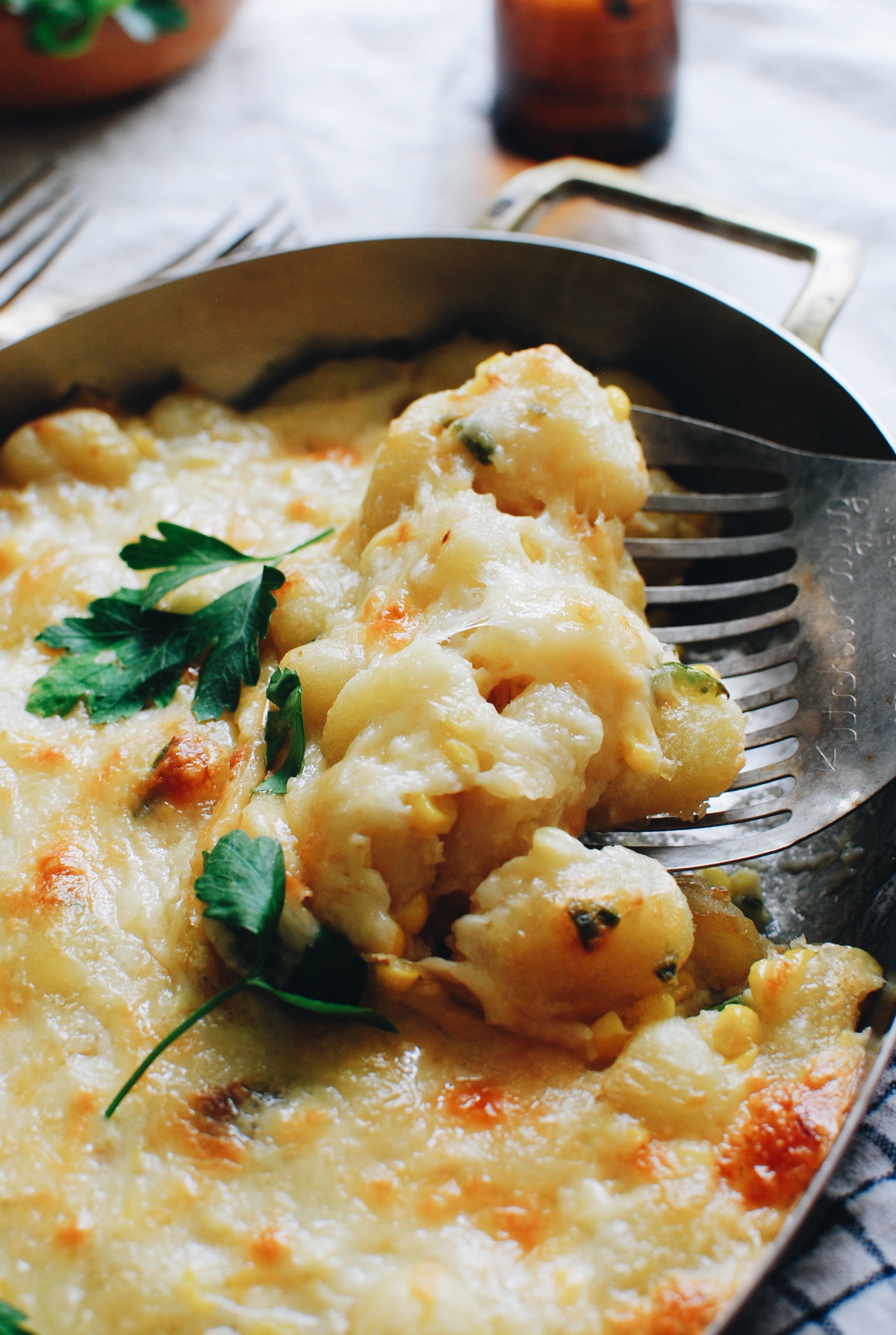 GET IN THAT ALREADY.
Corn and Jalapeno Gnocchi Bake
Ingredients
1 Tbs extra-virgin olive oil
3 ears fresh corn, kernels removed
2 jalapeno peppers, seeded and diced
3 cloves garlic, minced
2 Tbs. butter
2 Tbs. all-purpose flour
1 cup 2% milk
1 Tbs. lemon juice
1 pound dried gnocchi
Two cups shredded white cheddar cheese
Coarse salt
Instructions
Preheat the oven to 375.
Heat the oil in a large skillet over medium high. Add the corn and jalapeño, season with a pinch of salt, and sauté about five minutes, until they begin to soften and lightly brown. Add the garlic and sauté another minute, until fragrant. Turn off the heat.
In a small saucepan, melt the butter over medium heat. Once the butter starts to foam, add the flour and whisk until the mix turns a light golden brown, about two minutes. Slowly add the milk, and continue to whisk, letting the sauce thicken. Add the lemon juice and good pinch of salt. Whisk another minute, then taste. Add more salt if needed.
In the skillet, add the gnocchi to the veggies, and pour the cream sauce over everything. Toss to combine, then transfer to a small baking dish. Top with the shredded cheddar, and bake (uncovered) for 30 minutes, or until the cheese is browning and bubbly.
Garnish with fresh parsley if desired, and WELCOME TO YOUR NEW LIFE.
Serves 4 as a side dish.
7.8.1.2
170
https://bevcooks.com/2018/07/corn-and-jalapeno-gnocchi-bake/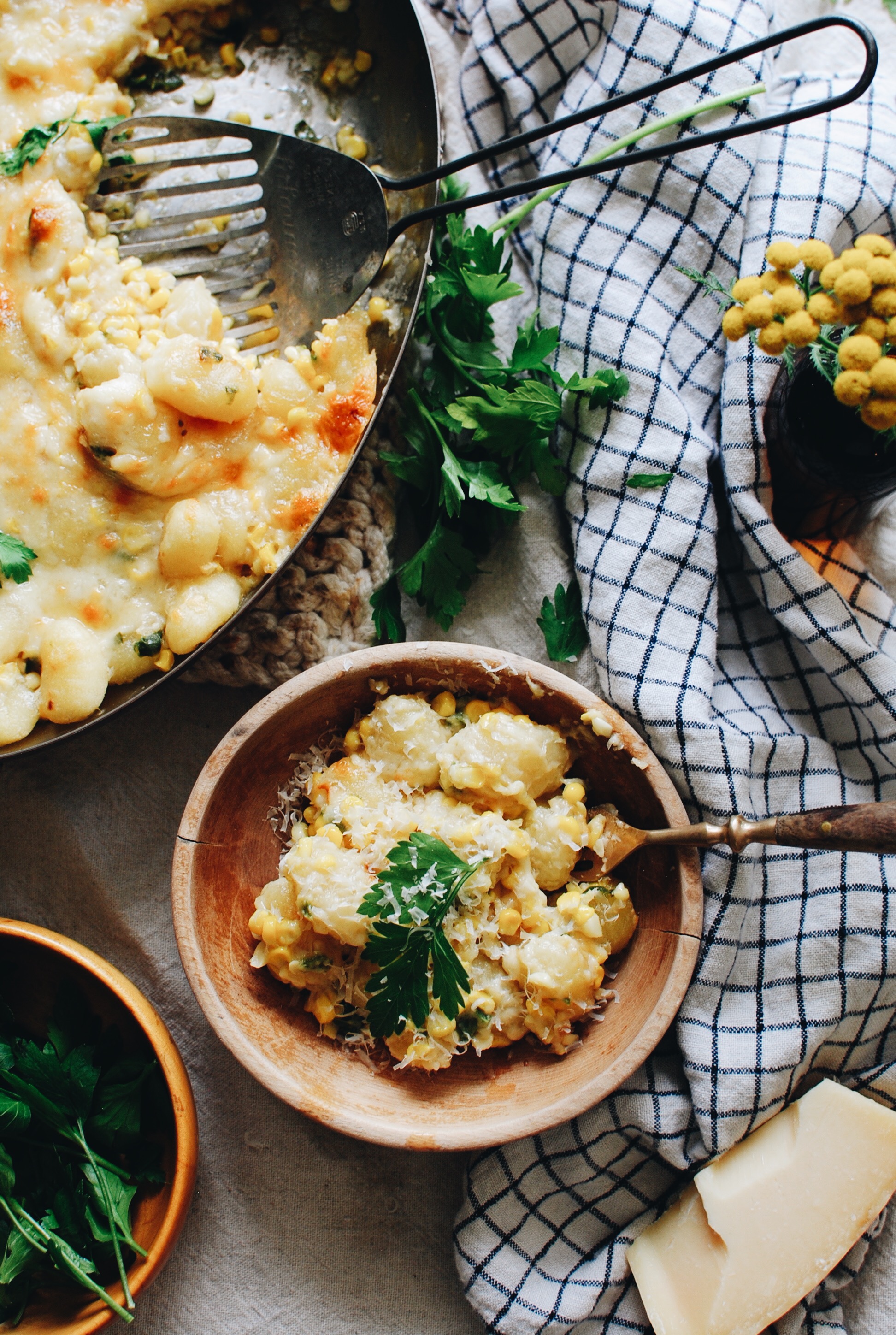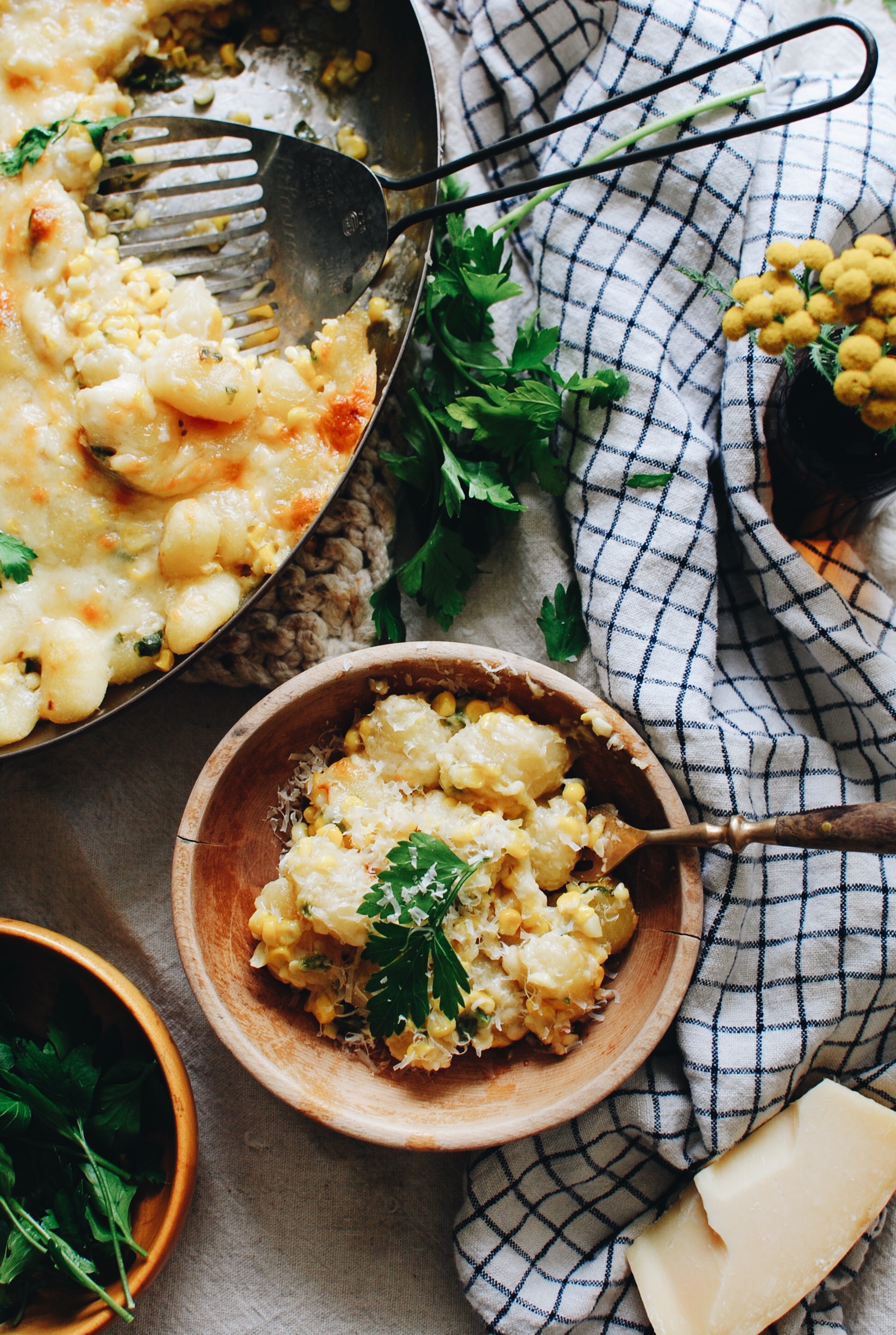 Like, I can barely deal with the memories.