Grain bowls! I accidentally typed brain bowls. Which could either be totally applicable or totally gross. You decide.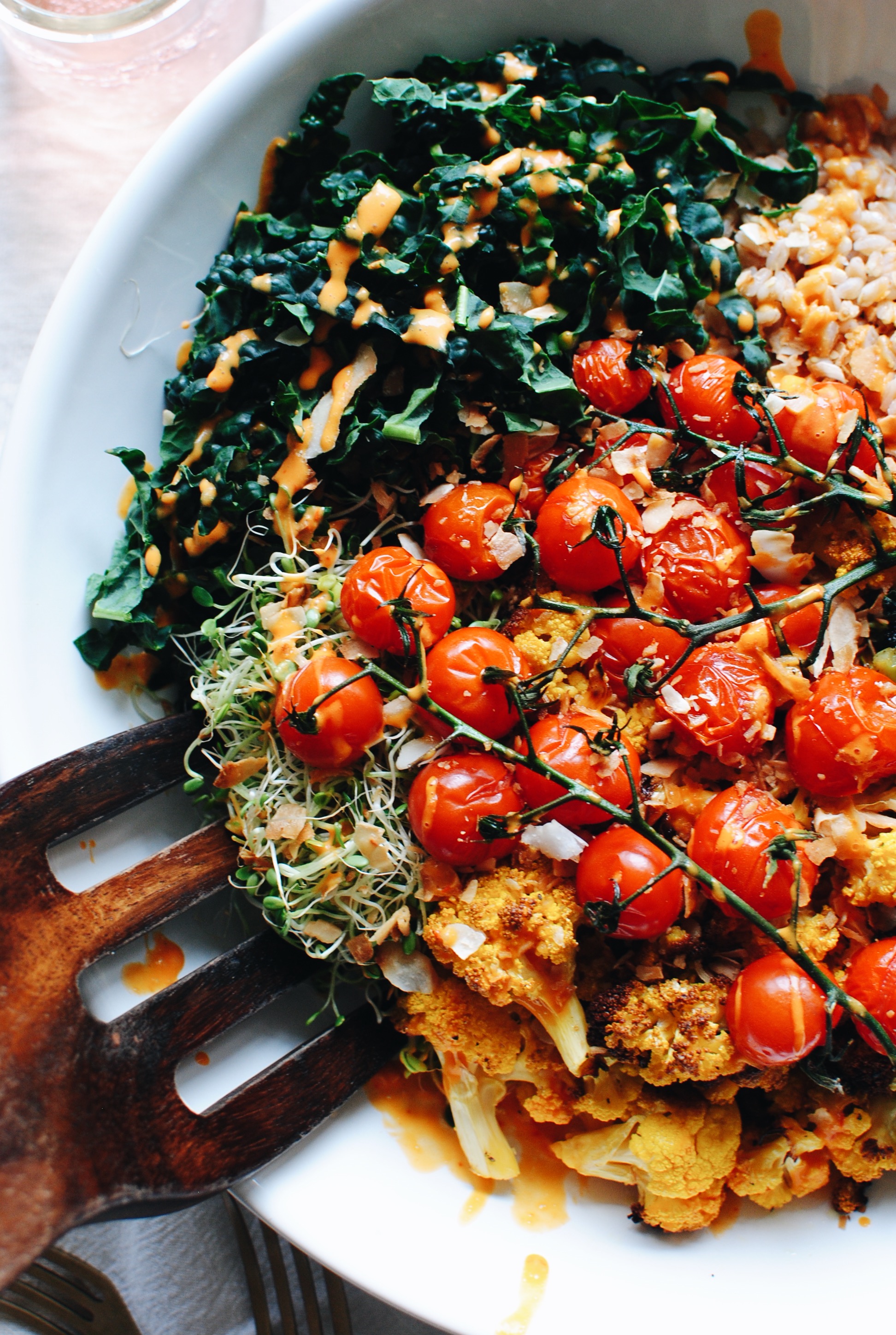 I've really been getting into bra- ugh, GRAIN bowls lately. Like almost every single DAY for the last two days.
And what's funny is that I completely forgot about shooting this roasted veggie and farro grain bowl 76 weeks ago, until yesterday when I looked at my calendar for what was coming up today. Isn't that weird?!
You're like, you're weird.
But grain bowls! Let's get into them more. Like this one.
This is more of a dinner bowl, because of all the roastage. There's a teensy bit of legwork up front, and then it's all bam bam bam, slop that ish together.
Also, it's vegetarian! Trying to give you more of that. Trying to give myself more of that. But you can always toss in some diced cooked chicken if ya fancy. You're still a good person.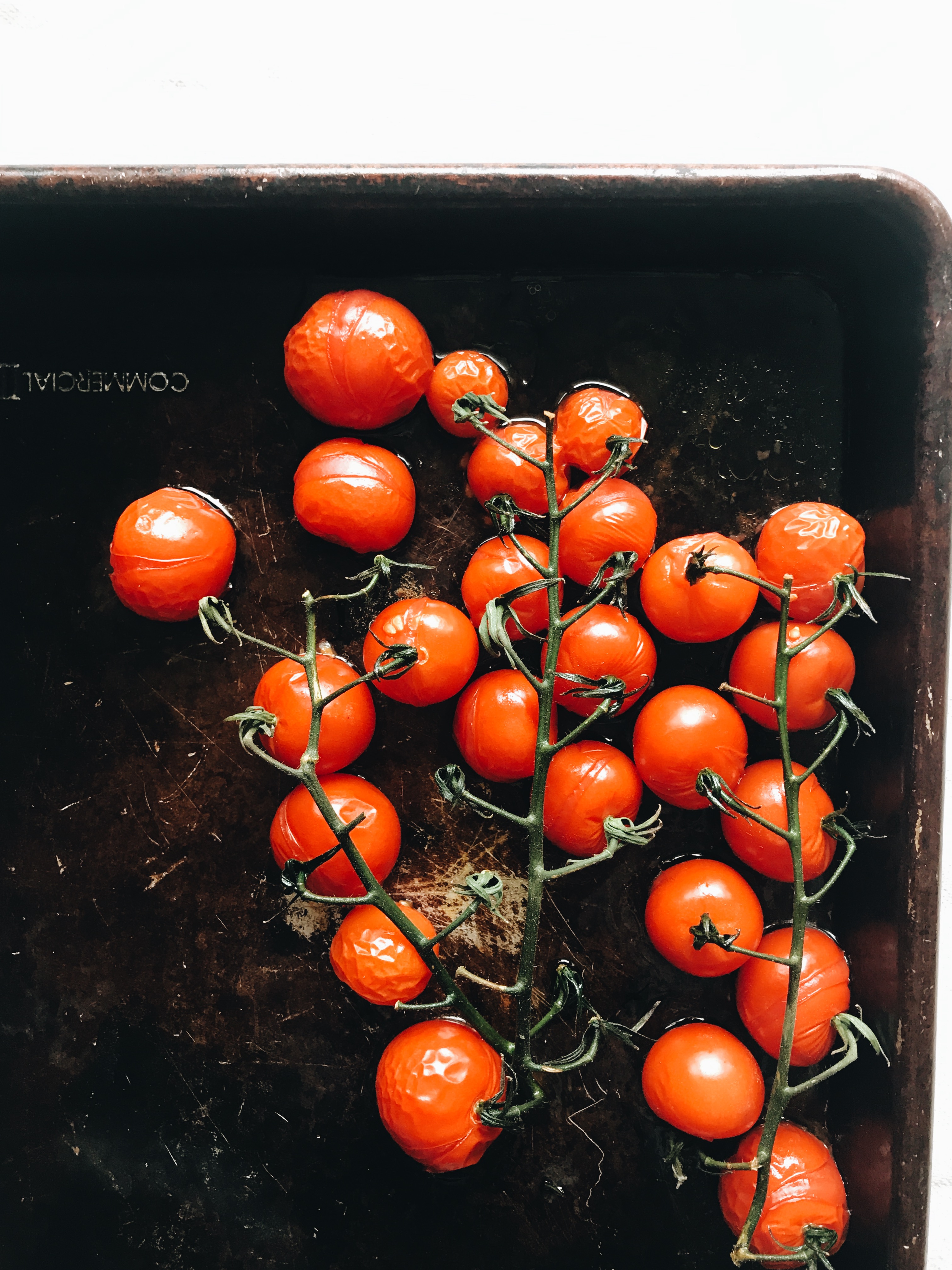 So in an oven, roast that head of cauliflower. And it doesn't have to be yellow. It can be purple or green or white. Or even plaid!
You're like, your face is plaid.
You'll roast the cauli, the broccoli, and the tomatoes. The cauli for the longest, the brocc for the second longest, and the tomatoes for the third longest. Which . . . is the shortest.
Never mind.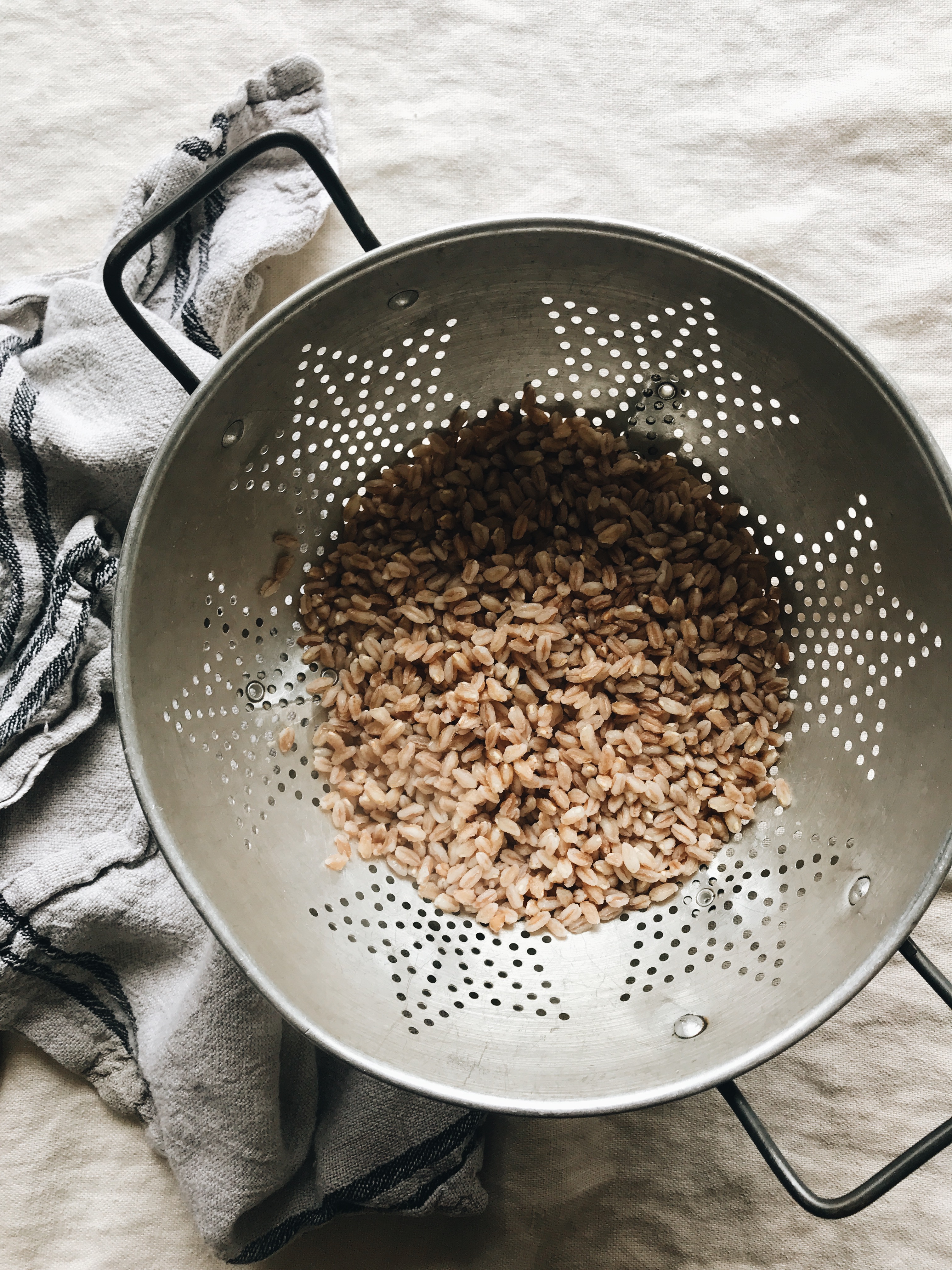 Boil some farro! FAH-ROW. (learnt that yesterday.)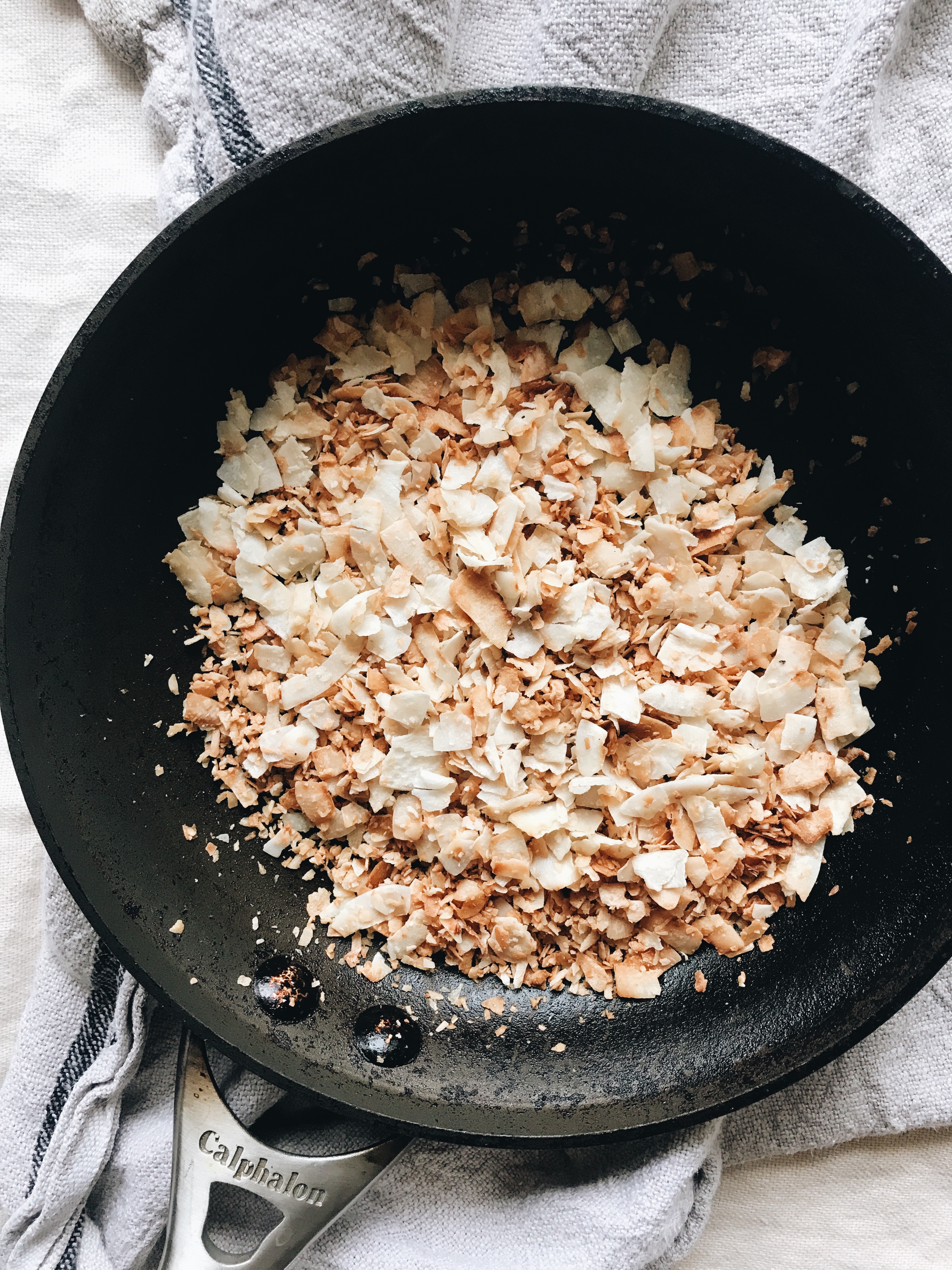 Toast some coconut! I added coconut because I wanted a smiiiiiidge of sweetness at the end. Plus there's coconut milk in the dressing, so it sort of ties up all purty-like in your face.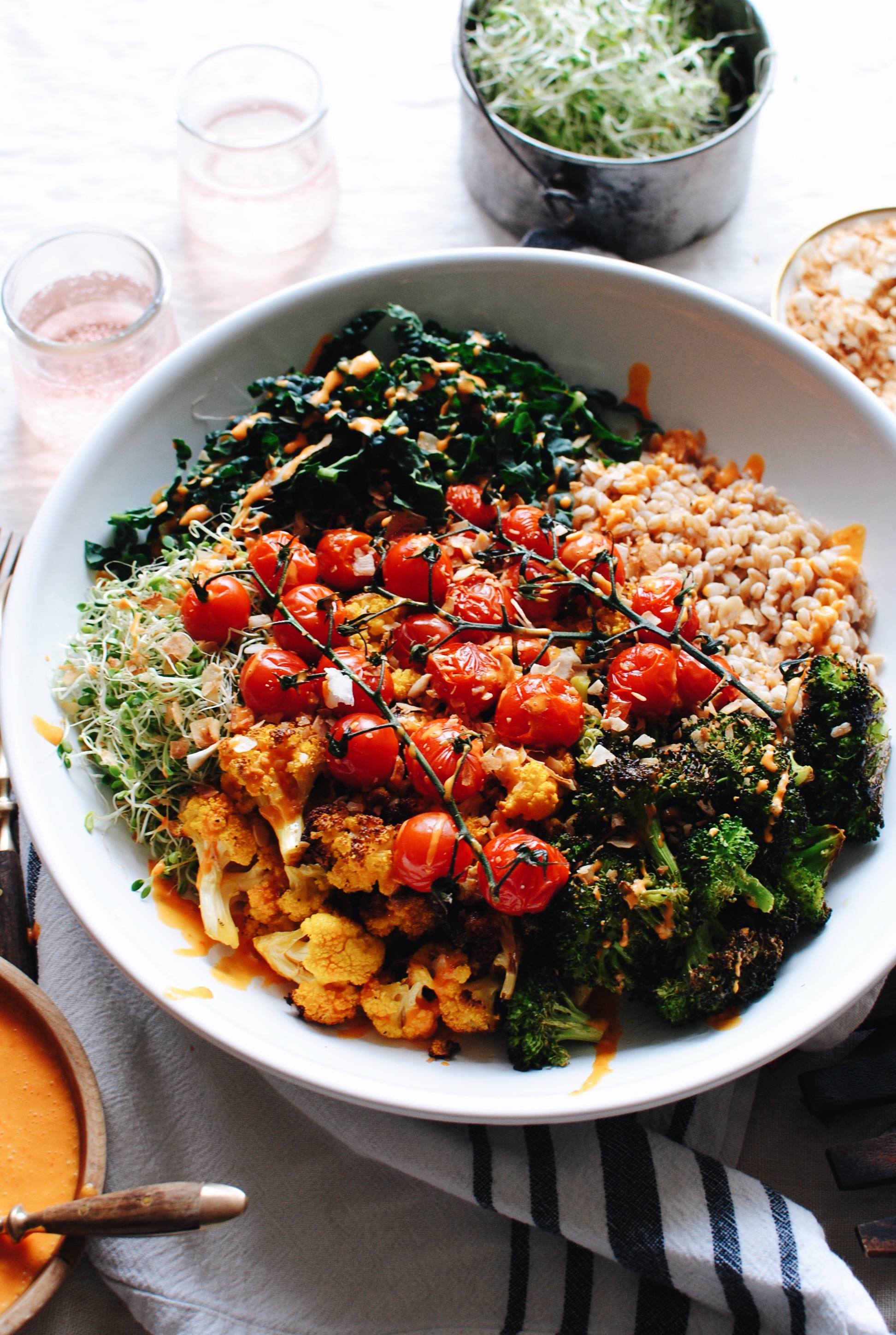 Then it's really just piling it on. Farro, the roasted veggies, some thinly sliced kale (if you can find lacinato, grab it!), the sprouts, roasted 'maters, and a good drizzle of the coconut harissa dressing.
And the toasted coconut!
And maybe some lime juice.
That's all she wrote. I mean ate. I mean burped.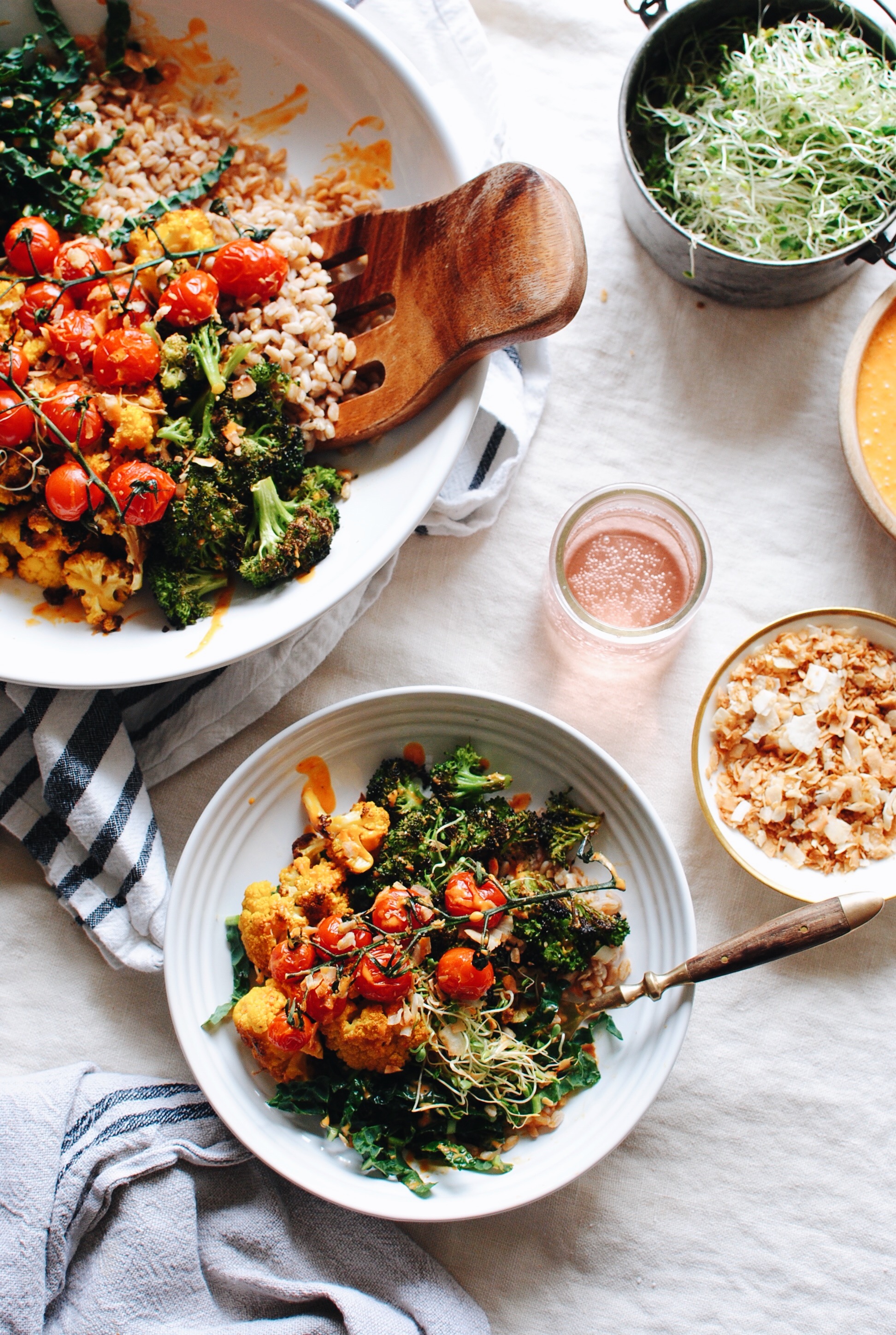 A) This is FANTASTIC. Filling, flavorful, fun. The dressing's not really that spicy, but it adds an interesting layer of chile flavor, which I think you'll freak out over. I did.
B) The warmth of the roasted veggies paired with the cooler, crispier textures of the sprouts and kale are going to take your mouth on a straight-up joy ride.
C) Give me more grain bowl ideas! Of course there's a good Mexican version with roasted corn, avocado, lots of cilantro and scallions (made that yesterdeee). But I'd love your suggestions for more ancient grain ideas slash flavor fusions!
You know I need these details to thrive in this world.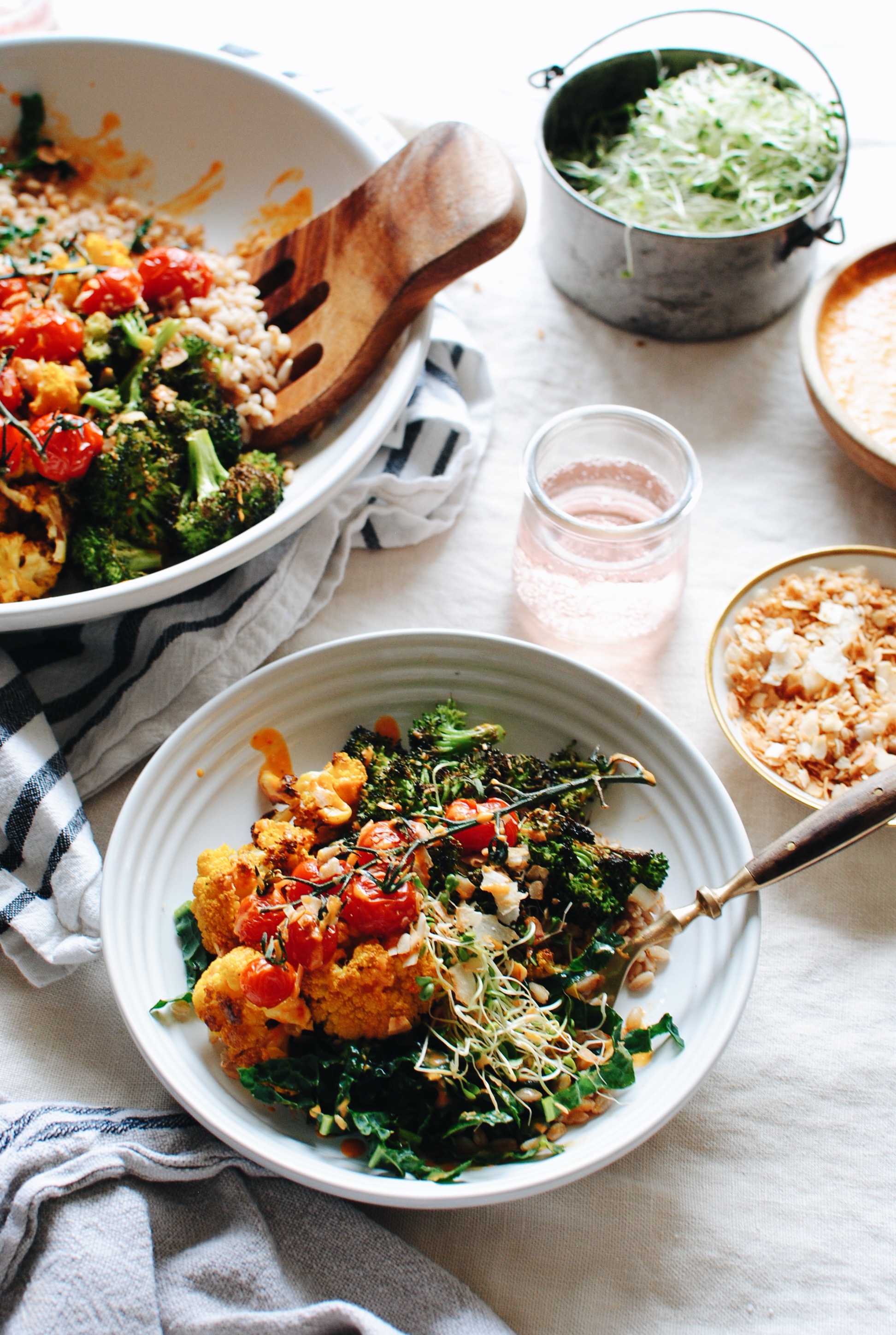 Brain bowls!  I mean grain bowls! Never mind.
Roasted Vegetable and Farro Grain Bowl
Ingredients
1 head of cauliflower, broken into florets (any color works!)
1 head of broccoli, broken into florets
1 cup farro, boiled until tender
About a cup of sprouts
Roughly 4 cups thinly sliced kale
About two cups cherry or grape tomatoes
1/2 cup coconut milk (light is fine),
1/4th cup harissa paste
A few Tbs. fresh lime juice (to taste)
About half a cup of coconut flakes, lightly toasted
Salt and pepper
Instructions
Preheat your oven to 400. Place the cauliflower and broccoli on a large rimmed baking sheet. Drizzle with a Tbs. of extra-virgin olive oil, season with salt and roast for 30 minutes. After 30, remove the broccoli. Keep roasting the cauliflower another 30 minutes. When there's 20 minutes left on the timer, slide the roasting sheet back in, this time with the tomatoes on it. Let them blister and soften for 20.
In a blender or food processor, blend the coconut milk, Harissa paste, lime juice and a pinch of salt. Taste it. Add a bit more salt or lime if it needs! Just get it to where your taste buds to the Electric Slide.
In a large serving bowl or platter, place the farro, the roasted veggies, thinly sliced kale, sprouts, and roasted tomatoes. Top with the toasted coconut and drizzle the whole thing with the coconut Harissa dressing.
Easy! Now devour.
Serves 4.
7.8.1.2
144
https://bevcooks.com/2018/03/roasted-vegetable-and-farro-grain-bowl/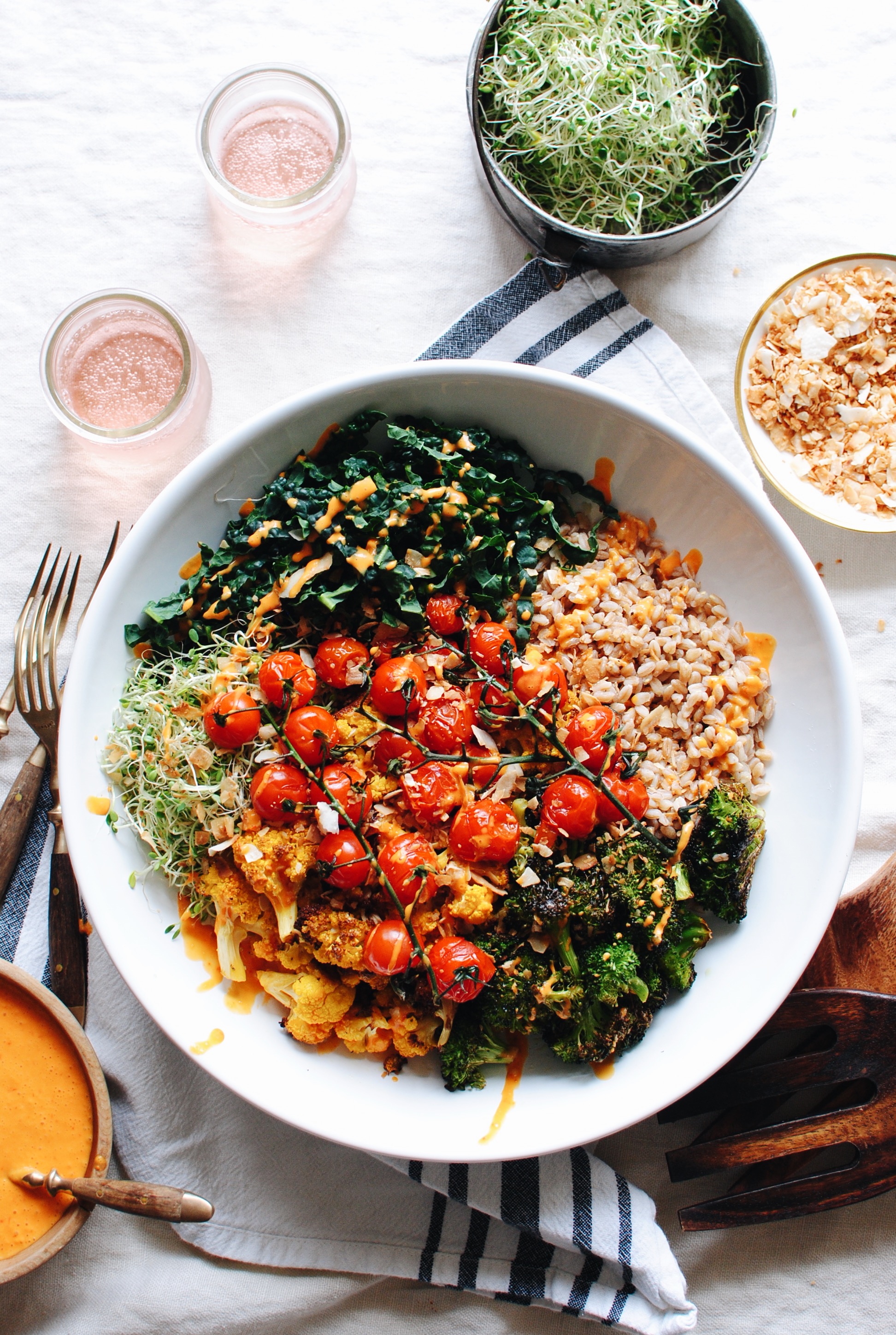 Okay, brain bowls.