Two things.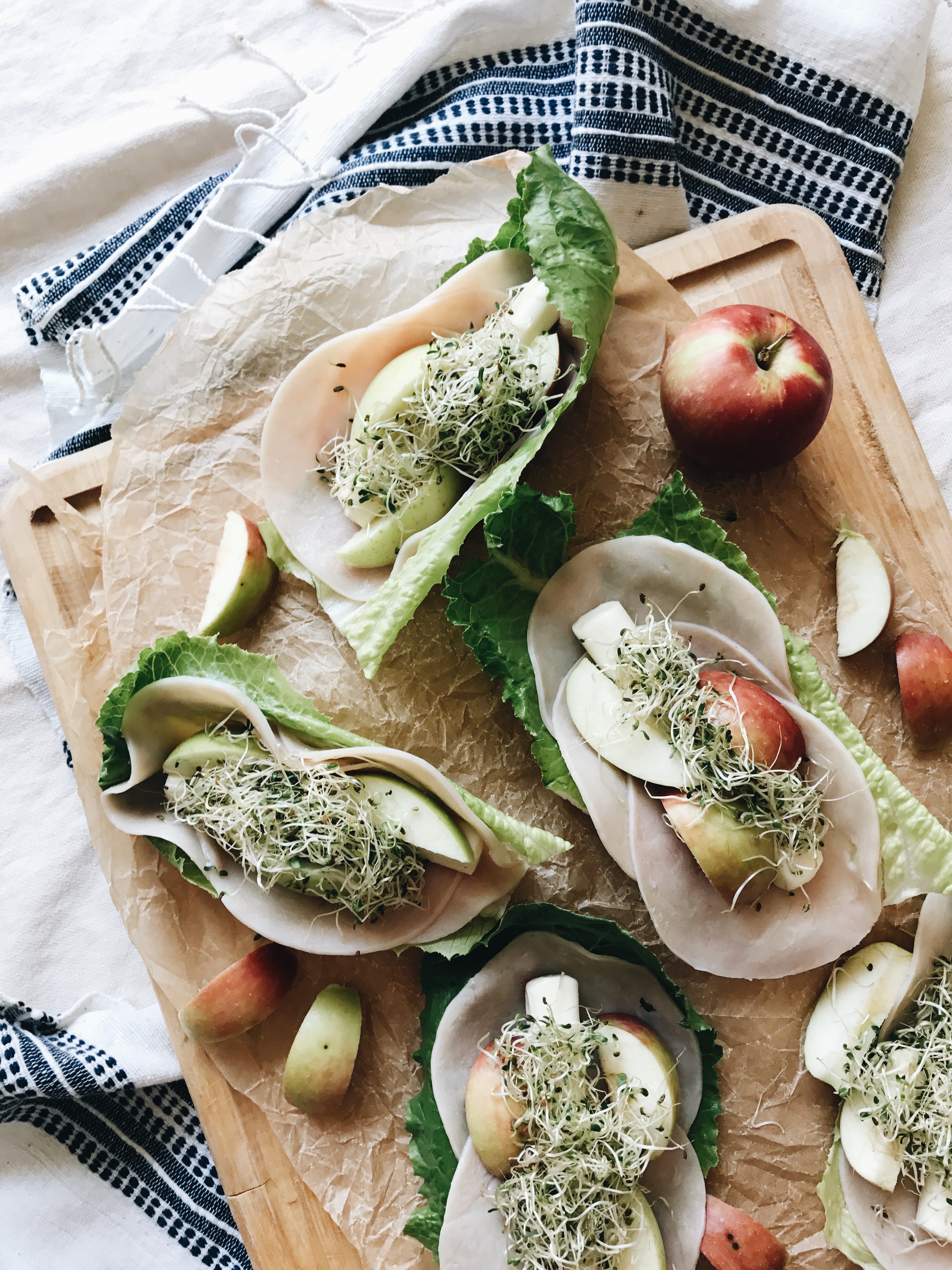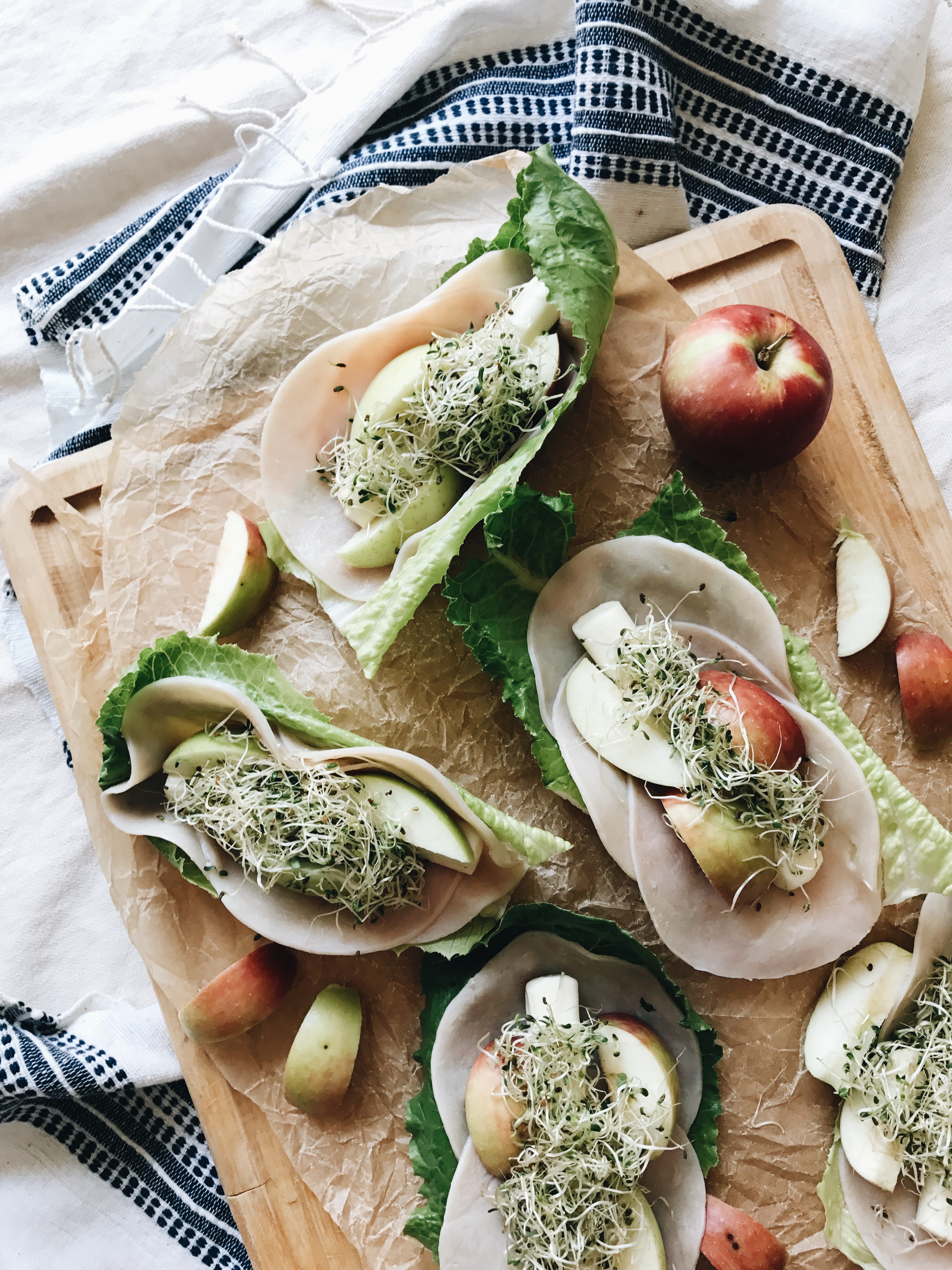 Three things.
1) Hi! You look pretty today. New shampoo?
2) THESE WRAPS. We'll get there.
3) Do you know what today is? Besides another day I refuse to wash my hair? It's Hunger Action Day! Which is::: a time for hunger-relief advocates to focus efforts on one day for greater impact. It is part of Feeding America's Hunger Action Month, which is a nationwide awareness campaign designed to mobilize the public to take action on the issue of hunger, YO. (I added the yo part. They didn't say that. I did. Okay bye.)

As you may remember, I've partnered with Harvesters this year, to a) get my own head out of my wazoo and remember that there are actual hungry people out there and I can do something to help, and b) blab to you about it! In the hopes that you may join up in the help, too. But it's totally easy. Don't x out.
Thing is, it's not just about today. This entire month is Hunger Action MONTH, and even though we're halfway through it, I wanted to share a simple guide to how you can find your own place and get inspired in this action-taking calendar, if so you feel it!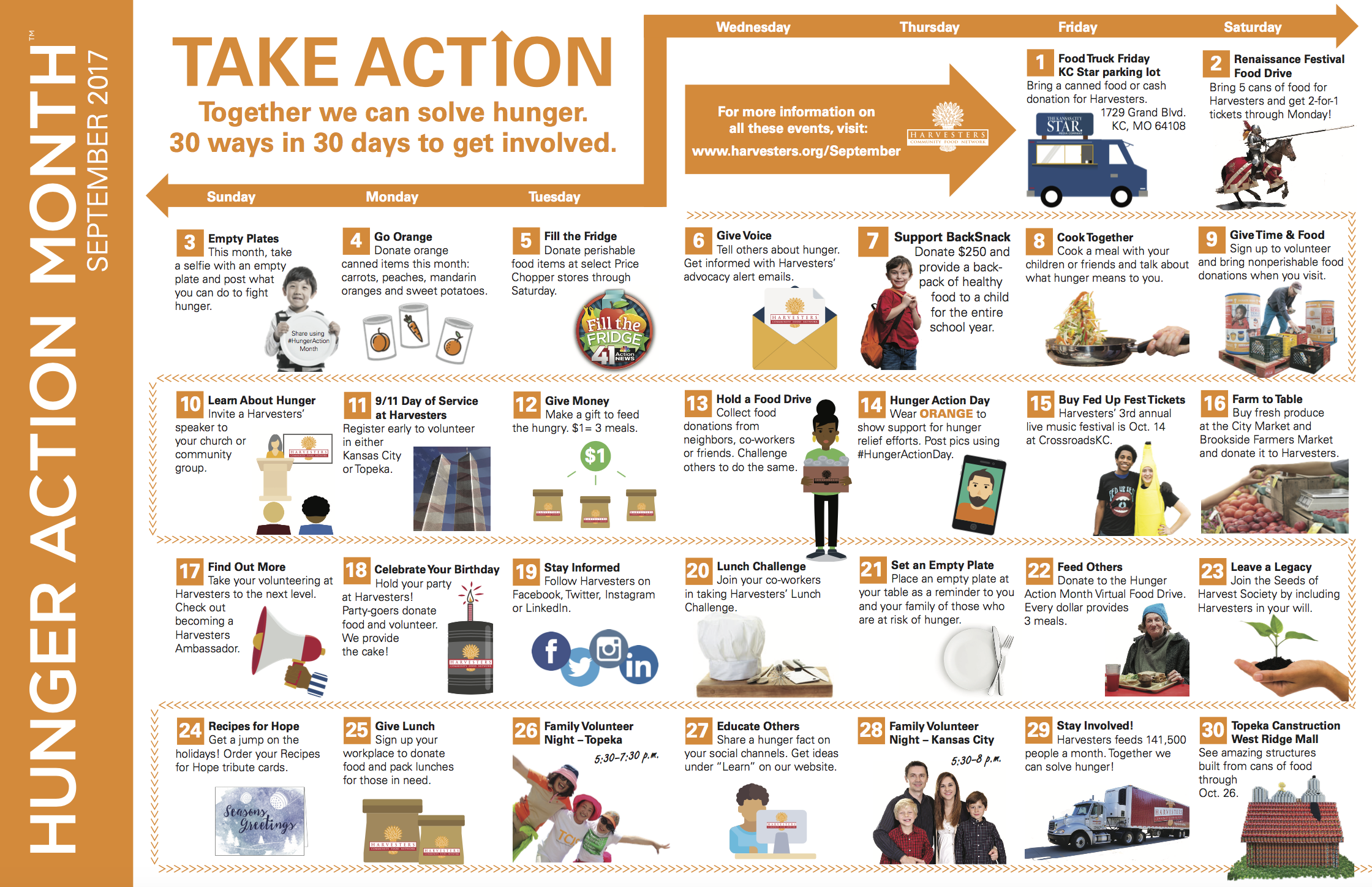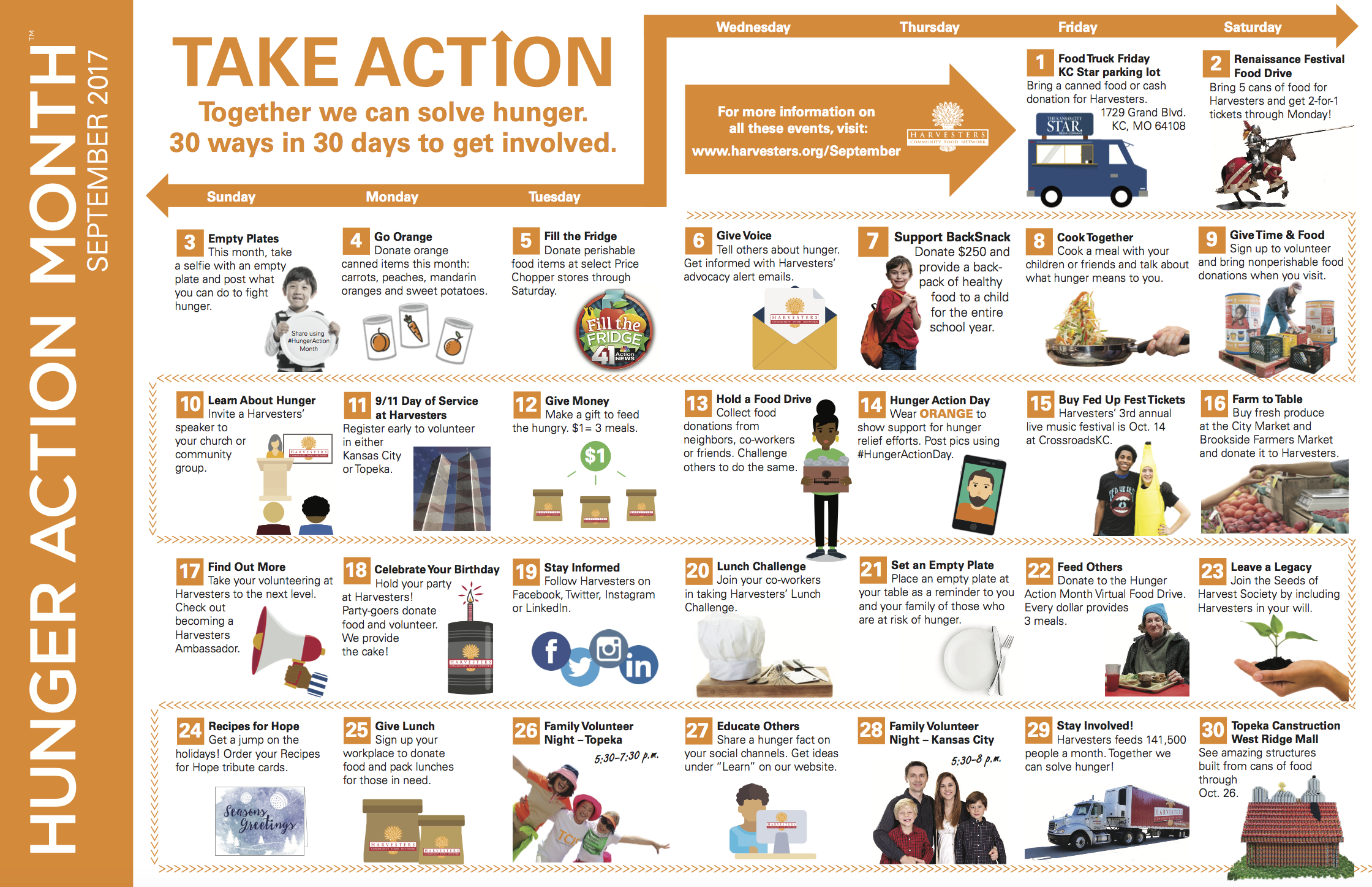 30 Ways in 30 Days. If something in this calendar speaks to you, amazing! It's simple involvement, but man – it's effective as bonkers town. Also, if you plan on going to Fed Up Fest this year, be on the lookout for a ticket(s) giveaway on my FB page soonish! I've already got a babysitter and a new pair of shoes. So.
Here's something else to tell you, then we'll move on to the lunch wraps, swearsies.
Interesting Facts: Harvesters recently conducted a survey in Kansas and Missouri to better understand perceptions of hunger in our communities. We found:
Nearly two-thirds (62.7%) of Kansans and more than half of Missourians (57.3%) underestimate hunger in our communities. Whaaaaaaa?? (<–I added that part at the end.)
Less than half of neighbors in Kansas and Missouri link hunger to long-term health conditions, YOU GUYS. (<–that part, too. I added it. felt like it needed it.)
Just food for thought. (you have full permission to punch me.)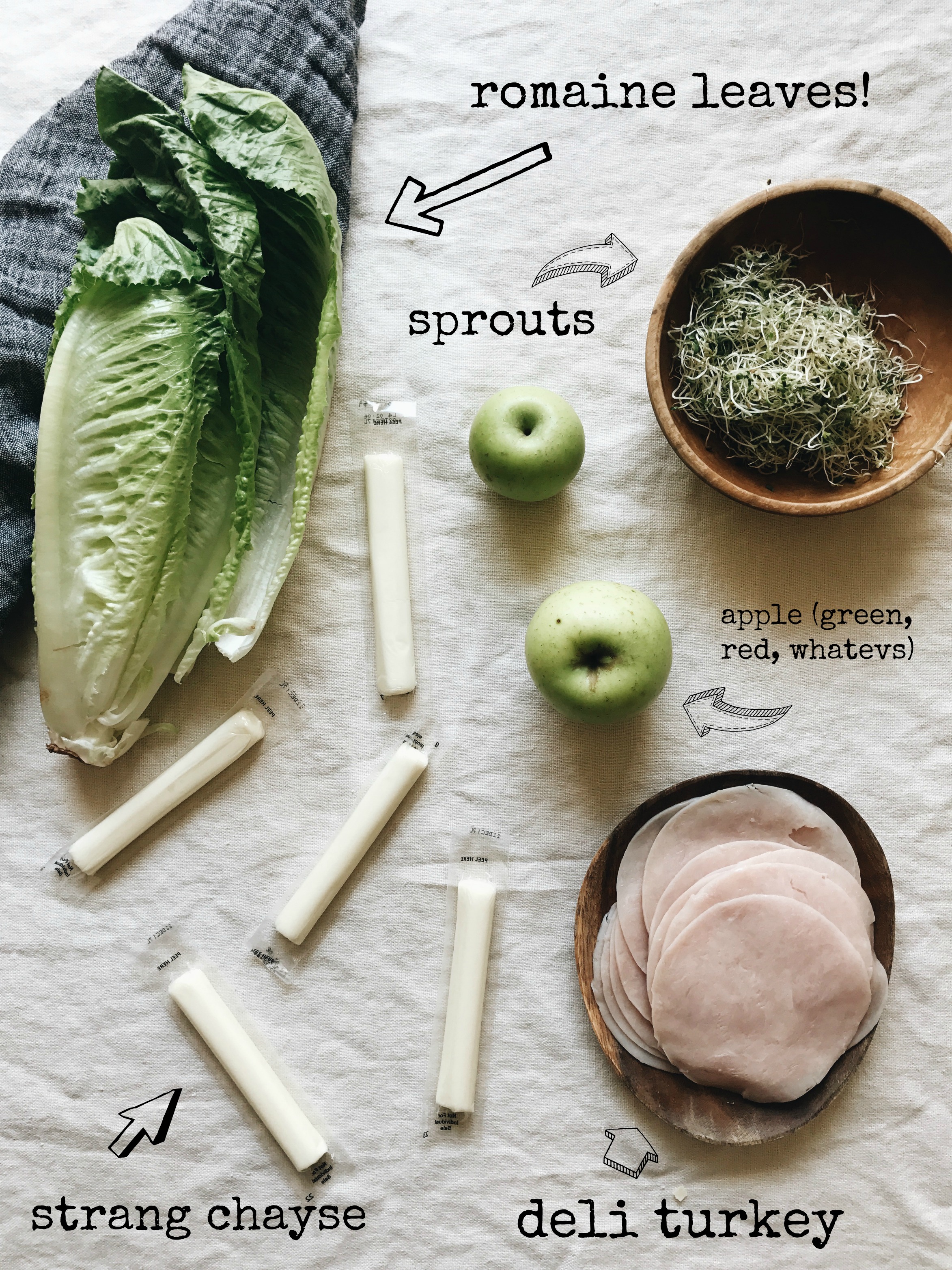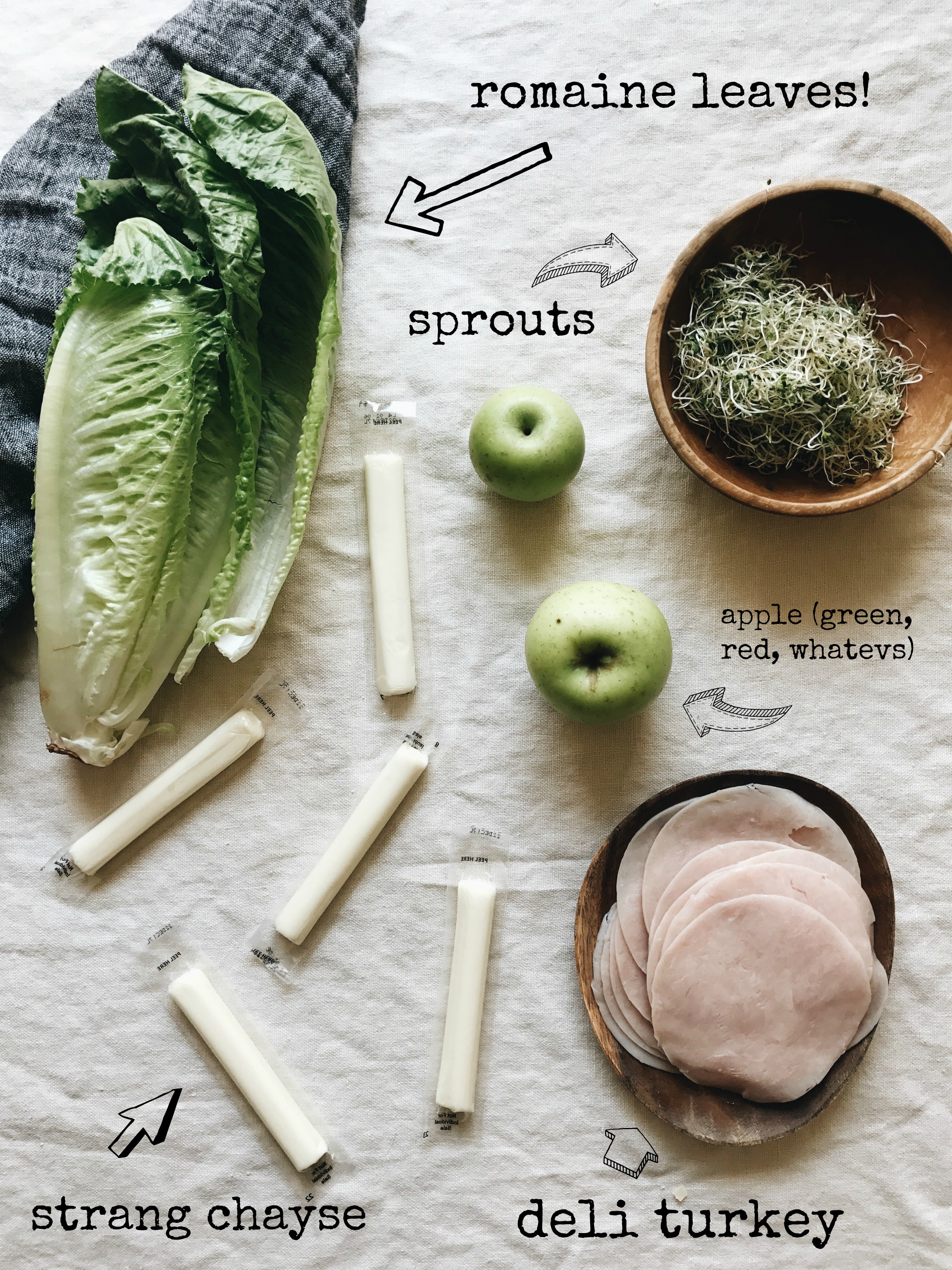 So these wraps! I wanted to give you something low-cost, crazy kid-friendly, no frill and easyeasyeasy to put together for yourself, or your ankle-biting spawn. With this recipe, I had Hunger Action Day in mind, as it's totally inexpensive, but also healthy, colorful, and quick to please. HA-BOOM.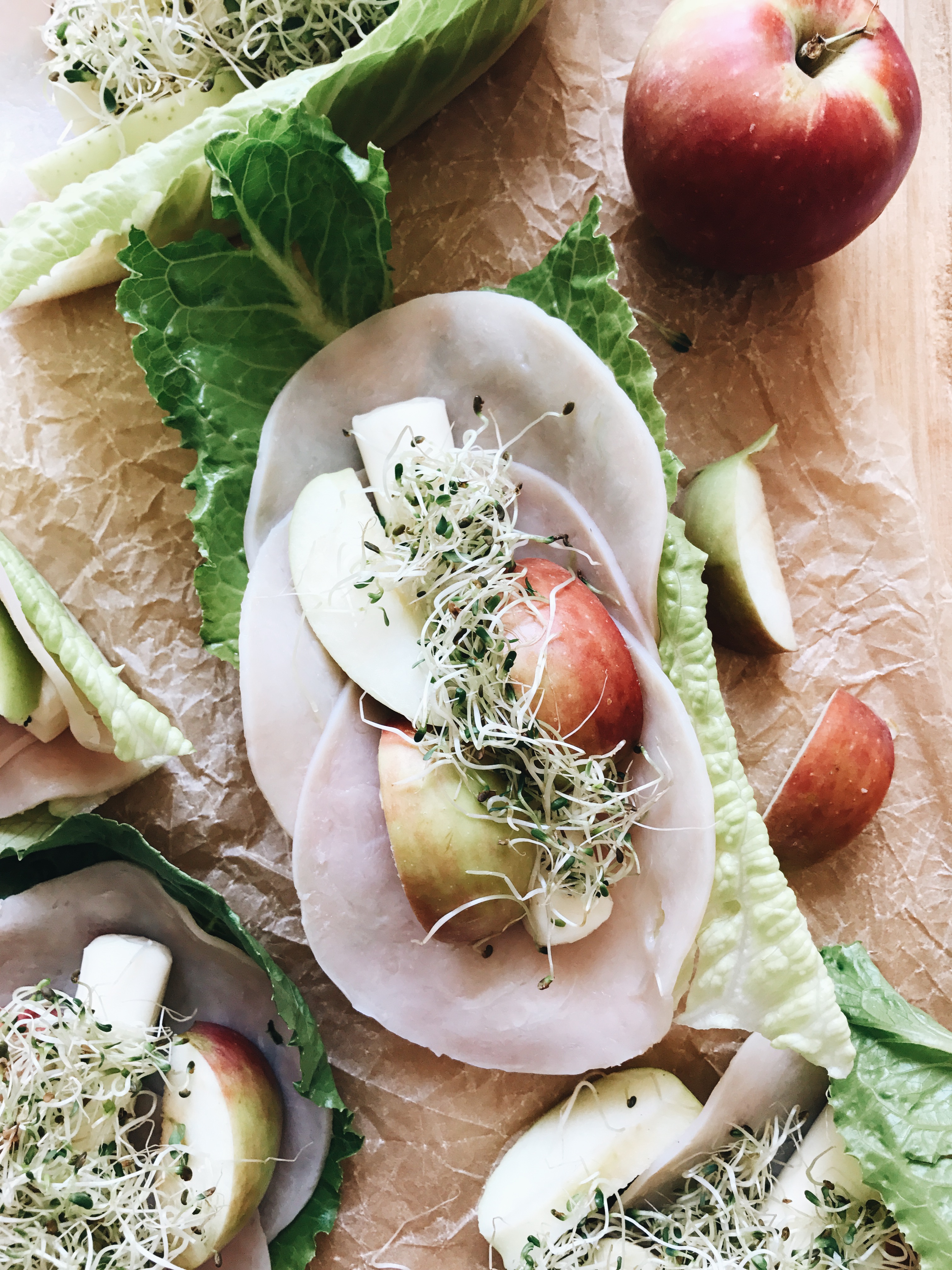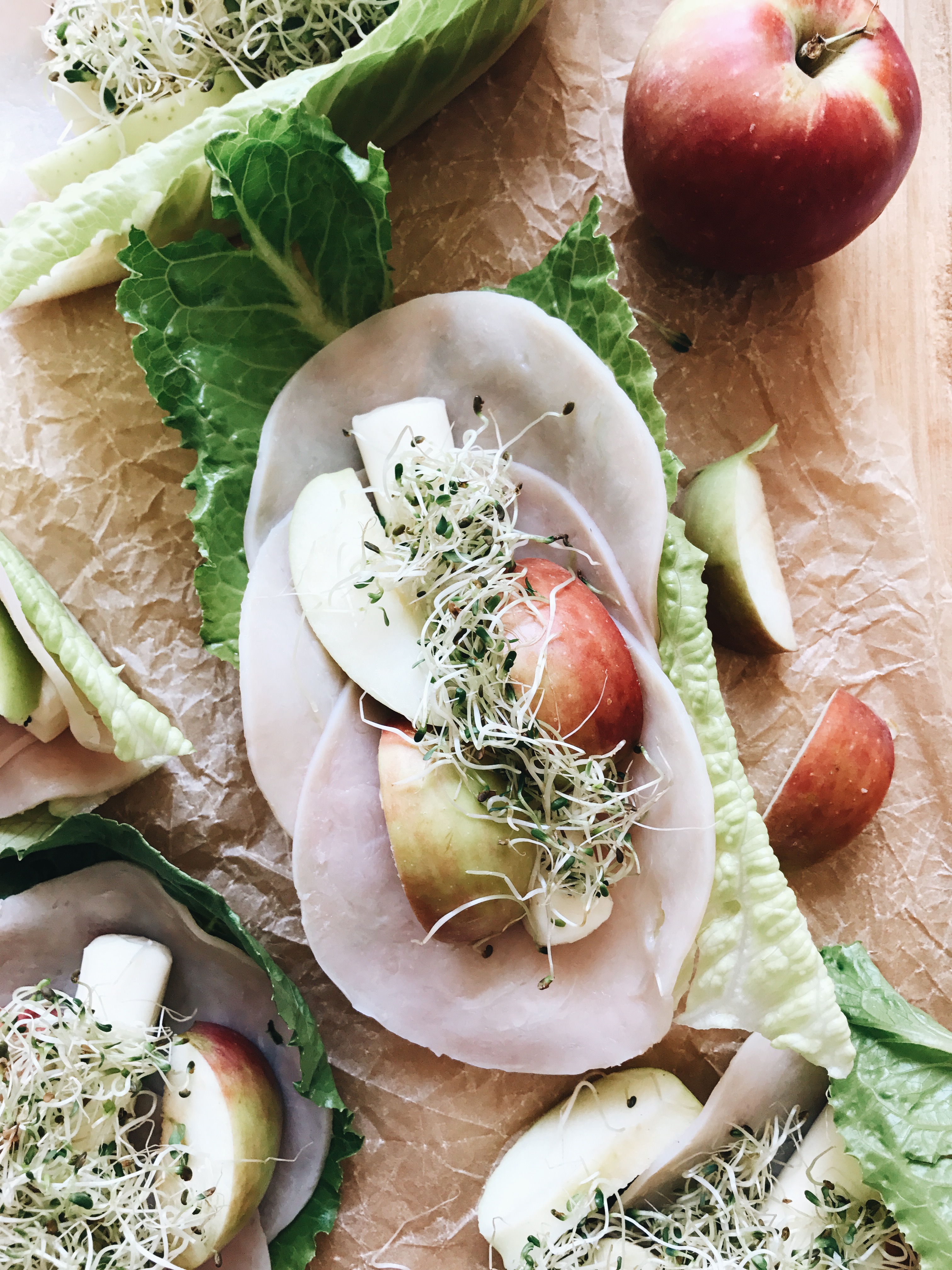 You can absolutely tweak these to fit your tongue's demands – want bread? Add bread. Want a sauce in there? Smear a little mayo or pesto or jam in it. If sprouts aren't your thang, sprinkle an herb on top, or even a little bit of baby spinach or arugula. Hate turkey? Swap in some deli chicken or ham. THIS IS YOUR CHANCE IN LIFE.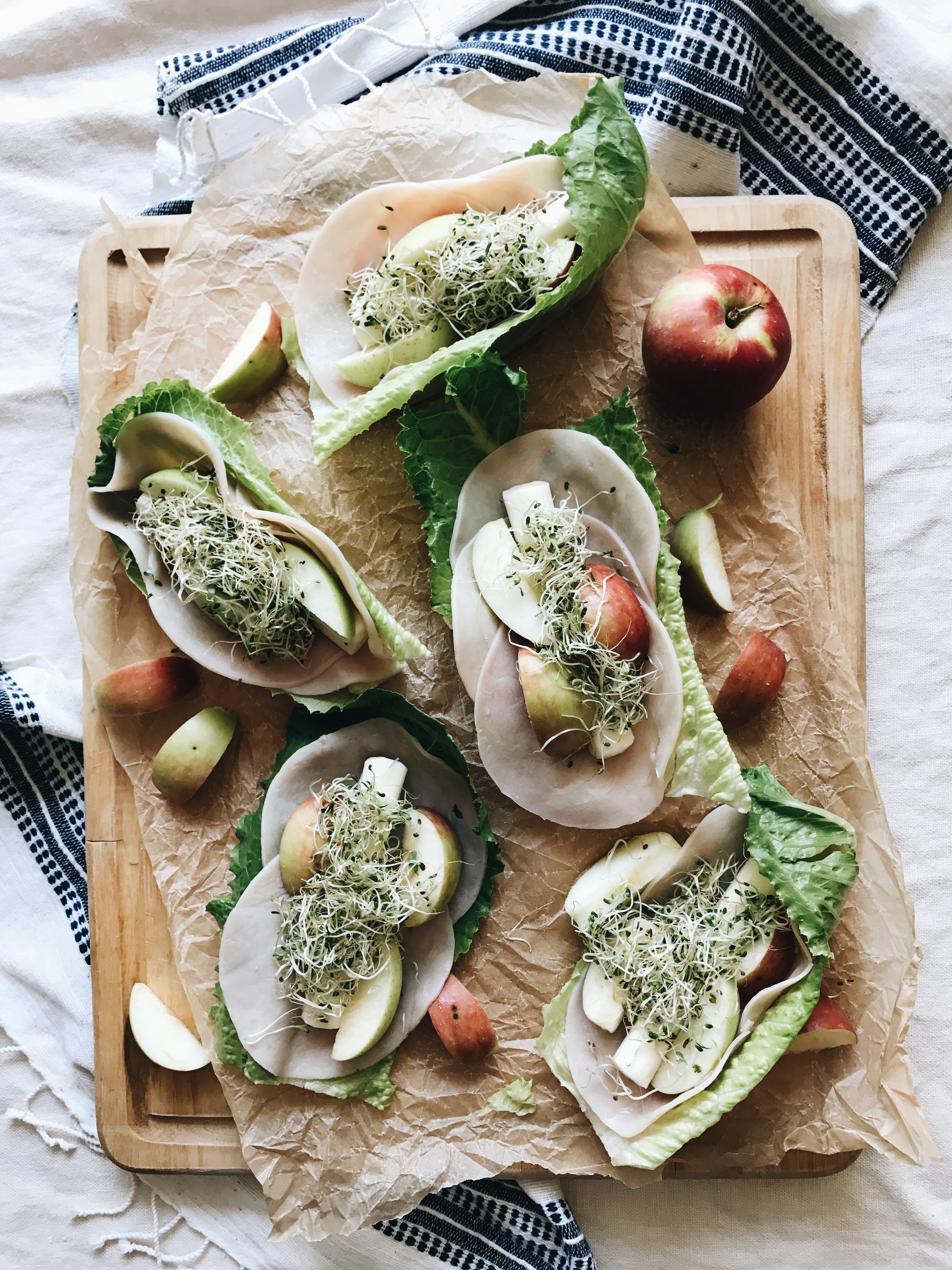 There's so much crunch in that! The crisp lettuce, the tart, juicy apples, the bouncy sprouts. So much crunch. So much.
And it's super low carb, too, which is supposed to make us feel great about our eating decisions. SUPPOSED to, being the operative word.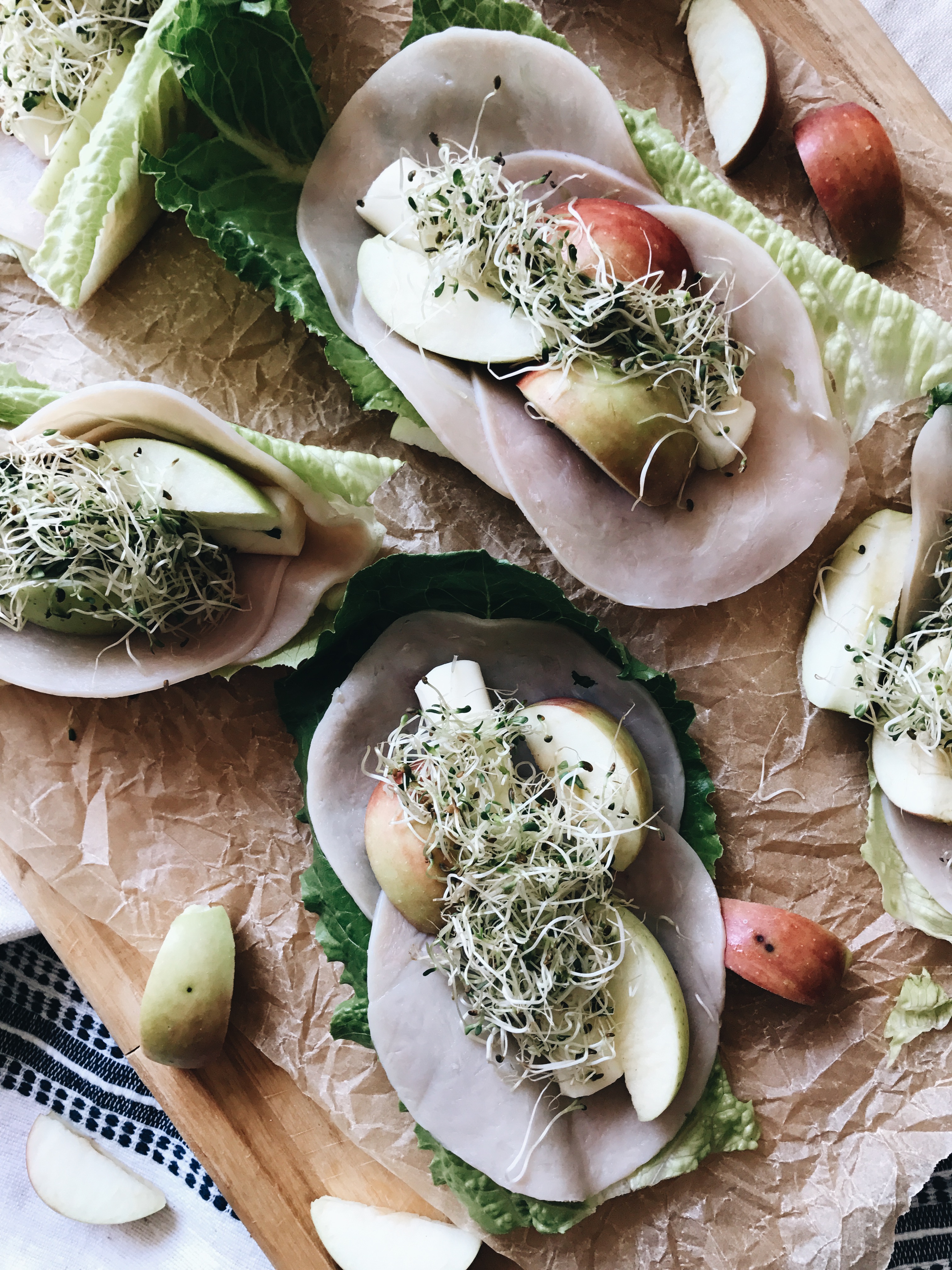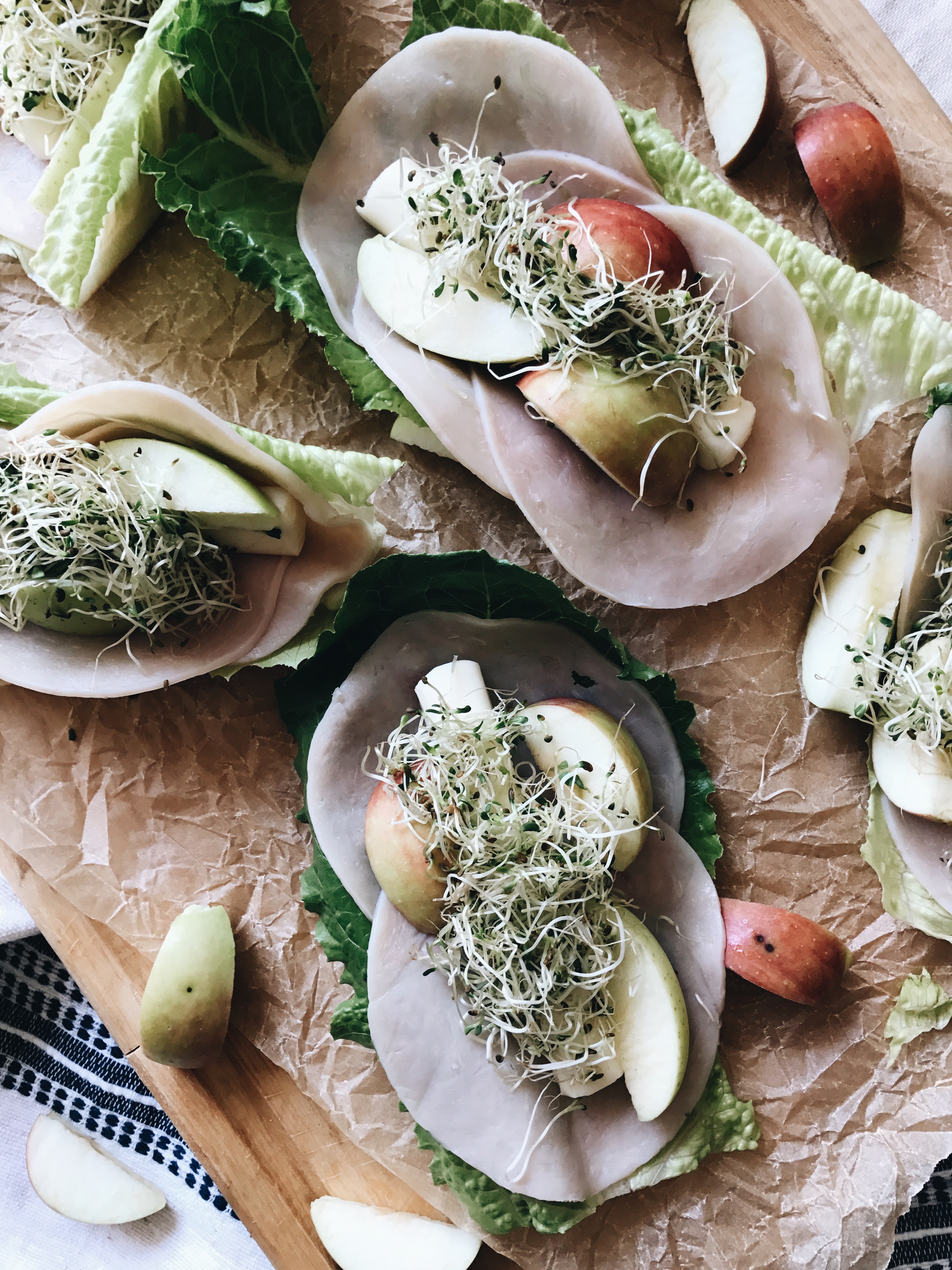 So yeah, take a peeps at the above calendar, or go here to check out some different ways you can participate in the Hunger Action Month! Whatever gives you giddy pants.
And then make these lunch lettuce wraps because look at that string cheese. String cheese in a lettuce wrap! THINK OF THE CHILDREN.
(This post is definitely in partnership with Harvesters, but all lettuce wrap inhalings and ramblings are my own. We coo?)