I assume because I added pineapple it makes these Hawaiian. (?)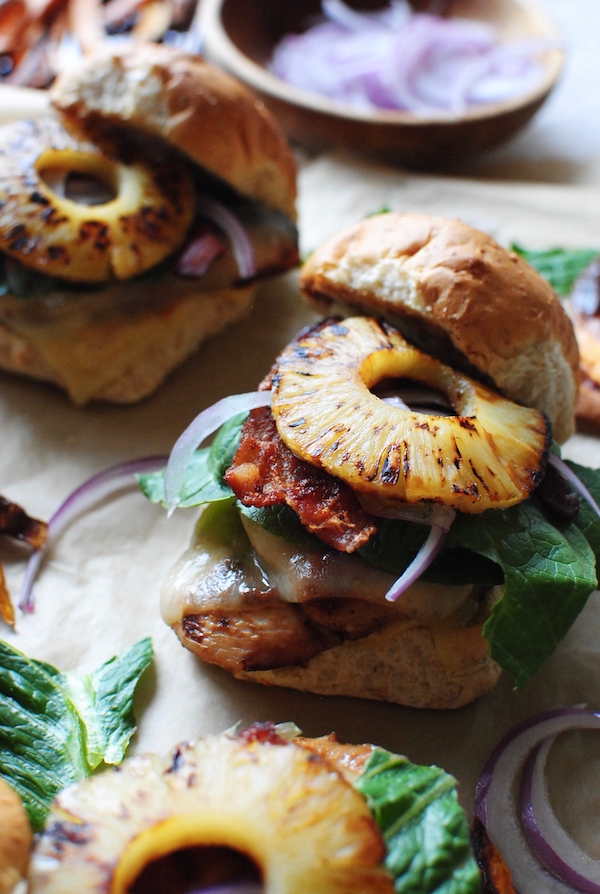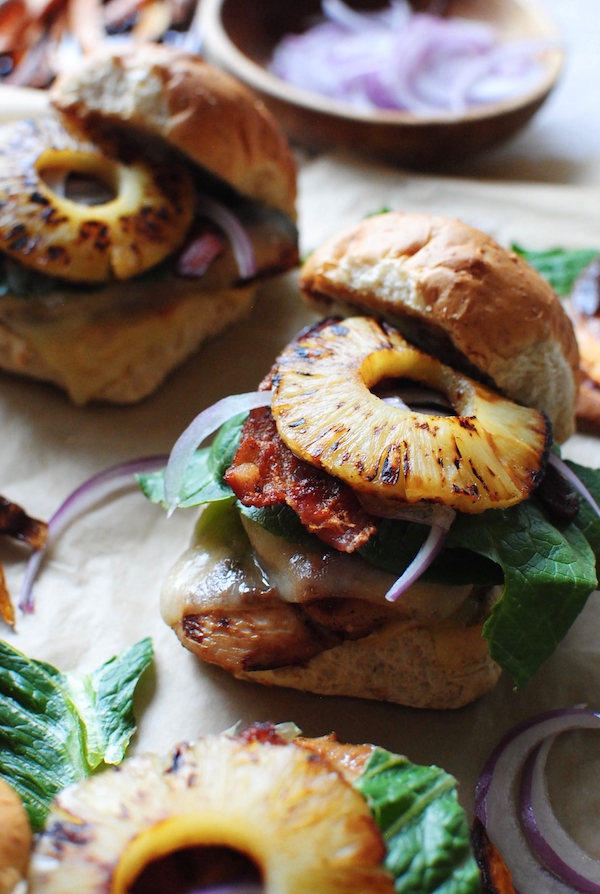 But look at that bacon! and MELTED SWISS.
I think technically, if a sandwich has pineapple, cheese, and something teriyaki-y in it, it's Hawaiian. And your entire upper torso. But don't try to double check that last part because I heard the Internet is down.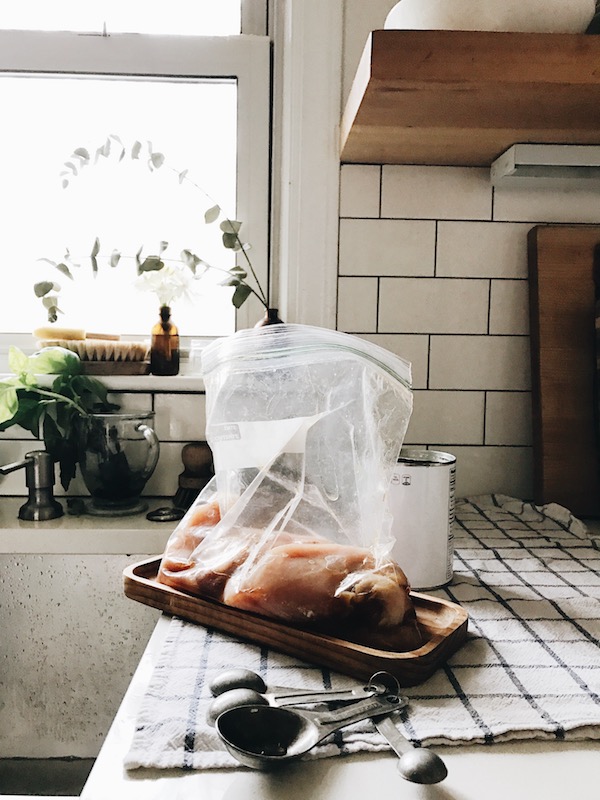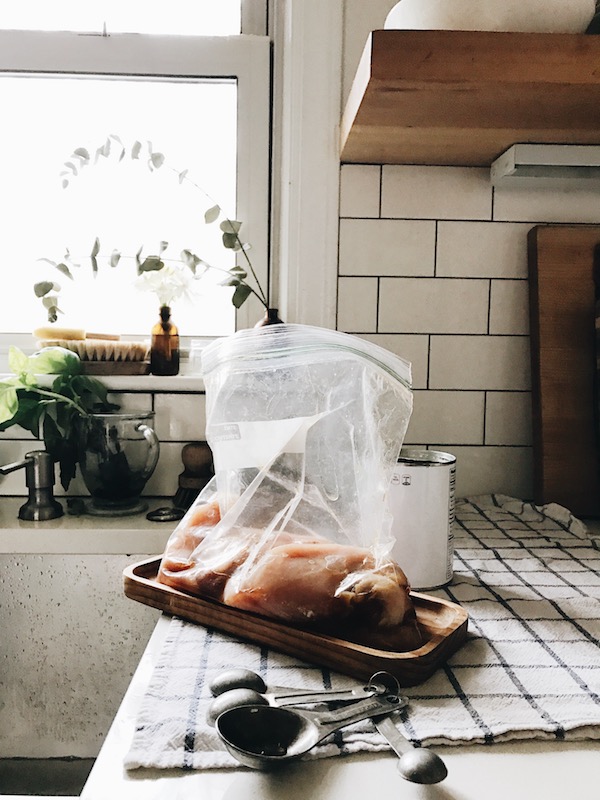 I actually really love sandwiches for dinner. It feels strangely festive to me. Especially if it's a warm sandwich, which this is and you're like WE CAN TELL THAT ALREADY.
So this is how it all goes down. Plop some chicken breast in some plastic baggies, and violently dump in some teriyaki sauce, pineapple juice and brown sugar. Voila! Your marinade.
Quick question while I have you: do you say mariNOD or mariNADE? Martha (I call her Martha) always says mariNOD and it makes me giggle. But not the kind of giggle where I'm looking at a puppy dog. More like the kind of giggle right before a colonoscopy.
Let your chicken chill in the fridge as long as you want! Even if you have just an hour, you're still a good person.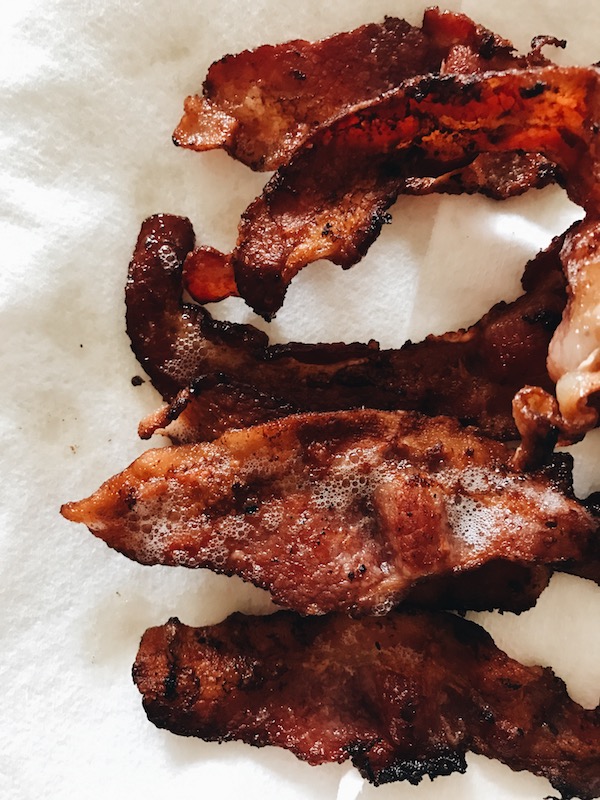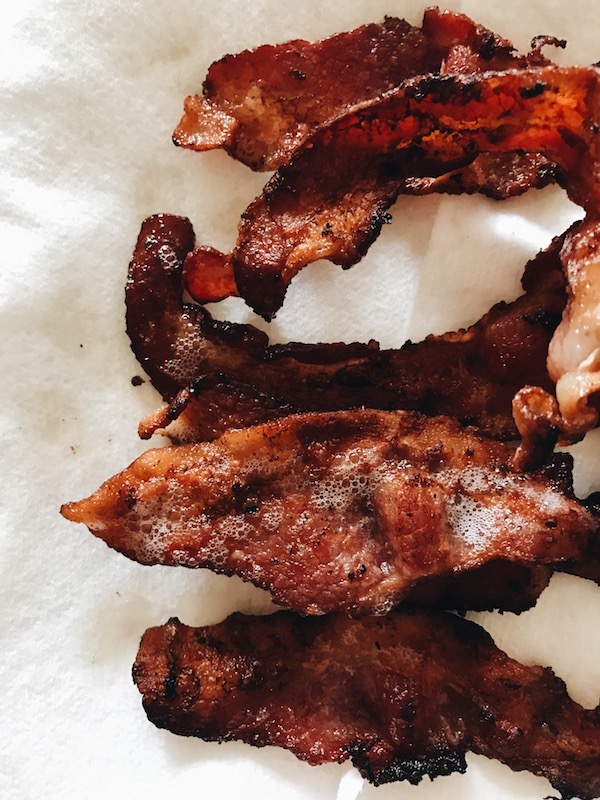 Make you some dang bacon.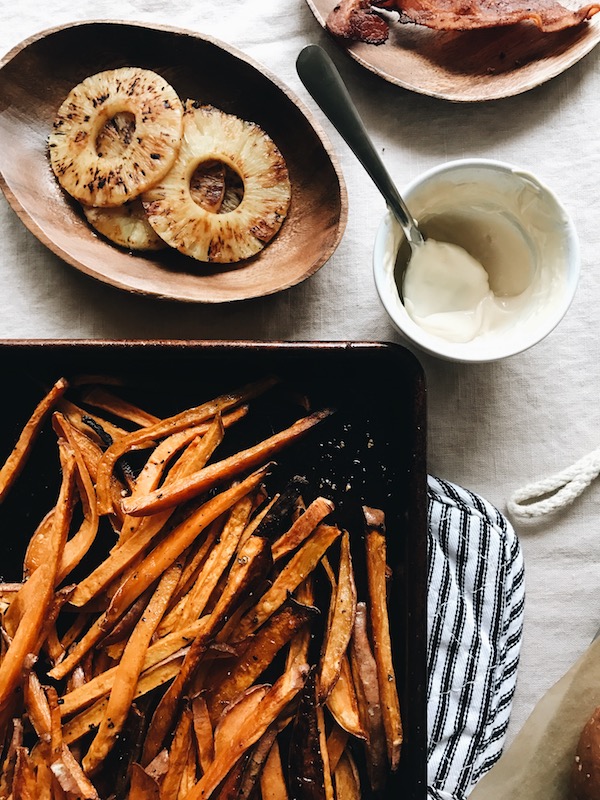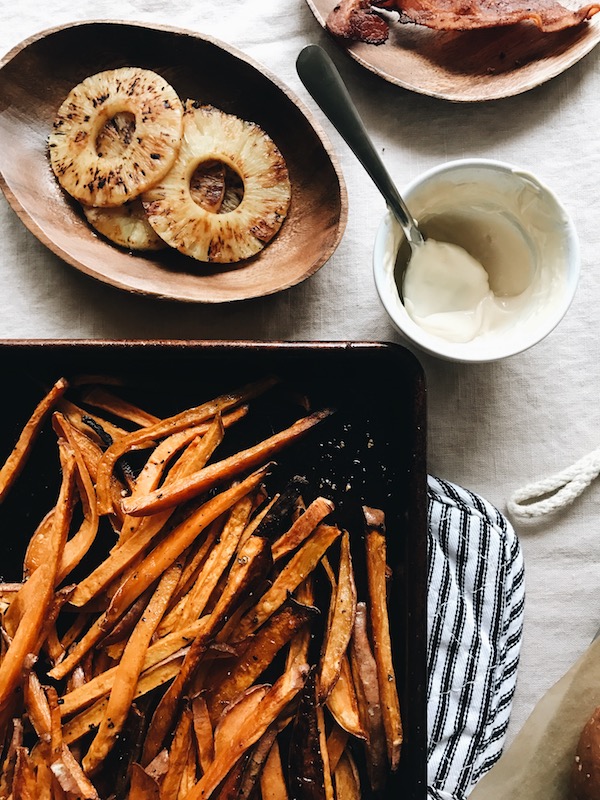 The sandwich itself is super straightforward and painless. Sear or grill the marinated chicken. Sear or grill a bunch of pineapple rings. Toast yer buns. Mix together a little bit of mayo with teriyaki sauceDO YOU WANT TO HEAR A STORYomg.
So, a long time ago (and my sister is going to murder me for this), she was making dinner for some friends (I wasn't there, thank the freaking baby ponies), and she was preparing chicken of some sort. She'd been marinating her chicken all afternoon, then removed her chicken to grill it, right? THEN, she takes the marinade in the bag, and proceeds to pour it into small cups. A dude that was standing near goes, "Hey, Barb – what are you doing with that chicken marinade?" And she goes, "Oh, it's our dipping sauce! Instead of wasting the marinade, I figured we'd use it to dip our chicken in." He like, basically barfed. Then gasped. Then barfed again and reached over to her and was like, "WUT. NO. STOP. SIT DOWN." And guided her to the light.
What if he hadn't noticed her?!
I have no idea how long she'd be doing this before that dinner (apparently some time), but I will never stop making fun of her for it. And simultaneously hurling at the thought.
The end.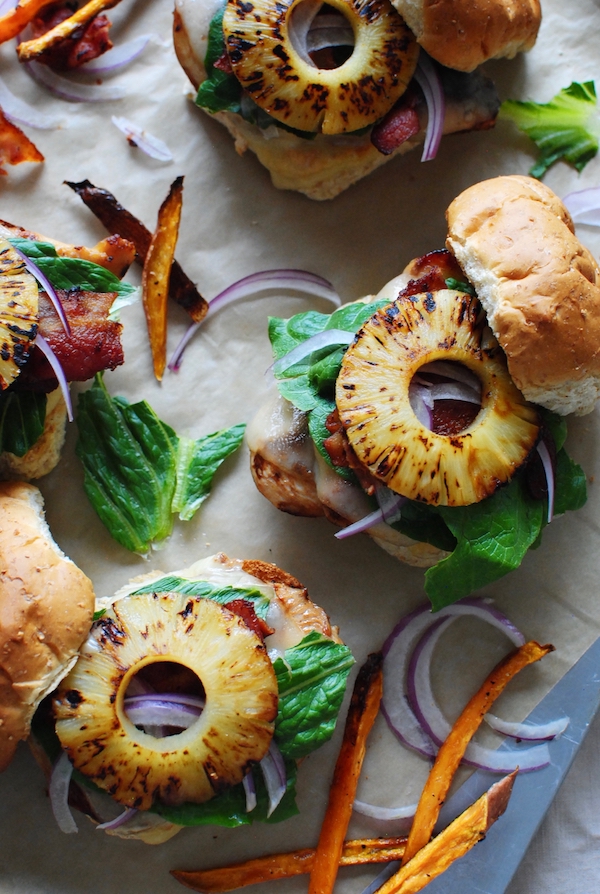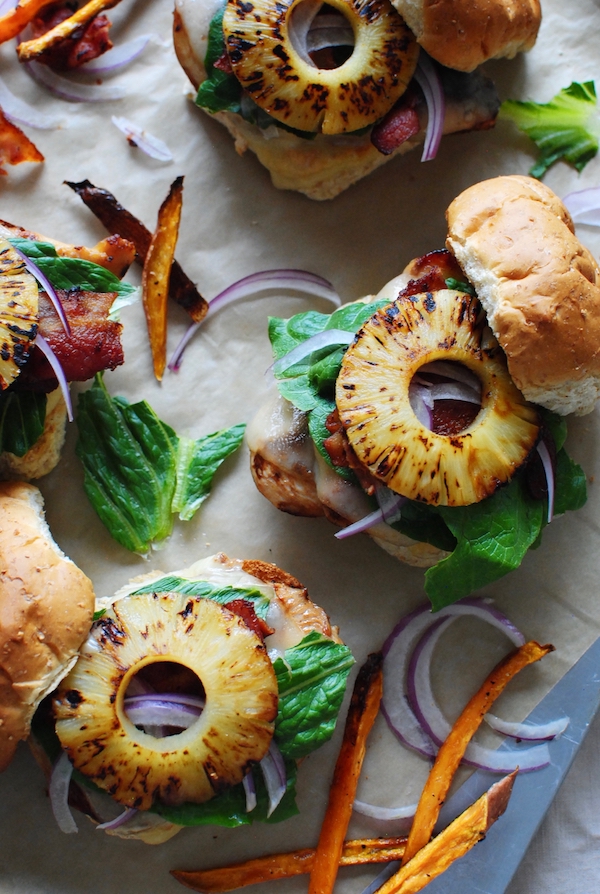 So you uh, won't do that here. You dump that marinade like whoa.
But you will mix together a little bit of mayo and teriyaki sauce and make a nice little sandwich spread for your face!
Layer it up, boo. Bottom bun, teriyaki mayo, chicken, swiss, lettuce, onion, BACON and pineapple. Top bun. Boom.
But here's a little side step that will take it to 11. Stick the sams under the broiler so the cheese melts – THEN layer on the rest. This will make you so happy.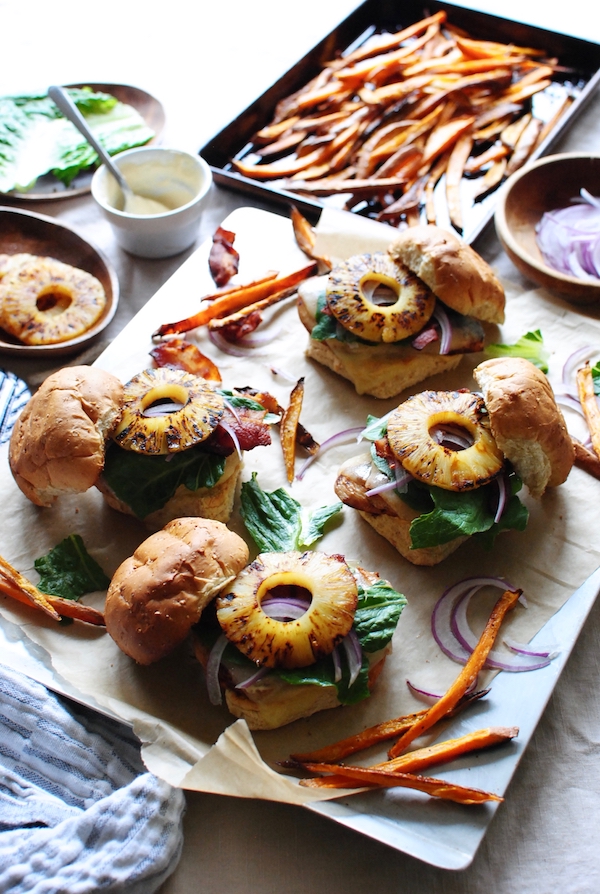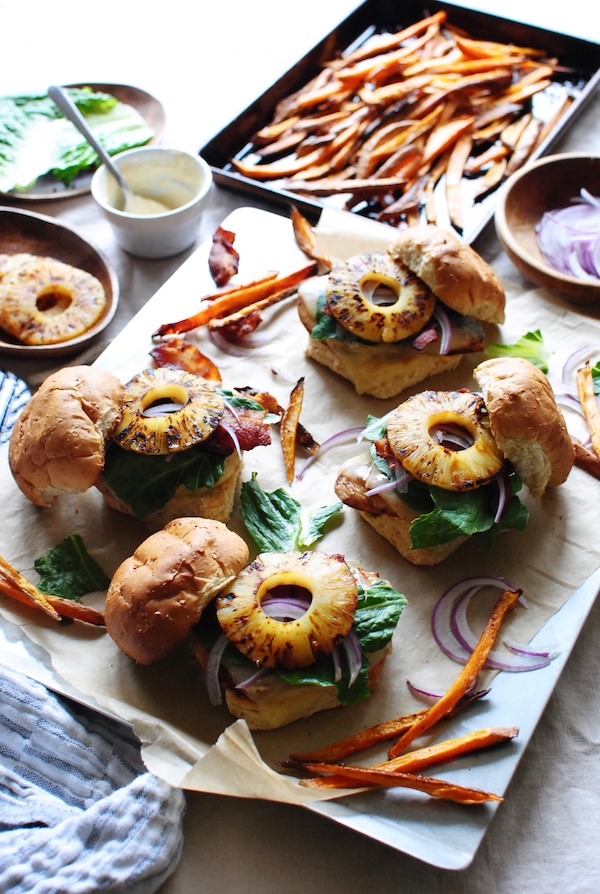 As for the sweet potato fries – crazy simple. Thinly sliced, tiny drizzle of oil and salt, bake at 400 for about 45 minutes. Ba da bing.
Honestly, there's nothing super magical about any individual step or ingredient. But when it's AWL TUGETHER, you will not understand how a sandwich can make you cry like a baby. I think it has something to do with bacon.
I think.
I know.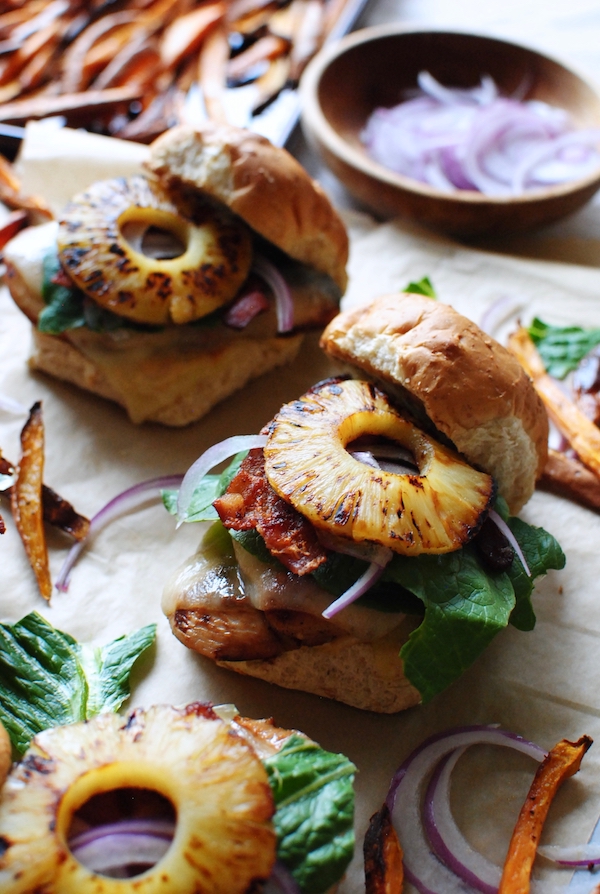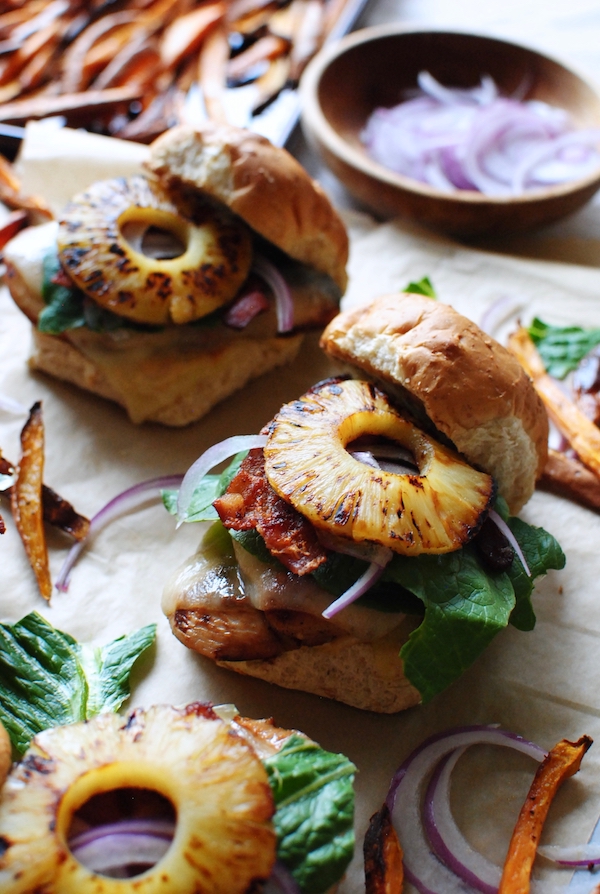 Sandwich night!
Simple Hawaiian Chicken Sandwiches
Ingredients
2 pounds chicken breasts (split in half lengthwise to make thinner)
3 Tbs. Teriyaki sauce
3 Tbs. pineapple juice (from a 20 oz can)
2 Tbs. brown sugar
6 slices bacon, rendered until crispy, but leave a Tbs. of grease in the pan
6 pineapple slices (from the same 20 oz can)
6 slices Swiss cheese
6 hamburger buns (wheat, sesame, your choice!), split and toasted
2 Tbs. mayonnaise
1 Tbs. Teriyaki sauce
Thinly sliced red onion
Romaine lettuce leaves
Instructions
Place the chicken in a large plastic bag, and add the teriyaki sauce, pineapple juice and brown sugar. Seal and toss the chicken with the marinade. Let it rest in the fridge for at least an hour.
Heat a large skillet (or indoor grill) over medium-high heat. Sear the chicken in the reserved bacon grease on one side (covered) for five minutes. Flip and sear another four minutes. Remove from the pan and let rest.
Place the pineapple rings in the skillet and cook until you get good sear marks on both sides, about six minutes total.
In a small bowl, whisk together the mayo and teriyaki sauce. Spread the mix on the toasted hamburger buns.
Then layer! Bottom bun, sauce, chicken breast, a slice of Swiss cheese. At this point slide the sandwiches under the broiler to melt the cheese. Then keep layering with lettuce, onion, bacon and seared pineapple. Top bun (with some mayo!) and inhale.
Makes 6 sandwiches.
7.8.1.2
81
https://bevcooks.com/2017/04/simple-hawaiian-chicken-sandwiches/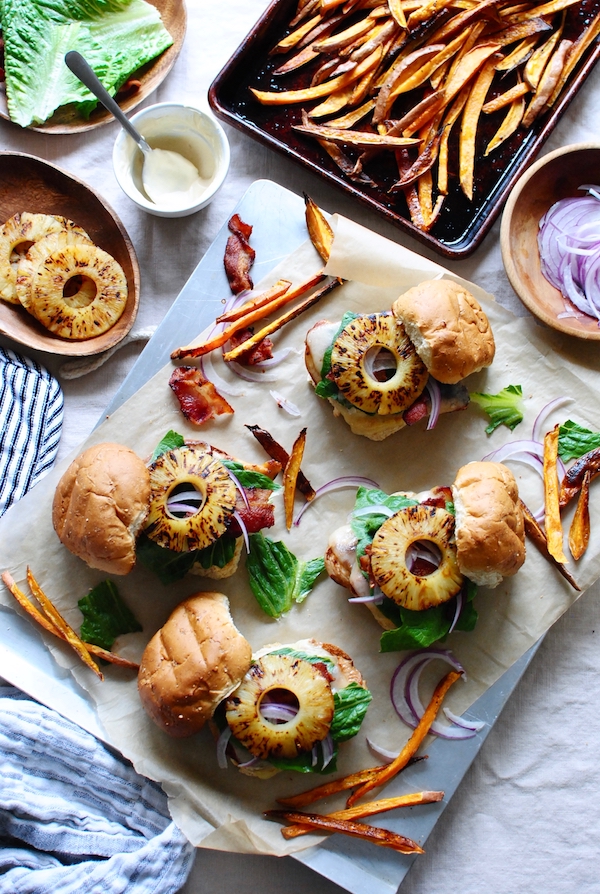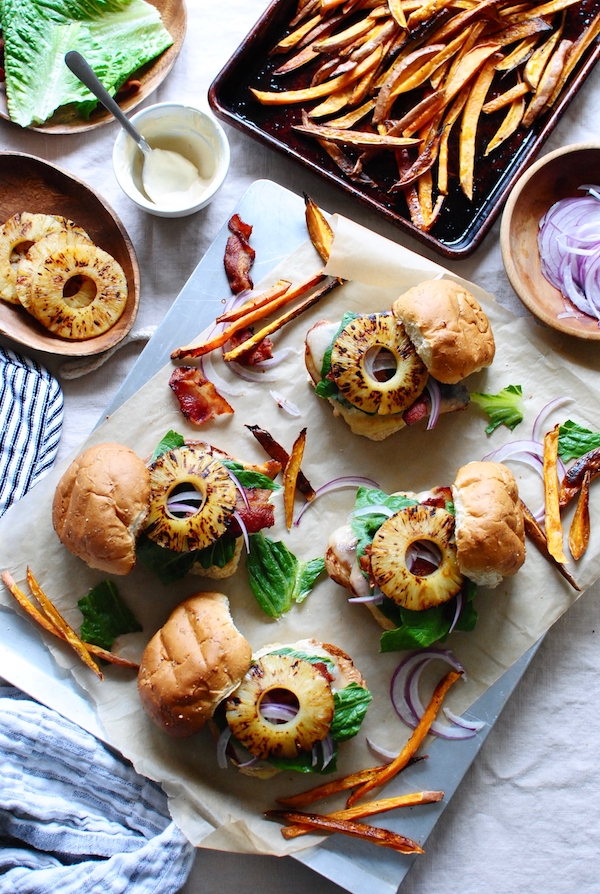 p.s. dump the marinade, BARBARA.