Don't you just love all those words back to back?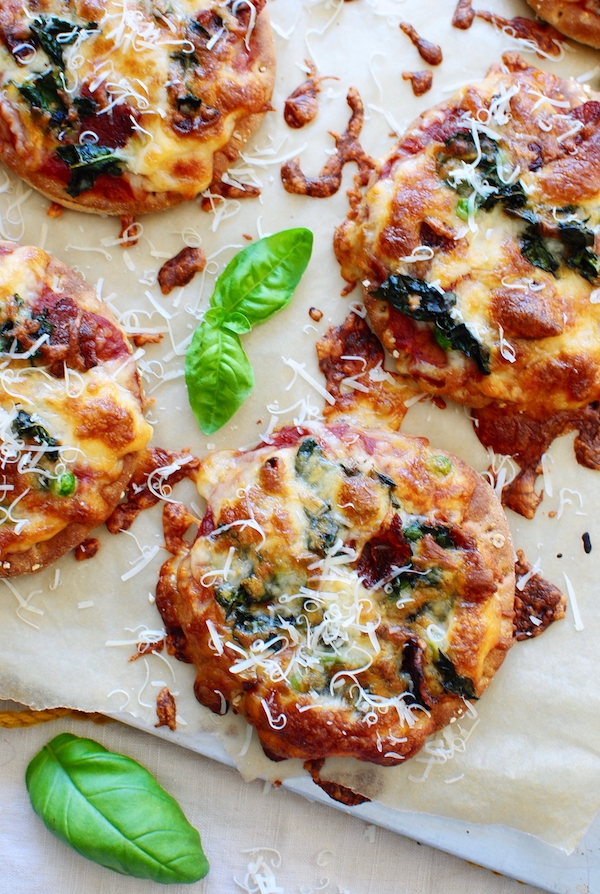 And yes I was tempted to type "pea-zas" but I like having human friends.
Can I tell you how much my kids like kale? And I'm seriously not trying to be that obnoxious show-off mom who's like, "Ohhhh your kids don't like kaaaale because miiiiine dooooo ohhhhh poor you."
Actually, I get annoyed with it. I make MYSELF a heaping mound of sautéed kale every morning, and guess who Bogarts my can, man. (<–name that movie)
But before you're like, "Why don't you just make them a helping?," we both know that won't work. Tiny, sticky humans don't want food you prepare FOR THEM. They wants yours. End of story.
And before you're also like, "Well why don't you just make extra?" That won't work either. They can sense it. They know, by some internal detector of evilness, that I'm making a bigger portion to share. And they won't want anything to do with that act of kindness. The end.
Goodbye.
Wait, what was I saying?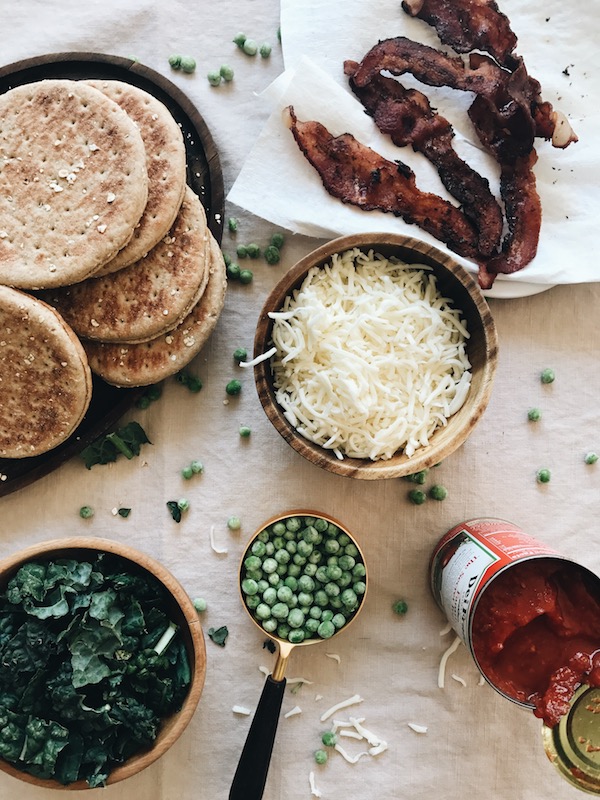 RIGHT.
You can use any pizza base you want. I don't know if base is the right word. I just mean bottom. Crust. Base. I found these little multi-grain flatbreads from TJ's because words like "multi" and "grain" make me feel like a better person.
But then you'll level out the health with bacon because we want to love ourselves. Plus bacon and kale are like INSANETOGETHER.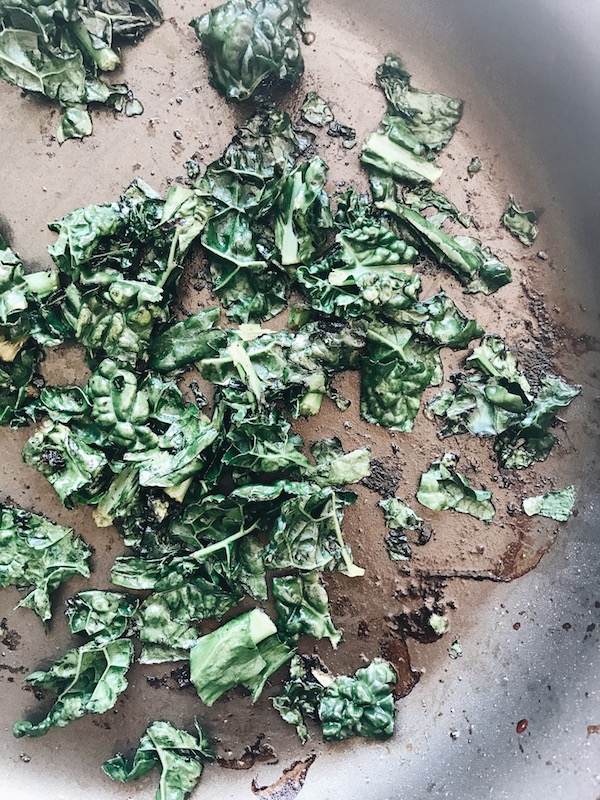 That's sautéed kale! In the bacon grease. I like winning.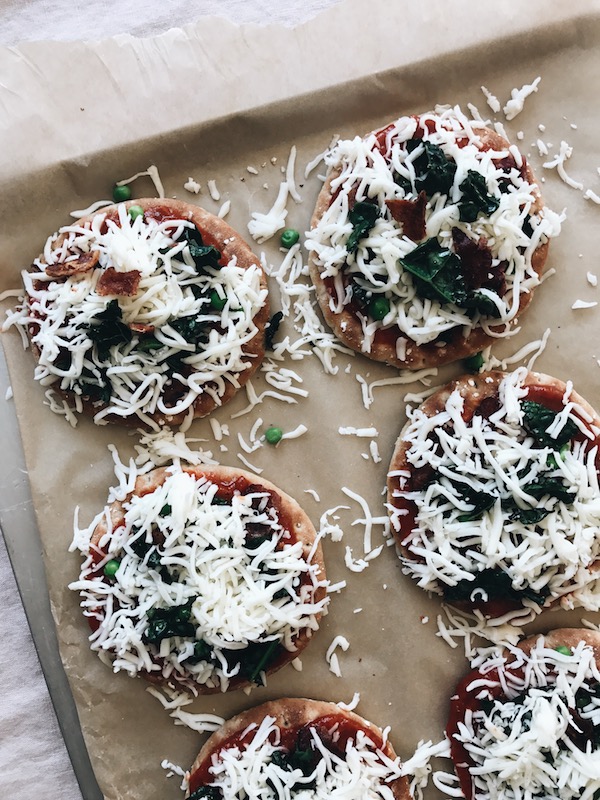 Flatbread, some jarred or canned or homemade (you overachiever, you) pizza sauce. Kale, bacon, peas and cheese please.
OH! Let's start a band called Peas and Cheese Please. People hate us.
Into the oven she goes. (the pizzas, not the band.)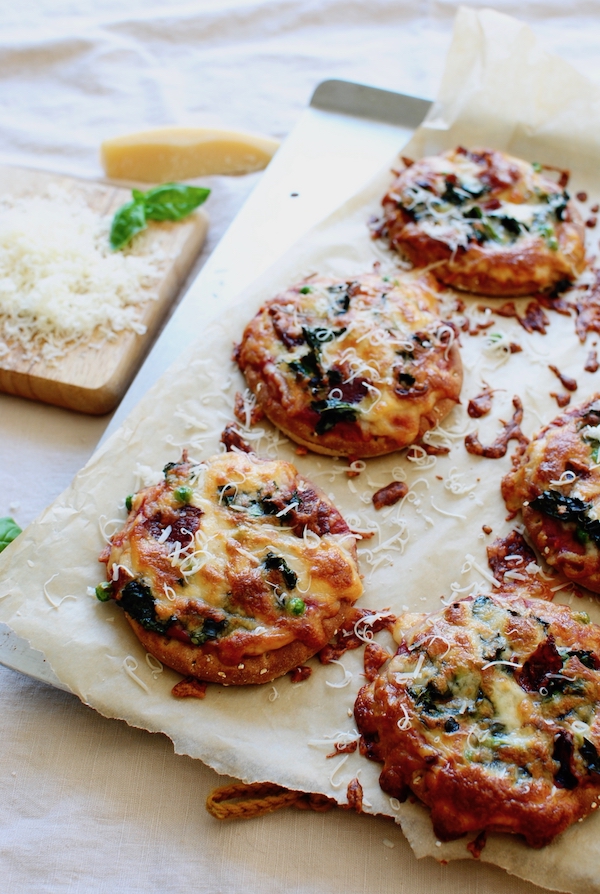 20 minutes later – bam bam bam. So good. So cute and tiny and bacon-y and kale-y and in-your-face-y.
I made these a few days ago for spring lunch vibes (do you want to punch me for saying vibes right now?), but honestly – they'd be perfect for breakfast with an egg on top! Or dinner with a lobster on top! (just kidding probably.)
Then top with a good sprAnkle of parmesan cheese and basil leaves.
Eek! Ridiculous.
I want 17.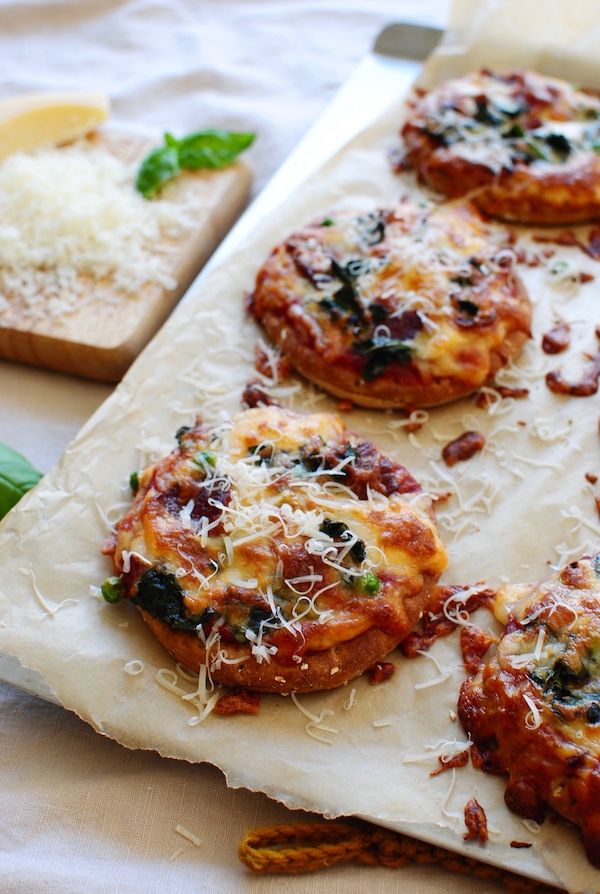 I want 20.
Mini Kale, Bacon and Pea Pizzas
Ingredients
6-8 mini flatbreads
One can pizza sauce (or jar, or homemade) (you'll use about a Tbs. per pizza)
6 slices bacon, rendered until crispy, then broken into pieces
2-3 cups chopped kale
1/3 cup thawed peas
1-2 cups shredded mozzarella cheese
Parmesan and basil, for garnish
Instructions
Preheat oven to 400.
Once you've cooked your bacon, reserve a tsp or 2 of the bacon grease, and sauté the kale in it, until barely wilted. Season with a tiny pinch of salt.
Arrange the pizza crusts on a large baking sheet. Spoon about a Tbs. of sauce over each crust, then top with a little bit of cheese, kale, bacon, a sprinkle of peas, then more cheese. Bake for 20 minutes, or until the cheese starts to brown and bubble.
Garnish with freshly grated parmesan and basil leaves!
DUDES.
Makes 6-8
7.8.1.2
82
https://bevcooks.com/2017/04/mini-kale-bacon-pea-pizzas/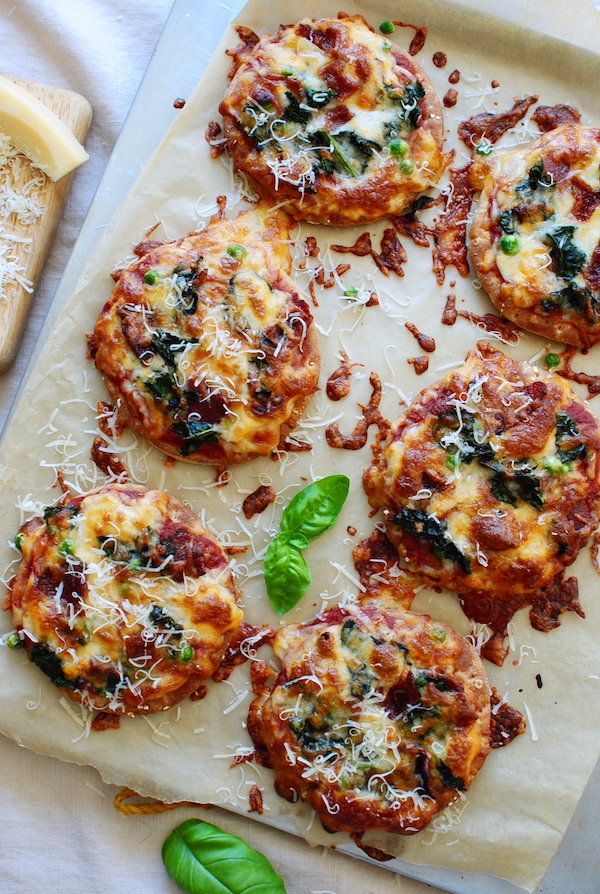 I want 50.