Today I'm 40.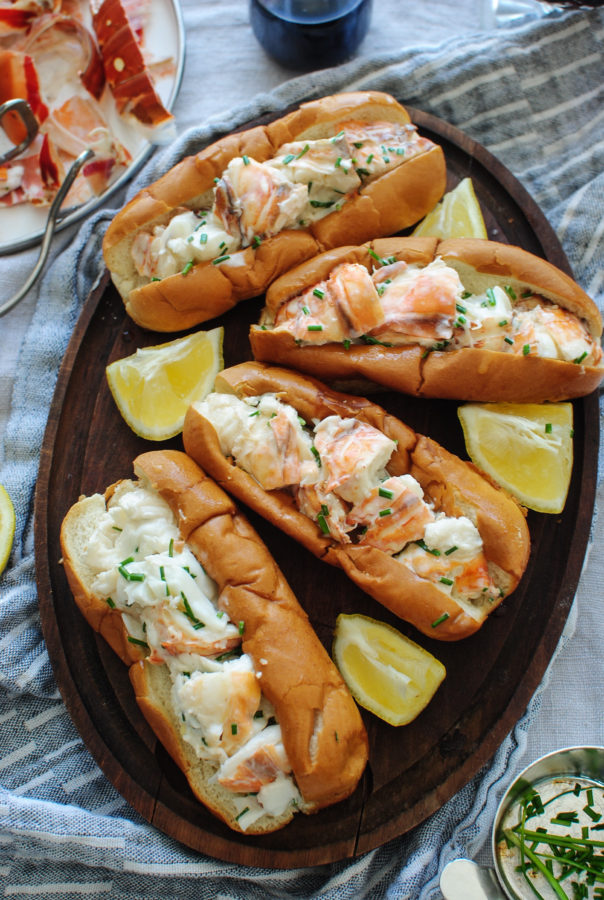 FORTY. I have no idea what this is supposed to look or feel like, but I just bought myself a birthday tongue scraper and jogging visor, so I feel this is pretty much on target.
(You're like, "Waaaay too early in the morning for the words tongue scraper, lady.")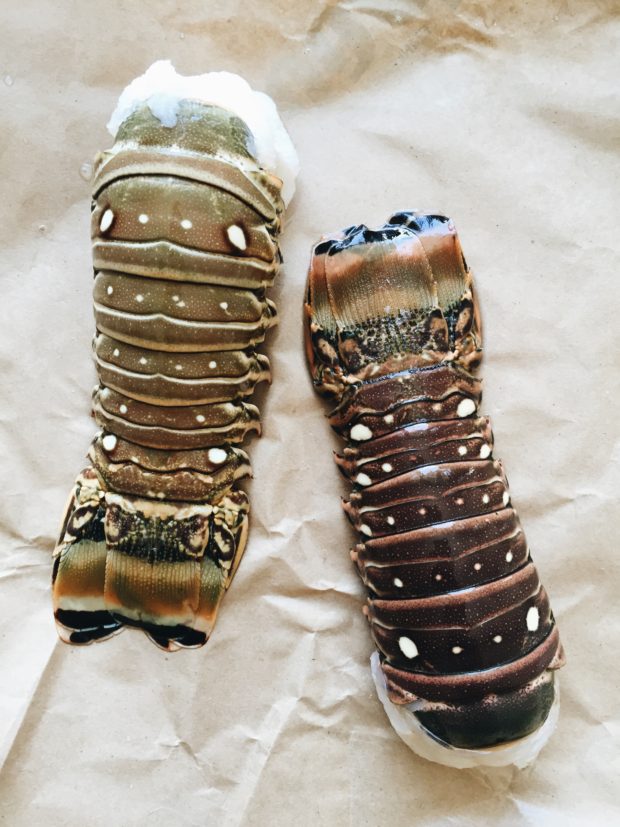 Remember when people used to celebrate 40 with black balloons, fake tombstone decor, and grim, over-the-hill party sayings like "prune juice station", "wrinkle road", "droopy drive" and "arthritis avenue"? I MISS THE EIGHTIES.
My party sayings would be, "She's Watching Too Much West Wing", "Someone Tell Her to Change Out That Dead Eucalyptus", "When Was the Last Time You Washed Your Hair", and "You Know Febreezing Your Armpits Doesn't Count as a Shower."
I have toddlers, remember?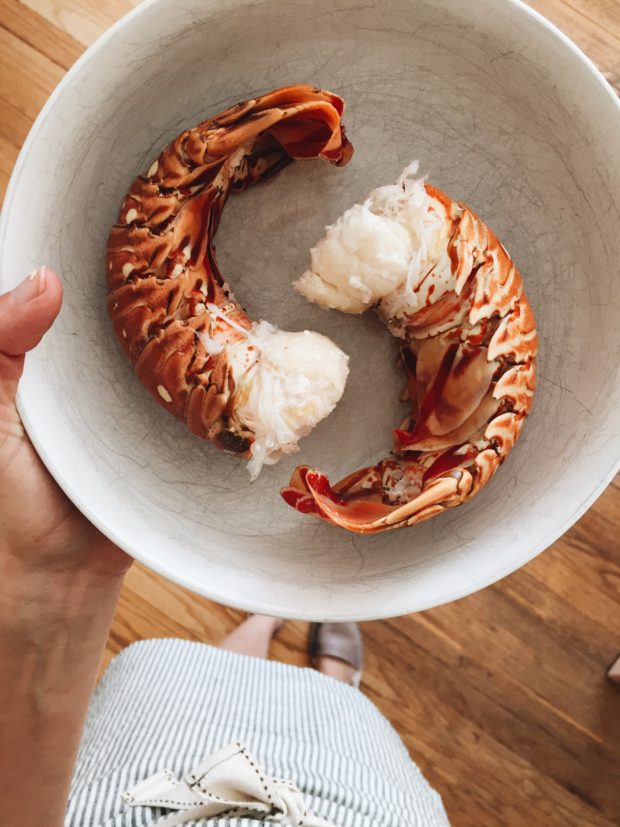 So to celebrate, I made lobster rolls. I've been in a massive mood for lobster rolls all year – seriously, all year, so I finally got around to gettin' some tails (heeeey-o), boilin' them up, drenchin' them in a tiny bit of mayo, lemon, butter and chives and slappin' them in my wrinkle road.
(Also, I will neither confirm nor deny that I icked out a bit over the spiky, spiny tail nail.)
(Also also, I also have something to say about the bun! But I'll get to that in minute. After I take my arthritis medicine.)
(just kidding it's a women's multi-vit.)
(and prune juice.)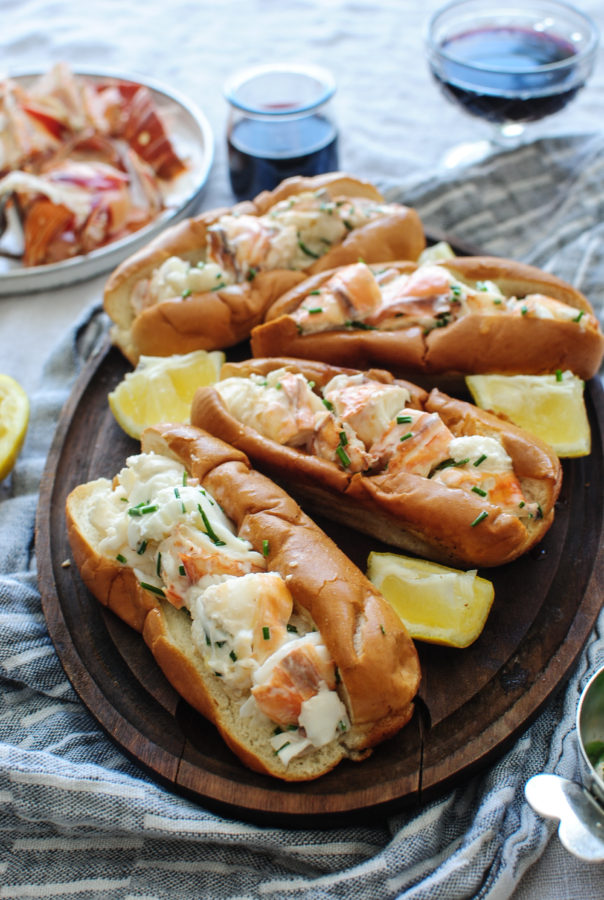 Okay the buns. I was on a die.hard.mission. to find those squared off, New England-style frankfurter-y buns. But these were as close as I could get, MIDWEST. They're top-split (which is good), but not totally squared off on the sides like my soul beggeth for. It's okay, though. I'm still a good person.
These are crazy simple! You boil the tails. You cut the shell off and pull out the meat. You whisk together a little bit of mayo, lemon juice, chives (and finely diced celery if you have it!), and the leeeettle pinch of salt. You melt butter in a pan. You toast the buns in the butter. You pile the lobster meat into each bun. You drizzle more melted butter on top. Another squeeze of lemon juice. You fall into a blissful buttery lobster coma and never recover.
And then you take out your dentures and watch Murder, She Wrote.
Oh I'm totally kidding, you guys!
You watch The Andy Griffith Show.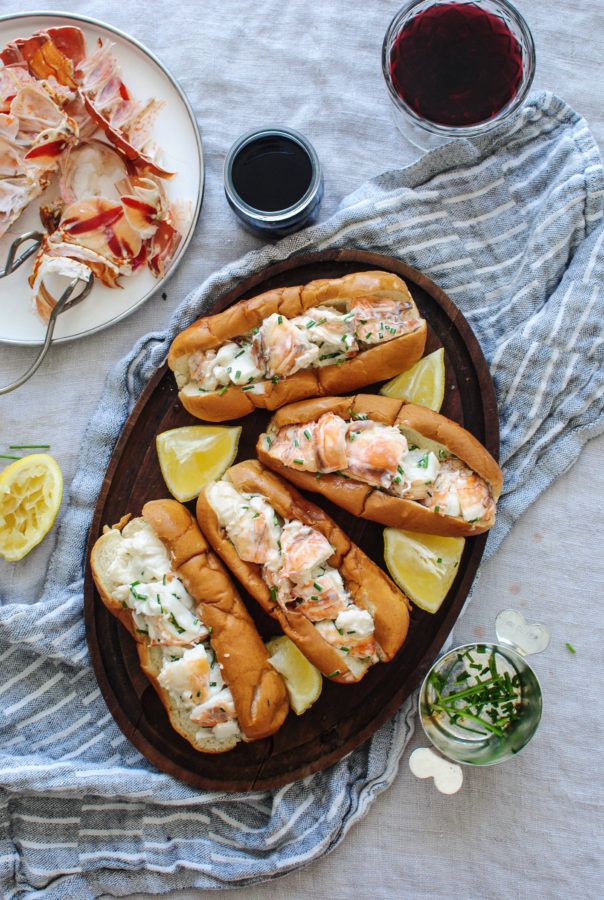 Happy Birthday, me. Now go wash your mop.
Ingredients
2 (7-8 oz) lobster tails
2 Tbs. real mayonnaise
one lemon
1 Tbs. finely chopped chives
pinch of salt
4-5 Tbs. butter
4 New England-style buns (if you can find them!)
Instructions
Bring a large pot of salted water to a boil. Add the lobster tails and simmer at a rolling boil for 4-5 minutes, until the tail is bright pink. Remove the tails and let cool a few minutes. Then snap off the end of the tail, and either push the meat through, or cut the shell (tail nail because I'm gross) with scissors. I cut the tail nail because my meat wouldn't push through. But just cut up the back and rip that shell right off.
Then give the lobster meat a rough chop.
In a small bowl, whisk together the mayo, juice from half a lemon, the chives and a small pinch of salt. Toss the lobster meat in the mayo and let chill a few minutes while you toast the buns.
Melt 2 Tbs. of butter in a small pan, and place the buns side-down right in the pan. Toast each side in the butter, until golden brown.
Pile the lobster meat into each bun and drizzle with the remaining 2-3 Tbs. of melted butter. Give the rolls an extra squeeze of lemon juice and let your mouth experience something it can't even rightly understand.
Serves four. (or 2, if you're obnoxious like me)
7.8.1.2
38
https://bevcooks.com/2016/08/lobster-rolls/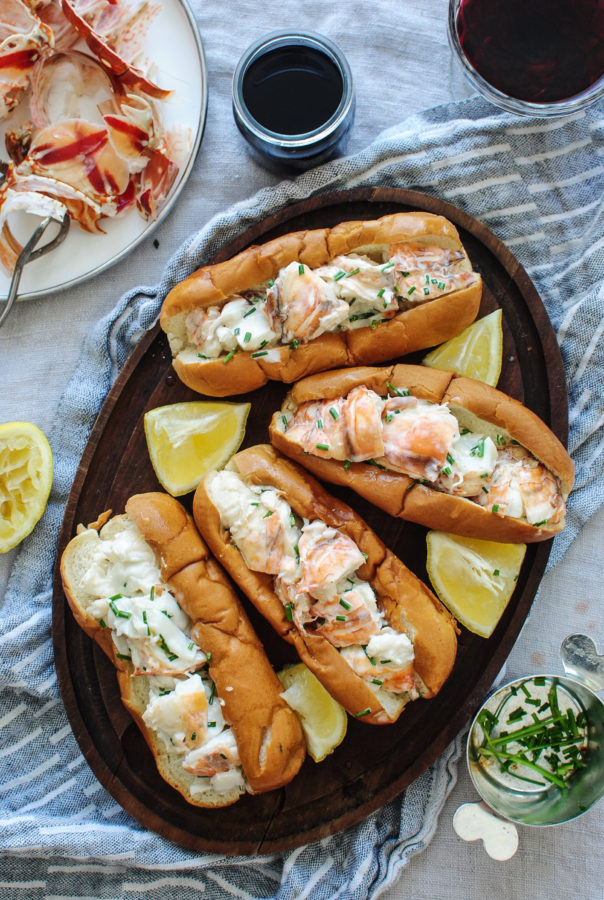 "He's her loooobster!" (name that show)
Save
Save
Save