I put roasted okra in a creamy Cajun pasta. You're either going to high five me, or somehow forgive me.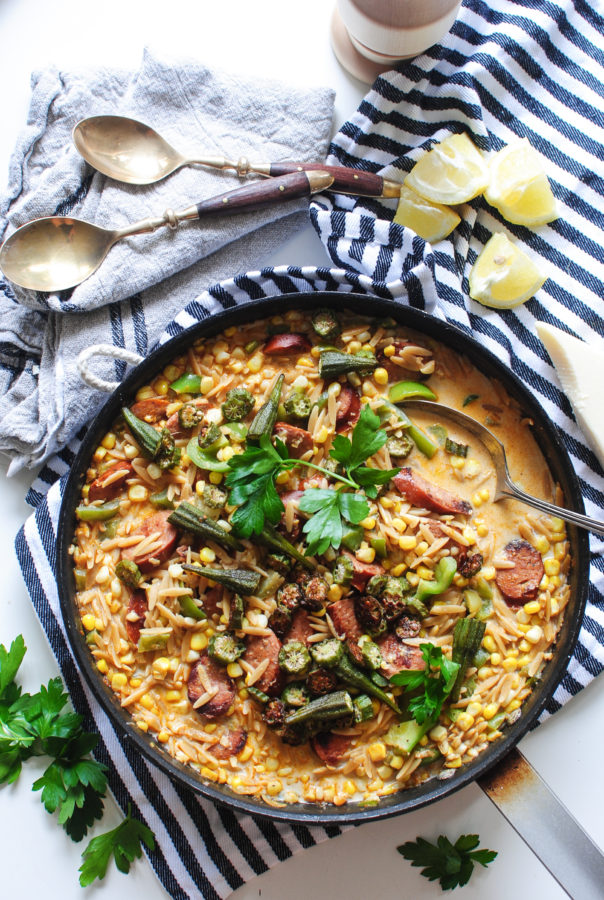 I get extremely squeal-y giddy at this time of year. School is back in sesh (<–not sorry), football season is lurking around the corner (<–don't really care for the sport, just the overall spirit vibe), Labor Day is a kiss away (<–it's the unofficial official gateway to fall!), the humidity is beginning its magical disappearing act (<–thank the baby sloths), and the idea of quick, comfort food is making its way back into my brain hole. Ahhhhhh.
And this one involves okra. Roasted okra! On a pan, in the oven, in your face. Hallelujah.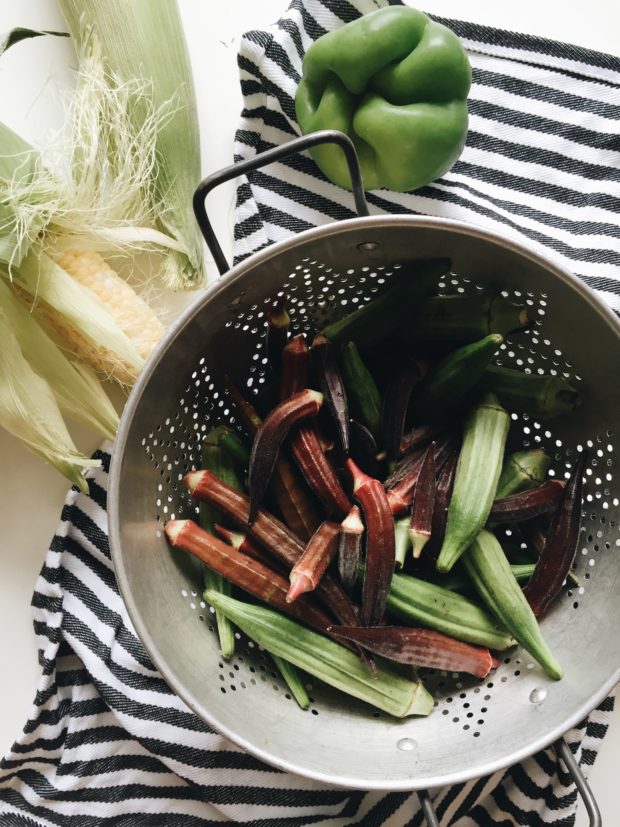 I'm also involving a bit of late-year seasonal fresh corn in this recipe, so if you happen to wait until deeper in the fall to make it, and corn isn't falling off the market stands, you can totally go with canned or frozen corn. No one will make a face at you.
But the OKRA. Don't be messin' around with the okra. Get the fresh. Get that fresh feeling.
Wait.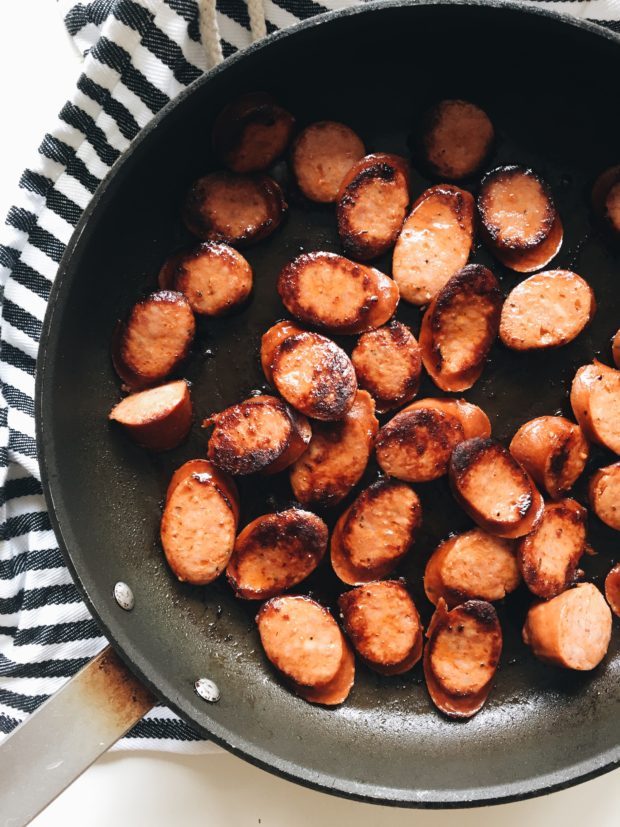 While this pasta is creamy, you don't have to punch yourself over it because it's just milk. Reduced fat, even! You're totally welcome to indulge it up and go with whole, or even a bit of cream, if you're feeling frisky. I just kept it slightly waist-friendly so I could eat more of it and not need counseling. #math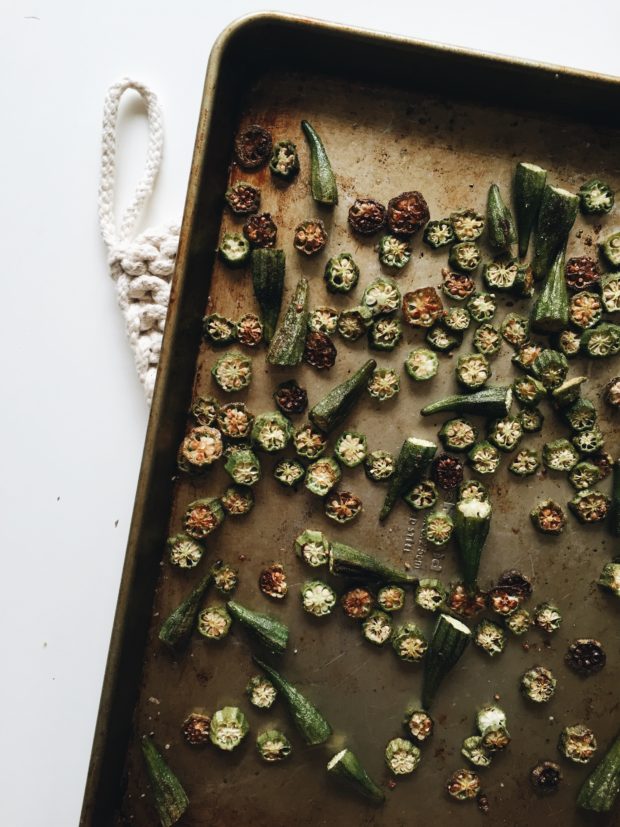 My theory behind roasting the okra was to eliminate the slime factor. Just like on "You Can't Do That on Television". Remember when they'd say, "I don't know" and get dumped with buckets of green slime? Which was more like green water. But who am I to be picky.
It's like that! Exactly like that. But instead of on your head it's in your mouth. And you don't have to say anything for it to happen. And it's not on a television stage with a camera crew. It's just you and whoever else you might be eating with. And it's not lime green – it's like a tiny, sticky white biofilm. And totally non-aggressive. Other than that, it's exactly the same!
I'll say the roasting eliminated most of the slime. The thinner slices came out crispier, resulting in a bit of added texture to the pasta. The softer pieces of okra were great, too! Just not as crispy.
This is a long paragraph about okra slime.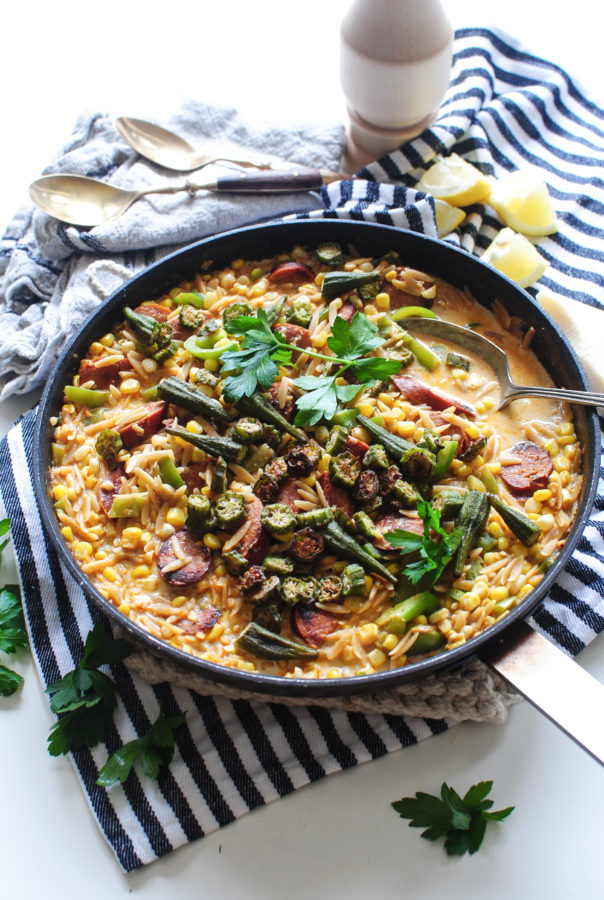 Andouille sausage – seared seared seared.
Add some fresh corn and diced green bell pepper.
Boil some orzo, but not all the way! You'll let it finish cooking in the seasoned cream sauce. (which was just milk, remember? don't get stabby.)
Top with roasted okra, lemon juice and a bit of parmesan cheese.
Ugh.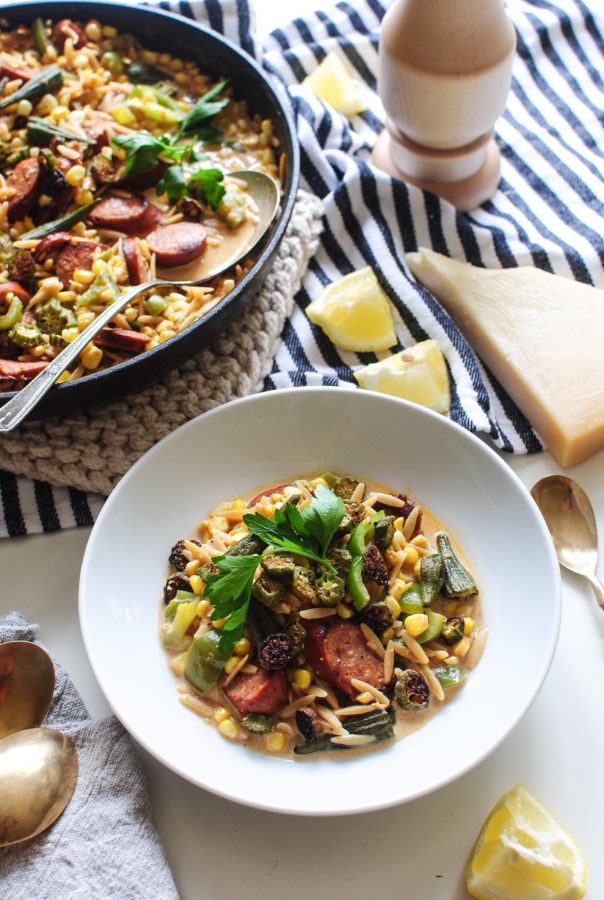 You THINK two cups of milk will be way too much. But just you wait, 'Enry 'Iggins, just you wait.
The orzo will soooooak that mess up, David Copperfield style.
And then your entire mouth will inhale it all, Tasmanian Devil style.
And then we'll sing together in harmony, '80s U.S.A. style.
Don't say I didn't warn you.
Ingredients
1 pint fresh okra, thinly sliced
1 Tbs. extra-virgin olive oil
1 (14 oz) package andouille sausage, thinly sliced on the diagonal
2 ears fresh corn, kernels sliced off
1 green bell pepper, diced
1 Tbs. Cajun seasoning (I used Tone's)
1 cup orzo pasta
2 cups milk (reduced fat, whole - whatever!)
juice of half a lemon
1/4 cup parmesan cheese, plus more for garnish
salt and pepper
Instructions
Preheat oven to 425. Place the sliced okra on a baking sheet and drizzle with oil. Season with a pinch of salt and pepper and roast for 20-25 minutes, until brown and crispy. Remove from the oven and set aside.
Heat a large skillet over medium high, and add the sliced sausages. Sear on one side, flip and sear on the other, until you get a nice char on both sides. Remove from the pan and set aside. Add the corn and green bell pepper to the pan, along with the Cajun seasoning. You should have enough sausage oil to sauté with, but add a little oil if needed. Sauté until the veggies are tender. Add the sausage back to the pan, along with the milk. Simmer for a few.
In the meantime, bring a pot of salted water to a boil. Cook the orzo for a few minutes, until slightly tender. Transfer the orzo to the veggie/sausage skillet to finish cooking, until the pasta is al dente. Off the heat, add the 1/4 cup parmesan cheese. Stir to combine.
Squeeze in some lemon juice to wake it up. Maybe a pinch of salt and pepper? Yes.
Top the whole dish with the roasted okra, garnish with more cheese and parsley.
DEVOUR.
Serves 4.
7.8.1.2
37
https://bevcooks.com/2016/08/creamy-cajun-pasta-roasted-okra-sausage/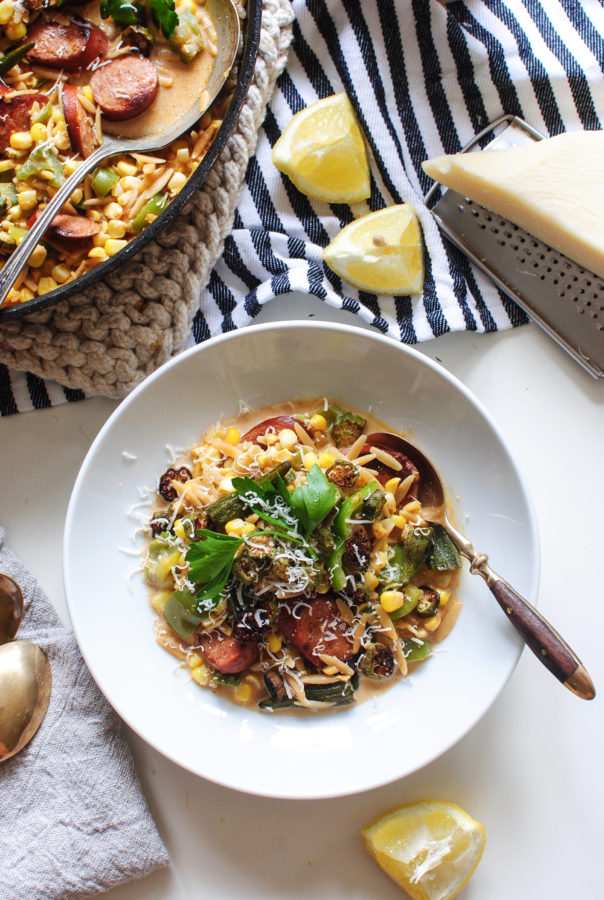 *Slime sold separately.
Save
Save
Save
Save
Save