Let's have a teaaaa pah-teh!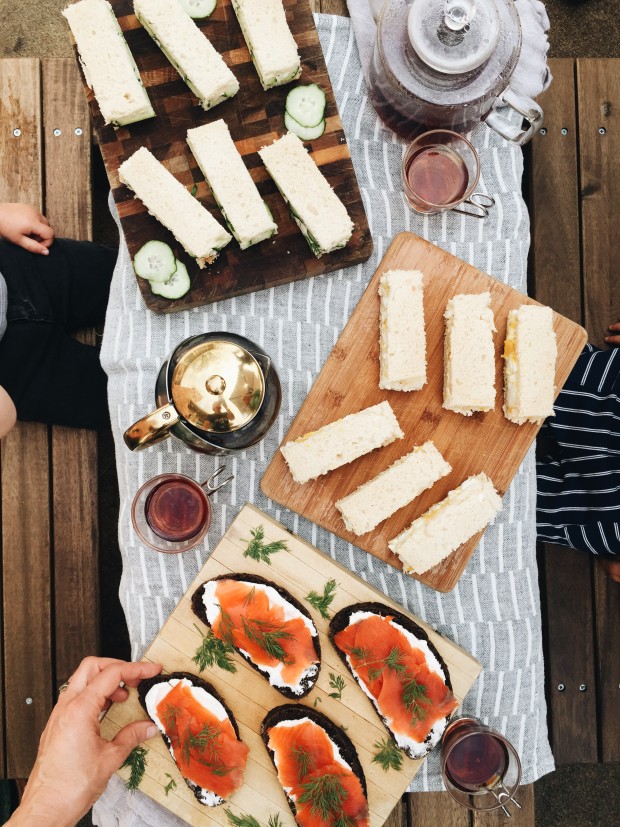 I can't get my recent Notting Hill tea party experience out of my head. Matter of fact, every night I'm like, "Aaron, let's watch Notting Hill! I need to be transported back." And he's like, "Let's seeee, do I feel like swimming into a boat motor today."
(I'll let you take a guess if we've watched it or not.)
You know, tea is great and all, but it's the SAMS that blow the party out of the water. I mean tea. Out of the tea kettle. Delicate, crustless sticks of munchy afternoon bliss. I can agree with this.
Inspired by my short stint in London, I made you three VERY simple tea party sandwich recipes. All based on what we had in sweet Caroline's (ba ba baaa) flat a few weeks ago. We also made scones and shortbread, but since my baking skills are that similar to a drunk Muppet's, I'll stick to the savory sammies.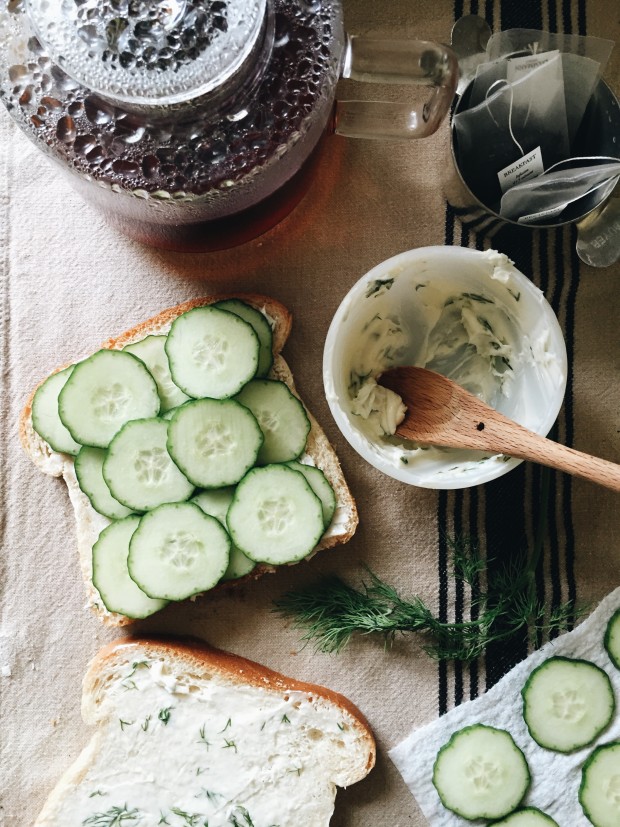 Oh guess what! I learned that the English butter the INSIDES of their bread to keep the filling moist. Sorry for saying moist. So I mixed a teeny bit of fresh dill and salt with some some softened butter, layered some English cucumber slices, and called her good. And she was good. And great. And great and good.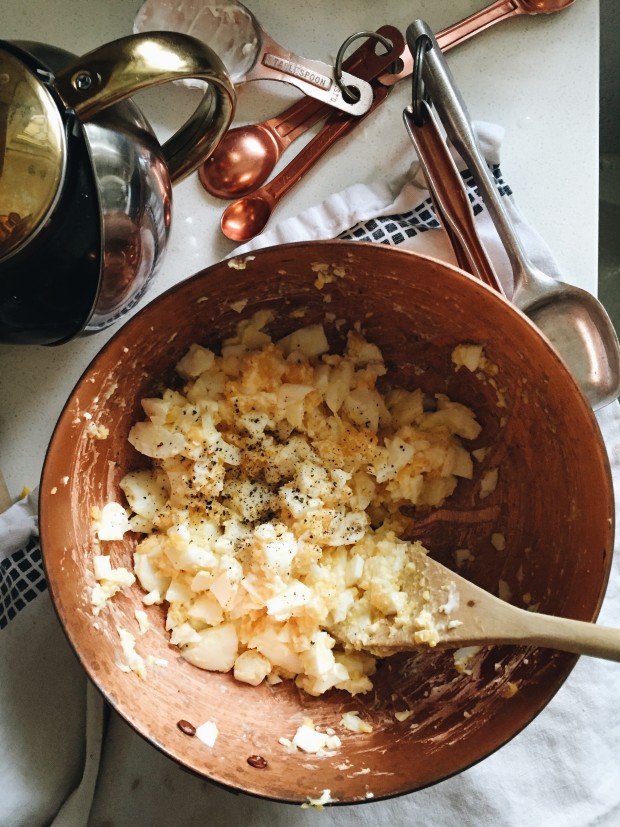 Egg salad! This one is up there for me. There's something about (Mary?) chopped up hard-boiled eggs mixed with a tiny bit of mayo, a teeeensy bit of pickle juice, a baby pinch of celery salt, and freshly ground pepper that's like ARE YOU KIDDING ME.
You can go crazy with the egg chopping, if a creamier salad is your bag, or leave it chunkier with a bit more texture if you're into happy things in life.
I like mine chunky. A bit of oomph! DEPTH. BOWELS OF THE EARTH.
I'm . . .  I'm not entirely sure what I'm talking about anymore.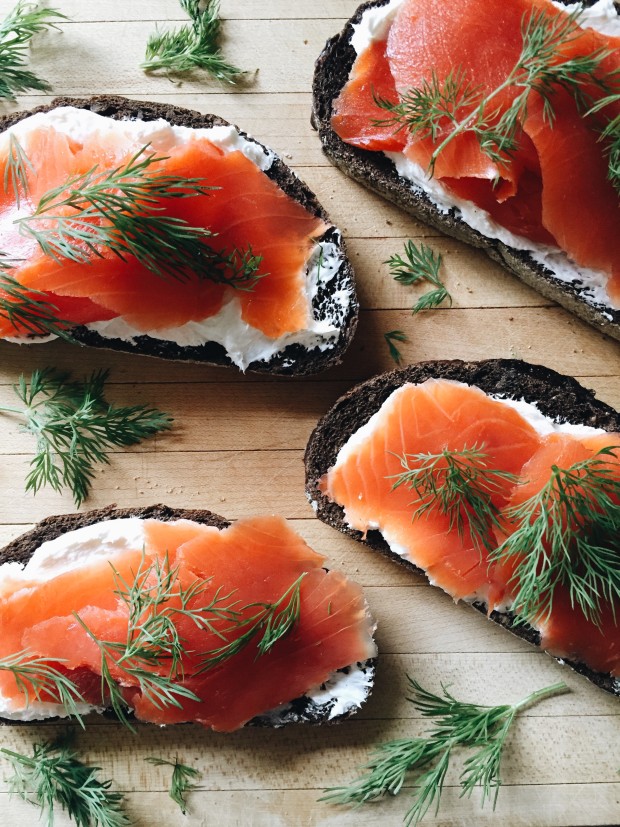 Smoked salmon! Can't have a tea party without some vibrant layers of cool smoked salmon.
Get how simple this recipe is – rye bread, cream cheese, smoked salmon, dill for garnish, the end. And it's INCREDIBLE. And I ate 18 sandwiches. And never been happier.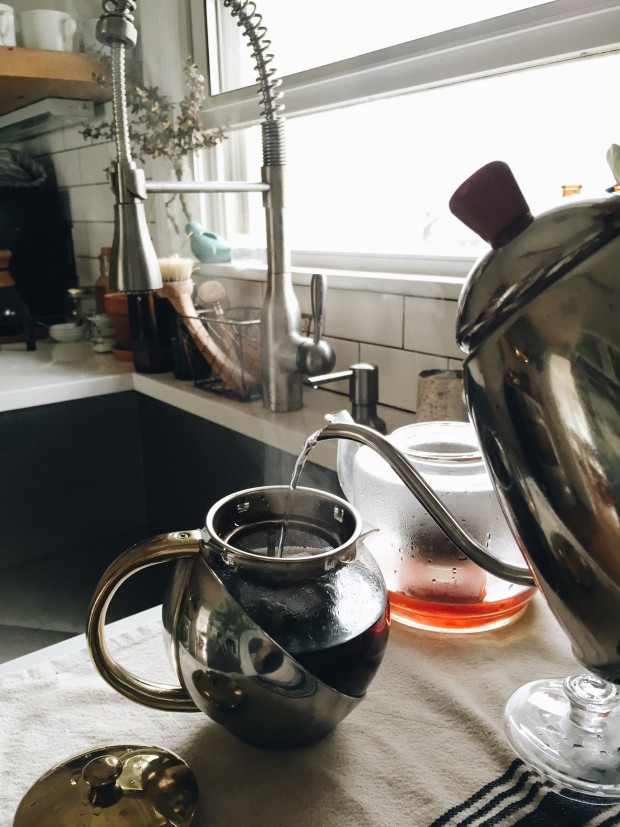 Now for the teaaaaaa, just brew what you dig! I brought back some intense, almost-floral Earl Grey straight from London's historical Borough Market. Earl Grey is Aaron's favorite tea, so mama did gud. (<–sorry about the last part of that sentence.)
I also had some English Breakfast tea bags from London, so we had a nice lil' mix, mate! (<–this is getting worse, isn't it?)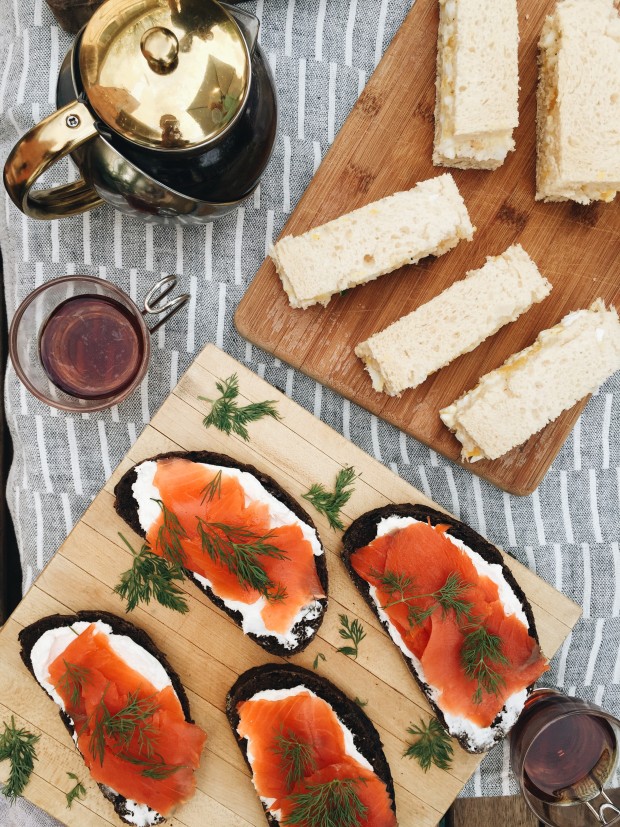 I think I might need to have a tea party every single day for the rest of ever if it involves smoked salmon and egg salad and cucumbers. You bloody in?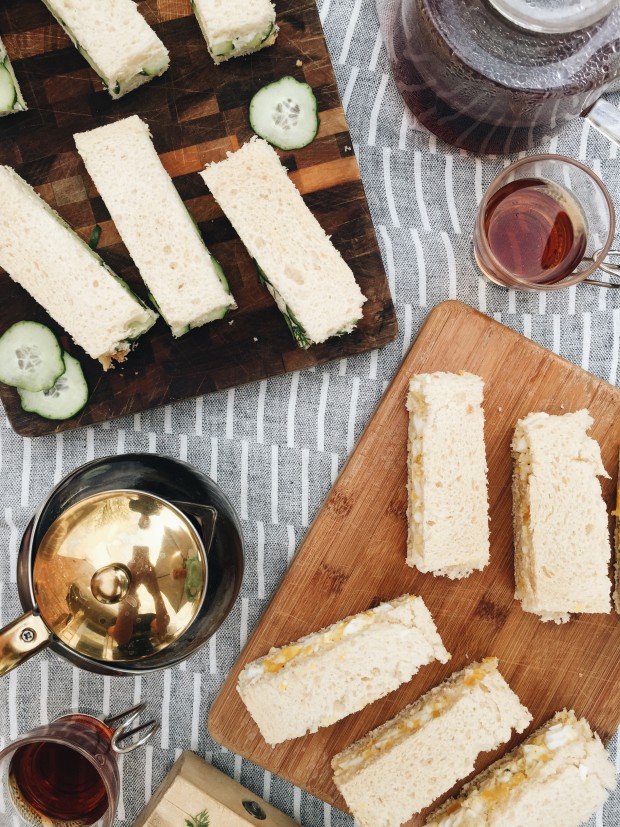 Let's play a little game called, "Find the iPhone Ghost People."
Simple English Tea Party Sandwiches (Three Recipes!)
Ingredients
All of the ingredients are listed below.
Instructions
Cucumber Tea Sandwiches:
4 slices soft white bread
1 large English cucumber, thinly sliced into rounds
3-4 Tbs. (softened) butter
2 tsp torn or chopped fresh dill
1 pinch of coarse salt
Arrange the cucumber slices on a paper towel while you prep the butter. (that will help absorb a little bit of moisture)
In a small bowl, combine the butter, dill and salt. Whisk until smooth and incorporated.
Spread the butter on all four slices of bread. Overlap the cucumber slices on two slices, and top with the remaining two slices, making sandwiches. Cut the crusts off, and then gently cut the sandwiches into thirds, making six sandwiches in all.
Egg Salad Sandwiches:
6 hard-boiled eggs
1 Tbs. mayo
1 tsp dill pickle juice
1/8th tsp celery salt
1 small pinch coarse salt
a few grinds of black pepper
4 slices soft white bread
Hard boil six eggs, then peel and give them a rough chop. Transfer to a small mixing bowl. Add the mayo, pickle juice, celery salt, salt and pepper. Gently mix to combine.
Divide the mix in half and spread over two slices of bread. Top with remaining two slices of bread. Cut the crusts off, then cut into thirds, making six sandwiches.
Open-Faced Smoked Sandwiches:
4 slices rye bread
4 Tbs. cream cheese (whipped or regular, up to you!)
4 ounces smoked salmon
fresh dill for garnish
Evenly spread the cream cheese over each slice of bread, followed by a few slices of the smoked salmon. Garnish with fresh dill leaves. Done.
7.8.1.2
15
https://bevcooks.com/2016/04/simple-english-tea-party-sandwiches-three-recipes/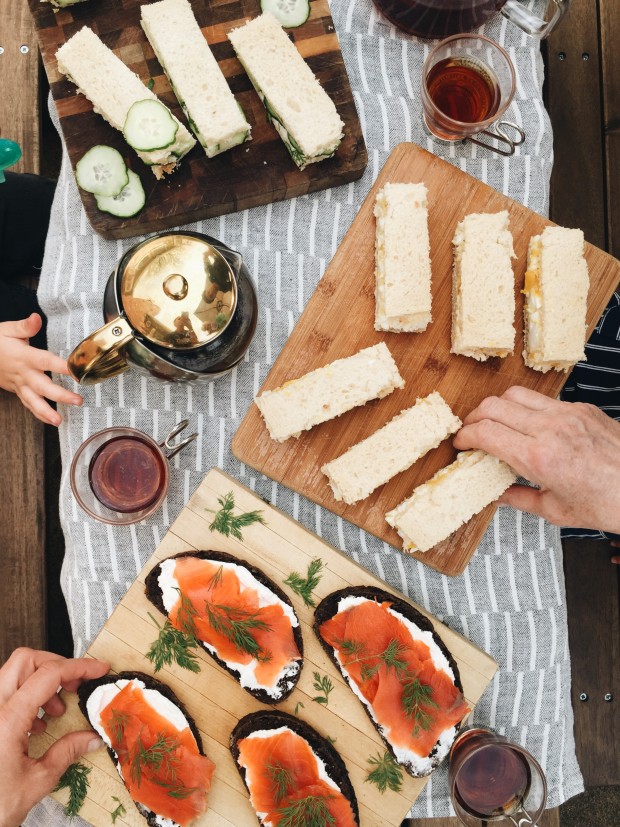 Try these! And give me more ideas for tea sandwiches as I clearly see that my life has a new path carved for it.
Also, Happy Birthday, Aaron! Hope you like egg salad, you old bloke.