SAAAAANTA CLAUS IS COMING TO TOWN. SAAAAANTA CLAU- okay.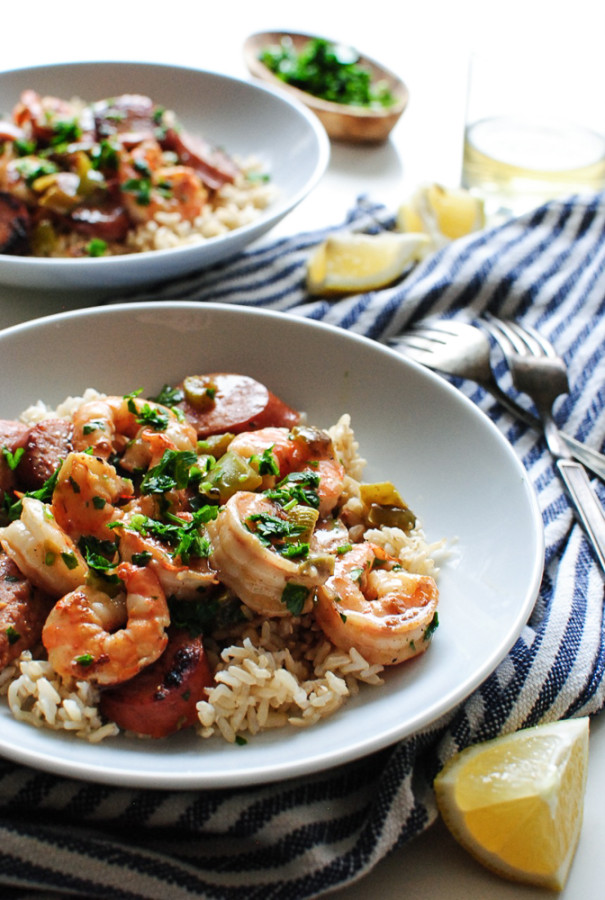 Also, weeknight Cajun food! You didn't think there was such a thing, did you, pooh bears? Well, there is. And this is it.
How do we feel about me calling you pooh bear just now? I'm not sure it feels right in my soul.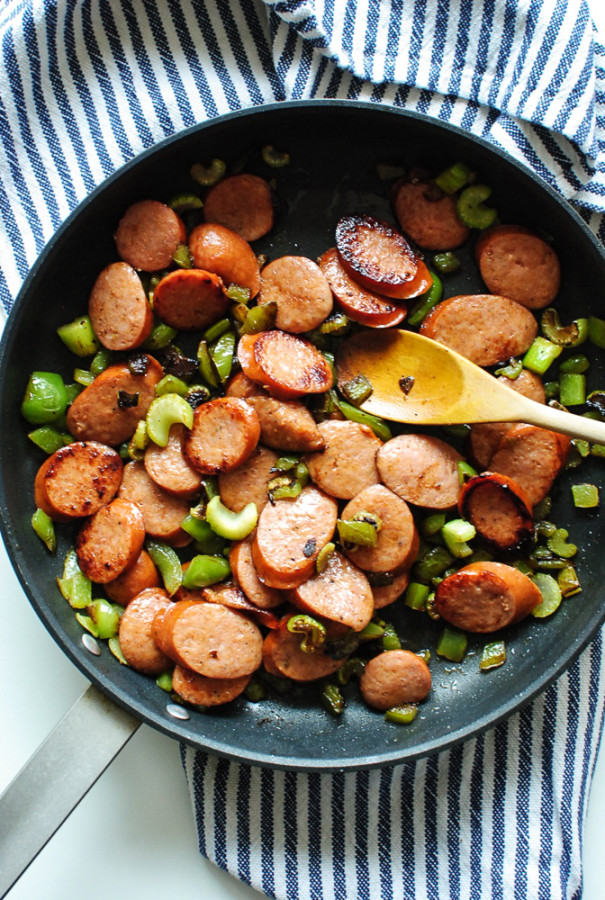 Can you even believe it's Christmas week? I doubt many of you are reading blogs this week, but if you are – this! This this this. You should make this over your holiday break. It's simple, booming with clean Cajun flavors, a change from turkey and gravy and cookies and candy canes, and it takes no time at all!
It's sort of like jambalaya, but not nearly as complicated. It's dumbalaya.
It's not really gumbo, unless you make it soupier. It's gumfaux.
It's not really étouffée, because it's got sausage in it, as well. It's étouffaux.
It's a mix. A happy, easy, delightful, carefree, breezy weeknight mix of all the Cajun things.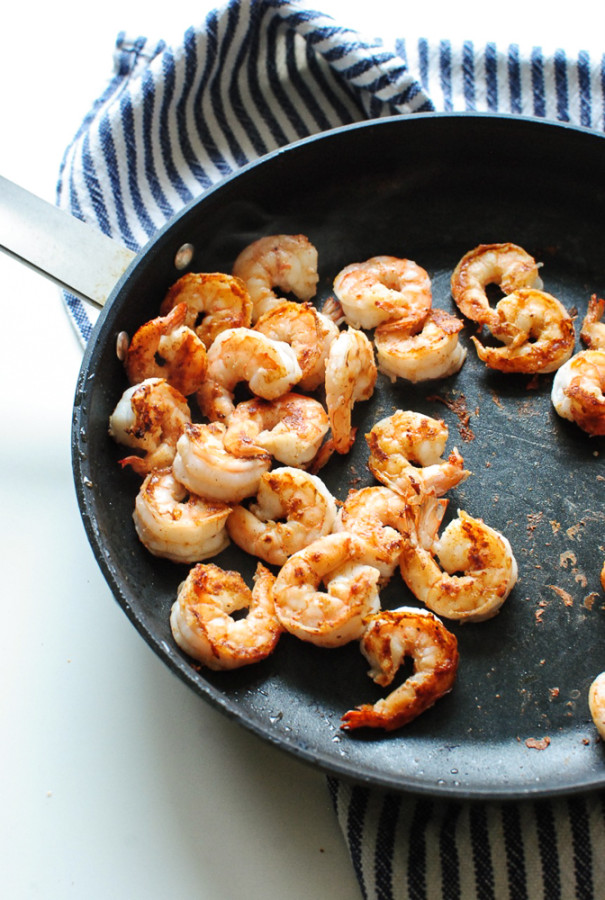 You start by sautéing some celery, green bells and a bit of andouille sausage. It's already so good, AMIREEEGHT.
Then you'll pop all that out of the pan and sear some seasoned shrimp for a nano.
Then you'll simmer up a simple, lemony Cajun-y cream sauce (but not too heavy! it's stock and milk. equal parts. so you can feel good about this life direction.), slide everything back in and she's all good.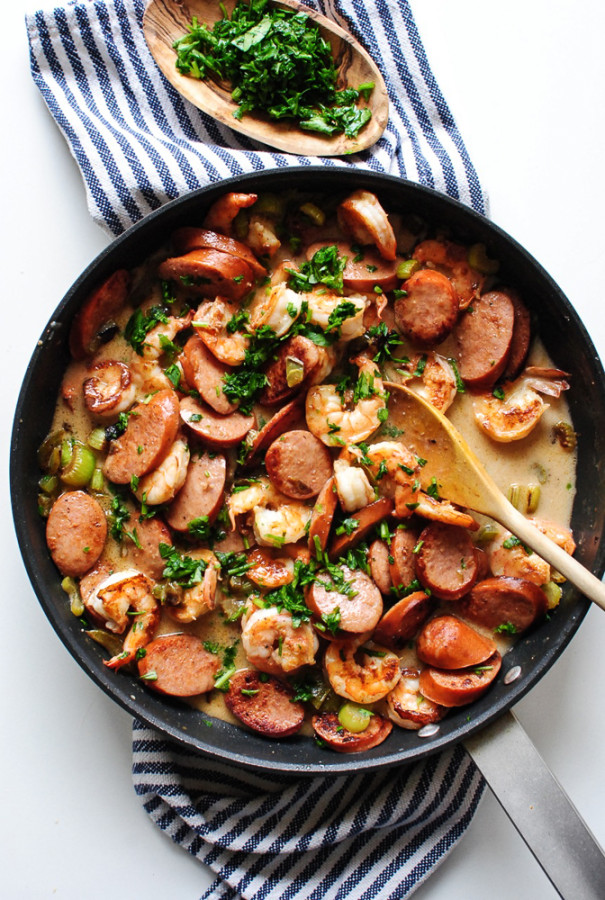 But wait! Add parsley, and then she's all good.
Serve it over some brown rice and hooooooly gah goody bears.
But this next part is vital to your well being, so listen up! Spoon a little of the sauce over the top, because sauce.
And extra lemon. And extra parsley.
AND shoot, if you have some hot sauce on hand, go balls in!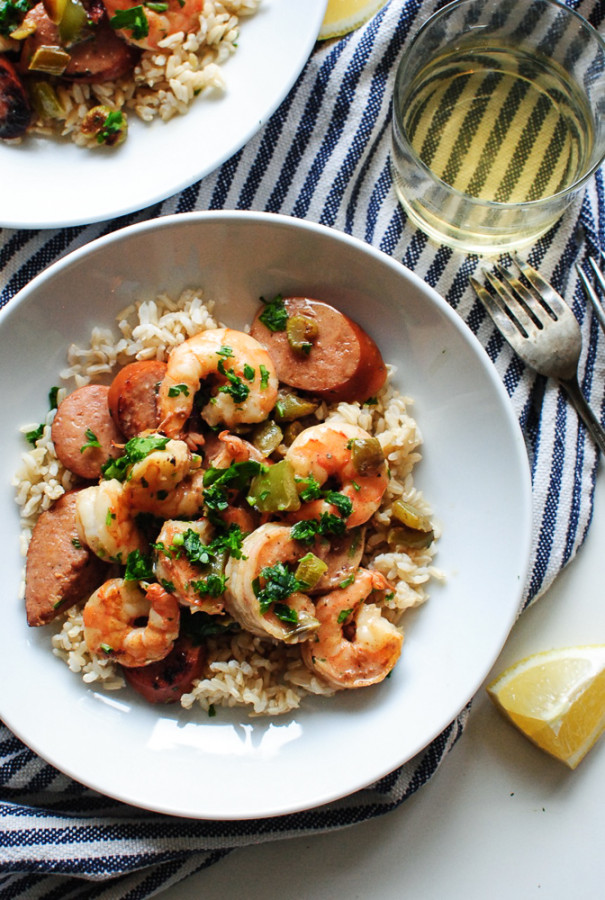 I didn't realize I had so many photos of this meal. Excuse me while I try to think of something to say.
Oh, how about a joke?
What did the andouille sausage say to the shrimp?
I like being bayou.
THAT WAS TERRIBLE. Merry Christmas.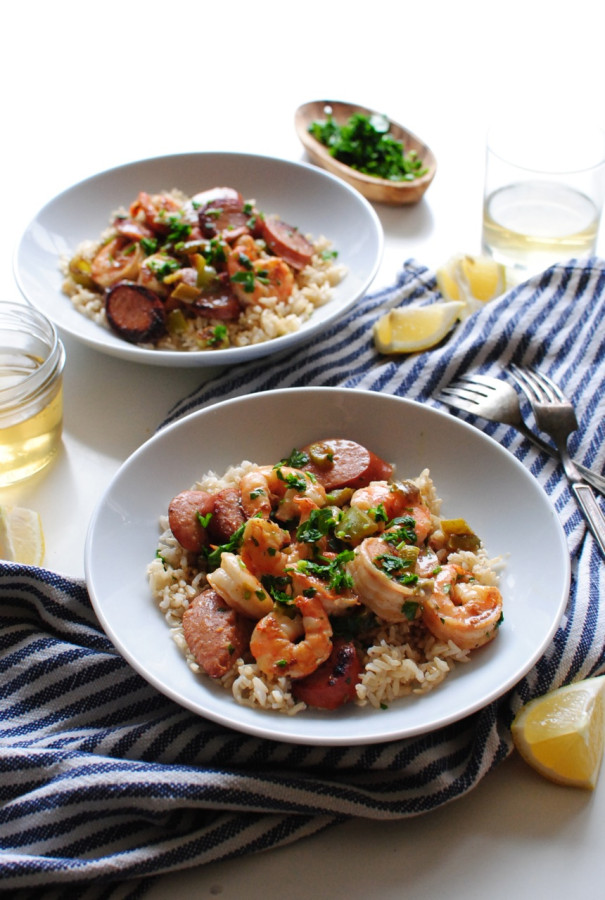 One more thing! Instead of serving the goods over the rice, you could always just mix the rice in the pan, like one big happy family of love. The sauce will coat everything and you will seriously not know what to do with yourself.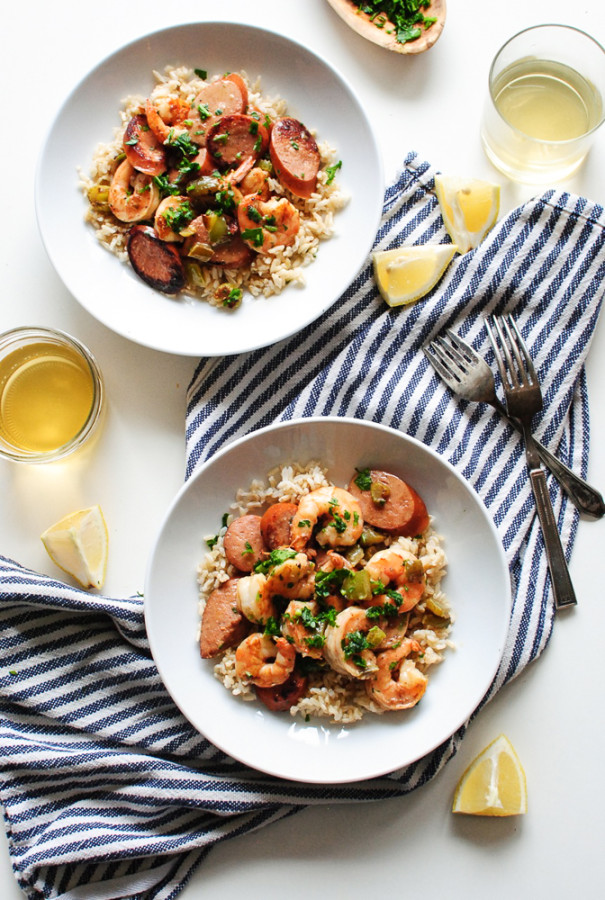 Besides inhale it already.
Weeknight Cajun Sausage and Shrimp with Rice:
What it took for 4:
* 2 celery ribs, finely sliced
* 1 green bell pepper, diced
* 1 pound shrimp, thawed and deveined
* 2 links andouille sausage, sliced into 1/4″ pieces
* 1 cup brown rice
* 1/2 cup chicken stock
* 1/2 cup milk
* 3 tsp cajun seasoning, divided
* 1 Tbs. cornstarch + 2 Tbs. water
* juice from half a lemon
* chopped parsley and lemon wedges, for garnish
* salt and pepper
Place the rice in a rice cooker, along with two cups of water, set it fuuuuuuget it.
On a plate, arrange the thawed shrimp in a single layer, and dust with 2 tsp of the cajun seasoning. Season with a little salt as well.
Add a Tbs. of olive oil to a large skillet. Add the celery and green bell pepper to the pan, and sauté until they begin to soften, about five minutes. Add the sliced andouille sausage to the pan, scooting the veggies to the side so that the sausage can get a good sear on both sides. This take just a few minutes. Remove the goods from the skillet and reserve in a bowl for a little bit.
Back int the pan, add the shrimp in a single layer. There should be enough oil in the pan, but if it's on the dry side, add a tiny drizzle of olive oil to the pan. Sear the shrimp on both side, two minutes tops. Add the shrimp to the sausage bowl.
Back in the pan, add the stock, milk, and remaining tsp of cajun seasoning. Make your cornstarch slurry by combining the cornstarch and water in a small bowl. Whisk it with your fork and slowly pour the slurry into the pan. Whisk or stir the sauce until it thickens just a tad. Add the lemon juice and a good pinch of salt. Stir for just a few seconds and taste it. Is the sauce where you want it? Maybe a little black pepper? Little more lemon? Dew eet.
Now, add reserved veggies and meats to the pan and toss to combine. It's seriously so silky and luscious you'll weep.
Serve this over your brown (or white!) rice, garnish with parsley and more lemon wedges, and that's all she wrote. So eat. Time to eat.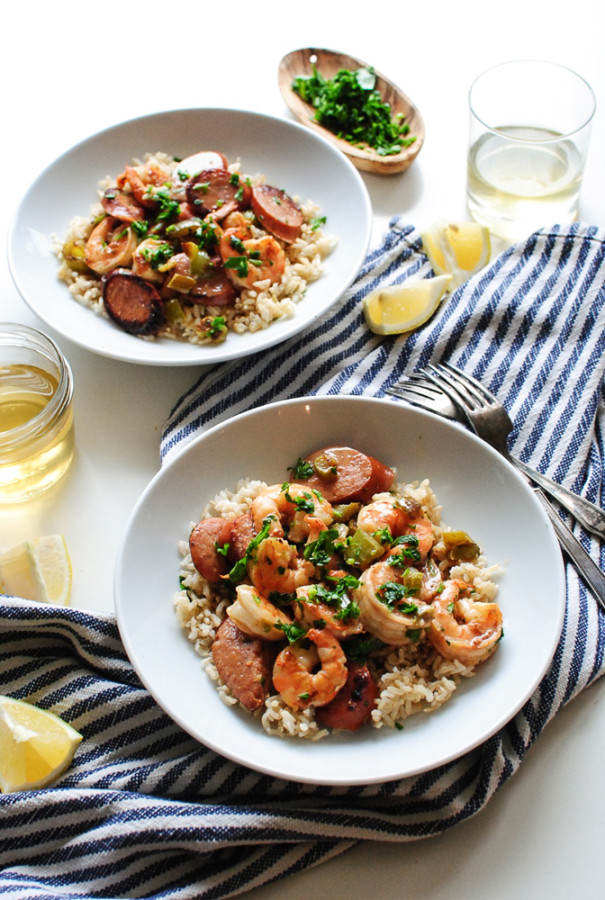 Weeknight Cajun! AKA: your new life.