Is it Christmas food if the garnish is red and green? I'm calling this one a yes.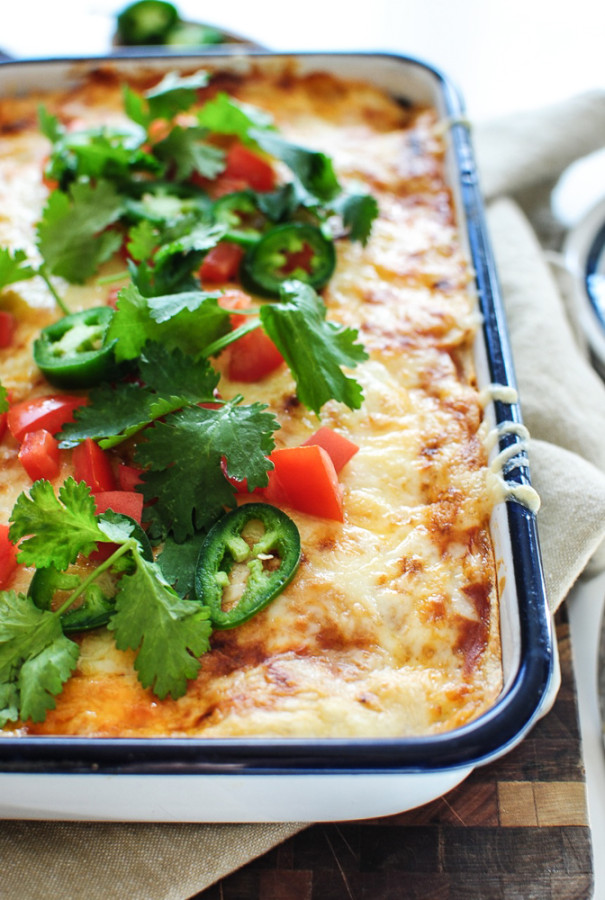 So we're making a casserole today! And by that I mean we're stacking. We're stacking lots and lots of corn tortillas, seasoned grass-fed beef, some black refried beans, and slightly creamy enchilada sauce. I added a little milk to the enchilada sauce, just to stretch it a bit further, and it made me sing songs of jubilation.
Everything pretty much does, but especially milk in enchilada sauce. Especially that.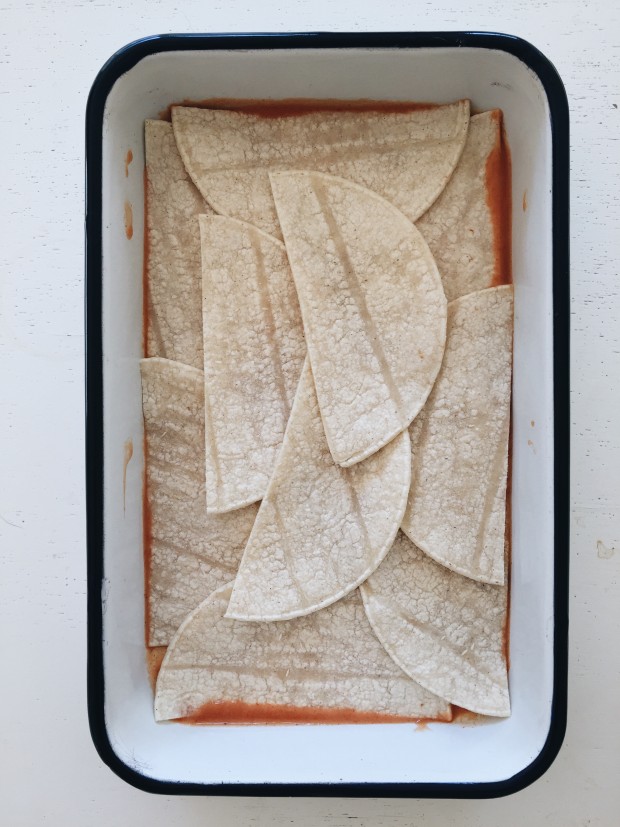 This isn't anything super groundbreaking. I see it everywhere. BUT, I find this method of cutting the torts (that's the way I say tortillas. torts. isn't it awful?) in half, it makes making enchiladas waaaay easier and moderately more enjoyable, because you just randomly stack them in the dish, all willy nilly. And you don't have to worry about foldage breakage!
I know many of you have cool, awesome, hip tips on how to keep your torts from breaking, but I'm a herculean blockhead (<–we've been watching charlie brown christmas on repeat) and can't figure it out to save my life. So, I stack! (or use flour torts)
torts torts torts.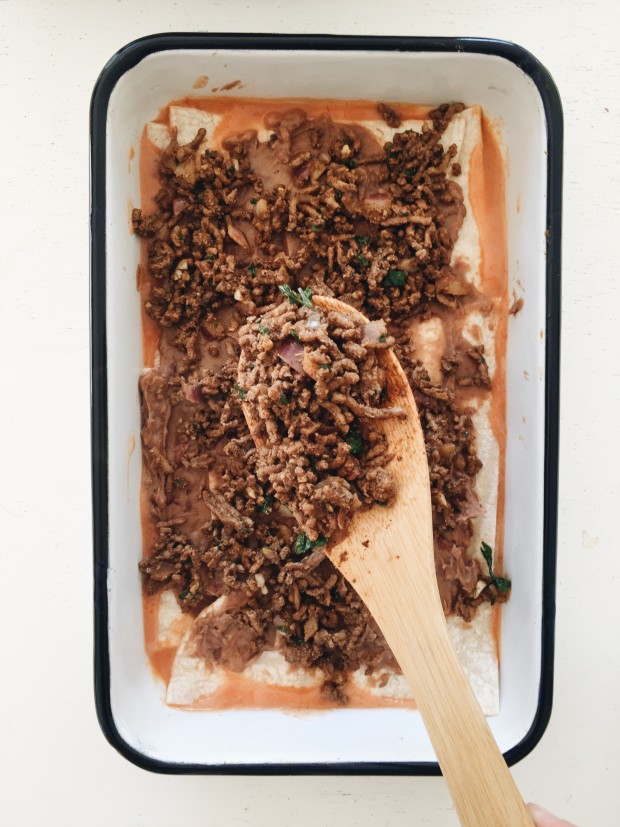 It's quite simple really. You'll brown some beef, add some onions and garlic, a bit of seasonings, some chopped cilantro and a kiss of lime.
You'll stack and layer and layer and stack. Sauce, torts, beans, beef, sauce, torts, beans, beef.
Sauce.
One more layer of torts?
Then cheese. Lawts and lawts and lawts of chayse.
THIS I have figured out to save my life. The cheese part.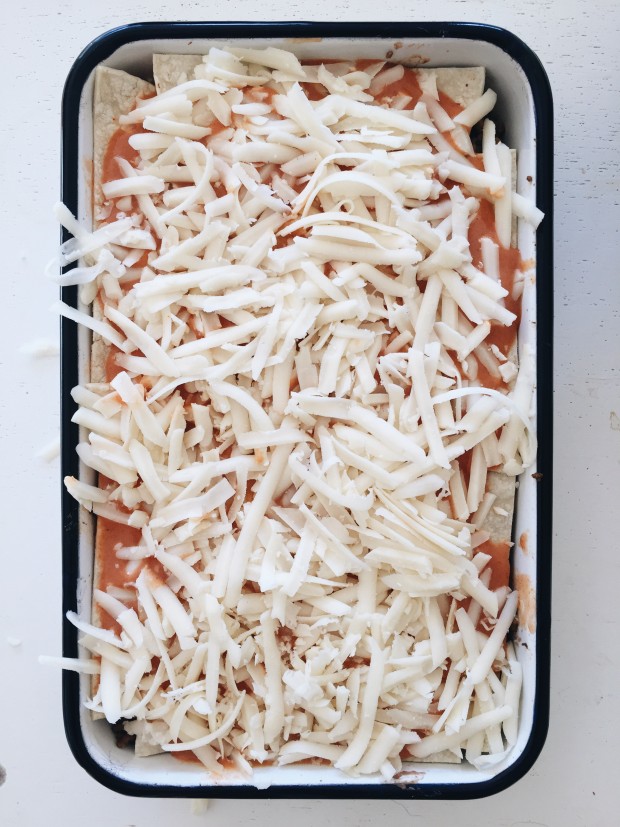 Then you bake!
Which brings us back to the whole songs of jubilation thing.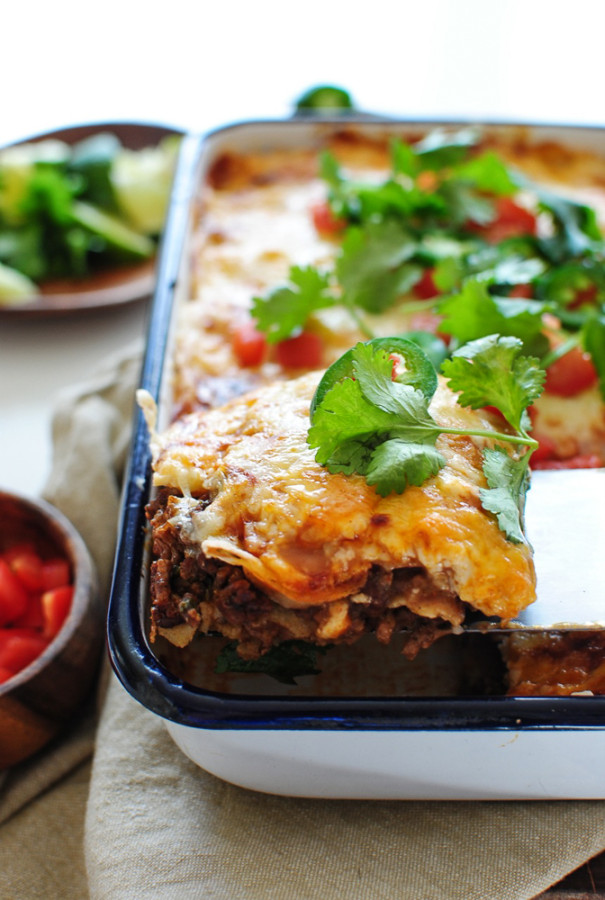 Did you know that mama said knock you out? She totally said it. I heard her.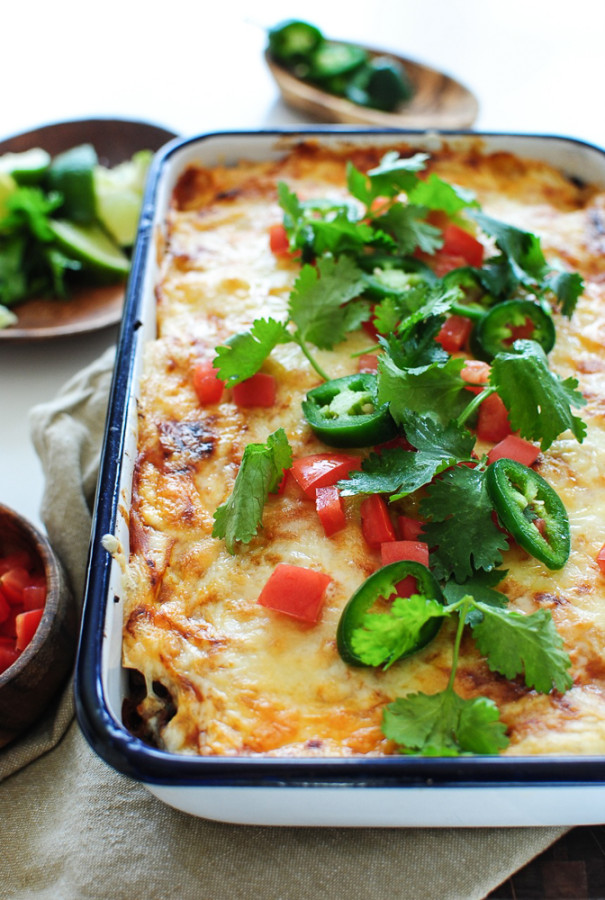 You'll garnish with chopped tomato, sliced jalapeno (totally optional if you're skeered), and more cilantro! Which is also optional if you think cilantro tastes like dish soap.
But let me warn you, if you leave these garnishes off, your ceiling fan will be haunted with tiny ghost mice from our yesteryears for the next 17 weeks.
Don't kill the messenger.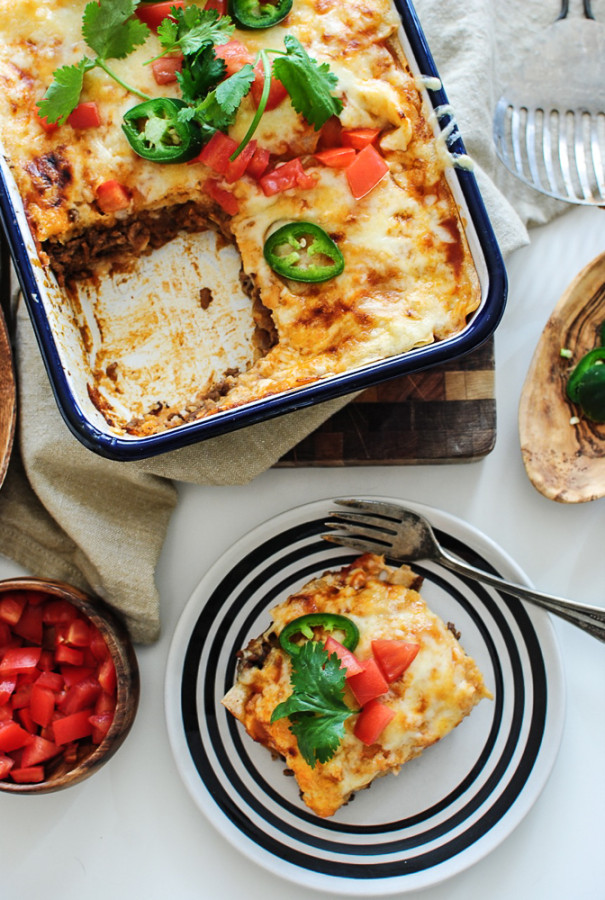 Time to eat!
Grass-Fed Beef Enchilada Casserole:
What it took for a regular casserole (8×10), plus a smaller one without cheese because you know my husband:
* 2 pounds grass-fed beef
* 1/2 red onion, diced
* 4 cloves garlic, minced
* 1 Tbs. each: cumin, coriander
* 1 tsp chili powder
* 2 (10 oz) cans red enchilada sauce
* 1/2 cup milk
* 1 (15.5 oz) can black refried beans
* a whole stack of white or yellow corn tortillas (around 30)
* 1 (8 oz) block of Monterey Jack cheese, shredded
* 1 jalapeno, thinly sliced
* 1 or 2 roma tomatoes, diced
* 1 cup chopped cilantro leaves, plus extra for garnish
* lime wedges
* salt and pepper
Preheat the oven to 400.
In a large skillet, brown the beef until no longer pink. Drain off the fat if necessary. Add the diced onion, minced garlic and spices, along with a good pinch of salt. Cook until the onion has softened just a tad, about four minutes. Add a little water or stock if you feel it's on the dry side. Then add the cup of chopped cilantro and a little squeeze of lime juice. Toss that all together and taste it. We good? Yeah we are.
Pour the enchilada sauce in a large bowl and add the milk; stir to combine. Ladle a small amount along the bottom of a casserole dish.
Cut the tortillas in half and randomly layer them in the casserole dish, on top of the sauce. I like to make sure the flat edges of the tortillas line the edges of the pan. It just feels right for my soul.
Then spread a bit of the refried beans on top of the tortillas, followed by an even sprinkle of the beef mixture. Ladle just a tad of the enchilada sauce over the meat. Then follow with another layer of tortillas, beans and meat.
Finish with a layer of tortillas, a good ladle of the sauce, and a heavy hand of the shredded cheese.
Place the casserole(s) in the oven and bake for at least 30 minutes, getting the cheese good and browned and bubbly. If you need to switch on the broiler right at the end to get the cheese extra bubbly and almost crispy, by golly, do it already.
Garnish with freshly chopped tomato, jalapeno slices, and extra cilantro! And more lime. Always always always more lime.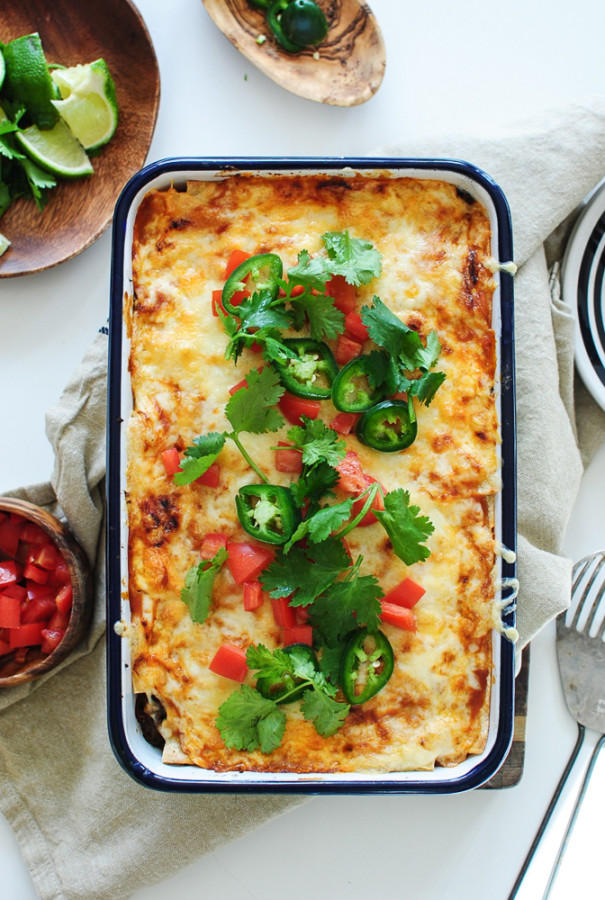 I LOVE STACKING.