It's vegetarian! I'm not sure why I got so excited just now.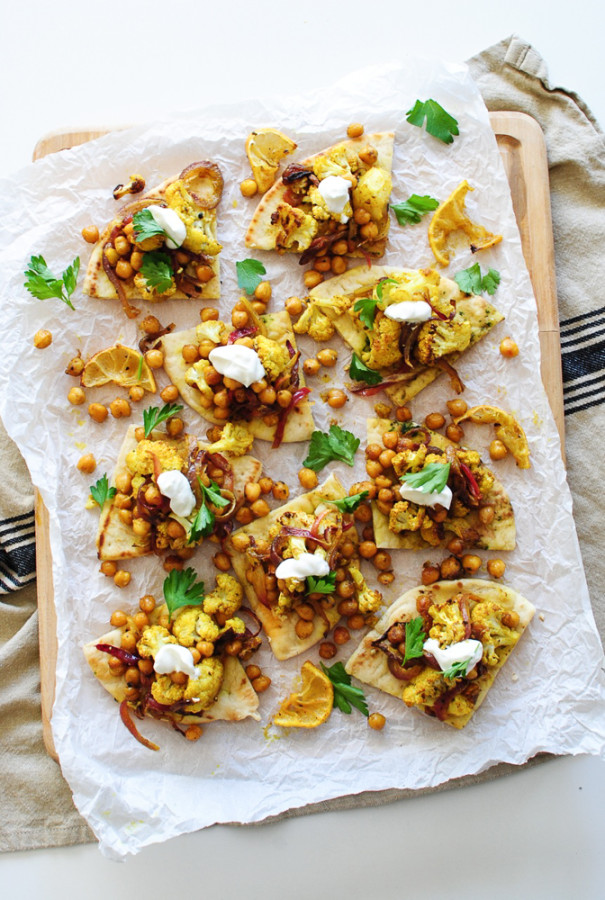 I guess because it's vegetarian! And I hardly ever post vegetarian. And I always get emails, "Post something vegetarian! Post it! The vegetarian something thingy!"
So here it is. Vegetarian!
I'll chill.
Maybe.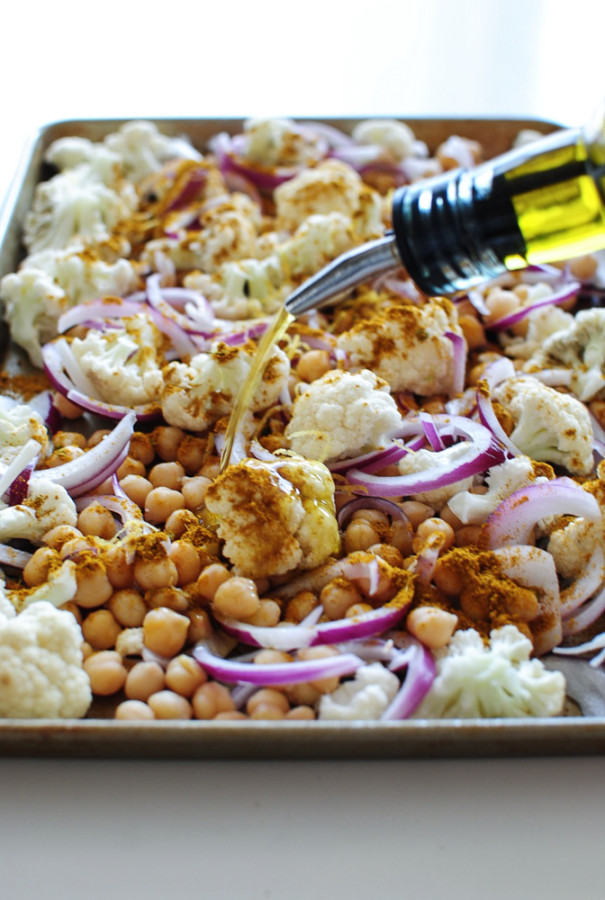 This recipe is SEWWW easy. Beyond beyond beyond. All it is, is a simple toss of cauliflower, a can of chickpeas, a good scattering of thinly sliced red onion (because once roasted, thinly sliced red onion is at the top of my list of favoritest thingsest everest roastedest.), and a healthy dusting of your favorite Indian curry powder. Get the good stuff!
I get mine at Penzey's (<–this is not an ad, seriously), because they make their own, and it SLAYS MEH. They put dried cilantro in it! Who would have thought.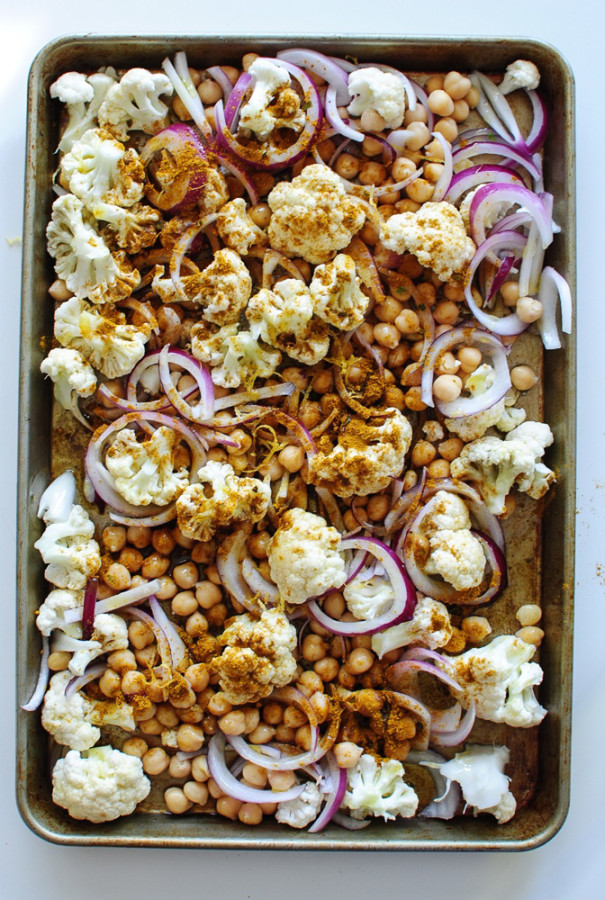 Question: does it make your equilibrium a little whack to see both of these roasting pans slightly tilted to the right? I forgot to straighten the photos last night because we were watching the Mark Twain Prize program when Ellen DeGeneres won, and I was peeing through my eyeballs laughing so hard, and went unconscious, forgetting about all of my photo responsibilities.
Blame Ellen.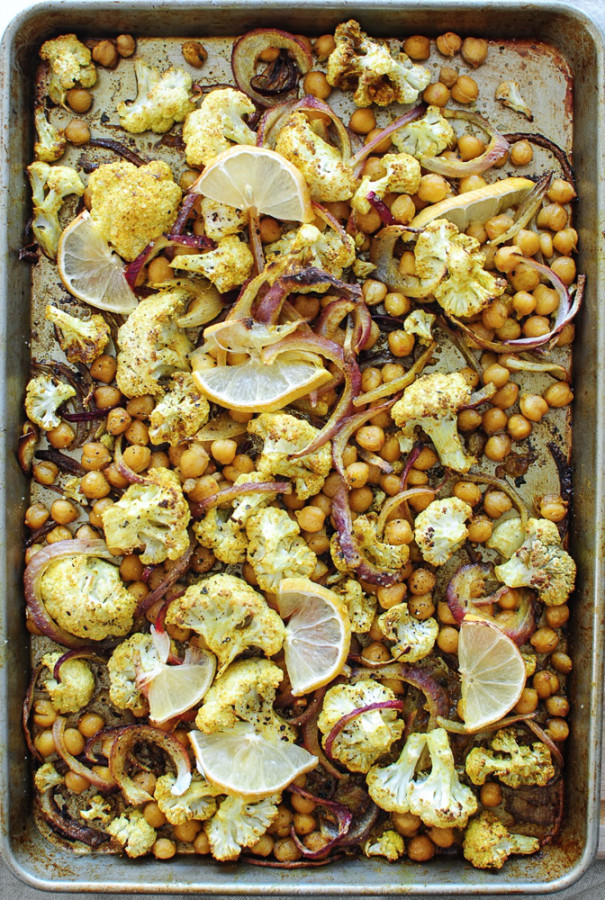 One quick tip about the chickpeas! And I say it down in the recipe, but I feel like telling you twice because my equilibrium is still jank after these last two photos. After you rinse and drain them, roll them around on a baking sheet until the little jacket skins slide off. It only takes a minute or two! This definitely helps the chickpeas get a good crisp in the oven.
Sorry I said jacket skins.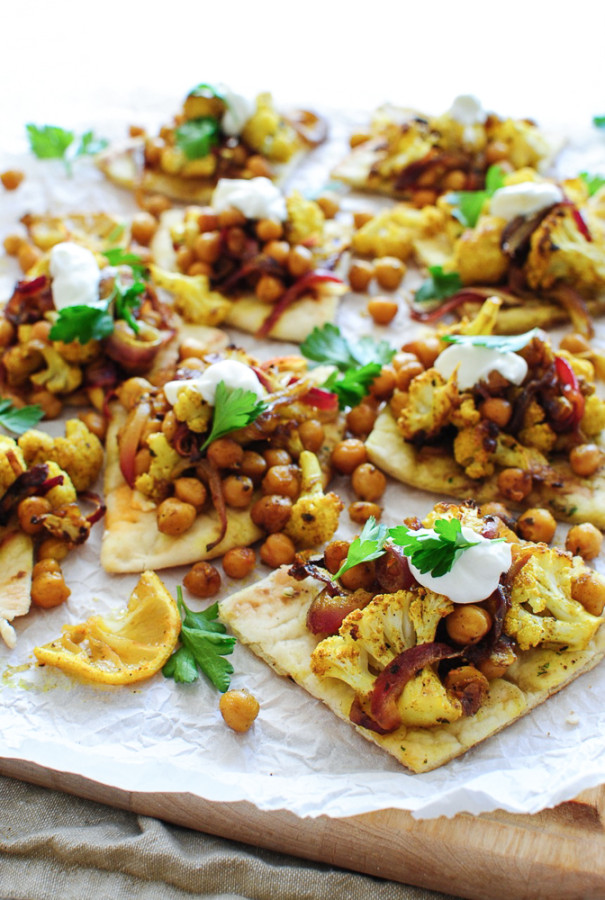 So you just roast roast roast, and then pile them on top of some toasted pita bread! I made a simple Greek yogurt and lemon juice mix and did a lil' dollop on top of each cauli-chick pile. Garnish with fresh parsley, and you're set for life.
You can place them on a huge platter and serve them as delish little appies! Orrrr, shred up some roasted chicken and go all dinner-style. Easy ease, baes.
Do you want me to stop saying baes in 2016?
I'm not making any promises.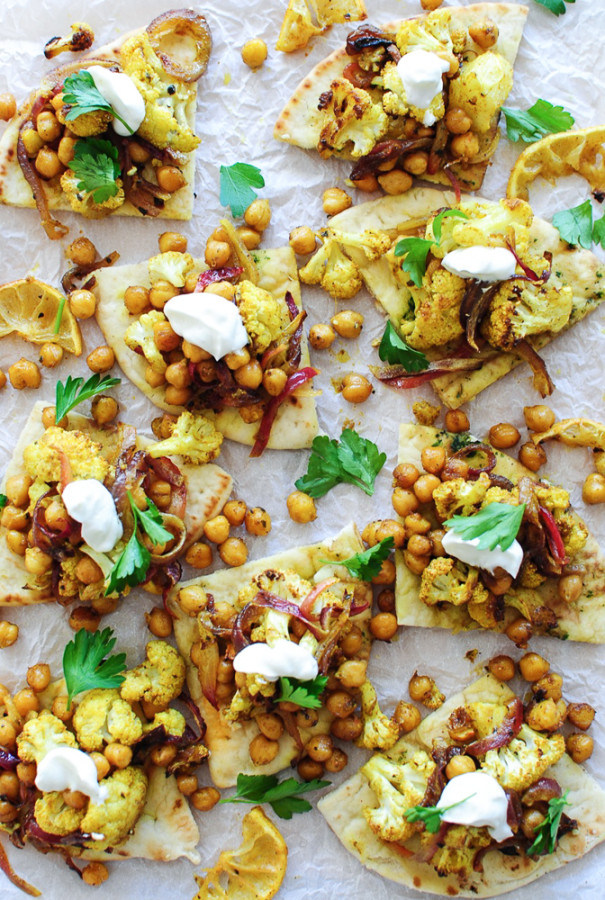 You will freak.
Roasted Indian Cauliflower and Chickpeas:
What it took for about 4 cups:
* 1 medium head of cauliflower, broken into florets
* 1 (15 oz) can chickpeas, rinsed and drained
* 1/2 red onion, thinly sliced (a mandolin works great!)
* 2 tsp of your favorite Indian curry powder
* 2 Tbs. extra-virgin olive oil
* 1 lemon (zest about half of it, and then slice it into rings)
* 1 small container of Greek yogurt + a squeeze of lemon juice (mix together)
* pita bread, cut into triangles
* parsley, for garnish
Preheat oven to 400.
After you rinse and drain the chickpeas, roll them around with your hands on a baking sheet until most of the little skins slide off. This will help crisp up the chickpeas even more in the roasting process!
On a large baking sheet, arrange the cauliflower florets, chickpeas and thinly sliced red onion. Sprinkle with the curry powder and a pinch of salt. Drizzle with a couple of Tbs. olive oil and toss everything with your fingers.
Sprinkle with the lemon zest and nestle the lemon rings on the baking sheet. Slide into the oven for about 40 minutes, or until the cauliflower is nicely browned and the chickpeas are crispy.
Toast the pita triangles for a few minutes, either in a separate toaster oven, or back in the oven.
Pile the cauli mix on top of each pita triangle, top with a small dollop of the lemony yogurt, and garnish with fresh parsley! That's like, it.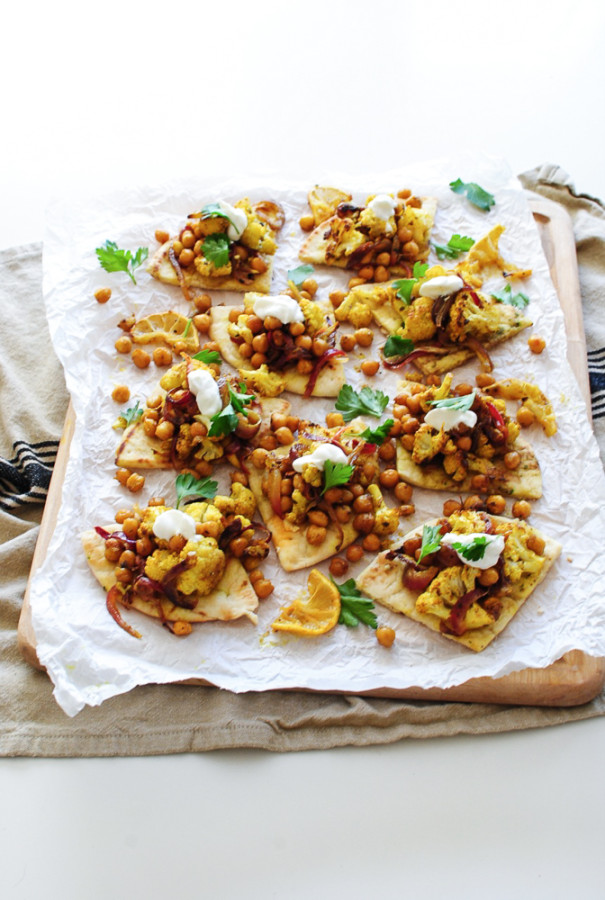 It's vegetarian!