Second official day of fall = PIZZA. (!)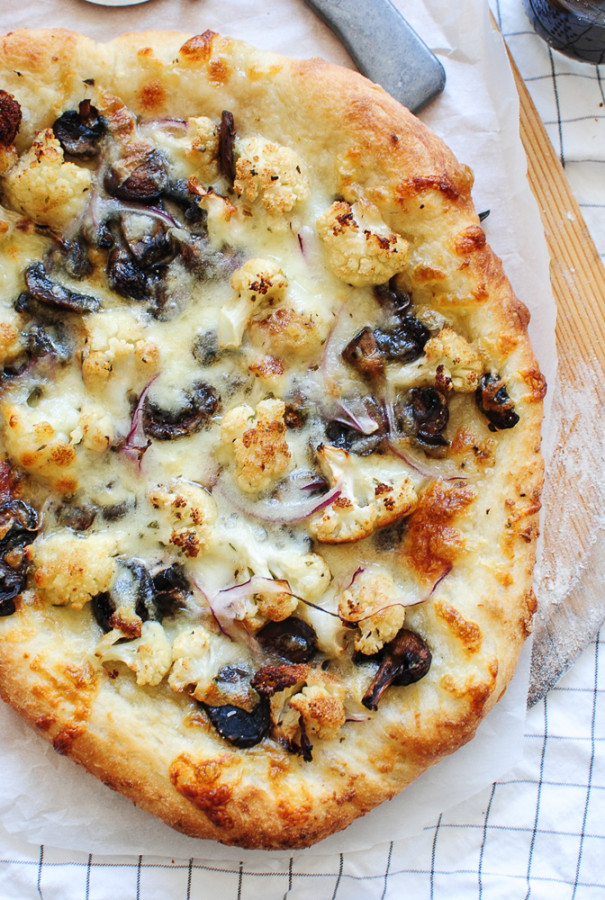 Well, if we're going to get technical, everyday = pizza for me. Not that I EAT pizza everyday, but I could. If I wanted. Because I'm an adult. Who loves pizza. On risky levels. So. Yeah.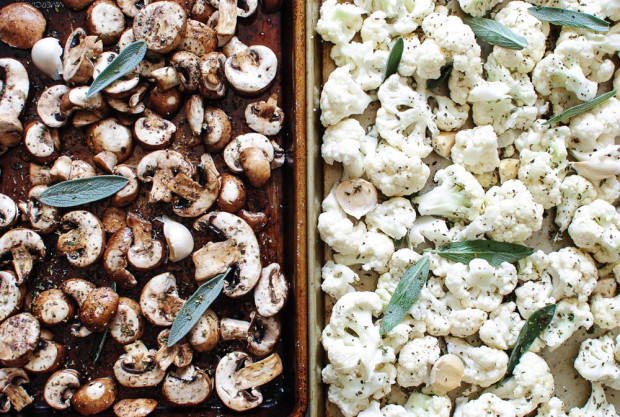 But look at all that roasted goodness! We've got sliced baby bellas, cutsie little cauli florets, some good fall herbies, lots of delicious garlic. Hallelujah. OR WAIT- HOLLA. LUJAH. Hahahahah!
Never mind.
. . . but seriously, you guys.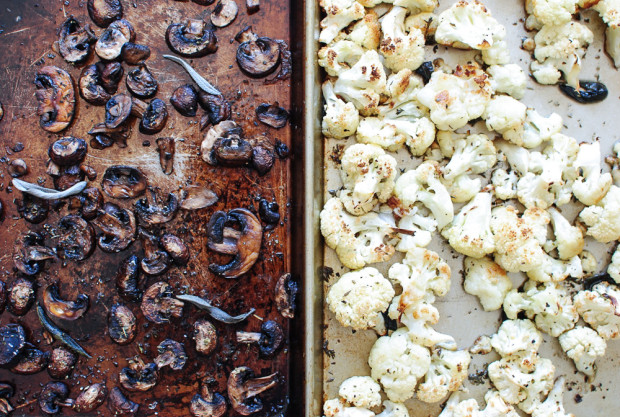 This pizza takes a teensy bit of legwork, but I think it's perfect for game days. You're already home, already noodling around in the kitchen with your buffalo this, and your craft brew that. Why not roast up some veggies and make some 'za, bra! (<—how could you not punch me for that?)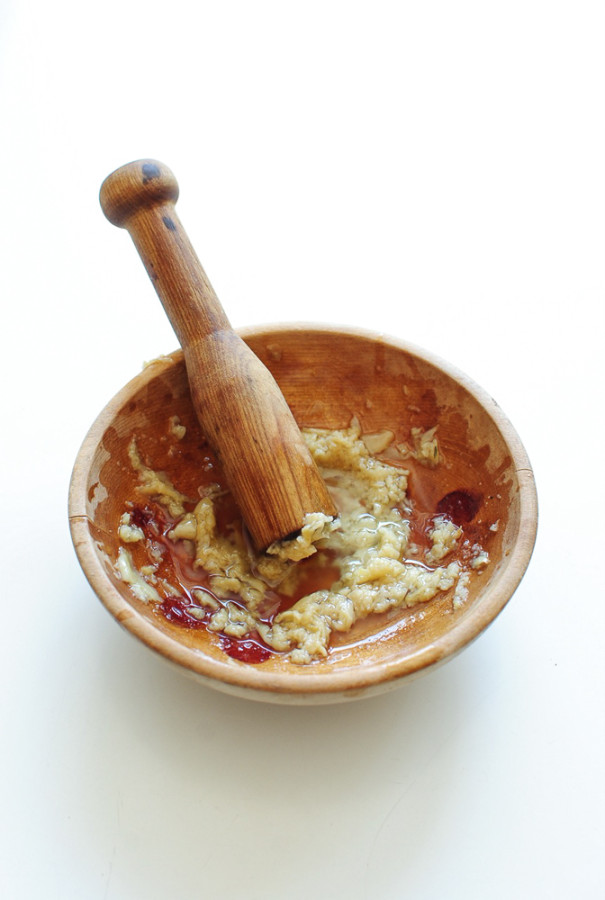 One of my favorite parts about this pizza is the SAUCE. It's so easy to grab a lil' jar of red pizza sauce, but I double doggie dare you to try it this way. ESPECIALLY because of the roasted 'shrooms and cauli. You've already roasted an unmarked white van load of garlic cloves- just squeeze them out of their skins and mash them into a paste with a little oil and salt. BAM. Unreal.
You'll just brush that gawgeous garlic oil over each crust, par-bake for a kiss, and it.is.magical.unicorn.and.rainbow.land.
for.your.mouth.hole.
the.end.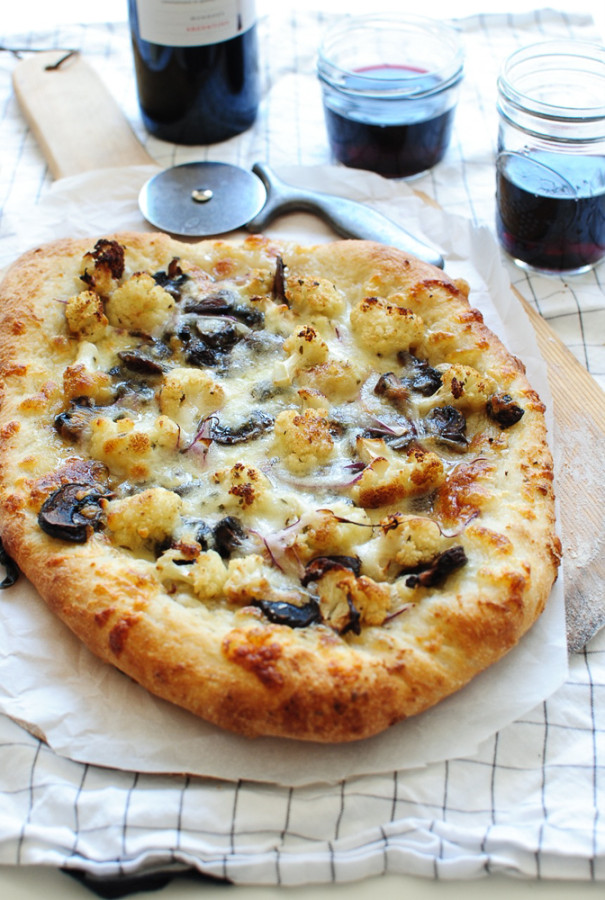 But not the end! Because we forgot about the veggies. And the fresh mozz, bra! (<—can't even chill with this.)
And the DOUGH. OH MY GOSH.
So, I've decided it's my mission in life to seek out theee best Kansas City pizza dough. Last time I used Minsky's. This time, Pizza 51! And I have to say, I think the Pizza 51 dough reigns supreme. So far.
What dough should I try next, locals!? Bella Napoli, Pizza Bella, ummmm I can't even think. So many paths of life to choose from. FROM WHICH TO CHOOSE, sorry. (<—sounds like a d-tron.)
(because saying BRA over and over apparently doesn't.)
(I suck.)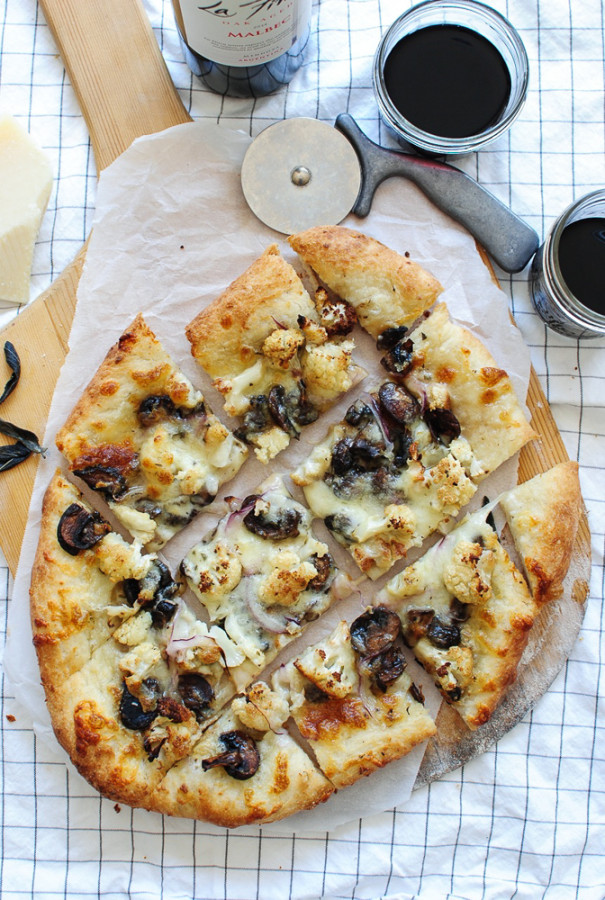 This pizza should be your next life goal. It's simple, perfect for fall, party in yo' mouth, yadda yadda YADDA. Just do it. Today.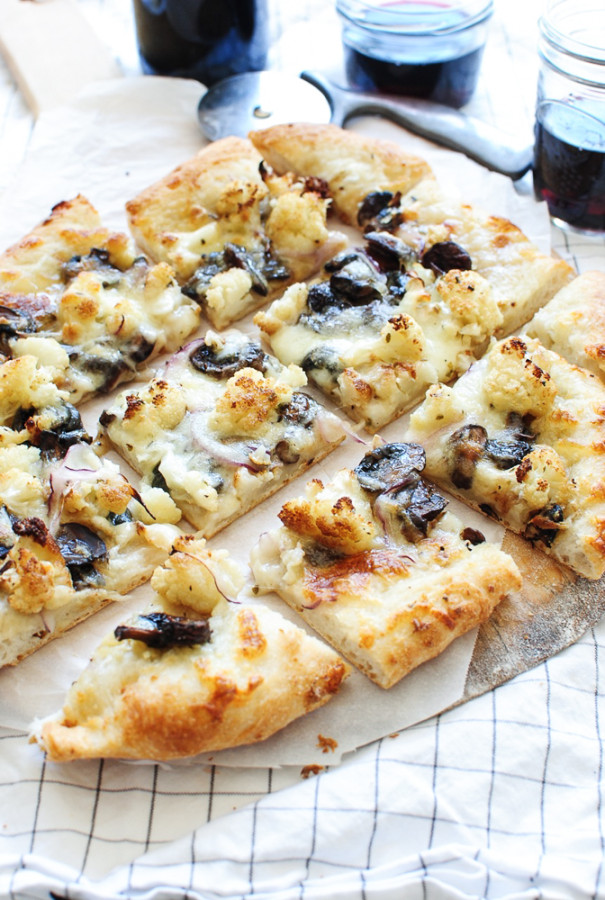 Bra!
Roasted Cauliflower and Mushroom Pizza:
What it took for two 10-inch pizzas:
* 1 to 1 1/2 pound fresh pizza dough (I used Pizza 51 this time, locals!)
* 1 medium cauliflower head, broken into florets
* 8 oz sliced baby bella mushrooms (or your fave 'shroom)
* 4 Tbs. extra virgin olive oil, divided
* 2 to 3 tsp fresh thyme leaves
* 10ish fresh sage leaves
* 6 garlic cloves, in their skins
* 1/3 cup thinly sliced red onion (a mandolin works great!)
* salt and pepper
* 1 (5 oz) ball fresh mozzarella, shredded
Preheat oven to 400.
Place the mushrooms on one baking sheet, and the cauliflower florets on another. Nestle the garlic cloves in with the veggies. Sprinkle with a good pinch of salt and pepper, drizzle with 2 Tbs. of oil and sprinkle with fresh thyme and sage leaves. Give it a good toss. Roast the mushrooms for 30 minutes, and the cauliflower for 45, or until you get some good roasted color all over. Remove pans from oven and set aside.
At this point, throw a pizza stone into the oven if you have one.
Using tongs, fish out the garlic and press the cloves out of their skins, into a small bowl. Add a pinch of salt and the remaining olive oil, and mash into a paste. It doesn't have to be perfect. Just as good as you can get it. MASH MASH MASH.
Now divide the pizza dough into two balls and evenly roll out on a floured work surface. Evenly brush the garlic oil over the two crusts. Now par-bake each crust for two minutes. You can do this one at a time, if needed. No bigs.
Sprinkle about 1/2 cup of shredded cheese on each crust, and evenly top with the roasted mushrooms, cauliflower and red onion. (and herbs!) Finish off with the rest of the cheese and bake another 12 minutes, or until the cheese is browned and bubbly, and the dough is cooked through.
I.N.H.A.L.E.A.L.R.E.A.D.Y.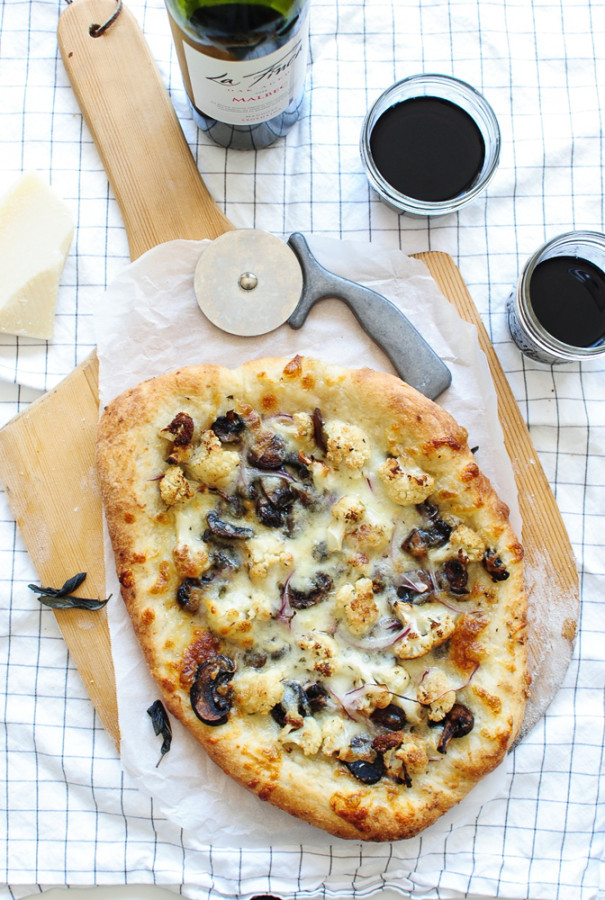 Are we still friends after all that?