You're wondering what on earth took me so long, aren't you?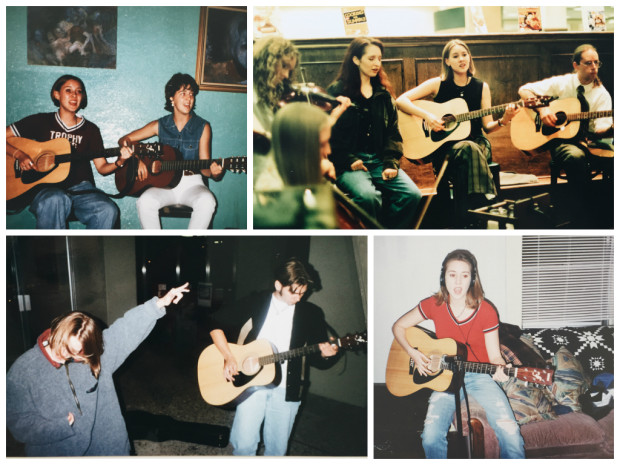 Well it's here, puddle bugs. It's here.
I feel like it would be a complete injustice if I did not make you a mixtape that helped form and construct and mold and embody ALL OF OUR DELICATE EARS AND LIVES FOR AN ENTIRE DECADE.
Hello, the 1990s.
Gah, it was such a gigantor era for me. All of high school, all of college, two moves, a set of nasty braces, bad clothes (would you just look at that entire outfit made of velvet? you can't un-see that, you know.), straight hair! I have no idea how my hair was that straight. These days I look like Kennedy from MTV meets Medusa meets rotting gladiolas.
I LOVED the '90s. Truly truly. Even though it had its prerequisite share of confusion, heart break, teenage turmoil, yadda yadda yadda, everything was so easy! You didn't have cell phones. You went to your friend's house. You played guitar. You talked about boys. You ate chocolate chip cookies and didn't care. You were home by 6. You obsessed over all the music. (hi, the CRANBERRIES. I was irrationally obsessed with the Cranberries. Drove my family nuts. Let's not talk about it anymore, okay?)
Chances are, if you and I were pals in the 1990s, something in this playlist will spark a memory or 40.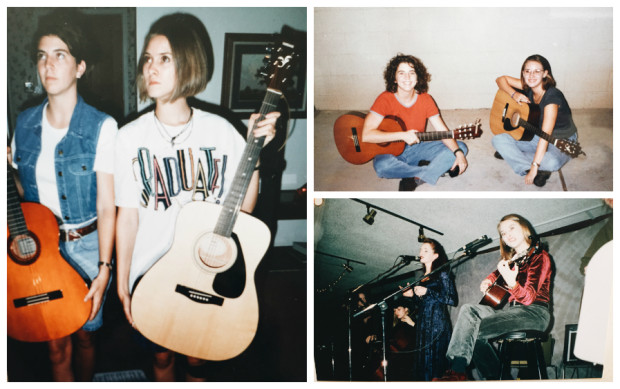 Speaking of, this isn't just your basic, run-of-the-mill, cliché '90s mix. No no no. This is the '90s through my eyes. Every single song on this mix is attached to vivid memories just like they were 10 minutes ago. Little bit of Lilith love, some rock, some hip hop. Of course it's peppered with a few classics. It's unavoidable, though- it was the '90s.
I had such a blast putting this ridiculousness together. However, it's unforgivably long, with 23 entire songs. But listen! It's the perfect mix to listen to while you drive to your Labor Day destination this weekend, propelling your spouse into a fit of rage while you uncontrollably sob through your stroll down memory lane. I know I will! (sorrynotsorry, Aaron) (I'll definitely snapchat that shniz)
AND, I'm warning you now. This mix isn't exactly rated G. There are a few cursies sprinkled throughout, but I'm sure you can look past it. It was, after all, the '90s. And Beastie Boys. So . . . sorry, Mom.
And now I present to you, the "Crunchy Bangs and Flannel" mix.
Let the memory floodgates open.
Of course you can just click the following link to listen later! (all of this is totally free, dudes) (it's not showing the whole mix because I suck at technology.) (but once you start listening it will!) (that's all.)
The "Crunchy Bangs and Flannel" Mix
If something in this playlist reminds you of something we did together, totally tell me! I need to crack up at something today. Besides rotting gladiola hair.
Previous mixes:
The "Fireworks and Lemonade" Mix
The "Birthday Candles and Rosé" Mix