Eaaaaaaaaasy easy easy easy easy suppah.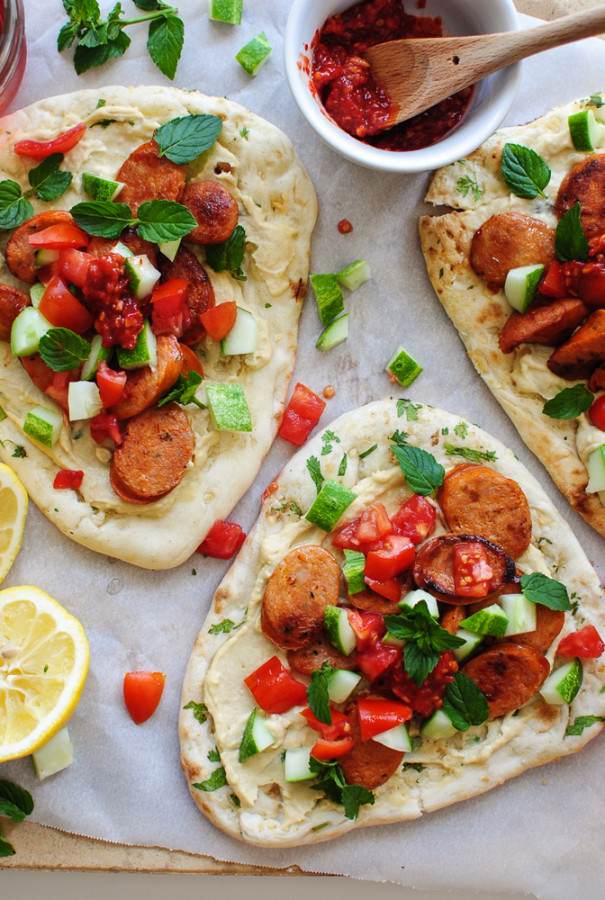 Easy like Sunday morning. Or Monday afternoon. Or Tuesday night. Or Wednesday twilight. Or Thursday dawn. Or Friday lunch. Or Saturday happy hour. (You like how I made it through the entire week? No? Oh.)
I sort of feel like with getting into the whole back-to-school routine (you, not me), and chasing the bend of afternoon photo shoot light (me, not you), this meal just hits it. HITS IS, I TELL YOU.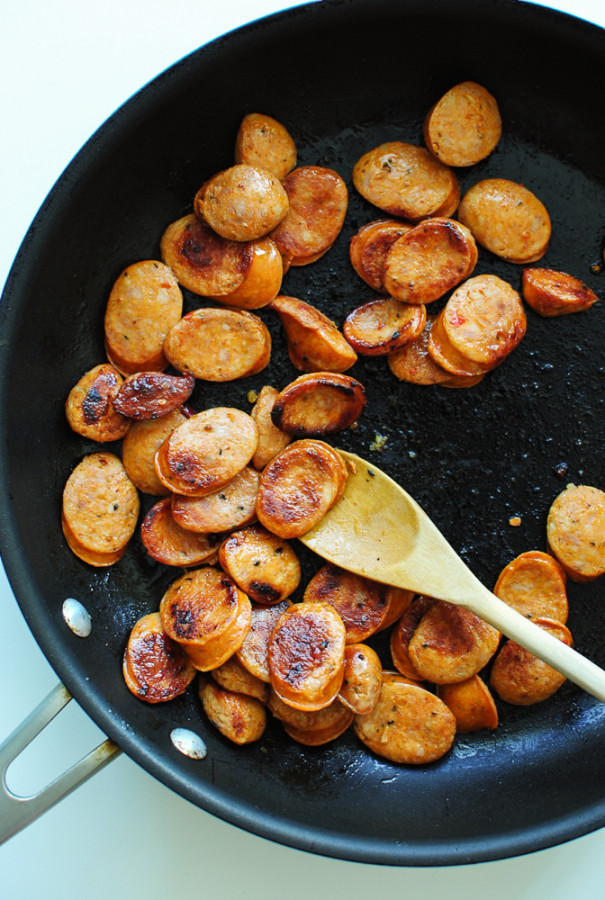 Maybe I'm just completely butt-bonkers lazy, but I loooooove this kind of cooking. It's not even cooking! It's just placing different food items together on a delicious carby naan canoe and shovel city into your head.
The only cooking you really do is some chicken sausage searing. But you can deal with that, right? Of course you can.
OH WAIT, FALL TV is about to start! Sorry to switch gears like this. What are you excited to watch? Did you know the Mindy Project is moving to Hulu only? Which for me, it was already Hulu only because I could never watch in real time due to my sitcom-hating husband. Can you believe this life I live? I can't talk about it.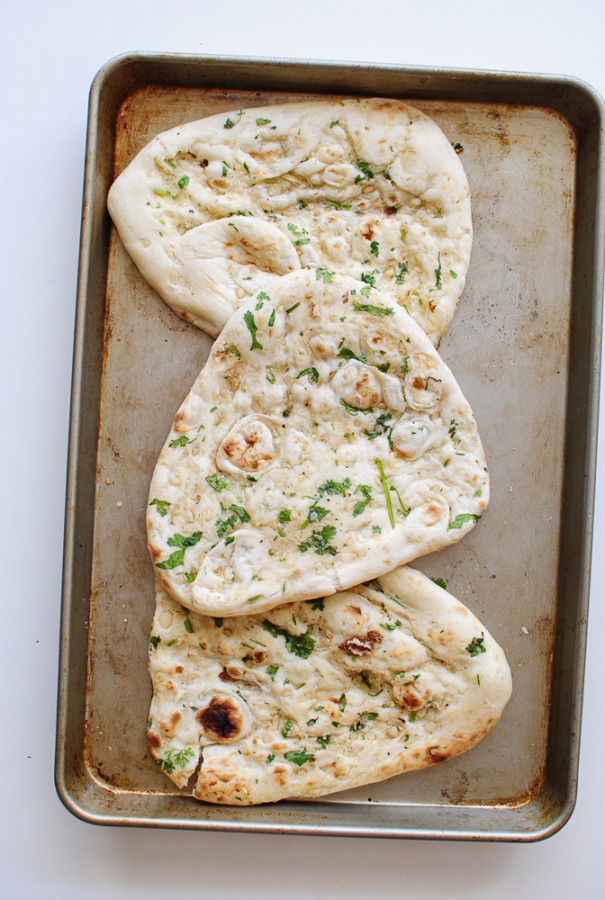 What else, what else! NEW GIRL. I heard that Zooey won't even be in the first episode because she was on maternity leave or something? I didn't even know she was pregnant! This is is how horrible I am with following celeb gossip. I'm still wondering how Brad Pitt and Jen Aniston are going to work things out.
(So then you'll just toast up some frozen naan in the oven. Or if you don't have naan, regular pita bread is just fine!)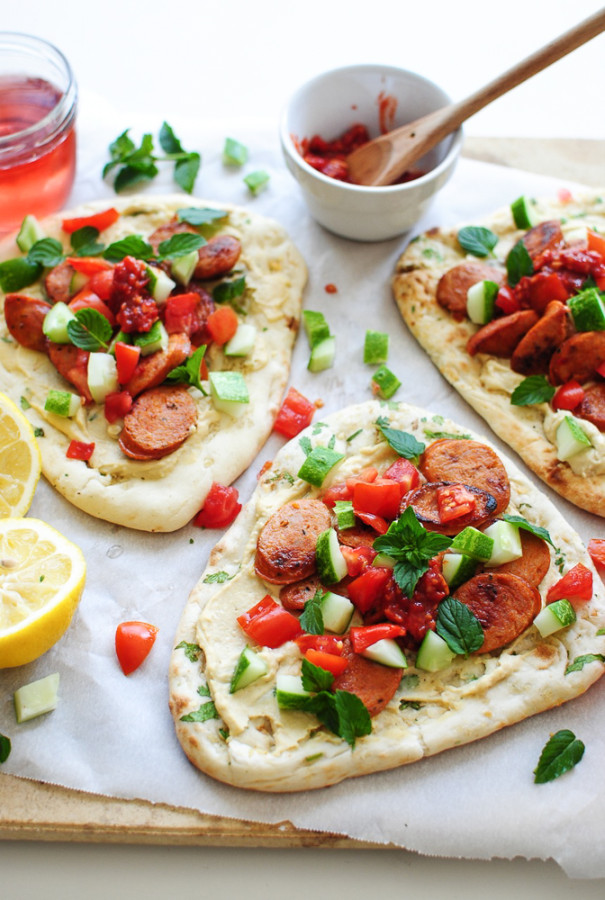 What else, what else. The GOLDBERGS. They're back for another season- did you know!? I'm pumped for that. But sort of regretting saying pumped just now.
(Top the naan with hummus, chicken sausages, fresh cucumber and tomato, a little chili garlic paste, some fresh mint, and a few happy squeezes of lemon! Are you seeing how simple this is?)
You have to tell me what to watch this fall. Because I pretty much need you to dictate my life.
I NEED GOOD SHOWS.
YOU NEED THIS GYRO.
See how well this relationship works?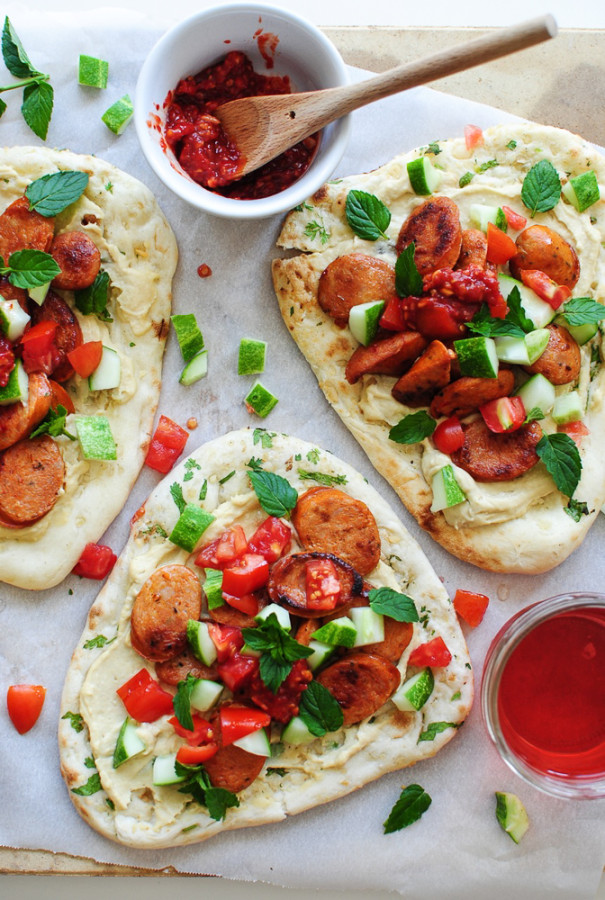 1-2-3 easy.
Open-Faced Greek Chicken Sausage Gyros
Ingredients
4 frozen naan breads (I used Trader Joe's, but whatever you have on hand is fine)
4 links of your favorite chicken sausage (this time I used andouille, but anything works!)
1/2 cup store-bought hummus (any flavor is fine)
1/2 cup diced cucumber
1/2 cup diced fresh tomato
garlic chili paste, for garnish
mint leaves, for garnish
fresh lemon juice, for squeezing
Instructions
Preheat the oven to package directions.
In the meantime, slice the sauce on a slight diagonal and sear them in a pan until you get a little browning on both sides, just a few minutes.
Pop the frozen naan into the oven for a few minutes, until warmed through, and you're ready to assemble.
Spread the hummus over each warmed naan, and top with chicken sausage, diced cucumber and tomato, fresh mint, a dollop of chili garlic paste, and a good squeeze of lemon juice over everything. THAT IS IT.
7.8.1.2
2
https://bevcooks.com/2015/09/open-faced-greek-chicken-sausage-gyros/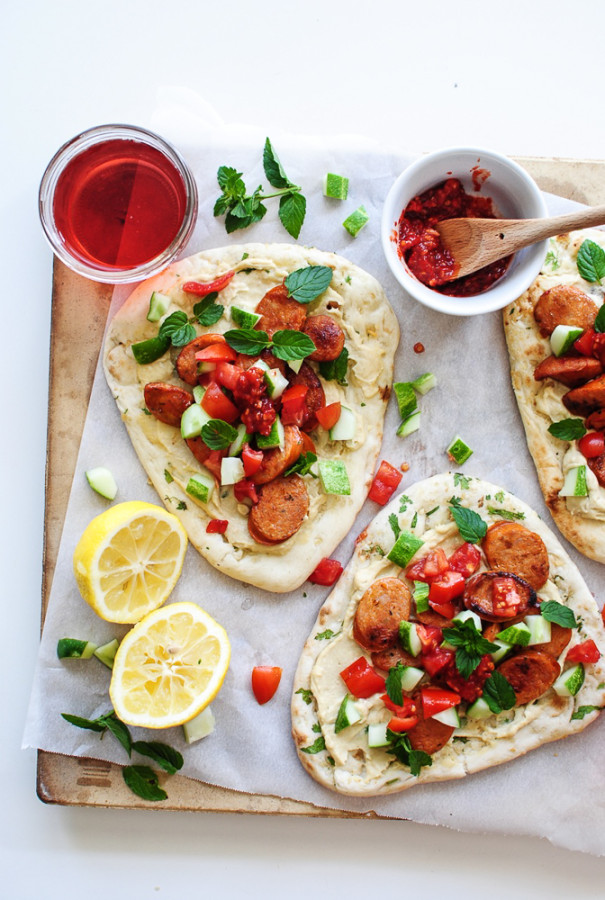 What else what else! I wonder if the Golden Girls are renewed for another season.