More tomaters! Only this time we're slooooow roastin'. As opposed to slow cookin'. Remember? From like, two days ago? Never mind.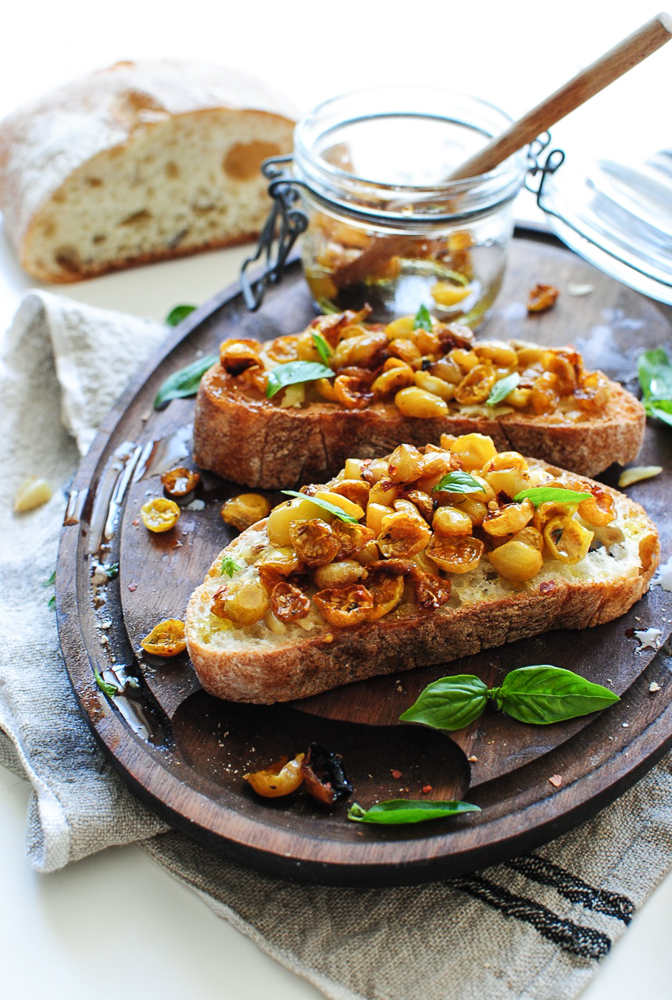 These golden beauts, I must admit, do not come from my very pregnant garden. They're farmer's market finds because I cannot liiiiiiive without golden tomatoes. Which makes me wonder why I don't just grow the dad gum things in my own garden. That would make sense, BEV. See the things I learn when I talk to you? This is why we're friends. Thank you for being there for me.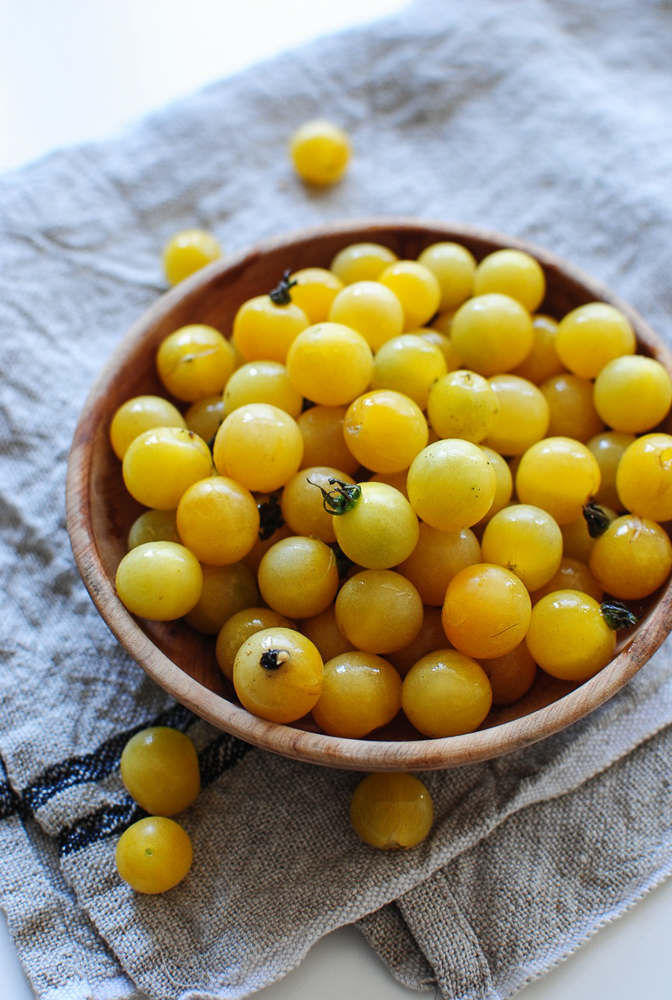 Aren't golden tomatoes so lovely? Like little gems of delight just waiting to burst all up in your mouth hole. And tell you what, once they're slow roasted with good oil and pungent garlic and lots of fresh thyme and a smooch of crushed red pepper, you won't BELIEVE how succulent they become in bruschetta form. Who says bruschetta is only for fresh, red tomatoes!? NOT I, sayeth the Bev. (<–ew)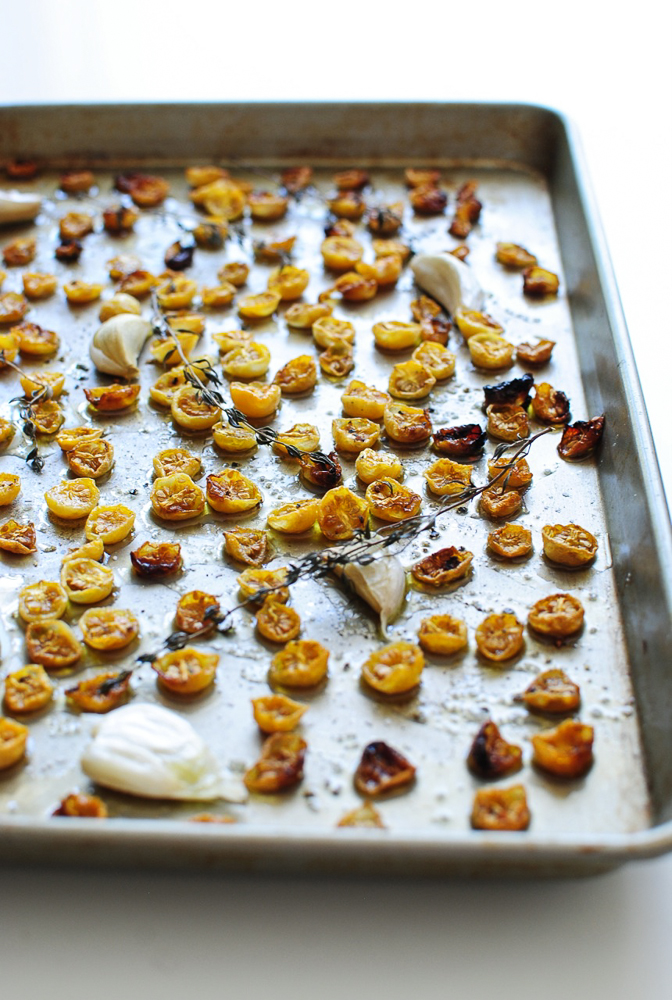 The method is as easy as easy gets. You half. You roast. On low. For houuuuurs. Nearly four! They flavors mellow and soften, yet they retain a gentle tartness that plays so beautifully with the roasted garlic. You do this, you won't ever look back.
Once the tomatoes are roasted, you can either seal and store them for later (why, though? have you SEEN those gorgeous baby dolls?), or go ahead and spoon them over some billowy, toasted crusty bread for instant bruschetta glory. But the trick to the whole thing: THU GARLIC. What you do is slide the cloves right out of their skins onto a cutting board, and mash them down with the side of your knife. Maybe add the tiniest pinch of salt to help in the mashing. Make a paste almost. Then just happily spread that roasted garlic greatness over each slide of bread. Top with a heaping mound of roasted tomatoes, one more drizzle of olive oil, and . . .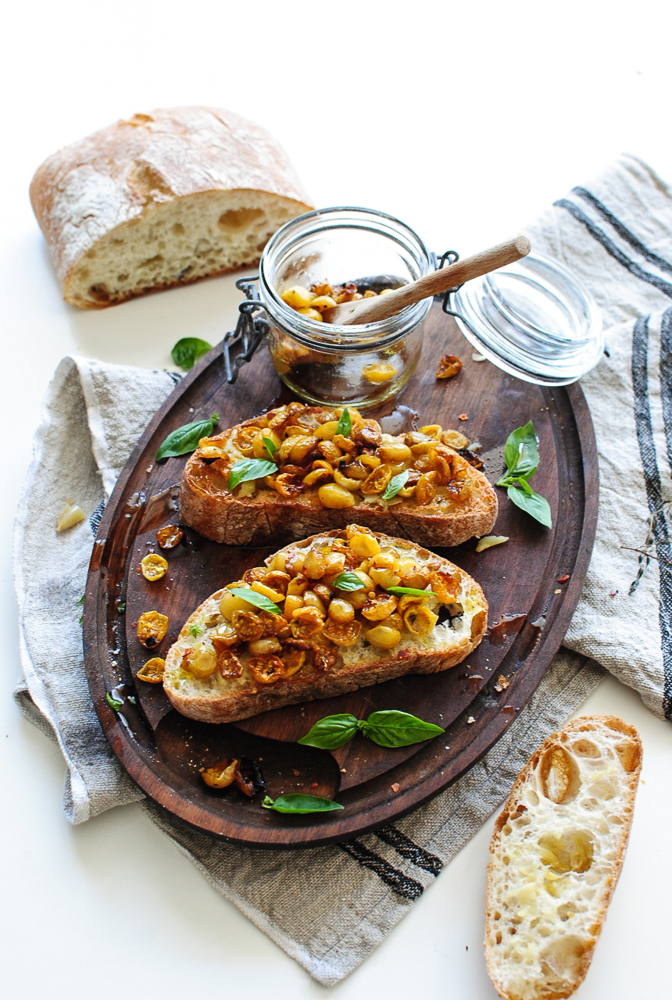 UUUUUGH.
You're welcome to add fresh parm, fresh basil leaves, more thyme, more crushed red pepper, whatever makes this experience orbital for you. Because honey child, it will be.
Wait, can I call you honey child?
Slow-Roasted Golden Tomato Bruschetta:
What it took for about a cup of tomatoes:
* 1 pint golden cherry tomatoes
* 4-5 cloves garlic, in their skins
* 2 Tbs. extra-virgin olive oil
* 5-7 sprigs fresh thyme
* 1 pinch crushed red pepper
* coarse salt
* crusty bread, sliced
Preheat the oven to 200.
Slice the cherry tomatoes in half, and place them on a rimmed baking sheet. Arrange the garlic cloves and thyme sprigs all in with the tomatoes. Drizzle with oil, a good pinch of salt and the crushed red pepper. Roast for 3 1/2 to 4 hours.
At this point you can either store them, or inhale them. Just throw the toms into a small container, and drizzle with a little oil. This is the right thing to do you in your life. The oil part.
If you're ready to inhale, simply squeeze the garlic out of their skins and spread the delicious, softened roasted cloves on some good sliced and toasted crusty bread. Top with a healthy mound of slow-roasted tomatoes and serrrrrrrrve.her.up.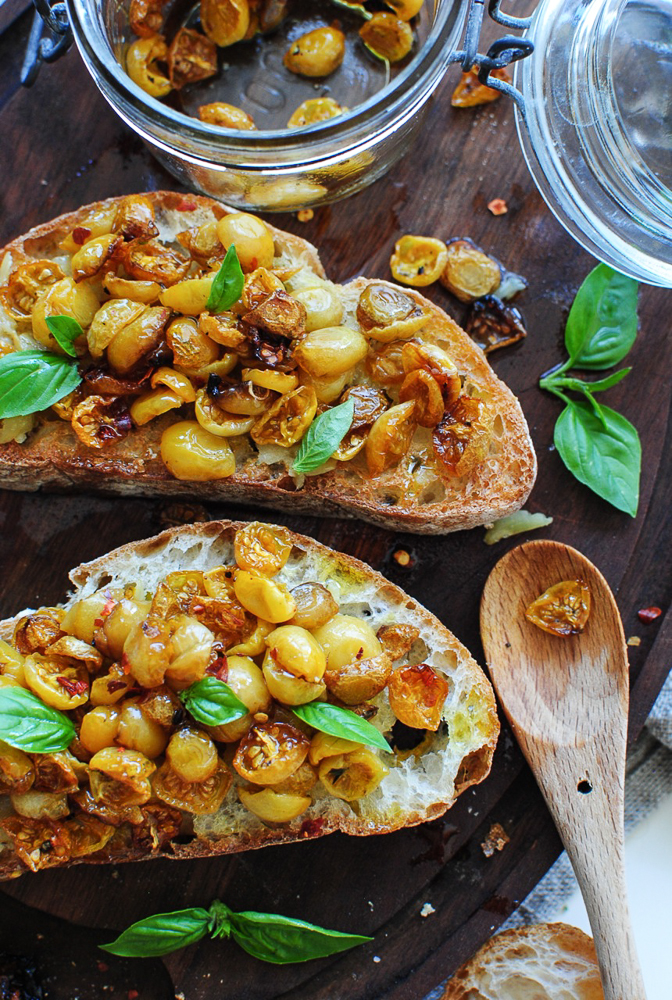 BruschEEEETTAAAAA. (said like Elaine on Seinfeld)