Bumper crop meets pasta = HUZZAH.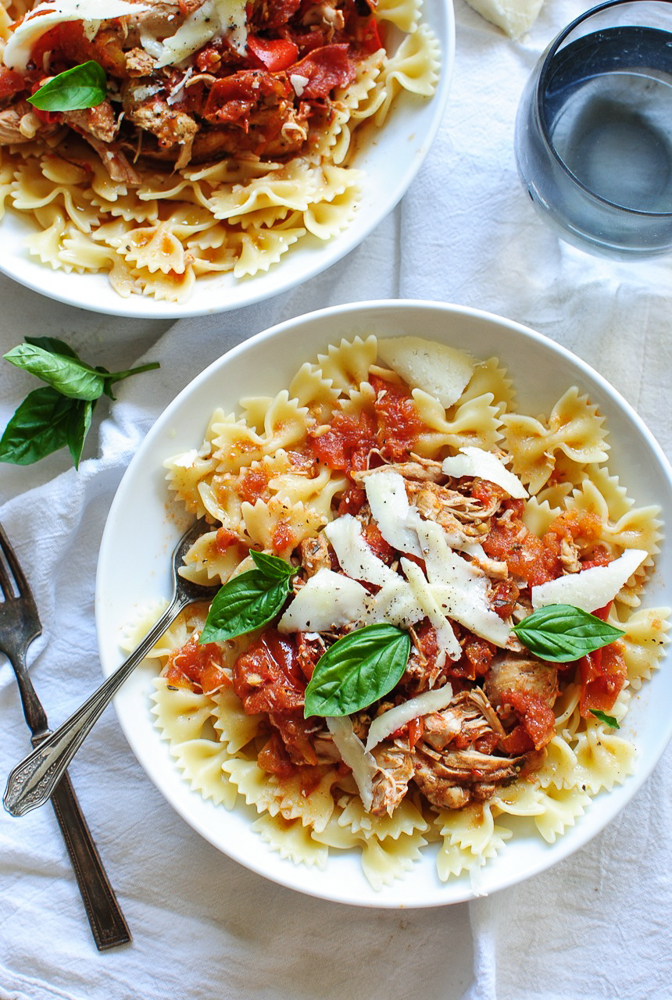 I almost didn't shoot this recipe. It was such a last-minute kitchen-sink throw together, so it didn't really occur to me.  Then Aaron was like, "Are you going to shoot this?" And I was like, "Naw." And he was like, "You better did." And I was like, "You better DON'T." (wait, have I ever told you the "you better don't" story? ohhh man, some day.) And then he was like, "YOU BETTER DON'T DID." So I did. We have a very understanding marriage.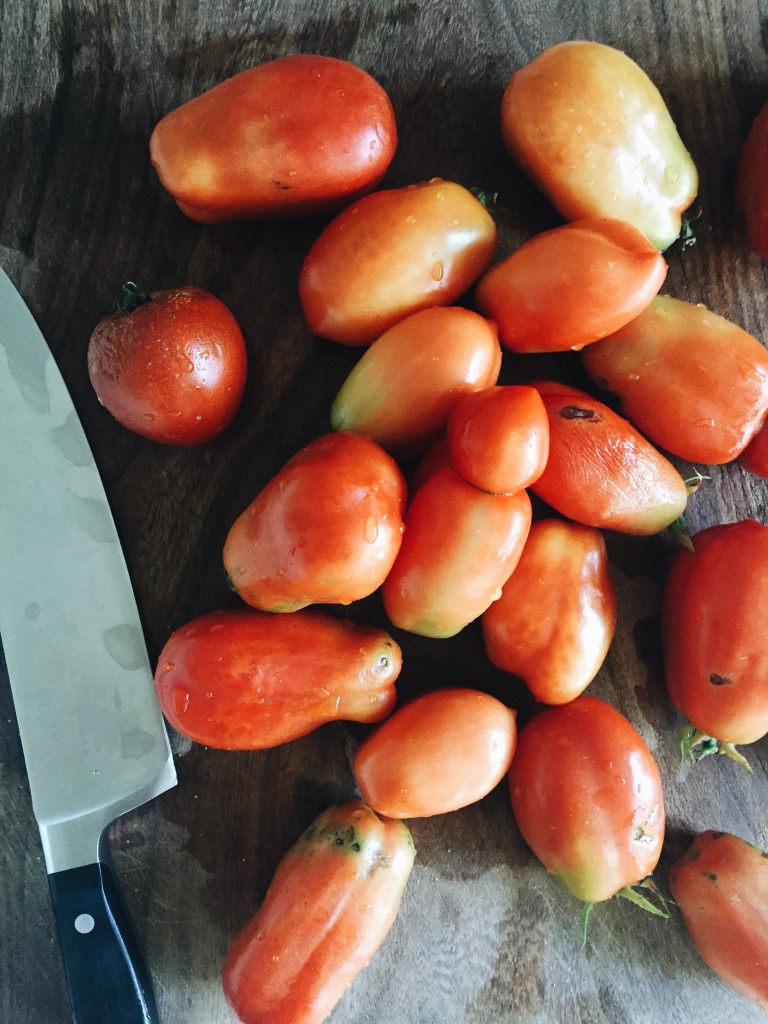 This recipe is preposterously simple to make. You honestly just toss a bunch of chicken thighs (<–best decision in life) into a slow cooker with a ba-junk ton of chopped tomatoes. Like, twenty of 'em. Whatever burgeoning boogers you have in your garden. Romas, Big Boys, heirlooms, whatevs.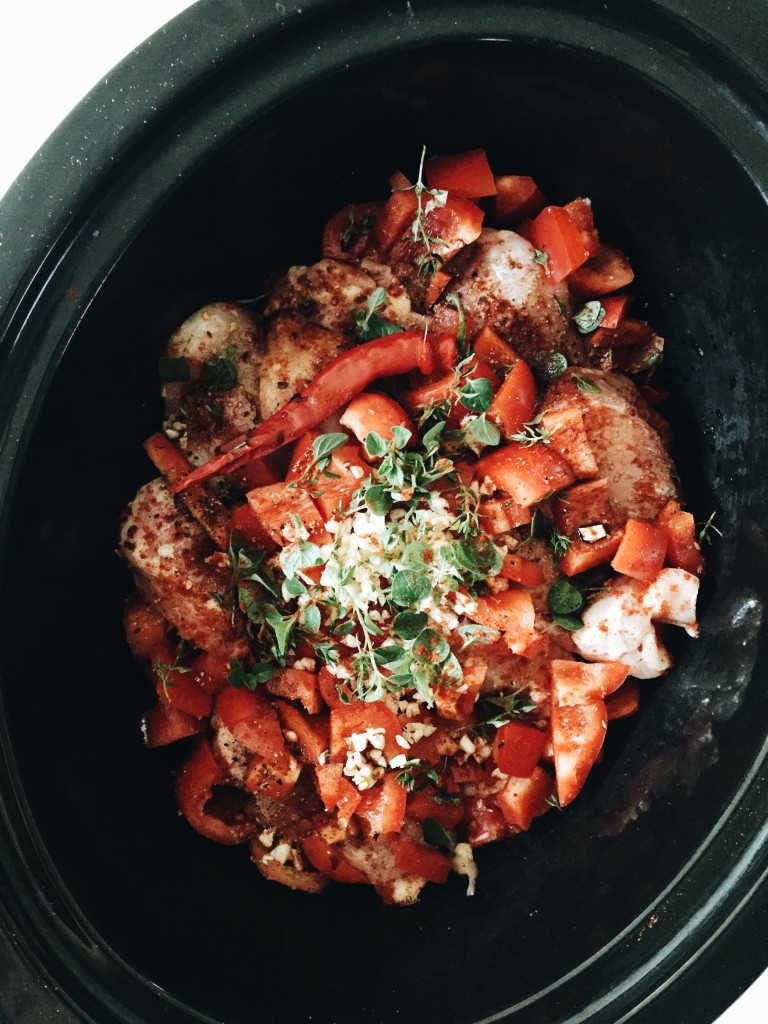 Then add a diced red bell (you won't believe a what a delicately subtle difference it makes), an obscene amount of fresh herbs (just whatever. go cray.), lil' bit of minced garlic and balsamic (holy balls), a kiss of smoked paprika and a fresh Thai chili (you'll fish it out later so stop panicking), and a tiny bit of sugar (I don't really have anything to say here, but I felt one more parentheses was needed.), and das it! Let the slow cooker do the work while you deep clean bathroom drawers because your life is thrilling.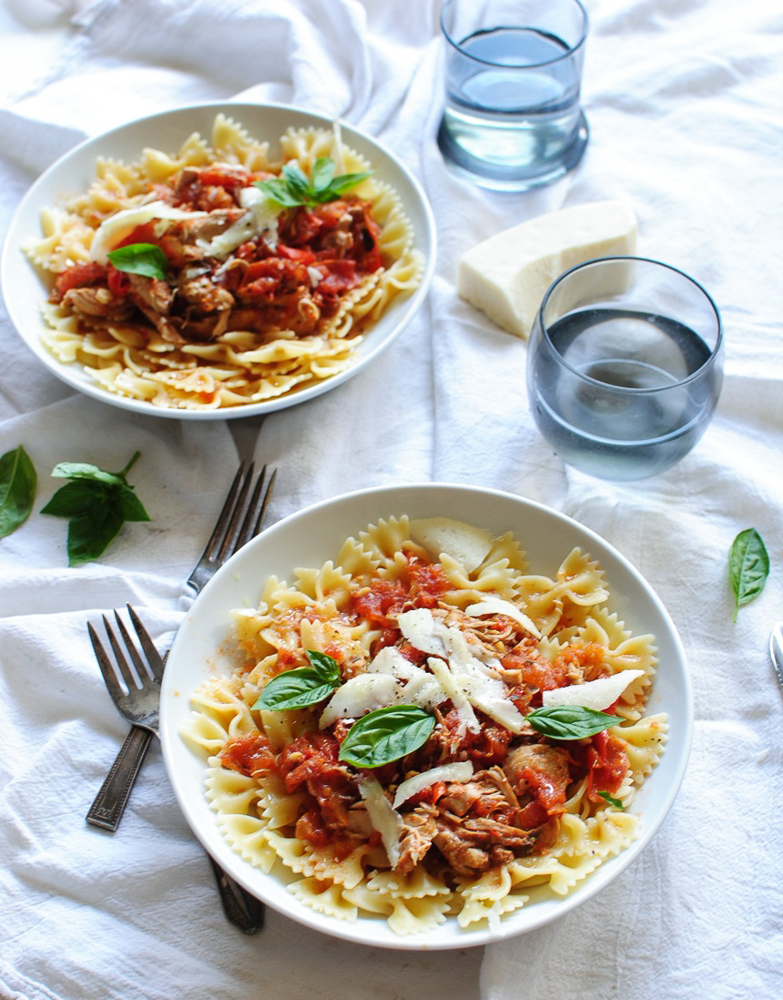 After about four to six hours, take a couple of forks and give the thighs a light shred. Kind of like a Jillian Michaels workout, but without the tears and therapy.
You'll just serve this over your fave pasta! I used bow tie this time because it's easier for tiny toddler paws to manhandle. But anything works. Linguine, elbow, angel hair, rigatoni. Shoot, even rice'll do.
It's a brothy sauce (at first), so be sure and serve it with a good ladle of that juicy-ness right at the end, with fresh basil and wilted parmesan shavings. But make sure they're super wilted, because that makes you a better person.
Don't listen to me.
But make this!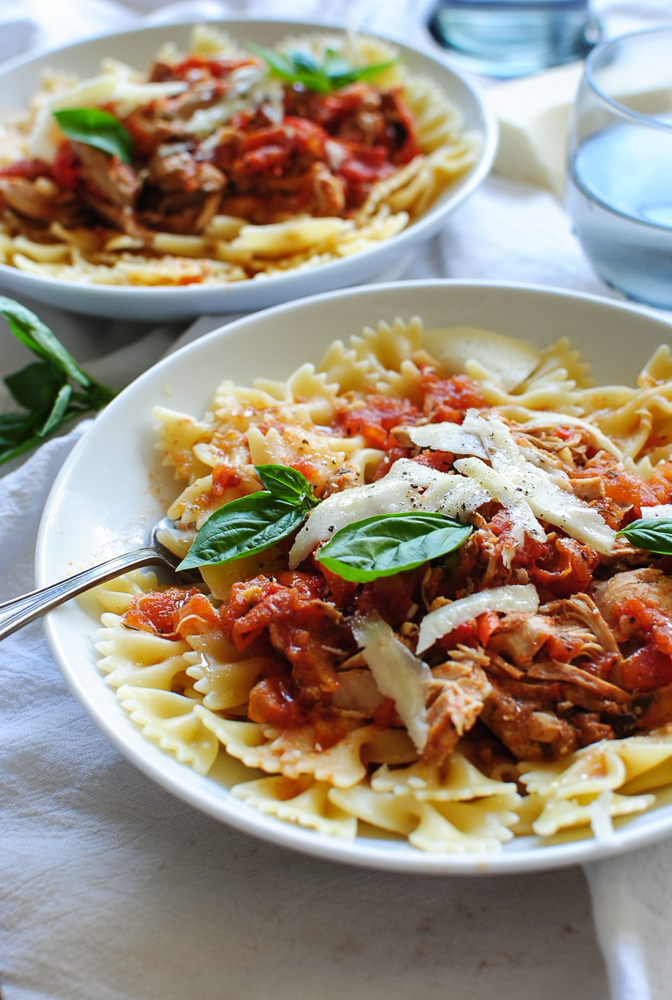 m.a.m.a.b.e.a.r.
Slow Cooker Chicken and Tomatoes with Bow Tie Pasta:
What it took for 4-6:
* two pounds chicken thighs
* 15-20 roma tomatoes, chopped
* 1 red bell pepper, diced
* 4-5 garlic cloves, minced
* 1 pinch crushed red pepper
* 1 Tbs. balsamic vinegar
* 1 pinch sugar
* 1 Tbs. mixed fresh herbs (thyme and oregano)
* 1 tsp smoked paprika
* 1 large pinch of salt and pepper
* 1 Thai chili pepper (optional)
* 1 pound bowtie pasta
Combine all the ingredients (but not the pasta) in a slow cooker. Cook on medium for 4-6 hours. Shred the chicken with two forks and toss to incorporate with the juices of everything. Which sounds grody. Sorry. Fish the Thai chili out before serving.
Cook the pasta until it reaches al dente, and serve a nice mound of shredded chicken and tomatoes on top. Garnish with fresh basil and parmesan shavings! SRSLY.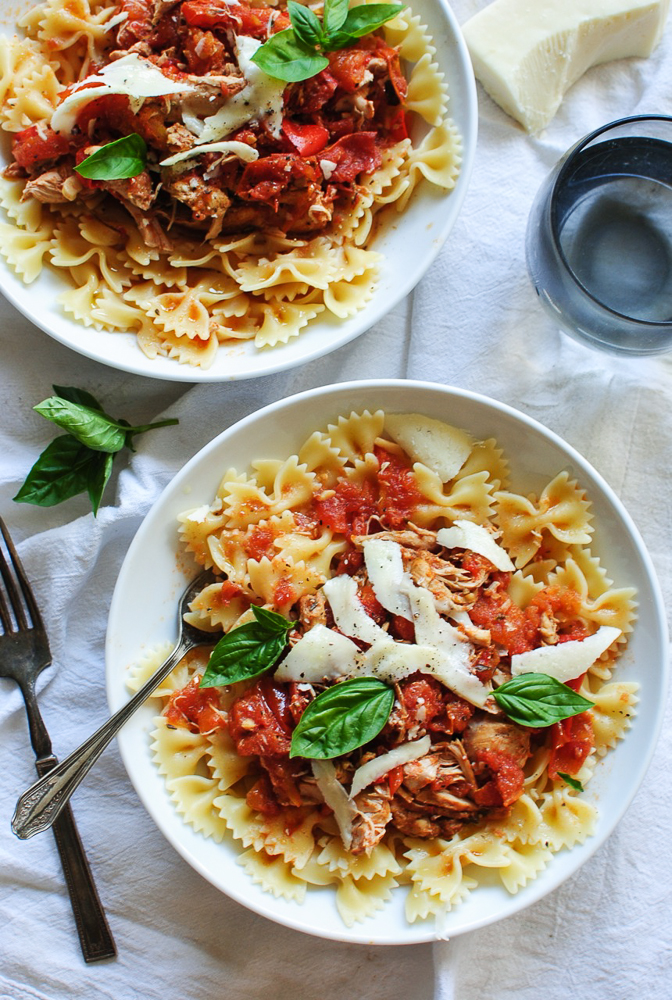 Now I want ice cream.