ONE bowl. ONE pot. ONE eternal flame. (like, in your heart. not in the oven. because that would be dangerous.)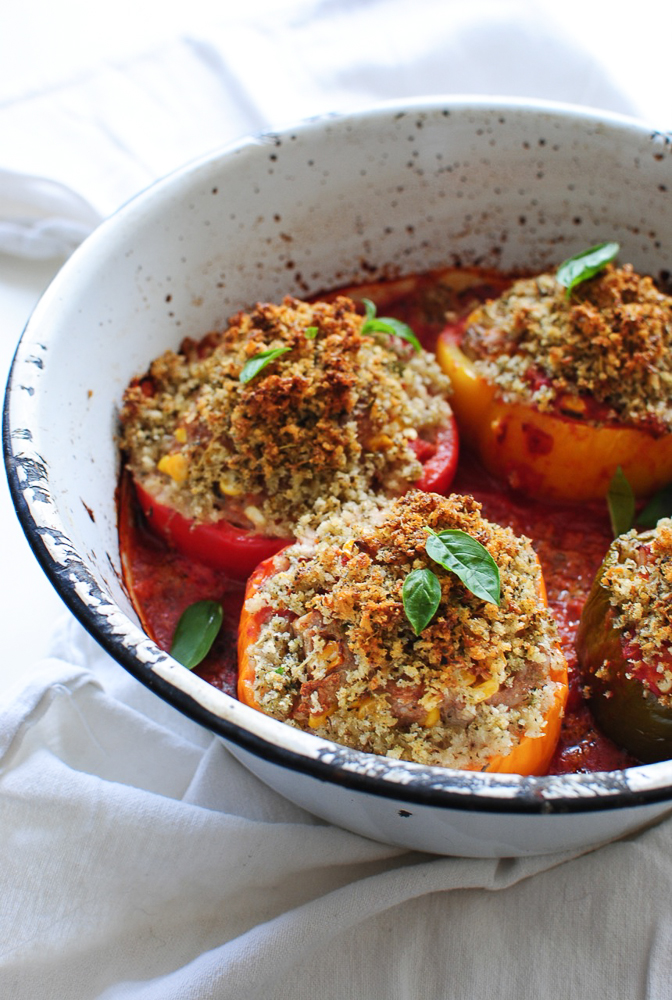 That's the situation at hand here.
Thing is, when I say "easiest ever" I don't necessarily mean ingredient-wise. Because I'm sure you're going to glance down at the recipe and be all, "That is not easiest ever, BEV." But hark! I have news. Maj news.
It's the METHOD that's easiest ever. Because it truly is.
Truly.
Let's look.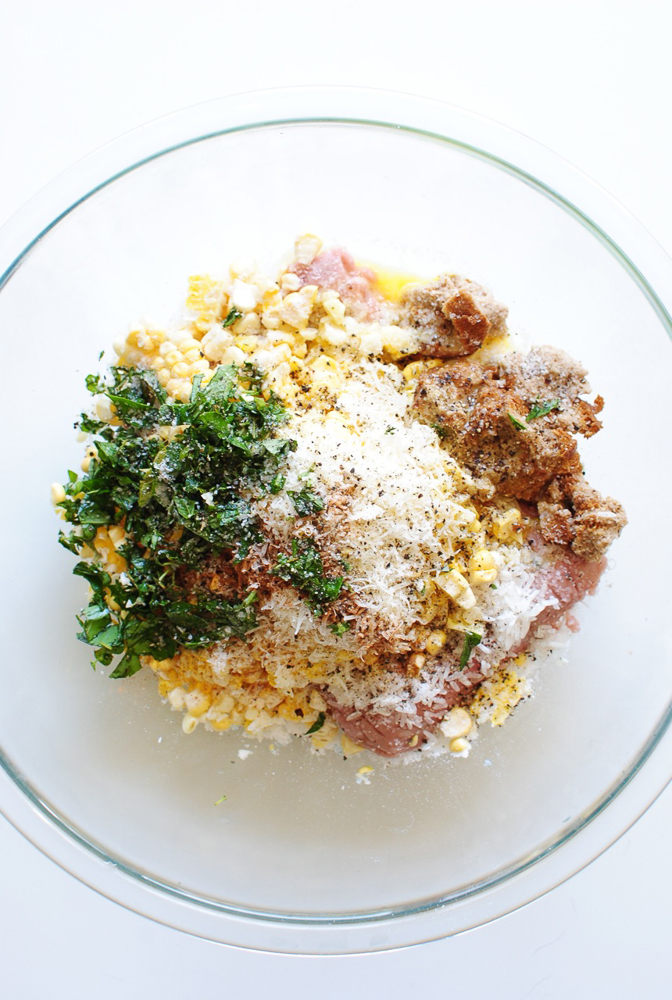 First of all, it's a pretty standard pepper filling if you ask me. But with pizzazz!
I just said pizzazz.
We've got some ground turkey (dark meat for extra omg). We've got fresh corn! It's still summer and there's still corn and you've still got time. We've got UNCOOKED JASMINE RICE. This is where we begin to enter "easiest ever" territory. That rice ain't cooked, babe. Everything's going to cook together all at once. No willy nilly pre-boiling or pre-soaking or pre-cooking or pre-blah BLAH-ing.
We've also got fresh herbs, a whisper of cinnamon, lil' bit of wet bread (which is grody but I don't know how else to say it. if I said moist bread you'd want to paper cut me.), a jalapeno pepper (!!), lots of garlic, and that lovely nutty essence of parm.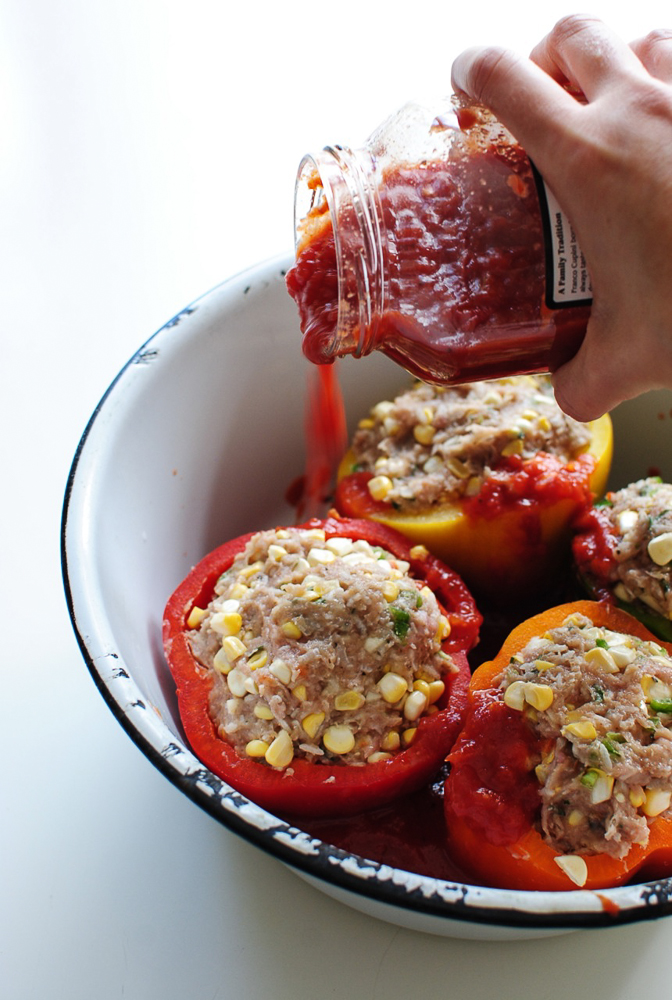 The boss part of this is that you can slap all of those filling ingredients together and stuff the peppers early in the day. You're not going to pre-boil the pepper vessels (remember that whole "easiest ever" thing I mentioned?), so get as much done early as you want! Look at you all winning.
When you're ready to cook, just pour your favorite bottle of marinara all around the snuggled peppers and slide that mother into the oven for an hour. At this point you can sneak in about three Seinfeld episodes, because you're irrationally obsessed with the shift in Elaine's hairstyle.
Really. She went from a major Edwardian poof with pulled back bangs, to darker, shinier, more controlled ringlets all over.
I miss the Edwardian poof.
The MAGIC of this recipe is all in the topping. It was kind of a last-second idea, and I'll never thank my soul fairies enough for the guidance in this pivotal decision.
It's ridic: panko, melted butter, dried Italian seasoning and parmesan. Just mix it up and spoon it over the peppers after that hour of baking, and shove her back in for about 15 minutes, until the panko has perfectly browned and the turkey/rice filling is allllll good and good and good. And good.
Holy lovers.
IT IS SO GOOD.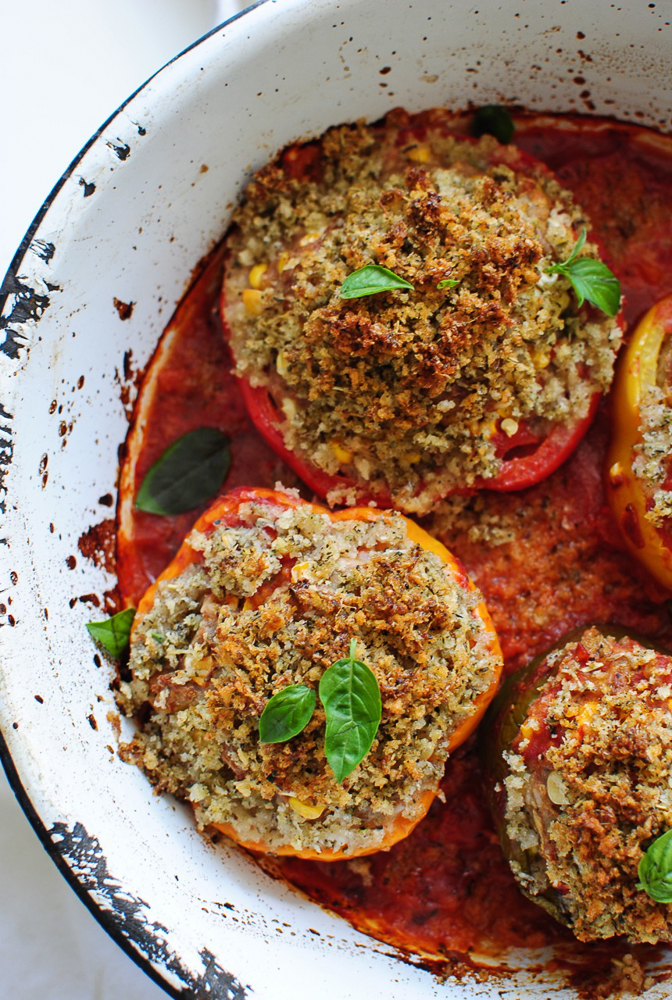 If you need some time to yourself, I totally get it.
Also, change your meal plan this week.
I'm telling you.
Easiest Ever Stuffed Peppers:
What it took for four:
for the peppers and filling:
* 4 bell peppers, (multi-colored), tops sliced off and seeds removed (save your pepper tops and dice them up for your morning eggs)
* 1 pound ground turkey
* 2 ears fresh corn, kernels removed
* 1/2 cup uncooked jasmine rice
* 1/4 cup freshly grated parmesan cheese
* 4-5 cloves garlic, minced
* 1 egg, lightly beaten
* 1/2 tsp cinnamon
* 1 slice bread, quickly soaked in water and squeezed
* 1 jalapeno pepper, minced
* 2 Tbs. mixed fresh herbs (thyme, oregano, basil)
* 1 pinch salt and pepper
* 1 (26 oz) jar your favorite marinara
for the topping:
* 1/2 cup panko
* 1/4 cup freshly grated parmesan
* 1 Tbs. dried Italian seasoning
* 2 Tbs. melted butter
* 1 pinch of salt
Preheat oven to 375.
In a large bowl, combine the ground turkey, corn, rice, parmesan, garlic, egg, cinnamon, bread, jalapeno, herbs, and salt and pepper. Thoroughly mix with your hands.
Evenly stuff each pepper with the filling, and place in a small baking dish. Pour the marinara all around the peppers. Bake for one hour.
In the meantime, combine the topping ingredients together in a small bowl. Evenly spoon the topping over each stuffed pepper, then bake for an additional 15 to 20 minutes.
Garnish with basil or parsley and slap 'em in yo' face.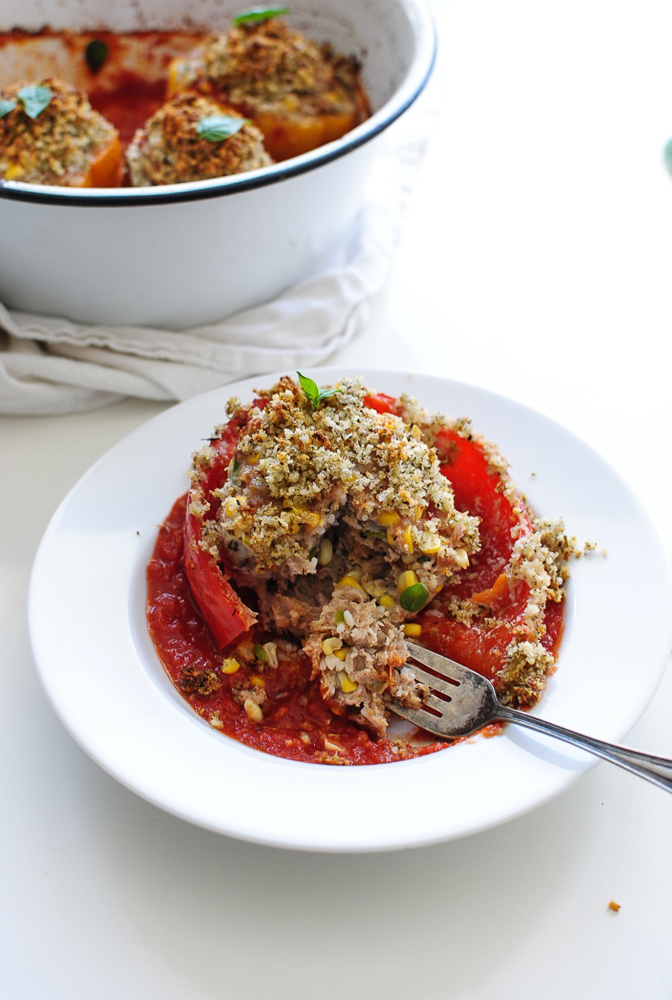 Easiest evah.