b u r r i t o s f o r p r e s i d e n t.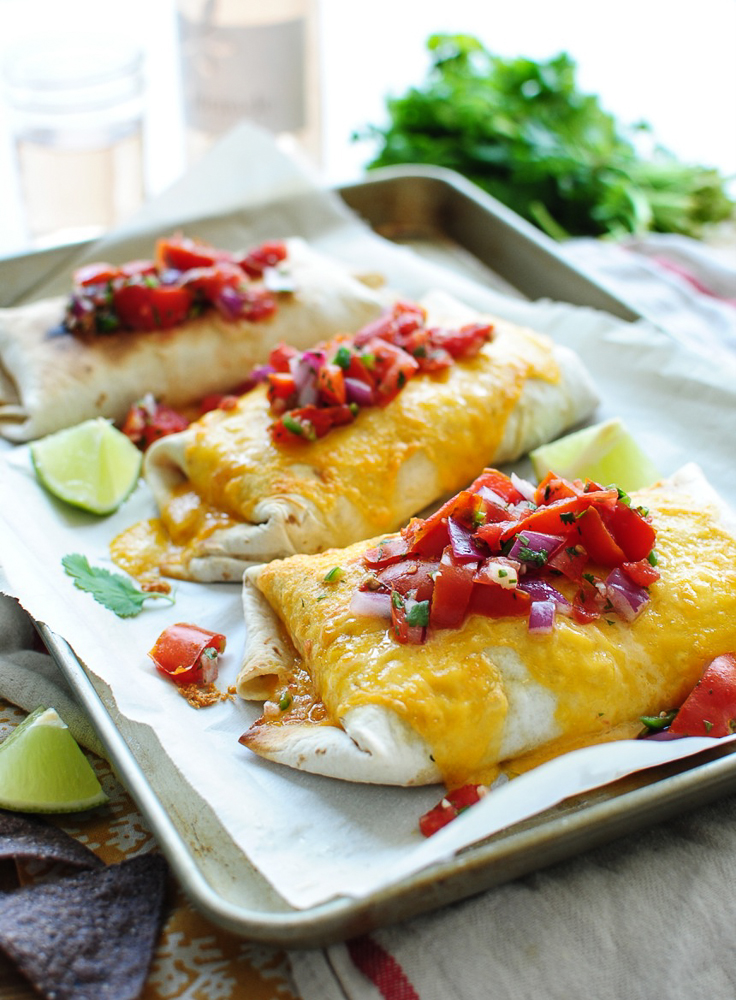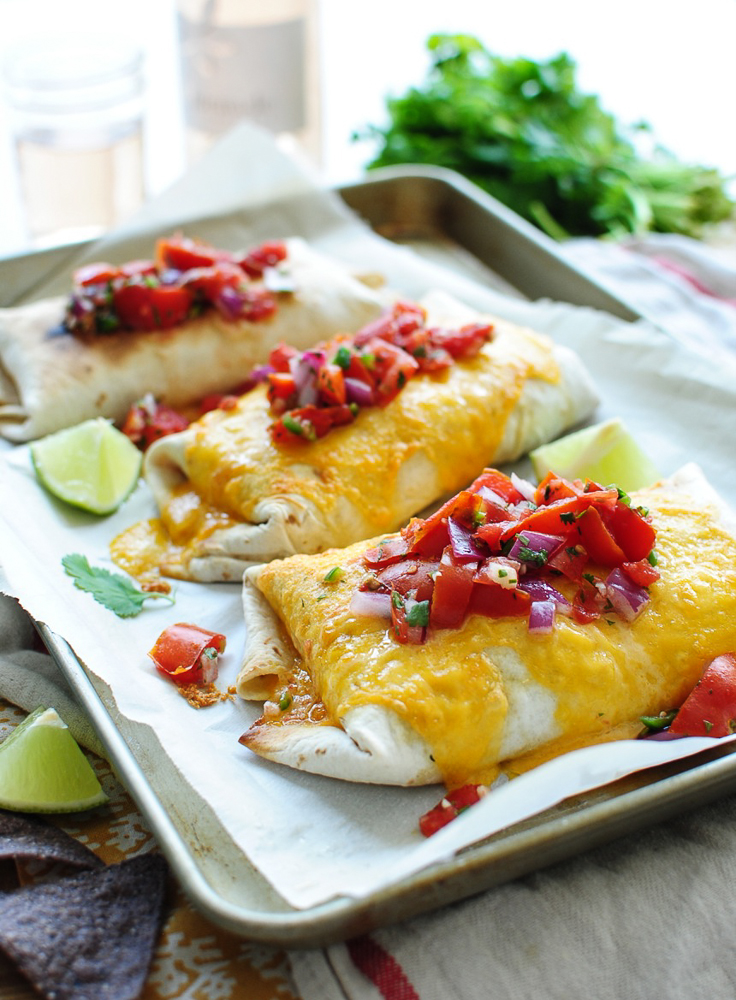 When you go out for Mexican, what do you normally order? Tacos? Burritos? Chimichangas? (Sure, Neil. No problem. We'll end the season with the pachenga."- NTM) Fajitas? Taco salad? A huge vat of cheese dip and call it good?
This may be surprising to the naked ear, but I usually order a burrito. Weird, right? With my unabashed obsession with tacos?
But!
This is why. And math is involved, so get ready. (and excited)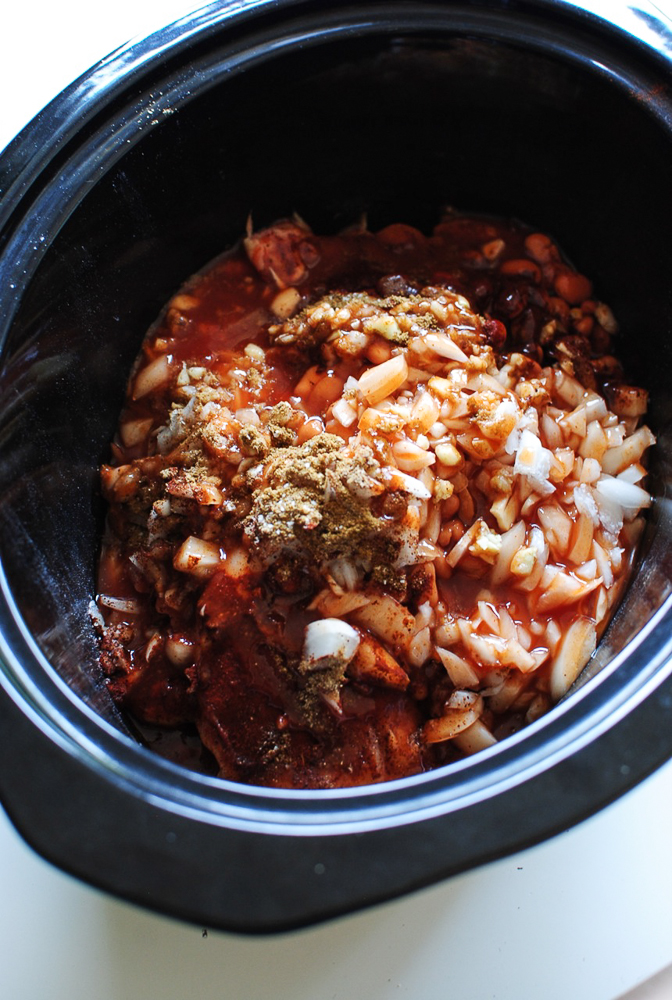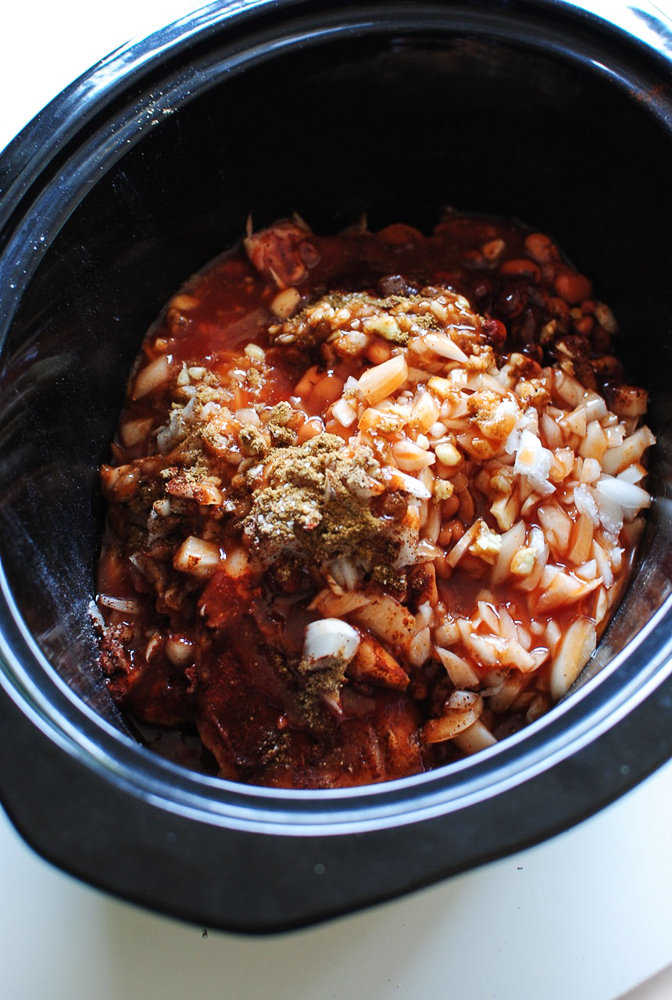 When you buy a package of large tortillas from the store, they come in a count of, what, eight? Well, usually I only need two or three. Maybe four. But when you buy taco-sized torts from the store, they come in a count of, what, eight million? Well, obviously I'm going to need all eight million. Breakfast tacos, lunch wraps, taco nights, yadda yadda YADDA.
It's more of a rare occasion to go balls out with a full-on burrito bar. Which is a severe tragedy in itself, but also the bare truth of my life.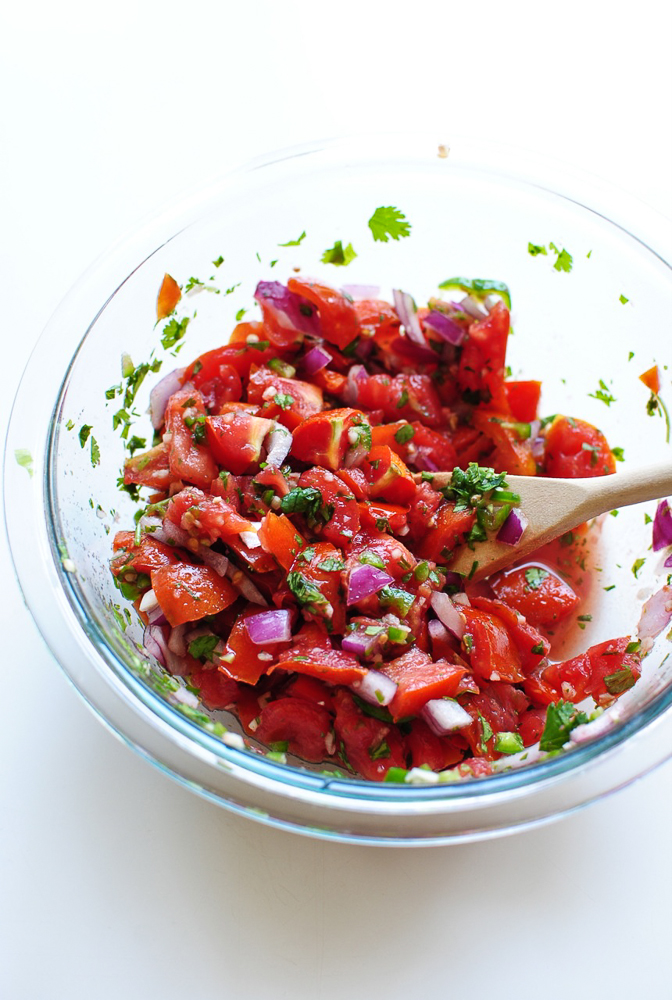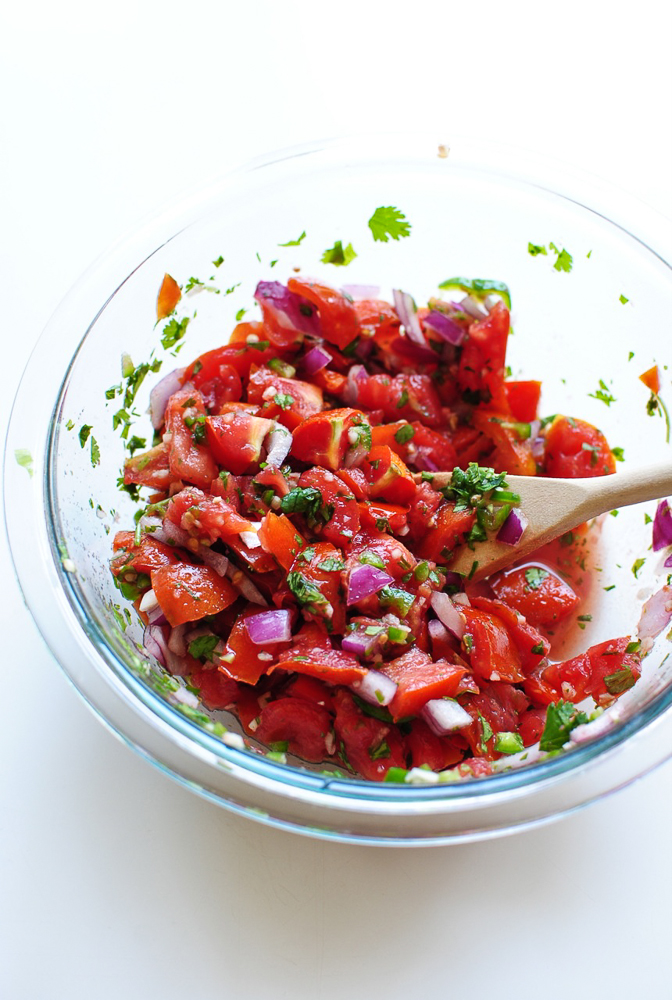 So you see, I like to take advantage of ordering a burrito in an actual restaurant, because I know I won't have six or seven huge honkin' tortillas leftover for me to eat. I can't run the risk of forgetting about the mammoth torts in the back of the fridge, getting smashed over time under a pile of whatever, morphing into that unrecognizable crepe of sticky bready goo of regret.
You know exactly what I'm talking about. "What is THIS THING?"
It's those dang tortillas you forgot about.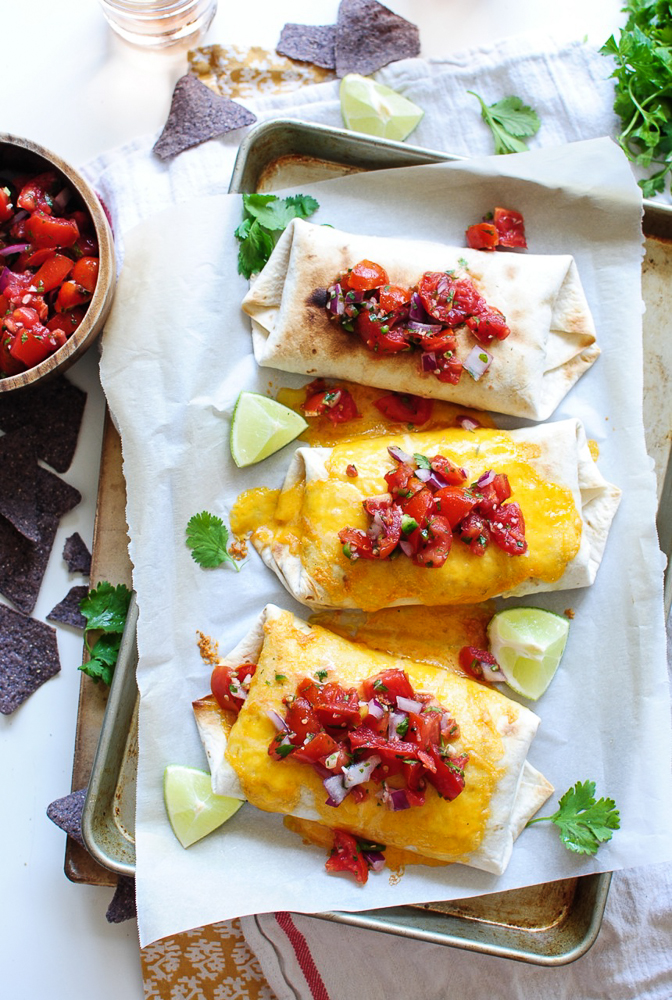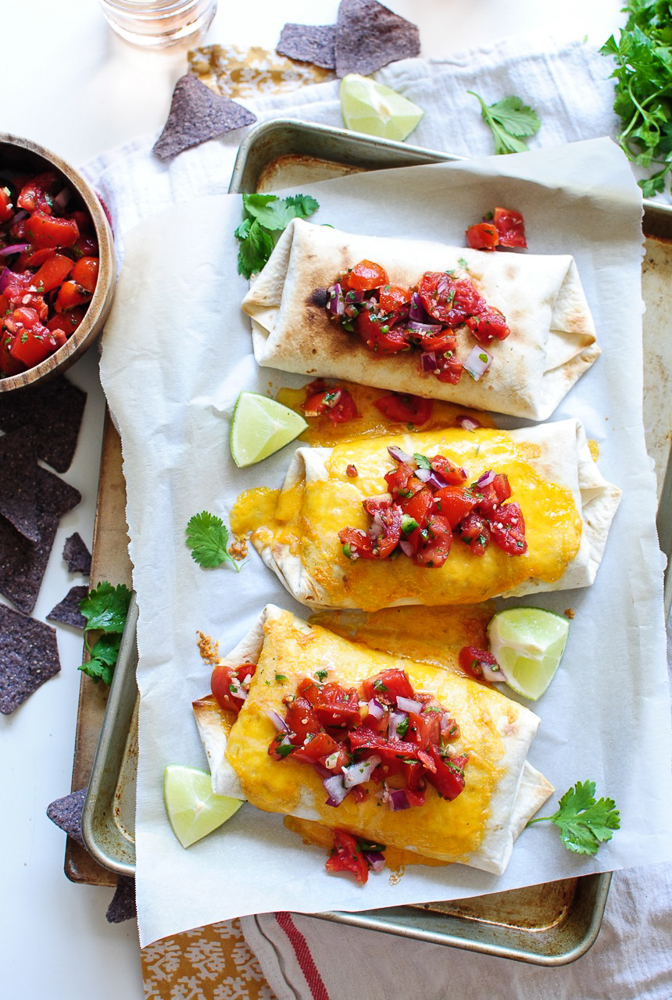 But theeen, on the other hand, because I like to be complicated, when I actually make burritos at home, I remember the excitement that stirs within. "We're having burritos tonight!" is fun to say. It's quite a joyful thing to yelp about.
You know what, I've just now, right this second, decided that I'm going to be better about making at-home burrito bars. I HEREBY DECLARE that I am going to work extra hard at not forgetting about those lonely tortillas in the back of the fridge. From here on out, I pledge my allegiance to ALL the forgotten tortillas of America that have been shoved aside to live a pathetic, moldy joke of an existence. ARE YOU WITH ME? Let's DO this!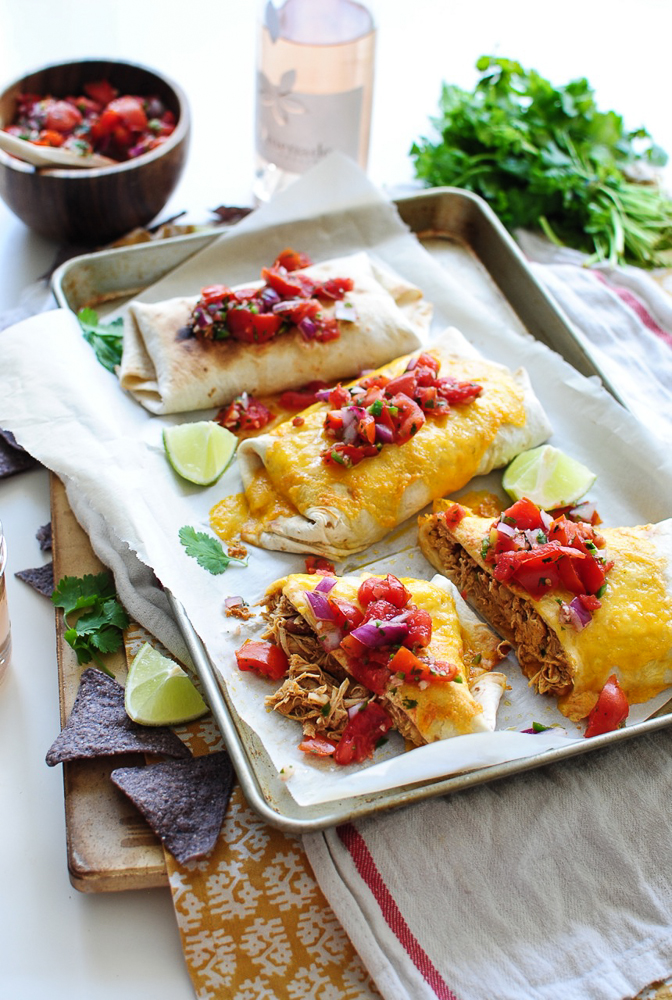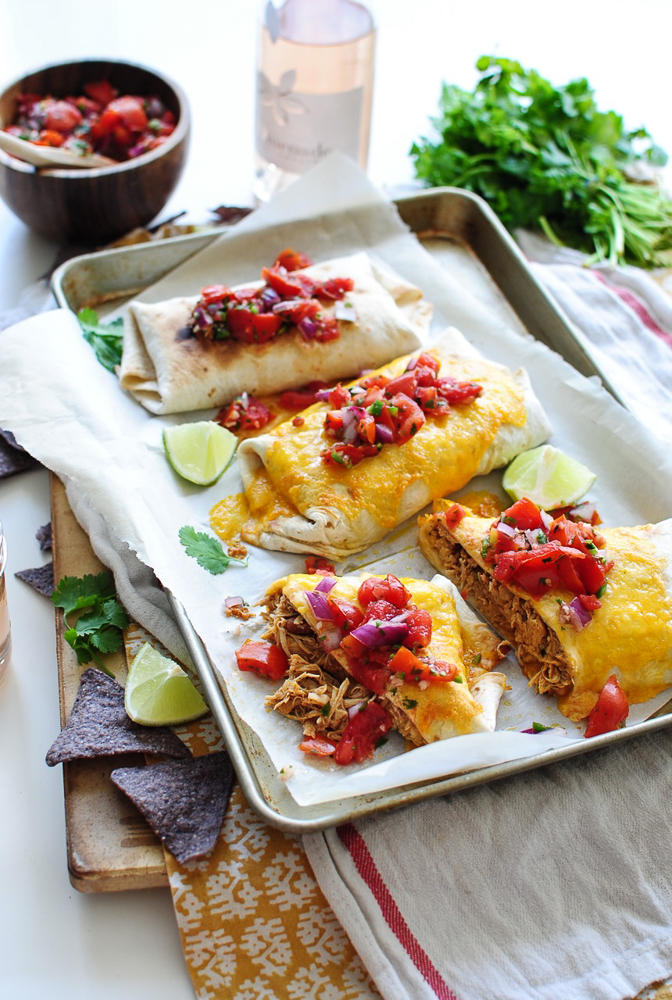 You can start today. With these. 
Hi, these burritos are out of this world. It's all slow cooker, with a ridic mix of chicken breasts and thighs, pinto beans (which are quickly becoming my favorite bean. is that gross?), basic spices and veggies. But the secret ingredient- a can of hot red enchilada sauce! I am telling YOU, it will transform that filling.
After you fill the burrs (<–not sorry), sprinkle some cheese on top and give them a blast under the broiler. This life decision should not be left untouched.
And for the homemade pico, it's really whatever you want! I included a skeleton recipe in the instructions for ya.
Are you ready to take this new step with me?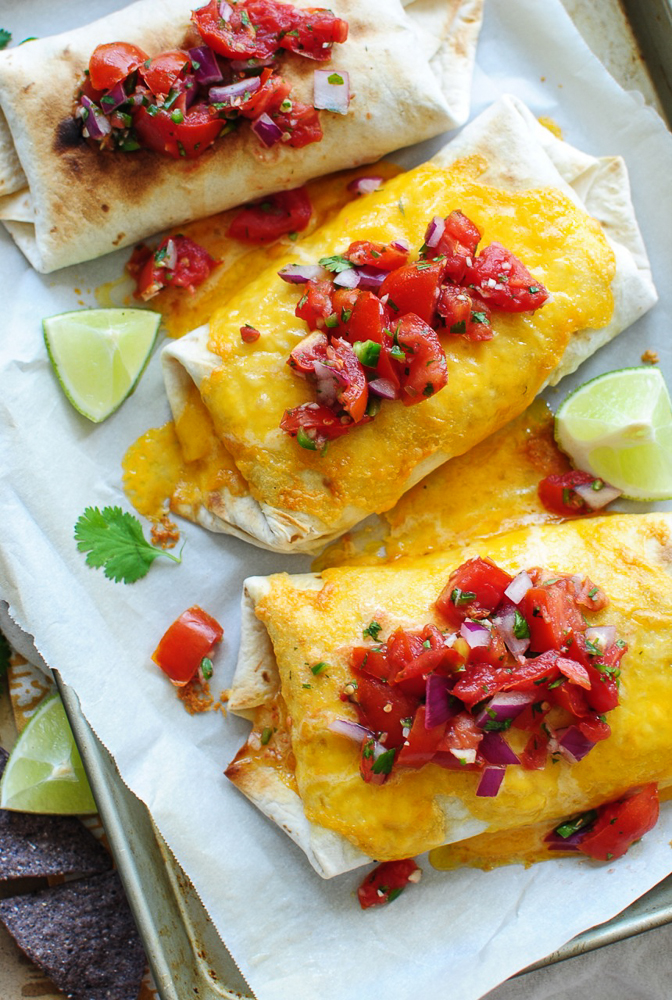 That's right you are.
Slow Cooker Chicken and Pinto Bean Burritos:
What it took for 4-6 burritos:
* 1.25 lb chicken thighs
* 14 oz chicken breasts
* 1 (10 oz) can hot enchilada sauce
* 1 (16 oz) can pinto beans, drained and rinsed
* 4 garlic cloves, minced
* 1 small white onion, diced
* 2 tsp chili powder
* 2 tsp cumin
* 1 tsp ground coriander
* pinch of salt and pepper
* 4 large tortillas
* 2 -3 cups shredded cheddar cheese
* homemade pico, for topping (basically chopped tomatoes, diced red onion, a minced jalapeno pepper, some minced garlic, lots of cilantro, a bit of lime juice and a little salt. bam.)
* lime wedges, for serving
In a slow cooker, combine the chicken, enchilada sauce, beans, garlic, onion and spices. Cook on medium for 4-6 hours. Using forks, lightly shred the chicken right in the slow cooker. Let it sit for a few minutes so the chicken can absorb all the heavenly heaven-ness around it.
Using tongs, place a mound of chicken filling inside each tortilla. Sprinkle a little (or a lot) of the cheese on top of the chicken mix. Fold in the sides and roll up each burrito, placing them seam-side down on a baking sheet. Top with grated cheese and stick them under the broiler for about 2 minutes, until the cheese is browning and bubbly.
Top with fresh pico and serve with lime wedges! TO.DIE.FOR.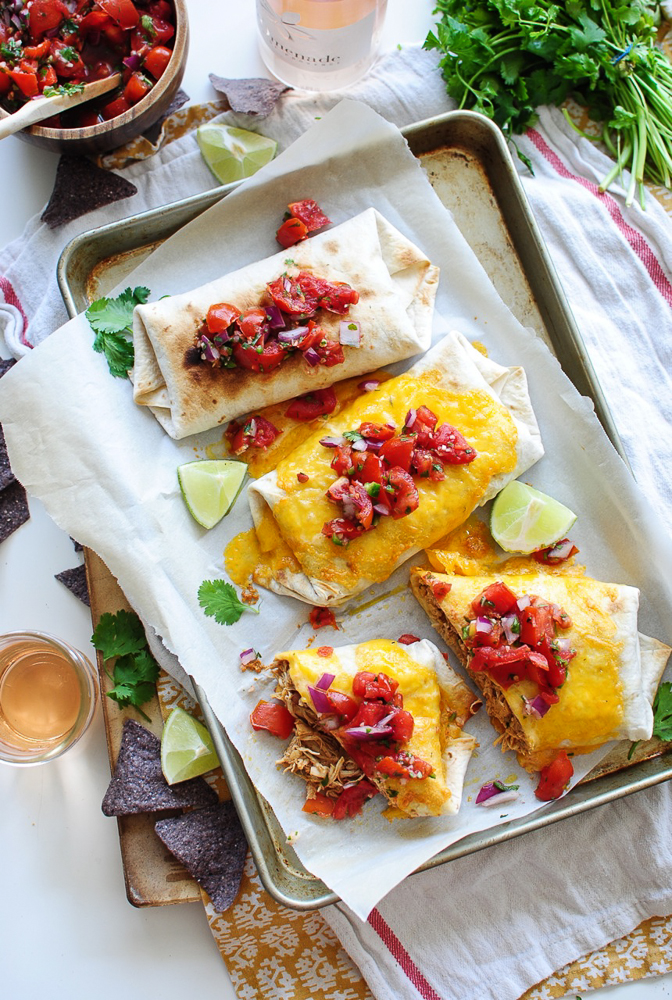 I'm going in.