I have no words. Let me rephrase that. I almost have no words.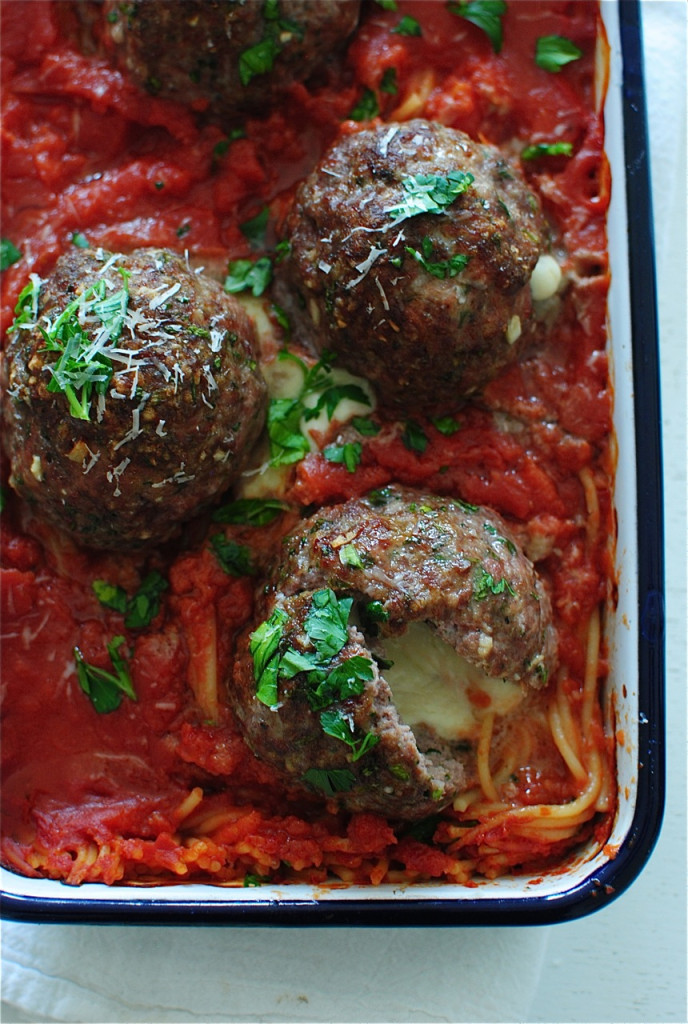 If there's anything on this site that I would rightly beg you to make, it's THIS. GLORY BE, IT IS THIS.
First of all, it's another one-pan dish, lover. As in, you place dry spaghetti in a baking dish and fugget about it. You pour crushed San Marzano tomatoes with a pinch of salt on top of the spaghetti and that's your flippin' sauce. San Marzanos are so pure and perfect on their own, only the tiniest pinch of salt is needed. Isn't that wonderful? I love life.
But check it, it's the meatballs that may and will rock your entire face off.
First of all, they're extremely huge. Four giant meatballs filled with a mix of beef, pork, herbs, garlic, panko, milk, parmesan, yadda yadda.
Annnnnd they're stuffed with fresh mozzeralla, so we can all just give up and retire now.
I can't remember if it's cool or not to show you raw meat on a food blog, so I'm just doing it. Because I want you to see the nestle! Ya gotta see the nestle.
See how those enorno balls are nestled on that sauce and spaghetti? Obviously you can't see the noodles. I get that. But once baked, they're like a delicious sunken treasure ship at the bottom of the red sea. Like the Goonies! Sort of.
Just look at that nestle.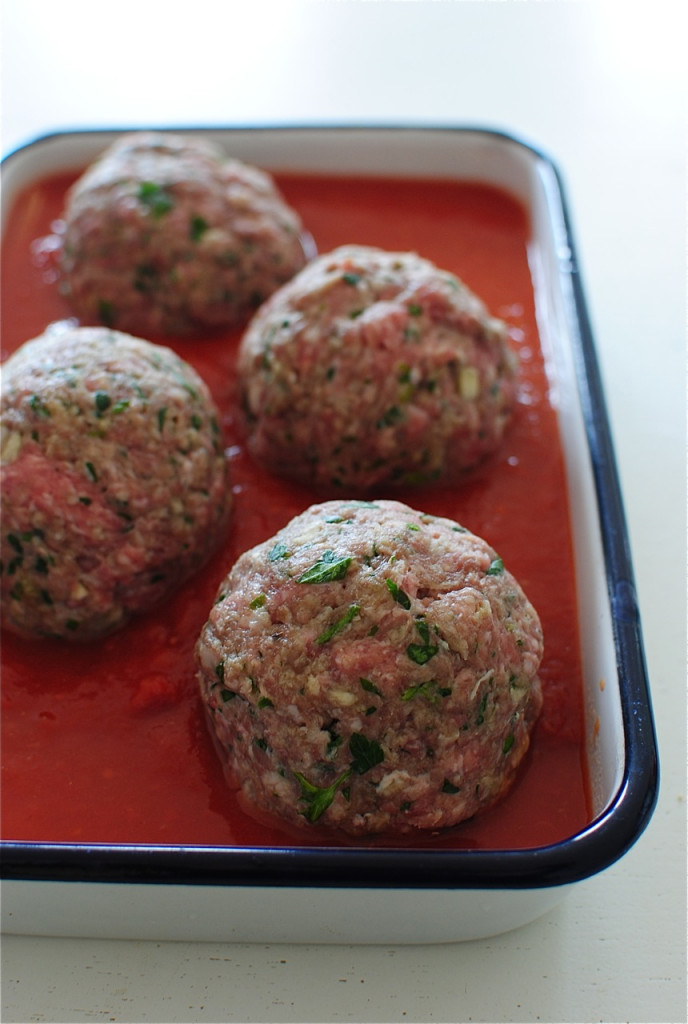 I swear, when you pull this out of the oven, it's one of those moments where you hope no one is around, and your windows are closed, and the local news isn't down the street, and no one knows where you live, because you will squeal. And it will be loud and piercing and pretty obnoxious and awesome.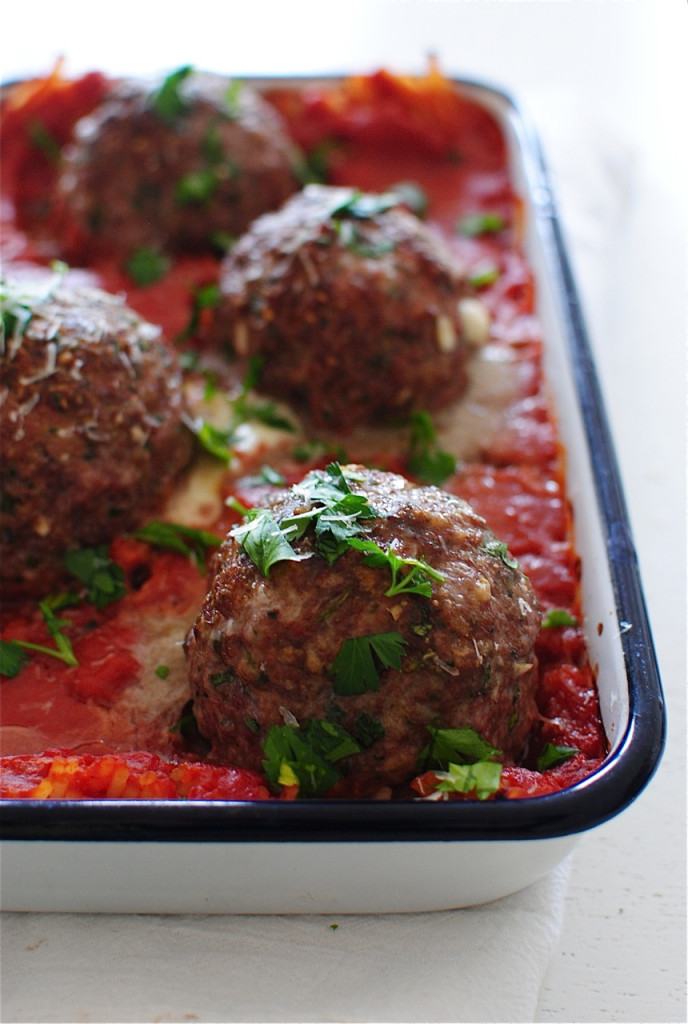 And THEN you cut into a meatball and see all that insane cheese oozing out all over your life?
Just stop. Stop.
THEN you take your fork and pull up the beautifully cooked spaghetti noodles as the dish becomes one majestic glory hole for your face?
Stop.
Never stop.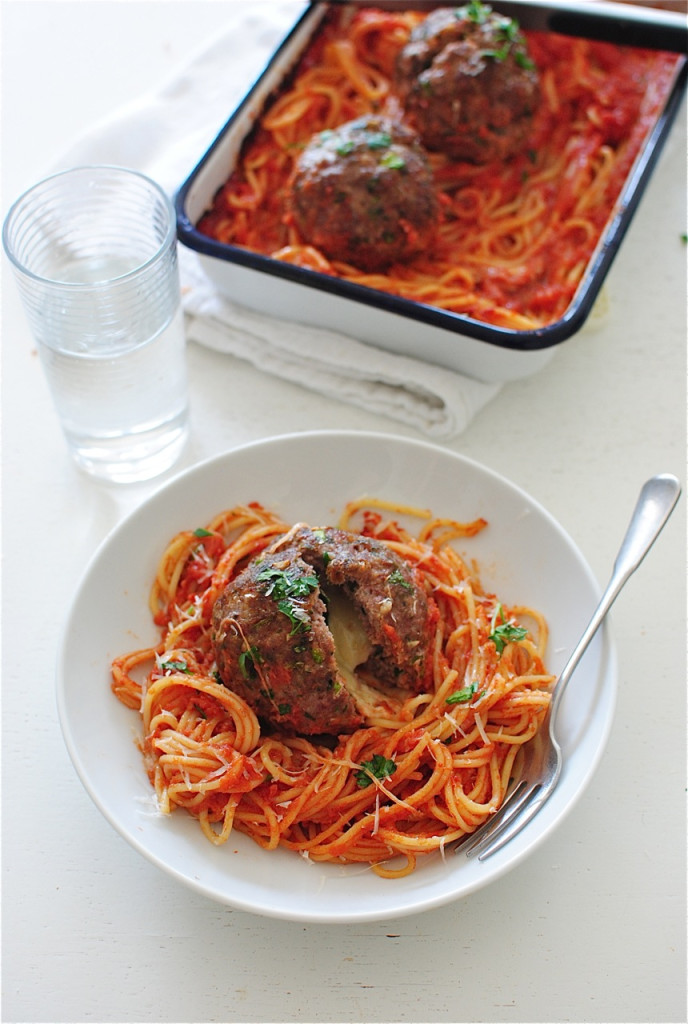 Like, I am begging you.
Giant Mozzarella-Stuffed Meatball and Pasta Bake:
What it took for 4:
* 1 pound lean ground beef (actually, I used 85/15)
* 1/2 pound ground pork
* 3 cloves garlic, minced
* 1/2 cup chopped parsley
* 1/4 cup milk
* 1/2 cup panko breadcrumbs
* 1/4 cup freshly grated parmesan
* 1 pinch salt and pepper
* 4 balls bocconcini (small balls of fresh mozzarella. if you can't find these, you can cut up bigger balls of fresh mozz and use that!)
* 1 (28 oz) can San Marzano crushed tomatoes
* 1/2 pound spaghetti
Preheat oven to 375.
In a large mixing bowl, combine the ground beef, ground pork, garlic, parsley, milk, panko, parmesan and a good pinch of coarse salt and freshly ground pepper. Mix with your hands to combine. I'm weird but I really like mixing meat. Are we still friends?
So then, divide the meat into four enormous meatballs. Using your thumbs, press a hole in the center of each mound, and place the small mozzarella ball right in the center. Fold and press the meat around the cheese, covering the hole completely.
Pour a little of the tomatoes into the bottom of a 9×13 baking dish. (8×10 works, too!) Place the dried spaghetti right on top and pour the rest of the sauce over the noodles, covering every noodles.
Nestle the four meatballs on top of the noodles and sauce. Get super excited because seriously, these babes are stuffed with cheese. Place in the oven for 45 minutes to an hour, or until the meatballs are cooked through and beautifully browned on top. The pasta will be all good. Totally cooked.
Serve family style, garnished with extra parmesan cheese and parsley. Loosen the spaghetti with a fork and watch the entire dish just come to life!
Oh but wait, be sure and cut into one of the meatballs and watch that glorious goodness just oooooooze right on out. Hallelujah.
Gets no better.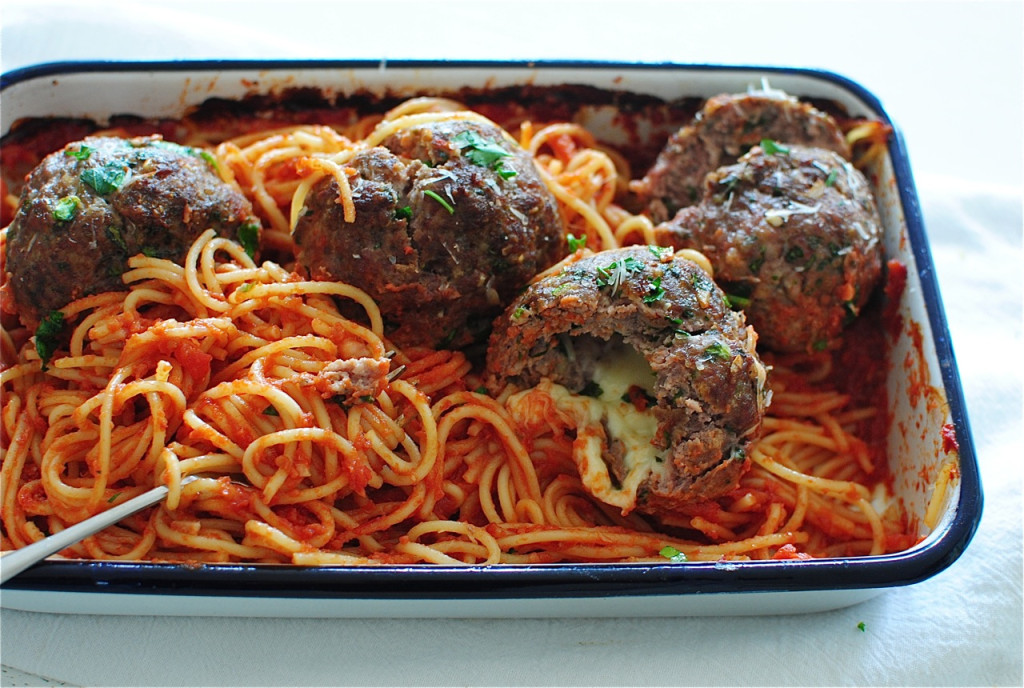 Are you kidding me with this?