TACOS FOR LIFE.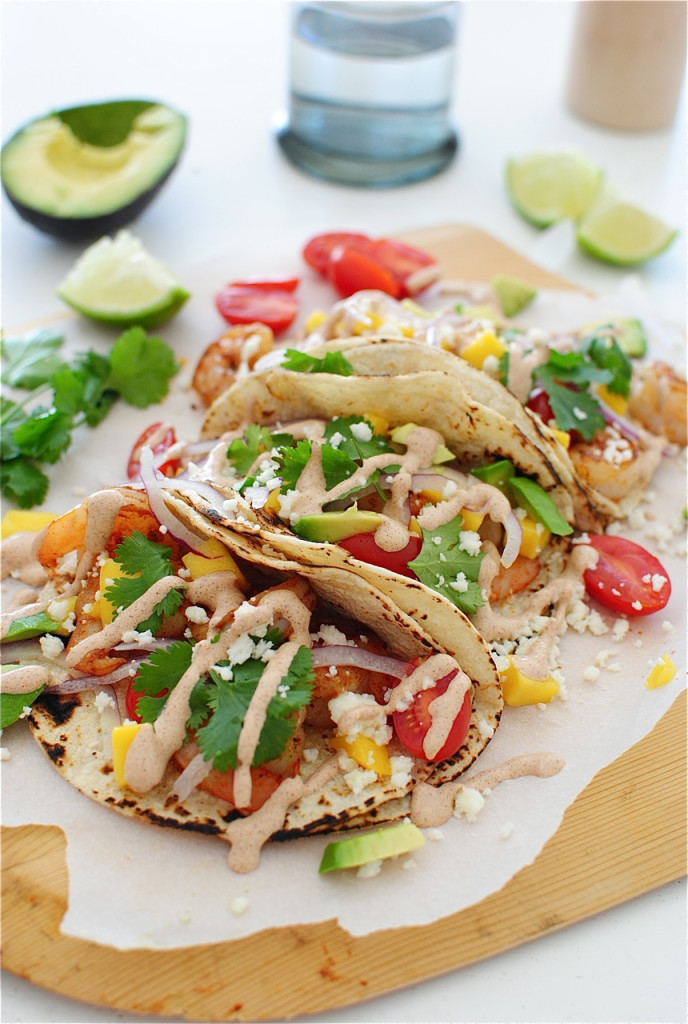 Sorry to scream at you, but these might just be worth a good yell fest.
A) they're shrimp tacos.
B) they're ancho kissed.
C) that drizzle on top is ancho kissed, too.
D) are you annoyed that I've said ancho kissed twice in a row?
E) like, what is that even supposed to mean?
F) I guess I'm trying to relay that they're not over the TOP ancho-y, but just the right amount of ancho.
G) so like, just ancho kissed.
H) I don't know what ancho means anymore, I've said it so much.
I) all the toppings are prrrrrrfect together. creamy, crunchy, spicy, bright, ancho kissed.
J) my hair is already growing.
Don't you just love crumbled queso fresco? There's no way I express my love for that tender chunk of glory enough on this here internet URL website blog. I don't think I'd prefer to live a single day without it. Its crumbly, moist (sorry) nature with its mild creamy flavor just slays meh dead. Of course you can use cheddar or anything you want if you can't find queso fresco. But if you're not familiar with it, I hiiiiighly recommend giving it a go! It will change the course of your Mexican food decisions for the rest of ever.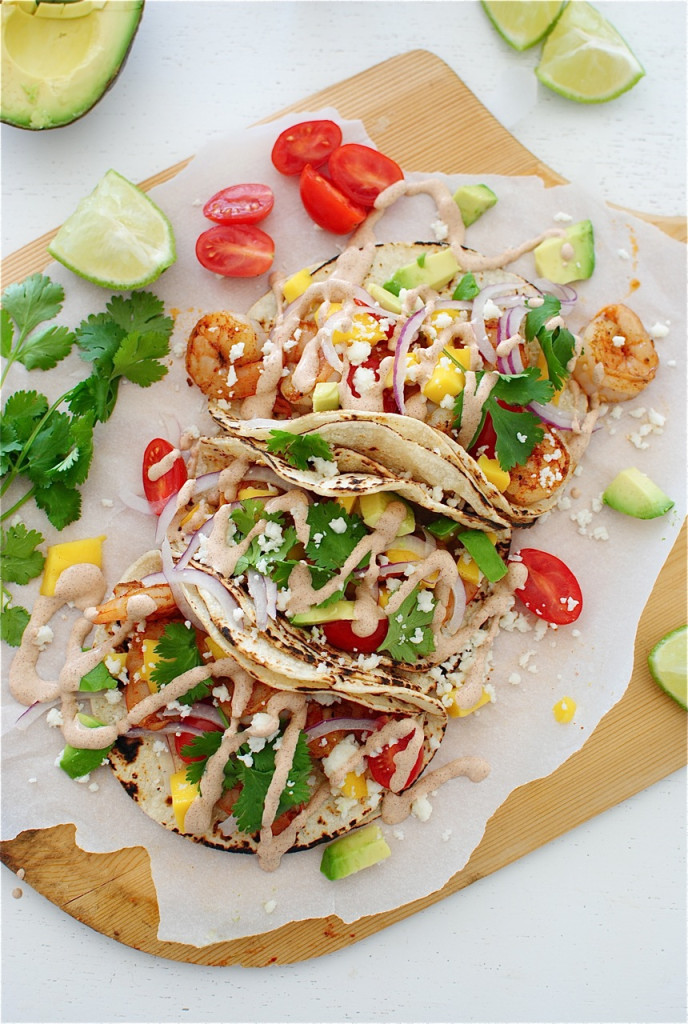 These tacos are actually pretty simple to pull together, minus the little bit of topping prep work. Get some extra hands to help you with the mango and avocado while you sear the shrimp. I had Will pit and dice the avocado while Natalie wrangled the mango seed.
Just kidding, please don't call Child Protective Services.
But I will need you to make and eat these as soon as possible.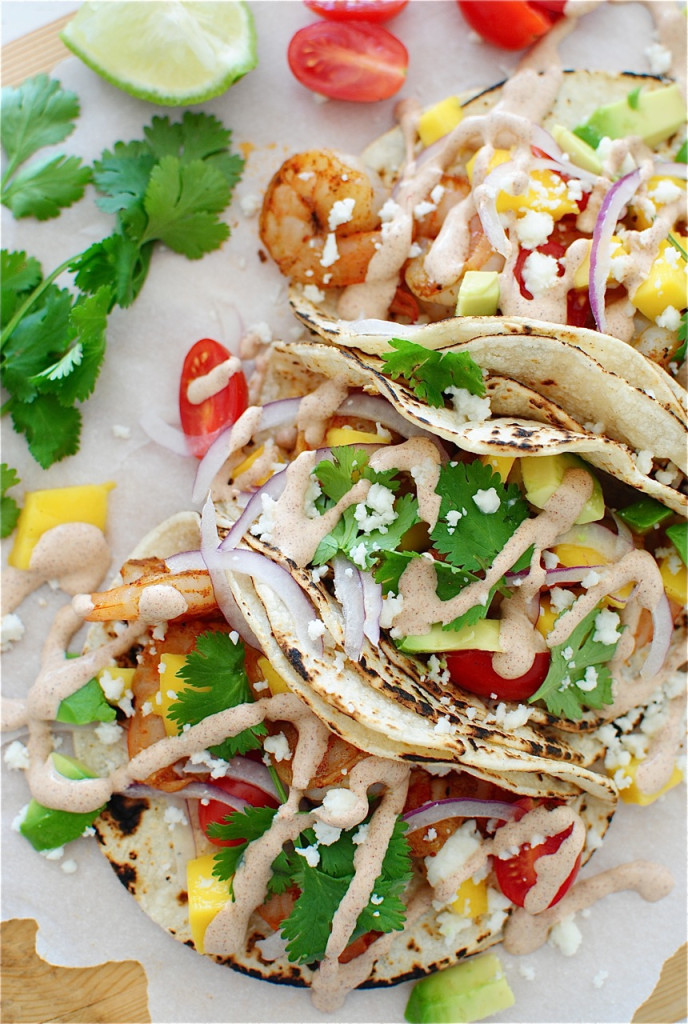 Oh hey it's TACO TUESDAY! Duh.
Ancho Shrimp Tacos:
What it took for 6 tacos:
* 1 pound extra large shrimp, peeled and deveined
* 1 pinch salt and pepper + 1 Tbs. ancho chile powder
* 1 cup sour cream
* 1 Tbs. ancho chile powder
* 2 Tbs. fresh lime juice
* 1/2 cup thinly sliced red onion
* 1/2 cup halved cherry tomatoes
* 1 mango, diced
* 1 avocado, diced
* crumbled queso fresco
* fresh cilantro leaves
* 12 corn tortillas
* extra lime wedges
Season the shrimp on both sides with the salt, pepper and 1 Tbs. ancho chile powder. Toss to coat.
Heat a Tbs. extra-virgin olive oil in a large sauté pan over medium-high heat. Add the shrimp in a single layer; sear on one side for one minute. Flip and sear an additional 30 seconds, or until the shrimp is cooked through and you get some good sear marks.
In a large food processor, combine the sour cream, Tbs. of ancho chile powder and lime juice. Blitz until smooth and saucy.
Warm the tortillas any way you prefer. I like to run them over an open flame on my gas grill to get those good blistered marks on the edges.
Double stack (if you want!) the taco shells, and load up with shrimp, thinly sliced red onion, cherry tomatoes, diced mango, avocado, the queso fresco, cilantro leaves and more lime wedges. Finish with a good drizzle of the sauce over the tacos and devouuuuur.
Also, if you feel like being awesome, blister your corn tortillas over an open flame! Boom.
*one more thing, working on some ad tweaks, so pardon the ads on the photos. working on that now!
Okay I'm done. Off ya go.