Weeeeeell hello there.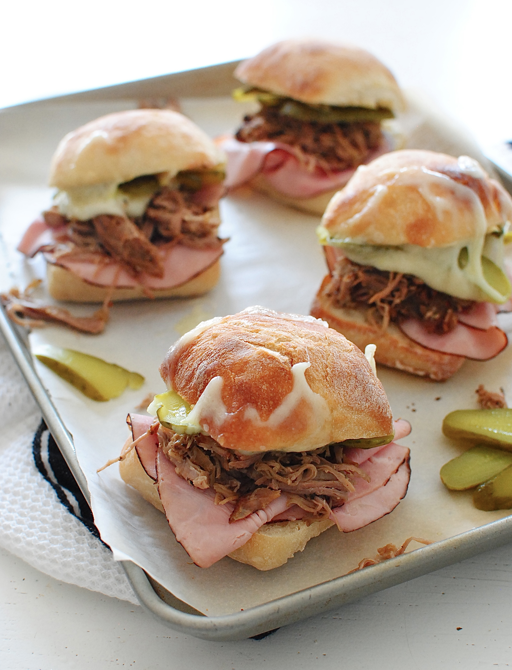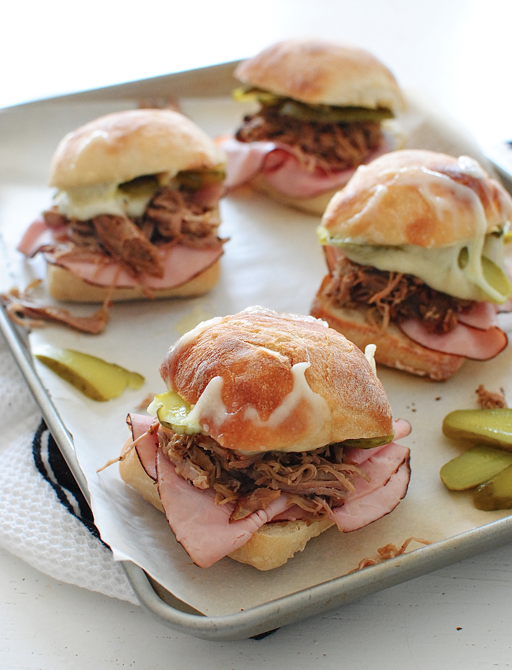 I see your dinner and raise you CUBAN SLIDERS.
Let me just start by saying two things. Three things. A few things:
* There will never be enough articulation in any universe to describe my immortal devotion to these sliders.
* Obviously I didn't invent this recipe, but I did tweak a couple o' thangs to Bevi-botch it.
* We were supposed to get snow last night and all it did was shoot a rainy snot rocket and call it a day.
* My coffee's stronger than usual.
So it all started three or fours weeks ago when I ordered a Cuban sandwich from our fave neighborhood joint. I took one bite, nearly fell to a sublime demise, returned to consciousness for another bite, then fainted and never woke up. Except for the next bite. I looked at Aaron through a blur of weeps and said, "I have to m . . . I have to ma  . . . make for blo . . .  for blog." Then I fainted again.
THEN we watched Chef a few days later. And I was so inspired and so pumped up (<—ew) and so exhilarated and actually kind of into Scarlet's Cleopatra-esque 'do, that I researched like crazy what it takes to really make a Cubano sandwich irresistible. And then I fainted from my internal hullabaloo.
I should see someone about all this fainting.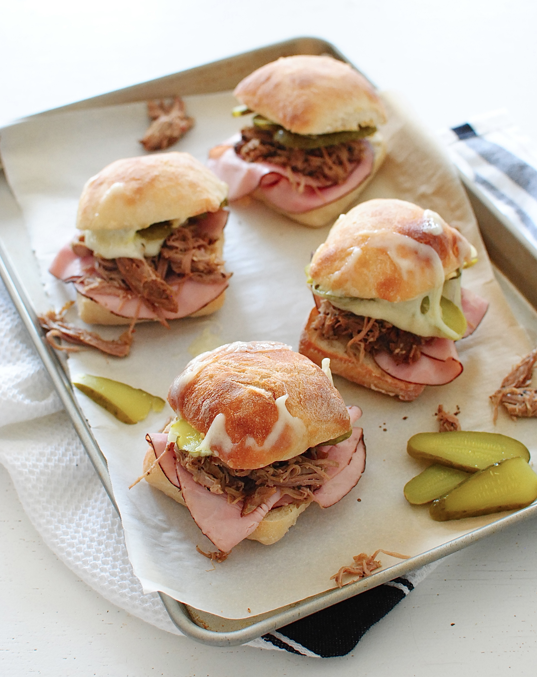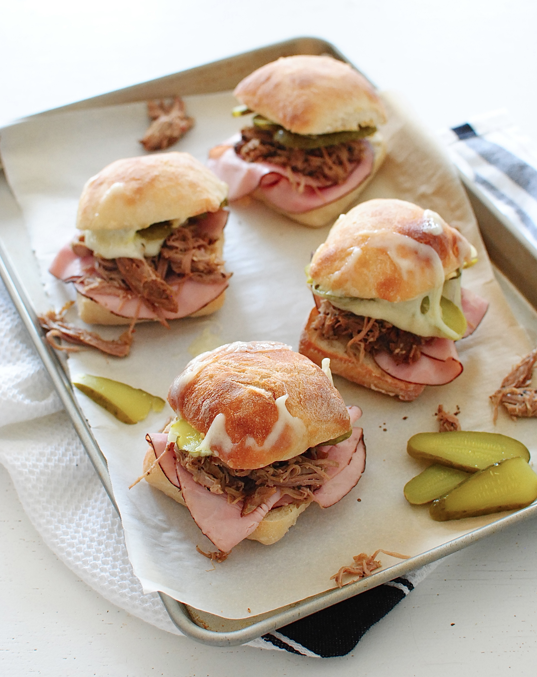 Speaking of, do you say Cuban or Cubano? I feel like Ricky Riccardo when I say Cubano. And I like it.
So this is it: the seasonings basically don't change across the board. The spices for the meat are cumin, dried oregano, chile flakes and salt. A lot of recipes call to sprinkle the goods on the meat and stick it in the oven forever. Which I can dig. Many others called to stick the meat in the slow cooker and just toss in the spices with some orange juice and lime juice. Which I can totally fist bump.
So I did it differently, natch. I made a little dry rub of all the goods, reaaaaally rubbed it into the meat (once trimmed of a ton of fat), then SEARED that bae bae in a skillet before adding it to the slow cooker. OoooooOOOOOoooo yeah, because later when that meat falls apart in the cooker, you can still see some good charred sear marks. And you will dance in your giddy pants, like everyone is watching. Because I'm secretly recording you from the window and putting it on YouTube right now.
Lastly, don't skip the mustard and pickles. That tang against the succulent pork, salty ham and buttery swiss cheese is esseeeential in the way Cubans are supposed to taste. The sandwich, not the people.
Oh gosh.
And of course, the bread. If you can FIND Cuban bread, do it! You could slice it into three-inch pieces for a slider feel. Or just use your favorite slider buns because you're fantastic at living.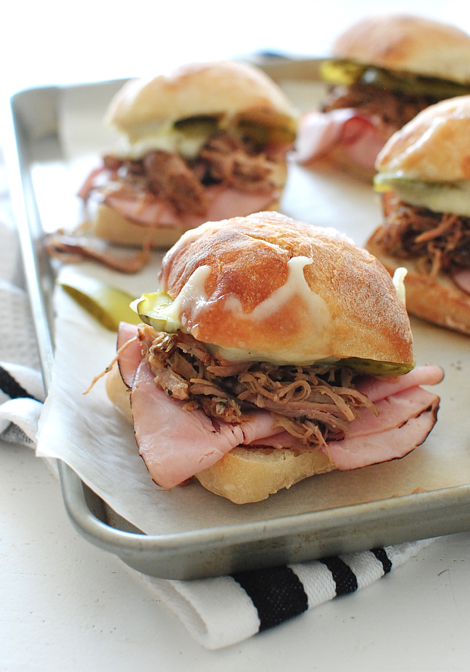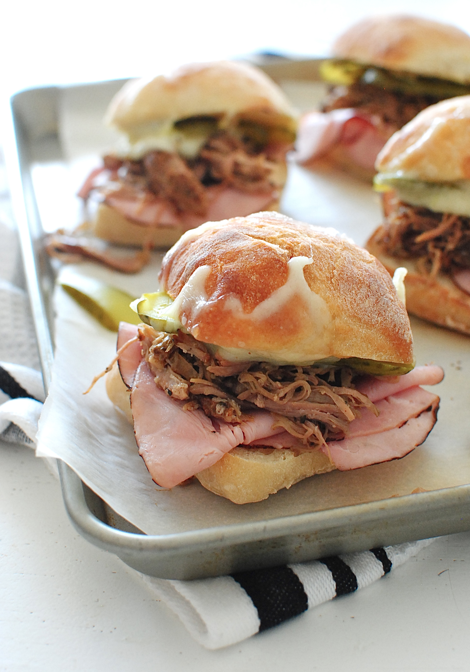 I'm almost begging you.
Slow Cooker Cuban Sliders:
What it took for 8 sliders (and maybe some extra meat, holla):
* 1 (3.5 pound) pork shoulder, trimmed of as much fat as possible
* 1 heaping Tbs. cumin
* 1 heaping Tbs. dried oregano
* 2 tsp kosher salt
* 1 Tbs. extra-virgin olive oil
* 4 cloves smashed garlic
* 1 medium white onion, thinly sliced
* 1 lime, for the juice
* 1 cup orange juice
* 1/2 cup chicken stock
* 8 slices ham (Virginia is great)
* 8 slices swiss cheese
* Dijon mustard, for spreading
* thinly sliced pickles
* 8 ciabatta slider rolls (or any slider bun you love)
In a small bowl, combine the cumin, oregano and salt. Toss with your fingers to mix. Evenly rub the spices all over the pork shoulder. Heat the oil in a large skillet over medium-high. Sear the pork until browned all over, about seven minutes total.
Transfer to a slow cooker. Add the garlic, onion, lime juice, orange juice and chicken stock. Cook on low for 6-8 hours, or until the meat completely falls apart and you want to caress it. You can shred it easily with a pair of tongs (not to be confused with thongs), or a couple of forks, whatever. What I did was shred it in the pot, then drain most of the liquid, reserving the juices for dipping. Then I cried from bliss.
Split the slider buns and lightly toast them, with a light coating of mustard and a slice of swiss cheese on the top halves.
Place a slice of ham on the bottom halves, followed by a good mound of shredded pork, and a couple of pickle slices. Place the halves together and oooommmmggggggg.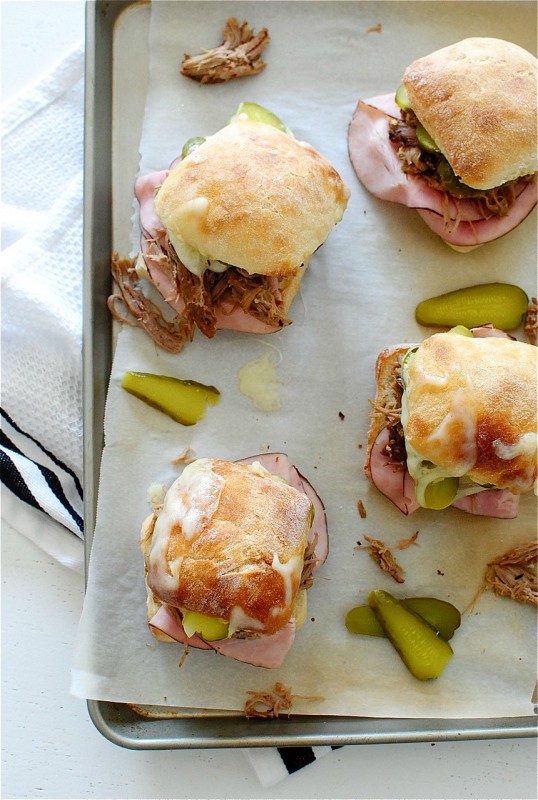 I just fainted again.