Aaaaaas in turkey. Ground turkey. Health!
I made this a few weeks ago on a whim. And I am telling you, that sauce rented a space in my mouth and never returned the key.
Hold on that didn't make much sense. I don't in fact still have the sauce in my mouth, all this time later. That's weird. I just mean it's never left my mind. It rented a space in my mind and never returned the key. Maybe the key got lodged in my ear drum? Or esophagus. This isn't going so well.
I just mean I've not been able to get it out of my head, so I just have to share it with you! Because of the whole ear drum thing.
You're like, just stop.
Thing is, I could eat a red meaty pasta sauce every day of my life and it wouldn't be enough. But the sauce has to be GOOD. Like, good good. It's got to have a nice tang. A subtle hint of smoke. A kiss of spice. A deep, complex tomato flavor, but also bright with acidity.
But. Okay. There's a catch. And I hope you don't break up with me over this.
I used jarred marinara for this recipe. UGH. I know. BUT. Hold on. It's not those big brands thick with sodium and cardboard flavor. Naw, man. It's a local restaurant that jars their own sauce and good gracious my face. It's DELISH. So this is what you do. Hunt down a really, really, really ridiculously good looking (name that movie) jar of marinara. And then add all the stuff from my recipe and be happy and gleeful in life and still love me to pieces. Coo?
Coo.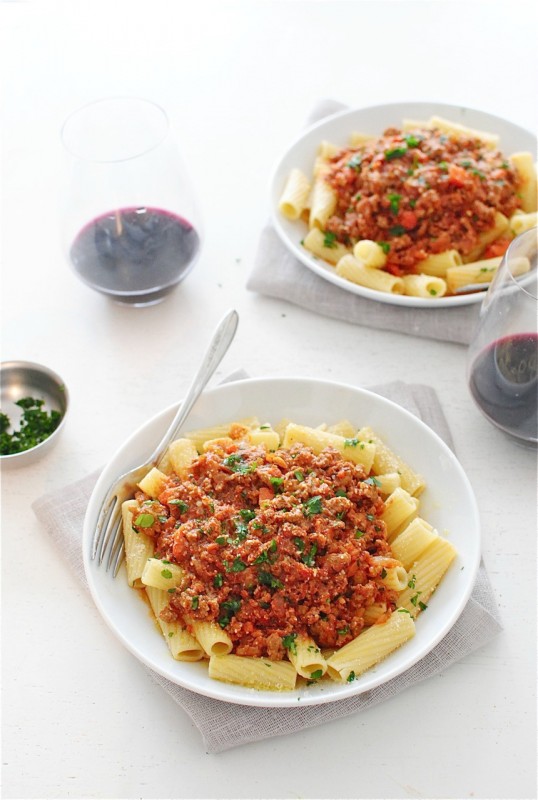 Let the sauce simmer for as looong as you can. You're adding a full cup of chicken stock, so it has lots of room to bubble and reduce in a relaxed time frame.
Seriously, this is bananas fab. It's great for snow days (hello all of the world), perfect for weekends, or even weekdays if you're home already. The turkey packs a punch with all the seasonings, and the rigatoni is awesome because pasta.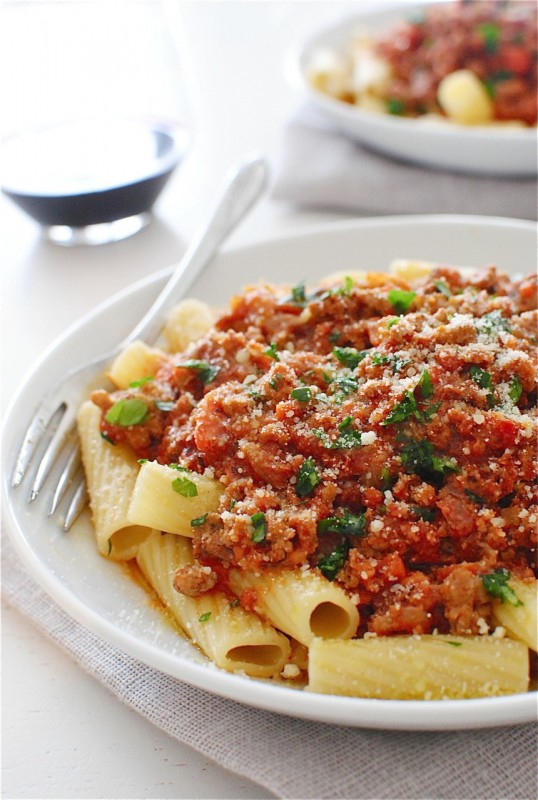 You can't not.
Turkey Bolognese with Rigatoni:
What it took for four:
* 2 Tbs. extra-virgin olive oil
* 2 carrots, chopped
* 2 stalks celery, chopped
* 1/2 large onion, diced
* 4-5 garlic cloves, minced
* 1 1/2 pound ground turkey (mine was a dark/light mix)
* 1 Tbs. Italian seasoning
* 1 Tbs. smoked paprika
* 1 tsp cinnamon
* 1 (26 oz) jar of your favorite marinara
* 1 cup chicken stock
* 1 bay leaf
* 1 pound rigatoni
* coarse salt and freshly ground pepper
Heat the oil in a large skillet over medium-high. Add the carrots, celery and onion. Season with a pinch of salt and pepper and sauté for about six minutes, letting the veggies soften. Add the garlic and sauté another 30 seconds.
Add the turkey and brown all over, incorporating with the veggies. Once there's no pink left, season with the Italian seasoning, smoked paprika and cinnamon. Get that all tossed and covered and lovely.
Now add the marinara, chicken stock and bay leaf. Simmer on low for about an hour. Longer if you can! Taste it and add a little more salt if needed.
Bring a large pot of salted water to a boil. Add the rigatoni and cook until al dente, whatever the package says. It will probably feel like a hundred years.
You can do this two ways: fish out the bay leaf and add the cooked pasta to the sauce and toss to combine. Which I really love to do. OR, divide the pasta among your bowls and ladle the sauce right on top. Either way, you're still a good person.
Garnish with obscene amounts of parmesan cheese and fresh parsley. Dive in, already.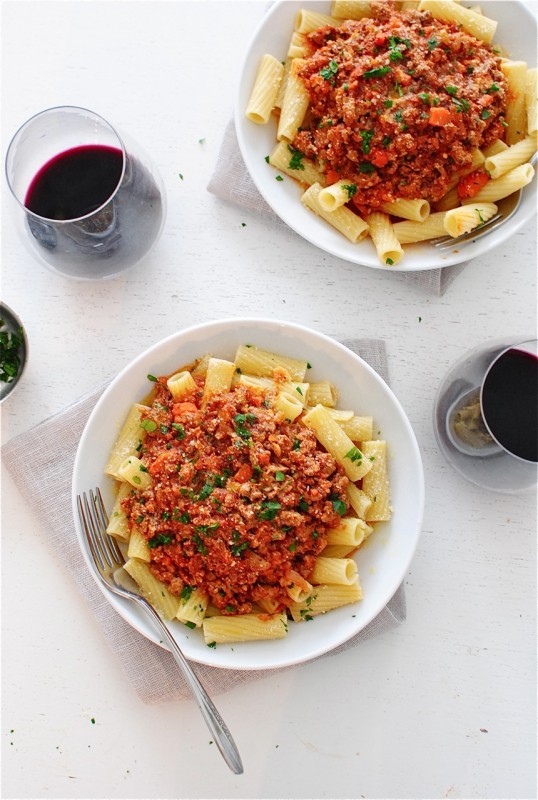 Mamaaaaa.