This week.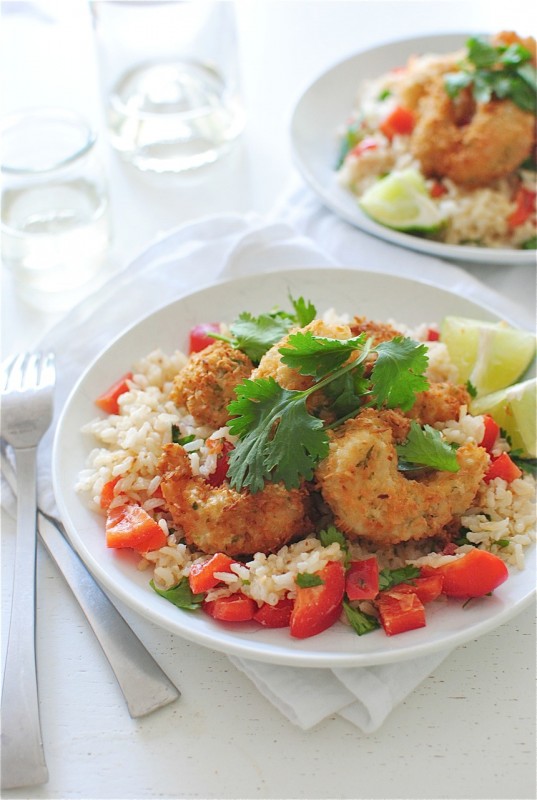 I've been behind thu UNTAR week. I've been trying to publish this post since MONDAY NIGHT. How silly is that?
Thing is, we had our living room painted this week. And by that I mean, dude put on one coat and packed his things. Th . . . thanks? So, we had to paint the second coat, the trim, baseboards and the ceiling. I was s.e.e.i.n.g.r.e.d. But it's done and gorgeous and FRIDAY.
And we're battering shrimp with wine and coconut. (!!!!)
The whole beer battering catfish thing got me thinking, why not wine?! Why not vodka!? Why not bourbon!? Why not gasoline!? Just kidding. Don't do that.
I repeat: Do not batter any food in gasoline. Bev Cooks authorizes this message.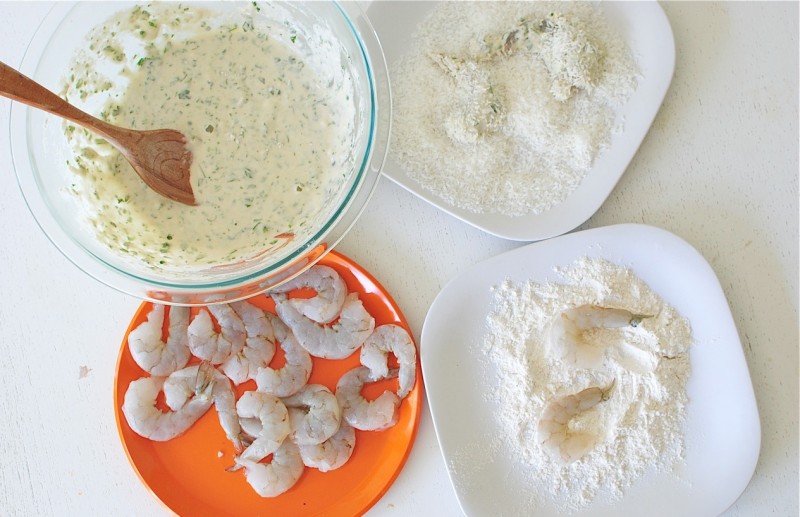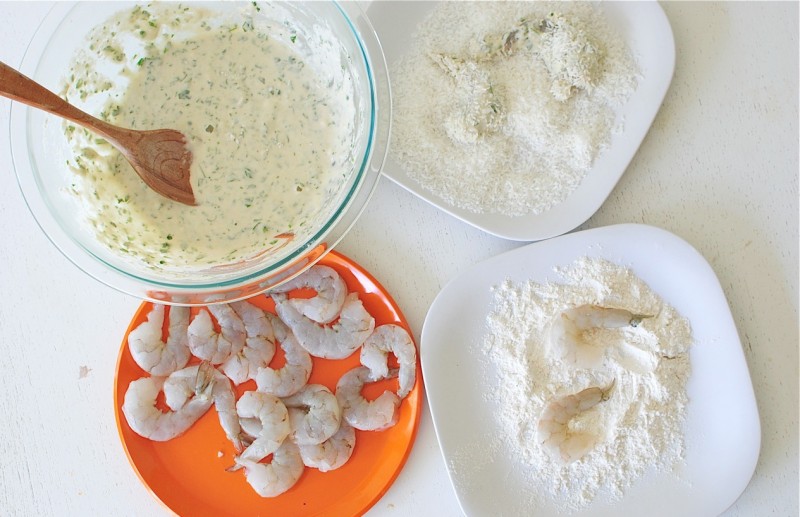 This batter is ridiculously easy and just marvelous with wine. I used a sauv blanc because my it courses through my veins. Add a little flour, cilantro, salt and pepper and ha-biggity.
But that's not all! THE COCONUT.
Shocker, I know.
But I mean, just look.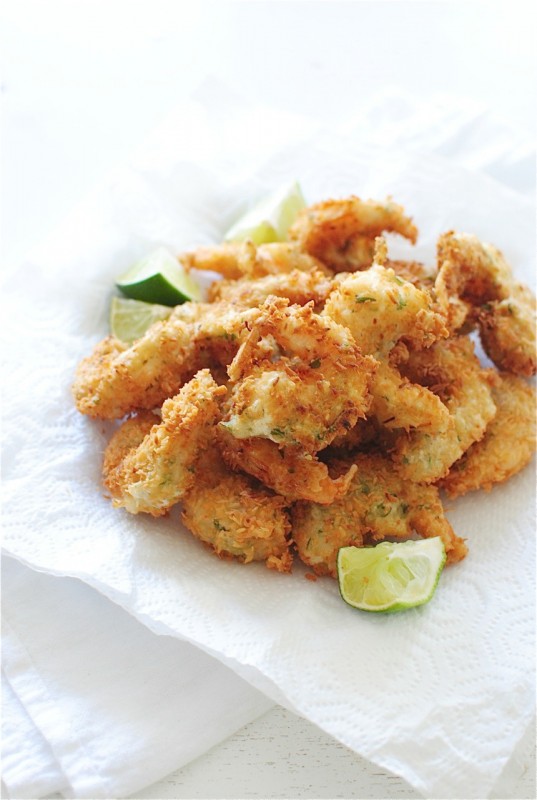 Crispy. Coconuty. Winey. Deliciousy.
And you spritz it all with lime juice and throw it on top of some coconut brown rice and red bell peppersssshoooooooooot, y'all.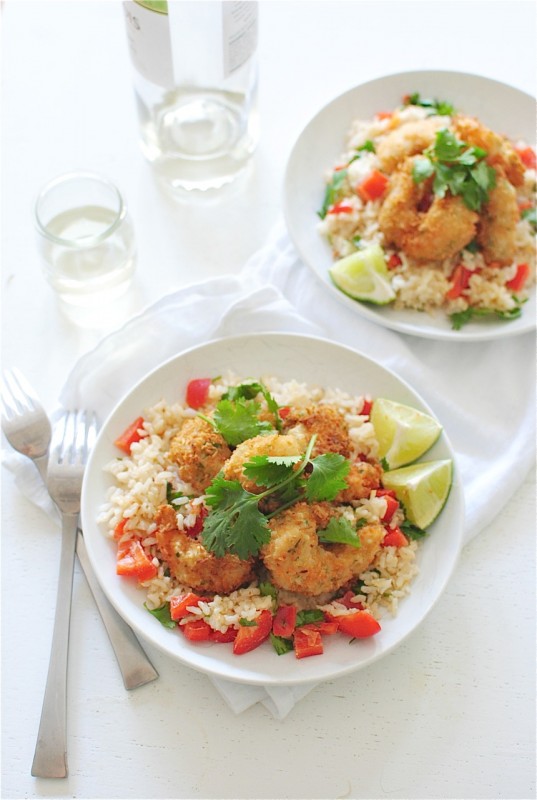 Weekend eating, please.
Wine-Battered Coconut Shrimp over Brown Rice:
What it took for 4:
* 1 cup all-purpose flour
* 2/3 cup dry white wine
* 1/3 cup chopped cilantro
* pinch of salt and pepper
* 1 pound shrimp, peeled and deveined
* 1 1/2 cup brown rice
* 1 (13.5 oz) can coconut milk
* 1/4 cup water
* 1 red bell pepper, stemmed and diced
* limes
* 1/2 cup flour
* 1 1/2 cup shredded coconut
* 4 cups vegetable oil, for frying
In a large bowl, combine the flour, wine, cilantro, salt and pepper. Stir together and chill for about 30 minutes.
Place the remaining flour in a shallow bowl, and the shredded coconut in another.
While the oil heats, prepare the shrimp. Dip each one in the flour, shaking of any excess. Then dip it into the wine batter, then into the coconut, coating the shrimp.
Fry the shrimp in batches, until golden brown all over. Drain on paper towels.
In the meantime, place the rice in a rice cooker, and cover with the coconut milk and water. Once cooked, add a few good spritzes of lime juice and the diced bell pepper. Toss, toss.
Serve rice with a few coconut shrimp, and garnish with cilantro and lime wedges!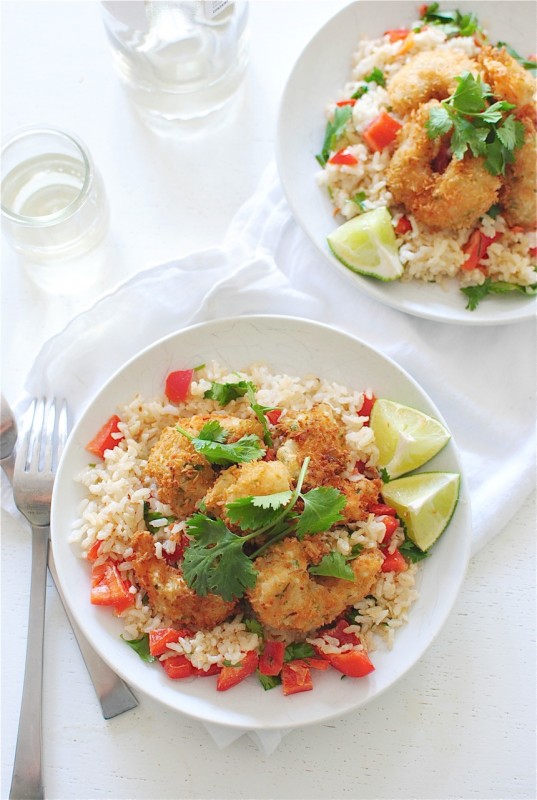 Pour me an extra glass of that wine.