Oh for heaven's sake.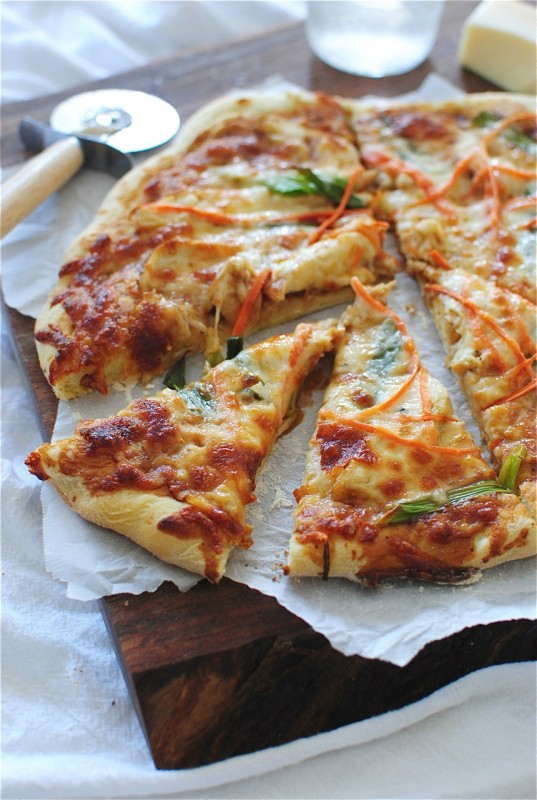 I can't even remember the last time I posted pizza on this here blog. And frankly, that's a crime.
Speaking of crimes, it's almost Octoooobeeerr! And you obviously know what that means. Scary movies! It's a good thing we're already waist-deep into our newest BBC crime show obsession from the '90s, The Midsomer Murders. I would ask you if you've seen it, but I'm 99 kabillion % sure Aaron and I are the only dweebos on the entire planet who watch it. We're completely obsessed. Each episode runs about 1 hour and 42 minutes, so it's movie night errr night. It all takes place in England, and there are two detectives, one older and wiser, always three steps ahead, and one younger and man-sassy, always nearly crashing the car, together solving the towest upest murder cases all over the lands. With accents, natch. And each case twists and turns, and you're like, "He did it!" And then, "No, she did it!" And then, "The gerbil did it!"
Are you still there?
It's good. Look into it, chachis.
In the meantime, let's face some facts. Thai Chicken Pizza being the fact in our face. This version is super duper simple, given that I used a bottle of peanut sauce (snap!). But I did a little more legwork with the dough, making it from scratch (snizzle!).
Snizzle didn't work.
Okay, fresh carrot slivers and sliced scallions. Thinly sliced chicken and gobs of mozzarella cheese. Hold meh.
You could even garnish it with chopped peanuts! I just forgot because diapers.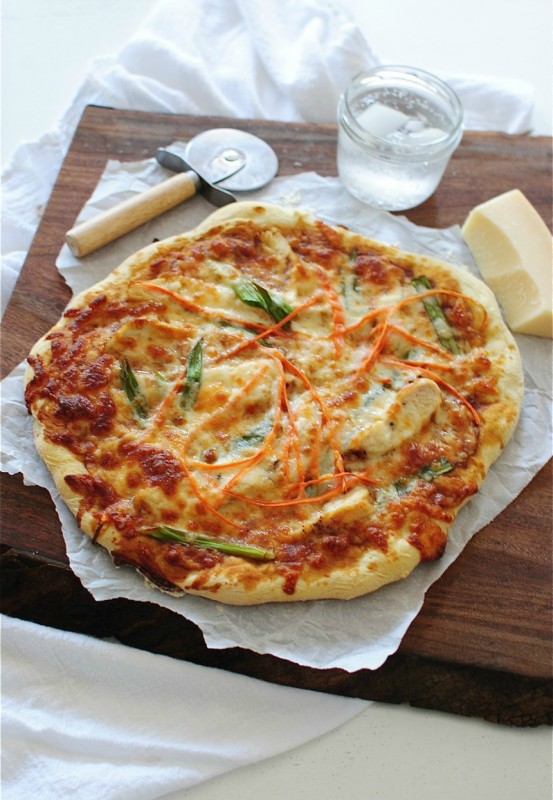 Outside of Midsomer Murders, what skawy movies should I pile into my Netflix? No gore! Wait, maybe a little gore. No supernatural! Hold on, I actually love that ish. No thrillers! Just a minute, load me up on thrillers. I'll take it all!
OR HOW 'BOUT GONE GIRL?! Already dying.
While we decide, let's eat pizza, k?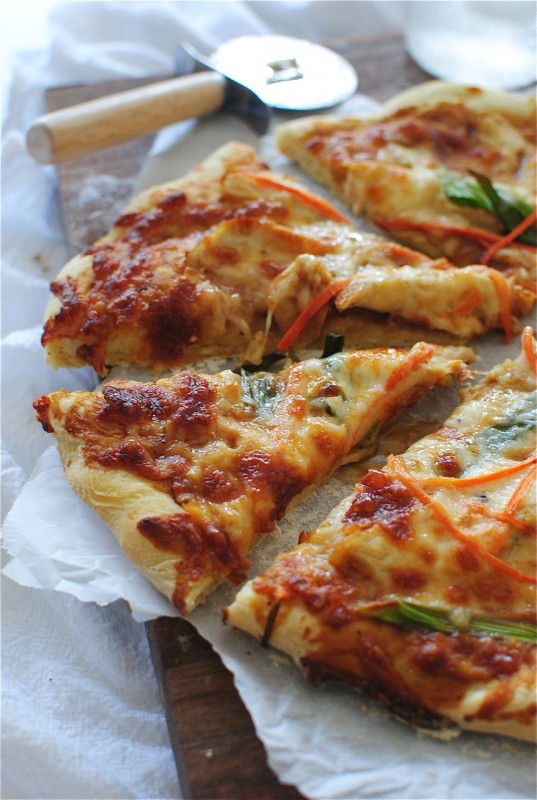 I want that slice.
Thai Chicken Pizza:
What it took for 2 10-inch pizzas:
For the dough, we used Martha's recipe, but cut in half:
* 1 (1/4 oz) packet active dry yeast
* 1 Tbs. sugar
* 1/8 cup olive oil, plus more for brushing and the bowl
* 1 tsp coarse salt
* 2 cups all-purpose flour, plus more to work with
For the rest:
* 2 chicken breast halves, seasoned with salt and pepper, seared and thinly sliced
* 1 cup (or more!) your favorite bottled peanut sauce (I used the 365 brand from Whole Foods)
* 2 small carrots, thinly slivered (julienned)
* 4 scallions, thinly sliced on the diagonal
* 4 cups shredded mozzarella cheese (or a little less if you're freaked out)
* fresh parmesan shavings
Pour 3/4 cup warm water into a large bowl. Add the yeast and let it stand for about 5 minutes, or until foamy.
Whisk the sugar, oil and salt into the yeast mix. Add the flour and stir with a wooden spoon until it becomes a sticky dough. Transfer the dough ball to an oiled bowl and brush the top with a little oil. Cover with a warm towel and place in a warm spot for about an hour. It will double in size and, baby, so will your grin.
Punch the dough to deplete it, and place it on a well-floured work surface. Knead until smooth, just a few times. Roll it out and pizza time!
Preheat your oven to 400.
Once your dough is rolled out, spread half the peanut sauce over the top. Follow with chicken slices, carrot ribbons and sliced scallions. Sprinkle with half the cheese.
Place the pizza on a floured pizza stone and bake for 15-17 minutes, until the crust has formed and the cheese is browned and bubbly.
Grate some fresh parm on top and i.n.h.a.l.e.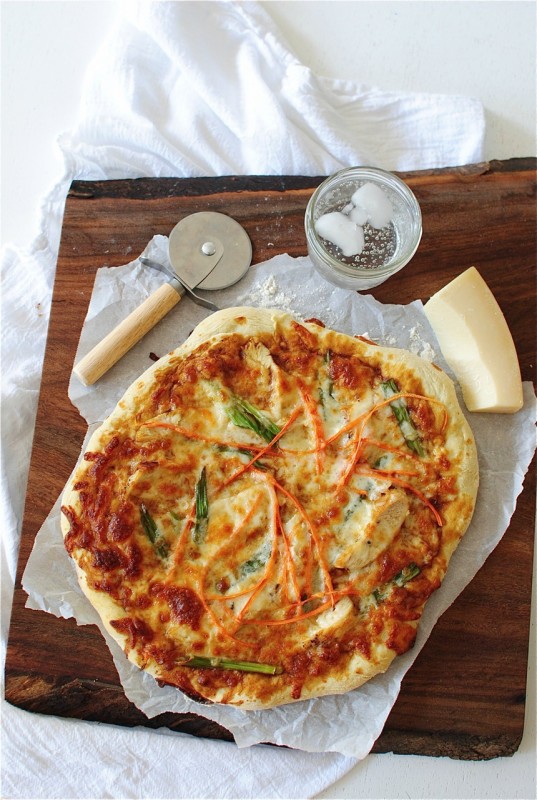 You should really watch Midsomer Murders.