It's been a long time since I've had good ole fish for supper.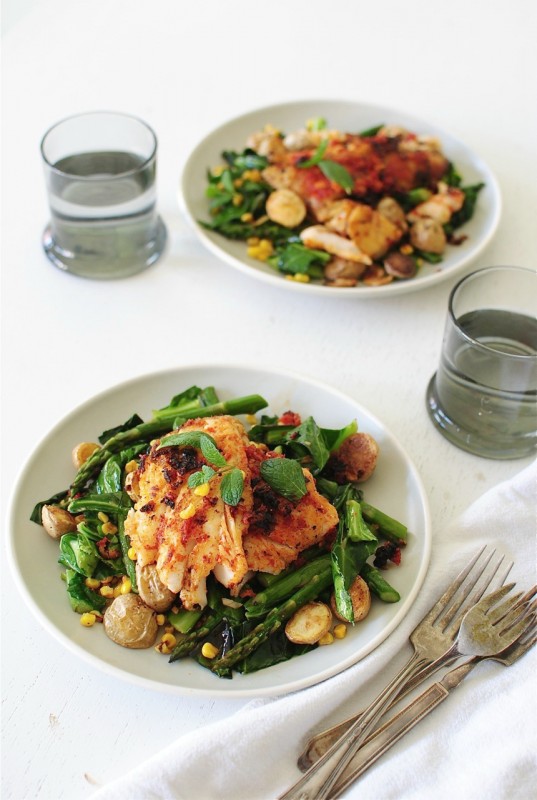 It's also been a long time since I've said the word supper. I never say supper. Do you? Is it a regional thing? My parents say supper. I also don't say folks. Do you? My folks are fixin' supper. I also don't say fixin'.
This is the worst entry to a post ever.
Could we talk about sun-dried tomatoes real quick? I asked this Trivia question on Instagram, but I'll go ahead and ask you, too. What sitcom character thinks sun-dried tomatoes are 1985?
I'll go ahead and tell you the answer because I have the patience of a hummingbird on crack. Monica Bing!
Remember, it's the one where Phoebe is dating Monica's soul mate Don and she brings him to the coffeehouse to meet everyone, and he and Monica get to talking about some restaurant, and he says, "What's with all the sun-dried tomatoes at that place?" And Monica goes, "I know! What is it, 1985?" And then Chandler goes, "What's wrong with sun-dried tomatoes," and everyone stares at him? 'Member?
I could talk about Friends until kingdom come.
Well sorry, Mon, but I still like the sunny-drieds.
And 1985.
. . . and shoulder pads but I probably needed to keep that to myself.
Did you know halibut is like 3.6 million dollars? I was going to buy some for this recipe, but my store was out of the fresh, and the frozen bag required a down payment, some blood and a notary.
So I got the cod! But it's okay because I really like saying, "you have something cod in your teeth."
I also have no human friends, so . . .
Make this! You sear the cod in butter and brush it with pureed sun-dried tommies. You roast some baby potatoes. You sauté your favorite greens, asparagus and corn in more butter.
Butter.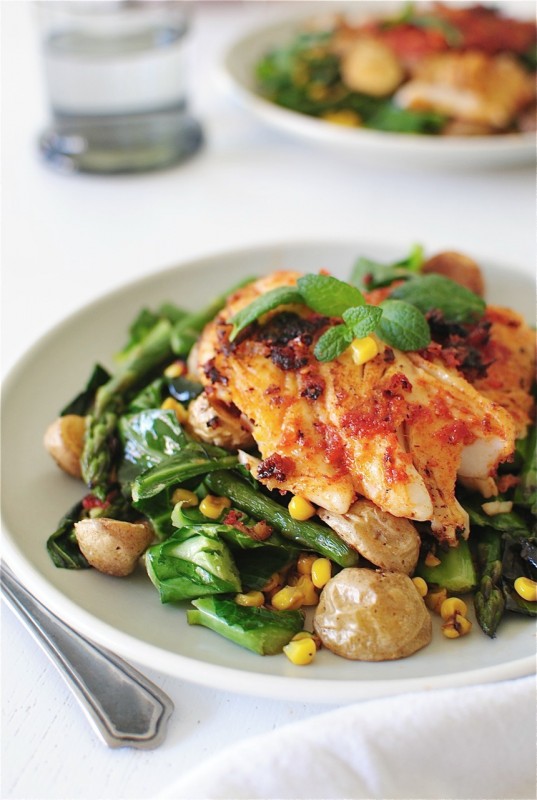 This is the word of cod.
Sun-Dried Tomato Cod with Roasted Potatoes and Greens:
What it took for 2:
* 2 cups golden pee-wee potatoes, cut in half, plus 1 Tbs. extra-virgin olive oil
* 2 Tbs. butter, plus 1 Tbs. olive oil
* 1/2 medium bunch asparagus, ends trimmed and spears cut in half
* 1 ear corn, kernels removed
* 3 cups chopped collard greens (or any greens you prefer)
* 2 cod fillets, pat dry
* 1 cup sun-dried tomatoes, with 2 Tbs. packed oil
* salt and pepper, to taste
* mint or parsley, for garnish
Preheat your oven to 400.
Place the potatoes on a rimmed baking sheet, and toss with a Tbs. oil and a pinch of salt and pepper. Roast 25 to 30 minutes, tossing halfway through.
Heat the butter and oil over medium in a medium cast iron skillet. (or any skillet you love) Add the asparagus and corn; sauté 3 minutes, or until the corn starts to pop a little and the asparagus starts to get tender. Add the collards and toss to wilt. Season with a pinch of salt and pepper. Transfer to a plate.
In a food processor, pulse the tomatoes until they're as smooth as you can get them.
Back in the skillet, add a little more butter and/or oil. Season the cod with salt and pepper and place them in the pan and sear on both sides until browned, and the fish is flaky. Brush both sides with the sun-dried tomato spread.
Serve fish over a bed of the greens, veggies and potatoes. Garnish with a little mint or parsley for that last punch in your face. Yeah.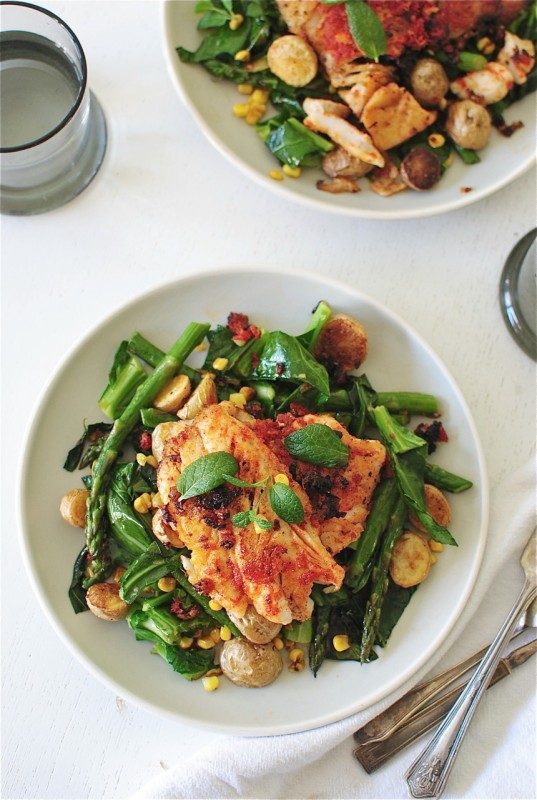 If I say "come to mama" are you going to dropkick me?