You better get ready to skip to your Lou.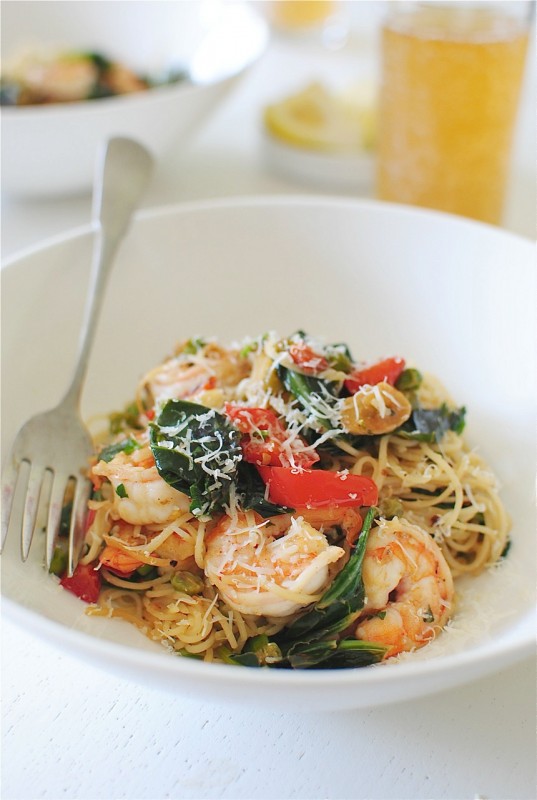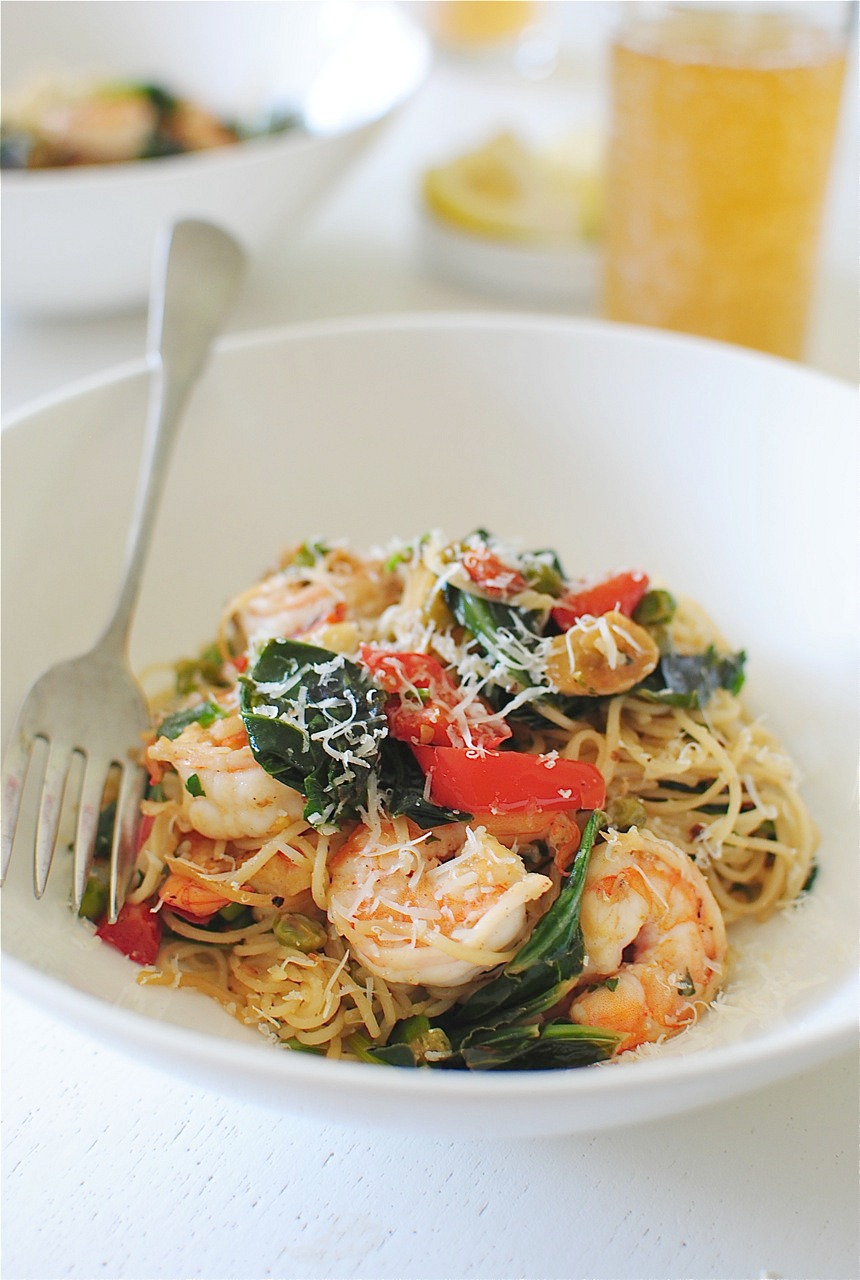 'Cuz that Lou of yours is about to be on fire with all the skipping. My darlin'.
This is one of those supah easy springy singy shrimpy lemony pasta-y dishes that you can whip together in the few minutes right before New Girl starts. I even threw some collard greens and peas in there like a little doll face. Your Lou will be skippin', and your face will be dollin'.
Don't even get me started on the lemon juice.
Or the tiny hint of crushed red pepper. Or the delicate pow of fresh mint right at the end.
Is "delicate pow" an oxymoron?
I'm making shirts.
With this next photo on it.
No one's going to buy my shirts.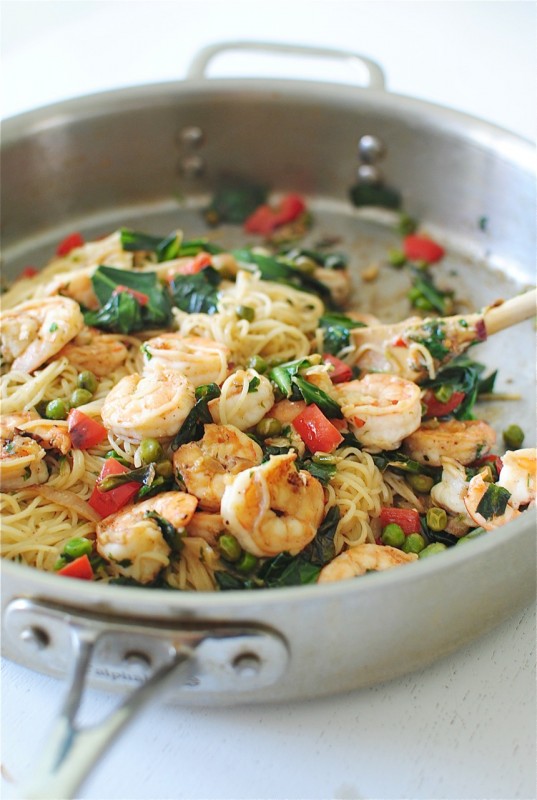 How about, that's kombucha in those glasses. That's right it is. Had my incense burning, too.
Anyway, I'd like to introduce your entire face to this meal. ILOVEITTHATMUCH.
Also, thinly sliced garlic. And angel hair. And seared shrimp.
Remember that Lou we were talking about earlier?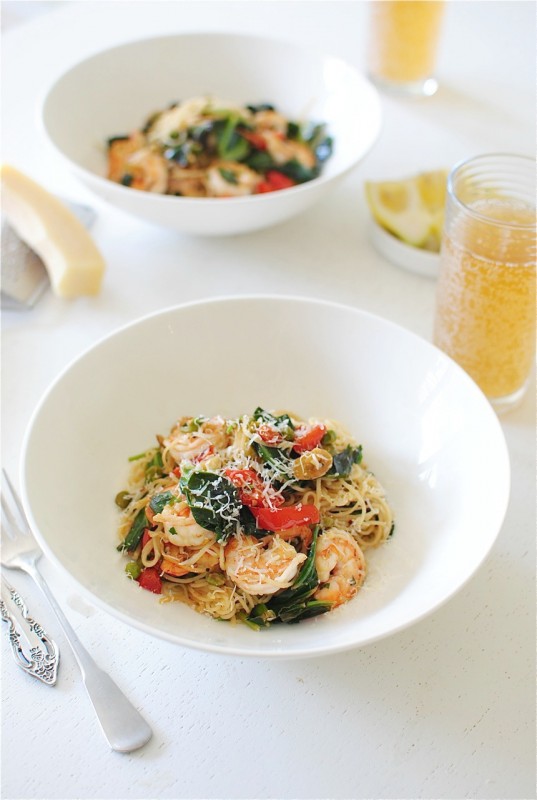 Skip skip.
Angel Hair with Seared Shrimp and Greens:
What it took for 2:
* 1/2 pound of shrimp, peeled and deveined
* 1 Tbs. extra-virgin olive oil, plus more for a drizzle at the end
* 3 Tbs. butter
* 1/2 red onion, thinly sliced
* 1 red bell pepper, seeded and thinly sliced
* 4 cups chopped collard greens
* 3 cloves garlic, thinly sliced
* 3/4 cup frozen peas
* 1 pinch crushed red pepper flakes
* 2 lemons
* 1/2 cup chopped parsley
* 1/4 cup fresh mint
* 1/4 cup freshly grated parmesan
* 1/2 pound angel hair
Heat the oil and butter in a large skillet over medium high. Add the onions and red pepper; sauté for 3 minutes, or until they start to soften. Add the collard greens, garlic, peas, crushed red pepper and a good squeeze of lemon juice. Sauté another couple of minutes, until the collards wilt.
Move the greens to the sides of the pan and add the shrimp in a single layer. Season with salt and sear on both sides until cooked through, about two minutes.
Off the heat, add the cheese, parsley and mint. Season with a good pinch of salt and pepper.
In the meantime, cook your pasta until al dente. Drain (reserve about 1/3 cup of pasta water) and add the pasta to the veggies. Stir in the pasta water and more lemon juice and toss everything together.
Serve with more grated cheese and lemon wedges! Drizzle the whole thing with a little more olive oil. THU END.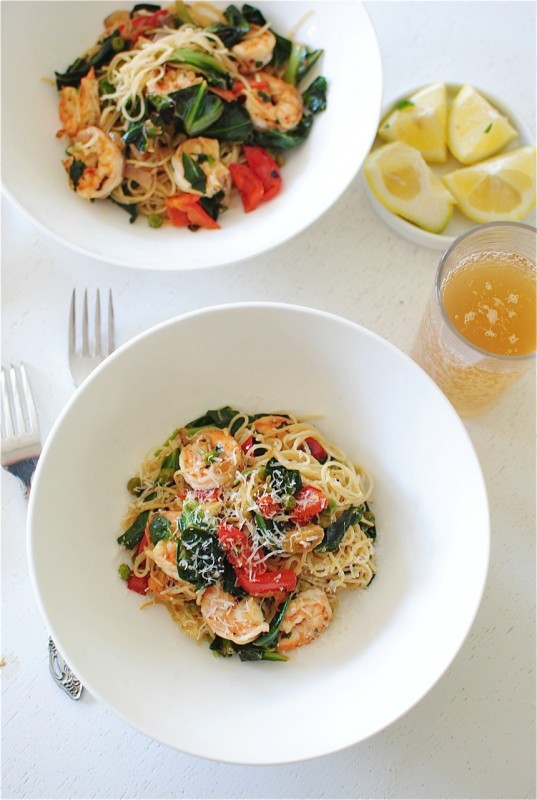 I'll never leave you.