Would you believe I spelled Mediterranean right on the first try?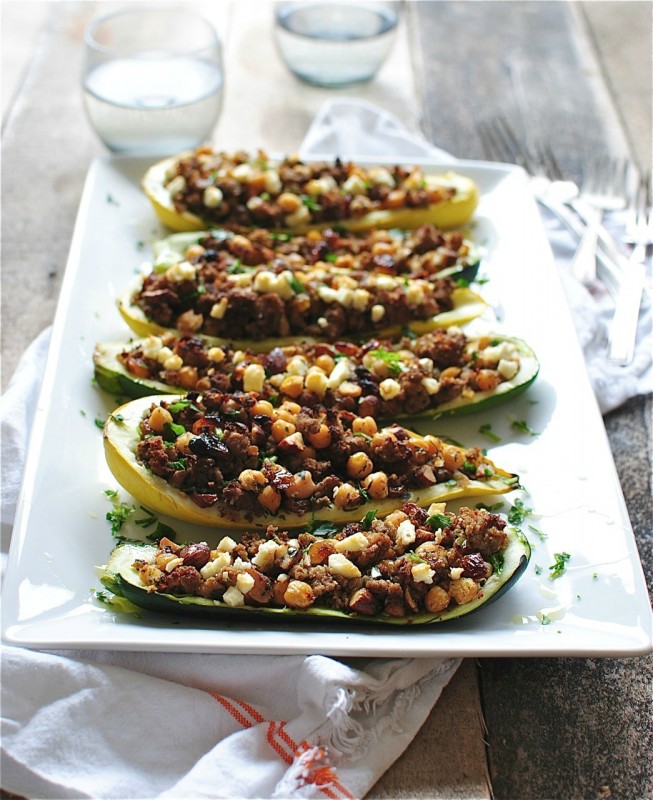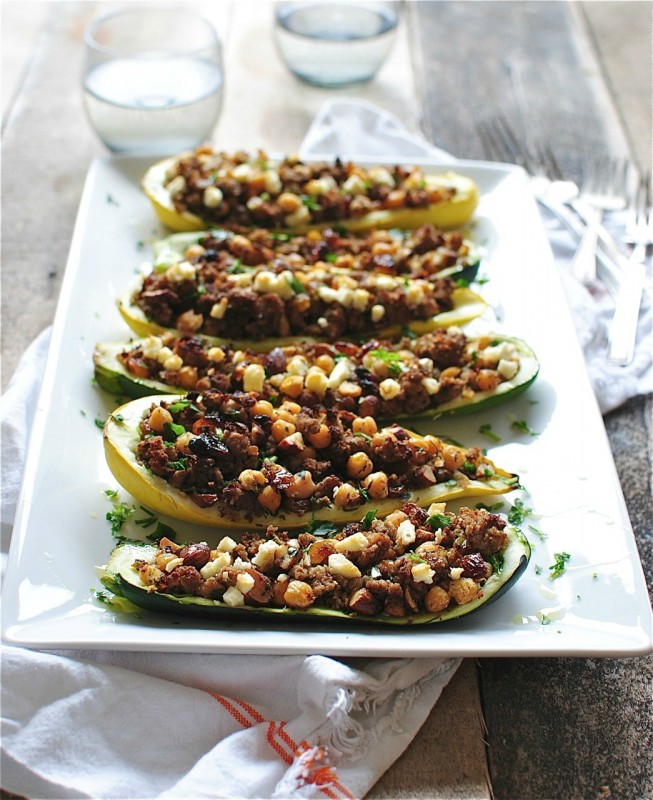 Seriously. No squiggly lines, no buzzing alarms, no firetrucks, no handcuffs. Looks like I don't have to enroll for self-esteem camp after all!
I'm also noticing that sliiiiight shift in afternoon light as we get closer and closer to the 'Embers. That's what I've always called the last four months of the year. The 'Embers. Even though there's a 'Tober in there. I still group them together as the 'Embers. How many times can I say 'Embers before you volunteer to wrap a spider web around your head?
OMG speaking OF, my sister found a Black Widow in her house yesterday. A BAAALAAAACCCKKAAA WIIIIDDDOOOOWWWAAA.
She sent me a picture last night before bed as a mean prank and she's no longer invited to my baby showers.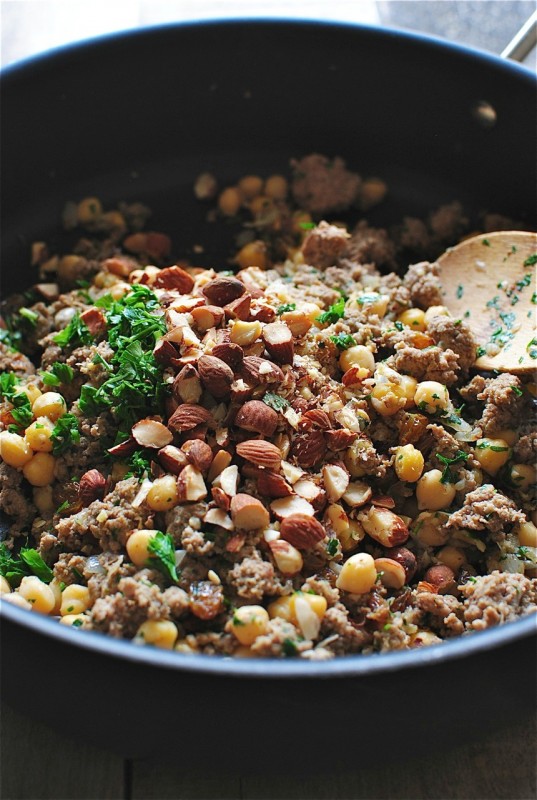 What was I saying?
Oh yeah, shift in light. See, I'm still taking 13-hour naps everyday (growing twins is hard, man.) and I'll often times wake up AFTER 4pm and have a complete panic attack because ugh it's already pretty much midnight and ugh my photos are going to be super shadowy and ugh I'm groggy and ugh why didn't the Civil Wars invite me to sing on their new album and ugh my Black Widow story was better, huh?
Self-esteem camp?
Okay.
Mediterranean stuffed squash!
Boom, you guys. These are going to trip your face up. There's so much texture going on in here, and you can't go wrong with the cinnamon/raisin flavor party. Not to mention the feta crumbles nestled in for extra excitement. And the chickpeas all throwing their little protein arms around. And the lightly toasted almonds for crunch crunch crunch.
See the two cheeseless ones? Yeah, husband.
We should start a support group for my fragility. Maybe link a PayPal account to it.
WHAT I'M JUST SAYIN'.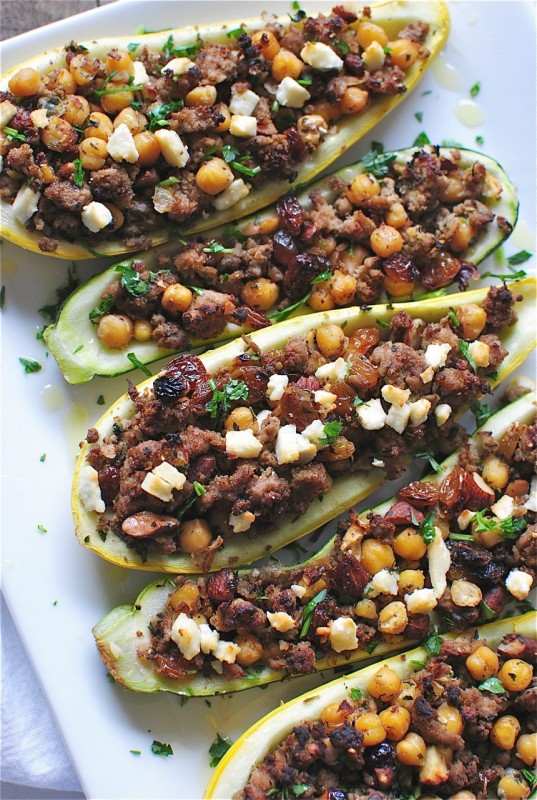 Open wide.
Mediterranean Stuffed Squash:
What it took for 8 boats:
* 2 medium squashes, split lengthwise and seeds scooped
* 2 medium zucchinis, split lengthwise and seeds scooped
* 1 pound ground turkey
* 1/2 cup diced white onion
* 3 cloves garlic, minced
* 1 tsp cinnamon
* 1 Tbs. cumin
* 1 (15 oz) can chickpeas, drained and rinsed
* 1/2 cup golden raisins
* 1/2 cup parsley, plus more for garnish
* 1/2 cup chopped almonds
* coarse salt and freshly ground pepper
* 1/2 cup crumbled feta cheese
Preheat oven to 375.
Bring a large sauté pan to a medium-high heat. Add the ground turkey and brown all over, 5 minutes. Add the onions and garlic and sauté another 2 minutes. Add a pinch of salt, pepper, cinnamon and cumin. Stir a minute.
Add the chickpeas, raisins, parsley and almonds. Add a little water to keep it from getting dry. Taste it. Maybe a little more salt? OH a little more cinnamon? You devil, you.
Arrange the zucchini and squash boats on a rimmed baking sheet. Spoon each boat with the turkey filling. Finish by nestling the feta crumbles in with the mixture.
Bake for 30 minutes, or until the squash has softened and cheese is starting to lightly brown.
Garnish with more parsley and serve!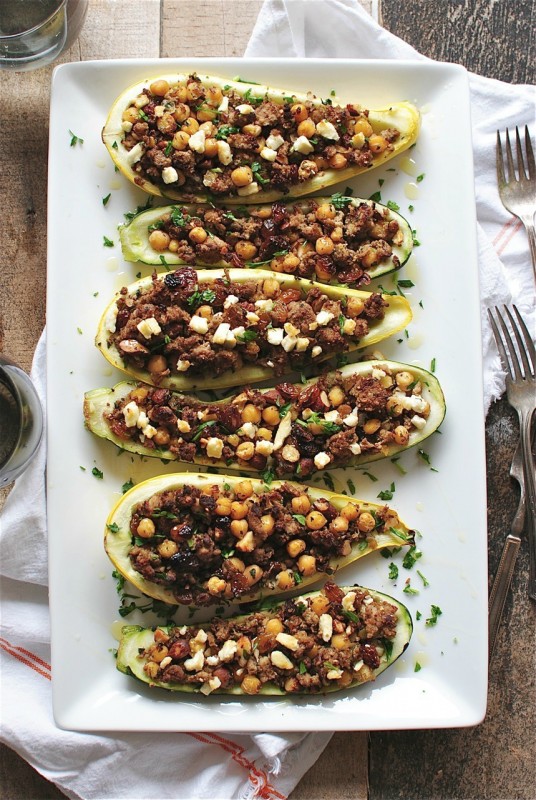 Black Widow sold separately.