You bettah believe it.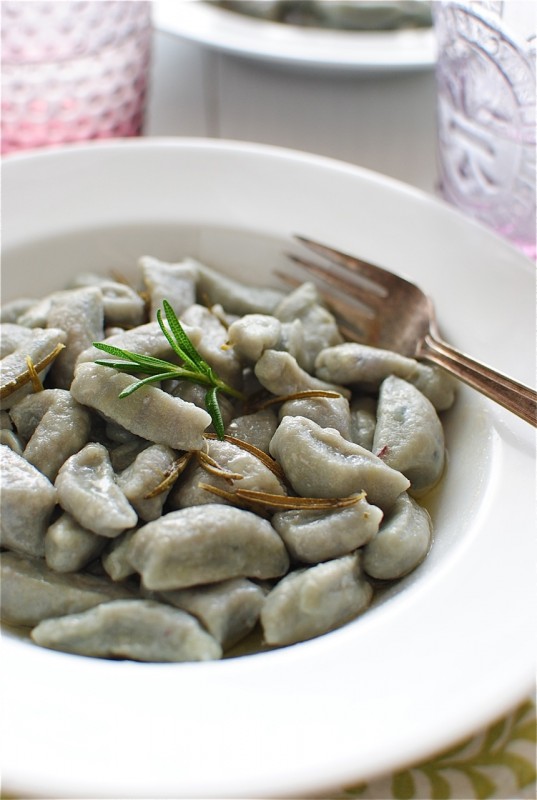 Freaking purple! Well, purple during the making, and grayish in the results. But who cares? We can still call it purple.
I had this idea a while back when I bought a bag of purple potatoes for this ridiculous bacon flag pizza I made, but I forgot about it once my bag of potatoes got accidentally pushed and shoved to the back of my pantry. Out of sight, out of mind, right? Unfortunately that saying often applies to . . . pretty much everything in my life.
So when I finally discovered the bag of potatoes in the back of the pantry, I got nervous. Nervous because, I probably shouldn't tell you this, but one potato was shiny. SHINY. Potatoes aren't supposed to be shiny. I smelled it, tossed it, and did a Hail Mary dance prayer on the rest of the bag. And I think it worked because I feel toitaley fffiineaa ands norrramljlj!
Are you seeing how stupid simple this is?
Little bit of boiling, little bit of ricing, little bit of mixing in some flour and egg.
Little bit of kneading, little bit of rolling, little bit of power and leg. I MEAN making little purple pillows and boiling them again.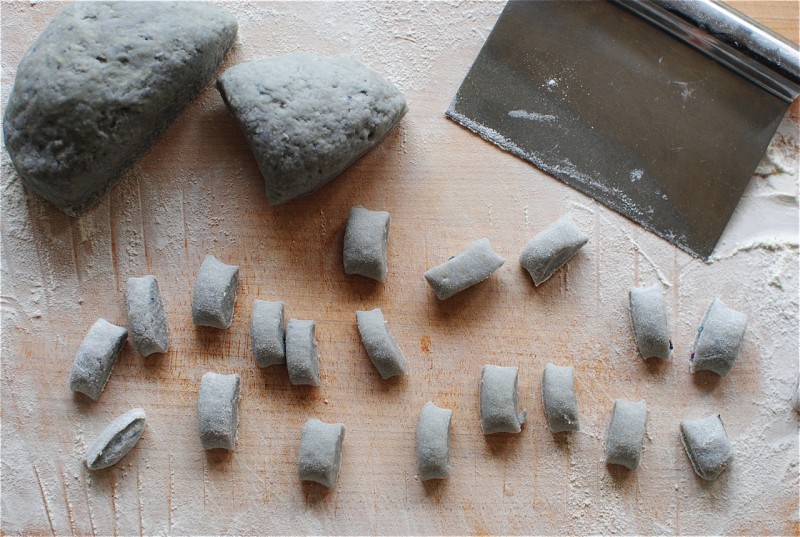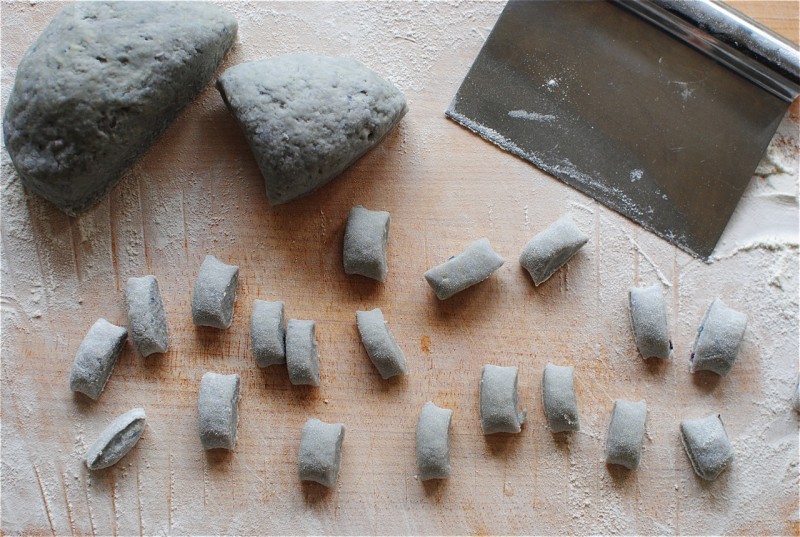 You can make any sauce you like, really. I kept it super simple because I was wearing basically an orphan looking towel dress thing and wasn't about to leave my house for more ingredients. So browned butter with garden rosemary it was!
And the memory of a shiny potato.
You can also healthify this up by adding some wilted ribbons of spinach, kale or chard. Which I actually have all of that in my garden. But it would have required opening the back door, stepping out there and cutting it and waaaaaah.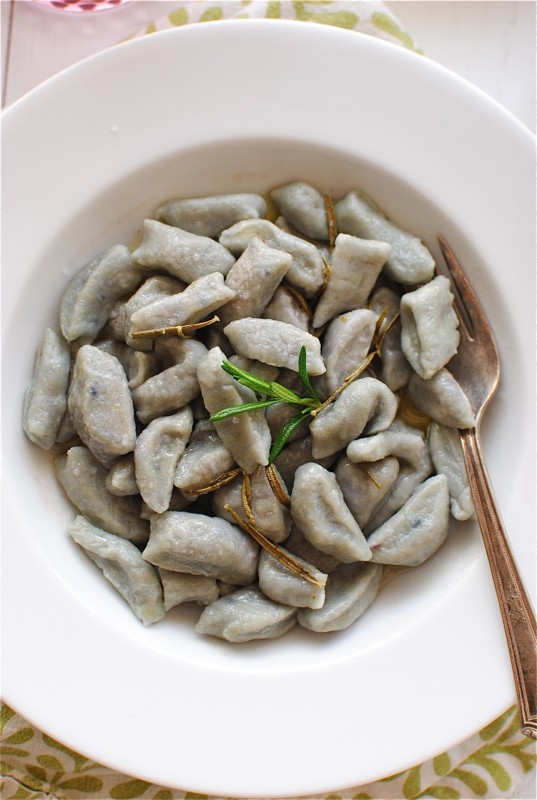 You should make some dang purple gnocchi.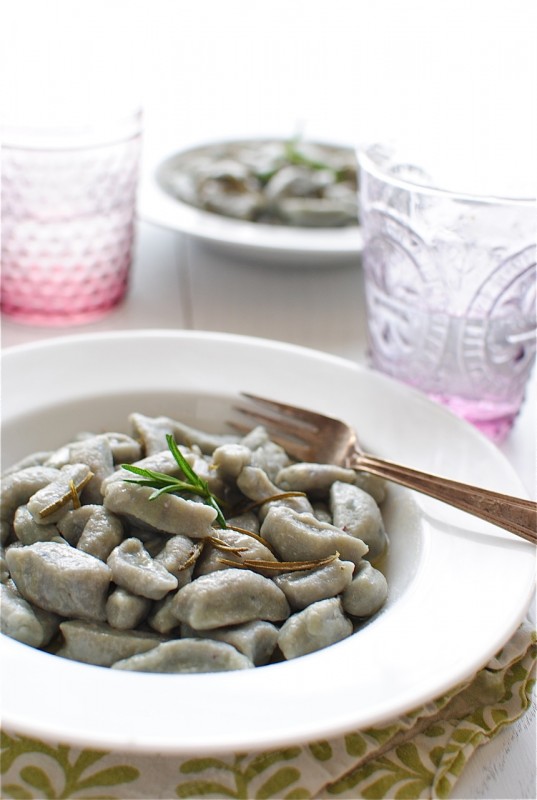 I mean, it's seriously purple.
Purple Gnocchi with Rosemary Butter:
What it took for 2 decent portions:
* 2 cups purple potatoes
* 1 cup all-purpose flour
* 1 egg
* 3/4 stick butter
* 2 Tbs. fresh rosemary, plus more for garnish
* coarse salt
Boil the potatoes until tender, about 15 minutes. (don't get rid of the water!) Remove with a slotted spoon and let cool a few minutes; pull the skins off.
In batches, put the potatoes through a ricer. Rice onto a clean work surface.
Spread the taters out just a little bit and dump the flour in the middle. Create a small well in the flour and add the cracked egg. Using a fork, start to incorporate the mix. Then knead with your hands until you get a smooth and silky ball. Then start a band called the Smooth and Silky Balls. But don't.
Using a pastry cutter, divide the ball into 4 smaller balls. Then one by one, roll each one out until you get a long skinny log. Then start a band called the Long Skinny Logs. But don't.
With the cutter, create little pillows out of the potatoes. Make them smaller than you might think. They do expand when cooked. Place them on a baking sheet and sprinkle with flour until you're ready to boil.
Bring that reserved water back to a boil. In batches, boil the gnocchi for just a few minutes, until they float.
In the meantime, melt and brown the butter with the fresh rosemary leaves. Just whisk the butter until it's nice and candy-ish.
Drizzle butter over the the gnocchi. Garnish with a little fresh rosemary. Season with a pinch of salt and omg.
Tell your kids that Barney the dino exploded in this! Wait, don't tell them that.