Summah solllstiiiice, y'aaaaall. Aw, lawwwwd.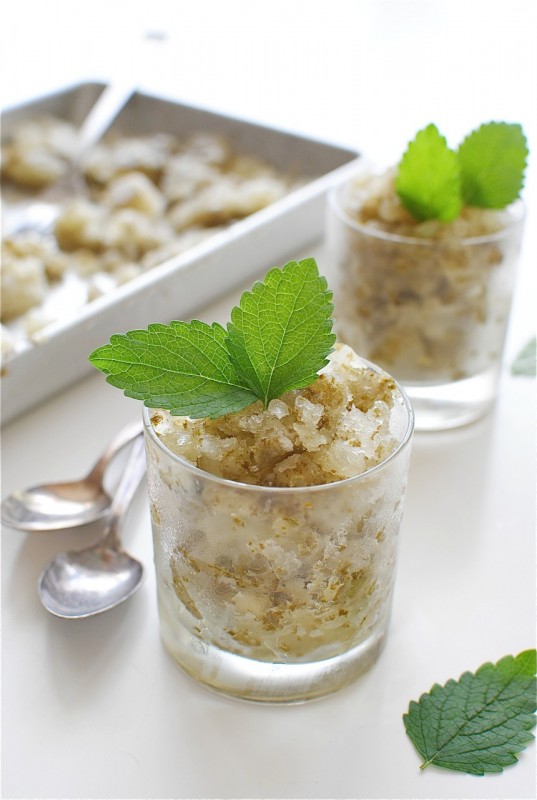 Time to board those thirsty mouths on the Refreshment Trolley and take a ride!
You don't have to tell anyone I just said that.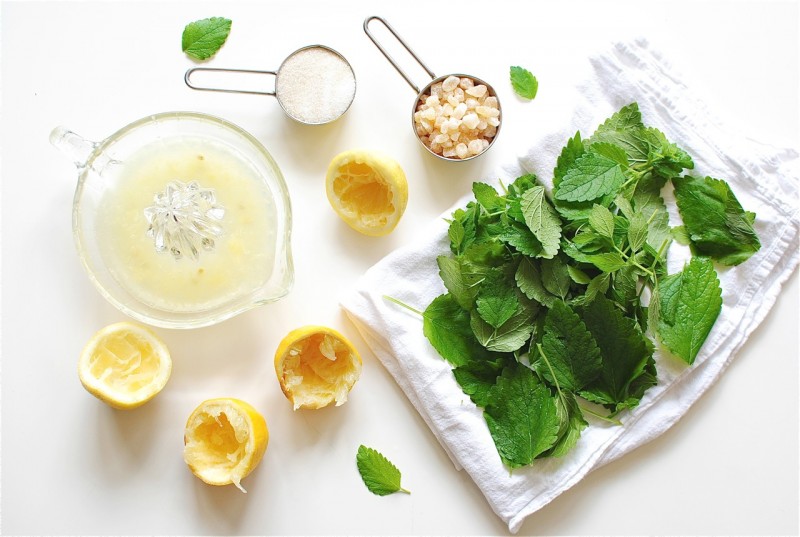 The other day on the NPRs there was a local story about ice cream vs. frozen yogurt vs. gelato vs. granitas. Which one has the most fat, which one has the most calories, which one has the most awesomeness. And it got me thinking, "I really miss Taylor Dayne."
Oh wait. That's something else.
It got me thinking, "I've never made granitas before!" Except I say it like a tool, "Grrrra!-nee!-ta!" And my face looks like a character out of Soundgarden's Black Hole Sun video.
I'm going to give you two versions of this here grrra!-nee!-ta! This way, with a handful of easy summer solstice steps, and the lazy man's way, with like, two simple summer solstice steps.
I also realize that they're usually made with fruit. But whatever, YOU'RE NOT THE BOSS OF ME. Not you you, but the understood you. The extra-terrestrial ghostly you. Never mind.
Remember all that lemon balm I have in my garden? You don't even want to see it now. It's so overgrown and nasty and raggedy. But we like it call it "whimsical" to keep the cops away. It has yet to work.
This grrra!-nee!-ta! basically uses a truck load of balm with a little bit of minced crystallized ginger, some fresh lemon juice, water and sugar. BUT, if it's 97 degrees where you are and the idea of four steps wears you out (I totally get it), just go the lazy man's route. Make some fresh lemon balm tea, pour that into a small tray and freeze. Voila. Done. More time for Taylor Dayne.
I loooooooved this little treat. It made me dancy. The fresh lemon juice punches you in the face, while the crystallized ginger massages your belly. It's sweet AND tart AND icy AND fresh AND summery.
You can also add some vodka if you want, hollaaaaaa.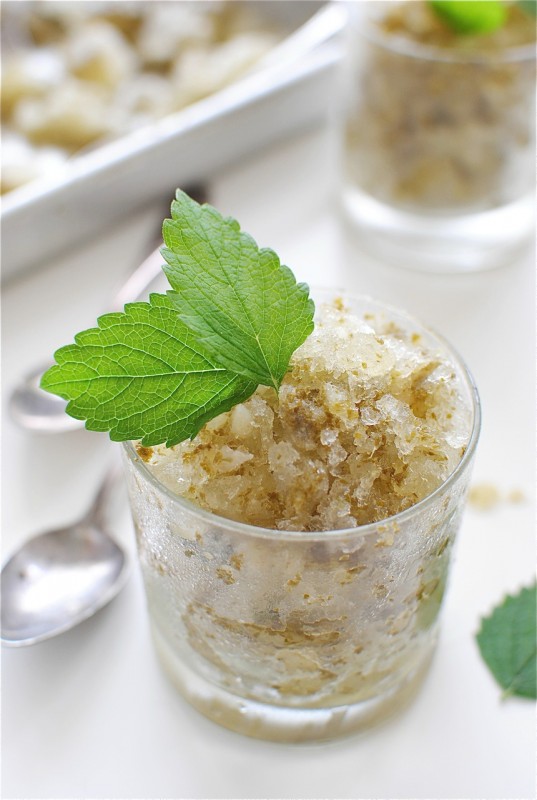 Get summered!
Lemon Balm and Crystallized Ginger Granitas:
What it took for 4 servings:
* 2 cups packed lemon balm leaves
* 1/2 cup fresh lemon juice
* 1/3 cup crystallized ginger
* 1/4 cup granulated sugar
* 3 cups water
In a food processor, blitz the lemon balm and lemon juice until it's as pureed as you can get it.
Remove and place in a medium bowl. Add the crystallized ginger to the processor. Give it another few pulses to break down the ginger a bit.
Bring the water, sugar and crystallized ginger to a light simmer. Once the sugar is dissolved, pour the mix into the bowl with the lemon balm mix. Stir to combine.
Pour mix into a small tray. Freeze for 2 hours. Fluff with a fork and freeze another hour or so. Fluff again and serve garnished with fresh lemon balm.
Shove into face.
You know you want to climb onto the Refreshment Trolley.