Hold me closer, jumbo stuffed shell.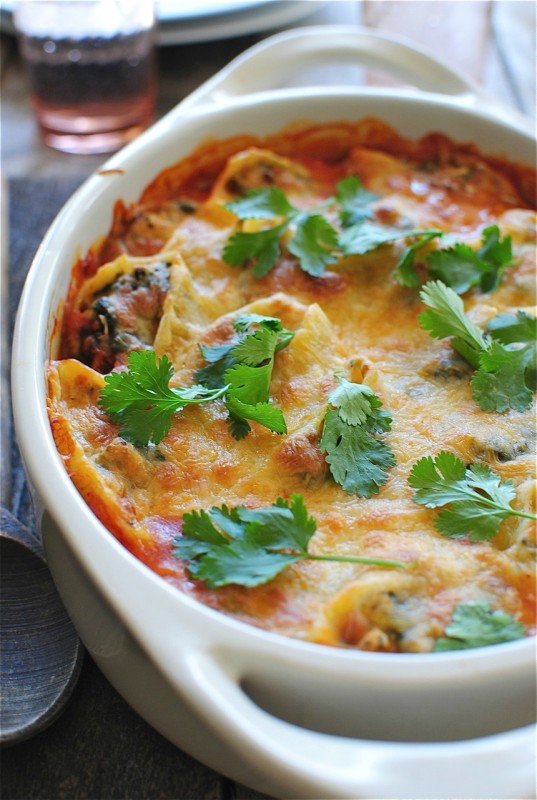 First of ALL, yes these are cuckoo but we'll get to them in a sec.
Did you watch New Girl last night? Mindy Project? (no spoilers here, folks! chill your cheelahs)
The ending of NG was baaaaasically what I expected. I didn't hyperventilate and sweat like a moose in raging heat like I'd hoped. But that's okay! I also could have gone for a little more fringe on Jess' turquoise sari. And a little more cowbell.
Now Mindy Project? Did NOT see that coming. I mean part of it I might have? But that one particular part, you know the part, at the end, that part? You know? YEAH THAT ONE. Didn't see that happening. No no not that one, the other one. Yeah, that one.
You just want stuffed shells, don't you?
So these are pretty much badical to the bone-ical. You start with some simple seasoned seared sicken, I MEAN chicken; chopped up and mixed with some velvety spinach and spicy chipotle peppers IN THEIR ADOBO SAUCE. I have no idea why I screamed that to you. I get excited about adobo sauce.
And then you get to create 20 to 25 little enchilada shell babies, all nestled in a pond of enchilada sauce, and baked with a layer of cheese so thick, it would take coal miners three lifetimes to discover the under-enchilada-shell world, resting below.
It might seem like a lot of sauce at first, but when it comes time to serve and drizzle (that's a new dance I'm making up in my head right now), you'll want it. You'll want that sauce.
And then when it comes time for leftovers the next day, you will collapse in sheer jubilation over that extra sauce.
Your baby's got sauce.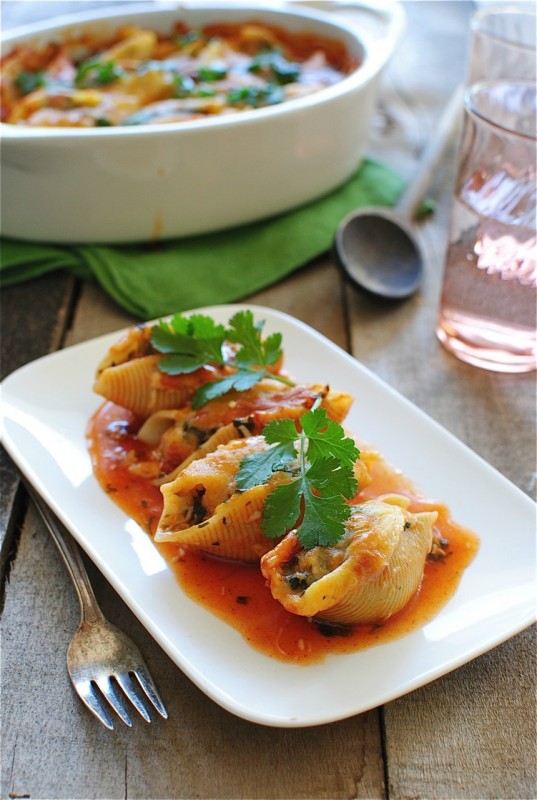 Let me say that again: Enchilada. Stuffed. Shells. With A. Bunk. Ton. Of. Cheese. On. Top.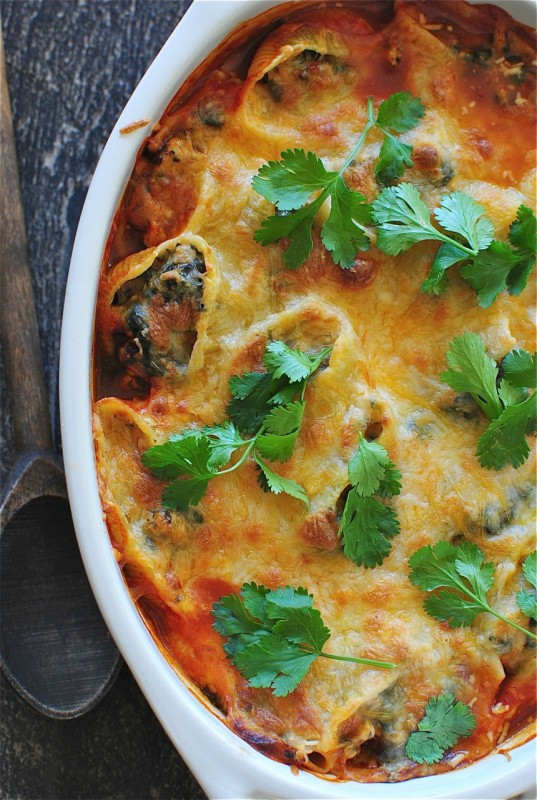 My work here is done.
Spicy Chicken and Spinach Enchilada Stuffed Shells:
What it took for 4:
* 2 Tbs. extra-virgin olive oil
* 2 chicken breasts
* 2 Tbs. favorite taco seasoning
* roughly 20 jumbo shells (or however many fit in your 9 x 13 baking dish), cooked and drained
* 1 (10 oz) box frozen spinach, thawed and squeezed of any excess liquid
* 3 chipotle peppers, in their adobo sauce, minced
* 1 (19 oz) can enchilada sauce (mild or spicy, up to you!)
* 2 cups Mexi-blend shredded cheese (less or more is fine!)
* coarse salt and pepper
* cilantro leaves, for garnish
Preheat oven to 375.
Heat the oil in a large sauté pan over medium-high. Season the chicken on both sides with the taco seasoning, and sear on one side for 6 minutes. Flip and sear another 5, or until the chicken is cooked through. Set aside to rest for 5 minutes, then roughly chop.
In a large bowl, combine the chopped chicken, thawed spinach and minced chipotle peppers. Season with a pinch of salt and pepper.
Pour about 1/3 of a cup of the enchilada sauce along the bottom of your pan. Move the pan around so that it coats the entire bottom. (entire bottom, heh heh.)
Carefully stuff each cooked shell with the chicken mixture and arrange in the baking dish. Continue until all the shells are evenly stuffed and placed in the dish. Pour the remaining sauce over the shells. It might seem like a lot, but you'll definitely want to drizzle some sauce over everything in the end, so it's all good.
Sprinkle the cheese over the top of the dish and bake for 30 minutes, or until the cheese is browned and bubbly. If you need to broil the cheese right at the end, heck, do it!
Garnish with cilantro and dive in head first, never to be seen or heard from again.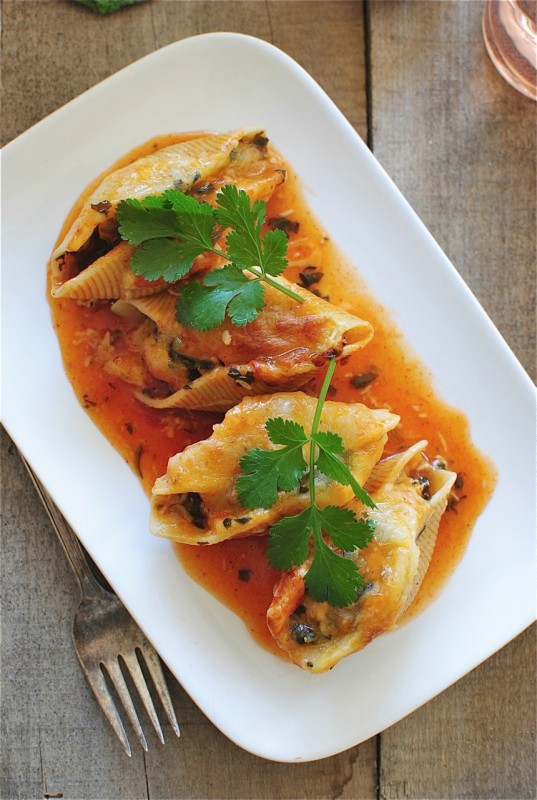 I am telling you right now, I will arm wrestle a league of baby bunnies to get you to make this.
Try me.