I done diddly do done lost my marbles.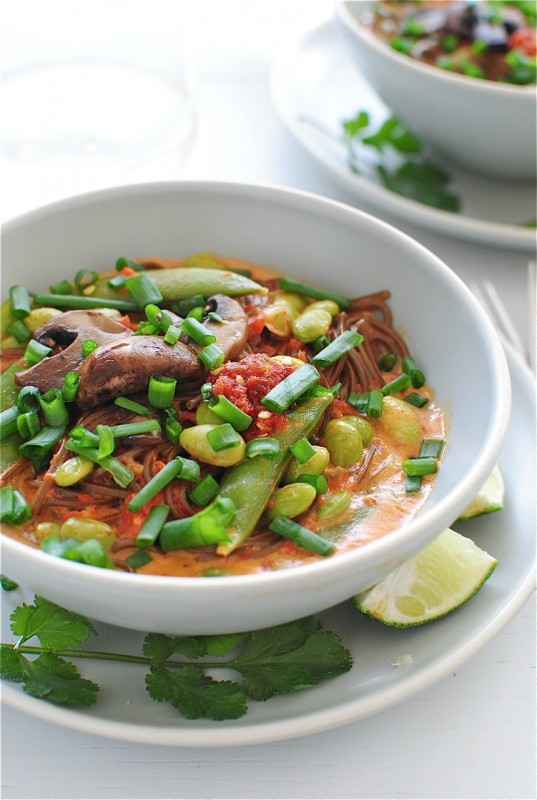 But FIRST, yes this is whack-a-doodle but we'll get to it in a sec.
Did you watch Idol last night? What did you think? Candice or Kree? What's your vote?
I'm leaning towards Candice, only because of that last performance, when she was all, "But he'll never love you the waaaaay, I LOOOOOVE YOUUUUU." And the drums in the background – BUM BUM. And the strings all DU DU DU DU DUUUU. And when she does that run, "sparkly diiiiaaamoooonnnddssss." GOOD.GRIEF.
But then again, Kree's voice is like melted chocolate on two lovers' bodies intertwined in the morning breeze. And I did enjoy her twangy version of Sarah's "Angel."
But I didn't vote, so I'm a complete poser.
Soba noodles!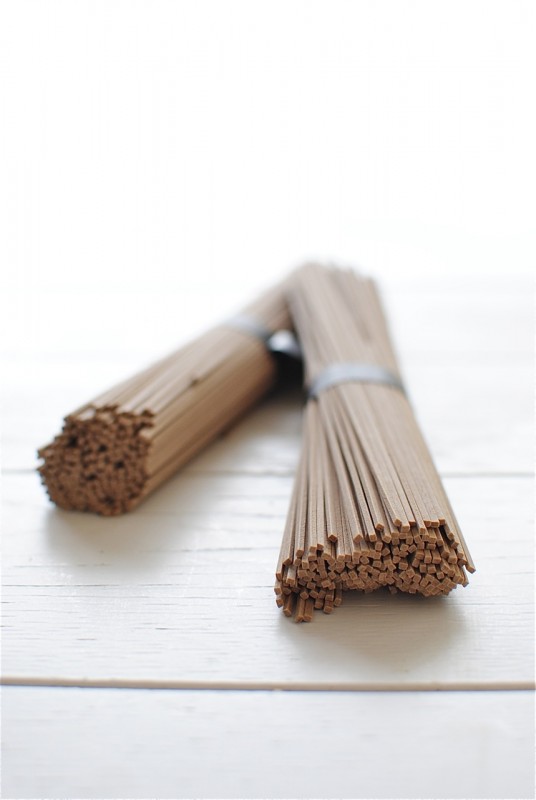 So let me tell you what happened here. It was TCTTC. (remember what that means? also, who wants to hang me?)
So I had this idea. AND NO IT DID NOT HURT, THANKS FOR ASKING.
I had this idea. You know how coconut milk infuses and flavors other things? Well, I thought out loud, "what IF I flavored the COCONUT MILK FIRST. Then it would be like, double the flavor, double the fun, right?" I actually said all of that out loud. To myself. In my empty kitchen.
So I roasted a couple of red bells and garlic cloves. WHICH, by the way, if you ever want quick-roasted garlic without the hassle of preheating your oven to 5 billion degrees, wrapping a whole entire head in foil and roasting it for 5 billion years, just separate however many cloves you want and broil them right in their skins for about five minutes. Maybe seven. Maybe seven and a half minutes. Done! Roasted and tender and garlilicious.
Now this is a method that fits my busy lifestyle! (I'm giving you the most painful informercial smile right now.)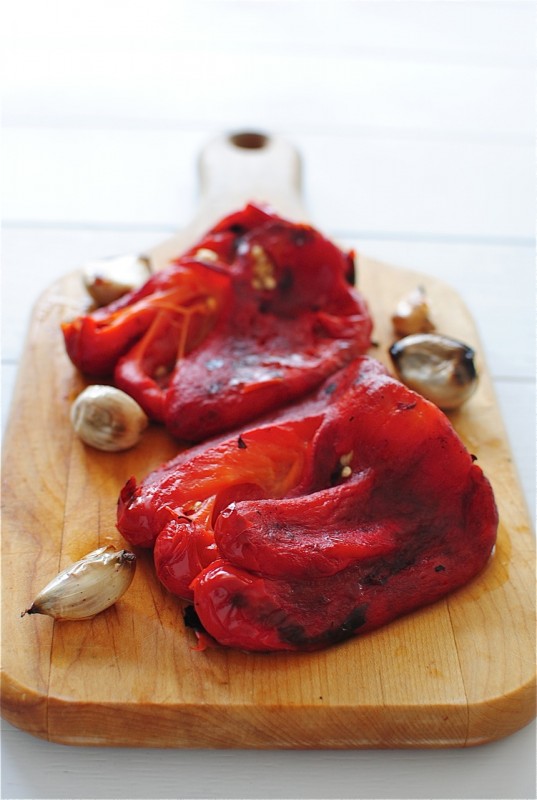 Okay, I didn't photograph what happened next because I was sobbing under my bed like a little mouse, but let me tell you what NOT to do at this point. Don't pour two entire cans of coconut milk into your food processor, along with the bells and garlic. And then don't press the "go" button because there's way, way too much liquid in your food processor and that ish is gonna overflow. Everywhere. Onto the floor. Into your hair. Onto the ceiling. Into your car.
Do that part in batches and you'll be happy for the rest of eternity!
The point is, we infused the coconut milk with the roasted pepper/garlicness! High five?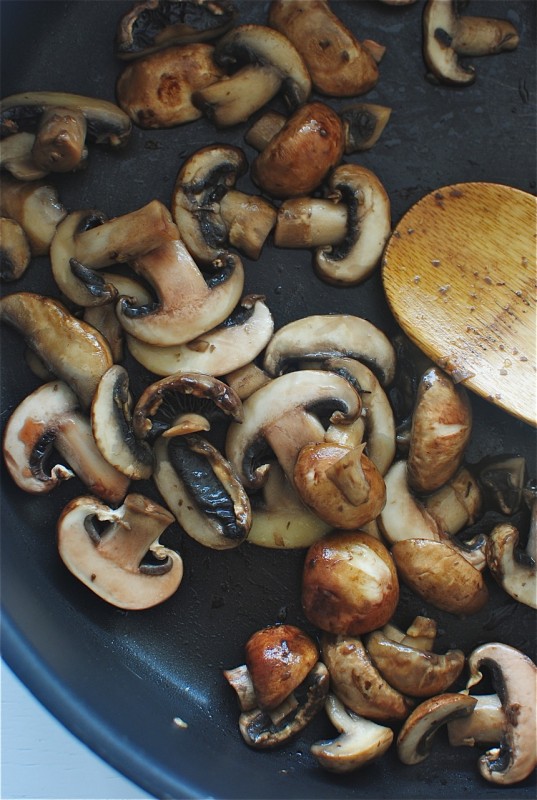 And then you bring that sauce to a simmer and boil the soba in it, along with a few veggies and fungirl. I mean fungi.
Be sure and taste it taste it taste it and add that fish sauce (don't cry), LOTS of lime juice and a few good pinches of salt. It's so(ba) delicious I almost want to kick something.
Where's Aaron!?  HA HAH HAH !
Oh.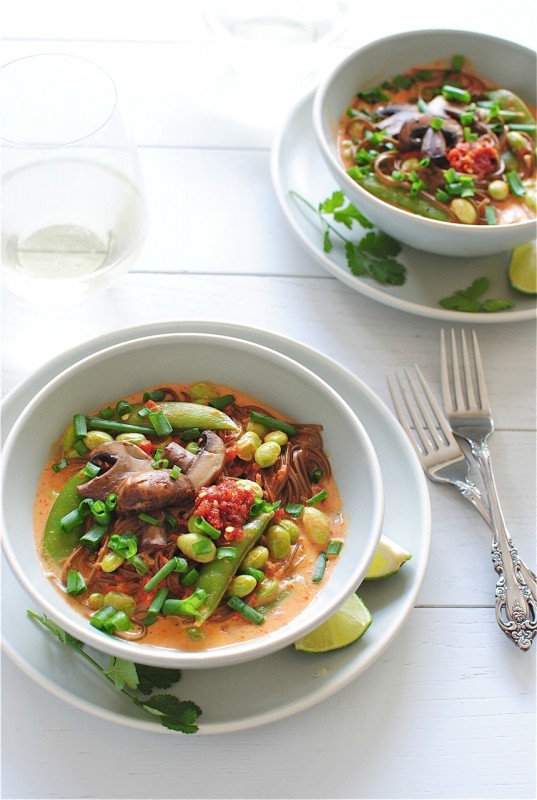 Do this immediately.
Roasted Red Pepper Coconut Soba Noodles with Vegetables:
What it took for 4:
* 2 red bell peppers
* 4 cloves garlic
* 2 (13 oz) cans coconut milk
* 2 tsp extra-virgin olive oil
* 8 oz baby bella mushrooms, sliced
* 1 cup sugar snap peas, stems peeled away
* 1 cup edamame
* 1 tsp fish sauce
* 1 lime
* coarse salt and freshly ground pepper
* 2 bundles soba noodles
* 4 tsp sambal oelek, divided (or more!)
* 2 scallions, finely sliced
Preheat your broiler to high.
Place the peppers on a baking sheet and broil until charred and black all over, 5 to 10 minutes. Immediately place in a large baggie or bowl. Zip or cover with plastic wrap and let them sit 10 minutes, steaming so the skin loosens. Just like aging. Ugh. Then gently peel the skin away (with paper towels if it's still so hot you want to stab something). Remove the stems and seeds from the peppers and discard. Place the peppers in a food processor.
To the processor, add the garlic and coconut milk. Do this in batches. I had freaking coconut milk EVERYWHERE and I cried for hours. Pulse until combined and smooth and saucy! There will be little pepper chunks throughout, which is really, really good.
Transfer sauce to a medium pot.
In the meantime, heat a couple tsp of oil in a medium sauté pan. Add the mushrooms and sauté until browned and tender, 5 minutes. Season with salt and pepper.
Okay so back in the pot, bring the sauce to a simmer. Add the soba noodles, sugar snap peas, edamame, mushrooms and fish sauce. Simmer until the soba noodles are softened, about 5 minutes. Takes no time at all! Go ahead and squeeze a few Tbs. of lime juice in there. And season with salt. Taste it. More lime? Do it.
Ladle and serve garnished with scallions and dollop of sambal oelek. And more lime wedges!
It will thicken as it sits. The soba noodles sooooooak up at that roasted coconut glory. You'll lose your dang mind.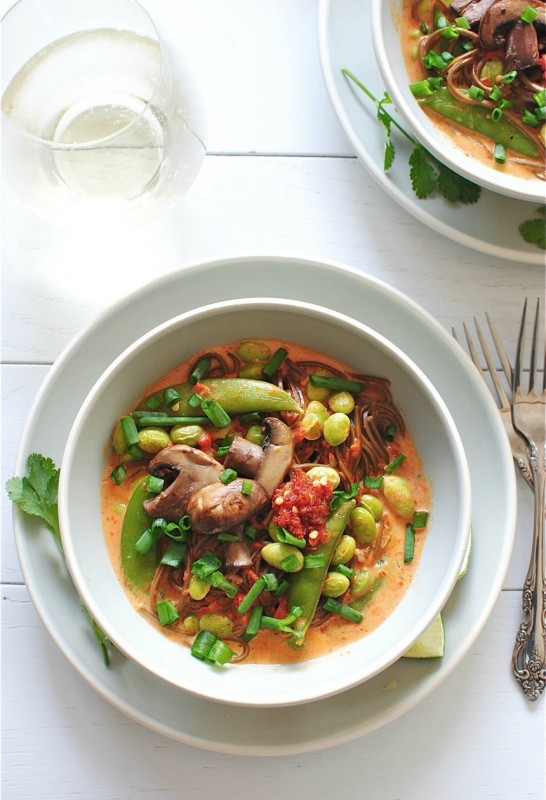 That sambal oelek is the reason I live.