Don't even ask me to pronounce that word.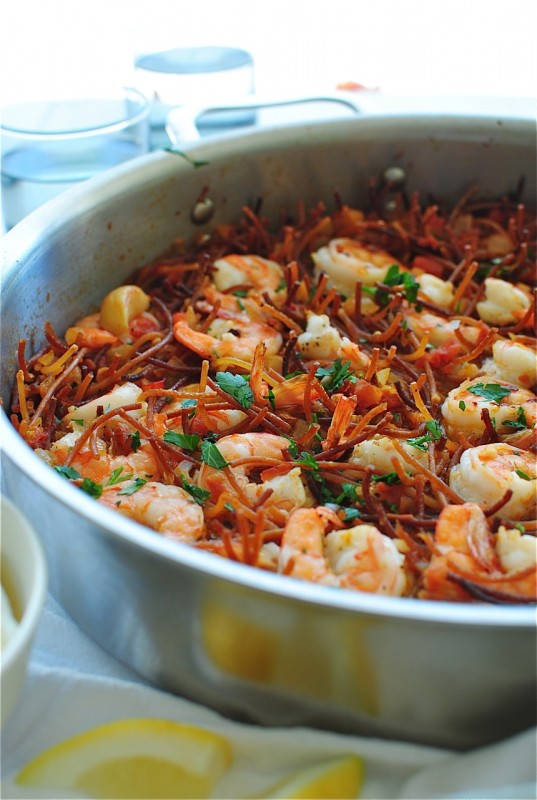 Fedora? Fidoola? Fiddler on the roof? I don't even . . .
But could we take half a nano to talk about how super cute that spaghetti is all crispy and sticking up?
We can? Oh, okay.
That spaghetti is super cute all crispy and sticking up, huh?
That was the best conversation.
When it comes to starches, Aaron and I are on opposite ends of the spectrum (or, the STARCHTRUM? don't flick me.) He loves loves loves loves loves rice. And I love love love love love pasta. He always craves a stir fry. I always crave noodles. He enjoys the sweetness and slight nuttiness that comes from rice, and he doesn't get as full eating it.
I think his face is pure nuttiness and I don't even get full eating it.
IT MADE SENSE IN MY HEAD.
This? This is the solution to a happy marriage. It's paella  . . . WITH PASTA. Whaaaaaaaa.
I'd never even HEARD of such wonderment until we saw it on America's Test Kitchen a couple of weekends ago and I nearly fell out of my britches with excitement.
Me, "Aaron! They're using pasta in place of rice, ha haaaaaaaa."
Him, "I know. I'm sitting right here watching it, with you."
Me, "Pasta instead of riiiii-hiiiice. Pasta instead of riiiii-hiiiice. In yo' face!"
Him, "It's not that big of a deal, Bev. I bet it's really good actually."
Me, "Oh I know it's good. IT'S PAELLA  . . . WITH PASTA."
Him, "Is that a brown recluse on the wall behind your head?"
Bev's funeral was lovely.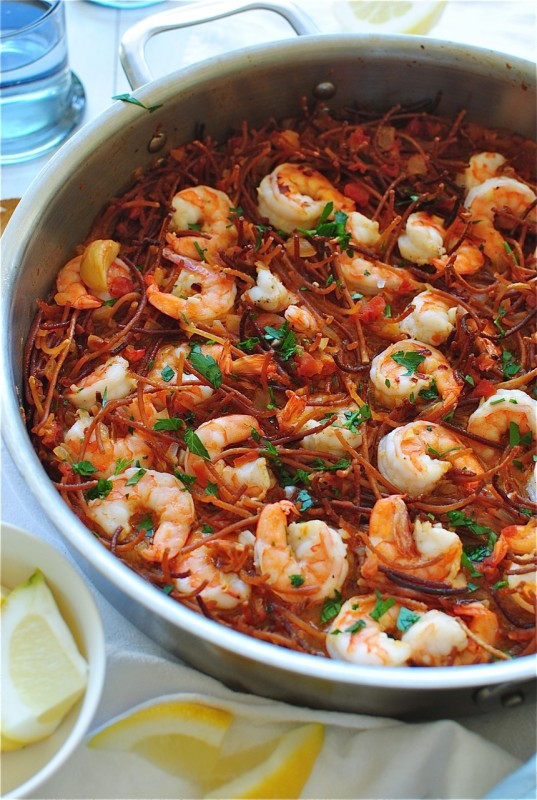 I barely barely barely touched the recipe, folks.
I made the shrimp stock, broke the spaghetti, toasted the spaghetti, made the sofrito, nestled the shrimp, and broiled that sum-bia and watched that s'getti stick straight dang up.
And it was good. It was really, really good. With fresh lemon on top, are you even kidding?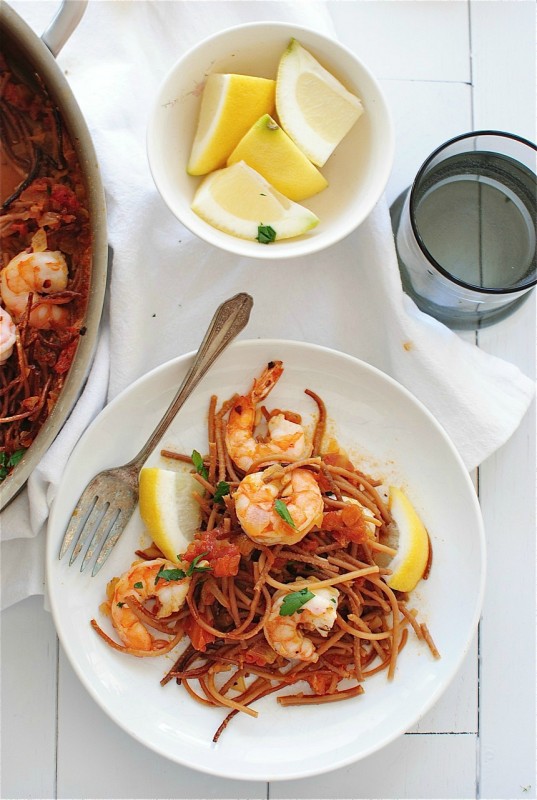 Don't forget to wear the fedora!
Paella with Pasta (Fideuá):
(sliiiiiightly tweaked from Cooks Illustrated)
What it took for 4:
* 1 pound extra-large shrimp, peeled and deveined (save the shells!)
* 2 3/4 cup water
* 1 cup chicken broth or stock
* 1 dried bay leaf
* 3 Tbs. plus 2 tsp extra virgin olive oil
* 3 cloves garlic, divided (two minced and one sliced)
* 1 small pinch crushed red pepper
* 1 pinch coarse salt and freshly ground pepper
* 8 ounces thin spaghetti
* 1 small white onion, finely diced
* 1 (14.5 oz) can diced tomatoes
* 1 tsp paprika
* 1 tsp smoked paprika
* 1 tsp anchovy paste
* 1/4 cup dry white wine
* fresh parsley, for garnish
* lime wedges, for garnish
Place the peeled shrimp in a medium bowl. Add 1 Tbs. oil, the minced garlic, crushed red pepper and a pinch of salt and pepper. Toss shrimp to coat. Cover and set in fridge while you prepare the rest of the meal.
Place the shrimp sells in another microwave-safe bowl. Add the water, stock and bay leaf. Cover with plastic wrap and microwave for 6 minutes. Pour the stock through a strainer into a bowl and discard the solids. You have shrimp stock!
Wrap the spaghetti in a clean tea towel. Fold the towel to close, and break the spaghetti against the edge of a table into 2 to 3-inch pieces.
Add 2 tsp oil to a large skillet and bring to a medium heat. Add the broken spaghetti and toast until it's darker in color. Like peanut butter almost. I burned a few pieces of mine, so keep an eye on it! It will take 5 to 8 minutes in all. Just keep tossing in the pan so it evenly toasts.
Remove the spaghetti from the pan and set it aside in a bowl. Wipe the skillet clean.
Take the can of the tomatoes and drain the liquid through a mesh strainer. Really really drain it. Now finely dice the tomatoes on a cutting board.
Add the remaining 2 Tbs. oil to the pan and bring to a medium-high heat. Add the onions and sauté until they start to soften, 4 minutes. Add a pinch of salt.
Add the tomatoes to the onions and sauté another 3 minutes. Add both paprikas, the anchovy paste and the remaining sliced garlic. Reduce the heat if needed.
Add the toasted spaghetti to the pan and toss to coat. Pour the strained shrimp stock into the pan. Add the wine, and another pinch of salt and pepper. Simmer the mixture for 8 to 10 minutes, or until the spaghetti is mostly al dente.
Grab your marinated shrimp and nestle them into the pan.
In the meantime, preheat your oven to broil.
Slide the broiler-safe pan into the oven and broil for about 5 minutes, or until the shrimp is cooked through and the spaghetti crisps and curls up on its ends.
Allow to cool just a few minutes, for some last minute thickening.
Garnish with chopped parsley and lemon wedges!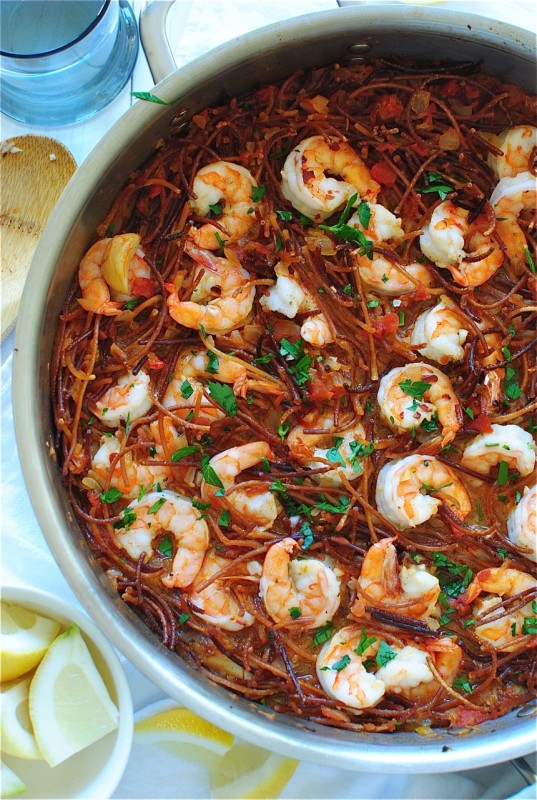 I mean my Lord, it's paella . . . WITH  PASTA.