Oooooookay. S'bout to get real up in her.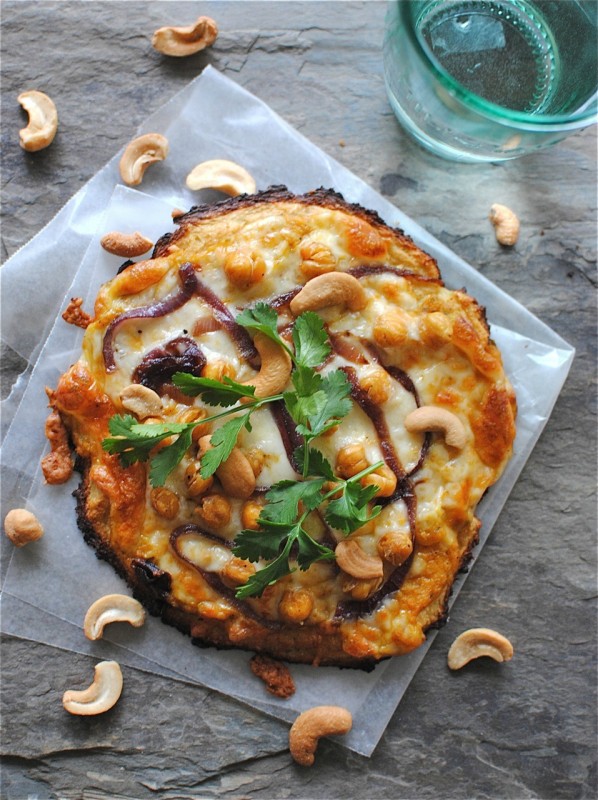 I know it's technically my job or whatever to bring you recipes that you can fully trust! That you can count on with all your heart! That help make you believe you can fly!
But.
I need help today. I need help in a major way. (I love Fruity Pebbles in a major way! Remember that? Sorry.)
I've been wanting to make a cauliflower crust pizza since the invention of cauliflower. And press-on nails. I've read and re-read countless (okay, like two) recipes on different blogs and internet url websites. And they made total sense! I didn't want to re-create the actual crust recipe, because shoot, if it works, it works.
But.
I think I might be a dummy.
Because.
Mine broke.
Okay, see this next photo? That part worked! I put the florets in the food processor to "rice" them. Then I microwaved them for about 8 minutes to cook a little. But see, my cauliflower was pretty enormo, and I had like, 724 cups (probably 4) of ground cauli, which seemed like SO MUCH, I cried a little.
Kevin instructed me to squeeze as much liquid out of the cooked cauli as possible, but for some reason I don't feel like I could get enough out. It was just so wet. Even with the eggs and cheese. Wet. And then my face was wet because I cried again.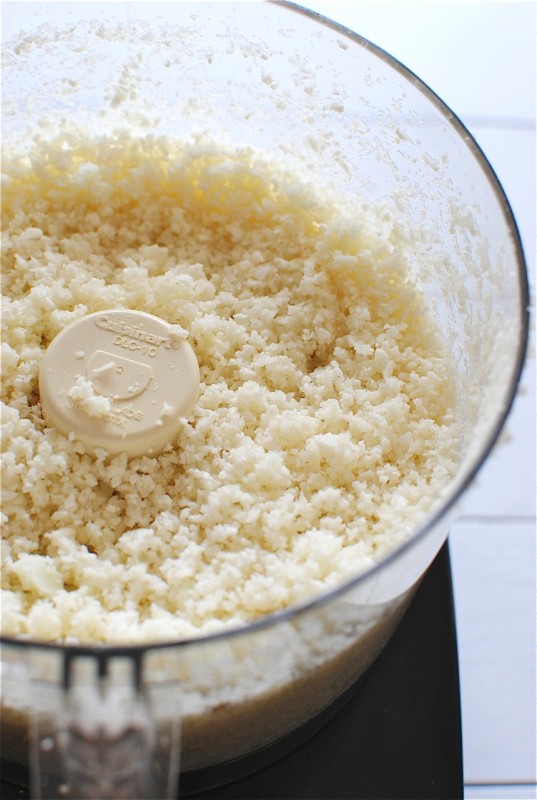 So I added a little bit of flour to toughen it up a smidge, but then I started to feel like that was defeating the whole purpose of making a flippin' CAULIFLOWER crust. But I did it anyway because I'm a rebel like that. And then I cried again.
After that, my main problem was the crust sticking to the pan. Lori's crust didn't stick at all, but she's awesome and nice and pretty. Kevin used a silpat, and I have one of those, but it's the size of a parking lot and wouldn't fit on any of my baking sheets.
So guess what I did! I cried again.
Let me take a quick intermission to talk about the business on TOP of the pizza. If I can get through it without crumbling to the floor. I kept it simple with some easy Indian ingredients, like some jarred Korma sauce, roasted chickpeas and caramelized onions. And cashews and cilantro, omg. And the most authentic Indian ingredient of all, mozzarella cheese!
I'm just kidding.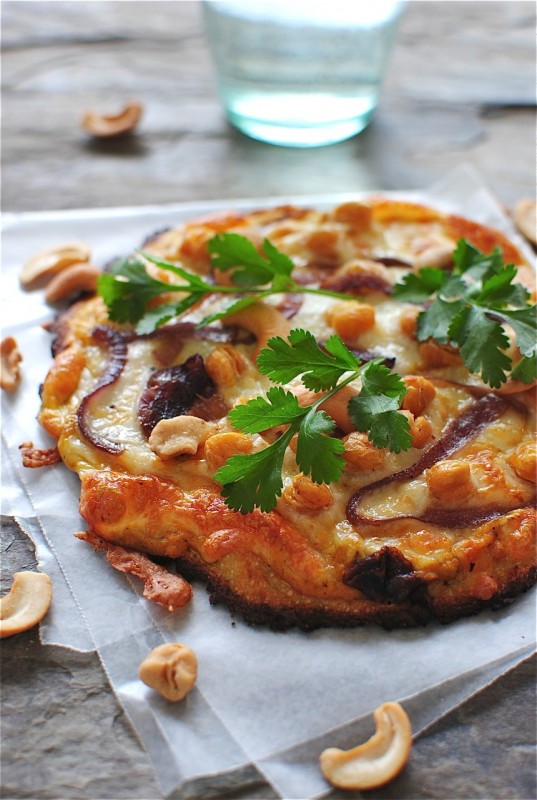 This one stayed together pretty well, once I got it off the freakin' pan.
My other pizzas? HAHAHAHAH. I'll show you in a sec.
Okay so, what did I do wrong?! I thought about not posting this at all, but then I decided it would give us the chance to bond, connect, discover new horizons together and fall in love. (oh my gosh please ignore that last part.)
The FLAVORS of this pizza are serious. It was almost like a polenta crust, which is awesome! But you can't pick up a slice and canoe it into your head. Which is obviously the point.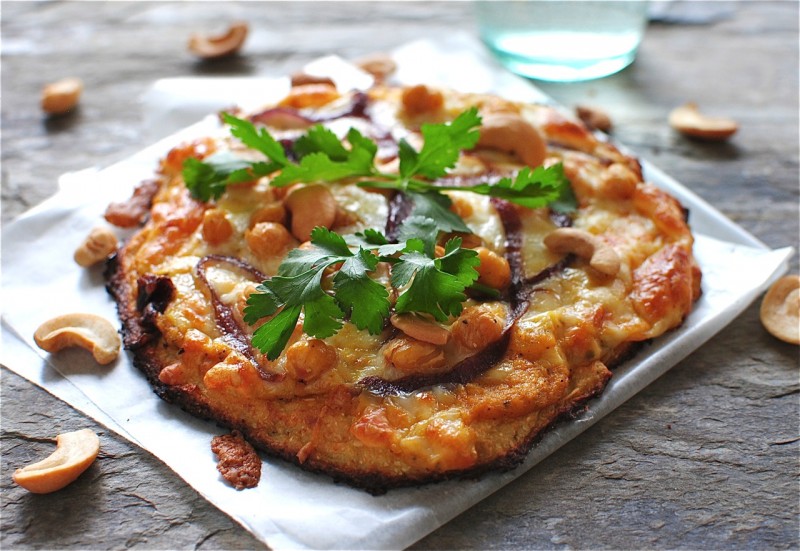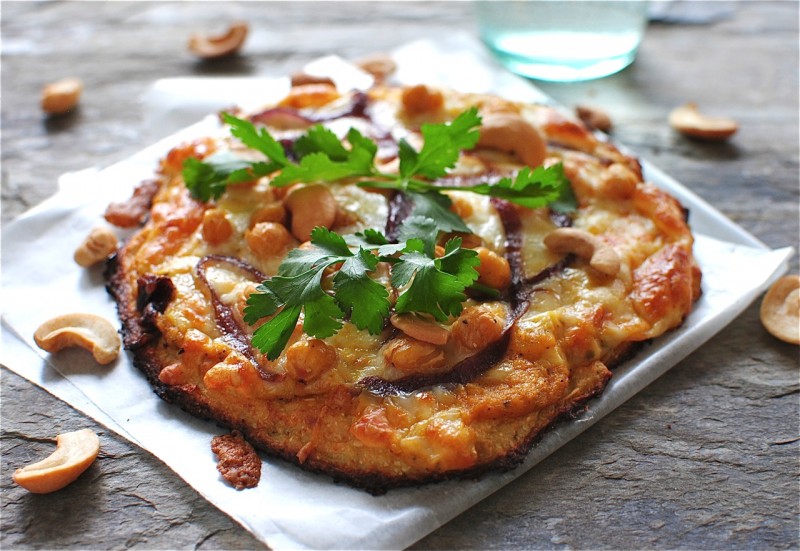 Help a sister out?
Indian Cauliflower Crust Pizza:
(adapted from both Closet Cooking and Recipe Girl, and they are awesome, but I sucked this time.)

What it took for 4 (6 to 8-inch) pizzas:
* 1 (15 oz) can chickpeas, drained, rinsed and pat dry
* 1/2 large red onion, thinly sliced
* 2 tsp extra-virgin olive oil, divided
1 large head cauliflower
* 2 eggs
* 8 oz block mozzarella cheese, shredded and divided
* 1/2 cup all-purpose flour
* 1 pinch coarse salt and freshly ground pepper
* 3/4 cup (or more) of your favorite jarred Indian simmering sauce (I used korma!)
* 1/2 cup sliced cashews
* cilantro, for garnish
Preheat oven to 450.
Heat a tsp of oil in a large sauté pan over medium-low. Add the sliced onions and sauté until they're tender and browned, about 20 minutes. If you want them to be more caramelized, go longer! I just wanted mine "flash caramelized" if that makes any sense at all.
Arrange the chickpeas on a rimmed baking sheet and drizzle with the remaining tsp of oil. Sprinkle with salt and pepper and roast for 15 minutes, or until slightly crispy and browned. Snack on a few and set the rest aside.
In the meantime, break the cauliflower into florets. In batches, place a few florets in a food processor and pulse until they're "riced." Not pureed by any means, just pretty ground. Place the riced cauliflower in a large microwave-safe bowl. Microwave for 8 minutes.
Now, the cauliflower was pretty hot for me to handle at this time, so I let it cool for 5 minutes. Using a few paper towels or a cheesecloth, or even a tea towel, squeeze AS MUCH liquid out of the cauliflower as you can. It was hard for me to do this. Maybe I'm a sissy. Then add the eggs, 3/4 cup shredded mozzarella and a pinch of salt and pepper. Toss until it's all combined.
Okay, at this point I still felt like it was too wet, so I added 1/2 cup of flour, which helped a little, but not too crazy much.
Heavily coat a large rimmed baking sheet with cooking spray, and scoop out a large handful of the cauliflower. Press it on the sheet until you get a 6 to 8-inch round, or however large or small you want your 'za. (sorry I just said 'za.)
Slide it into the oven for 10 to 15 minutes, or until the tops are lightly golden brown.
Take it out of the oven and spoon some of the Indian sauce over each pizza (no need to warm it!) Then top with the onions, roasted chickpeas, cashews, and a good sprinkle of mozzarella cheese. Slide back into the oven for another 10 to 12 minutes, or until the cheese is melted and is browned and bubbly.
Garnish with cilantro!
. . . .
So, here are a couple of pizzas that never made it to hair and makeup. They were absolutely scrumptious! Eaten with a fork. Ha . . . ha .. . ha.
Help me.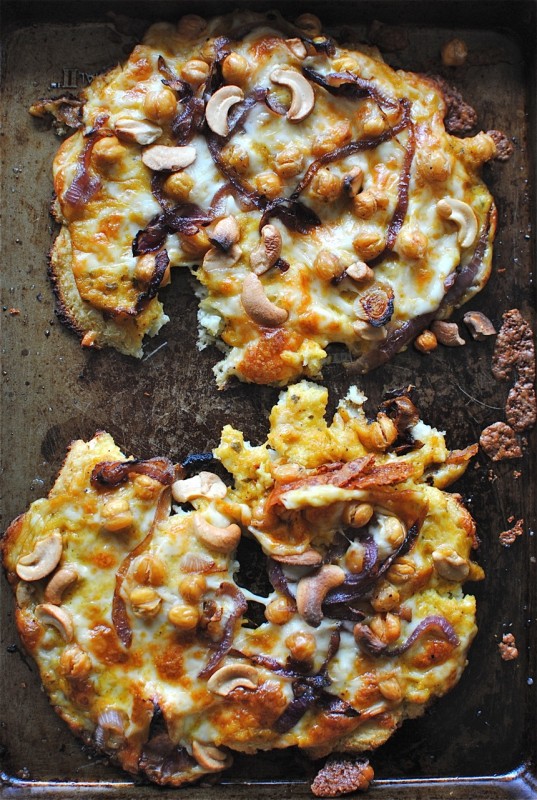 The floor is yours.
(Also, the two winners of Heather Christo's Generous Table are commenter #120 Shannon, who said, "I've been doing some much needed weeding in the flower beds, laundry & tomorrow I plan on making some meals for the week ahead," and #170 Maggie Wallace, who said, "Studying for finals and getting some sunshine if I can!! Beautiful weekend ahead here in Maine!!
Congrats, ladies! Check yo emails, yo.)