Red rover, red rover, send my entire head over.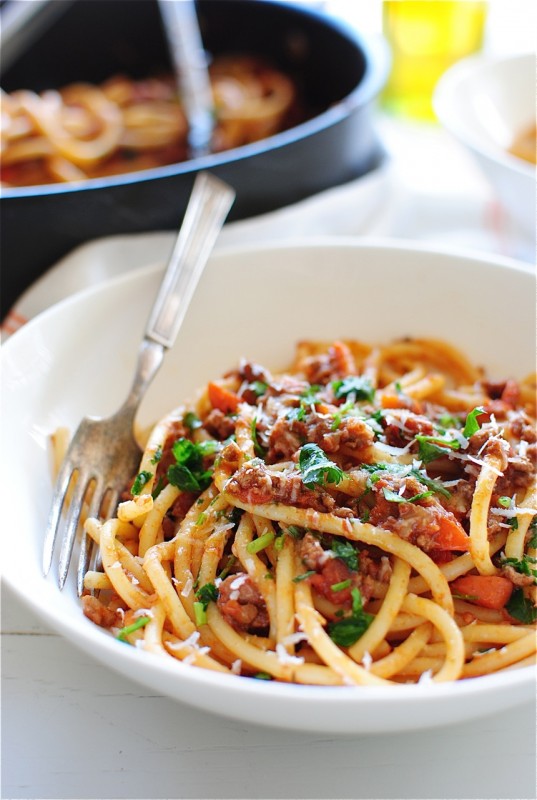 Don't tell me you're surprised to see more pasta today. You were warned. And it doesn't stop tomorrow either. Hi, this girl has eeeesssseeews.
That would be issues, MOM.
Okay, let me ask you something. You, my friends. Not my mom. Well, my mom too if she's reading, I guess. When was the last time you let a sauce just siiiiiiimmer and simmer and simmer for hours and days and years? It's been a while, n'est ce pas?
Well, not anymore! (Sound the trumpets! Draw back the curtain! Throw down the gauntlet! Wait, that's not it.)
I know it's super warm and gorgeous and perfect blah blah BLAH for a lot of the country right now, but we're having a minor dip in temperatures this week in KC, which means a minor dip in my congeniality, DUMB DUMBS. (I'm just kidding! But do you get it?)
I find that in detrimental times like these, it's best to turn to simmering.
Matter of fact, I'm going to write a quick song about it. Right now. This instant:
Oh, siiiiimmering, oh siiiiimmering. You make my heart go cray cray.
The buuuuubbling, the maaaaaarrying. The things you do and say say.
You're gloooorious, you're veeeeelvety. I cannot walk away way.
Oh, siiiiimmering, sweet siiiiiimmering, I'm sorry for saying cray cray.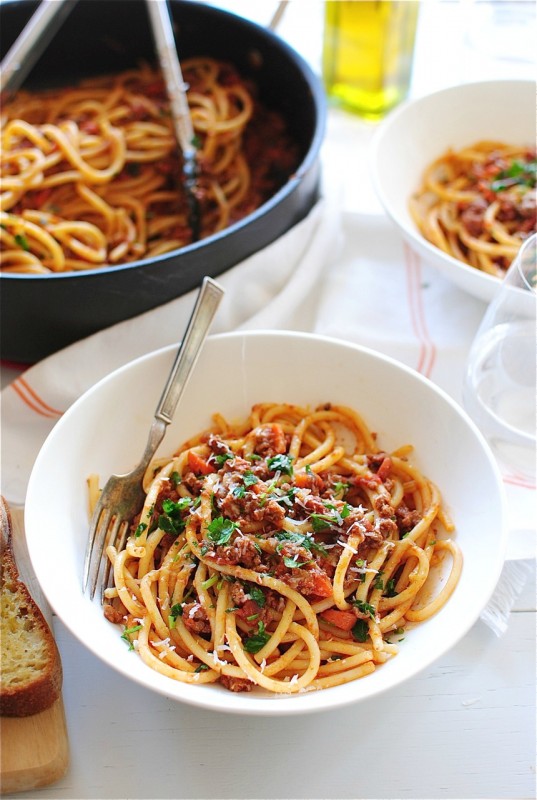 I feel so much better already.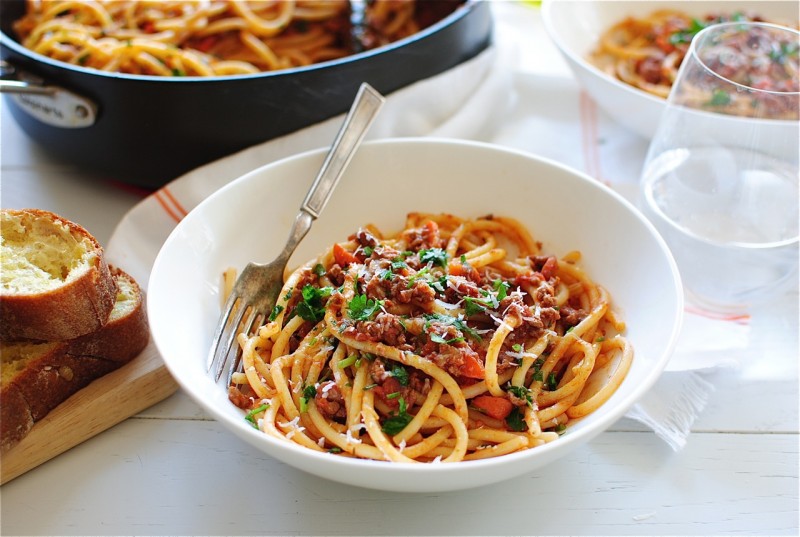 Time to snuggle.
Bucatini with Lamb Ragu:
What it took for 4:
* 2 Tbs. extra-virgin olive oil
* 1 small white onion, diced
* 2 carrots, diced
* 2 stalks celery, diced
* 4 or 5 cloves garlic, minced
* 1 pound ground lamb
* 1 tsp cinnamon
* 1 tsp smoked paprika
* 1 pinch crushed red pepper
* 2 Tbs. tomato paste
* 2 Tbs. fresh thyme and rosemary leaves
* 1 (28 oz) can whole peeled tomatoes, crushed with your hands in a bowl
* 1 bay leaf
* 1 Tbs. honey
* 1 pound bucatini
* coarse salt and freshly ground pepper
* 1/2 cup freshly chopped parsley
* freshly grated parmesan for garnish
Heat the oil in a large sauté pan over medium-high. Add the onions and sweat for 2 minutes. Then add the carrots and celery; sauté until they start to soften, 4 minutes. Add the garlic and sauté another minute. Throw in a pinch of salt and pepper.
Add the lamb and cook until browned all over, maybe 5 minutes. Add the cinnamon, paprika, crushed red pepper, tomato paste and herbs. Toss until it's all combined, a good couple of minutes. Smells insane already, huh?
Add the hand-crushed tomatoes to the pan, the honey and bay leaf. Throw the lid on and let it simmer on low for as long as you want. The longer the better. I let mine go about 2 hours. Then taste it, add another pinch of salt and pepper (if it needs it. it probably will).
In the meantime, boil the pasta until just al dente. Add the pasta to the pan and toss toss toss. omg.
Throw in a good handful of chopped parsley and freshly grated parmesan. Give it another toss.
Serve with a nice green salad and crusty bread! And more cheese and parsley. Oh my gosh do that.
* you can always sub ground turkey, chicken or beef in place of lamb!
Can't even tell you.