I . . . don't even know where to begin.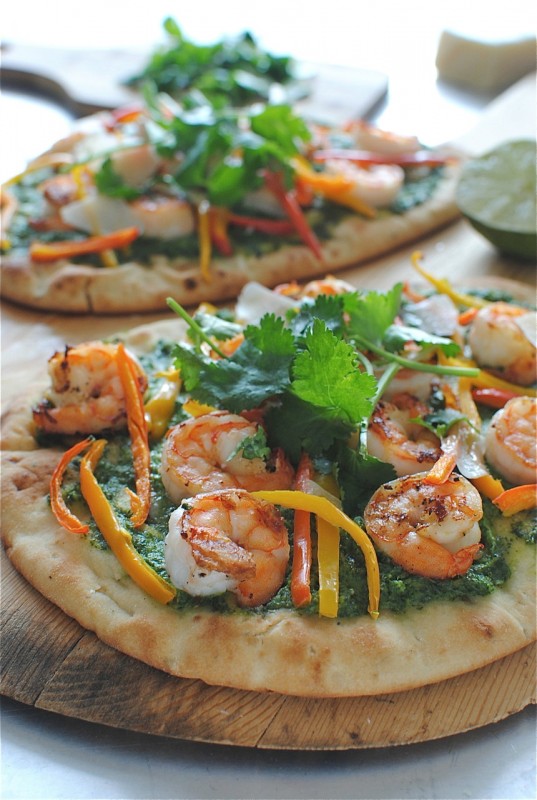 Perhaps that reejankulously long title? It's because I couldn't leave any word out! And believe me, this is watered down from what it was before. I was going to call it Shrimp Arugula Garlic Ginger Green Curry Paste Coconut Sugar Double Pepper Naan Cilantro Lime Pizzas, but one neuron in my brain gave the other one the bird, so that was pretty much that.
The star of this pizza though? What gives it its wow factor? Its curb appeal? Its fresh face with lashes as long as whips? (OMG, speaking OF. My falsie, Phyllis, finally fell off the other night after being stuck to my face for over three weeks. I kid.you.not. Three weeks. But I'm okay! It was like she was ready to go, ya know? She'd spent her time with me and she was ready to move on to bigger and better eyes. We said a few words, and then closed the chapter. Also, please don't delete me from your life. Thank you.)
So anyway, the mega-mama-hoopla doth lieth in the sauce. Originally I had this creamy arugula spread in mind, bordering pesto and sort of Italian in nature. But then the forces within me got all willy nilly and I started adding coconut milk, curry paste, fresh ginger WHAT HAVE YOU. Dude, I'm in trouble. (name that movie)
You can't even begin to know.
The flavors, not the movie. You probably know the movie. The quote starts with "What have you," so that might help. You just got it, I felt it!
The toppings are pretty straight forward, with seared shrimp and little strips of red and yellow bell peps. Simple, yums, done.
Give her a quick blast in the oven, some fresh cilantro leaves piled up like rose petals on a honeymoon suite, a few bursts of zingy lime juice, a shaving or 45 of fresh parmesan, and honey, you're home.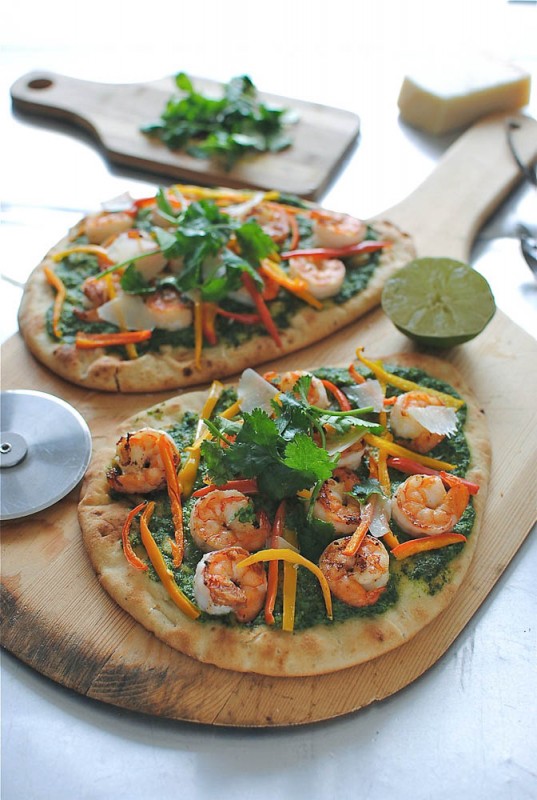 Sorry I called you honey.
Hey, will you pass me 37 slices please?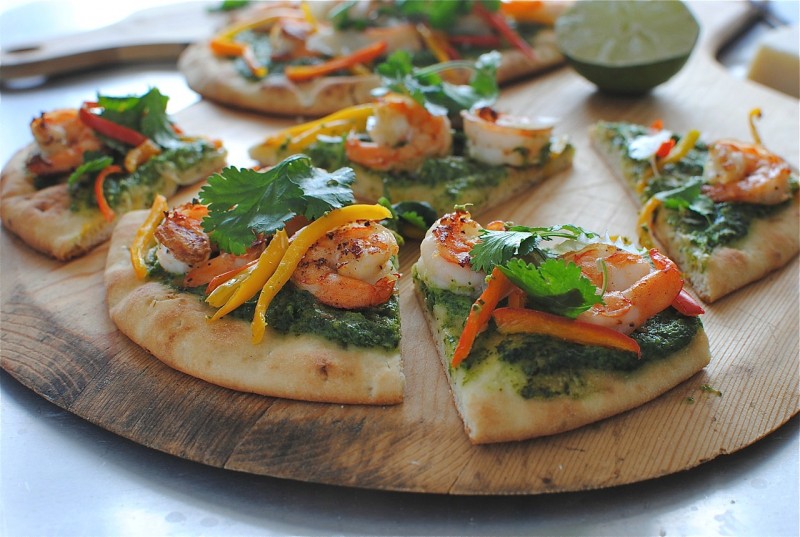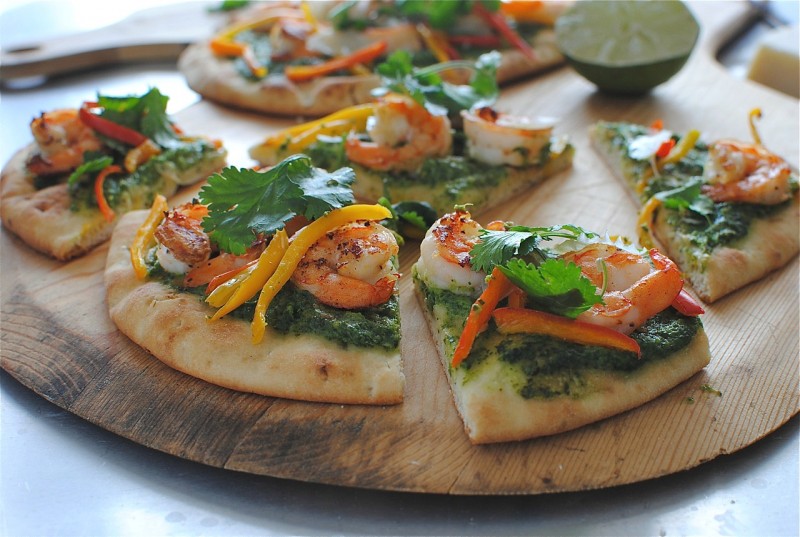 I'm totally kidding!
38.
Shrimp Naan Pizzas with Thai Coconut Arugula Pesto:
What it took for 2 pizzas:
* 4 cups arugula
* 3 garlic cloves
* 1 inch piece fresh ginger, peeled and roughly chopped
* 1 Tbs. green curry paste
* 8 Tbs. coconut milk
* 1 tsp sugar
* 1 Tbs. extra-virgin olive oil
* 1/2 pound shrimp, peeled and deveined (you can always sub chicken for this)
* 1/2 cup thinly sliced red and yellow bell peppers
* 2 garlic naans (or regular)
* coarse salt and freshly ground pepper
* coarse cilantro for garnish
* 1/2 lime, for spritzing
Preheat oven to 400.
In a food processor, combine the arugula, garlic, ginger, curry paste, coconut milk and sugar. Pulse pulse pulse to combine until smooth. Transfer to a small saucepan and keep on a light simmer while you sear the shrimp.
Heat the oil in a large skillet over medium-high. Arrange the shrimp in a single layer in the pan and sear for 2 minutes. Flip and sear 1 more minute. Season with a pinch of salt and pepper.
Spoon the arugula coconut pesto sauce over each naan bread. Top with shrimp and sliced peppers. Place the pizzas on a baking sheet and bake for 10 minutes, or until the the naan is golden brown and slightly crispy.
Top with fresh cilantro, spritz with fresh lime juice and devour.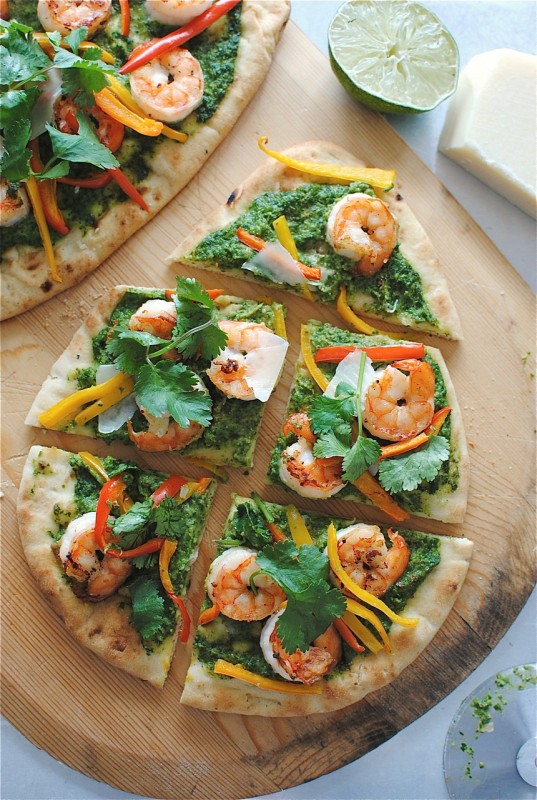 Let's go ahead and make it an even 40.