Brothers and sisters, come together.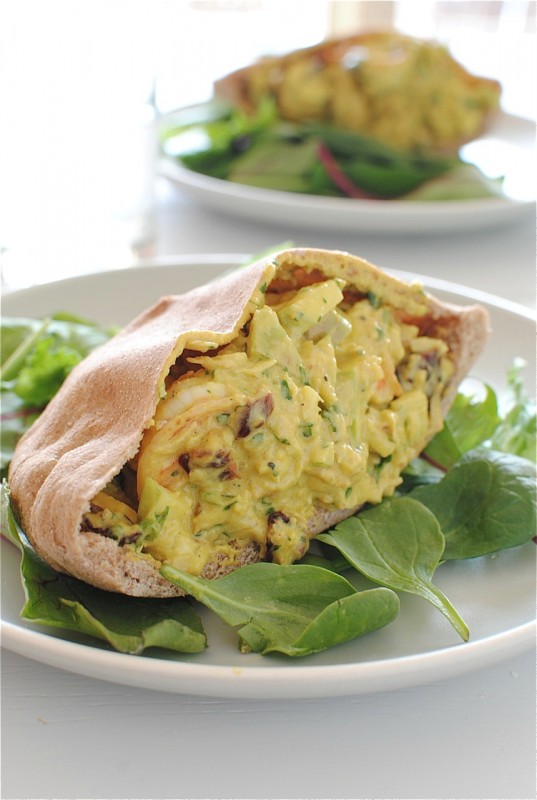 I'm just kidding! What if I was like that? Calling you brothers and sistersshshsahhahahaaaaa!
Or, or! Let us join together on this glorious day in a web of sparkly concord and tranquility as we discover new horizons of the human soul.
ORRRR, wait, omg. In a single breath of harmony, let us weave our unblinded hands and hearts together in unison and belt out one muther-lovin' round of Kumbaya. BAAAHAAHAAAA.
Oh.
In other words, your lunch just got p-to-the-imp.
Also, one of these years I swear I'll start talking like a grown-up.
Man, I dread that day.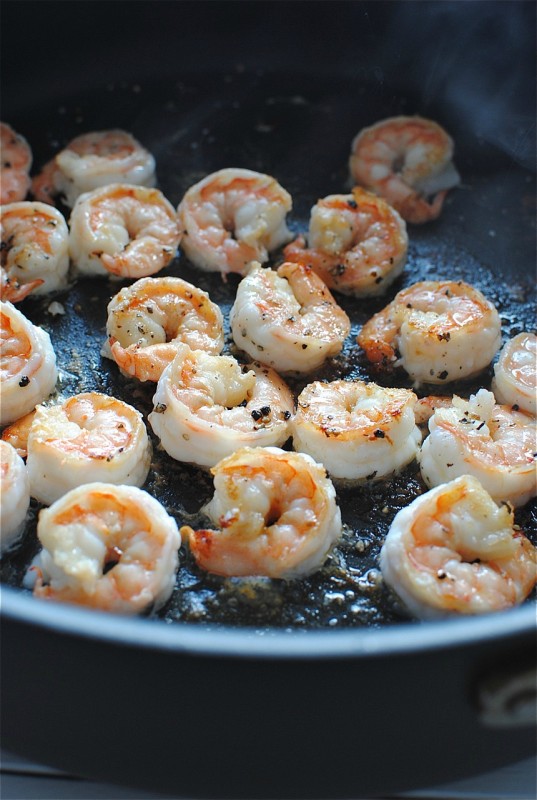 But I'm serious, you might want to hark for a sec. When you get down to that ingredient list you're gonna be like, are you serious? And then you'll remember approximately 45 seconds before when I said, "but I'm serious."
I can't decide if I want to tell you what all goes into this now, or just let you get to the actual list. What do you prefer? Gibbit away gibbit away gibbit away now (name that song), or just let you mosey on down at your own pace? Because I don't want to rush you, but this is serious business we have on our hands. Remember when I said I'm serious?
Okay I can't help it!
CURRYSHALLOTSAPPESYOGURTGINGERTOASTEDCOCONUT – breathe – SHRIMPCILANTROCRANBERRIESLEMONJUICEOLIVEOILALLTUCKEDINTOPITABREAD.
WITHFIELDGREENS.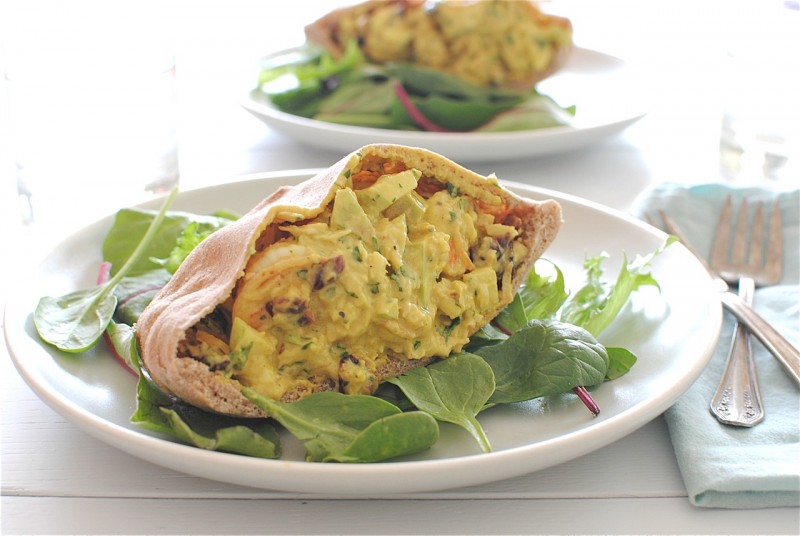 That felt good.
Curried Shrimp Salad Pita Pockets:
What it took for 2 pita pockets: As in half a pocket each: Not the whole thing: Okay:
* 1/2 pound shrimp, peeled and deveined
* 1/2 cup plain Greek yogurt
* 3 Tbs. extra-virgin olive oil, divided
* juice from half a lemon
* 1/2 cup chopped cilantro
* 2 tsp curry powder
* 1 Tbs. freshly minced ginger
* 2 tsp minced shallot
* 1/2 cup chopped green apple
* 1/3 cup dried cranberries
* 1/4 cup coconut shavings, lightly toasted
* 1 whole wheat pita, cut in half
* 1 pinch of coarse salt and freshly ground pepper
In a large bowl, whisk together the yogurt, 2 Tbs. oil, lemon juice, cilantro, curry powder, minced ginger and shallots. If you need to add a Tbs. of water to thin it out, go rawt ahead.
Heat the remaining Tbs. of oil in a large skillet over medium-high. Add the shrimp to the pan and season with a pinch of salt and pepper. Sear on one side for 2 minutes. Flip and sear another minute.
Add the shrimp to the bowl, along with the dried cranberries and toasted coconut. Toss to combine.
Stuff inside a couple of pita pockets and serve with field greens.
*you could easily sub diced chicken or turkey up in her.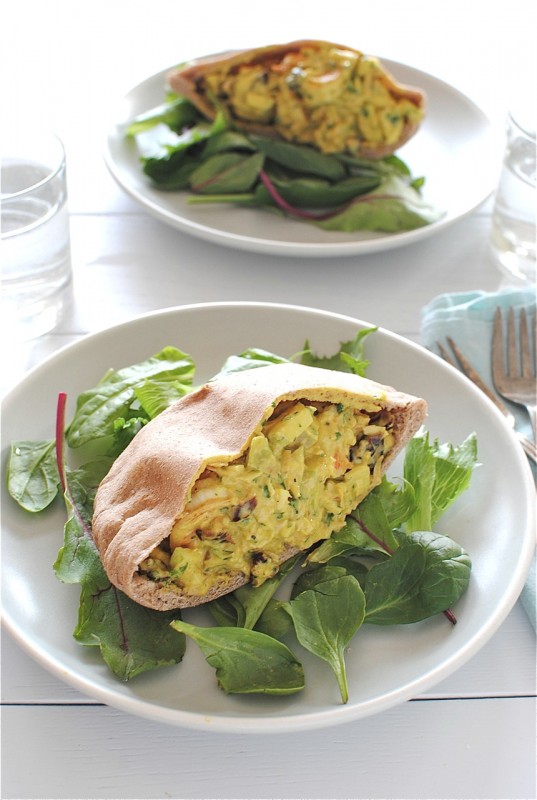 So really, about that round of Kumbaya, who's in?