Raaaaaavioli where the cream comes sweepin' down the plaaate.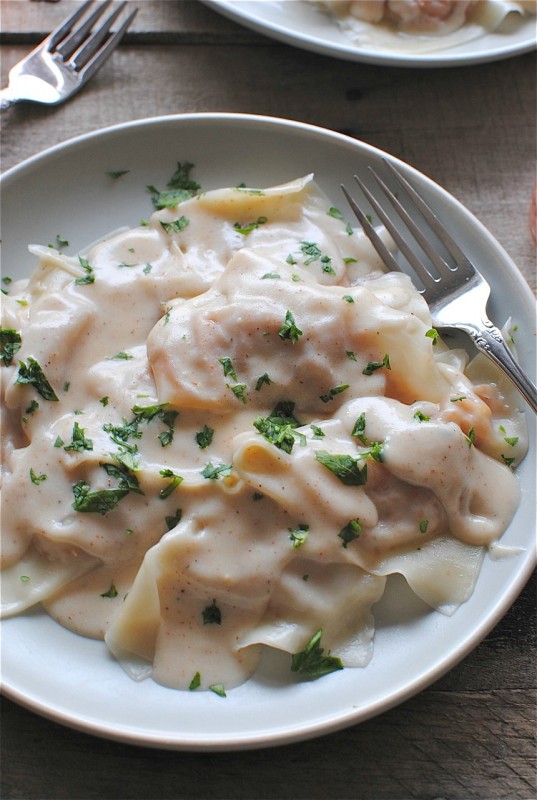 Get it? Like Oooklahoma where the wind com – you know? Since Oklahoma and ravioli are both 4 syllables? Get it? Oh.
Guess what, I'm actually going to talk about – wait for it – the FOOD today. Whaaaaa.
And it's weird, now that I just typed out "wait for it," I'm remembering a dream I had last night. Barney Stinson from How I Met Your Mother and I were dating and in love, and we were looking for apartments to rent, but the apartment we were focused on was like WAY high in the sky, like in a tower, like in the heavens. And the sky wasn't an actual sky. It was like a ceiling mural thing OF a sky like in casinos in Vegas. And I kept thinking to myself as I was holding his hands, "please don't know you're gay in real life. please don't know you're gay in real life. please don't know yo . . . " And my little sister was standing in the background shaking her head with a beer in her hand mouthing to me, "he's totally gay in real life, bev. let. it. go." And then I woke up.
But actually, before I woke I up I ALSO dreamed that – wait. Okay, remember when we only saw the ARM of Ted's future wife? Well, I also dreamed that they showed her face, but she was in scrubs and had her super blonde hair pulled back in a tight bun, and we saw her face for like half a second before she turned her head. She had the BLUEST eyes ever, and the announcer or whatever goes, "she had eyes so blue we have no idea what he paid for her." ???? WHAT DOES IT ALL MEAN? Oh wait I know. I need real life human friends.
I said I was going to talk about the food, didn't I?
Basically, over Christmas break we spent an afternoon over at my M-I-L's house, watching days upon days of the Food Network since I don't get it at home. I had my phone out using the little "notes" app (which I'd never used before but gosh dernit that thing is nifty) typing in recipe ideas, when that one show with that ferrari dude with the albino porcupine with backwards sunglasses on his head came on.
Well, one of the drivers, dive-ins or drines that they visited featured some chachi making cajun potstickers with sausage and seasonings and I'm guessing porcupine's hair gel. But it looked SO GOOD I wanted to kick the TV. So my noggin' thought, "oooooo what about spinning this and making some dang ravioli!"
So I typed it in my little notes app. But I didn't put the "oooo" part in, just so we're clear.
I remember him throwing a bunch of sausage into a food processor to grind it all up, so I did that too! But let me tell you, I used andouille sausage that's already cooked. So getting the casings off was going to be a challenge. So I looked at the sausage square in the face and said, "CHALLENGE ACCEPTED."
See what you do to me, Barney? My love?
So listen to this, I used a vegetable peeler to slice the casings off, hahaha! I'm not even sure if it's necessary to tell you the truth. It's all ground up anyway. I just felt a sense of peace and satisfaction about my life doing it this way.
Little dippidy dip into some boiling water. Little whiskidy whisk of a spicy cream sauce, and . . .
Oh my.
It was legen – wait for it – DARY.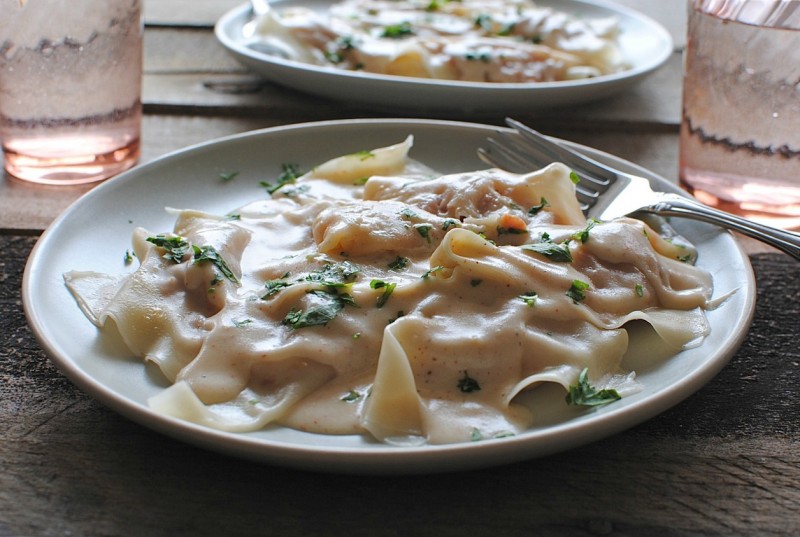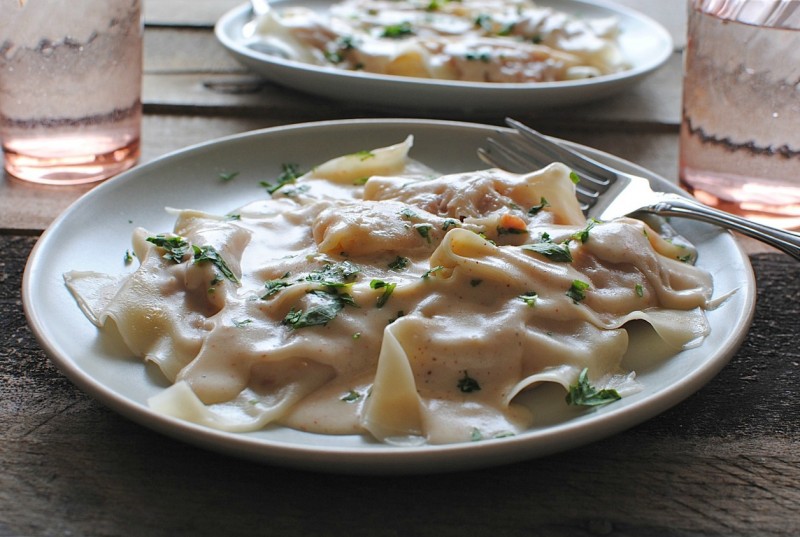 I can't believe I just did that to you. Oh wait yes I can.
Creamy Cajun Sausage Ravioli:
What it took for roughly 28 raviolis:
* 2 andouille sausages, casings removed (try the veggie peeler!) and cut into little chunks
* 2 tsp extra-virgin olive oil
* 2 cloves garlic, minced
* 28 wonton wrappers
* 1 Tbs. butter
* 1 Tbs. all-purpose flour
* 1 cup milk (I used reduced fat and it was fine)
* 1 Tbs. plus 1 tsp cajun seasoning (like Tony's, which is know is technically creole, so please don't flick me)
Toss the sausage chunks into a food processor. Pulse until it's nicely minced.
Heat the oil in a large skillet over medium-high. Add the garlic and bloom 30 seconds. Add the sausage and cook until heated through. It's all already cooked, so it won't really brown. I just felt better about life letting it sauté with the garlic a few minutes. Also, toss in a tsp of the cajun seasoning. Yesh.
On a large work surface, lay out the wonton wrappers in a single layer. Place a little cup of water next to them. Spoon about a Tbs. of the sausage in the middle of each wrapper. Now, dip your finger in the water and lightly brush the edges of the wrapper with your finger.
You can either do this two ways. You can carefully fold over one edge of the wrapper, making a triangle, and pressing the edges together. OR you can just pick up the wrapper like a little purse and press the edges together. I found that to be easier. At least you have options! Don't you just love options? The main thing is to make sure you press all the air out of the raviolis. You don't want soggy sausage. Oh! Let's start a band called the Soggy Sausages. I'll play bass.
Repeat until a hundred million are done.
Bring a large pot of salted water to a boil.
Okay now the sauce. Melt the butter in a small sauce pan. Once the foaming has subsided, add the flour. Whisk it until it's a nice golden brown paste and no longer floury, like a minute. Add the milk and whisk until it starts to thicken. It might take 5 minutes. Add the remaining Tbs. of cajun seasoning. Taste it. It killeth, eh?
Okay, once the water is boiling, take a large slotted spoon and place maybe 5 raviolis in the water at a time. Let them boil for about a minute, then carefully scoop them out. Place them on a dinner plate and drizzle some yumster creamy sauce on top!
Repeat until a hundred million are done.
Garnish with freshly chopped parsley and honnnneeeey child.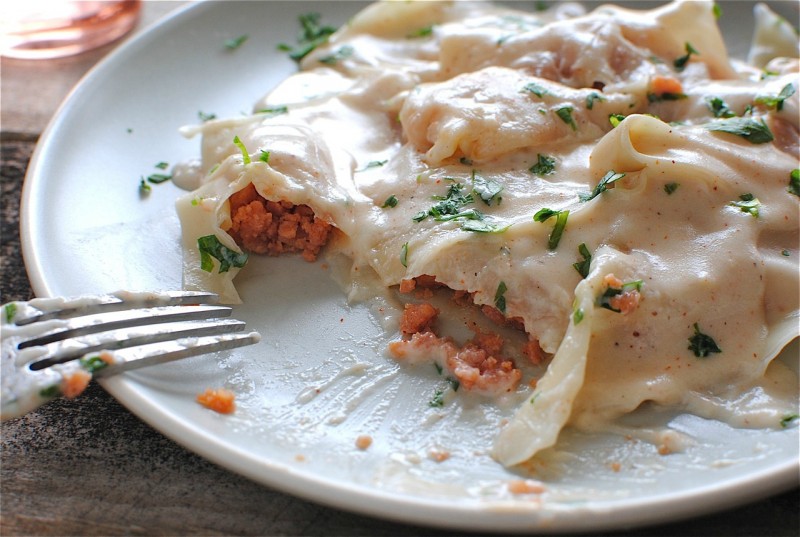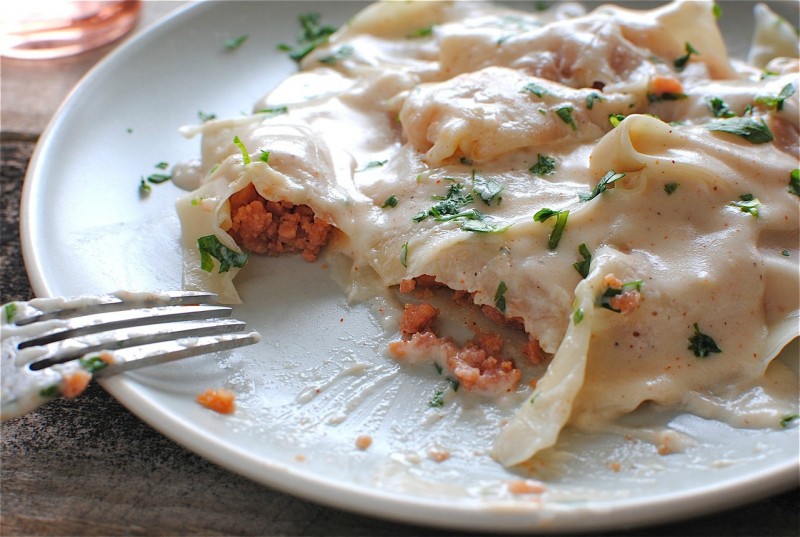 Ain't no hair gel in this.