Stroganoff? It's more like stroganON my face.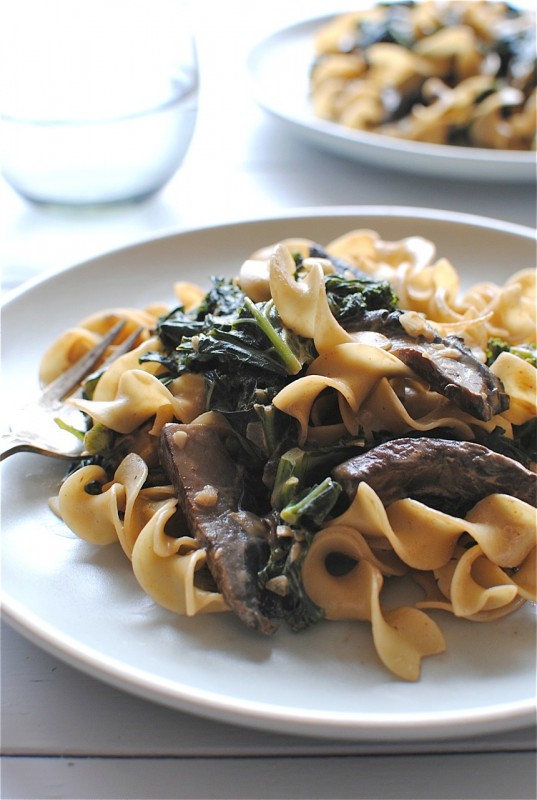 That worked only in my head, didn't it?
Fiiiiirst of aaaaall, Parenthood. Who else calls complete wonk-a-lonk that next week is the LAST episode? I just read that this season was an "abbreviated" season with only 15 episodes. Well you know what, they can abbreviate my fist in their face. This isn't the END end, is it? I can't find a single thing online about when seasons 5 through 483 will start up again. This is not good for my blood pressure, you know.
Secondly, uuuugh okay I'm not done with Parenthood just yet. Bev's notes: Team Hank. Team Amber's cute ombre hair. Team Ryan. Team Kristina. Team sticking the entire show in my imaginary womb. End notes.
Alright, can I tell you how hard it is for me to spell portobello? Portabella. Portobella. Porterbeller. Portabello. Portybelly. Portlskjfsslkdfjsfkd. That giant squiggly line underneath the correct spelling can talk to the hand.
I sound like I have anger issues this morning. I swear I totally don't!  I'm as happy as a baby infant clam.
But I'm also as nervous as a baby infant kitty cat. Wanna know why?
We're making a Bev Cooks video! It's not going to be a cooking show video though. It's a surprise! What I CAN tell you is that it will most likely feature my n'awesome top knot and my lame attempt at perfecting the Electric Slide. Ya think I'm kidding.
I'll be sure and 'gram the train wreck next week. Ay yi yi.
Mmmmmm look at this next photo.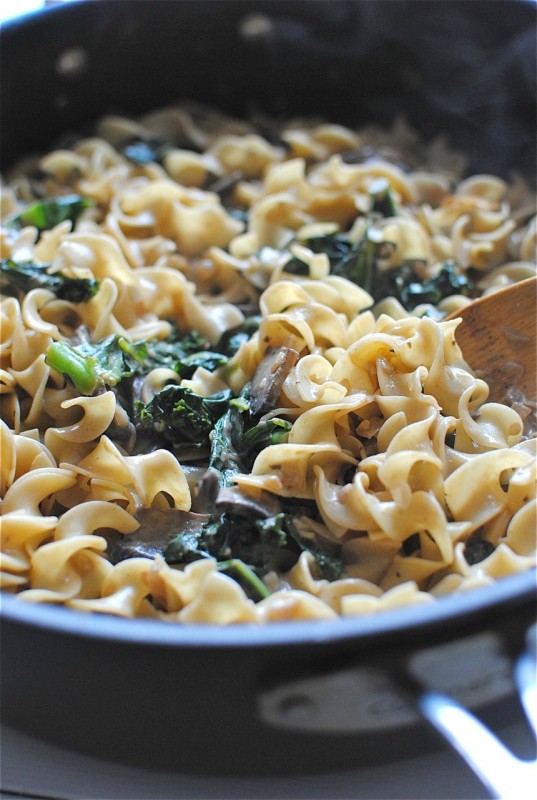 Even though this stroganon my face isn't the most  . . . photogenic meal I've ever put out into the interflex, once one single molecule of this comfort train reaches the surface of your lips, and you fall to the floor in utter submission, and then regain your strength for the next bite, you won't care a smidge.
Hints of smoked paprika, earthy mushrooms, superhero kale, creamy noodles for days. This is basically the yummiest knuckle sandwich for your soul.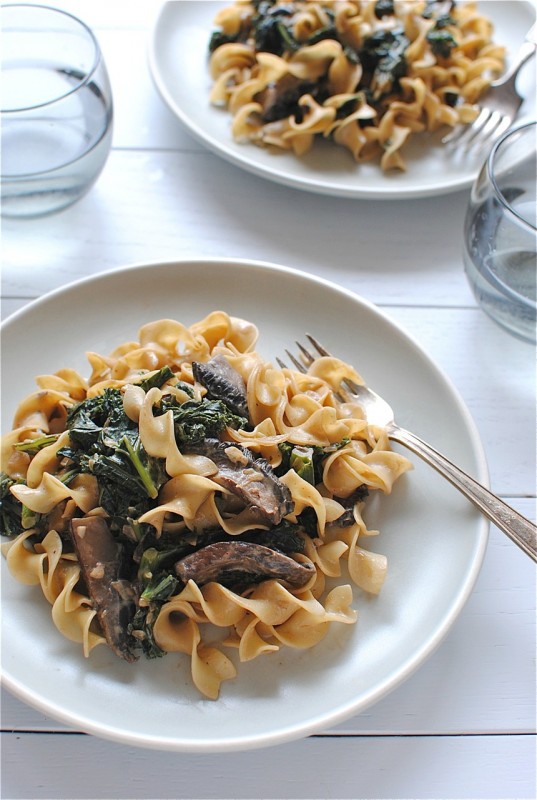 Get punched already.
Portobello Mushroom and Kale Stroganoff:
What it took for 4:
* 2 Tbs. extra-virgin olive oil
* 1 medium white onion, finely chopped
* 2 cloves garlic, minced
* 2 portobello mushrooms, cleaned, stemmed and sliced into 1/2 inch strips
* 1 Tsp smoked paprika
* 1 Tbs. all-purpose flour
* 1 1/2 cup vegetable (or chicken) stock
* 1 Tbs. tomato paste
* 1 bunch chopped kale
* 1 bay leaf
* 1/2 bag egg noodles (probably 2-3 cups)
* 1 cup sour cream (or Greek yogurt) (or you can use a little less if you get the creaminess you like) (I used maybe 3/4) (okay bye)
* coarse salt and freshly ground pepper
Heat the oil in a large skillet over medium-high. Add the onions and sauté for about 4 minutes, or until they start to soften. Add the garlic and mushrooms; season with the smoked paprika and a pinch of salt and pepper. Sauté another 3 minutes, until the mushrooms have softened and are darker in color.
Lightly dust the mushroom mixture with the flour and toss to combine.
Add the stock and the tomato paste. Stir to sort of dissolve the paste. Add the kale and the bay leaf; simmer 5 to 10 minutes.
In the meantime, cook the egg noodles in boiling water until it reaches al dente, maybe 5 minutes. Drain and add to the mushroom skillet.
Add the sour cream and stir to combine. Hmmmmm, creamy. Remove the bay leaf and dig on in, y'all.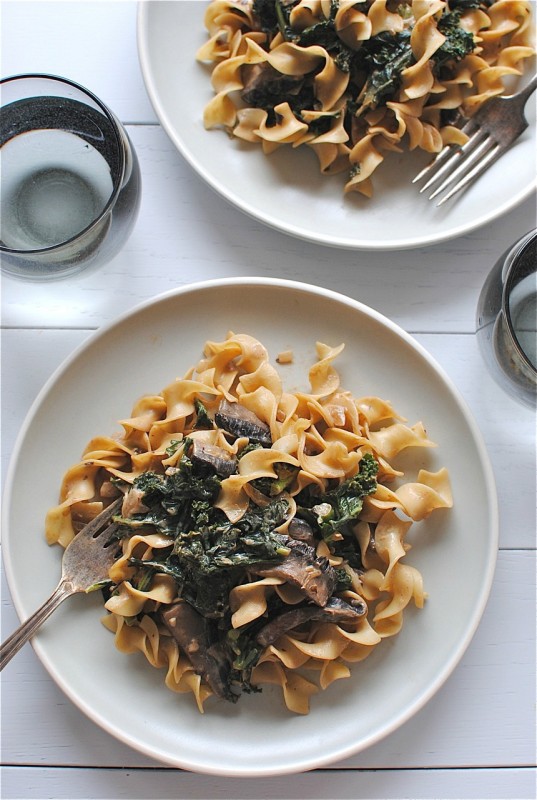 Na-OM.